EXECUTIVE INTERVIEW – Tedor Pharma, Inc.: A Strategy Shift to Serve Both Generic & Branded Companies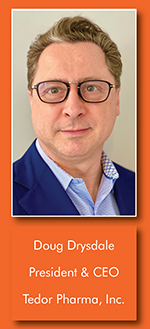 The pharmaceutical contract development and manufacturing organization (CDMO) outsourcing market was valued at $150.66 billion in 2019 and is expected to reach $246.24 billion by 2025.1 Tedor Pharma, Inc.'s niche in this growing CDMO market has been as a full-service provider focused on generic drugs for 19 years. However, that business model shifted in the past couple years when Doug Drysdale took the helm as President and CEO. He previously served as Chairman and CEO of Pernix Therapeutics and CEO of Alvogen, Inc. When he joined Cumberland, RI-based Tedor, he made it a point to extend the CDMO's services and capabilities to branded drug companies. That shift in business model has resulted in a significant increase in Tedor's branded business in 2019.
The foundation for this shift in business model began with a multi-million dollar expansion of Tedor's manufacturing capabilities, which included the installation of new multi-purpose cGMP manufacturing suites. Then, in May 2018, Tedor recapitalized and reorganized its business funded by DORA Ventures, Inc., which was created to invest in under-valued healthcare assets and related segments. DORA is owned and controlled by Drysdale and Tedor Chairwoman Laura Iorio.
This past June, Tedor announced a partnership with Altus Formulation as the exclusive North American licensee and provider of FLEXITAB technology, which produces breakable extended-release tablets that are being positioned as a cost-effective differentiator in the market for branded products. To date, three FLEXITAB products have been approved in 25 countries.
Drysdale recently spoke with Drug Development & Delivery about FLEXITAB technology, his strategy for managing a shift in business model, and how Tedor is addressing the needs of small- and medium-size companies developing innovative and repurposed small molecules for unmet medical needs.

Q: Since becoming CEO in May 2018, what have been your top priorities?

A: Three things: people, processes, and building a growth engine. People are our first priority. I believe Jim Collins said it well. It's about getting the right people on the bus. And getting those people in the key seats on the bus before you start to drive where you're going. So, throughout the past couple of years, we've built a very strong, well-aligned team with a focus on quality systems and technical product development capabilities. In terms of processes, I'd say any business that's been around for 19 years has things that can be done more efficiently. We focused on removing low value, unnecessary tasks and replacing paper with technology and having our people spend more time on value-added activities and creating more capacity within the current organization we have before having to expand. Then in terms of building a growth engine, there are a lot of sales and marketing fundamentals we put in place in 2018-19, and as we enter 2020, we've expanded our business development head count threefold, added telesales capabilities, and significantly increased our digital efforts to drive new opportunities our way. Technology provides a huge opportunity to reach out to prospective new customers.

Q: What are these new opportunities?
A: We were somewhat unknown among the branded company audience. We've used our 19-year track record, our personal networks, and the growth engine to attract small- and medium-size branded clients throughout the past year. Those clients are thrilled with our customer service and our technical ability to find solutions to their product development challenges. We wouldn't have been able to do that if we didn't combine the growth engine and the expanded technical capabilities to put our money where our mouth is.
Q: Can you tell our readers about the decision behind Tedor's shift in strategy from a predominantly generic model to a branded and generic CMDO model?
A: It's been about shifting the talent base within the company. The company historically has a generic background, and we wanted to diversify the business and bring in more branded clients. It's not just about manufacturing generic drugs but branded medicines as well. We've also shifted away from co-developing drugs to becoming a full-fledged CDMO. In that role, we didn't want to compete with our customers. To that end, we divested our interest in a number of ANDAs that we owned and co-owned, and we've added new customers, both branded and generic, and provided greater revenue diversity going forward. In that shift, we've focused on bringing in talent to broaden our formulation and development services.


Q: What, if any, challenge(s) does this pose and how are you addressing them?
A: It hasn't posed any major issues. If anything, it's provided opportunities. We've expanded our formulation and development teams, bringing in new talent and expanded the breadth of those development services. For our generic clients, the focus is often on finding a non-infringing path to market as fast as possible, and we've been doing that for 19 years. But for our branded clients, it's more about finding solutions to the physical limitations of their molecules, like overcoming challenges to solubility or bioavailability. So, there is a different mindset between those two types of customers. That stretches the team, but it's also very rewarding. On the new product side, we have more potential solutions available to us.
Q: What type and size of pharma company does your new strategy best suit?
A: Small- and medium-size generic and branded companies. Some have their own in-house development, many do not. For some of our branded customers, their pipelines consist of just a handful of products or less, and each product is very important to them. As medicine becomes more personalized and targeted, the annual volumes of these products are getting smaller, certainly smaller than the blockbusters we've seen in the past. So, these companies want to partner with a CDMO that's the right size for them where they won't get lost or deprioritized, where the service is personal, and where every one of their products is important to us.
Q: Can you point to a specific client you recently helped with your services: the problem they had and how you solved it?
A: It's great when a company comes to you with a challenge and you are able to solve it. There was a small US Biopharma company that selected Tedor to manufacture their first branded product for clinical trials. That put an awful lot of trust in us. Following the completion of the Phase 1 trial, the client decided to change the API manufacturing site and the process. This was done to reduce the impurities of the API from the original source. That change in API source led to differences in the physical properties of the API. It meant that during our trials with the API, the tablet showed lamination and capping as compared to the original formulation. We had to figure out how to solve that. We ran a number of R&D experiments to see if a change in excipients could resolve the issue, but from the client's point of view, that wasn't ideal. The product was already dosed in a Phase 1 study, and the customer didn't want to change the formulation significantly. We evaluated a couple of different approaches, such as non-aqueous wet granulation, adding a small amount of binder while keeping the formulation excipients at the same level. That worked well and resulted in an acceptable formulation. We also looked at compaction, which we explored to avoid the addition of new excipients. The challenge we had there is that the amount of API that was available to us was limited. That is often the case with new molecules. We ran a slugging trial on a compression machine and this also led to an acceptable formulation. So, we were able to avoid adding new excipients and significantly changing the formulation through this process. So those two alternative process approaches were shared with the client, and the client will decide which way they want to go before we go into Phase 1b and Phase 2.
Q: Can you describe the FLEXITAB technology and the value it offers to your branded clients?
A: FLEXITAB is one tool in our toolbox. It centers around a patented excipient that enables us to produce breakable extended-release tablets. That may not sound that remarkable on the face of it, but it's not normal. Typical extended-release tablets shouldn't be broken by patients because that impacts the release of the drug. With FLEXITAB, patients can break a 20-mg tablet into four pieces, and each will retain the integrity of a 5-mg extended-release tablet. It's quite a breakthrough. This enables easy titration for products in which dosing needs to be gradually increased by the physician. It enables flexible dosing with fewer SKUs because you can mix and match to fill in dose strengths between the pre-compressed tablets strengths. And it helps with easy swallowing for children and the elderly because you can break the tablet into "fours" without affecting the extended-release capabilities. For our clients, it offers IP protection to 2037, so when they are thinking about developing an extended life cycle for existing products but still bring value, this helps protect those brands for several years.
Q: Can you provide any details about FLEXITAB products already approved, such as their therapeutic targets and their market potential?
A: The first one was a tramadol once-a-day approved in 25 countries. There is also a 24-hour trazadone formulation and a 12-hour tramadol APAP combination that was approved in the EU. This technology has been through both the EU and US regulatory processes and can be used across a number of different indications. I believe a particularly interesting use is where titration is needed early on, such as for pain or CNS disorders, or as anti-depressants and anti-epileptics, where physicians want to be careful about increasing the dose gradually in the beginning. The potential going forward is unlimited by the imagination of the companies with which we work.
Q: What advice can you offer to other CEOs who may be going through a shift in business model?
A: I've launched a few start-ups and managed a couple of turnarounds, and the most common experience is that the path to success always looks very different than the original plan you make at the outset. It's a winding road rather than a straight road. Stick to your vision, continue to believe in where you are going, and be the standard bearer. But be open to adjust along the way to achieve the overall strategy.
Reference
Pharmaceutical Contract Development and Manufacturing Organization (CDMO) Market – Growth, Trends, and Forecast (2020 – 2025),https://www.researchandmarkets.com/reports/4775063/pharmaceuticalcontract-development-and, Jan. 2020.
To view this issue and all back issues online, please visit www.drug-dev.com.