About us
Drug Development & Delivery, including its exclusive Specialty Pharma section, is a print publication, conference organizer (Drug Development Networking Summit), and online content provider exclusively committed to advancing the applied science, technology, and related business practices of pharmaceutical and biological drug development, reporting on formulation design, bioavailability and solubility enhancement, drug delivery and platform technologies, life cycle management, compound-enabling strategies, business development, outsourcing services, and partnerships and collaborations. Through insightful scientific, business, news, and technology-related formats, Drug Development & Delivery provides pharmaceutical professionals with practical solutions to the issues, opportunities, and challenges in the ever-evolving drug development communities. We complement your business development initiatives, connecting you with and influencing the audiences that matter most to you: investors, business partners, technology and service seekers, and regulatory agencies.

Ralph Vitaro
Publisher/President
rvitaro@drug-dev.com
In 1984, Ralph began his career in publishing as a member of the start-up team for a new magazine titled Spectroscopy which was a publication serving the analytical instrumentation market. Following its success in the United States, Ralph expanded the operation abroad and introduced Spectroscopy Europe the following year. Ralph is also credited with the introduction of BioPharm magazine and later became its Publisher. In 1990, Ralph became the Publisher of Pharmaceutical Technology and then Group Publisher of Applied Clinical Trials, Pharmaceutical Executive, BioPharm, and Pharmaceutical Technology Europe. Ralph was also the General Manager for Advanstar Communication's Pharmaceutical Group of global publications, conferences, and trade shows. In 2001, after a successful 16 years with Aster Publishing and Advanstar Communications, Ralph founded Drug Development & Delivery LLC.

Dan Marino, MSc
Executive Director
dmarino@drug-dev.com
Prior to launching Specialty Pharma and Drug Development & Delivery, Dan served as Managing Editor of Dentistry Today, the nation's leading clinical magazine for dentists, and more recently as Director of Continuing Medical Education for a healthcare education company in northern New Jersey. He offers Specialty Pharma and Drug Development & Delivery a fresh, approachable perspective, taking great pride in building trusting professional relationships with scientific and business authors as well as pharmaceutical companies. Dan's responsibilities include management of all day-to-day operations of Editorial and Creative content and production as well as building and managing the Editorial Advisory Board and Specialty Pharma Council. Dan earned his BS in Health Sciences and Journalism and his MSc in Medicine (Physiology) from West Virginia University in Morgantown.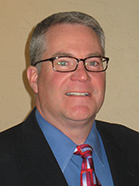 John Kiesewetter
Global Sales & Marketing Director
jkiesewetter@drug-dev.com
John Kiesewetter has spent his entire career in the B2B publishing arena as an accomplished professional working in both global and domestic markets with extensive experience in life science and related industries. In 1988, John started his career as a member of the advertising sales team for Pharmaceutical Technology and BioPharm Manufacturing. Throughout the next several years, John gained experience working on Circulation Management magazine and then expanded his role with Spectroscopy International, a start-up publication serving the European analytical instrumentation market, and Medical Device Technology, another start-up in Europe. He then returned to the US as Publisher of CADalyst, a unique opportunity to work in the computer aided design field for 3 years. From 1995 to 2007, he was the US Sales Manager for Pharmaceutical Technology Europe (playing a key role in introducing US companies to the pan-European pharmaceutical market) as well as launching Pharmaceutical Technology Asia. From 2002 to 2012 worked on Applied Clinical Trials, a niche publication serving the global clinical trials market just before the evolution of the Contract Research Organization (CRO) era. For 10 years, John acquired extensive expertise in helping his clients market their innovative services and technologies to the CRO industry, playing a key leadership role as the market grew and integrated electronic marketing campaigns changed the way business was conducted. In 2013, after a successful 25 years with Aster Publishing and Advanstar Communications, John joined Drug Development & Delivery as its Global Sales & Marketing Director.

Cindy H. Dubin
Contributing Editor & Special Features Writer
Ms. Cindy H. Dubin has been a professional journalist since 1988. She is currently a Contributing Editor to Drug Development & Delivery as well as Editor-In-Chief of its Specialty Pharma section. Prior to these positions, she spent several years focusing her writing on pharmaceutical formulation and development. She has been recognized by the American Society of Business Press Editors for an article she wrote on nanotechnology, and her writing has been awarded by the prestigious Neal Award Committee for Journalistic Excellence. Ms. Dubin earned her BA in Journalism from Temple University in Philadelphia and her certificate in Business Logistics from Pennsylvania State University.