AAPS BRIEF – Personalized Medicines for Oral Drug Delivery Devices: Definitely NOT Your Father's Tablets
As we near the end of 2018, I'm as excited as I've ever been about new pharmaceutical science technologies on the horizon. Concepts like how to use machine learning and AI technology to truly personalize medicine are starting to become a reality. GSK's ATOM project aims to transform drug discovery and development going from validated target to humans in 1 year or less. When successful, this will revolutionize the pharmaceutical industry.

Another exciting technology that has the potential to create a paradigm shift in the pharmaceutical sciences is 3D printing. The incorporation of 3D printing technology was made a reality with the approval of the first 3D-printed pharmaceutical, Aprecia, by the FDA in 2015. This increased the research and interest around 3D-printed formulations and now, highly sophisticated tablets are being developed with the ability to combine multiple drugs with separate release profiles in a single formulation. The potential for true personalized medicine is within close reach. These are definitely NOT your father's tablets…
Using 3D printing technology, tablets can be created with a simple structure to address some clinical/formulation needs or sophisticated structures, such as compartments with various geometric shapes to modulate the release rate, mode, and onset time.
3D-printed tablets have been created using powder binding (as exemplified by Aprecia) or fused deposition modeling (FDM) 3D-printing technologies for manufacturing or personalized medicine. Using powder binding 3D printing technology, tablets are created with a highly porous structure for fast disintegration. In contrast, using FDM technology, Triastek has fabricated tablets that provide unique pharmacokinetic (PK) profiles for controlling the release rate (zero order or variable kinetics), release mode (pulsatile, immediately or constant release), and onset time. The incorporation of multiple APIs with multiple PK profiles really opens the door for personalized medicines.

Application of FDM 3D printing technology will also revolutionize the formulation development process. Using the processing parameters of excipients and the precision manufacturing of tablets by 3D printing, the release profiles of tablet can be predetermined. Therefore, the tablet can be designed to generate specific release profile to meet clinical needs. A "formulation-by-design" approach has been realized by Triastek using FDM 3D printing technology, which allows the formulation process moving away from traditional formulation by trial method. The formulation-by-design approach gives preclinical and clinical trial formulation a predictable and accelerated development time.
-3D printing in pharmaceutical tablet application is a new direction for the tablet manufacturing that has been used for more than 150 years.
-FDM 3D printing is capable of fabricating unique architecture within a tablet.
-Formulation-by-design using FDM 3D printing technology represents a paradigm shift in the formulation development of pharmaceutical products.
-3D printing pharmaceutical manufacturing has its advantage over the traditional tablet manufacturing method but will co-exist with traditional pharmaceutical manufacturing for the foreseeable future.
-3D printing technology for individualized medicine or personalized medicine has great potential but will not be broadly implemented until regulatory aspects of this technology in place.
In closing, we live in an exciting time in which truly personalized medicine is possible. These advancements in technologies can in turn positively affect patient compliance, patient outcomes, and most importantly, improve global health.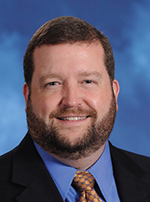 Christopher R. McCurdy, PhD, FAAPS
2018 President of the American
Association of Pharmaceutical Scientists