EXCLUSIVE ONLINE CONTENT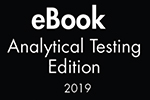 9/6/2019
This e-Book showcases the various types of services that leading testing companies offer and how they are helping industry comply with regulations to get their products approved and commercialized.

5/1/2017
Julian Aleksov, Executive Chairman of Oasmia Pharmaceutical, discusses his company's efforts to enter the US market, its strategy to increase commercial adoption, and why it believes its underlying drug delivery system technology is significant not only within the oncology sector, but the entire pharmaceutical industry.
6/1/2016
Hywel Williams, PhD, Annabel Igonin, PhD, David Vodak, PhD, and Hassan Benameur, PhD, believe lipophilic salts are being explored in a number of different areas and one interesting application is their potential to boost API loading in lipid formulations.