BIOAVAILABILITY ENHANCEMENT – Out of the Shadows: Excipients Take the Spotlight; Part 2 of 2
In June's edition of The Second Quadrant, we heard from leading excipient providers about challenges faced directly related to formulating with excipients for greater bioavailability. They also made suggestions for exploiting opportunities by better leveraging the power of adjuvants and collaborating with other players in the ecosystem. The conversation concluded with observations about the barriers that must be crossed to fully realize solubilization potential.
In Part II, we've asked representatives from Ashland, BASF, Croda, EMD Millipore, and Shin-Etsu to continue the dialogue and share their thoughts on past breakthroughs that have enabled progress to date, and what we can expect as we approach the next decade. They've also revealed surprising or little known aspects of the role excipients play in moving our industry forward to overcome the bioavailability barriers we face.
PAST BREAKTHROUGHS
Q: What have been the most significant developments in bioavailability understanding, equipment, or platforms in the past 5 years that directly involve excipients or how they're used?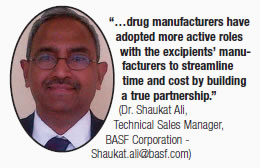 Dr. Shaukat Ali: The nonconventional formulation technologies have now been widely recognized in the industry to increase solubility and bioavailability of drugs. The solid dispersions technologies requiring polymers for dissolving poorly soluble drugs for tableting and liquid dispersions technologies requiring lipid-based emulsifying drugs systems (surfactants and solubilizers) for soft/hard gel capsules, have been leading platforms adopted by many industries as the viable options. With a recent surge in Class II and Class IV drugs, and trends in availability of new and innovative polymers, such as Soluplus® by BASF, the drug manufactures are weighing in investing more in the solid dispersions/solutions technologies to expedite formulation and drug development processes.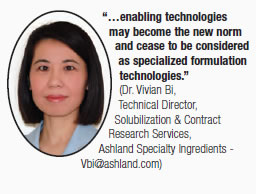 Dr. Vivian Bi: Throughout the past 5 years, the pharmaceutical industry has embraced amorphous solid dispersion technology as a viable, FDA-acceptable enabling technology to increase the bioavailability of poorly soluble drugs. This is not a new technology, the concept has been around for over 50 years, but adoption and acceptance has taken some time due to concerns over the long-term stability of the solid-dispersion intermediate. Excipients have played a critical role in contributing to the stability and are one of the key components for success.
In recent years, hot-melt extrusion (HME) has become a mainstream method for processing amorphous solid dispersions. The in-line analysis capacity of HME has provided additional momentum in its development. Thermal behavior of excipients, which in the past was often not evaluated, has become one of the key factors that dictate the HME process as well as the performance of solid dispersion.
Further, a series of recent investigations by Dahan et al on the interplay between apparent increases in aqueous solubility and decreases in intestinal membrane permeability, revealed the trade-off between these two parameters when using solubilityenabling technologies.1,2 The trade-off was identified in cyclodextrin-, surfactant-, and cosolvent-based systems. Meanwhile, research on nifedipine solid-dispersion formulation indicates concomitant increase in the drug's flux through the intestinal membrane in addition to its significant solubilization enhancement effect, and the two-fold advantage of solid dispersion has explained why it is so effective in bioavailability enhancement. These research results suggested a thorough understanding on the in vivo behavior of APIs in the presence of excipients can help predict the impact of excipients on API permeability, in addition to their solubilization effects.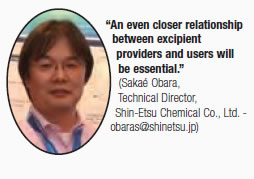 Sakaé Obara: With respect to Shin-Etsu, a new drug product was approved and marketed in 2011, which is the first case in the US and Europe of solid dispersion using one of our polymers, HPMCAS. This was also the first time Shin-Etsu became involved with a QbD approach, in which we prepared a series of samples with various properties for a DoE evaluatio by the excipient user. Another drug product using the same polymer was launched in this period, but in this case, using a different application method (co-precipitation), because neither spray-dry nor melt-extrusion could be used due to the characteristics of API. For such APIs, other new technology, such as KinetiSol® (developed by DisperSol Technologies, TX) is now also available.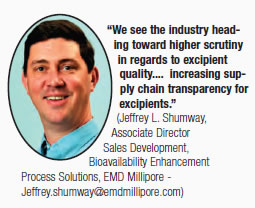 Jeffrey Shumway: The past 5 years have provided a significant shift in the need for bioavailability understanding; equipment and platforms that directly involve excipients and have driven better understanding of novel applicability of existing excipients. As an example, compounds such as meglumine, an amino sugar derived from sorbitol, with historic application as a contrast reagent for medical imaging, can be used as a solubility-enhancing excipient or in applications for improving stability of biomolecules as a counter-ion.
WHERE WILL WE GO FROM HERE?
Q:Where do you see the industry heading throughout the next 5 years, and the role excipients and excipient providers will play?
Dr. Shaukat Ali: The pharma industry has kept all options on their drug development disposal, with clear understanding to shorten the development time and reduce cost, and bring the innovative drugs faster to the market. Therefore, the drug manufacturers have adopted more active roles with the excipients manufacturers to streamline time and cost by building a true partnership.
Dr. Vivian Bi: Poorly soluble APIs will continue to present significant challenges in drug development. Enabling technologies, such as solid dispersion, lipid-based drug delivery systems, nano-crystalline particles and so on, will continue to play key roles in the development of poorly soluble APIs. With more in-depth understanding of mechanisms, formulation design, characterization, and manufacturing processes, the cost, timeline, and risks inherent in developing these APIs will be reduced significantly. In the near future, such enabling technologies may become the new norm and cease to be considered as specialized formulation technologies. By gaining better understanding of existing excipients and developing unique grades of existing excipients as well as new excipients, excipient providers can make important contributions to the increased use of these enabling technologies.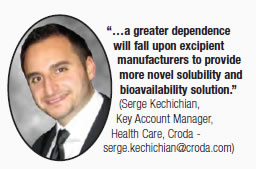 Serge Kechichian: The drug pipeline will continue to lean heavily and more significantly toward drugs within the low solubility BCS Class II and IV categories. Because of this, a greater dependence will fall upon excipient manufacturers to provide more novel solubility and bioavailability solutions. For those drugs with higher solubility, formulators will be looking to increase half-life and lowering the drug dosage. Thus, the need for increased drug stability and efficacy will increase in demand. For these types of formulations, higher purity excipients that contribute to enhanced drug stability, efficacy, and ultimately bioavailability and performance will be looked at more.
Sakaé Obara: An even closer relationship between excipient providers and users will be essential. Each project should develop into a closer technical collaboration, rather than a simple relationship of vendor and customer. Every API is unique, and this means that going forward, we will need to consider tailor-made excipients; this remains a big challenge and dictates closer vendorcustomer interactions. Another opportunity for helping our customers realize the potential of Shin-Etsu excipients lies in helping them understand more about our excipients. Although in one monograph, it is typical that an excipient has multiple grades that have different characteristics and should be properly chosen.

Jeffrey Shumway: We see the industry heading toward higher scrutiny with regard to excipient quality. There will be a particular focus on the excipient supply chain, which will be partially driven by governmental regulations. As part of the Drug Supply Chain (Title VII) of the FDA's Safety and Innovation Act (FDASIA), excipient manufacturers will be required to register their excipient manufacturing sites with the FDA, whereby a unique facility identifier will be required. The drug manufacturer will then be required to list all sites in which excipients are used in their generic drug manufacturing process. These requirements are just one step toward increasing supply chain transparency for excipients.
Efforts by the International Pharmaceutical Excipients Council (in which EMD Millipore is an active committee member), have encouraged the use and development of new and novel excipients. They have developed a novel excipient evaluation procedure as an independent process to help reduce the cost and uncertainty related to use of novel excipients in pharmaceutical formulations. Ultimately, this encourages the use of novel excipients in drug development programs and encourages drug formulation innovation. We believe that excipient manufacturers, distributors, and excipient users will continue to work more and more closely together to achieve higher quality for these materials with the ultimate goal of increased patient safety.
NEW OR SURPRISING INSIGHTS
Q: Is there any information about solubilization excipients, their applications, or the benefits they can deliver you believe DDD readers would find surprising?
Dr. Shaukat Ali: Drug Development & Delivery readers are all aware of the challenges the industry is facing today. With challenges mounting in the solubilization of NCEs, there are only few options available in the solid dispersions (eg, spray-drying, hot-melt extrusion, Kinetisol®, and electronspraying spraying among others) or the liquid dispersions (eg, self-emulsifying drug delivery systems or SEDDS/SMEDDS. BASF is addressing the need for new materials and developing innovative excipients. It is expected that with more choices in the excipients selection and understanding their safety and regulatory profiles, the industry will continue to assess both solid and liquid dispersions technologies to expedite drug development to reduce time and cost to meet unmet needs and patient compliance.
Dr. Vivian Bi: Hypromellose acetate succinate (HPMC AS) has been proven to be an effective soliddispersion carrier, as evidenced by the FDA approval of three new pharmaceutical products formulated as solid dispersions with HPMC AS. Until last year, the three commercial grades of HPMC AS (L, M, and H) were only available from a single source. Ashland announced in December 2012 that it will be adding all three grades to its portfolio of excipients for solubilization and other pharmaceutical applications in 2013. In addition, Ashland is working closely with its customers to design new grades of HPMC AS with improved functionality for solubilization. These novel and exciting excipients will provide additional solutions for conquering the challenges of poorly soluble APIs.
Serge Kechichian: High purity excipients can greatly impact solubilization and stability due to the lower peroxide levels present. Having ultra low peroxide levels have provided tremendous cost savings for large pharmaceutical companies; as high as $2 million. The increased solubilization that is permitted by the utilization of Super Refined excipients go hand in hand with an increase in permeability and bioavailability.
Sakaé Obara: New grades for processes of solubility enhancement are continuously being developed. While new excipients and new process technologies are current hot topics in the pharma-tech world, it may not be well-known that two commercial products (both immediate release and delayed release) claiming solid-solution were first marketed back in 1979 in Japan, using conventional excipients. Jeffrey Shumway: Recent developments and understanding regarding inorganic solubilizationenhancing excipients, which have already received Generally Recognized As Safe (GRAS) designation by the FDA, may provide novel solutions for APIs with challenging solubility properties and may serve as potential solutions to reduce formulation complexity.
NEXT STEPS
In subsequent issues, we will learn the thoughts and perspectives of solubilization technology providers, researchers, equipment providers, and the pharmaceutical and biotechnology companies. To ensure The Second Quadrant serves as a forum for interactivity and collaboration, I invite you to send your reactions, thoughts, and suggestions so we can continue our dialogue. I look forward to hearing from you, and together moving toward greater solubilization.
REFERENCES
1. Dahan A, Beig A, Ioffe-DahanV, et al. The two-fold advantage of the amorphous form as an oral drug delivery practice for lipophilic compounds: increased apparent solubility and drug flux through the intestinal membrane, AAPS J. (in press).
2. Dahan A, Miller J. Drug precipitation-permeation interplay: supersaturationin an absorptive environment. Eur J Pharmaceut Biopharmaceut. 2012;82:424-428.