EXECUTIVE INTERVIEW – West Pharmaceutical Services: Celebrating 90 Years of Healthcare Innovation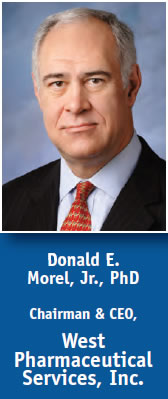 West Pharmaceutical Services, Inc. (West) is a global manufacturing company focused on the development of advanced systems for packaging and delivering injectable therapeutics and other healthcare products. West works side by side with the world's leading pharmaceutical, biotechnology, generic, and medical device companies to ensure that its customers' life-saving therapies are available for administration. Every day, more than 100 million West components are consumed in the global healthcare markets, from vaccines to protect children to diabetic care to advanced biologics to treat cancer. For 90 years, West has been an innovative technological leader collaborating with its customers to bring critical drugs to the global markets. Donald E. Morel, Jr., PhD, Chairman and CEO, West, recently spoke with Drug Development & Delivery about how the company works closely with pharmaceutical and biotechnology companies to deliver life-changing therapies safely and effectively to patients.
Q: Can you please provide our readers with some history and background on West?
A: West was founded in Philadelphia by Herman O. West and J.R. Wike in 1923. In the early 1930s, West was approached by Josiah Lilly to develop a package that could be punctured many times and yet maintain sterility within the container and not introduce any particulate contaminants. The concept of an elastomer septum held in place by an aluminum overseal was born and used by Lilly to package the first mass-produced insulin for human use along with life-saving antibiotics.
As the pharmaceutical industry grew and more products were brought to market, West built a reputation as an industry leader and over time, established partnerships in Japan, Europe, and Mexico. West became a global company focused on innovative packaging and delivery technology for parenteral drugs, vaccines, and diagnostics, as well as products for dental and veterinary care. Today, the company is headquartered in a new research and development office complex located in Exton, Pa., with manufacturing, sales offices, and technical centers located throughout the US, Europe, South America, India, China, and the Asia Pacific rim.
Q: How has West evolved from its founding in 1923 to its current role?
A: When West was founded, the company focused on rubber products for dental and consumer applications. In the early 1930s, H.O. West was asked to develop a novel packaging system for injectable medicines and launched the core products that helped the compan build its reputation. Through the next five decades, West grew through partnerships, acquisitions, and international expansion to become a global leader in systems for packaging injectable drugs as well as large-scale manufacturing of components for disposable medical devices. West also began to manufacture closure systems for a range of consumer products as well.
Since the early 2000s, West has grown rapidly from sales of $376 million in 2001 to more than $1.25 billion at the end of 2012. The company's product portfolio covers a range of elastomer products for drug packaging, aluminum overseals, and complex devices for drug administration and reconstitution. We are a global leader with our Daikyo partners in the development of advanced materials and packaging components for comple biologic molecules as well. Today, our skill set ranges from materials science and coatings to engineering design of complex devices, process technology, automated assembly, and project management using a thorough understanding of QbD and cGMP.
Q: How does West work with healthcare partners to bring pharmaceutical products to market?
A: Throughout the course of its 90-year history, West has been fortunate to work with and support the product development efforts of the world's leading healthcare and consumer companies. From early stage conceptual design to large-scale manufacturing, West's scientists and engineers seek to understand the customers' challenges and product needs, and offer innovative, costeffective solutions to meet those needs globally. To be successful over such a long period requires patience, a willingness to listen, and a culture focused on the customer and the ultimate end user, the patient.
Q: What are some of the most memorable milestones from your career at West?
A: First and foremost was the company's response to the Kinston, NC, explosion and fire in early 2003. Despit the loss of six colleagues and loss of the plant, our operations teams sprang into action to redeploy production in response to the needs of our customers. By the end of the year, we had not missed a single order. It was the worst time in the history of West, yet the experience brought out the best in our people and built bonds that have lasted to this day.
The acquisition of The Tech Group and Medimop in 2005 was key in the company's expansion into devices. Reaching $1 billion in sales in 2007 was a major milestone for the company.
West without Borders launched in 2004 and serves as the focal point of the company's charitable programs around the globe. Since its founding, West without Borders and other associate charitable programs have raised more than $6 million to support STEM education, cancer research, veterans initiatives, and educational and outreach programs for special needs children. It is a program that has impacted thousands of children around the globe, and one that brings an enormous sense of pride to all West employees.
Q: What are some of the biggest challenges the pharma industry faces today?
A: The pharmaceutical industry collectively is facing a number of challenges ranging from rising development costs, to low research and development productivity, to the slow pace of recovery among the world's largest economies. In addition, a large number of major drugs will lose their patent protection through 2017, and generic competition is increasing rapidly.
From a packaging standpoint, the industry and regulatory bodies are demanding cleaner and more innovative packaging systems. The increasing prevalence of drugs of biologic origin is necessitating new approaches to delivery as well, and customers are increasingly looking to devices to differentiate their products in therapeutic categories for chronic conditions such as rheumatoid arthritis.
Finally, counterfeiting is a problem that must be addressed, especially for very high-value drugs such as biologics and oncologics.
Q: Are there any future projects you're excited about?
A: I am excited about the overall future prospects for our business given our recent investments in plant infrastructure, information systems, and product research and development. West is well positioned to address the global drivers of the injectable drug market based on what we perceive to be th major trends – an aging population in western markets requiring greater treatment of chronic diseases, increased access to healthcare in emerging markets, rising generic volume, new biologic products coming through the approval process, and the need for safe, accurate, easy-to-use self-administration systems.
In our device business, there are several projects underway that have significant potential. More than 15 years ago, our Daikyo partners developed a unique polymer resin, Crystal Zenith®, for use as an alternative to glass in primary packaging. The material has been used extensively in Japan for contrast media and a range of biologic drugs. We have been developing a 1 mL insert needle syringe based on the Crystal Zenith polymer that eliminates the glue used to set the needle, tungsten particulate, and silicone oil-in-glass syringes while offering superior break resistance. The Crystal Zenith polymer also has great flexibility in that it can be molded into complex shapes for custom containers and can be used throughout the life cycle of a drug from bulk storage to vials to prefilled syringes to custom cartridges. In the biologic and oncology drug markets, it is becoming increasingly evident that advanced plastic systems will find a market.
We have been working on a number of autoinjector concepts in addition to a novel platform based on a patch injector that can be used to administer volumes larger than 1 mL over an extended period of time.
On the packaging side, we recently introduced NovaPure® components developed in accordance with the principles of Quality by Design or QbD. The QbD philosophy results in a product of superior quality attributes by incorporating an analysis of raw materials, process capabilities, design, and manufacturing methods collectively, building quality into the product.
In terms of our manufacturing footprint, we have completed our first elastomer facility in China, which is now operational, and will begin production from our first facility in India in early 2014. Due to volume growth in key product lines, we are also undergoing a major conversion at our Kinston, N.C., facility.
Q: Global healthcare needs and regulations evolve on a day-to-day basis. How has pharma globalization impacted West?
A: In terms of globalization, the primary impact on West is the ever-increasing complexity of the business in terms of supply chain, varying regulatory requirements, and understanding local market nuances. For example, in certain geographic regions, Luer syringes are used almost exclusively whereas in other markets, fixed needle systems are preferred. In China, the market is converting from glass IV systems to flexible bags and blown bottles. There are numerous other examples that add SKUs to the business and the associated costs of managing them. We manufacture over 36 billion pieces annually composed of more than 4,500 SKUs that get consumed in the healthcare markets. Quality expectations increase year by year, not only in terms of cleanliness, but also delivery timing and accuracy. Our people must understand that full, complete adherence to cGMP is nonnegotiable and mandatory; our quality system must be uniform and well understood. For a US-based company, we must also ensure full compliance globally with provisions in the Foreign Corrupt Practices Act.
We are measured by our conduct every day. The senior leadership team constantly communicates the expectations outlined in our corporate Code of Conduct. West plays an incredibly important role in the pharmaceutical supply chain globally. Our mission remains unchanged from H.O. West's vision – to work side by side with our customers to bring the best possible products to market for the benefit of patients everywhere.
Daikyo Crystal Zenith® is a registered trademark of Daikyo Seiko, Ltd. Daikyo Crystal Zenith® technology is licensed from Daikyo Seiko, Ltd. NovaPure® is a registered trademark of West Pharmaceutical Services, Inc., in the United States and other jurisdictions.