EXECUTIVE INTERVIEW – Presage Biosciences: Comparing Multiple Drugs & Combinations Directly in a Patient's Tumor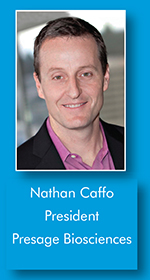 Presage Biosciences is a Seattle-based oncology company pioneering the incorporation of human efficacy data much earlier in the drug development and clinical trial processes with its patented CIVOTM arrayed microinjection platform. The CIVO platform allows for simultaneous assessment of multiple drugs or drug combinations directly in a single solid tumor – while still in a patient's body – to assess efficacy, resistance, and drug synergies. Presage partners with oncology-focused pharmaceutical companies through strategic alliances to drive decisions about which drug candidates and drug combinations should be advanced to which patient populations. Presage is also actively pursuing drug programs through in-licensing and is using CIVO to develop a portfolio of promising oncology therapies to advance to the clinic. Drug Development & Delivery recently spoke with Nathan Caffo, President of Presage Biosciences, to discuss his company's technology with the potential to usher in a new era of cancer drug development and testing.
Q: How is Presage working to change the cancer drug development and clinical trial processes?
A: We believe the most important model for understanding cancer drug response is the human patient. So Presage has developed a radical new approach to assessing drug response that enables the use of human tumor response data much earlier in development than previously possible. The company's mission is to revolutionize the way drugs are selected, tested, and targeted with the goal of making better treatments and drug combinations available to patients.
Q: How can early human efficacy data impact the success of new drugs or drug combinations?
A: Being able to simultaneously evaluate multiple drugs and combinations directly in human patients and far earlier in development will be a game-changer for the pharma industry. Most cancer drugs that enter Phase I trials will never reach the market, and the tools used currently to translate programs from preclinical models to human patients have serious limitations. Using our CIVO technology, Presage can incorporate comparative drug efficacy data from human patients at several key points in the clinical trial process, ranging from pre-Phase I through assessment of novel combinations with approved drugs, all without exposing patients to the toxicity of systemic dosing.
Q: Can you discuss CIVO further and how it works?
A: Presage has developed a predictive in vivo assessment tool called CIVO that analyzes and compares multiple drugs and drug combinations in a single living tumor – while that tumor is still in the patient. Our patented approach includes an arrayed microinjection technique and proprietary 3D analysis tools to help us understand the biology of tumor responses to drugs:
-The CIVO microinjection device inserts an array of multiple needles, each containing a different drug, dose, or combination into a tumor, delivering microdose cores of a drug directly into the tumor.
-Later, the tumor is resected for analysis. Quantitative analysis methodology enables Presage to assess drug interactions, tumor and stromal responses, and immune cell infiltrate provoked by different drugs – all across a range of drug concentrations.
Q: How is the Presage approach unique?
A: There is currently no other way to conduct multiple drug comparisons within a single living tumor. In fact, Presage was just granted its fifth US patent for CIVO. It can be used as an important complement to genomic-based approaches to identifying responder patient populations. Genomic approaches have certainly yielded results. However, as combinations of multiple targeted agents in oncology become increasingly used, clinicians and drug developers will run out of answers for which patient populations should be given which drugs. No longer will a common mutation in the target of a drug be enough to guide such decisions. Presage's CIVO enables a direct phenomic assessment that can elucidate the underlying biology of complex drug responses.
Q: What are the benefits of CIVO for companies developing drugs?
A: CIVO offers several specific benefits for companies developing drugs, including the following:
-Identification of novel drug combinations in biologically relevant in vivo models is possible at scale.
-Better decision-making about which drug combinations should be advanced to clinical trials in what patient populations, enabling evaluation of human data on a much more broad portfolio of assets with the same budgets.
-Assessment of immune response to oncology agents will be possible through microinjection in human patients prior to traditional Phase I studies.
Q: How is Presage currently using CIVO?
A: CIVO has been deployed with more than 100 approved and investigational drugs, and the predictive capability of the CIVO platform has been shown in multiple mouse models. Presage is evaluating the platform in a first-in-human study in collaboration with the Seattle Cancer Care Alliance (SCCA) and the Fred Hutchinson Cancer Research Center, with funding support from the National Cancer Institute (NCI). CIVO also is being employed in preclinical models, including canine cancer patients and human tumor xenografts in mice.
Q: What kinds of results have you documented with CIVO?
A: We presented preclinical proof-of-concept data at the American Association for Cancer Research (AACR) meeting in 2014. The data showed that microinjection of several standard-of-care cancer drugs using the CIVO arrayed microinjection platform induced spatially defined, mechanism-specific tumor responses. In addition, CIVO analysis revealed that these outcomes correlated with responses to systemically delivered drugs and also identified pre-existing resistance to chemotherapy. This data shows that our CIVO technology sets the stage for a new type toxicity-sparing comparative drug efficacy study in humans.
Q: What is the history of Presage Biosciences?
A: Presage is based on technology invented in the lab of Dr. James Olson, a prominent pediatric oncologist at the Fred Hutchinson Cancer Research Center. As a doctor who treats children with brain tumors, he experienced first-hand how poorly investigational drugs translated to the clinic. He was frustrated with the way drugs were traditionally assessed and invented the concept of arrayed microinjection to directly observe drug response in patients. We have evolved this technology into the current CIVO platform, which we are using to identifying effective drugs earlier in the development process based on clinically meaningful data.
Q: What are your partnership goals and objectives?
A: We already have two announced partnerships with innovative companies, Celgene and Millennium/Takeda Oncology, and we are in active discussions with several companies to employ CIVO in clinical studies to guide decisions about advancing drug combinations to particular patient populations. One area where I expect we can make a major impact is in the assessment of combinations with immunotherapy agents. I can't imagine how multiple drug combinations with immuno-oncology agents can be effectively evaluated without CIVO. How else can the involvement of a truly human immune system be modeled other than directly in a patient?
Q: What is your ultimate vision for the CIVO technology platform?
A: We would like to fundamentally improve how drugs and combinations are advanced to the clinic. Right now, only about 10% of oncology agents that enter a Phase I trial are ever approved by the FDA. We envision a day when that number, through better translational tools, rises to 50%. Drug developers and patients alike could benefit immensely.
To view this issue and all back issues online, please visit www.drug-dev.com.