EXECUTIVE INTERVIEW – PCT: Manufacturing the Future of Cell Therapies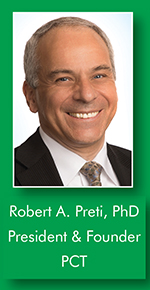 For over 17 years, contract development and manufacturing services provider PCT has worked with a multitude of cell therapy development companies and has helped these companies and the industry itself evolve — through infrastructure, innovation, engineering, and technology. PCT helps clients overcome the fundamental challenges of cell therapy commercialization by providing a wide range of mission-critical support services, including clinical and commercial GMP manufacturing, technology, and manufacturing development, including engineering and automation services, and GTP services such as cell and tissue processing. These services are supported by PCT's capabilities in logistics, storage, and distribution. To date, PCT has worked with more than 100 clients, manufactured more than 20,000 cell therapy products, and produced treatments for more than 6,000 patients. A critical distinction between PCT and most other manufacturing partners is PCT's singular focus on cell-based therapy. Robert A. Preti, PhD, President and Founder of PCT, recently spoke with Drug Development & Delivery about PCT's growth and the primary challenges facing the cell therapy industry.
Q: Can you provide some background on PCT's founding and early days? What need in the market did PCT fill?
A: In the mid-1980s, I worked at a small start-up, devising a system to grow bone marrow in three-dimensions. Eventually, my colleagues and I discovered that the constructs we were using to try growing bone marrow looked more like skin than bone marrow. So we started another company, called Advanced Tissue Sciences, and created a product called Dermagraft that is still being sold today. This was my first introduction to regenerative medicine. I joined the New York Blood Center, where I had the privilege to lead its bone marrow and hematopoietic stem cell processing and research laboratories. By 1996, it became clear there was a need to create a contract provider of these services that could go beyond the manufacture and supply of bone marrow, and I became increasingly interested in other clinical aspects of cell therapy development. And so I founded PCT in 1997 with a colleague, Andrew Pecora, MD, then the Hackensack University Medical Center's (HUMC) Bone Marrow Transplant Director. We had a similar vision for the future of cell therapy and regenerative medicine, and through our synergistic and complementary skills, PCT became the first for-profit contract manufacturing organization in the cell therapy field.
We founded PCT all those years ago to meet a need that we recognized: one for high-quality manufacturing and development services in what was then a newly emerging industry. As the cell therapy field has grown, there is increasing need for the development of technological innovations to help streamline, close, and automate many cell processing techniques, leading to faster scale-up, lower cost of goods, and improved robustness for the industry. PCT steps back and takes a holistic view of manufacturing processes based on our understanding of this industry.
In 2002, we took a very important step forward by assuming from Dendreon its Mountain View, CA, facility and West Coast-based clinical manufacturing activity. PCT purchased the operations, assuming Dendreon's facility, personnel, and its Mountain View-based clinical manufacturing for Provenge®. We did this with the full confidence that our ability to leverage the infrastructure among many clients and activities would provide more suitable economics and requisite skills development than for Dendreon to continue to float the entire infrastructure on the back of Provenge. We've since built out the facility significantly with the addition of more cleanrooms, QC labs, and manufacturing development space.
Q: Can you explain how PCT's approach is different from that of other CMOs?
A: That's actually quite simple. PCT is always in the act of innovating toward the future of commercial deliverability of cell-based therapies and making those innovations available to its industry colleagues. The innovations are driven by our mindset and supported by the fact that we have assembled an impressive team with expertise in cell therapy manufacturing and technology development. While many CMOs have some cell therapy experience, only PCT can bring 17 years of cell therapy-specific learning to each new project for each of our clients. Our many years of experience have uniquely positioned us to understand the challenges of delivering therapies that treat a patient with their own cells and developing new technologies and strategies to improve this process. We are driven to leverage that understanding to inform our innovation strategies.
Secondly, PCT approaches each client's project from a manufacturing perspective that we call Development by Design (DbD). The FDA has provided guidance via ICH Q8 for pharmaceutical development (where QbD principles are presented) for establishment of a Quality Target Product Profile (QTPP). The concept of DbD takes this one step further, whereby each of the critical aspects leading to viable commercial manufacturing are addressed, including not only quality, but also robustness, cost of goods (COGs), scalability, and sustainability. Together, these elements form the pillars of optimized manufacturing.
Considering DbD does not mean that a cell therapy developer needs to necessarily make a large investment much earlier on in the process, but it does mean they need to be planning ahead. Taking into account these five elements at an early stage can provide significant cost and time advantages for a cell therapy developer. Without a goal, and a road map to plot a path toward achieving that goal, developers can get lost in the moment and focus too narrowly on getting through today's important milestones while losing track of the big picture — commercial viability.
In order to help a client achieve efficient manufacturing processes that can lead to a commercially viable product, PCT offers both cGMP infrastructure for the manufacturing of clients' cell therapies and a complementary suite of manufacturing and technology development services, highlighted by the work of our Center for Innovation and Engineering. We can work with clients at any point in their development to provide phase-appropriate services that are designed to facilitate and propel them to commercial success.
Q: What are the drivers for the future growth of PCT?
A: We believe PCT's reliability, quality, and high level of customer service are some of the primary reasons our clients tend to extend their engagements with us. Our growth is also underpinned by a general trend in the industry. In 2014, there were a reported 378 regenerative medicine trials (39 in Phase III and 206 in Phase II); in 2015, that number rose to 631 (63 in Phase III and 376 in Phase II).1 It is expected that by 2020, there will be more than 20 FDA-approved cell therapies on the market, compared with only 11 currently.
In keeping with the growth of the industry, we strive to provide an opportunity in which clients can grow with us, moving through the clinical phases of development with our consulting and manufacturing solutions to guide them and optimize their processes. We have continued to increase the number of clinical trials we are providing manufacturing services for over the years, and our clients are progressing into Phase II and Phase III development.
Importantly, in March of this year, PCT announced a collaboration that enables us to take the next step in making our vision of becoming a global, commercial manufacturing partner a reality. By entering into a global collaboration and license agreement with Hitachi Chemical Co, Ltd. (HCC), a global conglomerate headquartered in Japan with a growing franchise in life sciences, including regenerative medicine, PCT has combined its industry-leading knowledge and infrastructure with the resources, engineering prowess, and operational excellence of a truly global powerhouse. As part of the collaboration, HCC purchased a 19.9% equity interest in PCT for $19.4 million. Caladrius, our parent company, retained the remaining 80.1% ownership of PCT. In addition, PCT licensed its cell therapy technology and know-how to HCC for cell therapy manufacturing in certain Asian territories, including Japan. PCT and HCC have also agreed to explore the establishment of a joint venture in Europe.
Q: As PCT looks to the future, how does it plan to expand its capacity as the cell therapy industry as a whole advances and more products near commercialization?
A: 2015 saw the addition of multiple long-term capacity client agreements with PCT, including Kite Pharma and ImmunoCellular Therapeutics, as well as revenues of $22.5 million. For 2016, we expect total revenue to exceed $30 million; our first half this year was $15.8 million, so we are tracking well toward that goal.
PCT has current and anticipated requests for capacity that require expansion, and we are in the process of a seamless expansion of our current capacity. We also continue to have ongoing dialogues with both existing and prospective clients as clinical trials in immuno-oncology, immune modulation, and other cell therapies continue to advance and approach commercial launch. In order to accommodate this anticipated growth, we are currently in the midst of an expansion of our infrastructure. Our ongoing expansion is planned to increase our Allendale, NJ, cleanroom capacity by 60% while developing and implementing cell therapy-specific, pharmaceutical-grade quality systems to support commercial manufacturing for the US and Europe. We intend our next moves to include further expansion to a commercial footprint in the US and Europe, including modular facilities that can be built out in stages to support our clients while allowing for technological advances of manufacturing standards over time.
Q: How will cell therapy manufacturing processes need to evolve in the coming years to make cell therapies commercially viable?
A: To achieve optimal DbD-based manufacturing, particularly for patient-specific cell therapies, the industry needs not only manufacturing processes that are vastly different from the traditional methods of manufacturing biologics, but also ones that are vastly different from even the current standard of cell therapy manufacturing. In order for the cell therapy industry as a whole to truly become commercially viable, we must envision and develop the "factory of the future." What does that look like? Ideally it is a manufacturing facility in which processes are in controlled, non-classified (CNC) spaces, with concurrent adjacent processing of patient lots. This leads to a highly mitigated risk of both human error and of cost impact due to idle capacity. An ideal facility will also have a robust, secure supply chain, a minimal set of unit operations to execute the process, and a very low failure-to-deliver-therapy rate.
Cell therapy manufacturing must move largely away from the cleanroom model and be sent to the "back of the facility," into production spaces more suited to high-volume production as described. That is not to say that cleanrooms have no place in cell therapy; they certainly do — at least for now. However, any time that automation, integration, and closed processing systems can result in steps whereby one entire cleanroom need not be dedicated to one process for one patient at a time, your bottom line will likely be in better shape for the effort.
Q: What should cell therapy developers keep in mind as they choose a contract manufacturing partner?
A: Cell therapy developers should thoroughly investigate the candidates when transferring from an in-house facility or partner (such as an academic center) to a manufacturing partner. They should look at technical expertise (Do they have experience with my specific cell type, with specific manipulations and with manufacturing development? Do they offer a broad range of technology solutions? Are they simply playing a "me too" game?); experience (What manufacturing challenges have they overcome for their clients? Do they have the experience and facilities required to meet all FDA standards?); and the process of collaboration (Are they willing to be flexible? Is there a two-way flow of communication?).
What cell therapy developers need in a partner is an organization willing to think outside the box while meeting established phase-appropriate quality standards, offer custom solutions, and find improvements which can be integrated at the right times over the course of clinical development to make their process more efficient, more cost effective, and more sustainable. A developer and its manufacturing partner should share the goal of bringing their cell-based therapy to market with a manufacturing process that best positions the product for long-term commercial success.
REFERENCE
1. Alliance for Regenerative Medicine
To view this issue and all back issues online, please visit www.drug-dev.com.