EXECUTIVE INTERVIEW – Cardax Inc: Delivering Nature-Identical Astaxanthin to the Market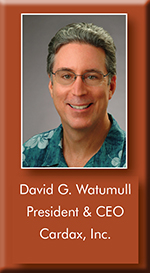 Headquartered in Honolulu, Hawaii, Cardax focuses on developing products utilizing astaxanthin, a naturally occurring compound demonstrated to reduce inflammation without many of the harmful side effects of current anti-inflammatory treatments, such as steroids and NSAIDs. More than 40 human clinical trials supporting the safety and efficacy of natural astaxanthin have been conducted to date. As the broader scientific community has discovered the health benefits of astaxanthin, awareness and demand for astaxanthin has increased significantly. A publicly traded company, Cardax has strategic alliances with two multinational companies: 1) BASF, the world's largest chemical company, related to the use of a proprietary, scalable, and cost-effective synthetic astaxanthin products that deliver nature-identical astaxanthin to the blood stream; and 2) Capsugel, a Pfizer spin-out and leading encapsulation, tableting, and formulation company, related to the proprietary formulation of astaxanthin for increased oral bioavailability. David G Watumull, the company's President and CEO, spoke with Drug Development & Delivery to discuss Cardax's plans to create a new platform for products in the consumer health and pharmaceutical markets based on the delivery of nature-identical astaxanthin.
Q: For our readers who may be unfamiliar, can you provide some company background and history on Cardax?
A: Cardax was founded in 2006 as a spinoff of Hawaii Biotech, where I had been President and CEO since 2001. However, the genesis of forming a company around astaxanthin for the mass-market came about several years earlier in the late 90s, when I was an investment banker working with Aquasearch, a firm that produced natural astaxanthin from algae on the Big Island of Hawaii. Aquasearch's original target was the salmon feed market, where astaxanthin is used to confer salmon's distinctive pink color, but the cost of microalgal production was not competitive with the synthetic products on the market at that time. Searching for a viable business model, I noted that astaxanthin-fed salmon grew larger, healthier, and lived longer. Without astaxanthin, scientists observed, salmon were not strong enough to swim upstream. I began researching the scientific literature, and the more I looked, the more intrigued I became about the combination of astaxanthin's safety and its antiinflammatory/anti-oxidant properties. I suggested Aquasearch develop a human dietary supplement based on microalgal or aquafarmed astaxanthin and in 2000, joined the company to help develop and launch that product. I later became convinced that large-scale, mass-market microalgal production of astaxanthin was not commercially feasible and joined Hawaii Biotech as President and CEO to develop, in addition to Hawaii Biotech's sub-unit vaccines, the natural product synthesis of a proprietary astaxanthin product for mass-market human use. To bring this vision to reality, we spun Cardax off from Hawaii Biotech in 2006 and took it public via a reverse merger in 2014.
Q: Is there a particular drug discovery methodology that Cardax adheres to?
A: We see Cardax as part of an industry trend that entails producing a category of consumer health products that have the safety of "food" and the efficacy of a drug. The Omega 3s are an example of this trend that features the convergence of pharmaceuticals and dietary supplements. To be successful, these new products must have real science behind them. As far as astaxanthin is concerned, to date, over 1,000 peer-reviewed papers exploring the compound have been published in scientific journals, including more than 40 human clinical trials. More than 50 of these peer-reviewed papers have been published by our Cardax team members, 10 of which appeared in The American Journal of Cardiology.
Our Chief Scientific Officer, Gilbert M. Rishton, PhD, terms the practice of using dietary supplements or nutraceuticals as pharmaceuticals as "disruptive therapeutics." He calls finding the new cures "disruptive drug discovery."
Sourcing natural products to treat disease seems entirely logical, but it's at odds with the current class of target-driven drug discovery methods. such as biochemical screening, which has largely failed to produce safe and efficacious drug candidates. Rather than ending up with drugs with severe side effects, we believe it's best to start with natural products and dietary supplements that are actually safe from the get-go and (here is the key) demonstrate real efficacy through traditional human clinical trials.
Q: Can you provide more information about your products?
A: We expect our first product to be a proprietary astaxanthin consumer health (dietary supplement) product that will deliver nature-identical, pharmaceutical-grade astaxanthin to the bloodstream. This product will be manufactured via natural product synthesis by BASF, likely formulated by Capsugel, and will require GRAS (Generally Recognized as Safe) designation for marketing in the US. Once the consumer product is on the market, we plan, either directly or through other alliances, to expand usage by conducting appropriate human clinical trials and developing pharmaceutical therapies for diseases in which inflammation and oxidative stress are strongly implicated, including, but not limited to, osteoarthritis, rheumatoid arthritis, dyslipidemia, metabolic disease, diabetes, cardiovascular disease, hepatitis, cognitive decline, macular degeneration, and prostate disease.
Q: What's the rationale behind producing a synthetic astaxanthin product that delivers nature-identical astaxanthin to the bloodstream?
A: The amount of astaxanthin that can be manufactured from algae is quite limited, requiring multiple steps and copious amounts of land, water, labor, and related infrastructure. It's inherently a very expensive and time-consuming process. What's more, the "natural" product is typically only 5% to 15% astaxanthin. In contrast, we anticipate synthetic nature-identical products will be highly pure. Because you're growing algae in an outdoor setting, it's hard to keep your batch from getting adulterated – even if the contaminant is minute. In contrast, the manufacturing rigor that can be provided by a nature-identical manufacturing process can eliminate these quality constraints. Very importantly, microalgal production has not been proven to scale efficiently to the quantities required for the mass-market, whereas nature-identical manufacturing should be scalable.
Q: Can you discuss your relationships with BASF and Capsugel?
A: BASF has exclusively licensed the rights to develop and commercialize consumer health products utilizing nature-identical astaxanthin and will pay us royalties on their sales. With Capsugel, our goal is to jointly develop and commercialize proprietary formulations of products utilizing nature-identical astaxanthin that will provide enhanced oral bioavailability compared with other astaxanthin products on the market.
Q: Can you talk about recent research into astaxanthin that may be of interest to readers?
A: Even though the astaxanthin market has grown considerably throughout the past few years, there is some research going on that we expect could expand the market for astaxanthin significantly. In addition to its well-established anti-inflammatory properties, it looks like astaxanthin may play a major role in aging by acting as a mimetic for caloric restriction (CR). As your readers mostly likely have heard, CR is a well-known research intervention in the biology of aging in model organisms. In fact, CR is the only non-genetic intervention that consistently has shown an extension of maximum life span in model organisms of aging.1 Astaxanthin could provide the physiological benefit of CR without the actual need for restriction of calories. While there is not a full understanding of the biological basis of CR, our thesis is that it's linked to nutrient-sensing biological pathways that modulate growth and biological systems responsible for stress resistance, and ultimately aging. There's another very intriguing quality to this compound. Our hypothesis is that CR induces hormesis, a low-level stress, which triggers the up-regulation of stress-resistant biological pathways. The kicker is that this includes the FOXO3 gene, which is one of only two genes that have been consistently shown to influence longevity in diverse human populations (the other gene is Apolipoprotein E). The upshot is that we believe astaxanthin is a key to triggering the FOXO3 gene's positive influence on preventing chronic diseases and ultimately improving longevity.
Q: What are the next critical steps for Cardax?
A: Clearly, we are looking forward to launching our first product(s) through our relationships with BASF and Capsugel. As part of the launch, we will work to raise scientific awareness of astaxanthin's anti-inflammatory and anti-aging qualities in the appropriate scientific forums. In addition – with additional financing or with a partner – we plan to conduct low-risk, economical human proof-of-concept clinical trials in areas of interest, including osteoarthritis, diabetes, liver disease, and cognitive decline, which may promote consumer health sales and advance our pharmaceutical development program.
To view this issue and all back issues online, please visit www.drug-dev.com.
REFERENCE
1. Willcox BJ, Willcox DC, Todoriki H, et al. Caloric restriction, the traditional Okinawan diet, and healthy aging: the diet of the world's longest-lived people and its potential impact on morbidity and life span. Ann NY Acad Sci. 2007;1114:454-455.