EXECUTIVE INTERVIEW – Capsugel: Choosing the Right Pharmaceutical Design, Development & Manufacturing Partner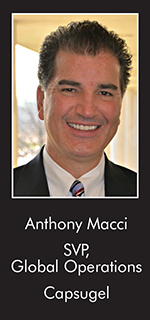 Pharmaceutical companies today increasingly require specialized design, development, and manufacturing partners to help bring new and improved drugs to market. These companies need partners of varying degrees throughout the drug development process, from preformulation, formulation, and development, through to clinical trial supply and commercial manufacturing. However, many pharmaceutical companies are challenged with how to effectively select and then manage such partners in order to achieve successful outcomes.
 Anthony Macci, SVP of Global Operations at Capsugel, offers his perspective to Drug Development & Delivery on what pharmaceutical companies should keep top of mind when working with trusted design, development, and manufacturing partners. For more than a century, Capsugel has been the global leader in the technology and supply of empty, two-piece hard capsules to the healthcare industry. Today, with the emergence of its Dosage Form Solutions business unit, the company has also become a leading provider of innovative drug delivery technologies to the pharmaceutical industry. Capsugel is leveraging its science and engineering core to develop new technologies, an expanded set of capabilities throughout the drug development process, and increased production capacity in both capsule technologies and specialized finished dosage forms. Mr. Macci also highlights how these investments enable the company to offer integrated, high-quality, highly customized solutions spanning design through to clinical and commercial manufacturing.
Q: Can you provide our readers with insights into the leading trends in global pharmaceutical design, development, and/or manufacturing today?
A: From my vantage point, three key developments are driving a great deal of change within the global pharmaceutical design, development, and manufacturing space. First, the industry has traditionally developed and introduced high-volume, blockbuster drugs that targeted large patient groups and diseases. This trend has shifted more and more toward a demand for medicines designed to address the needs of smaller patient groups, such as pediatric dosage forms and orphan drugs. As a result, pharmaceutical companies are increasingly working with specialized partners on the design, development, and manufacture of innovative drugs, to accelerate the development process as well as contain the upfront investments and costs associated with the ramp-up of smaller volume projects.
Second, given that an estimated 60% of pharmaceutical compounds in early development have poor solubility, there is a continuing need for more advanced technologies in the design stage to improve compound bioavailability. For example, solid amorphous dispersion technologies – based on either spray-dried dispersion (SDD) or hot-melt extrusion processing – lipid-based formulations, and nanotechnology are being used to address the bioavailability challenges associated with certain compounds. The percentage of highly potent APIs (HPAPIs) in the pipeline is also growing, which requires specialized dosage forms and sophisticated, high-containment capabilities both in development as well as commercial facilities to ensure safe handling of such compounds. Pharmaceutical companies are more often relying on specialized design, development, and manufacturing partners who have invested in these advanced technologies and manufacturing capabilities to effectively and safely advance their compounds and ultimately bring new medicines to market.
Third, there is greater emphasis by pharmaceutical companies in achieving value through the selection and management of trusted, integrated partners with proven experience. Pharmaceutical companies recognize that working with the right partner – with enabling technologies, specialized facilities, as well as experience and know-how in design, development, and scale-up – can deliver major benefits in successfully bringing products to market faster. Companies understand the importance of developing a mutually beneficial, win-win relationship with these partners to achieve their product objectives.
Q: What would you say are the biggest challenges your customers face in managing pharmaceutical design, development, and/or manufacturing partners in this new environment?
A: The most significant challenge is that pharmaceutical companies increasingly do not own or manage the commercial manufacturing of their medicines. Specialized, smaller companies, and even virtual companies with single or a few compounds, are taking more compounds through the clinical process and account for an increasing percentage of new product approvals. These companies have less direct control of the manufacturing processing, making them more reliant on partners to successfully execute their projects. That is why choosing the right partner and developing trusting and transparent relationships throughout the process is so important today.
Additionally, and tied to that, are the more stringent regulatory and industry manufacturing quality standards being implemented globally. Because pharmaceutical companies are not developing and manufacturing all their medicines, they are increasingly reliant on trusted partners to ensure their products are meeting global regulatory and quality standards. Any failure in quality standards could result in delays in product approvals, costly recalls, or failure to supply patients with needed products, damaging the company's reputation with consumers and investors.
Q: As manufacturing technologies for dosage forms continue to advance, what qualities should pharmaceutical companies, virtual companies, and biotechnology companies be looking for in design, development, and/or manufacturing partners?
A: There are two key questions companies need to be asking themselves. First, is this potential partner committed to the core concepts of trust, transparency, and collaboration? Further, do this potential partner's goals align with our company's goals and core values? At Capsugel, we stress the importance of cultivating each customer relationship with an "alliance mindset" – an approach in which we view ourselves as seamless extensions of our customers' project teams in advancing their compounds. We focus on fostering honest and open dialogue with our customers, and are quite flexible in our contractual approach, so that we can together deliver an innovative and high-quality product to market as fast as possible.
Second, does this potential partner have the technology breadth, expertise, and infrastructure needed to ensure an optimized design for meeting our compound's target product profile and commercial objectives? At Capsugel, we differentiate ourselves with a solutions-driven approach grounded in science and engineering expertise that we bring to every customer project. By continuously expanding and enhancing our portfolio of enabling technologies and capabilities, and employing science-based technology selection methodologies, we are well positioned to help customers choose the solution best suited for their specific needs. We take pride in being completely unbiased in both technology or finished dose form presentation. This ensures that our customers move forward with the technology that makes the most sense for their compound, and ensures a partnership basis for future collaboration.
Q: Quality manufacturing is a hot topic in the industry today. What are key approaches that pharmaceutical companies should be looking for in their design, development, and/or manufacturing partners to ensure they are meeting quality manufacturing guidelines?
A: From a high-level perspective, pharmaceutical companies should work with partners who have demonstrated – through both track record and continued investment – that they place quality at the forefront of everything they do. In searching for such partners, these companies should confirm that continuous quality improvement is an integral component of their drug design, development, and manufacturing process.
In the late 1990s, benchmarking by the pharmaceutical industry of its development and manufacturing processes against other industries led to the concept of Quality by Design (QbD) for drug products, which has since been broadly adopted in both regulatory and industry circles. Pharmaceutical sponsors now typically demand QbD methods be used for their projects with development partners, and the FDA's use of Question-based Review (QbR) processes necessitates the need for QbD-type data.
Instead of focusing quality controls on testing completed products and discarding those that fail to meet specifications, QbD principles highlight the importance of assuring quality through proper design and risk management. The understanding and control of critical quality attributes (CQAs) and critical process parameters (CPPs), from the concept stages of dosage form design, helps ensure high-quality and consistent manufacturing of finished dosage forms. Implementing QbD effectively requires significant investment to understand the CQAs and CPPs at each process phase for a given technology and process train, utilizing design of experiments (DOE), and scale-up studies.
At Capsugel, we have built a successful track record of using QbD principles with our hard capsules to achieve desired product characteristics. My colleague Sven Stegemann recently led a study that examined the CQAs within and between different batches of empty hard capsules to better understand their variability and impact on the desired quality and performance of the final dosage form. The study, which provided the first comprehensive collection of relevant QbD data for hard capsules, confirmed that Capsugel capsules are suitable "excipients" for QbD-based product development and manufacturing.
We have also incorporated QbD principles into our product design, development, and manufacturing processes for specialized dosage forms utilizing SDD, lipid-based/liquidfilled hard capsules, soft gels, and other technologies. We design dosage forms with "manufacturability" in mind, and utilize QbD-based development to streamline scale-up and regulatory approval in bringing compounds to market. Significant investment over the past 20+ years has been made in developing "formulation maps," which consider an API's physical and chemical properties, and can be used in conjunction with the target product profile (TPP) to identify a formulation that is likely to produce physically stable formulations with the desired performance early in development.
The TPP that is created during initial screening can guide the entire development process and be refined with additional product and process information for specific projects. Predictive testing can be combined with risk assessments to identify CQAs for further study, and physical stability maps can be used to predict whether parameters, such as drug loading, humidity, or temperature, represent a risk to stability during manufacture or long-term storage. For SDD manufacture, as an example, common CQAs include physical state, particle size, bulk density/morphology, residual solvents, water content, and assay/related substances/potency. Potential TPP impact, important SDD formulation parameters, and important SDD process parameters have been thoroughly studied and modeled in order to facilitate QbD-based development and scale-up.
Six Sigma is another approach that focuses on a continuous improvement process to achieve a level of performance for capsule manufacturing that is very consistent and highly reproducible. Six Sigma calls for the manufacture of capsules at quality levels that are far higher than those measured by a traditional, less-stringent Acceptable Quality Level (AQL) approach. In 2013, Capsugel launched our Coni-Snap® Sigma Series capsules to offer quality performance that significantly benefits our customers at each stage of the production process. Our customers using Coni-Snap Sigma Series capsules tell us that the higher quality increases production cycle time, reduces deviations and investigations, and has lowered inventory levels. This gives them the opportunity to focus on other aspects of their business.
In addition to implementing QbD and other methods, design, development, and manufacturing partners are adopting their own approaches to improve the quality of their products. At Capsugel, we incorporate our manufacturing know-how into the design and build our own, proprietary manufacturing equipment – for example, for capsules and drug product intermediates based on SDD technology – enabling us to achieve quality levels and throughputs that "off-the-shelf" equipment cannot achieve. We have also used "science of scale" and our deep understanding of process technology to develop specialized lab-scale equipment for feasibility studies that speed the overall development process while minimizing the use of valuable active ingredients.
Q: What investments is Capsugel making to expand its footprint to better meet the needs of its customers as a specialized solutions provider?
A: In 2013, we formally established Capsugel Dosage Form Solutions, our business unit focused on developing innovative drug delivery products by integrating our formulation R&D expertise, proprietary technology platforms, and commercial manufacturing infrastructure. Later that year, we acquired Encap Drug Delivery and Bend Research to further expand our technology platforms and capabilities.
Since then, we have transformed into a leading solutions provider through integration, investment, and growth. In 2015 alone we unveiled a new SDD commercial manufacturing facility at our Bend, OR, site. The facility builds upon Capsugel and Bend Research's proven, more than 20-year record with SDD technology and unparalleled experience in the formulation of more than 1,000 compounds. It includes the installation of two new specially designed commercial-scale spray dryers, which complement and expand the commercial-spray drying capacity at the facility, including one SDD unit designed to accommodate high-potency compounds. With the completed facility, we now offer the largest integrated SDD technology capability in North America.
We also announced plans to double the size of our Edinburgh, Scotland, facility to increase our liquid- and semisolid-fill hard capsule manufacturing capacity for drug products utilizing lipid-based technology to address low solubility and/or high-potency compounds. The expansion will also further diversify our technology platforms offered at the facility, including the addition of SDD formulation and development capabilities. Eventually, our SDD offering in Europe will be expanded to also include development through commercial-scale capabilities.
In addition, we installed additional isolator technology at our Ploërmel, France, facility for the development and commercial manufacturing of soft gel and liquid-filled hard capsule dosage forms containing high-potency compounds. We also added new laboratories to support our growing pharmaceutical product development activities. These developments come following a successful US FDA inspection of the facility earlier in the year.
Q: What are examples of Capsugel's new capabilities being put into action?
A: A few recent examples come to mind, citing the ultimate objective – advancing our customers' drug compounds to clinic and on to commercialization. One is our work in patient-centric product development. Recently, we collaborated with a start-up European pharmaceutical company to improve the taste of a pediatric epilepsy medication that was only available in high-sugar form. While taste masking was necessary to improve the drug's taste so children would take it, the addition of sugar actually exacerbated the condition by increasing the risk for inducing seizures. Our formulation scientists tapped our broad technology portfolio to pinpoint the right solution for the needs of this compound. Using our proprietary lipid multiparticulate technology, we developed a sugar-free, yet taste masked formulation, delivered in a child-friendly dosage form that could be "sprinkled" on soft food like yogurt, or in a drink like orange juice. As a result, our partner was able to introduce a patient-centric dosage form with an improved bioavailability profile and acceptable dosage form that will have a direct and positive impact on the experience of young patients with epilepsy.
Another example area is innovating existing compounds often using the NDA 505(b)2 regulatory pathway for improved efficacy and/or new indications. To that end, we are increasingly using our bioavailability-enhancement platform to enhance the bioavailability for compounds with low solubility. In one case, we are using an amorphous dispersion to improve the performance and cost effectiveness of a hepatitis C vaccine. In another, we are using SDD technology to improve the bioavailability of an existing blockbuster drug for prostate cancer to deliver patient convenience through reduced pill burden.
Through these and other examples, we are leveraging our expertise in science and engineering to help our customers bring better medicines to the marketplace.
To view this issue and all back issues online, please visit www.drug-dev.com.