EXECUTIVE INTERVIEW – BioCare, PharmaCare, MedCare: Datwyler's New Health Care Offering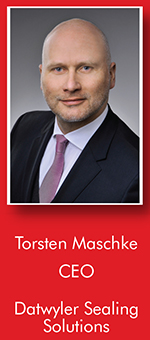 Today's healthcare industry and market is ever-changing and provides suppliers and manufacturers with an abundance of opportunities as well as certain challenges. A consistent strategy focused on the present, near, and distant future has to be the core of any company development. Datwyler, a Swiss-based industrial supplier, introduced new healthcare offering at the beginning of this year. Guided by the company's values and key principles, the three categories show how a pharmaceutical supplier today can fully cater to its customers. Drug Development & Delivery recently interviewed Torsten Maschke, CEO of Datwyler Sealing Solutions, to speak about the opportunities and challenges the current healthcare industry poses and how they are met by Datwyler's strategy and products.
Q: Can you provide an overview of Datwyler as a company and your most important markets segments? How would you describe your position in the healthcare industry?
A: The Datwyler Group is a Swiss-based focused industrial supplier with two divisions and leading positions in global and regional market segments. In our Sealing Solutions division, we provide customized sealing solutions to manufacturers and companies in five segments: healthcare, automotive, consumer goods, civil engineering, and general industry. Building on more than 100 years of experience, our products and services combine high-quality material, innovative technologies, outstanding engineering, and process know-how. We have a global manufacturing footprint and a diverse portfolio that caters to a variety of business sectors. We possess expertise in different fields and segments, a diversity which we see as one of our biggest assets.
Datwyler is a globally acting company, constantly developing our sites all around the world. We have facilities and manufacturing plants on three continents and sell to customers in over 100 countries. Our more than 6,000 employees make it possible for us to constantly improve and strive for the best-in-class products, no matter if it is an elastomer component for a tunneling project or an aluminum cap to package sensitive medication. All industries that we cater to are of great importance, both on their own and as a part of Datwyler Sealing Solutions. No matter if we are talking about the automotive or the healthcare industry, innovative solutions and the manufacturing of safe and reliable products are what matters most to us and our customers.
Q: Could you explain the individual business segments of Datwyler Sealing Solutions in more detail? What products are characteristic for each one?
A: In each business segment, Datwyler Sealing Solutions focuses on solutions for sealing or closing different industrial products and product packaging. At the same time, our experts are looking for ways to improve the products of our customers and, consequently, to support the challenging targets of our customers and their customers.
Our most important segment, the healthcare unit, provides a unique range of future-proof healthcare sealing solutions and services for primary and secondary packaging, including the most advanced elastomer formulations, proprietary coatings, sterilization options, and aluminum seals for high-efficiency production lines. The healthcare segment is consistently geared toward the future and new solutions and developments for our customers. In the healthcare industry especially, developments and new products are coming fast. It is very important to us to not only know trends but to shape them. With our newly presented healthcare offering and strategy, we are achieving exactly that.
That ambition is present in all our business segments. In the automotive segment, we develop and manufacture components and solutions for braking systems and elastomer components for SCR systems used for the after-treatment of exhaust gases. Every second car worldwide features a Datwyler component. Our work provides safe and emission-reducing solutions through innovative technologies.
In the consumer goods segment, we develop and manufacture sealing solutions for goods from industries, such as the food industry, and actively pursue maximum safety in this field. The civil engineering segment focuses on solutions in tunneling, building construction, civil infrastructure, and track superstructure. The solutions Datwyler provides in this business segment contribute greatly to human mobility, convenience, and safety.
Our segment general industry includes four market sub-segments, namely small engines and non-automotive vehicles, electrical components and electronics, building and mechanical engineering, and processing technologies.
Q: Datwyler has just presented a new healthcare offering. What motivated this development?
A: With the ambition to set a new benchmark and stay a key market player in the healthcare industry, we have just recently shaped our strategic approach and identified three key opportunities in the healthcare industry, which are directly linked to the categories of our new healthcare offering. Since we are partnering with the world's top pharmaceutical and medical companies, it is important to underline our strong sense of future trends and that we are prepared to respond to every development in the current healthcare market. Our approach combines global knowledge and local manufacturing expertise. We strive for shaping the future of the healthcare industry. Our three identified key opportunities – Patient Safety, Future Health, and Global Leadership –contribute to this target.
Subsequently, the new healthcare offering provides three categories that will ensure more transparency for our solutions and meet our customers' needs and expectations: Bio Care offers solutions for the most sensitive, large molecule injectable drugs. Components of this category also provide the lowest available particle levels in the industry. Pharma Care addresses the needs of small molecule injectable drugs that require production flexibility and outstanding quality. Med Care offers medical companies a broad range of materials and technical support.
Q: Are there any particular services or products that distinguish Datwyler in the healthcare segment?
A: In the healthcare segment of Datwyler, we develop and manufacture sealing solutions for primary and secondary drug packaging and medical devices that are supplied to leading pharmaceutical and medical companies worldwide. This includes a number of different components and coatings that can be customized to specific needs and products.
Our cleanroom manufacturing, state-of-the-art facilities, and the resulting products are a distinctive asset for us. Our production facilities are aligned to our First Line standard and are specially designed to operate in a fully integrated good manufacturing practice (GMP) cleanroom environment. The process flow, gowning protocols, personnel, and material flow result in the lowest endotoxin, bioburden, particulate, and defect levels available in the industry. Additionally, it includes automated production cells, fully automated camera inspection, and a unique validated washing process. The approach exceeds the most stringent quality standards of the European and US regulatory authorities and is certified to ISO 15378. All facilities aligned with the First Line approach incorporate rational and lean production flows in accordance with the Six Sigma methodology.
Q: Which products are produced in these specialized facilities?
A: A key product range that is exclusively manufactured in our facilities in accordance with the First Line standard is our Omni Flex series. Based on the research of our experts and the monitoring of markets trends within the parenteral packaging industry, we found that there is a growing demand for fluoropolymer-coated elastomeric closures on the market, primarily to mitigate risks related to drug stability and compatibility.
An example: For a therapeutic protein, the exact chemical make-up and three-dimensional conformation can influence the efficacy of the drug product. Interactions with leachables, including silicon oil, can present a risk to the safety of therapeutic proteins. Therefore, many manufacturers of biologics or biosimilars are already relying on fluoropolymer-coated closure solutions today. We can supply this demand with our Omni Flex-coated components and especially with the Omni Flex Coated Plunger for pre-filled syringes. Omni Flex provides total coverage of the product, including the benefit of a total barrier coating, meaning the need for siliconization of the plunger rills is eliminated. The plunger, as the largest source of subvisible (silicon) particles, is therefore eradicated. As a result, the particle levels of Omni Flex Coated Plunger are some of the lowest in the industry.
Q: What are the next steps for Datwyler? Which markets do you see the most opportunities in?
A: Datwyler will continue to bring their products and manufacturing concepts to even more customers around the world – in keeping with the motto "Think global, act local." Two facilities incorporating the First Line manufacturing concept are being built and/or expanded and will start operating to full capacity in India and in the US in 2018. They will complement the entity in Alken, Belgium, which has been producing components aligned with the First Line standard since 2009. The expansion of our facility in Pune, India, emphasizes our strategy to drive our role as a key player in the global healthcare industry and shows our commitment to the national Indian market and the Asia Pacific region. India as a substantial force in the global pharma market provides a great opportunity to introduce the First Line manufacturing standard to the global and local markets. Our commitment also includes hiring and involving the local community. While the facility is currently employing 290 people, staff numbers will rise to a total of 350 employees by the time production starts.
In the US, we are currently constructing the third facility that will manufacture aligned with the First Line standard. Although we have been present in the US since 1981, our new facility in Middletown, Delaware, will be one of Datwyler's key manufacturing plants worldwide. Production is scheduled to start in 2018. This facility will allow us to cater locally produced components to our US-based customers, thus reducing lead times and time-to-market. This ongoing expansion of our presence and resources in the largest pharmaceutical market worldwide will further strengthen Datwyler's position as a reliable and competent partner to the global healthcare industry.
To view this issue and all back issues online, please visit www.drug-dev.com.