EXECUTIVE INTERVIEW – ALCAMI: Delivering Solutions by Connecting at Every Level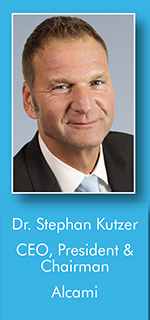 AAIPharma Services Corp. and Cambridge Major Laboratories, Inc. have joined to form Alcami Corporation, a world-class solution provider and supplier of comprehensive pharmaceutical development and manufacturing services. The company's transformation is reflective of current outsourcing trends in which small and mid-size pharma and biotech companies have eclipsed larger companies to become the leading outsourcers for new clinical compounds. With seven sites across the globe, Alcami's combined capabilities include API development and manufacturing, solid state chemistry, formulation development, analytical development and testing services, clinical and commercial finished dosage form manufacturing (oral solid dose and parenteral), packaging, and stability services. Alcami is committed to working seamlessly and tirelessly to ensure they aid in the clinical progression and commercialization of medicines for their customers. Drug Development & Delivery recently caught up with Dr. Stephan Kutzer, CEO, President, and Chairman of Alcami, to discuss his company's business strategy, outsourcing trends, how Alcami meets the growing needs of customers, and why companies choose Alcami.
Q: Can you please tell our readers more about Alcami?
A: Alcami is an industry-leading CDMO that strives to be the premier "end-to- end" world-class solution provider that aids in the development and manufacturing of safe and reliable medicines for our customers' patients. We provide flexible, transparent, and innovative services to small and mid-size pharma and biotech companies by offering individualized and integrated services across APIs, solid and sterile drug product, development, analytical testing, and regulatory services. Our development and manufacturing facilities are located in Germantown, WI, Wilmington, NC, Charleston, SC, St Louis, MO, Edison, NJ, Durham, NC, and Weert, the Netherlands. The sites are supported by greater than 1000 employees.
Q: What is Alcami's business strategy?
A: Our offering is focused on the connection between a CDMO and customer, and our strategy is to be focused on individualized and end-to-end service for the right audience. We target a mix of projects across all clinical phases and commercial. It is our goal to have a balanced portfolio with a heavy focus on the clinical supply. We believe our sweet spot is to provide development and manufacturing solutions for small- to mid-size volume products being developed by small- to mid-size pharma and biotech companies.
We are first focusing on ensuring our company is truly integrated and acts as one company. This is one of the most important factors in ensuring we can execute an end-to-end offering. In addition, we believe our key differentiators and ability to execute an integrated offering is our Program Management function – we are building an organization that provides a single face to the customer. We are also creating a "playbook" that outlines all the necessary steps, interactions, and expectations to seamlessly execute an end-to-end project. We have officially launched our first integrated offering (ProForm SelectTM) that covers solid-state chemistry and formulation development.
In addition, the company has successfully manufactured and released GMP API through sterile drug product late-stage clinically packaged material within 79 days. Alcami's fully integrated methodology delivered the materials 65% faster than the industry's non-integrated approach, which can take more than 230 days.
The aforementioned example directly ties to our commitment to becoming an industry-leading end-to-end service and solution provider. This is the first time the company has produced both GMP API and GMP drug product in continuous end-to-end fashion, and completion time can be reduced even further. Through value stream mapping, the company's Operational Excellence group in collaboration with Operations, Quality, Development, and Commercial has identified further potential ways to decrease manufacturing release time to <55 days and fully released clinically packaged material in less than 60 days.
Q: How do current outsourcing trends impact what Alcami does in the future?
A: The current outsourcing trends have meant that 60% to 70% of new clinical compounds originate from small and mid-size pharma and biotech companies. This trend is directly linked to the funnel of new products that are expected to commercialize over the years as they progress through clinical trials.
Therefore, it is of utmost importance that the focus be on providing these customers with technology and supply chain solutions that are tailored to getting these new candidates through the clinic as fast as possible. Alcami provides tailored offerings for these small and mid-size organizations with individualized and integrated services across APIs, drug product, development services and analytical testing. We are experienced and specialized in taking a molecule to market for these types of current outsourcing trends.
Q: What investments is Alcami making to better meet the needs of customers?
A: Alcami is committed to project onboarding and capacity enhancements to better meet customer needs. To improve our Drug Product Sterile site in Charleston, Alcami has added a second line for GMP batches, a new mid-scale lyophilization unit, and a third manufacturing shift. At the Drug Product Oral Solid Dose site in Wilmington, new equipment and a second manufacturing shift has increased capacity by approximately 35%. In Development Services, 5,000 sq ft of lab and lab support area is to be added in 2016, expandable to an additional 40,000 sq ft in 2017 and beyond. For API Germantown, there will be a capacity increase of 50% across kilo-labs, clinical, and commercial manufacturing. In API Weert, plans are made to increase capacity by 50% across kilo-labs and 30% across clinical manufacturing. Alcami's Analytical Testing will relocate to a state-of-the-art new facility at the Cortex Innovation Center in St. Louis in the first half of 2017. Additionally, Alcami has implemented Saturday operations for sample receipt and testing operations at all three sites, which will increase capacity by 20% per site.
Over the last 5 years, the combined company has invested over $100M in capital (~$20M/year), which has positioned us for continued double-digit business growth for the foreseeable future. We plan to continue to make strategic investments into the business as supported by market needs.
Q: Why do companies choose to work with Alcami?
A: We strive to be connected at every level between the customer and us, ensuring there is connection from early stage to late stage, and expertise is connected across development and manufacturing. We are connected intellectually, scientifically, and philosophically to our customers at every level of their organization. We cultivate a relationship from the onset to allow for a transparent and open communication between the customer and CDMO that is based on trust, and the foundations lie in communications, flexibility, philosophy, and personalities.
Alcami is built on the strength of our science, technology, regulatory, and program management know-how. We bring superior science and full attention to every stage. We provide leading technological solutions to successful aid clinical programs, as well as launch and produce early commercial supply. Alcami is focused on servicing our clients in areas where others fail. We want a diversified and broad portfolio of products across all clinical phases and indications.
To view this issue and all back issues online, please visit www.drug-dev.com.