CRO MARKET – CRO Sector: Sales & Margins Remain Healthy
INTRODUCTION
The total combined peer group revenue from these leading CROs increased 11.3% year to year from $24.5 billion in 2013 to $27.3 billion in 2014. Largely fueling this growth was Patheon, which independently contributed approximately $685 million to the $3-billion increase. GlobalData believes growth in the sector continues to be mainly driven by acquisition, as outsourcing providers look to add capabilities and expand resources and infrastructure globally. Figure 1 displays the combined peer group revenue and average operating margin for leading public CROs from 2010-2014.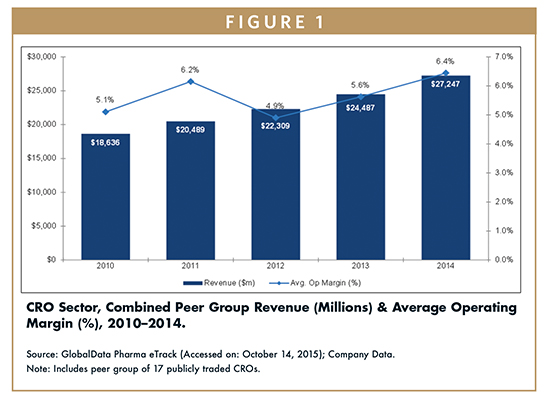 Margin growth remained strong in the CRO sector, increasing 80 basis points to 6.4% in 2014. Sector leader Quintiles posted nearly $591 million in operating income in 2014, which is a testament to the company's large revenue base allowing it to comfortably cover its operating expenses. Quintiles benefited from a cost-reduction program it instituted in 2014, which resulted in a decrease of approximately 250 positions, which translated into annual cost savings of about $20 million. Table 1 summarizes the key sales drivers for the leading CROs in 2014.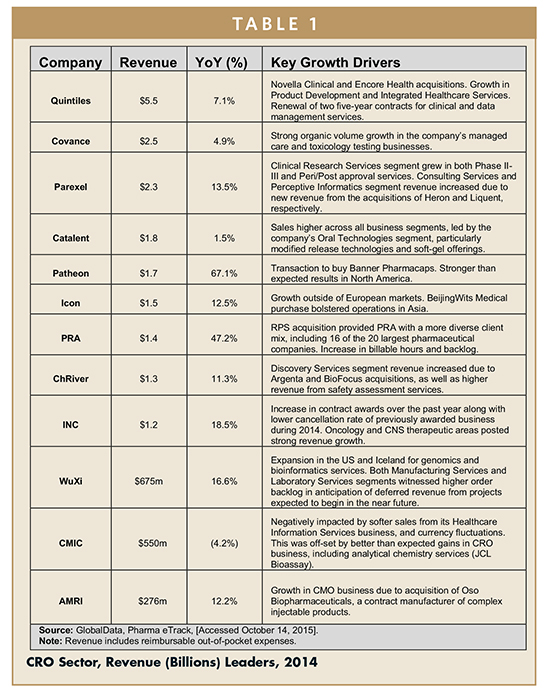 LARGE M&A DEALS DRIVE PHARMA OUTSOURCING SECTOR
As of October 2015, the number of pharmaceutical outsourcing deals decreased by 36.4% from 143 in 2014 to 91 in 2015. However, deal values skyrocketed by more than 76% from $9.9 billion in 2014 to nearly $17.6 billion in 2015. This value was driven higher from both clinical trial and contract drug manufactures. Figure 2 shows the total number of deals and deal values in the pharmaceutical outsourcing services sector from 2005-2015.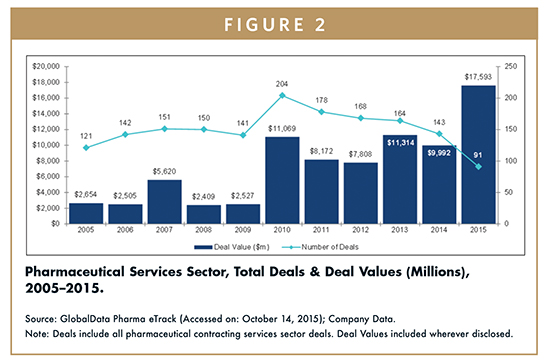 GlobalData attributes the rise in value to primarily a significant increase in M&A deals, which has nearly doubled from $5.5 billion in 2014 to nearly $12 billion through October 2015. This year has seen a number of high-valued transactions, including LabCorp's $6.1-billion purchase of Covance, and WuXi being sold for $3.3 billion to a Chinese private equity group. Contract manufactures were also busy in 2015. Siegfried Holding AG, an API maker based in Switzerland, bought BASF's pharmaceutical supply business, and Lannett acquired Kremers Urban Pharma (a subsidiary of UCB), a specialty generic drugmaker for $1.2 billion. Figure 3 illustrates the total deal values for M&A and capital raisings from 2005-2015.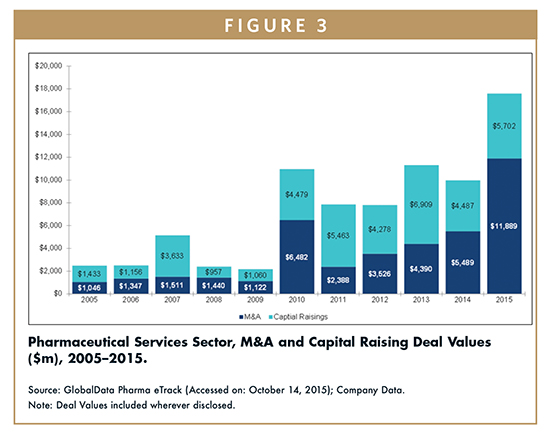 MERGERS & ACQUISITIONS
The pharmaceutical outsourcing services sector has seen a sharp rise in M&A activity over the past few years. LabCorp shook up the central lab testing market when it inked a deal to purchase Covance in February 2015. Other notable deals include Parexel building out its safety and assessment services with the purchase of QSI, and Siegfried buying BASF's pharma supply business which will expand capacity in Europe.
LabCorp's Purchase of Covance Diversifies Revenue Base
LabCorp closed on its acquisition of clinical trial contractor Covance under a cash and stock deal valued at approximately $6.1 billion. Covance shareholders received $75.76 in cash and 0.2686 LabCorp shares for each Covance share they own. The transaction was valued at $105.12 per Covance share, representing a 32% premium above the company's closing share price of $79.90 on October 31, 2014, a multiple of approximately 13.3 times Covance's earnings over the past 12 months at the time of purchase. News of LabCorp's purchase caused Covance's stock price to shoot up by 25%, in line with the premium LabCorp agreed to pay. Shares of Covance's main competitors, Charles River Labs, Quintiles, and Parexel, also traded higher once the news broke on renewed speculation of consolidation in the pharmaceutical contracting sector.
The combined business will now have pro forma revenue of nearly $8.4 billion, vaulting it ahead of closest rival Quest Diagnostics, establishing a new leader in the medical testing space. LabCorp's intentions seem pretty clear – it wants a larger piece of the CRO market, which has enjoyed impressive growth over the past few years, as plummeting sales from the loss of exclusivity branded drugs and the high cost of pharmaceutical R&D, along with the globalization of clinical trials have led to a surge in demand for outsourced clinical trial work. It will be interesting to see how these two companies meld their business operations together. Historically, LabCorp has been a diagnostic testing partner to industry, payer, and hospital segments, not a manager of clinical trials. To this end, GlobalData expects that Covance will act as a separate entity under the LabCorp moniker, where LabCorp can leverage Covance's leadership in clinical trials monitoring, patient and sponsor recruitment, and study site selection through its proprietary Xcellerate technology platform.
Beyond the compatibility of service offerings, the Covance acquisition shifts LabCorp's revenue base to a more favorable mix of pharmaceutical and biotech clients, and away from the managed care and payer markets, which have been challenging of late. The managed care market has been negatively impacted by payment reductions on the Medicare physician fee schedule and delays in payments and denials of coverage for existing tests by some payers after the implementation of new molecular pathology codes. This has squeezed LabCorp's revenue-per-acquisition, which has led to stagnant earnings generation and has eroded investor confidence. However, the combined company will now have relationships with all of the top 20 pharmaceutical companies, including Bayer, Eli Lilly, and Sanofi, with each drugmaker having multi-year contracts with Covance for central lab services, creating a consistent revenue stream for the new company.
Siegfried Acquires Pharma Supply Business From BASF
The Siegfried Group signed a $300- million agreement with the German company BASF with the aim of acquiring significant segments of BASF's pharmaceutical supply business and connected chemical production units in Germany, France, and Switzerland. The combination represents an attractive base for sustained profitable growth and greater flexibility in acquiring new business through capacity expansion, which will have a positive effect on sales. BASF's pharmaceutical supply business contributes complementary technological platforms, such as azide chemistry, phosgenation, and low-temperature chemistry. As a result, new products and customers can be secured. Moreover, cost synergies will be achieved in the areas of overhead, IT, and procurement, as well as through consolidation of global production supply networks. Table 2 summarizes the key M&A deals in the pharmaceutical outsourcing services sector during 2015.
Parexel Strengthens Pharmacovigilance Services
Parexel paid $94 million for all of the business assets of privately owned, India-based Quantum Solutions (QSI), a leading provider of specialized pharmacovigilance services. QSI was established in 2004, and delivers a complete range of safety and assessment services, including individual case safety report processing, brand physician activities, affiliate support, report writing, literature reviews, and signal detection. QSI serves pharmaceutical, medical device, and consumer clients across the globe and had approximately 900 employees. The QSI business will be integrated into Parexel's peri/post-approval services group, which is part of the company's Clinical Research Services segment. It is also expected to have strong synergies with Parexel's regulatory and outsourcing services business within Parexel's consulting segment.
CAPITAL RAISINGS
Equity offerings and venture financing are common sources of deals activity among CROs to raise funds for the repurchasing of stock, corporate transactions, hiring key talent, and expanding operations and services. These funding sources include IPOs, private placements, and debt issuances. Quintiles announced the private placement of senior notes due 2023 to raise gross proceeds of $800 million. The company intends to use the net proceeds to refinance its existing credit facilities, as well as for general corporate purposes, including corporate transactions and equity repurchases. Clinipace Worldwide raised $50 million in a venture financing round. The financing was led by Virgo Investment Group and Crestline Investors. The company intends to use the proceeds to continue building its therapeutic expertise and further expand its capacity to deliver services to its clients. GlobalData expects that Clinipace also used a portion of these funds to acquire Accovion, a Germany-based CRO that provides backend services, such as biostatistics, IT, and medical writing services to the pharmaceutical, biotechnology, and medical devices sectors. The combined company will now have clinical operations in 39 countries and nearly 1,000 staff. Meanwhile, Syngene International, a subsidiary of Biocon, went public in July 2015. Table 3 summarizes the key capital raisings in the pharmaceutical outsourcing services sector during 2015.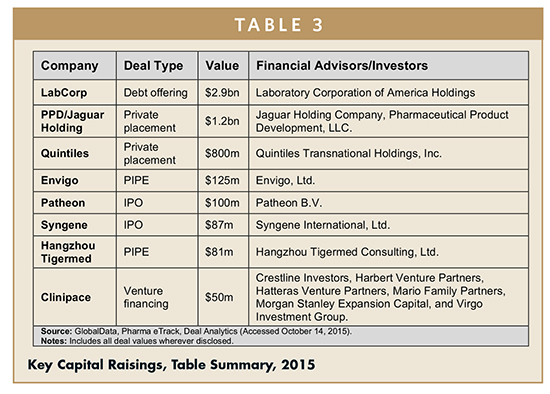 Syngene International Raises $87M in IPO
Syngene International issued 22 million shares at a price range between $3.78 and $3.94, raising maximum gross proceeds of $87 million. In connection with the offering, the Government of Singapore Investment Corporation subscribed worth of $3.94 million, while the other funds managed by Goldman Sachs, Morgan Stanley, and Deutsche Bank, along with other foreign and domestic mutual funds subscribed a total of $19.71 million shares in the offering. The company intends to use the proceeds to fund its R&D programs. Syngene International is one of the leading CROs in India offering a suite of integrated, end-to-end discovery and development services for novel molecular entities across the pharmaceutical, biotechnology, agrochemical, and animal health markets. During FY2015, Syngene reportedly serviced 221 clients, including eight of the top 10 global pharmaceutical companies. Syngene has several long-term relationships and multiyear contracts with large pharma, such as BMS, Abbott Labs, Baxter, and Merck, as well as biotechs, including Achillion, Aquinox, and Saniona.
CRO SECTOR WELL-POSITIONED FOR FUTURE GROWTH
GlobalData continues its bullish outlook on the CRO sector. Declining R&D productivity and increased development costs have negatively impacted biopharmaceutical companies. We believe that the need for biopharmaceutical companies to maximize productivity and lower costs in their commercial operations will cause them to look to CRO partners as they enter into outsourcing arrangements to improve efficiency, sales force utilization, and improve clinical success rates.
To view this issue and all back issues online, please visit www.drug-dev.com.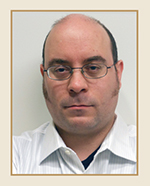 Adam Dion is a Senior Industry Analyst at GlobalData. He covers the competitive strategy, financial, and deal landscape of the pharmaceutical, biotech, and contract outsourcing markets. Prior to joining GlobalData, he was an Analyst with Technology Business Research, a leading market research and consulting firm covering blue-chip hardware, software, and business process outsourcing companies. Mr. Dion earned his BS in Neuroscience and MSc in Marketing from the University of New Haven.