SPECIAL FEATURE – Prefilled Syringes & Parenteral Manufacturing: A Rise in Biologics & Improved Technology Give Pharma Reasons to Consider Parenteral Delivery
Parenteral is one of the most commonly used routes of drug administration. A steady rise in the development and availability of parenteral drugs has resulted in the increasing demand for advanced drug delivery devices that promise cost containment as well as ease of administration. Prefilled syringes are one of the most rapidly expanding segments of the injectable drug delivery devices market. There are several benefits of prefilled syringes over traditional delivery systems: improved safety, ease of administration, accurate dosing, and reduced risk of contamination. These advantages form the basic foundation for the success of prefilled syringes and are likely to continue driving the market during the forecast period.
Technical advances in the sector, rapid growth in the biologics market, and the growing preference for self-administration using autoinjectors, prefilled syringes, and pen injectors are the key factors boosting the global market for prefilled syringes. As a result, the global sales of prefilled syringes amounted to $3.5 billion in 2015 and are projected to reach $7.9 billion by 2024.1 In this annual report, Drug Development & Delivery speaks with some of the leading companies in this market to find out about key trends, packaging advancements, safety improvements, and technology developments.
Artcraft Health: Addressing the Patient Experience in Device Training
Studies show that a myriad of factors contribute to patients' adherence and compliance with their physician-prescribed treatment regimen, especially among patients who self-inject their medication. Some of the key factors for improving patients' adherence and compliance include a clear understanding of their treatment and administration technique,2 behavior modeling, and exposure to reduce fear and anxiety related to needle injections,3 and more active participation in their healthcare decisions overall.4
The findings of these studies are driving the trend toward greater investment in patient-centric educational resources and services intended to improve the patient experience and, ultimately, health outcomes, says Brett Zimmermann, Vice President, Integrated Solutions, Artcraft Health. For example, in a 2016 survey of more than 200 executives at leading pharma companies in the United States and Europe, 85% of respondents said their companies plan to increase spending on patient-centric capabilities over the next 2 years.5
"At Artcraft Health, we provide these patient-centric capabilities to our pharma clients, many of whom produce new and emerging therapies, including biologics, combination therapies, and medication delivery via customized prefilled syringes and on-body devices," says Marty Mason, MBA, MS, Senior Director, Business Development, Artcraft Health. "The challenge we face is that as device complexity evolves, our task becomes more difficult," he says, citing that the majority of patients do not read instructions for use,6 and as one study found, 84% of patients use their autoinjectors improperly.7
In light of these challenges, clients typically express the need for clear, actionable education on the use of these products and devices for both prescribers and patients, he adds. To help patients understand and act upon educational information, such capabilities must factor in critical patient insights and unmet needs, and be pulled through using essential health literacy principles, educational design, and an understanding of the overall user experience. "We have found that the most effective solutions involve integration of health literacy into many forms of visual and tactile media—that is, education by demonstration, such as instructions for use via live video, animation, custom-molded replicas, and demonstration devices."
"Advances in innovation have allowed us to develop solutions that simulate the patient injection experience and replicate the device without the use of any fluids or other compounds," Mr. Zimmermann adds. "Our demo devices are used as training tools for healthcare providers to explain its instructions for use and model correct technique to their patients, thereby reducing their anxiety and the likelihood of errors."
As an example, in 2015, Artcraft developed a demo device of an on-body medication delivery system for one of its pharma clients. "We engineered the device to simulate its lighting and audio cues and the sensation of the automatic cannula insertion via tensile strength, cantilevers, and springs," explains Mr. Mason. "The demo device successfully simulated the 27-hour cycle that occurs in a matter of minutes, allowing patients to understand how the device works and feels on the body. In addition, as with many of our demo devices, this device was packaged as part of a comprehensive patient starter kit that featured patient-friendly education and an SMS text-back program to view an instructional video. The demo devices have been used to facilitate education among sales representatives, healthcare providers, and patients in an efficient and effective interaction, leading to increased treatment adherence and compliance. The client has placed its fifth reorder for these kits and has included the demo devices as part of its ex-US commercial launch strategy."
Baxter BioPharma Solutions: Remaining Flexible in Biologic Operations
The shift to biologics and customized medicine has shifted Baxter BioPharma Solutions' approach to syringe filling, explains Wendy R. Saffell-Clemmer, Director Research, BioPharma Solutions. "In the past, rotary piston pumps were the standard for precision filling. With today's molecules exhibiting a greater sensitivity to shear, peristaltic pumps is the preferred choice for many of our partner companies," she says.
Additionally, incorporating cold chain management into the formulation and aseptic filling operations has become increasingly prevalent. Here, flexibility is key. "Offering a variety of formulation options, including stainless steel tanks, disposable formulation assemblies, and low shear mixing to accommodate a range of compounded volumes is a necessity to meet our customer's expectations."
Along with biologic therapies comes the challenge of shifting the operating mindset from larger batch sizes that were common with traditional syringe therapies to the smaller batch sizes. This shift includes reducing standard line losses due to priming, purging, and filter retention, as well as optimizing the frequency and quantity of in-process testing, explains Ms. Saffell-Clemmer. "We appreciate the significant cost and time our partners have invested in these new molecules, and it is critical that we utilize Quality by Design principles during development and qualification to optimize the yields from our operations."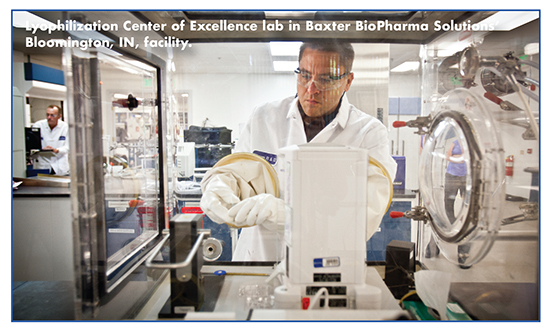 In addition to addressing issues in biologics, Baxter Biopharma Solutions is experiencing the impact from increasing demand in COP (and similar) syringes. "Baxter BioPharma Solutions has responded to this trend by enhancing our offering and performing preliminary stability studies in COP syringe systems and deepening our experience in manufacturing COP syringes at full commercial scale," she says.
Bespak: Improving Patient Outcomes
The growing need for devices capable of delivering high volume, highly viscous drug formulations has resulted in several device companies developing new platform technologies. Bespak has created a proprietary injection mechanism that uses a miniaturized form of the gas canisters it uses to power its well-established inhalers. The liquefied gas in the canister provides an energy source in the form of pressurized vapor, powering delivery of the drug with low impact and a consistent delivery profile. A range of liquefied gases can be used within the container format to enable differing volumes, viscosities, and primary containers to be managed by a single device system.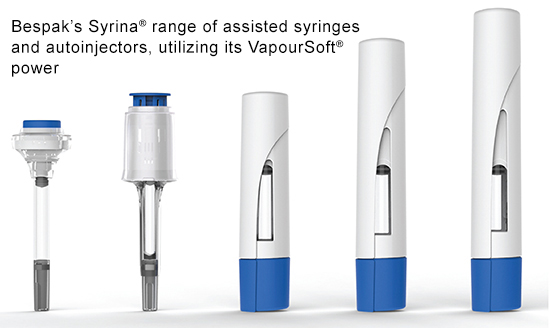 When developing devices, improving patient outcomes is a key objective for Bespak. "We work closely with human factors experts internally, externally and within the biopharmaceutical companies we partner with to ensure that design, form factor, and functionality of the device suit the targeted patient group. We have incorporated easy to use features such as needle assist into our Syrina® Micro & Syrina® Mini devices, and the Syrina® autoinjectors feature manual or automatic drug delivery with passive needle safety system or even automatic needle retraction, to ensure the process is as simple as possible for patients to self-administer," says Steven Kaufman, Global Business Development Lead at Bespak.
Credence MedSystems: Removing the Necessary Evils From Staked Needle Syringes
Since its introduction, Credence's Companion technology has materialized as an option in the industry for integrated passive needlestick safety with reuse prevention. This is in response to the industry's drive towards optimizing the user's delivery device experience while still minimizing risk throughout the system. Lately, however, there is an emerging appreciation from pharmaceutical manufacturers of the technology's potential to extend its impact beyond needlestick safety into a role as the future standard for a pre-attached needle, says John A. Merhige, Chief Commercial Officer, Credence MedSystems.
"This is driven by Credence's successful removal of adhesive from the mechanism of needle attachment and the downstream implications of doing so. Uncured adhesive has led to unexpected impurities found in traditional staked needle syringes and the presence of glue introduces risk of leaching into the drug product. Removing glue removes these risks. Further, it enables a finer control of silicone lubricant using techniques such as baked-on siliconization, which is not compatible with traditional adhesive-based staked-needle syringes. This mitigates the risk of excessive silicone oil, which can lead to silicone oil droplets and may cause protein aggregation in biotech applications."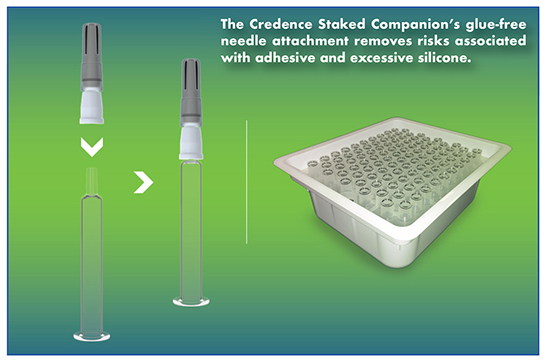 By removing materials that have traditionally been viewed as 'necessary evils,' Mr. Merhige believes that Credence has provided the industry the option to define a new standard for the pre-attached needle syringe. "Along with reducing the risks associated with those materials, the Credence Companion technology enhances usability and safety, providing the user with end-of-dose cues, clear inspection of the barrel, the ability to perform common syringe procedures, passive needle retraction safety, and reuse prevention," he explains. "When a new technology provides an option with reduced risk, improved usability, and enhanced safety, all without driving significant tradeoffs, it eventually becomes negligent not to deploy it."
But the industry is deliberate, supply chains are entrenched, and progress takes time. To facilitate implementation, Credence is working closely with leading syringe manufacturers to make the technology available to pharmaceutical manufacturers through its preferred syringe suppliers.
DALI Medical Devices Ltd.: Safe Auto-Needles for Biosimilars, Generics, & Novel Injectables
Market research conducted by DALI Medical Devices Ltd. regarding self-injection found that a significant percentage of patients would like to control injection speed and benefit from the ease of use of automatic needle insertion. Based on this research, DALI developed the Safe Auto-Needles (SANs) product line proposing features such as automatic needle insertion, hidden needle and passive sharps protection features from autoinjectors, reducing anxiety and perceived pain associated with needles, with manual control of injection speed, reducing pain associated with fast injections.
"Unlike conventional safety needles, the patented SAN-L is the only available hidden and automatic needle-insertion device attachable to any luer/luer-lock syringe (plastic, glass, single, and dual-chamber)," says David Daily, CEO & Co-Founder, DALI Medical Devices. "The SAN-DV and SAN-DV Pro are the only vial-based systems that utilize the SAN-L technology for use with drugs in vials."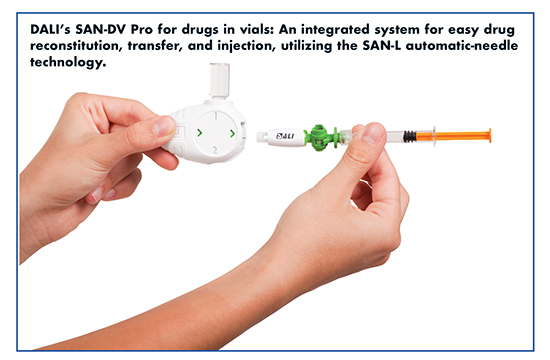 The SAN product line has enabled DALI to compete in the growing biosimilar market. According to Mr. Daily, just five years ago, biosimilar and generic companies required an injection device that was similar to the original because the regulatory risk to develop an improved device for a biosimilar or generic drug was high. "But today, biosimilar and generic companies are seeking improved injection devices, searching for more intuitive, easier to use injectors that will increase patient compliance and adherence to therapy, and will provide a competitive advantage over the originator," he says.
DALI has initiated several SAN projects with biosimilar and generic companies. In fact, Mr. Daily explains how the company is currently customizing a SAN product for a generic pharma company, which due to the low expected annual volume and unique needle length and gauge, could not get it from the major suppliers.
Additionally, the increased need for combination therapies – and the fact that major pharma companies require exclusivity for use of the injection device they select for the drug/indication/therapeutic area – has translated into a few customization projects. Working with its autoinjectors partner, Elcam Drug Delivery Devices, DALI is developing the Flexi-Q line of autoinjectors to provide customizable options to customers.
Datwyler: Shift Towards Fluoropolymer Coating Technologies
For coated elastomeric closures, barrier properties are no longer the only requirement that meets the ever-evolving needs of biologic and biosimilar drug packaging. The reduction or elimination of silicone oil and its subvisible particles has been recognized as a means to mitigate risks and reduce time-to-market. Pharmaceutical manufacturers opt for fluoropolymer coating technologies, providing numerous benefits, especially for sensitive biologic drugs. Global industrial supplier Datwyler is meeting this growing need with its Omni Flex coating technology for elastomeric closures.
"The packaging requirements of biologics and biosimilars are creating more specialized demands for material performance," says Susan Dounce, PhD, Senior Manager Business Development & Innovation, Datwyler. "As a consequence, market trends indicate a growth in fluoropolymer coated elastomeric closures that help to mitigate risks related to drug compatibility and stability. Omni Flex fluoropolymer coated closures not only have barrier properties that enable superior chemical compatibility, but also have the added benefit of eliminating the closure as a source of silicone-oil-based subvisible particles (SbVPs)."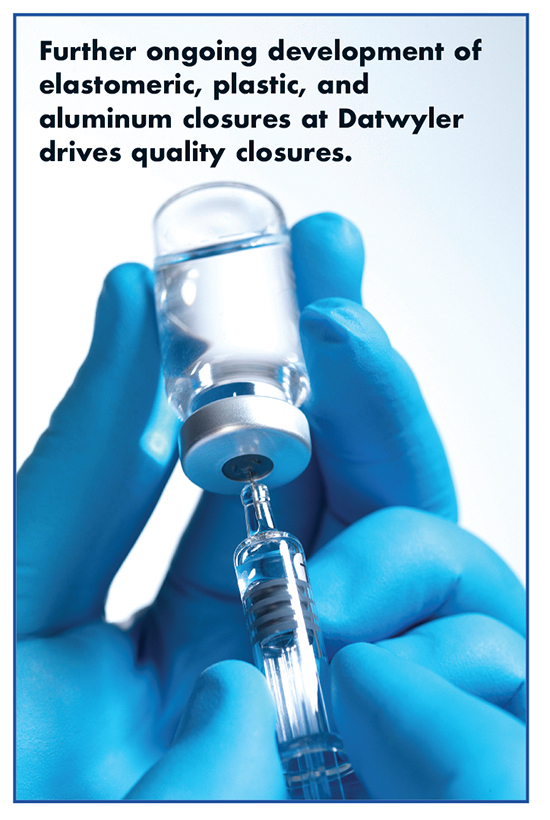 For a therapeutic protein, the exact chemical make-up and three-dimensional conformation can influence the efficacy of the drug product. Interactions with leachables, including silicon oil, often used to increase the glide force of plungers in prefilled syringes, can present a risk to the safety of therapeutic proteins, says Dr. Dounce.
Datwyler's proprietary Omni Flex coating technology is a flexible fluoropolymer spray coating applied to bromobutyl vial stoppers and syringe plungers. The technology is designed to be an inert barrier to organic molecules and metal ions and imparts a low coefficient of friction, thereby eliminating the need for siliconization, explains Dr. Dounce. "The total coverage by the Omni Flex coating stands in contrast to the partial coverage of most barrier films, and therefore offers the benefit of providing a full lubricious barrier coating on the entire closure. As silicone oil from a traditional elastomeric closure can represent a significant source of subvisible particles, non-siliconized Omni Flex coated plungers' particle levels are among the lowest in the industry."
All Omni Flex coated elastomeric closures are manufactured in highly automated facilities aligned with the company's highest, First Line, quality standard. Designed to meet the evolving standards of the parenteral industry, Datwyler's First Line standard incorporates a special facility design, process flow, gowning protocols, personnel, material flow, and automation, resulting in the lowest endotoxin, bioburden, particulate and defect levels available in the industry, she says. "This innovative approach to manufacturing exceeds the most stringent quality standards of the European and US regulatory authorities and is certified to ISO 15378."
Datwyler is currently expanding its presence in the United States with the construction of a facility in Delaware that fully conforms to the First Line standard.
Enable Injections Inc.: Large-Volume Injectors Differentiate Combination Products
Biologic drug developers/delivery device partnerships are proliferating due to two merging trends. First, pharmaceutical companies are realizing that their drugs will not alone suffice in successfully navigating new outcomes-based models health systems are adopting. Incorporating newly available wearable large-volume injectors (WLVIs) to deliver biologics in doses from 2 ml to 50 ml is widely expected to increase adherence to therapy, impact outcomes positively, and reduce health system costs. WLVIs also address the second trend, patient-centricity. Nowhere is disruptive innovation to improve the patient experience more critically needed than for delivery of the viscous biologics that now comprise approximately 70% of products in pharmaceutical development. "It's no wonder innovative, patient-focused pharmaceutical companies are partnering with LVWI developers," says Jeannie Joughin, Vice President, Corporate Development, Enable Injections Inc. "Together they are better positioned to create patient-centric, differentiated combination products."
Prefilled syringes have largely eliminated the care, skill, and work required for patients to self-inject small-molecule drugs. Ms. Joughin says Enable Injections' advanced wearable large-volume injection devices do the same for large-molecule, viscous biologics. "Enable's WLVI makes it very easy for patients to self-administer biologics without the need and expense of an IV infusion aided by a healthcare professional. And our ability to use any standard pharma industry container closure with a delivery system that is strongly preferred by users not only saves costs but also reduces development time by months."
Enable Injections' new WLVI devices are optimized to provide dosing flexibility, decrease dependence on healthcare systems, and improve compliance with therapeutic regimens. Accordingly, Ms. Joughin says Enable Injections is ready to manufacture its devices offering the customized flow and pressure control technology suited for delivery of the diversity of large-volume drugs that are in development, on the market, or in need of life cycle extension. "Our recently opened Cincinnati facility is manufacturing LVWI devices in quantities of up to 1 million, and for larger quantities, we have a manufacturing partnership with Flextronics."
Dr. Joughin wants to communicate two message to the pharma industry. First, let go of the widely held belief that only relatively small volumes, under 2 ml, can be administered to the subcutaneous space. "With the availability of wearable large-volume wearable injectors, that is no longer the case," she says.
Second, be more responsive to consumer needs, quickly delivering innovative changes/customization. "This can be accomplished by partnering with companies that are addressing the major issues of patient-centricity, cost, and outcomes. Understanding patient needs and use of appropriate marketing tools will ensure pharma evolves ways to make the most of their products and services and help develop solutions, not just sell products."
Gerresheimer Medical Systems: Metal-Free Syringe Production
An important trend with regard to prefilled syringes is the need for tungsten-free syringes, as some newly developed protein-based drug formulations are sensitive to traces of tungsten oxides. Today, glass syringes are still manufactured by means of a pin made from tungsten. Its residuals remain in the syringe bore after the forming step. Gerresheimer has solved this pending issue by substituting the tungsten pin with a special ceramic. This new material is non-cytotoxic and non-abrasive. To further this "metal-free" syringe production (currently available for luer syringes), a significant reduction of tungsten can otherwise be accomplished by a dedicated washing step, reducing the average amount of tungsten residuals below 10% of the original level.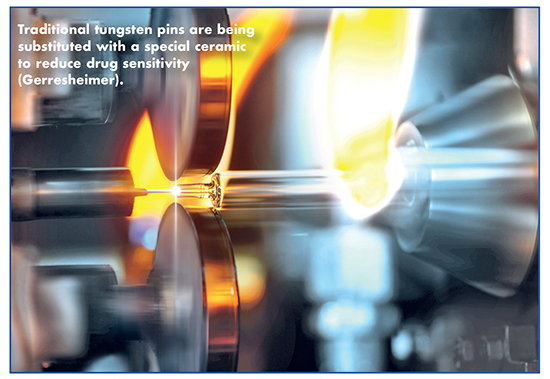 Bernd Zeiss, Manager Technical Support Medical Systems, Business Development, Gerresheimer Medical Systems, says that as drug therapies become more sophisticated, so must the prefilled syringes and vials, especially with regard to sensitive biologics. "More sophisticated syringes require a close cooperation between the syringe manufacturer and the pharma company."
And while glass may be the preferred material for syringes, COP syringes are gaining more interest and market share, says Mr. Zeiss.
Nemera: Platforms That Address Comfort & Biologic Delivery
The Injectable drug market is the fastest growing segment within the pharmaceutical industry. In 2016, 50% of the top-10 worldwide pharmaceutical product sales were parenteral. One of the main drivers is the rise of biologic drugs, which offer high therapeutic value to patients. Biologics are large molecules (complex and sensitive) produced by cell culture, resulting viscous and/or larger filling volume drugs. To overcome biologic problems, new types of primary drug container and device technologies have emerged, such as 2.25 ml syringe-based autoinjectors or 3 ml-10 ml cartridge-based patch pumps.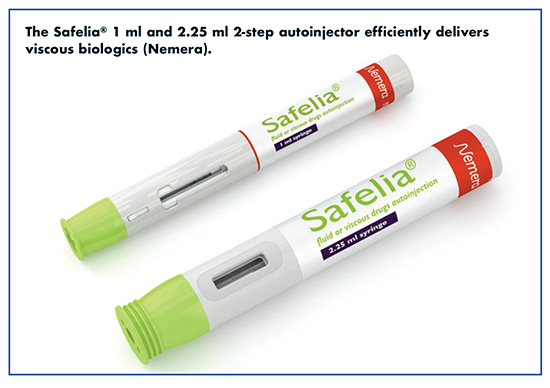 For example, Nemera has developed a new generation of 2-step autoinjector for fluid and viscous injections, Safelia®. It allows tailored injections and delivers high viscosities (up to several centipoises) thanks to its patented cam-driven based mechanism. The autoinjector platforms (1 ml and 2.25 ml) is suitable for subcutaneous and intramuscular injections, says Adrien Tisserand, Category Manager at Nemera.
Nemera has also developed a 2.25 ml version of Safe'n'Sound®, customizable platforms of add-on passive safety devices for prefilled syringes. "Safe'n'Sound aids in the protection from accidental needlestick injuries and facilitates the injection process through ergonomic features, such as an optional extended finger flange to improve handling, gripping, and comfort for the user," says Mr. Tisserand.
Noble: Simulating Self-Injection Through Training Improves Patient Onboarding
Although there are many positive changes impacting self-injecting patients, there are also some challenges patients and other stakeholders face, including training decay from lengthy gaps between self-administration, forgetfulness of dosing regime, and fear of the actual injection sensation due to conditioning degradation, explains Joe Reynolds, Research Manager, Design & Engineering, Noble. "These factors could increase the risk of errors and contribute to lower adherence rates for self-injecting patient populations."
To counteract some of these challenges, Noble continues to develop prefilled syringe trainers and patient onboarding platforms to help patients with initial device training, continuous training, and onboarding throughout disease management to counteract self-injection training decay, and ultimately improve adherence and health outcomes.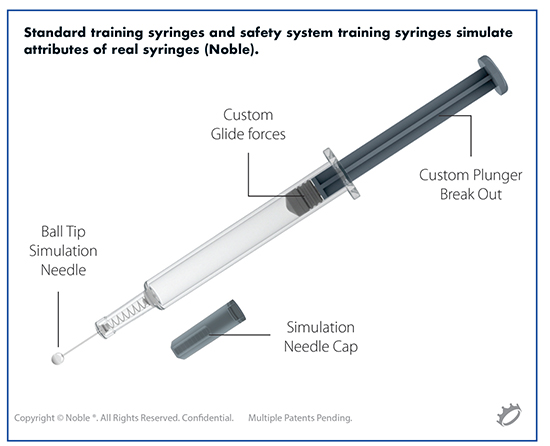 Some of the proprietary prefilled syringe training device enhancements at Noble include plunger resistance and breakout forces that simulate the actual prefilled syringe and drug viscosity, and needle insertion technologies simulating needle sensation and force – all with the objective of enhancing the patient onboarding experience.
"As pharmaceutical companies continue to develop innovative combination therapies, Noble continues to collaborate with pharmaceutical teams to improve patient onboarding and patient outcomes through true-to-form and function platforms, including safety and standard prefilled syringe trainers, Smart Injection Pads (wirelessly connected error-correcting injection training pads used for instructing, tracking, monitoring, and collecting data to assist in improving adherence), and autoinjector trainers," he says.
SiO2 Medical Products: Hybrid Material Construction Improves Storage Conditions
The storage of injectable parenteral pharmaceuticals, especially biologicals, has grown increasingly difficult using traditional primary packaging materials due to reduced concentration of active ingredients and more scrutiny on package leachables. The introduction of fluropolymers solved the bulk of the issues (silicone and other organic leachables, tackiness, feeding issues, adsorption, absorption, etc.) associated with the use of elastomers, but vial and syringe container materials have not changed at the same rate as elastomeric closures. Traditional glass packaging has a plethora of well-documented problems and even the cyclic olefin polymer offerings are not without their drawbacks. What is needed is a packaging material that offers the best of both materials with the drawbacks of neither.
"SiO2 Medical Products has leveraged the benefits of both plastic and glass to yield a hybrid container without their associated risks," says Dr. Christopher Weikart, Chief Scientist, SiO2. He explains: The plastic injection molding technologies are used to produce primary containers with dimensional variability approaching +/- 5 microns. A chemically inert organo-glass-like coating is deposited on the inside of each container to reduce both inorganic and organic extractables and leachables, as well as unwanted drug product surface interactions. In the case of syringes, a new lubricant technology was developed to reduce particle levels approaching an order of magnitude lower than traditional silicone oil, which reduces the risk of biologic protein interactions forming agglomerates that have the potential for patient autoimmune response.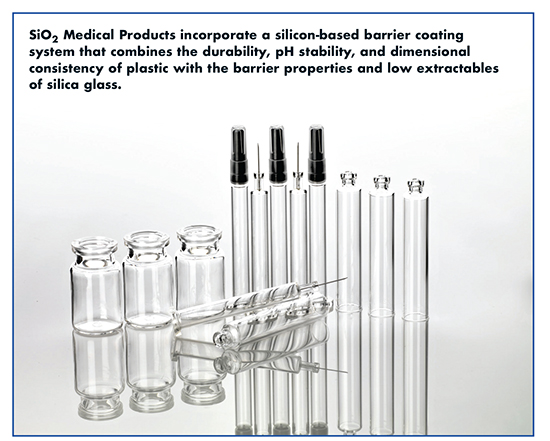 "The work we are doing is a boon to biologics due to the inert nature of our primary contact surface chemistry," says Dr. Weikart. "Biological species no longer adsorb to the vial or syringe walls so there is no loss in active ingredients to the packaging. The surface of all of our primary containers is hydrophobic, which reduces the amount of biologic solution retention on the walls of the container. Our ability to seamlessly customize the nature of the drug contact surface of our primary containers makes it attractive to drug developers that want all the benefits of glass without its deficiencies."
SiO2 recently helped a client whose product shelf life failed to meet expectations with glass when packaging a multipotent neonatal stem cell for dermatological therapy. They were losing these cells due to adsorption of the side walls of the glass vial being used. The same phenomenon occurred with a cyclic olefin vial. The company evaluated the SiO2 vial with patented trilayer barrier coating and realized satisfactory levels of cellular activity after prolonged storage, and shelf life expectations were met. This enabled the client to proceed with further clinical investigations.
Despite the advantages of a hybrid construction, the pharmaceutical market is entrenched in certain materials of construction for its primary packaging of parenteral pharmaceuticals, says Eugene Polini, Principal Scientist, Technical Service, SiO2. "There has to be a compelling need to change packaging material and that need has to be associated with a critical risk to patient health. Simple features and benefits may be advantageous, but are insufficient to change traditional packaging materials. There must be regulatory, financial, production, and patient safety motivators to convince the market."
Vetter: Easing Self-Administration While Ensuring Drug Compatibility
Today, companies are expected to develop drugs that are highly compatible with the human body, and that can be offered in the most convenient delivery form possible. This is especially true for drugs that patients need to self-administer, and is consistent with the ever-expanding home healthcare market.

Intent on controlling and optimizing costs, health care authorities are demanding that the industry develops medicines that make it possible for patients to undertake as many procedures as possible in a private setting.
"Our service offering in this sector ranges from single-chamber bulk and presterilized syringes to our patented dual-chamber technology especially suited for sensitive compounds," says Bernd Stauss, Senior Vice President Pharmaceutical Production/Engineering, Vetter Pharma-Fertigung GmbH & Co. KG. "In addition, we offer a novel syringe closure system called Vetter-Ject®, which applies less silicon oil than commonly used, making the system particularly suitable for silicon-sensitive drug products. Our portfolio also includes the assembly of pens and autoinjectors, both of which are especially designed for the home healthcare market."

However, as is often the case with opportunities, there are also challenges, and the manufacturing of prefilled syringes offers several. "In our experience, the creation of easy-to-apply systems often means a more complicated production process from the very start," says Mr. Stauss. "After all, a syringe system is a sophisticated and complicated tool containing a number of single components. The correct interaction between these components is critical to the syringe systems' successful operation."
In an effort to achieve success for its  customers, Mr. Stauss says Vetter sees itself as a solution provider and consultant in the areas of development, manufacturing, packaging, and lifecycle management activities. "We act as an external member of the customer's team, consulting and making recommendations that help make them successful. We start by asking a variety of questions that are relevant and decisive for moving forward, and to determine what must be done prior to committing to prefilled syringes."
West: Tackling Challenges Posed by Combination Products & Biologics
Biologics offer new promise for patients, namely less frequent dosing options and newfound freedom through the use of wearable self-injection systems that can allow more opportunities for self-care in the home setting. As more biologics and biosimilars enter the global pharmaceutical market, they present unique packaging and containment challenges.
"Many biologics are sensitive and can interact with containers and packaging components made from glass; some biopharmaceuticals have a high pH and others require storage at extremely cold temperatures," explains Graham Reynolds, Vice President and General Manager, Global Biologics, West. "We have addressed these concerns by using materials that ensure that drug quality is not impacted."
Mr. Reynolds adds that because biologics are increasingly self-administered, West has dedicated its efforts to developing easy-to-use delivery platforms and manufacturing platforms that patients can use to effectively and safely administer therapies with simple training.
And as the transition from point-of-care out at a hospital or clinical setting to home setting continues, West offers its SmartDose® platform. In 2016, Amgen announced FDA approval for a single, monthly 420 mg dose delivery option for Repatha® (evolocumab), utilizing the SmartDose technology. "We continue to work on enhancements to the SmartDose platform, including larger dose volumes, preloaded options, and incorporating connectivity," says Mr. Reynolds. "Because combination products involve so many components—the drug, containers, electromechanical devices, connectivity to mobile devices—drug delivery technology companies like West must have a team of experts from a number of fields to support our pharma and biotech customers to deliver their combination products to the market quickly and efficiently."
West is also focused on new materials development for primary containment, such as Daikyo Crystal Zenith® cyclic olefin polymer, which offers a high-performance alternative to glass. "The design flexibility and precision of Daikyo Crystal Zenith offers significant potential to facilitate a range of containment systems for higher dose volumes, including cartridges and prefilled syringes," he says.
Also key to developing and manufacturing drug packaging components at West is its Quality by Design (QbD) approach. "The adoption of QbD principles provides an optimized drug package," explains Mr. Reynolds. New component offerings designed using QbD principles are West's NovaPure® components for prefilled syringe systems.
Mr. Reynolds says: "Building quality into the development and manufacturing process from the start helps ensure that high quality standards are met through commercialization and allows the industry to reach its ultimate goal: delivering safe, effective medications to patients."
SmartDose® is a registered trademark of Medimop Medical Projects Ltd., a subsidiary of West Pharmaceutical Services, Inc. Daikyo Crystal Zenith® is a registered trademark of Daikyo Seiko, Ltd. Daikyo Crystal Zenith technology is licensed from Daikyo Seiko, Ltd. NovaPure® is a registered trademarks of West Pharmaceutical Services, Inc., in the United States and other jurisdictions.
References
1. Global Industry Analysis, Size, Share, Growth, Trends, and Forecast 2016 – 2024, March 21, 2017, http://www.sbwire.com/press-releases/global-outlook-forprefilled-syringes-market-by-key-trends-and-analysis-2024-784359.htm
2. Miller TA. Health literacy and adherence to medical treatment in chronic and acute illness: a meta-analysis. Patient Educ Couns. 2016;99:1079-1086.
3. McMurty CM, Taddio A, Noel M, et al. Exposure-based interventions for the management of individuals with high levels of needle fear across the lifespan: a clinical practice guideline and call for further research. Cog Behav Ther. 45;3:217-235.
4. Health Policy Brief: Patient engagement. Health Affairs. http://www.healthaffairs.org/healthpolicybriefs/brief.php?brief_id=86. Published February 14, 2013. Accessed April 7, 2017.
5. Pharmaceutical companies to accelerate investment in patient-centric capabilities and services over next two years, according to Accenture report [press release]. Published April 12, 2016. https://newsroom.accenture.com/news/pharmaceutical-companiesto-accelerate-investment-in-patient-centric-capabilities-and-services-over-next-two-yearsaccording-to-accenture-report.htm. Accessed April 7, 2017.
6. UTMB study finds that most patients do not use inhalers and epinephrine autoinjectors correctly. UTMB website. https://www.utmb.edu/newsroom/article10169.aspx. Published December 9, 2014. Accessed April 12, 2017.
7. Jones M, Veasey R, Jenkins DP. Designing devices for better instruction. Medical Design Technology Magazine website. https://www.mdtmag.com/news/2017/01/designing-devices-better-instruction. Published January 19, 2017. Accessed April 12, 2017.