SPECIAL FEATURE – Patients & Physicians Desire Transdermal, Topical & Subcutaneous Delivery
The $82 billion U.S. drug delivery market is showing no signs of saturation, with major patent expiries, generic competition, tightening Food and Drug Administration (FDA) regulations, and emerging drug delivery systems continuing to provide momentum. Among the 15 drug delivery systems surveyed by Frost & Sullivan, physicians prefer topical delivery, either as a transdermal patch or topical gel/cream, and expressed willingness to switch their current mode of therapy to one available in these forms.
In fact, an end-user survey of more than 220 physicians and 650 patients by Frost & Sullivan, Drug Delivery Technology: End-User Preferences, Utilization and Perceptions analysis, found that regardless of disease area, physicians select drug delivery methods that drive consistent patient compliance and effective outcomes. The survey traced usage patterns, analyzed preferences and opportunities among physicians and patients, and assessed their willingness to switch therapies based on the drug delivery method.
"All things considered, physicians usually toward the treatment they feel will be most acceptable to their patients in order to ensure good compliance," said Frost & Sullivan Vice President of Global Research Monali Patel Shastry.
"When selecting the optimal drug delivery method, reimbursement incentives for improving adherence and impact on formulary decisions are proven to be important factors," added Frost & Sullivan Life Sciences Senior Industry Analyst Deborah Toscano. "Drug development pipelines are full of innovative drugs and biologics, and differentiation is increasingly important in this crowded market to gain and maintain market share."
It is important to note the drivers of satisfaction and selection are not always the same across diseases and methods. For example, several novel oral therapies for multiple sclerosis offer advantages over standard injectable therapies. However, more than 55% of physicians treating multiple sclerosis are likely to switch from the currently prescribed branded drug if the drug were available in a transdermal patch form. This is in line with the 58% of multiple sclerosis patients willing to use a transdermal patch. Further, 57% of physicians treating Type 2 diabetes are most willing to switch from oral or injectable drugs to a topical treatment.
Drug Development & Delivery magazine recently interviewed several topical, transdermal, and subcutaneous product manufacturers to find out how they are working with patients and physicians to develop delivery systems that meet their need for comfort, compliance, and more effective delivery.
ADHESIVES RESEARCH & ARX, LLC – FORMULATING ADHESIVES FOR PATIENT COMFORT & ENHANCED DRUG DELIVERY & EFFICACY
As adhesives are a key component of transdermal systems, patch manufacturers are taking a more judicious approach in adhesive selection to assure compliance with FDA guidelines for safety (skin irritation and sensitization) and minimizing residual drug content. Adhesives Research offers customized services to formulate and manufacture both bulk adhesives and adhesive laminates for transdermal applications and sister company, ARx, LLC, takes this a step further in the creation of drug-loaded adhesives and films for specific APIs.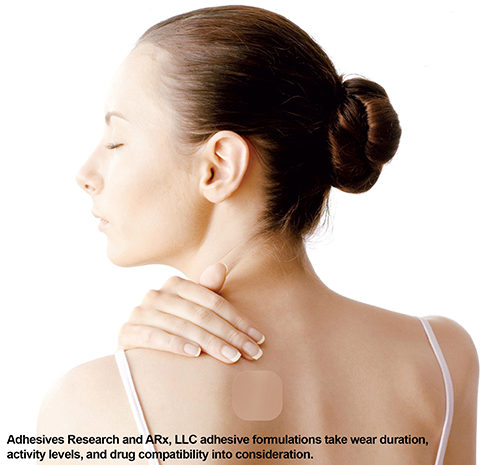 "Our formulations take into consideration prescribed patient wear duration, activity levels, drug compatibility/solubility, and system stability," says Susan Newsom, Pharmaceutical Business Manager, Adhesives Research, Inc.
Megan Greth, Business Manager for ARx, LLC adds, "By leveraging Adhesives Research's foundational expertise, ARx, LLC custom formulates and manufactures adhesives and dissolvable films for transdermal and mucosal patches with the selected API and provides developmental and filing support for products with added benefits, such as less API, rapid onset, or increased patient comfort when compared to those currently available."
Adhesives Research's bulk adhesives – available in acrylic, PIB and silicone chemistries – are formulated for drug-in-adhesive transdermal patch matrices, and may be sold separately or provided to ARx for the development of a complete drug delivery system in support of ANDA or NDA filings. Adhesives Research also develops and manufactures adhesive laminates for skin-attached devices, such as patch pumps and infusion sets intended for subcutaneous delivery.
Adhesives Research specializes in the development of skin adhesives systems that demonstrate secure and comfortable wear over prescribed wear times with easy and clean removal from the skin. "Our platforms address wear durations from minutes to 7-plus days, and applications where a weighted device must be bonded to skin such as bolus injectors, patch pumps, and active transdermal delivery devices like microneedles and iontophoresis," says Ms. Newsom.
Ms. Greth adds, "One of the biggest issues in transdermal patch development is in the selection of the appropriate adhesive polymers and final formulation to enable the desired drug release without skin irritation. ARx's fundamental knowledge of polymers and skin variation contributes to program success in skin irritation, sensitization, and clinical studies."
Working together, Adhesives Research has expertise in adhesive formulation, polymerization, mixing, and coating processes as well as specialty release liners, while ARx has expertise in the custom formulation, process development and commercial manufacture of both ANDA and 505b2 drug-loaded adhesive and film patch applications. ARx also offers development support in CMC documentation, analytical method development, validation, and final product release.
EI SOLUTIONS – A ONE-STOP DEVELOPMENT & MANUFACTURING SERVICE
With not a lot of new molecular entities in the topical space, the repurposing of older drugs for new indications fill important medical needs. "Many APIs were never studied topically, and certainly not for orphan disease states, so there will be some promising products hitting the market in a few years," says Roger Martin, President of Ei Solutions.
Ei provides turnkey development, formulation, analytical, procurement, manufacturing, and filling services in topical liquid and semi-solid dosage forms. Ei is structured and resourced to be a one-stop-shop for customers looking for myriad development and manufacturing services in the topical market. Ei works with its suppliers to source and procure specialized, possibly single-sourced delivery systems that allow competitive immunity for its clients, explains Mr. Martin.
For one client, Ei used its Valois/Aptar filling line to package a product without head space to enable the stable perseveration of the product. He says: "It was a simple, yet incredibly effective solution to their product that historically showed oxidation."
Looking ahead, Mr. Martin sees growth of 505b2 applications using unique delivery systems, such as vacuum-filled pumps, dual-chamber pumps, or new and improved unitdose applicators.
"In the future, we also see unit-dose continuous spray (non-aerosol) delivery systems being very attractive for our topical clients, both in terms of a unique value proposition for our customer, and convenience for the patient," he says.
TAPEMARK – PASSIVE & ACTIVE TRANSDERMAL, ORAL TRANSMUCOSAL & TOPICAL DRUG DELIVERY
Tapemark, a full service contract developer and manufacturer, provides transdermal, oral transmucosal, and topical drug delivery systems that meet consumer needs for increased convenience/compliance for active lifestyles as well as reduced side effects/increased safety and improved efficacy.
Tapemark has expanded its passive transdermal (drug in matrix) and oral thin film transmucosal drug delivery capabilities and physical facilities. Blending, mixing and coating have been added to existing converting and packaging capabilities to provide full service capability.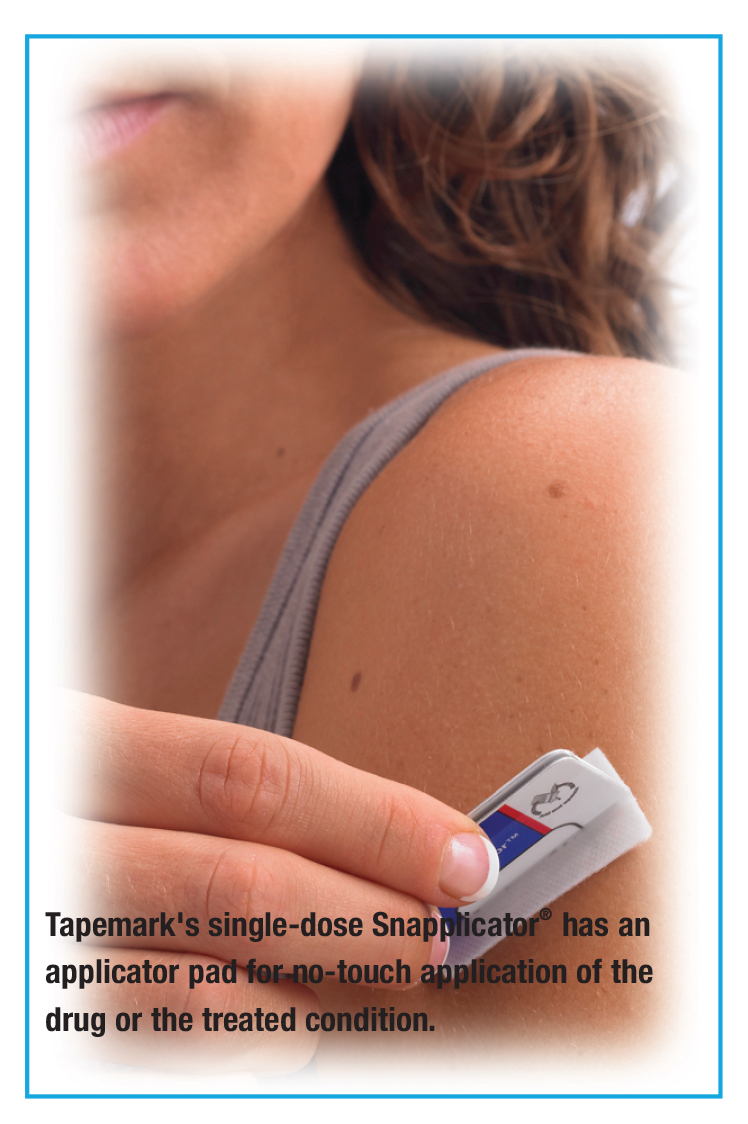 Tapemark's oral thin film SoluStrip™ capabilities include oral transmucosal delivery, buccally or sublingually allowing for greater drug bioavailability and rapid onset of action. Tapemark also provides active transdermal drug delivery systems including iontophoresis. The iontophoretic drug delivery technology delivers drugs via low level electrical current through the skin's pores. This can provide faster and more controlled delivery than passive transdermal delivery. It can also deliver larger molecule drugs.
One example is the IontoPatch® product technology from Travanti Medical, a business unit of Tapemark, currently used in the Physical Therapy market. IontoPatch is a localized time-released electronic transdermal drug delivery system. A proprietary self-contained flex battery embedded in the patch produces current to carry the drug molecules non-invasively through the skin's pores to underlying tissue. In topical drug delivery, Tapemark has had success with its patented Snap® and Snapplicator™ single dose, convenient packaging formats. Snap conveniently dispenses a precise, portion-controlled dose of a variety of creams, gels, lotions and ointments. "Snapplicator incorporates an applicator pad for "no-touch" application, avoiding patient contact with the drug or the treated condition, if desired", explains Robert Arnold, Vice President, Sales & Marketing, Tapemark.
3M DRUG DELIVERY SYSTEMS – INTRADERMAL DELIVERY OF BIOLOGICS
With expansion of the global biologics market, development of delivery systems uniquely positioned to meet needs of this segment remains paramount for drug development and delivery providers. To meet unique formulation and bioavailabity profiles, the market is looking for advances in intradermal delivery, especially critical for viscous or otherwise difficult-to-deliver formulations, explains Lisa Dick, MTS Lab Manager, 3M Drug Delivery Systems.
"Specifically, we are seeing an emphasis on devices that provide more consistent reproducible delivery of liquid formulation into intradermal space, which can be difficult to achieve using regular syringes via Mantoux method."
In response, 3M Drug Delivery Systems Division has leveraged proprietary 3M microreplication technology for developing solid and hollow microneedle deliverysystems. 3M's hollow microstructured transdermal system (hMTS) is intended for intradermal delivery of biologic formulations from 0.5 ml to 2 ml via a patient-friendly microneedle technology. "We have recently announced availability of 3M hMTS for pharmaceutical and biotech companies interested in conducting preclinical studies," says Ms. Dick.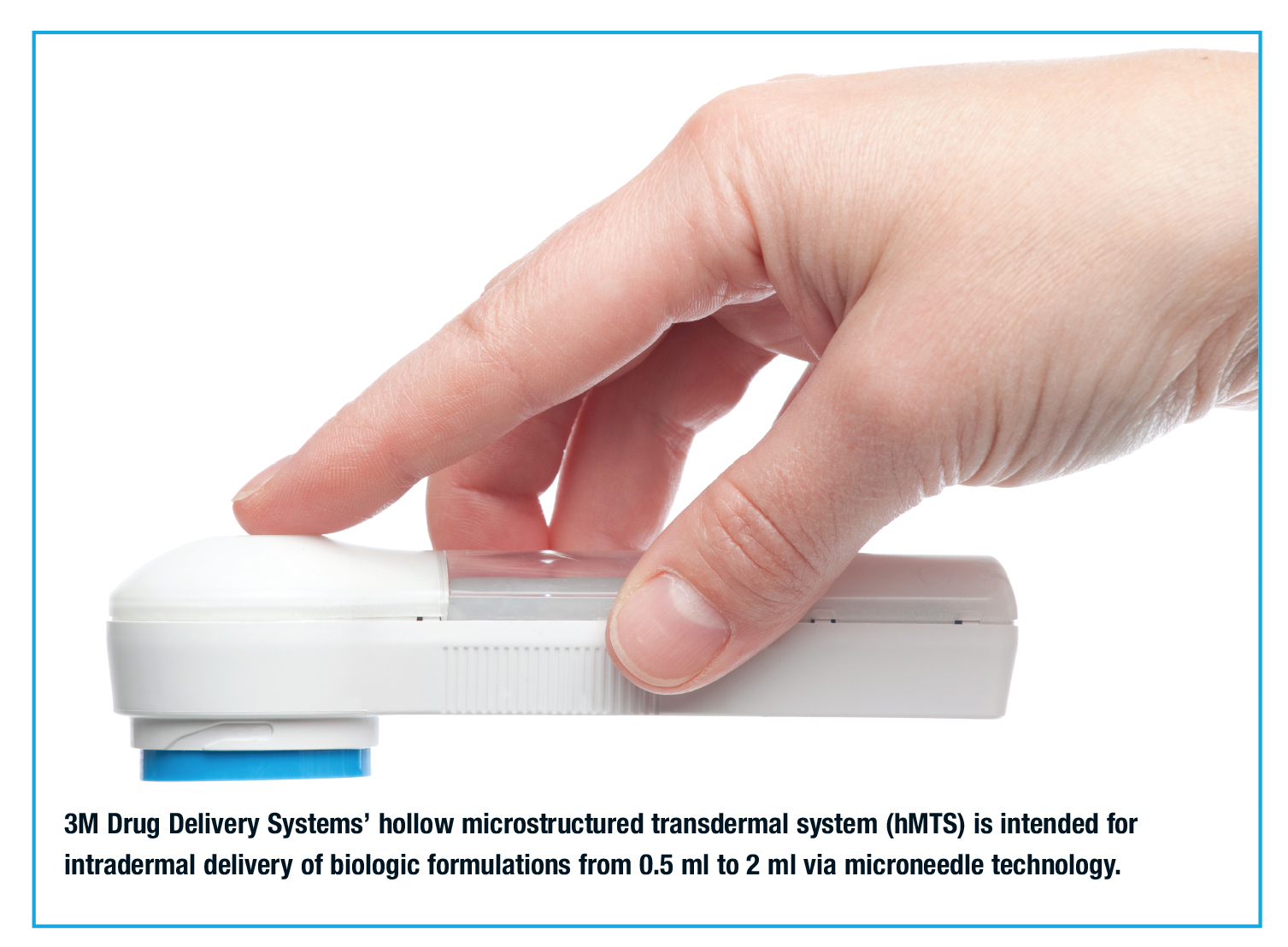 With patients' needs in mind, human factor refinements to the 3M hMTS include a textured grip, capability for non-specific actuation and a visible dose indicator. In the case of Radius Health Inc., for example, the company was looking for an innovative approach to treatment of Osteoporosis and was looking for an alternative to subcutaneous delivery method for the Abaloparatide (BA058), explains Ms. Dick. 3M was selected to develop and commercialize BA058-TD in a short-wear time patch based on 3M's patented microstructured transdermal system technology. Earlier this year, Radius has announced positive results of the Phase II study with this patient-friendly technology.
"3M hMTS may provide valuable differentiation for drug products intended for dexterity-challenged patients while offering the capability for intradermal delivery of liquid formulations over a range of viscosities."
3M microneedle technologies address the need for consistent delivery of biologics, including proteins and peptides. "Studies have demonstrated that microneedle technology is easy to use and can be considered less intimidating to physicians and patients than other injectable methods," she says. "Microneedle technology may offer potential for faster absorption and higher bioavailability for some drugs, along with other benefits. For instance, there could be pharmacoeconomic benefits for certain therapeutics if switching from intravenously administered formulation with a clinician to intradermal delivery in the comfort of a patient's home."
3M Drug Delivery Systems partners with pharmaceutical and biotech companies to develop and manufacture pharmaceutical products using 3M's inhalation, transdermal or microneedle drug delivery technology. 3M offers a full range of feasibility, development and manufacturing capabilities to help bring products to market. Regulatory expertise, quality assurance, operations, extractables/leachables expertise, marketed product support and other in-house resources are available for each step of the development and commercialization process.
4P THERAPEUTICS – APPLYING NEW TECHNOLOGY TO EXISTING THERAPEUTICS
4P develops patches to deliver large molecules, biologics and difficult-to-deliver small molecules. The company is also developing simple, passive, and still commercially valuable transdermal products.
"We are seeing trends toward simpler transdermal products that have commercial value but may not be a major advancement in clinical outcome," says Steven P. Damon, President & CEO of 4P Therapeutics. "Rethinking what is already available in terms of technology and applying it to the appropriate therapeutic can lead to valuable product opportunities. Taking an older transdermal therapeutic product and reformulating slightly using some of the advancement in chemistry that we have made can produce a better generic and potentially some new IP."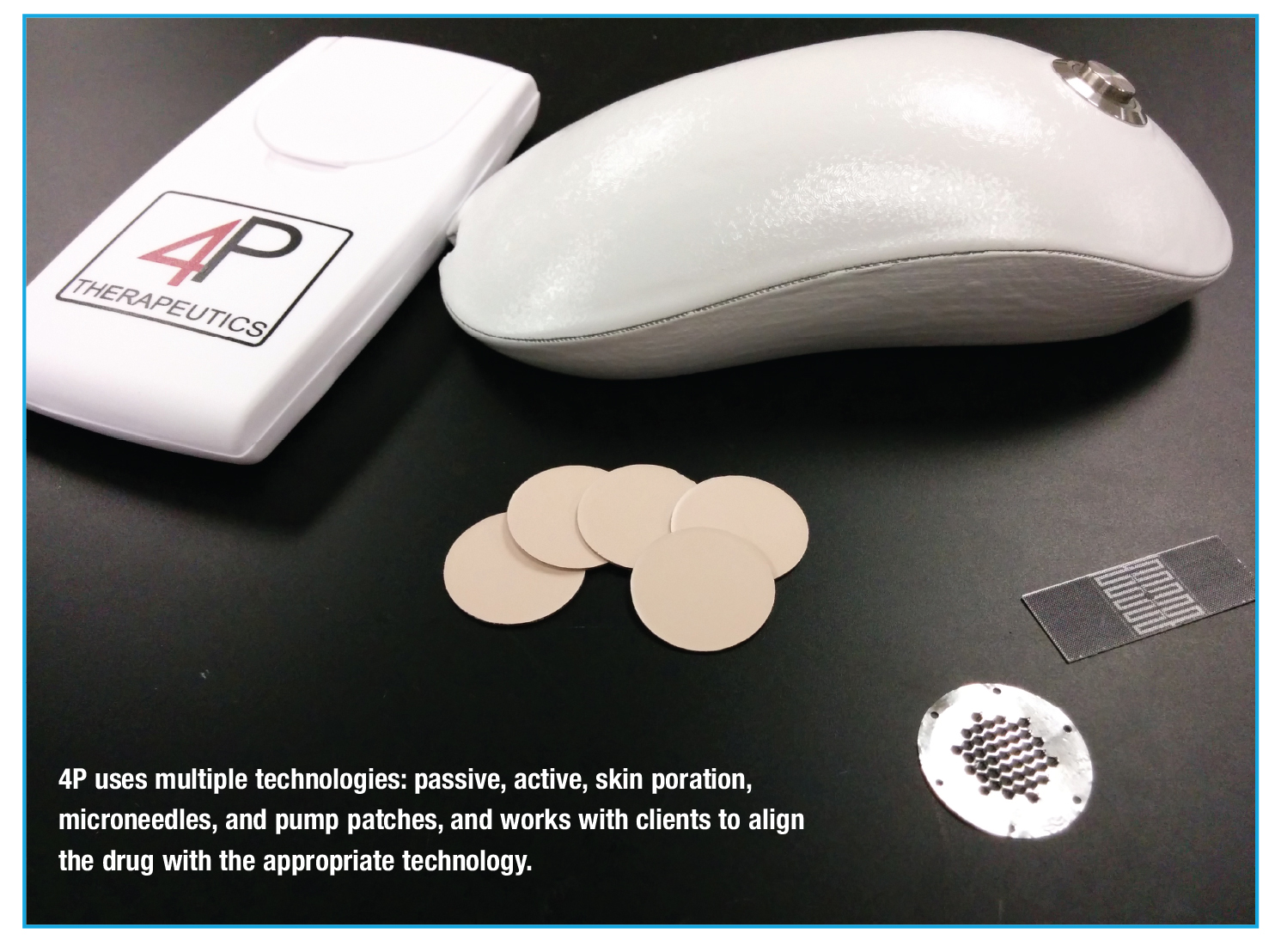 Mr. Damon continues: "In addition, we can take a basic patch technology that uses one or a few needles and a liquid reservoir with a driving force (mechanical, electronic or even chemical) to deliver the therapeutic and potentially create a new transdermal product that replaces an IV and keeps a patient out of the hospital."
4P uses multiple technologies: passive, active, skin poration, microneedles, and pump patches, and works with clients to align the drug with the appropriate technology. This involves a series of preclinical studies with several technologies. The patient, provider, and payer are all considered, along with the therapeutic indication. Then, clinical studies commence with what has been determined to be the best transdermal product for the indication in terms of clinical success and commercial success.
4P Therapeutics has entered into multiple partnerships with companies, ranging from a global healthcare conglomerate to small biotech companies and academic institutions. In the case of specialty pharma Medicure International, Inc., the partnership with Medicure initially focused on developing a transdermal patch for Aggrastat® (tirofiban HCl injection for intravenoususe), Medicure's lead product currently marketed for the treatment of acute coronary syndrome. 4P Therapeutics initially partnered with Medicure to demonstrate the preclinical feasibility of delivering tirofiban transdermally as an alternative to its current IV delivery. After successfully completing the feasibility studies, 4P Therapeutics and Medicure entered into a product development and commercialization partnership. This approach allowed Medicure to assess the preclinical feasibility of delivering tirofiban transdermally and offered the flexibility to generate valuable data before entering into a broader partnership with 4P Therapeutics and committing additional resources to the project.
"This development program presents an important lifecycle management strategy for Aggrastat. Drugs in the Glycoprotein IIb/IIIa inhibitor class (GPI), including tirofiban, are currently only available for IV delivery," explains Mr. Damon. "Transdermal delivery of a GPI promises to offer several benefits over IV delivery, including ease of administration using a transdermal patch that can potentially be self-administered, possible reduce in hospital length-of-stay to lower healthcare costs, and the potential for new indications that could lead to additional market penetration."
4P Therapeutics and Medicure demonstrated in vivo proof-of-concept for transdermal tirofiban delivery. The development program is now focusing on refining the transdermal tirofiban delivery system in preparation for initial human studies.
To view this issue and all back issues online, please visit www.drug-dev.com.