SPECIAL FEATURE – Outsourcing Formulation & Manufacturing Development: Using Data & Unique Approaches to Solve Solubility Issues, Target Profiles & Customize Products
The demand for outsourcing pharmaceutical formulation development and manufacturing is on the rise for drug developers at all levels. Frost & Sullivan estimates the pharma industry spent $13.4 billion on contract manufacturing and development services in 2013.
And the trend continued in 2014 with the industry using more CDMOs to assist at the development stage of drug manufacturing. These businesses can provide comprehensive services, from drug development through to manufacturing commercial supply, and are interested in differentiating their abilities from CMOs, which tend to be focused solely on large-scale manufacturing projects. Thus, many CMOs have embraced the CDMO term in their efforts to develop long-term partnerships, according to Nice Insight.
Utilizing a CMO/CDMO for formulation development is anticipated to increase as the strategic partnerships between drug innovators and contract suppliers mature. Results from the 2014-2015 Nice Insight Pharmaceutical and Biotechnology Survey show that 10% of respondents will engage a CMO for small molecule API development, and 10% would outsource solid/semisolid or liquid dosage form development. Thirteen percent stated they would engage a CMO for large molecule API development and 12% for injectable product development.
In this Drug Development & Delivery report, several CMOs/CDMOs discuss formulation development and manufacturing challenges, and how overcoming those obstacles can fast track the drug to the clinic.
Aesica—Developing Technologies to Improve Solubility
Many new innovative compounds tend to be poorly soluble, simply because most of the traditional high solubility and high permeability compounds have already been formulated. Now less than 10% of new candidates have high solubility and permeability. Additionally, many companies are revisiting existing compounds from 5, 10, or even 15 years ago. The belief is that with new technologies and approaches to solubility, these compounds are now commercially viable.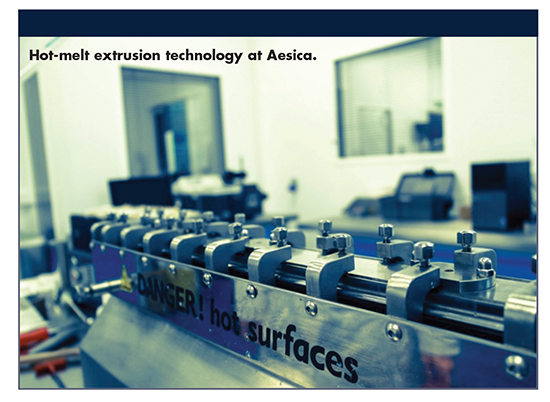 As Aesica is increasingly seeing more poorly soluble compounds, the CDMO is focused on developing and commercializing new technologies and techniques to overcome the solubility issues. As a starting point, Shabbir Mostafa, Business Development Director for Aesica, explains that the science and chemistry of each candidate is evaluated –  whether it is hydrophobic or lipophilic – and excipients that help improve the API's bioavailability when formulated are also determined.
"Once we have established our ingredients as a base, Aesica relies on a range of specialist technologies that can help increase the surface area of compounds or alter their priorities to increase stability," says Dr. Mostafa. "The key point to stress here is that when we work with customers, we also use scalable technologies to start on a very small scale to preserve the customer's valuable APIs, helping reduce expense."
One of Aesica's key technologies includes spray drying, which produces a dry powder from a liquid/slurry, increasing solubility. Wet bead milling is another technique for producing submicron and nanosuspensions (nanomilling) and is used as a convenient and cost-effective method of enhancing the bioavailability.
Hot-melt extrusion, while still underused in pharmaceuticals, says Dr. Mostafa, increases solubility by melting polymers and drugs together. The crucial benefit of this technology, he says, is that it is a continuous process, meaning it uses only minimal API and removes the batch validations required during scale-up to help expedite time to market. Aesica has working partnerships with local institutions that have the early formulation expertise and Aesica provides the knowledge to upscale the product for clinical manufacture.
Agere—Solubilization Platform Fast Tracks From Formulation to Clinic
Service provider Agere notes a growing preference for pharma to "borrow" expertise when needed as opposed to having solubilization experts on staff. The company supports its clients in identifying the best solubilization technology and identifying the best excipients using Agere's solubilization platform, Quadrant 2™. "The platform embodies methodologies that drive efficiencies and greater predictability based on informed, data-driven decisions," explains Casey Jones, Vice President, Corporate Development, Agere. "The integration of expertise with experimental and model-based approaches can accelerate the flow from identification of the best excipient candidates to formulation design, optimization, and process development."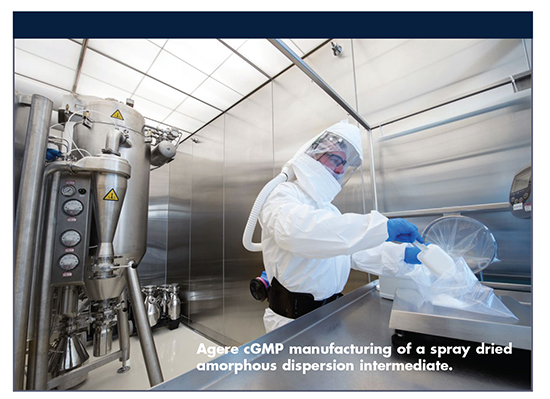 While service providers' experience and knowledge are critical elements, seamless integration of the service provider into the supply chain is essential for both parties to fully realize the cost benefits of the partnership.

One example of how Agere's methodology can deliver a fast track from formulation into the clinic is currently underway. "We were contacted in January by a client to develop three strengths of their drug in tablet form by March, a two-month cycle from formulation and dosage form development to GMP tablet manufacture," describes Ms. Jones. The client and Agere worked together, significantly benefitting from a "man-in-plant" approach, and overcame development challenges to keep the project on track.
"We developed 11 batch records in two weeks to support blending, common granulation, and compression of the three strengths required to include individual packaging records. We were on time with GMP granulation, and were on track by the end of February. This accelerated schedule was enabled by the close client collaboration, Agere's fully integrated manufacturing readiness team, a formalized tech transfer system, and specialized equipment and bench expertise." (Agere was acquired by Patheon on 3/20/2015).
Ascendia Pharmaceuticals LLC—Three Platforms Address Formulation

Ascendia Pharmaceuticals offers services for contract formulation development of poorly soluble drugs, and is dedicated to partnering with other small pharma companies to enable and optimize delivery of their NCE or re-formulated drug. Its formulation approaches include nanoemulsions, amorphous solid dispersions, and nanoparticles. These technologies are suitable for oral, ophthalmic, or injectable delivery of drugs that are difficult to formulate.
Ascendia has three platforms for addressing the formulation needs of poorly soluble drugs: EmulSol, NanoSol, and AmorSol. EmulSol produces stable, optically clear, oil-in-water nanoemulsions in a 50-500 nm particle size range using a high-pressure homogenization process. By selecting specific long-chain triglycerides in combination with an ionizable surfactant, Ascendia has eliminated the use of organic solvents in its formulation approach, and minimized the use of co-surfactants, explains Troy M. Harmon, Vice President, Business Development, Ascendia. The drug is solubilized within the interior of the oil droplets, and when the nanoemulsion is delivered to the body, the drug is more readily bioavailable.
NanoSol technology produces particles with a size typically below 400 nm. The drug contained in the particle may be either crystalline or amorphous form. Formulation of a drug in a nanoparticle form significantly increases the surface area available for dissolution. The nanoparticles can be encapsulated for oral administration, or prepared as a suspension for injection.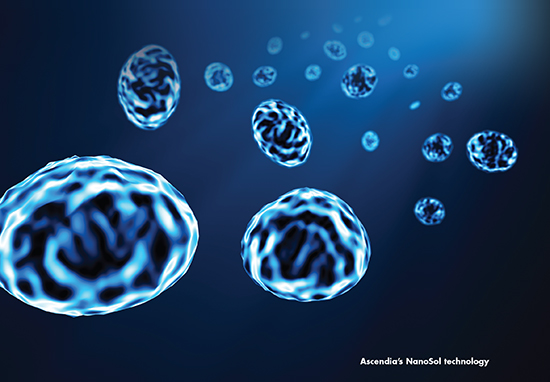 AmorSol technology produces an amorphous, meta-stable solid dispersion of a drug suitable for improving dissolution kinetics of orally administered drugs. As a drug dissolves from an amorphous solid dispersion, a supersaturated solution often forms, providing a driving force for improving bioavailability.

The company has used its EmulSol technology to formulate its lead pipeline product, ASD-002, a novel injectable form of the antithrombotic drug clopidogrel. Clopidogrel has an indication for Acute Coronary Syndrome, however, the commercially available dosage forms are tablets in 300 and 75 mg strengths, which Mr. Harmon says are not ideal for administration in an emergency setting. Also, when delivered orally, there is a significant delay in the time required for the medicine to become effective. The barrier to developing injectable clopidogrel is its solubility and chemical stability properties. Clopidogrel is a weak base with a pKa of 4.5, and it is practically insoluble in water at neutral pH. Moreover, the free-base form is chemically unstable and undergoes hydrolysis, oxidation, and chiral conversion. Mr. Harmon says that Ascendia has demonstrated physical and chemical stability of a 200 nm nano-emulsion form of clopidogrel. Furthermore, the solubility of clopidogrel in the oil phase is 20 mg/ml, a four-order of magnitude increase over the aqueous solubility of the free base at plasma pH.
CordenPharma—A QbD Approach to Identify Critical Attributes

CordenPharma International (CPI) is a full-service CDMO offering pharmaceutical services organized under six technology platforms including highly potent, oncology, peptides/lipids/carbohydrates, injectables, small molecules, and antibiotics.
Its formulation development and manufacturing expertise centers on oral formulations, for tablets, capsules, and a combination of the two. Oral formulation capabilities complement expertise in sterile drug products that range from liquids and emulsions to lyophilized and powder-filled products, explains Dr. Roberto Margarita, Director, Global Antibiotics & Oncology Platform, CPI.
CordenPharma's development studies are performed according to the Quality by Design (QbD) approach based on scientific understanding. "We use this methodology to construct the best quality target profile and to identify and confirm the quality critical attributes. In so doing, we deliver process knowledge at multiple levels to achieve product quality, characteristics definition, and process parameters for our customers," says Dr. Margarita.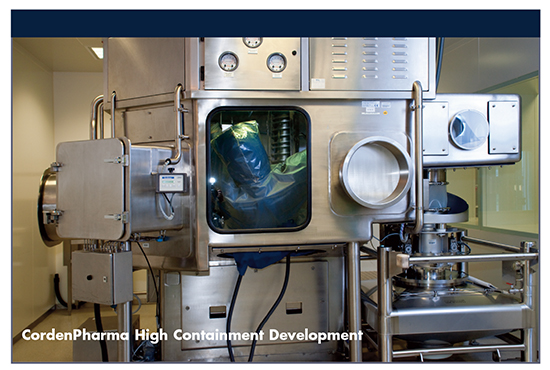 CPI is helping one customer bring a glycol-free formulation of a lyophilized oncology product to market, which will improve the safety of the drug and its applicability to patients who can't access it due to undesired side effects, says Dr.  Margarita.


Dr. Reddy's Custom Pharmaceutical Services—Leveraging Multidisciplinary Sciences for Customized Pharmaceutical Products

Dr. Reddy's Custom Pharmaceutical Services (CPS) focuses on accelerating project delivery, helping pharma progress their pipeline of products and speed their route to market. CPS offers drug substance and drug product services, from laboratory scale to commercial supply.
Praveen Raheja, Associate Director Formulations, Dr. Reddy's Custom Pharmaceutical Services (CPS), Hyderabad, says that outsourcing has evolved from its traditional objectives of cost effectiveness and time benefits to a more futuristic approach. This new approach sees an external R&D or manufacturing service provider as a competent partner who would accelerate the product development, approval and marketing process with good technical, strategic, and infrastructure support. "Today, most of our clients are associated with us for more than one project. Consequently, these companies have found CPS to be a flexible partner, which brings value to the product not just through reducing costs and shortening timelines, but also through experience, expertise, risk mitigation, and the delivery of quality services. We offer contract development and manufacturing services, including clinical and commercial manufacturing of intermediates, APIs, and finished dosage forms. Activated mPEGs, chirals, HPAPIs, and steroids form the backbone of our technology platforms."
In the area of drug product, Dr. Reddy's offers preformulation services, development of conventional solid oral dosage forms, modified drug delivery systems, combination products with multiple incompatible actives, combination products with sequential release, gastro retentive dosage forms, taste masking, and stabilization. "We offer services to help our partners get their products to market more quickly, without compromising on quality," says Mr. Raheja. "With our capabilities and expertise we are able to speed up the time it takes to get a product to market, reduce costs and deliver the expected quality attributes right through the product life cycle, from early phase clinical supplies through to commercialization."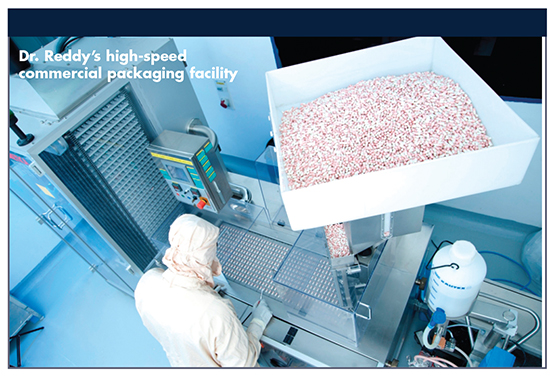 He adds that there has been a focus on developing unique combination products for synergistic action and a better therapeutic outcome, especially in chronic therapy areas like diabetes and pain management. In one example, a combination of three APIs in a transparent capsule (capsule and tablet in capsule) was developed by altering solubility. A co-solvent approach and complexation entrapment techniques using betacyclodextrin was taken. This provided a novel combination therapy for a differentiated combination and an aesthetically elegant formulation.

For another customer, the use of polymer combinations was adopted to develop an ophthalmic wafer, which gelled in contact with lachrymal fluids to provide a sustained local action for an anticancer agent. The benefits were increased bioavailability, leading to a reduction in dose compared to a conventional eye drop, he says.
Gateway Analytical—Total Particle Characterization Services toSupport Bioequivalence
The success of an ANDA submission depends on the ability of the manufacturer to prove that the test product is qualitatively and quantitatively the same as the reference product. This equivalency not only relates to the formulation, but to the device used to dispense the drug. Proving qualitative and quantitative equivalency is especially challenging for combination inhalable therapeutic drug products containing two active ingredients. Accurate and precise data on the Particle Size Distribution (PSD) of the individual ingredients and possible contaminants is required for drug product submission in the US and Europe.
Due to the lack of specific guidance from the FDA with regards to the ANDA submission, however, there are few attempts by generic manufacturers to develop bioequivalent formulations of orally inhaled and nasal drug products, claims Dr. Oksana Olkhovyk, Senior Scientist, Gateway Analytical. Differences in the PSD for each of the active ingredients and amount/size/nature of foreign particulates present will almost certainly result in differences in deposition; this may prevent co-deposition of active ingredients in the correct ratio in the lungs and/or cause device failure. Even if the drugs' PSD's were identical, final formulations may be affected by contaminations, therefore it is valuable to understand the formulation itself, along with any foreign materials that may be present.
Gateway Analytical offers a variety of analytical services for particulate analysis of pharmaceutical products and devices. For instance, with the ability to detect the smallest spectral shifts, Raman spectroscopy is sensitive enough to identify polymorphic forms of the drugs; this is important because different polymorphs/hydrates have different dissolution rates, solubility. The presence of particular polymorphs of the API or specific grade of the lactose (which is used as a carrier) in the formulation can affect product bioavailability.

Gateway Analytical offers methods and tests to evaluate external factors that may cause imbalances or variation on deposition and efficacy of the product, due to the contribution of the excipients used. Sourcing good quality active ingredients and excipients to assure drug/excipients compatibility is another challenging task for manufacturers.
"We can help create or adopt customer specific protocols, based on unique product needs," says Dr. Olkhovyk. "Our spectral reference library is extensive enough to identify varieties of contamination sources with Raman and FTIR spectroscopy; additionally we can identify both organic (IR, Raman), and inorganic (SEM/EDS) materials. Many of our analyses are computer controlled, thus providing throughput for analysis and quick turnaround times for results."
Particle Sciences—Using Data Based on Physicochemical Properties & Target Product Profile
Formulation strategies are at the forefront of virtually all drug product development efforts. For reformulation efforts, using marketed Active Pharmaceutical Ingredients (APIs), the focus is on increased performance with formulation technology playing the central role. New Chemical Entities (NCEs), in part due to the nature of their molecular targets, are most often insoluble and require advanced formulation techniques to be effective. The APIs of interest to Particle Sciences' clients are no exception and are often sparingly water-soluble with a majority of them being BCS II molecules.
The ultimate formulation goal is bioavailability (BA) and solubility is one of the key physicochemical parameters a formulator needs to manipulate in order to achieve the needed BA. In addition to manipulating solubility kinetics, the other areas formulation can impact include tissue permeability (through use of surfactants and lipids), residence time, compliance, duration, metabolism, and clearance. Chemical and physical stability are critical quality attributes that are affected by solubility strategies and need to be considered in parallel.
"At PSI, we have a number of formulation approaches aimed specifically at addressing solubility issues ranging from in silico design to nanoparticles to solid solutions to lipid-based systems such as LyoCells® (PSI proprietary reverse cubic and hexagonal phase nanoparticulate delivery system)," says Robert W. Lee, PhD, Particle Sciences. "For long-term delivery, our drug-eluting device or depot formulation work can be used. When large and small molecules are being co-formulated our SATx™ platform is often utilized."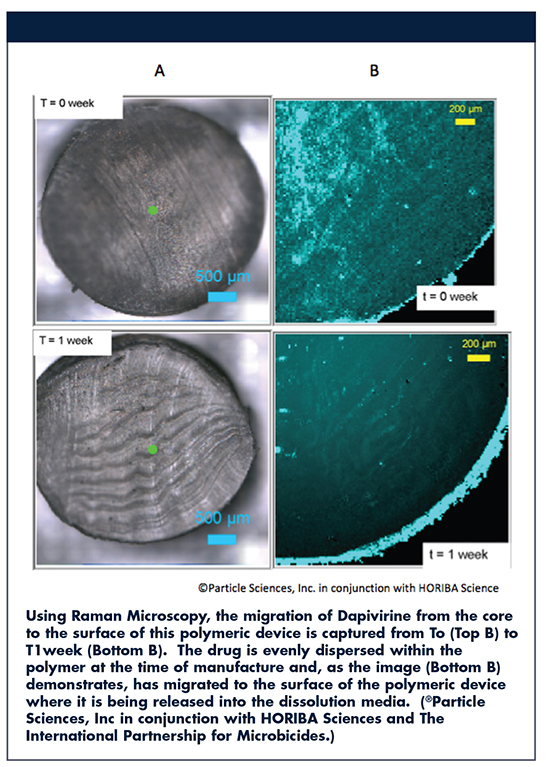 Once the API is well characterized, high probability formulation approaches are investigated. Again, the right approach is one that aims to maximize BA in a stable and scalable system. "We often encounter molecules with enzymatic and/or hydrolytic lability, so this needs to be addressed during formulation," says Mark Mitchnick, MD, Particle Sciences. "It is a question of which technology do the API's characteristics drive one towards. For instance, a heat stable, highly potent compound with a positive logP naturally drives towards hot-melt extrusion. If you are developing a relatively labile molecule with good lipid solubility, this would warrant looking at LyoCells, and a classic BCS II molecule should be evaluated for its amenability to nanoparticulate suspensions, either crystalline or stabilized amorphous. Our role at PSI is to find the right approach for the client's specific compound and delivery objective."

Pharmatek—A Data-Driven Approach to Preformulation
Pharmatek specializes in early phase clinical drug product development and cGMP manufacturing. Focused on a data-driven approach, Pharmatek provides formulation and dosage-form support, process development and optimization, and manufactures clinical trial materials. Its formulations include solubilization technologies, such as spray-dried dispersions, micronization, complexation, and lipid delivery.
"Preceding formulation development activities, Pharmatek's clients are encouraged to gain insight from existing data," advises Bryan Knox, Senior Director, Pharmaceutics, Pharmatek. "Comparative pharmacokinetics from various preclinical dosage forms, for example, can help determine the potential usefulness of bioavailability-enhancement techniques. Leveraging these preclinical data, preformulation study design and excipient candidate selection can be directed toward supporting several viable dosage forms."
Preformulation activities include solubility screening and physical characterization studies, such as particle-size distribution, morphology, powder density, and compressibility. These data help identify effective co-solvents, particle-matched dry-blend fillers, and potential process-ability challenges. The excipient selection process is based on knowledge of how a given compound behaves in "stressed" environmental conditions, in addition to its pharmacokinetic tendencies. Excipient screening can then be used to either eliminate or hone in on particular excipients from each excipient class based upon the propensity of each to degrade or stabilize the active ingredient. Leading excipient candidates are then incorporated into several formulations, ranging from simple to increasingly complex dosage forms, for head-to-head in vitro and in vivo performance comparison. To address potential bioavailability concerns, Pharmatek's capabilities include micronization, spray drying, complexation, emulsification, melt granulation, and fluid-bed (Wurster) coating.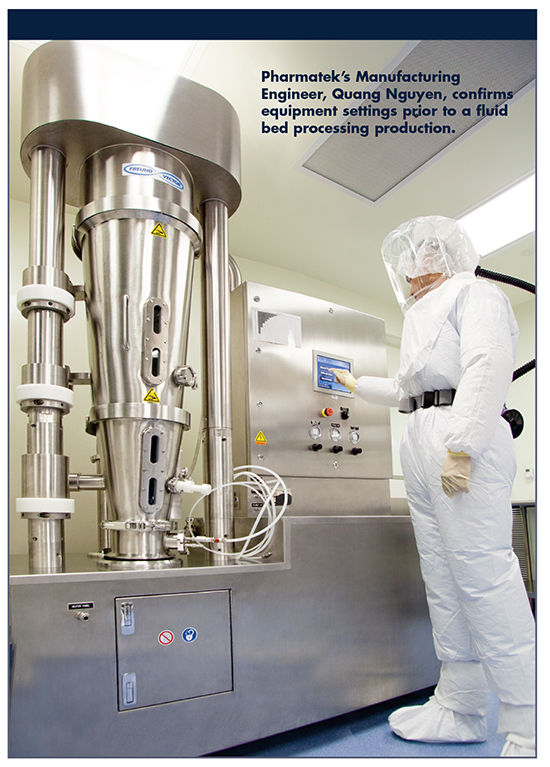 Based on performance and anticipated manufacturability, the most promising formulation candidates are produced at lab-scale to be placed on prototype stability for incremental testing. The results generated are critical to the clinical formulation selection. Once the final formulation is determined, manufacturing process optimization and cGMP manufacturing preparations are initiated.
An example of Pharmatek's data-driven approach involved helping a customer identify the best path forward for first-in-man clinical trials. Early pre-clinical studies showed that bioavailability enhancement techniques may be beneficial due to the poor aqueous solubility and high melting point of the active ingredient. With the objective of quickly identifying potential formulation platforms for pharmacokinetic evaluation, excipients were selected and screened to support several possible dosage forms, including PIC, surfactant-containing dry blend, melt granulation, amorphous dispersions, and a GRAS-listed organic solution. Discriminating dissolution methodology was developed and utilized to narrow the list of formulation candidates, and the remaining formulations were evaluated in vivo. In vivo results confirmed the in vitro dissolution findings, demonstrating that an amorphous dispersion presentation enhanced bioavailability of the compound.
Relative to a neat powder-in-capsule presentation, the amorphous dispersion showed a significant improvement in bioavailability (80% BA with amorphous dispersion versus 30% BA with the PIC). However, when in vivo results were considered along with the client's business goals and timeline, it was determined that the simplest technique, PIC, would be taken forward in Phase I due to its acceptable PK profile.
"This strategy provided adequate exposure while reducing development time and the upfront investment that would be required for a more complex manufacturing process," says Mr. Knox. "Pharmatek's data-driven approach enabled informed early-phase strategic decisions, and formed the basis for on-going development of the spray dried dosage form for Phase II clinical studies."
Xcelience—Four Key Steps to Formulation Development
Prior to starting a formulation development project, the physical and chemical characteristics of the API should be thoroughly evaluated. This evaluation should include analyses such as determination of pH solubility profile, potential for polymorphs, pKa, and particle shape/size. If the API is poorly soluble, there are several options for assisting the viability of developing a drug product. If it is early enough in the development cycle, a salt form might be selected that has better solubility characteristics. Creating an amorphous form of the API can also be considered. The API can be micronized to increase surface area to help in dissolution of the compound. The appropriate excipients can be selected to provide a more soluble formulation of the API.
Xcelience can provide the necessary services to evaluate the API. The formulation development process starts with trying to identify which excipients will be optimal for use with the API of interest, explains Paul Skultety, PhD, Vice President, Pharmaceutical Development Services at Xcelience. There are several main items of consideration.
First is what excipients are going to be compatible with the API. A quick glance at the molecular structure may immediately exclude some excipients due to known interactions between certain functional groups. Another possible concern may be the amount of moisture present in some excipients or the potential for the excipient to modify the pH of the formulation.
Second, consider the type of formulation and the route of administration. If it is a liquid, then preservatives and potential pH modifiers should be considered. If the drug product will be a controlled release tablet, then consider looking at appropriate polymers that will be selected based on the type of release mechanism used.
Third, consider the manufacturing process. Fourth, the solubility and possible dosage strength of the API should be evaluated. If the solubility is low, then one must determine what possible excipients can increase the solubility.
"At Xcelience we will start the formulation development work with as simple of process as we think will be successful; this is often a direct blend/compression," says Dr. Skultety. Depending on the desired formulation, Xcelience can develop anything from an instant release tablet to a controlled release bead.
As examples of its formulation approaches, Dr. Skultety explains how Xcelience developed a pediatric liquid formulation using cyclodextrins. This approach improved the solubility enough to provide the client with a stable solution at the desired concentration. Another client asked for a combination dosage form. The two APIs were found to be unstable if they were in direct contact. The solution was to provide each of the APIs as separate, coated beads. The two beads could then be blended together in a stable dosage form.
To view this issue and all back issues online, please visit www.drug-dev.com.