PACKAGING SOLUTIONS – New Deep-Drawn Alufoil Container Solves Crucial Packaging Issues for Vital Pharmaceutical Products
INTRODUCTION
With global demand for medical devices and pharmaceuticals at an all-time high, the risks of degradation or contamination from mold and mildew-inducing moisture in the manufacturing and transport of these critically needed items has become an increasing concern within the life sciences manufacturing sector. Both industries are highly regulated in the global marketplace and in the respective home countries of individual companies, meaning the consequences of a product package failure are quite substantial.
Furthermore, increasing globalization has had the unfortunate consequence of allowing contagious diseases to spread rapidly across borders. This requires effective and timely prevention, detection, and treatment of disease, rendering the need for safe global drug distribution and packaging even more urgent.
Packages need to meet GMP hygiene standards and be cost-effective, but also simple enough for customers of varying levels of sophistication to open and use effectively. This balance can be tricky, but alufoil containers, in use by the food industry for decades, have demonstrated both high product safety and ease of use.
We will show how the adoption of aluminum containers for pharmaceutical products is both a natural evolution of a technology used by packaging leaders since the 1990s, and an ideal prophylactic measure for the growing needs of demanding pharma customers.
ORIGINS OF ALUFOIL CONTAINERS
Multiple attempts have been made by packaging companies through the years to find a cost-effective, lightweight, and portable solution to the common problems of moisture and humidity and their attendant spoilage. Whether in storage or transit, products in nearly every industry require moisture protection because moisture frequently causes rust, mildew, mold, and an overall decrease in product efficacy, resulting in returned or unusable products. Plastics, VCI paper, and desiccant packets have been tried with varying degrees of success.
In the 1990s, an innovation was introduced for packaging meat in Europe in the form of easy-to-open alufoil containers that were retortable – composed of a laminate of flexible plastic and metal foils that offered an aseptic packaging alternative to traditional canning. Pet food manufacturers quickly adopted the packaging; for example, Mars, Inc. created a hygienic pet food container that seals completely, but is also easier to open than a can and lighter in weight.
By the turn of the last century, alufoil containers combining special heat-resistant seals with peelable lacquer systems became popular for desserts. This made it possible to bake a cream or cake directly into a cup, reducing labor and materials costs.
Additional applications began to emerge, demonstrating the versatility and cost effectiveness of alufoil. Containers for a variety of perishable foods, such as coffee creamer, liver pate, jam, honey, and airline catering containers were made from alufoil. In addition, the material also proved itself highly useful for non-food products, such as fuel paste, because of its cost, ease of transport, and especially, resistance to moisture and leakage.
Some of these same attributes make alufoil highly suitable for use in pharmaceutical applications. Alufoil is capable of passing muster amidst the pharmaceutical industry's stringent quality, hygienic, regulatory, and product security requirements.
One of the first pharmaceutical products to be packed in alufoil containers was an oral dose for avian influenza, which needed to be produced in large quantities after the SARs outbreak in Asia. In 2014, the first inhalation device was introduced in an alufoil container.
DESIGN & DEVELOPMENT OF SAFEMAX BY CONSTANTIA FLEXIBLES
Pharmaceutical devices in particular are vulnerable to outside environments; life-threatening risks of even the tiniest leak include cross contamination of blood, bacterial seeding, and insufficient or excessive medication dosages. For this reason, leak testing is commonly used in the device industry as quality standards have become increasingly stringent because product failure presents hazards to patients and healthcare professionals, and liabilities to manufacturers. The International Electrotechnical Commission (IEC) standard 60529 established and documents standard degrees of ingress protection. Titled Degrees of Protection Provided by Enclosures, it is commonly referred to as the Ingress Protection or IP Code.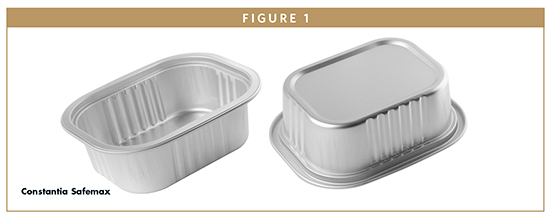 Following a demanding research and development program, the pharma division of Constantia Flexibles Group in Vienna, Austria, recently introduced a breakthrough deep drawn aluminum container, dubbed Constantia Safemax, that offers a radical improvement from past technologies, providing new opportunities for containing and protecting a broad array of moisture-sensitive pharmaceuticals and medical devices.
Constantia Flexibles is a global corporation that develops, manufactures, and supplies flexible packaging solutions for the pharmaceutical, healthcare, home and personal care, and food and beverage markets. Recognized as a world market leader for die cut lids and other flexible packaging product niches, Constantia offers integrated, start-to-finish, foil-based packaging solutions to the North American pharmaceutical and nutritional industries.
Constantia Flexibles developed Safemax specifically for use by a top-five pharmaceutical company. In doing so, the engineers at Constantia Flexibles needed to overcome multiple design challenges. Its clients, which face exacting regulatory and health standards that are inviolable, require the packaging to be sterile, with high protection against moisture ingress, as described previously; and easily opened and commercially viable in the competitive global marketplace.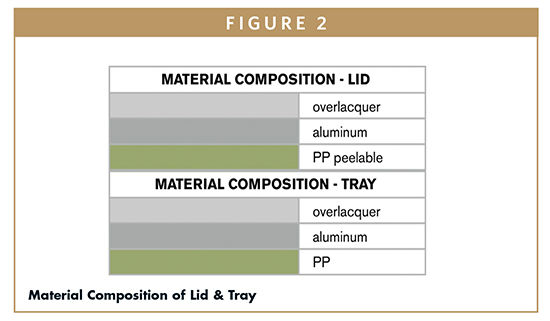 During this development process the dedicated team of Constantia experts relied upon its technical understanding of aluminum as an effective packaging medium, along with the firm's well-established expertise in aluminum conversion technology in previous market applications.
Taking a systematic approach, Constantia Flexibles managed to resolve the most crucial issues. In the process, the team realized a vision of a radically different pharma packaging system that, during the production process, is tailored to perfectly match clients' individual product needs.
To produce Constantia Safemax's deep-drawn tray, aluminum is laminated to polyprolypene and then combined with a highly peelable lidding foil particularly known for its consumer peelability. The result is exemplary seal integrity with easy-opening characteristics. Its exact design and format can be readily fitted to ensure the pharma device is successfully delivered to individual patients.
ALUMINUM CONTAINER TAILORED FOR INDIVIDUAL CUSTOMERS
The Safemax production process previously described differs for each customer. It begins when a potential client has an inquiry and submits its requirements for the aluminum tray with a 3D-drawing of the product and how it should be packed.
Constantia then investigates which material will be the best for this application and which features must be included in the alufoil container to meet a number of requirements. Here, typical considerations include:
-An appropriate material for the container and lidding foil to guarantee high- moisture protection of product in places as humid as the tropics.
-The design of the alufoil container interior must protect the sensitive product during transport, including the construction of ribs to secure the product or device during transport.
-The material and design of the lidding foil must guarantee a consumer-friendly opening.
-The design of the alufoil container for optimized stacking in the production process, and subsequent destacking on the packing line of the client.
All of these aspects must be taken into consideration – both with the client and the tooling maker – before any work can commence. A prototype of the container is then designed comprising a 3D print with plastic. The client first tests the 3D-container print with the device and then provides more information for optimization. Upon implementing these final alterations, the optimized alu-design is given to the client for approval.
Finally, a single head tool is produced for forming the aluminum tray. The material is die-cut, and the tray is formed out of a blank. These first samples are used from the client to make transport, stability, and shelf-life tests. Upon passing these examinations, the material is approved by the client.
BENEFITS & APPLICATIONS
Safemax is very easy to open due to its customer-convenient lidding foil and is highly transportable, but most important is that it provides the highest levels of moisture protection against ingress of liquids or moisture during global distribution. The final product meets the demanding quality, hygiene, regulatory, and product protection requirement for products in the modern healthcare market.
The radically different aluminum tray and lid are aesthetically pleasing and have high-seal integrity. Additionally, it enables market and product differentiation plus enhanced consumer valuation.
SUMMARY
Compared to alufoil, traditional containers have many limitations. Potential applications for this custom technology in the future are boundless. The packaging of syringes, for example, is now mainly done by packaging in a plastic blister. Safemax solves for this application's inherent shortcomings.
Containers, such as Constantia Safemax will certainly play a significant role in the future for pharmaceutical products because they suffer none of the risks of traditional packaging materials. Safemax would prove itself superior even when cost is not a consideration, but this breakthrough product convincingly shows how advances in materials technology are making possible better sustainability without loss of performance. And because Safemax can be manufactured at high speeds, materials availability and turn-around times are not concerns.
Constantia Safemax's exceptional benefits meet the demanding requirements of new healthcare products and, for an industry with stringent international hygienic and quality control requirements, alufoil is clearly a highly attractive choice.
To view this issue and all back issues online, please visit www.drug-dev.com.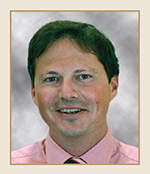 Georg Buchinger is Product Manager for Constantia Flexibles, where he specializes in the design and development of high-performance packaging systems. To do so, he works in close collaboration with both partners and customers around the world.
Cora Helberg is Marketing and Innovation Manager for Constantia Flexibles's Pharma Division. She has more than a decade of experience working with flexible packaging materials that help improve product protection and efficacy.