MARKET SURVEY – Dosage Forms: It's Time to Listen to Consumers
INTRODUCTION
Millions of people use solid tablets and capsules every day to treat any number of ailments or to supplement their dietary or health requirements. Regarded as the most practical and cost-efficient method of drug delivery, it's no surprise they have become so widespread. However, a recent survey of people across the US and Germany has revealed that half of the population has difficulty in swallowing tablets and capsules.
Of the 1000 US participants, swallowing problems were attributed primarily to the size of the tablets and capsules – either being too big to swallow or that they became stuck in the throat.
Worryingly, many participants interfered with the tablets or capsules: 23% reported breaking tablets before swallowing, while another 14% crushed and dissolved them in water in order to swallow them. A full 10% stopped taking their medication entirely, while 9% looked to a different dosage form altogether. A lack of compliance on this scale not only has potentially serious consequences for the quality of a person's health, but it also comes with a substantial financial impact on healthcare systems.
The survey also delved further into people's experiences with a wide range of dosage forms in an effort to understand which properties they value or would like to see implemented. This included asking participants to score different dosage forms, such as solid tablets or capsules, effervescent and chewable tablets, lozenges, orally disintegrating granules (ODGs), and instant drinks, for factors such as convenience, ease of swallowing, taste, etc. The results raised several important issues, all of which represent valuable opportunities for healthcare companies to adjust their product development strategies to meet the expectations and preferences of modern consumers.
CHALLENGES & SOLUTIONS
Difficulties swallowing tablets or capsules are an issue experienced by a wide range of people regardless of age or gender. The natural tendency is to assume that swallowing difficulties are much more common in the elderly, and indeed 40% of elderly participants aged 65 or older reported some form of difficulty swallowing tablets and capsules. However, 66% of people aged 16 to 24 also indicated having the same problem. While 25% of both age groups complained that the tablets or capsules were too large to swallow, the most common issue reported by 35% of the younger participants was actually that the tablets or capsules had an unpleasant taste or smell. In contrast, only 8% of the elderly group had this issue with taste and smell. These results highlight that swallowing difficulties are a common problem affecting both old and young, but for different reasons.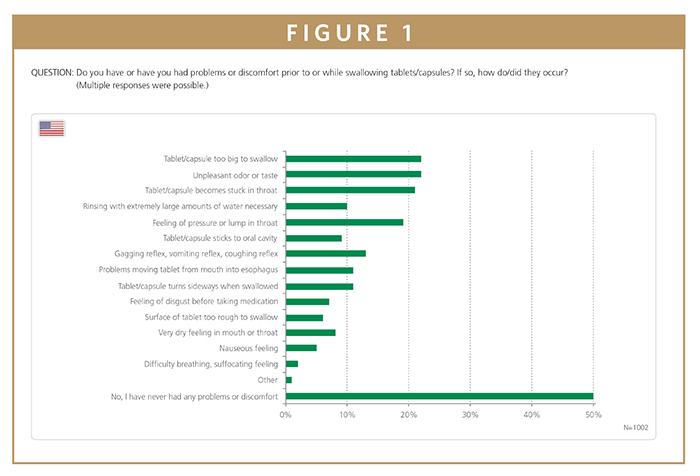 In an effort to understand this, the survey asked respondents to rate which non-medicinal characteristics they value in a medication or food/dietary supplement. Well over half of the US participants (66%) reported that it should be easy and comfortable to swallow, 38% said that a pleasant taste or odor was important, and 34% wanted a product that integrates easily into their lives. The interaction with the product itself can also affect people's experience, with 36% of people indicating they would prefer packaging that was easy to open. This final point provides an excellent opportunity often overlooked by pharmaceutical companies, but that is widely known in the fast moving consumer goods (FMCG) industry; if done well, packaging can be a powerful tool to help communicate the quality of a product to consumer.
An emerging trend is that people want convenient products that have a pleasing taste and smell, are easy to swallow, and can integrate easily in their busy daily lives. Put simply, conventional solid dosage forms do not offer the desired positive experience in many cases. Pharmaceutical companies that are willing to respond to these needs and offer people a wider range of choices have the chance to open up new market segments, capture market share, and breed brand loyalty, all the while successfully differentiating their own products from the competition.
User-friendly dosage forms already have a sizable base of awareness in the US, led by chewable tablets, which are already known to almost 90% of Americans. Other dosage forms are also well known: effervescent tablets or lozenges are known to 85% of people, instant drinks to 80%, and 48% of people know of ODGs.
It's not just a case of awareness – people are also now beginning to try and routinely use these forms of medication. For example, the survey results indicate that more than 60% of US participants had already taken chewable tablets and lozenges. When asked to compare tablets or capsules with user-friendly dosage forms, people consistently scored conventional tablets or capsules far less favorably across a number of characteristics, including ease of swallowing, sensation in the mouth, package opening, and ease of intake. These data suggest that not only is awareness of user-friendly dosage forms relatively widespread, people also prefer taking them rather than traditional tablets and capsules.
TURNING A PROBLEM INTO AN OPPORTUNITY
It will come as no surprise that the pharmaceutical industry has been facing a number of challenges over the past few years. The ever-present patent cliff continues to claim millions of dollars in revenue as the patents on blockbuster medicines expire. R&D costs involved in creating new medicines are increasing – the number of medicines approved per billion US dollars spent on R&D has halved roughly every 9 years since 1950, falling by around 80-fold in inflation-adjusted terms.1 Overall, the success rate for discovering new medicines remains notoriously low, and progressively fewer medicines are moving along the pipeline from the development stages through to market.
Some companies are responding by tackling these difficulties from new angles in the pursuit of innovative solutions.2 Outsourcing or acquiring small companies involved in API discovery, for example, is allowing Pharma to tap into external sources of innovation. This allows them to avoid the risks of developing new active compounds from scratch. In other cases, rather than working to discover and optimize completely new APIs that they can patent, some companies are instead reformulating current medicines. Reformulation is appealing because medicines can be not only improved but also made more difficult to copy. It can also revitalize ageing brands and stimulate consumer interest. For all of these solutions, a core strategy points to putting consumers directly at the center of the business. By developing user-friendly dosage forms, medicines, or supplements deliver additional value to consumers, and by extension, to healthcare providers and reimbursers. With clear messages on preferences being voiced through data, such as those from this survey, there is a clear opportunity to meet those preferences and win customers.
This approach could prove especially effective if the industry considers the over-the-counter (OTC) market as an opportunity to promote self-administration and reduce the need for doctor visits (therefore reducing healthcare costs). With OTC products, consumers have a direct influence on their medication. With increased knowledge of these medicines and how they work, OTCs effectively provide people with around-the-clock access to treatment. Currently the average US household spends about $340 per year on OTC products.3 Without OTCs, an estimate 60 million Americans would not seek treatment for their illness.4

​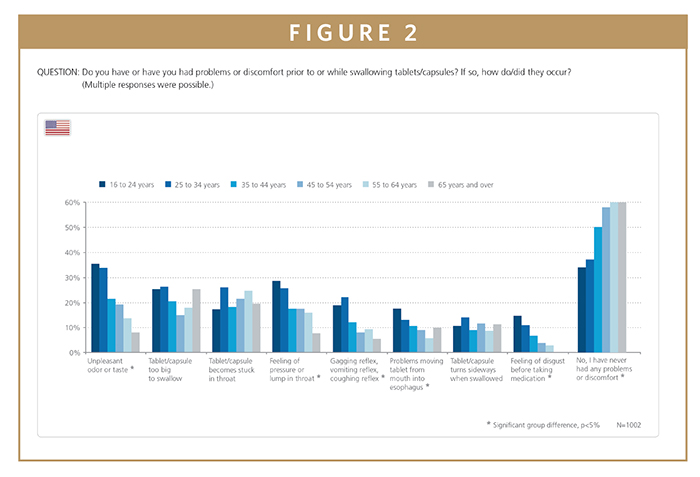 Considering the increased costs of healthcare and the pressures on reimbursement and pricing, a shift away from a reliance on prescriptions toward OTC medicines can help alleviate healthcare costs by reducing the need for doctor visits. In fact, the use of OTCs has been estimated to save the US healthcare over $100 billion annually, relative to alternatives.3
Paying attention to what consumers specifically want while taking advantage of OTCs in what is a growing market, could provide the industry with a very effective solution to many of its challenges. By creating medicines that people will want to take, rather than have to take, pharmaceutical companies have an opportunity to increase market share, even under the current challenging conditions facing the industry.
USER-FRIENDLY DOSAGE FORMS OFFER MULTIPLE BENEFITS
In addition to ease-of-swallowing, two other important factors affecting how people respond to medicines are taste and mouthfeel. As many APIs tend to be bitter, taste-masking is essential to making the final product more palatable – something we know from the survey to be an important criteria. While this is essentially true for all dosage forms, it is especially relevant when developing user-friendly dosage forms, as they tend to spend more time in the mouth and are tasted more thoroughly than conventional tablets and capsules.
Taste-masking is achieved via coating the API using specialist methods. Traditionally, this has been relatively time consuming and expensive, often including comparatively high-risk solvents in the process. Hot melt coating (HMC), on the other hand, is an advanced, alternative coating method that effectively masks the bitter taste of APIs. HMC does not require potentially toxic, flammable, and expensive solvents and is faster than solvent-based methods, making it ideal for dosage forms like ODGs.
Other cutting-edge technology, such as TOPO vacuum granulation technology for effervescent forms, results in a final product that has a high degree of stability in the presence of acids or bases. Effervescent dosage forms manufactured with TOPO technology have a high resistance to moisture and long shelf-life even under extremely humid conditions, making them suitable for even tropical regions. At the same time, they show characteristic short disintegration times on contact with water in a glass, even after prolonged storage. Effervescent tablets have further benefits in the form of enhanced bioavailability due to the release of carbon dioxide as they dissolve, improved permeability in the GI tract and enhanced API transport into cells.5 

​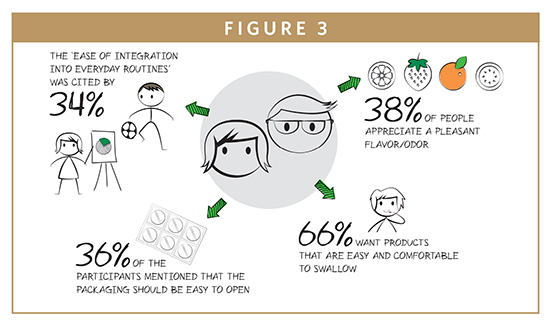 From a pharmaceutical industry perspective, reformulation of established medicines into new dosage forms can be particularly useful for extending patent protection. This safeguards the investments of companies by providing stronger IP protection. Such line extensions can also lead to a more differentiated product range that specifically addresses individual customer preferences. The end result is greater brand value and better differentiation from competitors – factors that increase revenue and market share irrespective of patent status.
ADDRESSING NEEDS FOR THE GOOD OF MANY
In light of their huge success and widespread use, it is easy to assume that tablets and capsules are generally accepted by consumers and the industry. However, when robust data are available, showing that a large proportion of people are in fact less than satisfied for a variety of reasons, Pharma needs to sit up and listen. People are no longer content to passively take a prescribed or purchased dosage form if it does not meet their expectations or conform to their preferences. Failing to consider this can effect compliance, which has repercussions for individual well-being and places potentially serious financial burdens on a healthcare system already under pressure.
The technologies to develop the variety of user-friendly dosage forms described here are already available, and specialist companies have been manufacturing them with great success for a number of years. It's now time the rest of the medicine and supplement industries start to listen to what consumers clearly want in a dosage form. Addressing existing problems, such as swallowing difficulties, and accommodating preferences, such as enhancing flavor and odor, not only improves a consumer's experience, but also opens up valuable market opportunity for manufacturers.
For further details on the survey, which was conducted by the impartial market research firm SPIEGEL INSTITUT Mannheim, visit www.swallowingtablets.com or scan the QR code. The survey targeted 2000 people (1000 in Germany and 1000 in the United States) and was tailored to reflect overall population demographics in terms of age, gender and ethnicity in order to generate statistically reliable data.
 REFERENCES
1. Scannell JW, Blanckley A, Boldon H, Warrington B. Diagnosing the decline in pharmaceutical R&D efficiency. Nat Rev Drug Discov. 2012;11(3):191-200. doi:10.1038/nrd3681.
2. Taylor L. Pharma business model must change radically: KPMG. PharmaTimes. 2014. http://www.pharmatimes.com/Article/14-04-08/Pharma_business_model_must_change_radically_KPMG.aspx.  Accessed May 29, 2015.
3. CHPA. Statistics on OTC Use. 2015. http://www.chpa.org/marketstats.aspx.  Accessed May 29, 2015.
4. Booz & Co. The Value of OTC Medicines to the United States.; 2012. http://www.yourhealthathand.org/images/uploads/The_Value_of_OTC_Medicine_to_the_United_States_BoozCo.pdf.
5. Eichman JD, Robinson JR. Mechanistic studies on effervescent-induced permeability enhancement. Pharm Res. 1998;15(6):925-930. doi:10.1023/A:1011936901638.
To view this issue and all back issues online, please visit www.drug-dev.com.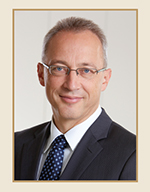 Dr. Thomas Hein is Senior Vice President Commercial and Regulatory Affairs at HERMES PHARMA, the third-party business division of Hermes Arzneimittel, a leading German OTC pharmaceutical company. Having earned his PhD in Pharmaceutical Technology at the University of Regensburg, Germany, Dr. Hein has made a significant entrepreneurial contribution to HERMES PHARMA from its inception. Since 2001, he has been responsible for the division's commercial operations, worldwide portfolio management, and marketing. He also takes an active part in strategy development and public relations. Dr. Hein initially joined Hermes Arzneimittel in 1992 as a Coordinator of Product Development and clinical projects, after obtaining his pharmacy approbation and completing scientific work with his alma mater. Head of Product Development from 1996 to 2001, he was instrumental in driving many in- and out-licensing projects prior to assuming his current position. He can be reached at info@hermes-pharma.com.