MARKET REPORT – Survey Suggests Global Innovation to Recover Much More Quickly Than Expected in 2023
INTRODUCTION
As the world moves into a post-COVID period, the Pharmapack 2023 Market Survey's key metric, the Pharmapack Drug Delivery Innovation Index (scored out of 10), has seen a rapid rebound at the recently held Pharmapack Europe 2023 which brought together 5,000 attendees and more than 300 exhibitors over two days.  The Index collateralizes the scores of the main pharma innovation nations to produce an overall score. After a brief fall in 2022 to a score of 6.5 (results from May 2022) – the first decline since its inception in 2018 – the index has surged to a record score of 7.4. This sudden recovery in scores over a little more than 8 months bodes extremely well for device and packaging manufacturers in the year ahead, suggesting a strong global recovery in industry outlook and confidence.
It did seem paradoxical in May that the innovation horizon should be seen as narrowing at a time when pharma, in general, and the drug delivery sector had played such a central role – through innovation in the face of unprecedented challenges – in global public health efforts. But, given COVID's unparalleled supply side impact globally, it's inevitable that we saw some reduction in confidence, the surprise is that this has reversed so significantly and so quickly. It indicates that industry executives now feel many of the pressures of the past 12-months are easing, ie, stabilizing gas prices in Europe, inflation moving back toward historical norms, and a loosening of parked capital in private equity firms and Venture Capitalists [as reported in November 2022's CPHI Annual Report]. Moreover, market fundamentals remain very healthy with analysts projecting a global market value of $394 billion by 2027, a solid compound annual growth rate (CAGR) of 7.40% on its 2021 rating of $258 billion.1
An added dimension is presented by opportunities to bring COVID-related learnings and developments to bear on development timelines and opportunities. For example, difficulties in accessing healthcare face-to-face during the pandemic gives further momentum to the ongoing trends in patient-centric delivery. Self-administration and homecare will combine with increasingly connected delivery solutions to lessen burdens on healthcare systems while improving the patient experience. Connected devices are not new and still underutilized in most markets, but the increased adoption of healthcare-related apps and online services during the pandemic suggests there's an increased openness among patients to adopt new tech. There's also renewed emphasis on innovation moving away from the COVID-driven focus on injectables toward mechanisms like nasal delivery and next-generation approaches to mRNA delivery.
"This represents a significant challenge for device and packaging manufacturers and is the best opportunity to introduce innovative features in novel devices and packaging. There are some positive growth opportunities that have materialized, namely a focus on homecare services, of which self-administered medicines plays a crucial part," said Aurelio Arias, Engagement Manager, EMEA Thought Leadership at IQVIA.
At the same time, the sustainability question continues to weigh heavily in this year's report, with many innovation opportunities come with environmental costs in particular, connected devices.
This report is a deep dive into these observations, evaluating the changing perception of innovation in the drug delivery device sector, as well as exploring how far along each country is in terms of achieving optimal sustainability of pharma devices and medicines. Looking further ahead, the findings will provide insights into what drug delivery devices will see the biggest areas of innovation throughout the next 5 years.
METHODOLOGY
 The results provide an inside track on the overall strength of the industry while also drilling down to provide insights on key areas and topical questions. With Executives from around the globe – including all major pharmaceutical markets – contributing their specialist perspectives, the Pharmapack Survey is the go-to resource on the drug delivery and packaging market in 2023. The most recent survey results were collated in early 2023, with Canada and Sweden removed from the Index, due to limited responses, with early survey data undertaken in May 2022.
INNOVATION ENTERING THE POST-COVID WORLD
The report's key metric is the Drug Delivery Innovation Index. Scored out of 10, this provides a measure of the strength of innovation around the globe through the eyes of key market players.
As economies and global pharma emerge in 2023 from the negative macro impacts of the past 12-months, the overall picture for innovation has significantly improved from survey results taken just 8 months ago.
In fact, new record highs have been reported, with confidence in the US, Germany, and the UK notably outperforming all other countries. Germany (9.1) in particular, appears to have weathered recent storms particularly well and has once again moved alongside the US (9.3) – with both countries achieving scores above 9. The first time either country [or any country] has achieved these scores in the survey's history. The UK (8.5) has also continued trends of recent years and seen another significant improvement in innovation score. One country that has continued to see a gradual fall down the rankings in recent years is Japan – which despite an increase to 7.2 (from 6.8) 6 months ago – has fallen further back to sixth place. This could be a reflection of recent concerns over a "drug lag" as approvals decrease in the face of government policies designed to reign in the price of new drugs and therapies. Japan might therefore be perceived as a less-attractive innovation hub than in the preceding decade as the government seeks to cut its reimbursement rates that make launching expensive new devices there more prohibitive – potentially to the detriment of prospective foreign partnerships or domestic innovation.2 India and China have continued their significant 2022 improvements again rising by over 30% and 35% in the most recent result – pushing aside other leading Western nations to be ranked as the best of the rest behind the top three.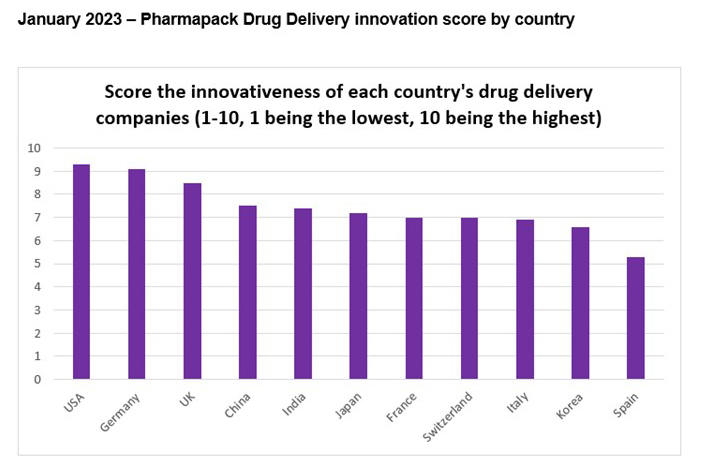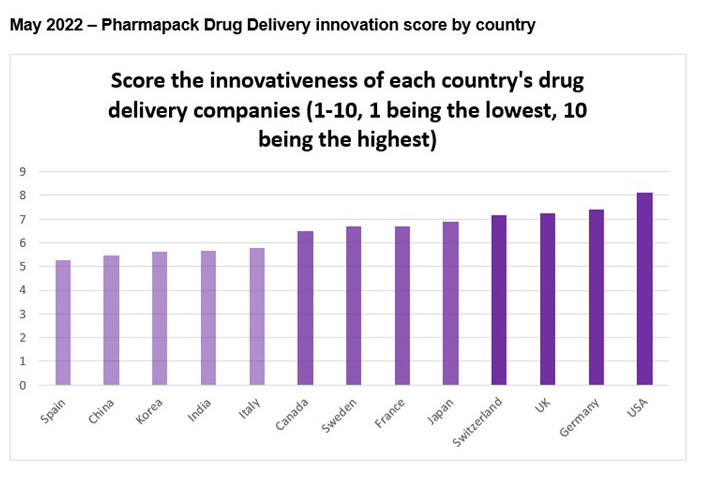 MAY 2022 ANALYSIS
After record highs in 2021 driven by the unprecedented mobilization of governments, healthcare providers, and the global pharma supply chain in the fight against COVID, the Drug Delivery Innovation Index has contracted. This is the first loss of ground in the Index's 5-year history; however, the losses have mainly been driven by the scores of lower-tier markets (which were not all evaluated in many of the previous years).
Yet while the recent economic dislocation and uncertainties of the pandemic have passed through this year into industry sentiment, the overall market fundamentals remain very promising in the medium-to-long term.
The US again leads the Drug Delivery Innovation Index, but its performance has declined marginally. A score of [8.1 vs 8.26 in 2021] sees a 2% reduction from 2021's Index score. Unsurprisingly, a cutting-edge drug development sector and the needs of an advanced domestic healthcare market continue to fire innovation in the world's largest drug delivery market not least as new, more sophisticated therapies necessitate novel packaging and delivery solutions.
Mirroring this trend are other Tier 1 markets. Germany [7.41 vs 7.69 in 2021] continues to lead the way in Europe followed by the UK [7.26 vs 7.39 in 2021] and Switzerland [7.15 vs 7.38 in 2021] and France [6.7 vs 7.1 in 2021]. Respectively, their scores declined by 3.5%, 2%, and 3%, and a surprising 5.5.% from 2021's performance.
The UK's move up the European standings continues, now just behind Germany. Significant COVID-related positives in the innovation sphere appear to have locked into the British government's long-term plan for development of the country's life science sector, its Life Sciences Vision. Tangible benefits already include regulator's working toward establishing an improved clinical trials framework.3
Overall, there is a clear suggestion the top three markets are now moving ahead of all other nations – with scores above anything seen in previous surveys.
INDUSTRY DIRECTION: REFOCUSING ON INNOVATION FOR THE POST-PANDEMIC WORLD
While reputations for innovation declined in the first half of 2022 following the boon of Covid-related demand. Just as economies around the world were waking up to risks associated with loose monetary policy, economic dislocation, and surging inflation, the latter half of the year has seen fears ease. With many market analysts even speaking of pent-up demand being unleashed in the year ahead – particularly in reference to contract services demand.4
The complex effects of Covid on pharma markets throughout the past 2 years belie too simplistic an analysis. Covid has essentially had a riptide-like effect on global pharma. A colossal surge in demand challenged even the most expansive of supply chains. Drug delivery was no different with more than 85% of respondents envisaging that pharmaceutical glass production will continue to be constrained in the next 2 to 3 years, mainly owing to unprecedented vaccine-oriented demand.
The reliance on the global pharma chain to combine with extraordinary speed to deliver life-saving solutions has clearly powered impressive growth. Yet, the massive Covid spike in demand was very narrow in focus and had little impact on the wider innovation picture. The Pharmapack Survey bears this out with key drug delivery sector voices divided over whether 2022 helped accelerate device and packaging innovation.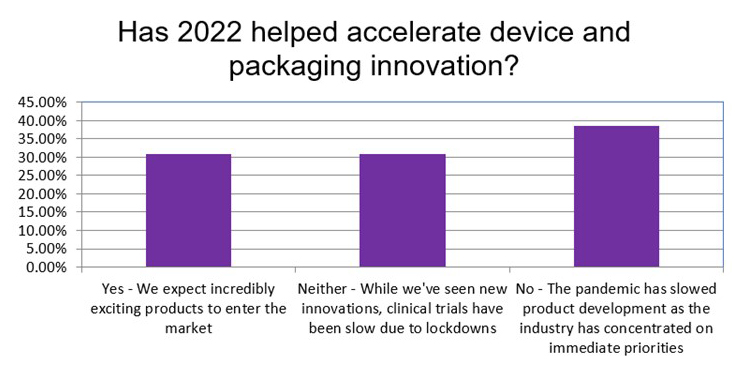 Innovation has clearly been subject to significant disruption for many firms owing to the emphasis on vaccine development and delivery, and pressures and uncertainties caused by supply chain disruption and rising input costs.5 Importantly, lockdowns and travel restrictions have hindered the all-important ingredient of partnership development, leading, inevitably, to many projects being placed on hold.
However, as this report shows, it's vital not to lose perspective. The healthy fundamentals and emerging trends of the drug delivery sector are still there and now returning quickly. So as pharma redeploys resources in a more certain market environment, the findings in the most recent survey suggest the drug delivery sector's instinct for innovation that has served it and patients around the world so well over the years will return quickly in 2023. The slowing demand anticipated just 8 months ago may not be a reflection of the underlaying demand.
Chronic diseases affecting hundreds of millions worldwide, increasing therapeutic options, and growth in areas like biologics and biosimilars continue to support the case for strong upward moves in drug delivery throughout the next 3 years. Rising numbers of cancers, diabetes, and respiratory patients will require regular drug delivery devices for diagnosis and treatment. Patient centricity and connected devices are exciting fields that are still emerging with a huge range of possibilities. Although Covid intervened, it has also brought new thinking and ideas about healthcare more generally as well as new ways of working and innovating.
Ultimately, there is a strong consensus among analysts around global growth in drug delivery markets that is factored in. Valued at $258 billion in 2021, it is expected to reach $394 billion by 2027, all things considered, this a staggering rate of growth when compared to nearly any other industry – it's a CAGR of 7.4% during the forecast period of 2022-2027.6
NOVEL DEVICE OUTLOOK & INNOVATION FOR 2023
The Pharmapack 2023 Market Survey suggests confidence on the regulatory front with almost half of respondents believing up to five novel drug delivery devices or platforms will be approved by the FDA in 2023; a further 16% believe it could be as high as 10. Prefilled syringes and dual-chamber products (36%) were seen as likely to receive the most approvals in 2023, followed by autoinjectors and pens (29%), needle-free devices (21%), and wearable delivery devices (14%).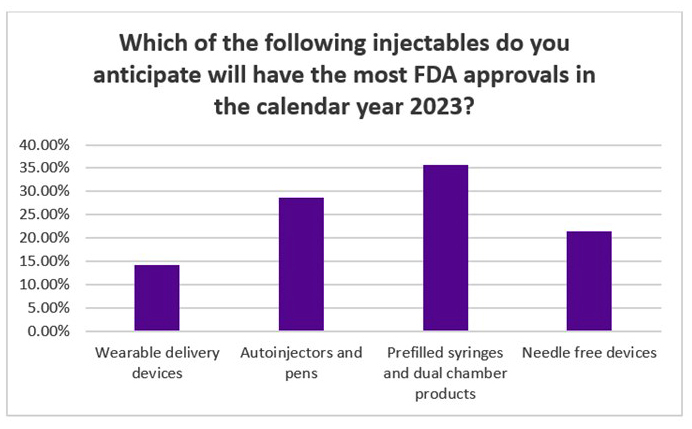 Possibilities presented by biologics are one of the most exciting trends in pharma throughout the past decade. Drug delivery must continue to innovate to keep pace and smooth the commercialization of important new therapies to reach more patients. Pharmapack Survey respondents highlighted implantable devices (64%) and microneedles and novel patches (50%) as biggest areas of innovation to support growth in biologics over the next five years.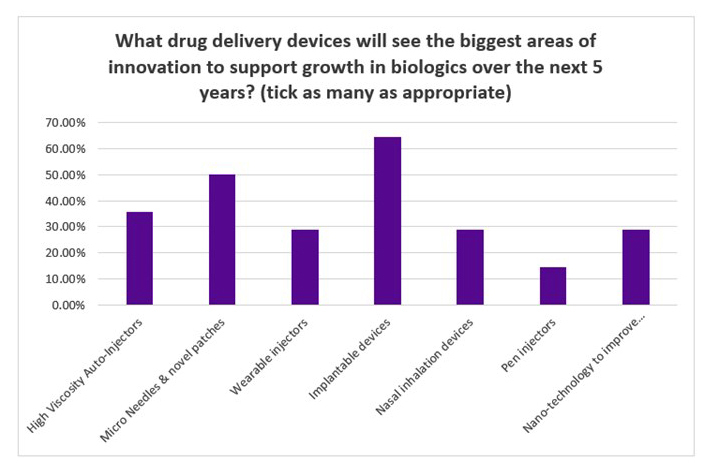 Implantable devices (64%) were identified as the delivery devices that will see the biggest innovation throughout the next 4 years, with industry reports predicting market share will reach $41 billion by 2026 with a CAGR of 7.27%.7 This is not surprising given recent developments, such as polymeric implantable devices, and the evident benefits of controlled drug release at a targeted site while minimizing toxicity risks and reducing dosing frequency. But most crucially, implantable devices are becoming more patient friendly, while also largely removing the patient's input from the adherence equation.8 Microneedles, eg, for subcutaneous mRNA delivery and novel patches (50%), came second, and recent news has suggested a broad field of applications. For example, this could include therapies for hard-to-reach, large-area full-thickness skin wounds caused by events like burns or surgical trauma.9
The next lead areas for biologics innovation in the next 5-years were high-viscosity autoinjectors (36%), nasal inhalation devices (30%), nano-technology to improve delivery (28%), and wearable injectors (25%). This data suggests the drug delivery sector is therefore confident of innovation across a diverse range of device types and technologies.
Nasal inhalation devices in particular are a case in point illustrating how learnings from the pandemic can have important implications more generally for innovation.
"For respiratory viruses like Covid-19, nasal vaccines are being looked at because this is the site of entry of the pathogens, so rather than relying on systemic action of the vaccine through parenteral injections, we can aim to achieve direct nasal mucosal immunity so that as soon as the virus enters the nose, our body can initiate the immune response and prevent migration to the lungs. There is an approved intranasal flu vaccine (AZ's FlumistTM Quadrivalent), so the concept has been proven, but it is quicker and easier to formulate a vaccine by injection, so some companies start there and then look to reformulate once they have confidence in the efficacy of their product. This is also the rationale behind developing intranasal prophylactics and therapeutics for these viruses, as well as for the treatment of CNS indications, targeting the direct nose-to-brain delivery pathway," said Gemma Budd, Director of Business Development at Nanopharm – an Aptar Pharma company.
PATIENT CENTRICITY CONTINUES TO BE THE NAME OF HE GAME
 In 2023, there is predicted to be even greater need for therapies and treatments to be delivered at home. This brings a whole new dimension into consideration during development; the importance of user-experience for patients, but also how they can be trained in their use.
The Pharmapack Survey results echoed this trend and the most important consideration when manufacturing patient-centric devices was deemed to be patient adherence and ease-of-administration (79%). This was followed by size and portability of devices (57%), minimizing pain involved (21%), removing the need for patient training prior to use (21%), and decreasing the number of dosing events (28%). As a result of these trends in requirements, a significant proportion of respondents envisage double-digit annual sales growth in smart dose injectors (46%), wearable injectors (38%), smart dry powder inhalers (31%), and drug patches (30%).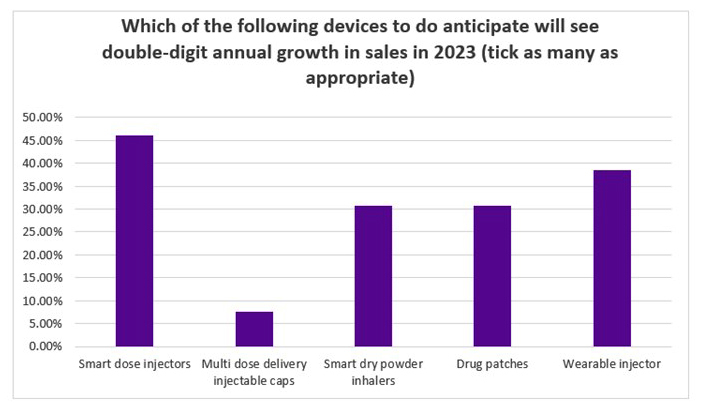 Increasing numbers of diabetes patients around the world mean this is an obvious outlet for injectable technologies. Developments continue apace in continuous glucose monitoring (GCM), with expanded wear-times and improved accuracy.10  Insulin delivery also looks set for a big 2023: to take just one recent example, Insulet announced last January (2022) it received FDA clearance for its Omnipod 5 automated insulin delivery system – the first tubeless automated insulin delivery (AID) system that integrates with a Continuous Glucose Monitoring (CGM) System and a compatible smartphone.11
MAKING THE CONNECTION
It is well-established the logical extension of patient-centric solutions is the introduction of connectivity to allow clinicians to use the presence of smart devices in patients' homes as a conduit for information flows. Patient outcomes can be improved significantly through data-driven management of adherence. Other benefits include reduction in costs for healthcare providers and delivering a more competitive offering.12
Connectivity has already become a ubiquitous part of modern life from TVs and fridges to fitness-related body sensors. The question for the drug delivery sector is not if, but how to bring it to bear.
"A lot of companies are still adding connectivity without fully considering what they might get out of it, although many more are now starting to think more clearly about the benefits. Key areas manufacturers are looking at are in-the-field device diagnostic information. So, for example, they can receive bug reports from users directly and identify device failures in the field. We're also seeing more users wanting to look at their own healthcare data via their smartphones or connected devices. This data can also be passed through to healthcare providers, allowing clinicians to confirm if patients are taking their medications at the correct frequency, for example. Within diagnostics, we are seeing more cohesive thought around how to get a more integrated view of things. It's beneficial to be able to share data to multiple clinical sites, with cloud connectivity being a useful tool to achieve this," said Thomas Watts, Engineering Consultant, Team Consulting
The global connected drug delivery devices market size was valued at a modest $214 million as recently as 2020 and is expected to grow at a staggering CAGR of 46.7% from 2021 to 2028 to around $4.5 billion.13 This trend has been boosted by global take-up of Covid-related smartphone apps enabling symptom checking, test reporting, and status verification. The standardization in particular across Europe, among all age groups, has improved acceptance and tolerance to healthcare data.
Thinking longer-term, almost two thirds of Pharmapack Survey respondents see cloud computing and smart packaging facilitating real-time adherence data as the technology likely to yield the biggest impact on pharmaceutical packaging and supply chains. But the findings show industry thinking on the main area of risk accompanying connectivity, data security. 52% of respondents agreed it will become a significant hurdle throughout the next 3 to 5 years and that there are still huge complexities, especially in terms of regulation to work through.
Experts are clear there's a need for dedicated focus on innovations around patient care being twinned with those addressing security concerns.
"Realistically, we have to assume that any device that can be attacked, will be attacked. If someone attacks your medical device, they can use it to send bad data to act in a negative way on your connected device. They're unlikely to be able to directly hack your cloud server, but they can send some data that has targeted effects and negative outcomes. For instance, that might be to trick the owner into believing there's no problem with their health, or even manipulating health data. If you're manipulating an individual's health data, it could induce the wrong treatment that could potentially harm or even kill them (in the most extreme case). So, we must assume that cyber security is a very real risk during development," said Thomas Watts.
SUSTAINABILITY: RISK OR OPPORTUNITY?
The move toward patient centricity through smart packaging and devices, turbocharged by the potential for connectivity to yield further clinical benefits, is an innovation gold mine; but what of the challenges this presents to industry sustainability goals? More complex packaging and devices with electronic components might represent steps forward, but the potential for wastage – particularly, in limited-duration use products – is a step backward.
Pharmapack Market Survey respondents considered which would have the biggest bearing on product development throughout the next 3 years. The vast majority – more than 90% – cited sustainability, but interestingly, most respondents within this group (50%) believed a balance is becoming possible. Drug delivery innovators will look increasingly to prioritize both greater patient centricity and connectivity, and sustainability by seeking solutions though better recycling and improvements to product lifespan, including modularization. To give just one example, Aptar Pharma launched a HeroTracker Sense last year, a novel digital respiratory health solution that transforms a standard pressurized metered dose inhaler (pMDI) into a connected device for chronic respiratory diseases, such as asthma, COPD, and Cystic Fibrosis – thereby making it reusable.14 Another important consideration is that such a solution that does not directly impact device design also comes with the advantage of not requiring a new regulatory (as it sits on top of the existing delivery system). Consequently, add-on connectivity options like this can be brought to market far more quickly; perhaps nearly in line with the electronic tech development cycles of year-to-year improvements – verses 7 years of development on average for medical devices.
Although 70% of respondents believed the focus on the pandemic in the past few years slowed sustainability goals in pharma, longer term growth potential is evident, and they expected a significant rebound of focus in 2023. In fact, in 5 years, respondents expect investment in eco-packaging to have increased markedly; 38% believe it will increase by up to half, 15% double, and a further 23% expecting a remarkable tripling of investments.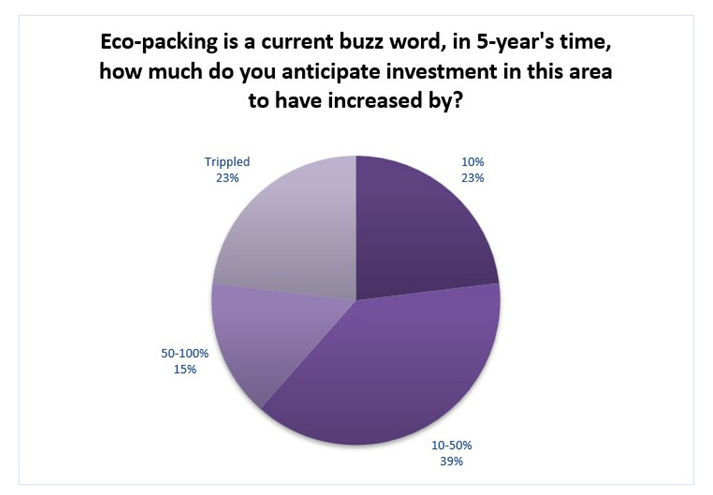 "Changing regulations is also likely to have a big impact throughout the next 5 years in the drug delivery space. Sustainability will likely be one of the key drivers for regulatory change, as the industry continues to explore ways to mitigate its environmental impact and support the global response to climate change," said Brennan Miles, Managing Consultant – Drug Delivery, Team Consulting.
BIODEGRADABLE PACKAGING
About half of respondents considered that biodegradable packaging is likely to be a key component of the effort to meet the industry's sustainability challenges. A further 29% agreed in part but placed greater emphasis on the need for a complex web of initiatives to make the industry greener.     
SUSTAINABILITY INDEX
Pharmapack's Sustainability Index gauges the perception of how much is being done by each country in terms of plastic use, waste reduction, device recycling, and which has the most progressed approach to sustainability. It provides a view of how far along each country is in terms of achieving optimal sustainability of pharma devices and medicines.
Encouragingly, industry reputations have held up well and actually improved narrowly as we enter 2023, with the overall average Sustainability Index score up by 3.5% (since the last survey in 2021). In a year when industry has often focused on other priorities, this is particularly encouraging for the future.
There have been some notable moves, Canada in its inaugural year slots in just behind the leading European nations and ahead of the US. The 2021 leader, Sweden, has experienced a marginal decline in score (from 6.8 to 6.6), while Germany saw a notable improvement (7 compared to 6.7 in 2021) overtaking Switzerland to lead the Sustainability Index. The UK (6.3) and France (6.2) both also saw marginal improvements consolidating their positions just behind the global leaders.
Mirroring its overall Innovation Index scores, but perhaps much more surprising, Japan experienced a decline in sustainability reputation (from 6.7 to 6.2), while the US (5.6), India (3.2), and China (4.1) remained in line with their 2021 scores. The most telling statistic is that unlike in all other areas of CPHI and Pharmapack research, the top 5 European nations all remain above other regions – including the US, which trail behind the EU in this aspect of pharma supply. While in Europe at a national level, Spain and Italy are perceived to lag behind the other larger nations in terms of adoption – despite ongoing centralization of regulations from the EU.
We anticipate this is just the beginning of larger long-term story, and that we will see significant increases in these global scores throughout the next 3 years – particularly as pandemic priorities fade and the global push toward net zero goals take center stage. Of the leading pharma nations, China, and in particular, India, remain a long way back and without a year-to-year improvement. Our experts suggest this may well become a big drag factor on both countries growth prospects for their pharma industries in the medium term.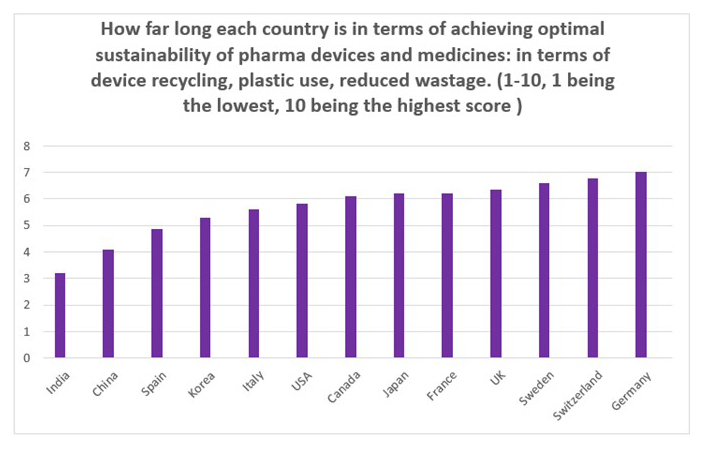 SUMMARY
With two Pharmapack Europe events inside 8 months and therefore two industry surveys, we were able to track much more closely the changing sentiment in a year of great global turbulence. The results from the May 2022 survey presented a clear picture of uncertainty from the war in Ukraine, a lack of capital resources globally for investment, and of course surging inflation in the majority of nations. But this year's later survey has shown how resilient, flexible, and robust the overall market remains, and the industry is quickly looking ahead to a much more prosperous 2023 – with the US, UK, and impressively, considering its energy issues, Germany recording record results. Therefore, we expect 2023 to be the first year normal development and growth returns to the majority of major markets – becoming free of legacy drag factors from the pandemic. While this report makes no comment on what it might be, it is also likely that the Ukraine situation will have reached some kind of resolution in the year ahead.
So what does that mean the priorities will be 2023? Our experts and results therefore point to device, delivery, and packaging companies returning to sustainability as the industry's number one priority. Companies are grappling with the intractable question of how to speed innovation and lower costs while improving sustainability – clearly no easy challenge to address. But the next 18 months we are also likely to see mRNA technology and biologics mature further with both new devices and even novel modes of delivery created for mRNA in particular. The vaccines for mRNA were developed as quickly as possible; however, it's now likely the industry will hone delivery of this platform in the next 2 to 3 years.
The other key insight from the findings is a wake-up call on the importance of getting the drivers of innovation back on track immediately. Biologics-inspired novel delivery systems, solutions that ensure high levels of adherence through ease of administration and cloud-connected modularization of existing devices are just a few areas of evident growth potential.
Supply chains have also become much more robust, and 86% of Pharmapack Survey respondents say there will be a prolonged acceleration of regionalized/localized supply chains for drug delivery and packaging throughout the next 2 to 3 years.
Overall, the results in this survey, often an early marker of the trends and economics ahead for global devices, pharma, and packaging are extremely positive. The direction of travel of strongly suggest that despite a very difficult 2022, the next year will be a year of stronger results, innovation, and growth than perhaps anyone was expecting.
ABOUT PHARMAPACK EUROPE
Pharmapack Europe is the largest drug delivery and packaging event in Europe and welcomes more than 300 exhibitors from 75 countries. The event features an Hosted Meetings Programme (business matching), a full 2-day Conference, Learning Lab presentations, eponymous Awards, as well as areas for new innovations in the Start-up Hub, Innovation Gallery and Tours. In total, the event will play host to some 5,500 attendees and more than 50 dedicated content sessions.
REFERENCES