CONNECTED DELIVERY – Five Perspectives on Connected Drug Delivery Devices
INTRODUCTION
The global pandemic has heightened the urgent need to reduce the strain on healthcare systems and resources, and reinforced the benefits of teleconsultations and patient self-administration in alleviating some of this pressure. In fact, remote services appear as one of the top three benefits of healthcare digitalization, according to a recent study.1 Enabling patient self-management where possible frees up time and resources for health services. Hospitals and clinics that do not take full advantage of this opportunity run the risk of being over-run and unable to withstand growing demand.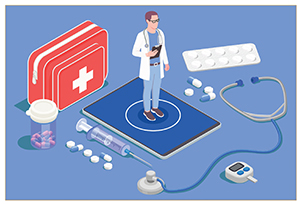 Remote patient monitoring is already well-established for patients with chronic respiratory conditions and diabetes. More recently, however, digital capabilities are being developed in the area of drug delivery. Our own research predicts that this will be an area of strong development in the next 5 years – with the global market for connected drug delivery devices (both for injection and inhalation) expected to reach $706 million by 2025, rising from $225 million in 2020.2 Enabling successful adoption of these devices, however, will largely depend on a number of key stakeholders. Payers, clinicians, patients, regulatory authorities, and pharmaceutical companies all play a fundamental role in shaping the future of connected drug delivery devices.

For pharmaceutical professionals, this discussion offers insight into the factors driving the development and adoption of connected drug delivery devices and ex­amines the varying perspectives held by relevant healthcare stakeholders. To pro­vide maximum value to patients, clinicians, and payers, pharmaceutical businesses need to ensure that digitally-enabled drug delivery devices deliver several key capa­bilities. Uptake in connected device use greatly depends on meeting these expec­tations. Given the potential that connected devices hold to improve healthcare out­comes and services, a thorough examina­tion of all moving parts is valuable and may help to get it right.
WHAT'S IN IT FOR PHARMACEUTICAL COMPANIES?
Before looking at the advantages and expectations for other stakeholders, it's worth considering the value-add for phar­maceutical companies. Tracking and man­aging adherence with the support of connected devices can improve patient outcomes. Improved adherence reduces the risk of costly drugs such as injectable biologic therapies going to waste. Further­more, with a number of pharmaceutical and medical device companies beginning to offer wider services such as training, ad­herence monitoring, and benefit tracking – in addition to the drug product itself – connected devices can facilitate such serv­ices. By supervising patient adherence through connected devices, pharmaceuti­cal companies can also better demon­strate value for money, which is a vital competitive differentiator.
JUST WHAT THE DOCTOR ORDERED
For clinicians, the appeal of con­nected devices is their potential to optimize outcomes while counteracting staff short­ages. Connected drug delivery devices use embedded electronics and sensors to relay information back to the clinician – includ­ing time, volume, and site of self-adminis­tration. This offers clinicians a valuable tool to better track patient adherence and understand the outcome of a treatment for each patient individually, using concrete data. Where necessary, it also allows the clinician to make any necessary interven­tions to improve poor compliance. This may be in the form of training, support, or education around the patient's condition and treatment.
PAYERS' CHOICE
Whether they are health insurance providers or state healthcare systems, pay­ers can also benefit from connected de­vices given they hold the potential to decrease overall healthcare costs. As they look to deliver maximum value for money from healthcare budgets, a society that is less dependent on healthcare services is favourable to their "outcomes-based healthcare" approach.
If patients are able to manage their own treatment more efficiently, this is likely to reduce the number of visits to hospitals and clinics. Connected devices help to en­sure correct dosage and administration, thereby increasing the likelihood of a suc­cessful treatment that doesn't require costly secondary interventions. Connected de­vices reduce the effort required by patients to comply with the prescribed medication regime, as they offer reminders and ad­herence trackers. This means less wastage of costly medications including the increas­ingly prescribed injectable biologic thera­pies that insurers would need to reimburse.
Nonetheless, businesses will need to demonstrate to insurers and payers that connected devices produce measurable outcomes as a result of improved adher­ence, which may be challenging to prove without first deploying the products on the market.
MOBILE PATIENTS
Connected devices provide patients with access to their own treatment data, enabling a deeper understanding of their condition and their body's response to the prescribed medication. Training programs on best practice for self-injection can be offered alongside remote monitoring, to ensure patients are aware of proper tech­niques and are equipped with the right in­formation to safely carry out their own treatment at home, and to correctly use digital tools. This empowers patients to take control of their own health and allows them to integrate their medication regime more seamlessly into their everyday lives. With increasing patient-specific dosing in some disease areas, connected devices make space for a tailored regime that works best for the patient.
THOUGHTS FOR MANUFACTURERS
While the benefits of data access for patients are evident, manufacturing com­panies will want to consider the amount of information that is being shared with the patient through notifications. When de­signing a connected device, manufacturers should look to achieve a healthy halfway point where the frequency of notifications is not too imposing, and the level of detail or amount of information not too over­whelming. If not properly thought through, this could impact patient adherence. In fact, patient comfort and ease-of-use must be a priority from the very start of the de­vice design process. Manufacturers will have to carry out mandatory Human Fac­tors (HF) studies to ensure these two areas are thoroughly addressed and prioritised. Any potential risks should be mitigated and eliminated at this stage in order to op­timize product usability.
The bottom line for manufacturers is that connected devices will need to be user-friendly for patients operating them at home and should therefore be designed with both patients and healthcare profes­sionals in mind. Pharmaceutical compa­nies selecting a connected device for their drug should ensure the medical device manufacturer has considered all usability aspects including those for device connect­ing, pairing, and data transfer.
SAFETY, SECURITY & ENVIRONMENTAL REGULATORS
Connected devices will need to be in­teroperable with standard clinical informa­tion systems and robustly protected from data breaches. To make this possible, col­laboration between regulators and market players will be necessary. Environmental regulations and objectives will also be im­portant considerations in the development of connected devices. Drug delivery device designers are also under pressure to cre­ate products that enable connectivity but minimise wastage. Given that electronic components often contain rare-earth met­als that are typically not properly recycled, device designers are acutely aware of the damaging environmental impact of en­tirely disposable connected devices, not to mention the cost.3 With environmental concerns high on the world agenda, find­ing a sustainable hybrid approach will be crucial in the development of connected drug delivery devices. The ability to reuse parts of the device would be a good start­ing point. For instance, some designs may opt to offer disposable injection devices but coupled with a reusable connected "shell" section containing the electronic components.
Even as the vaccine rollout offers some respite to the battle with COVID-19, the need to alleviate pressure on healthcare services will outlive the pandemic, which has shone a light on the benefits of remote monitoring to better mitigate hos­pital occupancy levels. The potential ben­efits of connected drug delivery devices for all involved parties are manifold, but it's up to pharmaceutical companies and medical device manufacturers to ensure all elements have been considered in order to best meet the expectations of each stake­holder. A joint effort will be necessary to overcome a number of challenges, includ­ing data security concerns, environmental concerns, and regulatory requirements ef­fectively. While growth within the con­nected device market shows no signs of slowing down, the extent of this growth and its long-lasting success will depend on a multi-faceted and collaborative ap­proach.
Download a free copy of the OMPS paper – Well Connected – here: https://www.ompharmaser­vices.com/news-and-resources/connectivity-report/
REFERENCES
Siemens Financial Services, Priority Invest­ment, 2019: https://new.siemens.com/global/en/prod­ucts/financing/whitepapers/whitepaper-healthcare-priority-investment.html.
Referencing proprietary data, along with third party reports such as: GrandView Re­search, Connected Drug Delivery Devices Market Analysis, Dec 2018; Acumen Re­search, Connected Drug Delivery Devices Market, Nov 2019; Future Market Insights, Connected Drug Delivery Devices Market, Dec 2019.
Deutsche Welle, Smart devices score poor marks on recycling, 21 Nov 2019.
 To view this issue and all back issues online, please visit www.drug-dev.com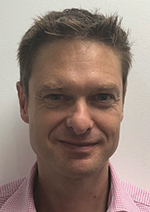 George I'ons is currently Head of Product Strategy and Insights at Owen Mumford having worked for the former OEM and now Pharmaceutical Services division of the organization since 2006. His current focus is on deciphering the rapidly changing pharmaceutical and biotech sectors in relation to their needs for combination products. In his previous roles in business development, he worked closely alongside R&D to develop devices for a variety of global pharmaceutical and diagnostic clients. Prior to Owen Mumford, he worked for Abbott in EMEA marketing roles in Germany, focusing on their diabetes business.