MARKET BRIEF – Sequestration Haunts Life Science Research Tool Market Into 2014
INTRODUCTION
While sequestration measures officially hit the books on March 1, 2013, life science research tool suppliers started feeling the effects far in advance. For much of 2012, US academic and government end users reliant on National Institutes of Health (NIH), National Science Foundation (NSF), and other government-based research funding spent their budgets cautiously with the threat of austere fiscal policies looming. With researchers preparing for the possibility of reduced budgets in 2013, the majority of suppliers witnessed a slowdown in sales over 2012. The threat and buzz of possible budget cuts alone caused researchers to slow purchases, even as it appeared sequestration could be avoided. While spending was mostly down, some vendors reported minor upticks from July to December 2012 to help close the otherwise lackluster year. This is likely the result of laboratories making high-priority purchases in preparation for sequestration measures for the unforeseeable future, or simply due to buying cycles where customers must exhaust their spending budgets by the end of the fiscal year. Overall, however, most life science research tools companies did not meet expectations in 2012. Sales of laboratory products to the academic sector declined nearly 1% in 2012 and decreased over 2% for government laboratories. Unfortunately, the disappointing performance in 2012 has been met with even deeper struggles through 2013 in these sectors, with declines around 3.5% to 6% from government funding-dependent laboratories, with academic labs the low end of cuts and government-based labs showing more drastic sales reductions. Suppliers should not have expected major relief toward the end of 2013 from either end-user segment, as labs are holding tight to budgets in fear of further sequestration measures beyond. While there is hope that the academic sector will improve sometime in 2014, as funding levels return close to the 2012 amount, it is likely government labs will continue to endure deep austerity measures.
After the 2009 American Recovery and Reinvestment Act injected new life into the NIH budget, the government has since abandoned stimulus efforts in favor of the opposite. Without a clear path to fiscal responsibility in sight, is it likely government and academic labs will struggle with stark budgets and ever-decreasing buying power over the next several years.
In March 2013, President Obama signed an order of continuing resolution initiating sequestration measures following the 2011 Balanced Budget and Emergency Deficit Control Act. The policy required the NIH to cut 5% or $1.55 billion of its fiscal year (FY) 2013 budget, reducing the operating budget to approximately $29.2 billion.
The NIH applied the cuts evenly across all NIH institutes and centers (ICs), meaning no application area will be spared cuts. The 2013 reductions compared to 2012, include:
-Approximately 700 fewer competitive research project grants issued
-Approximately 750 fewer new patients admitted to the NIH Clinical Center
-ICs to issue all non-competing awards at levels below the FY 2013 commitment indicated on the notice of grant award, with an average cut of 4.7% expected
-Intramural research budget reduced by roughly $140 million, or 4.1%
-No increase in stipends for National Research Service Award recipients in FY 2013
-No inflationary increases allowed for all grants
-Salary caps remain flat or lowered
-Delayed hiring at NIH intramural research division
-Reduced administrative services contracts at NIH intramural division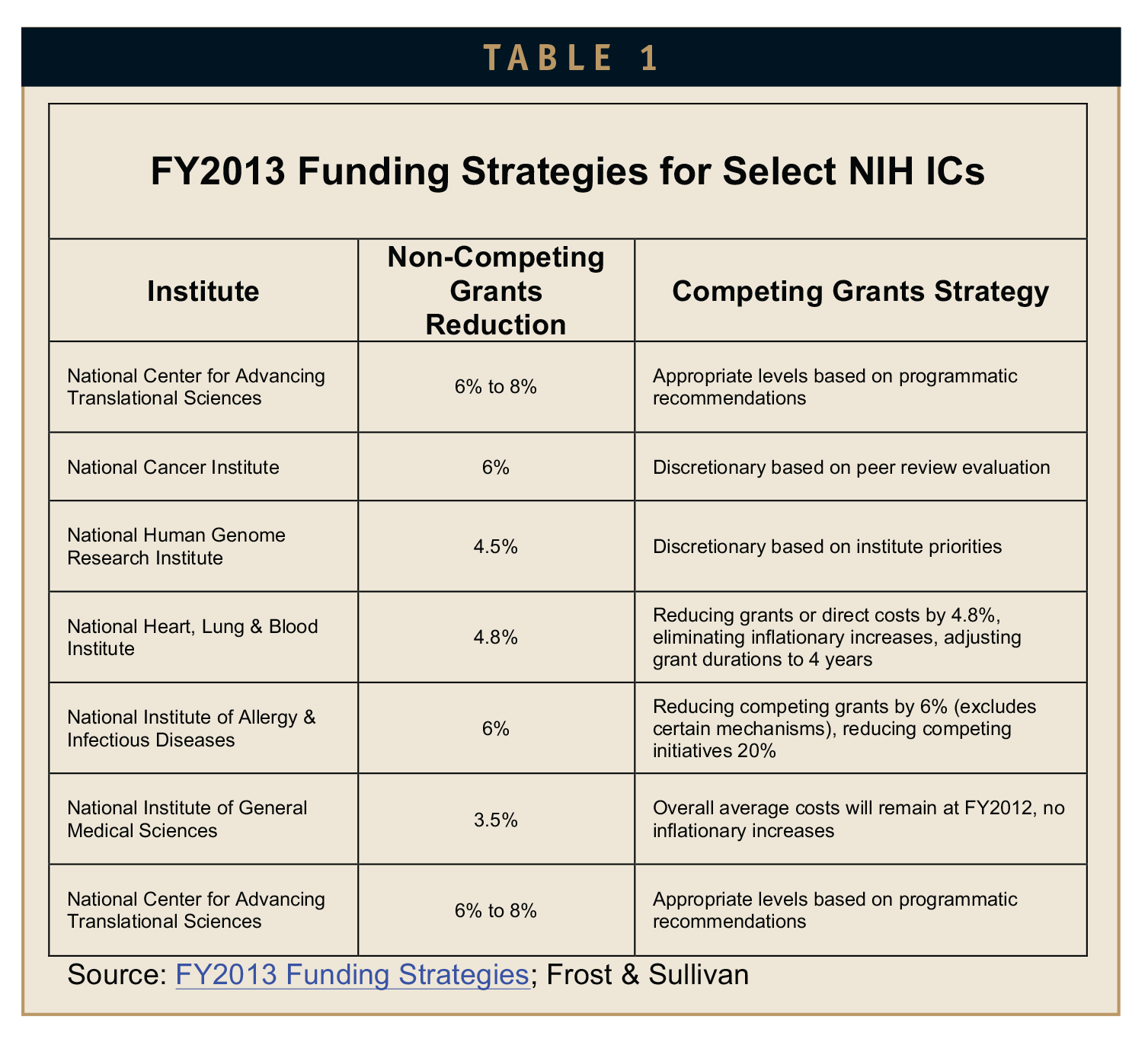 Individual NIH institutions have made separate decisions on how to administer budget cuts, either through funding fewer grants in 2013, dispensing across-the-board grant reductions, or a combination of both. ICs rolled out these strategies in early 2013, with most opting for set non-competing grant reductions and the ability to fund competing grants at discretionary levels. The announced funding strategies of select key NIH ICs are summarized below.
While National Institutes of Health cuts are most relevant to life science research tool providers, cuts to other government research agencies, such as the National Science Foundation (NSF), Department of Defense (DOD), National Institute of Standards and Technology (NIST), Department of Agriculture (USDA), Department of Energy (DOE), and National Aeronautics and Space Administration (NASA), will further contribute to the bleak market challenges in 2013.
The NSF research and development (R&D) budget funds only academic research, as the agency does not house any intramural research labs. Thus, the agency's cuts almost entirely impact the academic research community. The major impact of sequestration is seen in reductions to the number of new NSF research grants and cooperative agreements awarded in FY 2013. NSF anticipated that the total number of new research grants would be reduced by approximately 1,000. However, all continuing grant increments in FY 2013 were awarded as scheduled and there was no impact on existing NSF standard grants. Thus, life science suppliers will continue to see growth in current NSF-funded customers, but new business will be limited greatly.
Meanwhile, the DOD funds approximately $1.6 billion to academic laboratories. The DOD R&D budget was cut by roughly 8.6% in 2013, according to the American Association for the Advancement of Science. The science and technology portion of the budget took a smaller cut at 4.6%. Overall, the result is a decline of more than $100 million available for academic labs. Nevertheless, the Defense University Research Instrumentation Program awarded $38.7 million in June 2013 to 140 university researchers to support the purchase of research instrumentation and equipment. In comparison, the DOD impact is a far cry from the $1.55-billion budget cut to the NIH.
Elsewhere, the USDA's Research, Education and Economics (REE) National Institute of Food and Agriculture (NIFA) partners with universities in carrying out extramural research, higher education, and extension activities. About 49% of the $2.7 billion 2012 REE budget was allocated for NIFA grants, for approximately $1,323 million going to this program. NIFA relayed the following measures would take place in response to sequestration: a reduction of $13 million for the Agriculture and Food Research Initiative (AFRI), competitive grants program, resulting in fewer new proposals that were funded during FY 2013, reductions totaling almost $37 million for capacity/formula funding, and reductions for other research, education, and extension programs totaling over $10 million. The bright spot was no impact on AFRI Continuation awards from previous fiscal years, with funding moving forward, evaluated on performance and success on meeting stated goals. Looking forward, in 2014, the USDA is expected to provide 47% of the $2.8 billion REE budget to NIFA, resulting in a $1,316 million budget, still a decline over 2012 levels.
NIST cuts fell largely on grants, contracts, equipment procurements, deferment of open positions, and cuts in the repair and maintenance of NIST facilities, which will negatively impact NIST's ability to keep them in acceptable working condition. The DOE's Office of Science announced it would reduce research grants both in number and size, affecting researchers at national labs and universities. Meanwhile, at NASA, sequestration measures necessitated a reduction in funding for competed research projects by about 2%, resulting in about a 5% reduction in new awards to support labor and jobs at universities, businesses, and other research entities.
Overall, the buying power in academic and government laboratories has reached an all-time low, as budget growth has fallen significantly off the pace of inflation. While laboratories will deal with these limited budgets and weak buying power in various ways, certainly all grantees will attempt to maintain personnel levels and will be expected to meet grant research aims within the reduced grant amounts. Therefore, researchers are expected to become more cost-conscientious when purchasing research reagents whenever possible and adjust capital equipment budgets considerably. Typical in lean funding years, instrumentation is likely to take the biggest hit as researchers can delay product upgrades and new technology purchases, or opt for used equipment should purchasing guidelines allow. Given the aforementioned grant reductions, instrumentation providers saw sales to the academic and government sectors decline 5% to 7% in 2013. Meanwhile reagents and consumables must be purchased to keep laboratories running, and, therefore, the market remained flat or slightly declined through 2013. Overall, sales of life science research tools to the academic and government sector declined in the 4% to 5% range over 2013. Beyond 2013, funding to the sectors remains unclear, yet overall remains bleak. The adopted continuing resolution extends FY 2013 budget levels partway into FY 2014, until the House and Senate can resolve a $6.5-billion disconnect in 2014 budget levels. With the threat of continued sequestration measures in 2014 reducing discretionary spending by another 2% over FY 2013 levels, labs are likely to remain highly frugal until the budget is resolved in early 2014. This means another two quarters of near-guaranteed anemic spending conditions for life science research tool suppliers from these sectors. With inflation rates continuing to reduce buying power for these sectors, even if research funding returns to FY 2012 levels, budgets will not stretch to produce sales equivalent to 2012. Thus, the research tools market should suspend any major growth expectations from these end-user segments and focus attention on emerging regions and healthier business sectors.
GROWTH STRATEGIES
When the economic climate causes reduced sales volumes, there are several  strategies companies employ to offset the decline and maintain positive growth. Unfortunately, the simple method of shifting resources into end-user markets that are growing quickly is nearly irrelevant given few bright spots exist in the industry today. The pharmaceutical industry seems to have put double-digit growth of R&D budgets in the rear view mirror. While some companies are slashing R&D budgets, others are adjusting to low single-digit spending growth year over year. With many drugs coming off patent in the next few years and few blockbusters in sight to take their places, other pharmaceutical companies are restructuring their R&D divisions to account for erosion by generics. This has resulted in a slow-growing market for research tools, effectively doing little to overcome the challenges in the academic and government sectors. However, applied markets are increasingly more desirable with food and beverage, water, and environmental testing growing in awareness worldwide. Many research tools suppliers have observed shifts in their customer makeup over the past 5 years, trending toward the more robust applied markets to compensate for lackluster sales elsewhere. This trend is expected to continue, especially as increasing standardization in these fields globally will expand testing and require facility improvements.
In addition, several successful strategies exist outside of shifting end-user focus and internal austerity measures. With little opportunity for organic growth outside of true innovations, companies will look for alternative strategies for growth. An increase in merger and acquisition (M&A) activity is highly, likely as companies look for growth opportunities outside of current stagnant markets. In 2013, the life sciences research tools industry had seen several acquisitions occur, including the largest in recent history involving Thermo Fisher Scientific and Life Technologies. Other recent acquisitions include Bio-Rad's acquisition of AbD Serotec, Illumina's acquisition of Verinata Health, Moleculo and NextBio, Life Technologies' acquisition of KDR Biotech Co. and Life Science Korea, Qiagen's acquisition of Ingenuity Systems and CLC Bio, and many others. We expect to a continued stream of M&A deals close through 2013, as big companies look to benefit from high-growth markets, such as bioinformatics, molecular diagnostics, the Asia-Pac region, or smaller niche markets. Other partnerships and research agreements are expected as alternatives to full M&A deals. For example, Agilent made a huge $21 million strategic investment in gene synthesis startup Gen9 to secure an equity stake and place on the board. In addition, Illumina formed a technology assessment deal with TroavaGene, perhaps a segue to a future acquisition. Overall, industry consolidation and alliance activity is expected to increase as companies look outside of current product lines for growth. Ultimately, however, none of this activity can replace pure innovation leading to products that improve research workflows and create future cost-savings in ancillary product expenses or laboratory efficiency. Companies that fulfill on unmet needs and provide significant value-adds for cost-conscientious researchers can certainly overcome the unpromising economic climate.
CONCLUSION
Perhaps the bleakest outlook provided for the life sciences industry is one without a clear light at the end of the tunnel. There is no clear indication that government-based research funding will return to growth equivalent or above inflation in the near-term. Successful companies will buckle down to determine long-term strategies for beating the lackluster numbers expected from a sustained austerity policy. Innovations that provide cost-savings, consolidation, and unique alliances are some of the key strategies we expect to see more of as companies settle into the realities of a bleak market outlook.
To view this issue and all back issues online, please visit www.drug-dev.com.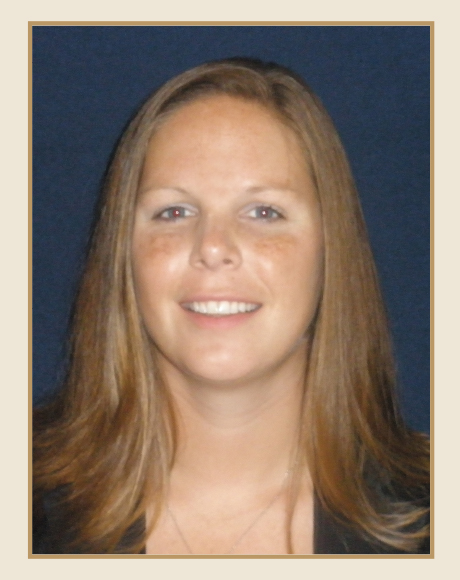 Christi Bird is is a Senior Industry Analyst with Frost & Sullivan's global Life Sciences practice. Her knowledge base covers a broad range of sectors within scientific disciplines including genomics, proteomics, molecular biology, microbiology, translational research, assay platforms, and instrumentation. For more information on Frost & Sullivan's global Life Sciences practice and offerings, please email jennifer.carson@frost.com or visit www.frost.com.