EXECUTIVE INTERVIEW – Vetter: Establishing a Successful Clinical Fill & Finish Manufacturing Site for Biologics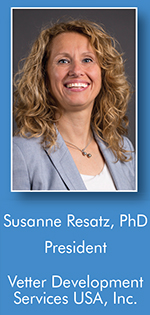 Small biotech companies are faced with a series of issues when it comes to early drug development. One such issue is the critical lack of experience in key areas, which leads to employees' multi-tasking, having less internal expertise for manufacturing and sourcing, and an increased reliance on outside expertise. They also face a lack of financial resources and limited access to capital. With less patience expressed by the investor due to their inability to find the time to communicate their progress, securing additional funding is difficult. Finally, their high-value compounds often have limited availability and generating enough of the compound for the development phase is a challenge, with long lead times for their API being common. The right partner can support the small biotech by offering an additional level of resources and expertise, help enable right-first-time, result-saving costs and provide support through flexibility and problem-solving to handle investor communications for the next funding milestone. They can also help to optimize yield through equipment and process strategies (eg, filling machine design, multipurpose sampling, etc). Having the right site is crucial in serving the customers' needs. It is now 5 years since Vetter opened its clinical fill & finish facility in Chicago, successfully serving its customer base with their needs in mind. What are the specific needs of the small biotech and how is Vetter helping them to meet them? Drug Development & Delivery recently interviewed Dr. Susanne Resatz, President of Vetter Development Services USA, Inc., to discuss the many benefits to small biotech companies in utilizing the services of a full-service CDMO, and what advanced services the Chicago-based facility offers its growing customer base.
Q: For our readers who are not yet familiar with your company, can you briefly discuss Vetter and what service portfolio it offers?
A: Vetter is an independent contractor development and manufacturing organization (CDMO) specializing in the aseptic filling of syringes, cartridges, and vials. Our state-of-the-art facilities located in the US and Europe provide support for early stage drug products, with seamless transfer to Vetter Commercial Manufacturing for large-scale production. In addition to these locations, in November 2014, taking advantage of a rapidly growing Asian healthcare market and to better support our customers and develop new business, we announced the opening of our first Asian office in Singapore, and in October 2015, we announced the opening of new business office in Tokyo.
As a world-leading CDMO, we have extensive experience in working with biologics and other complex compounds, including monoclonal antibodies, peptides, interferons, and vaccines. And, because we are a full-service provider we can support our customers' products throughout their lifecycles, from preclinical development through global market supply. We are the originator of dual-chamber technology, which enables easier, safer lyophilized drug administration, and we are a leader in the use of RABS technology in cleanrooms, which mitigates risk of product contamination throughout the manufacturing process. Finally, it is important to note that as a family owned independent company, we do not manufacture our own drugs but focus solely on our customers' product success.
Q: A small biotech needs additional experience, so how did Vetter build up skills and the right structure?
A: Our intent was to create a new facility with a knowledge base anchored in Vetter systems. We began by first focusing on the skills that would be necessary for the customers we wanted to serve. Once determined, we constructed a team of Vetter Ravensburg employees who had the essential knowledge base in the different areas and systems. They were further trained at Ravensburg prior to relocating to Chicago. We also hired from the local Chicago pharmaceutical/biotech talent pool, which is quite substantial given the nature of the surrounding area with its many universities and varied pharmaceutical industry. Every employee had to have the technical and industrial knowledge as well as the customer experience that would match the needs of our customers. Next, we focused on the structure of the team itself, aiming for a balance of site and corporate resources that had all key functions on site. As critical mass was achieved, we added support functions as necessary. Our project teams were created using the existing Vetter project team structure and project management tools. Our customers were assured there would always be easy access to our support staff of specialists, and we allowed for a direct relationship between the customer and Vetter's subject matter experts (SMEs). Finally, we encouraged strong ties to our commercial production teams through ongoing visits to our Ravensburg site for regular meetings with their commercial counterparts.
Q: How can the right capabilities (building & facility) serve the needs of small biotechs, how did Vetter approach it?
A: The key to serving the needs of our smaller biotech customers is in our overall approach to layout and material flow. We see this as a three-step process. In the first step, we need to allow for close proximity of manufacturing and testing spaces. To achieve this, we designed the facility to allow for compounding adjacent to the filling area with the visual inspection area adjacent to the cold storage area. Chemical and micro labs are next door to manufacturing. Second, in order to limit the time materials are at room temperature, we installed the freezers and refrigerators adjacent to manufacturing. Third, to maximize usage of limited storage space, we only expand the space as needed and make use of qualified portable units for cold and frozen storage.
As for how we approach serving the needs of small biotechs, we aim to do it – "right the first time." In order to achieve this goal, we incorporate multiple formats of equipment that result in minimum line losses and maximum yield. Our machines allow for a high level of environmental control but also easy changeovers. Our systems are scalable and have the ability to transfer to commercial lines. For example, we use RABS technology on all Vetter lines. Our yields are 100% in-line check weigh for vials, and we also have handling units for vial filling. Our approach is to establish platform processes that minimize risk through technical batches and machine runs. We minimize line losses and maximize yield by optimizing our tubing and break tank. Our operators are focused on yield, which is tracked as KPI. We are always focused on ways to improve. Wherever feasible, our clinical processes are a scaled-down version of established commercial processes. Finally, our documentation is consistent, which allows for easier identification of gaps during transfer.
Q: Due to the lack of financial resources, are timelines and scheduling important topics?
A: Project timelines and batch scheduling are an important consideration in manufacturing processes. The quick implementation of new products means we use platform processes and materials and project schedules that focus on GMP batch manufacturing dates. We are well aware of our timeline commitments and set and track project milestones as KPIs. We also maintain open communication with our customers so that the risks involved in the project are transparent. We allow for flexibility in our scheduling to support capacity reserve each month, and we schedule meetings with project managers and SMEs to quickly address any risks or changes.
Q: So how did the Chicago site perform within the past 5 years?
A: We are extremely pleased with our past years' performance at this facility, and our overall success to date. Many of our customers have returned for development work for a second, third, or even fourth molecule. Furthermore, our outlook for future performance is very positive as demonstrated by a solid pipeline filled with high-quality customer projects for biologics. We have solid experience with more than 60 compounds, and have already made more than 5 transfers to our European facilities for development and commercialization with more to follow in the near future. And, it is heartening to know that the drugs that we are developing at this facility for our customers are then used to help people around the world. Drugs we have under development for our customers include treatments for blood cancer, muscular dystrophy, wound healing, and dwarfism.
To view this issue and all back issues online, please visit www.drug-dev.com.