EXECUTIVE INTERVIEW – Terumo: Innovating at the Speed of Life for Cutting-Edge Solutions in Medical Devices & Services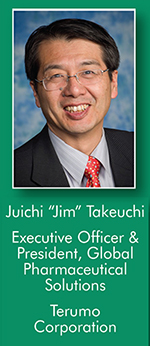 PLAJEXTM provides 1 ml staked needle in a cyclo olefin polymer (COP). PLAJEXTM is silicone oil free, tungsten free, epoxy/adhesive free, has very low subvisible particles, and it has higher resistance to breakage. It has i-coatingTM on the surface of stopper, which is bounded to the surface of rubber. PLAJEXTM does not have inherent defects (pits, stones, air lines, cracks) or fragility of glass. It can be sterilized by autoclave for a ready-to-fill nested format. The development and adoption of PLAJEXTM with i-coatingTM technology by Terumo® ensures that important biopharmaceutical therapies can be safely administered minimizing medical errors and contributing effectively to the needs of patients, healthcare workers, and the global pharmaceutical industry. Drug Development & Delivery recently interviewed Mr. Juichi "Jim" Takeuchi, Terumo® Corporation's Executive Officer and President of Global Pharmaceutical Solutions, to discuss its innovative approach to parenteral drug delivery using integrated science and technology.
​
Q: Can you introduce us to the Terumo® Corporation and its history?
A: Terumo® was founded in 1921 by a group of physicians, led by Dr. Shibasaburo Kitasato. Their focus at this time was to manufacture superior clinical thermometers in Japan. Dr. Kitasato's most significant contribution was his extensive knowledge about tetanus and diphtheria. He identified a toxin that was secreted by the tetanus bacteria that could be used to produce immunity to tetanus.
Today in Terumo®, Dr. Kitasato's spirit of innovation and patient centricity is still our driving force. We strive to bring outstanding innovation to medicine, which facilitates the best possible care for patients all over the world. This passion for advancement and the determination to be able to contribute to society through better healthcare motivates our valued Terumo® employees worldwide.
Our corporate mission and new vision is "Innovating at the Speed of Life." This reflects our proactive approach to provide high-quality medical devices and services for the benefit of patients and medical environments in more than 160 countries.
Terumo® is a globally operating medical technology company with sales revenues of 489.5 billion yen and is active in three business segments: Cardiac & Vascular Group, Blood Management Group, and General Hospital Group. Terumo® Global Pharmaceutical Solutions is the dedicated group servicing pharmaceutical customers. We have established long-lasting business relationships with top-tier pharmaceutical and biotech companies in the global market. Our business relationships are based on providing medical devices and services globally, including our technology used in prefilled syringes and CMO fill & finish activities.

​
Q: What does the Terumo® global presence look like?
A: Terumo® actively acquires companies and technologies and establishes subsidiaries on a worldwide basis. Our objectives are to explore new technologies, strengthen and build on our product lines, and to capture the market share.
A key interest for us is the creation of synergies by combining fundamental technologies, our significant strength with those of other companies, which brings new value through this technological innovation. This blend of active cooperation with other companies with our own development activities enables us to expand the markets we serve beyond our existing fields of business. Hence, the proportion of international sales has increased over the past years, reaching more than 60% of our consolidated revenues.

​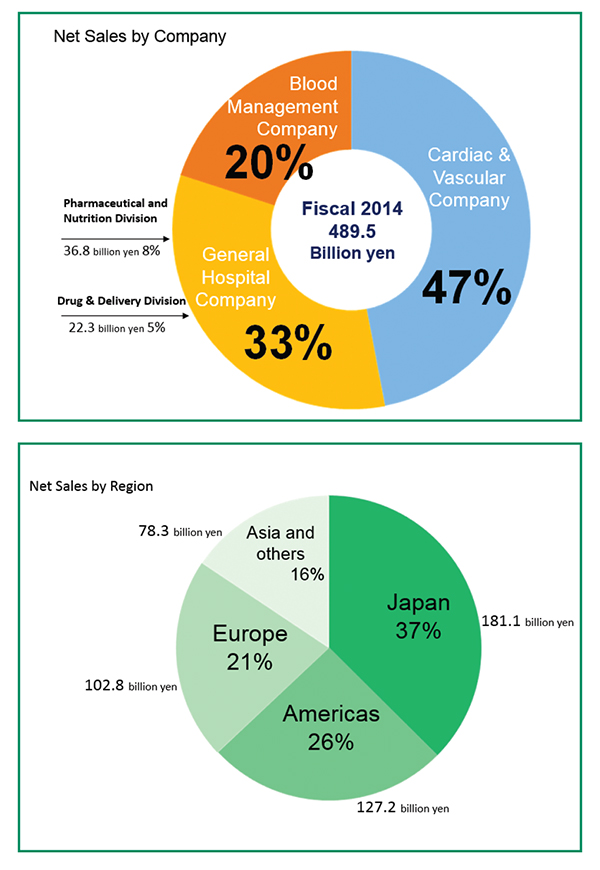 Q: In terms of innovation, what makes Terumo® unique?
A: We are "Innovating at the Speed of Life," and we are actively working together with our partners to improve the life of patients. We really do want to make a difference to society and the healthcare service. This is made possible by our motivation to find new possibilities in technology and to make life better through our innovations.
We are very proud of our roots in scientific and technological advancements, where high-quality, unique, and innovative products in many areas and applications have grown from. When designing medical devices, there is a host of scientific disciplines to consider, such as physiology, biochemistry, pharmacology, cell technology, polymer technology, metal processing technology, and electronics. All these disciplines are integrated and used in our technology innovations alongside our business processes, which enables us to move forward in an efficient and effective manner.
Speed articulates the pace of change and the never-ending cycle of our global business environment. Speed for us means leading the change, not reacting or responding to it. By staying ahead of the ever-changing environment, we can drive scientific advancements in the marketplace.
Life is about the patients we serve and the quality of life that our science and technology supports. We take great pride in doing the extraordinary in an ordinary market and understanding our customers and their customers – the patients – and pursuing better healthcare for all.

​
Q: How do you view the recent challenges in the pharma industry?
A: The pharma industry faces challenging times in bringing new medicines to the market. They are dealing with steep R&D costs, tighter regulations, and difficult market conditions. Soaring healthcare expenditures has resulted in tighter healthcare payer's policies and economic governance.
At the same time, there is an escalating demand for medicines to serve the rising global population and the need to cope with diseases associated with an ageing population. An example of this is the diabetes pandemic. Prophylactic vaccines will remain important for the future, and a new generation of vaccines for non-infectious diseases are currently in development.
Together with vaccines, therapeutic proteins are leading players in pharmaceutical development. The use of prefilled syringes in the development of liquid formulations of these biotech products is experiencing a significant growth. This is due to the fact that prefilled syringes provide enhanced safety in use, improved user convenience, and ease of administration. Another important trend is the shift from hospital treatment to homecare and self-injection for chronic diseases and specific therapeutic areas.
Biotherapeutics have specific challenges and requirements, and typically, these therapeutic proteins are both physically and chemically sensitive. Being large and complex molecules, such drug products are also creating explicit challenges for injectability. This will lead to the need for tailor-made drug delivery devices that ensure drugs can be administered safely and reliably, avoiding errors in medical practice while minimizing patient discomfort.
Q: What kind of value does Terumo® bring into this industry?
A: Our Vision is to be the preferred partner to the pharmaceutical industry by offering patients high-quality, innovative medical devices and insightful solutions. Terumo® believes that to produce medication without giving due consideration to the final drug delivery device is to miss the point of pharmaceutical development.
In fact, it was this belief that led us to apply our vast experience in medical technology for pharmaceutical purposes. Today, various social conditions are causing a diversification of needs in healthcare. Terumo® is responding to these changes by developing and providing devices and systems that enhance safety and efficiency while also improving patient comfort.
Q: What is the future direction for Terumo® in this area?
A: Terumo® Global Pharmaceutical Solutions is committed to advancing its research and development activities. We are developing a portfolio of parenteral drug delivery devices focused particularly on the pharmaceutical development of biologics, vaccines, and sensitive therapeutic proteins. Since 1999, we have led the way in producing polymer-based prefilled syringes through a fully integrated production model. Process capabilities include terminal sterilization as well as aseptic filling for biotherapeutics. The addition of pharmaceutical capabilities in fill & finish services allows us to optimize our know-how in polymer-based primary containers. Our PLAJEXTM ready-to-fill syringe system came from Terumo®'s profound knowledge of life sciences, pharmaceutical operations, and prefilled syringe manufacturing. These polymer-based prefilled syringes have specific features that address several current challenges in applications with protein/peptide biopharmaceuticals, such as silicone oil interaction, aggregation, (sub-) visible particles, and immunogenicity. With the launch of Nanopass® pen-needles in the European and Asian markets, Terumo® introduced a proprietary platform for the production of tapered needles. This technology can be applied in various therapeutic areas. Terumo®'s innovative tapered needle technology makes it possible to minimize needle size for patient comfort. This also reduces viscous resistance within the needle and thus improves flow and enhances injectability. These qualities are paramount in needle-based injectors for self-injection.
By combining our proprietary technologies, our know-how, and our experience, the market can certainly expect us to bring new and innovative drug delivery devices and integrated systems to the business. Our aim is to ensure drugs are administered safely, reliably, and uncontaminated. We strive to avoid errors in medical practice and minimize patient trauma and discomfort.
To view this issue and all back issues online, please visit www.drug-dev.com.