EXECUTIVE INTERVIEW – SOLIZE: 3D Data-Based Engineering & Manufacturing to Accelerate Delivery Device Development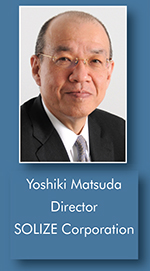 SOLIZE, established in 1990, is a technically focused group with more than 1,300 engineers fluent in product design, analysis, prototyping, tooling, and manufacturing technologies. We provide support for the complete product development cycle to our global clients from branches located in Japan, China, India, and the UK. With 3D CAD expertise and engineering technology developed across a variety of industries throughout the past 25 years, SOLIZE is now proactively participating and driving the success of product development in the drug delivery device market. We have been deeply involved in product development of the automotive industry. Our high-speed prototype manufacturing technology, which effectively combines our advanced 3D design and simulation expertise with optimal use of 3D printing technique, has made the development smarter and shorter. Our Design for Manufacture (DFM) and 3D-based standardized tool manufacturing techniques revolutionized the mobile phone industry by slashing the lead time on prototype tooling to 1/24th of the standard duration. This enabled us to capture more than 70% of the global market share of the prototype development in the mobile phone industry. Drug Development & Delivery recently spoke with Yoshiki Matsuda, Director of SOLIZE, to discuss how the company can create new and innovative solutions to accelerate the development of devices and combination products built thereon.
Q: What is the value SOLIZE offers to the development of drug delivery devices?
A: The market uptake of biotechnology drug products is growing rapidly and thus is driving increased demands on the functionality, mechanical complexity, and variety of materials of delivery devices. In the process of developing these devices more time and effort is required to complete studies such as User Requirements Specification (URS), Functional Requirements Specification (FRS), and Proof-of-Concept (PoC).
The value SOLIZE provides is in quickly designing and manufacturing prototypes with the high-quality tolerances, finishes, and functionality required to complete the tests and evaluations required by these advanced delivery devices. Just like we have demonstrated in the automotive and mobile phone industries, we deliver speed and quality from the early stage of delivery device development.
We believe our prototypes not only directly accelerate the development of devices, but also enable the front-loading of clinical trials of combination products built thereon. In the constantly changing regulatory environment, quicker development results in quicker entry into the market. This speed means you have a better chance of finishing the development in the same world in which you started, securing competitive advantages and growth opportunities.
Q: How does SOLIZE work with its clients, and what have you achieved?
A: SOLIZE has worked with clients ranging from the earliest of new ventures to the world's leading medical device manufacturers, design consultancies, and pharmaceutical companies. We cover a wide variety of high-end delivery devices, including syringe pens, autoinjectors, infusion systems, dry powder inhalers, nasal pump systems, and eye droppers. With our proprietary 3D design, engineering, and manufacturing technology, we provide comprehensive support from product design and analysis through prototyping, and support of mass production.
Because we can provide fully functional and well-toleranced components in just 3 to 4 weeks, our clients are able to accelerate technical studies, user acceptance tests, and market studies that are now considered a major part of human factors engineering. For example, during an autoinjector project for our client in the UK, we were involved early and in-depth during the product development phase, leveraging our DFM to finalize the product design fast. We engineered and manufactured 11 tools in 4 weeks, and supplied more than 5,000 sets of fully functional devices without a single malfunction. Our client was able to run their development loop of PoC and market studies in half of the time they expected.
For the market studies in particular, a high-profile finish and fully functional prototypes add persuasiveness to support the adoption of their innovative devices. We are currently in the middle of preparation for molding 10,000 sets of prototype parts under cleanroom ISO8 conditions, providing support for the regulatory approval process. This is a typical example of our development support usage; providing a seamless development experience from early development through clinical studies and contributing to the reduction of total development lead time.
As an another example, we had a client request to modify an existing off-patent DPI inhaler device. Because there was not a single manufacturing reference available for the existing device, we proposed a comprehensive product development support strategy using our reverse-engineering expertise. We first CT scan the existing device and then carefully analyzed how each plastic component functions within the device. This allowed us to determine the correct product contours, including each component's assembly mechanism, raw material usage, as well as the tolerance setting of each critical dimension. With the product design reverse-engineered, we immediately applied our DFM and turned the product data into manufacturable data. We then modified the design of the blister cover to meet the new regulatory requirement, and manufactured 12 sets of injecting molding tools, each with a capacity to produce 100,000 sets of plastic components to fulfill needs from the early development through clinical studies to the early industrialization phase. We finished all of these activities within 2 months and enabled our clients to have the working devices ready for their clinical Phase III study in plenty of time.
SOLIZE does not simply provide parts. We always seek to clearly understand our clients' needs and provide the optimal engineering support and flexible short- and long-run manufacturing capability to fit their budgets and applications.
Q: How are you able to be so much faster than the competition?
A: SOLIZE's 3D data design and analysis skills combined with the tool manufacturing know-how is the key. When manufacturing prototype tooling, we leverage these assets digitally to optimize the tool design, tool structure, material selection, and its cutting methods. With these best practices, we are able to propose the optimized product and tool design in half of the time compared to the existing manufacturers, minimizing the manufacturing effort.
Our DFM also contributes greatly in reducing the product design lead time. We begin in-depth DFM exercises very early in our clients' product design phase. By providing these DFM iterations, we make the lives of our clients' design engineers easier, allowing them to focus on the maturation of functionality and aesthetics of the device, leaving all of the design validation of manufacturability to SOLIZE.
Because our engineers have access to 10,000 tools worth of DFM data and tooling knowledge, our experts can directly apply the tool engineering know-how earned across a wide range of industry and products to provide accurate DFM within 24 hours. We provide support for a broad range of products, from large-scale diagnostic devices and hand-held medical devices to tiny pieces of a needle shield.
This new style of DFM-based design and prototyping service provides much quicker and efficient product development with smoother and more flexible production ramps to meet all our clients' development needs.
Q: I understand that SOLIZE is fast, but how can you also maintain high quality?
A: Our DFM also contributes greatly to ensure the quality of prototypes built during the development phase. Because our DFM optimizes the product design considering its manufacturability, our prototype tools are always made with minimal risk of quality defects. In addition, we manufacture prototypes with our ISO9001- and ISO13485-certified process of quality control.
We exceed the speed, quality, and validation requirements of the ordinary prototypes. As our clients will attest, we have succeeded in revolutionizing prototype development.
Q: How were you able to revolutionize the current prototype development process?
A: Normally, prototype manufacturing is known to produce one-off, unrepeatable parts made under gray room. But we are different. Not only do we provide quality and delivery speed, we also offer choice in supply quantity as well as the availability of cleanroom molding.
By supplying fully automatically made, sustainable prototype devices ensured by our DFM concept, we meet the validation requirement equivalent to that of pilot- or small-scale production tooling, allowing us to produce over 100,000 sets of devices under cleanroom conditions. So essentially, we offer pilot tool quality service and experience with the cost and lead time of prototype tooling. This allows our clients to have a lot of flexibility in choosing when to start realizing the prototypes, from initial functional testing through clinical studies, as well as marketing samples. This unified proto-pilot tooling service, including early cleanroom molding capability, contributes to the reduction of development lead time for both the device and the combination product.
To view this issue and all back issues online, please visit www.drug-dev.com.