EXECUTIVE INTERVIEW – Pfizer CentreOne: The Value of the Embedded-CMO Model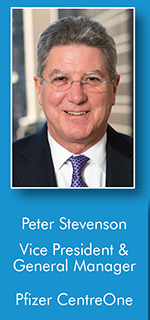 Pfizer CentreOne is a global contract manufacturer embedded within Pfizer that focuses on API synthesis, sterile injectables fill-finish, and highly potent solid oral dose. The company was formed by the union of CMOs Pfizer CentreSource (specialty APIs) and Hospira One 2 One (sterile injectables) following Pfizer's acquisition of Hospira in 2015. While there are other large (bio)pharmaceutical companies that operate CMOs, and many standalone CMOs, the Pfizer CentreOne model is different. Drug Development & Delivery recently interviewed Peter Stevenson, Vice President and General Manager of Pfizer CentreOne, to discuss the value of the embedded-CMO model in the biopharmaceutical industry.
Q: What is an "embedded" CMO, and why did Pfizer decide to go that route?
A: When we launched Pfizer CentreOne following Pfizer's acquisition of Hospira, we were combining two CMOs that existed within their parent organizations, Pfizer CentreSource and Hospira One 2 One. They each had decades of contract- manufacturing experience, so that wasn't an issue. But we needed an organizational structure that enabled us to be the best possible partner to our customers over the long-term, helping them to succeed.
As a result, we decided on the embedded CMO model within Pfizer. For us that means that, one, Pfizer CentreOne reports up through Pfizer's commercial organization, not to the manufacturing division; two, we manufacture our biopharmaceutical partners' drugs in the same, not separate, facilities as Pfizer drugs are produced; and three, each partner has its own dedicated Pfizer CentreOne team, a small group of experts who advocate for them across the broader Pfizer organization.
Q: Why should our readers be interested in your internal reporting structure?
A: Because Pfizer CentreOne reports to Pfizer's commercial organization, our business model is based on strategic growth. A capacity-filling-only model can be precarious for biopharmaceutical companies, which require a steady, long-term CMO partner.
Each year, we earmark capacity, people, and resources at our facilities for current partners' drugs, as well as for potential new incoming products – and we must deliver on what we reserve. Those resources are reserved for the life of our partners' contracts. So we're driven to find and retain partners that are a good fit for us both over the long haul, which provides stability for our partners and enables us to grow.
Q: What is the value to your partners for their drugs to be made in the same facilities as Pfizer's own?
A: Pfizer fiercely protects the quality of its drugs and invests heavily in the sites that manufacture them. Our partners benefit from that. For example, our Kalamazoo, MI, site alone invested $900 million throughout the past 10 years and expects to invest another $800 million in the coming years.1 Standalone CMOs simply don't have the financial resources to plow back into their sites at that rate.
Moreover, our partners benefit from our experience. We make partner drugs the same way we make Pfizer drugs. The methods are the same, the vigilance, the expertise. It doesn't matter whether a compound belongs to Pfizer or a Pfizer CentreOne partner when it enters one of our manufacturing facilities. While we have strict processes and technologies in place to protect our partners' confidential information and intellectual property, their drugs receive the same care as any Pfizer medicine.
Q: When you say Pfizer CentreOne acts as an "advocate" for its partners, what does that mean in practice?
A: Pfizer's size may be somewhat daunting, especially to a smaller biopharmaceutical company. So each partner has a dedicated Pfizer CentreOne core team of experts who provide a "home" within our larger organization. They deeply understand our partners' compounds and business goals, and when needed, can tap into literally a world of Pfizer resources. More than 1,7002 Pfizer scientists and manufacturing experts around the globe, along with specialized labs, support our partners today. Our colleagues have worked on almost every problem imaginable, given the number and variety of complex compounds they've tackled both for Pfizer and for our partners.
This is a prime illustration of the benefits of the embedded CMO: a small, devoted team nested within a world of top-flight resources, backed by a global pharmaceutical leader with skin in the game.
REFERENCES
1. Pfizer planning multi-million dollar expansion at Portage manufacturing complex. MLive Kalamazoo, Tom Haroldson, 07/26/2016. http://www.mlive.com/news/kalamazoo/index.ssf/2016/07/pfizer_planning_multi-million.html.
2. According to Pfizer CentreOne internal analysis completed 08/30/2016.
To view this issue and all back issues online, please visit www.drug-dev.com.