EXECUTIVE INTERVIEW – Patheon: Comprehensive Development & Manufacturing Solutions for the Entire Drug Development Cycle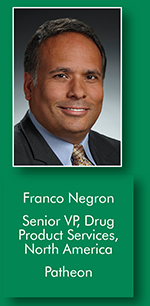 Patheon delivers a combination of unrivaled quality, reliability, and compliance, with a reputation for scientific and technical excellence to customers in the pharmaceutical and biopharma industries. With more than 8,000 employees worldwide, Patheon has a comprehensive set of solutions to help customers of all sizes satisfy complex development and manufacturing needs at any stage of the pharmaceutical development cycle. Armed with the best scientific minds, a reputation for operational excellence, and innovative solutions like the Patheon OneSourceTM supply chain offering, Patheon has become a trusted partner to its customers, helping solve their complex development and manufacturing challenges. Drug Development & Delivery recently caught up with Franco Negron, Patheon's Senior Vice President of Drug Product Services in North America, to discuss his company's business strategy, two recent acquisitions and integration plans, the role biosimilars play in Patheon's business, and significant trends driving the pharmaceutical industry over the next few years.
Q: What is Patheon's current business strategy?
A: Patheon's success and position as a global industry leader is built on a four-pronged business strategy: to strengthen core operations, sell the business differently, enter logical adjacencies, and drive industry consolidation. From top leadership down to line employees, the business is focused on performing well for customers, as measured by the customers. Products must be delivered right the first time and on time. Throughout the Patheon organization, there is a remarkable focus on providing value to customers, who increasingly demand simplified supply chains and a wide range of services. Patheon's ability to stay on top of customer needs and industry trends has led to multiple mergers and acquisitions that have expanded the company's breadth of services and capabilities, while also more than doubling its top-line in less than 2 years, making it the industry leader with a reputation for high quality.
Q: Patheon recently announced two acquisitions within a week of each other. Can you tell our readers more about these deals?
A: The acquisitions of IRIX and Agere align with Patheon's strategy to enter into logical adjacencies. As customers increasingly seek a more simplified supply chain, the logical business model is to build a breadth of services through the full life cycle of a product, from development to commercialization. The company is always looking to add scale and expand its product portfolio while maintaining a focus on quality.
The acquisitions of IRIX and Agere further reinforce our leading position because we are now armed with integrated solutions to meet customers' most complex challenges. Through these deals, we can offer more advanced formulation services, strengthen the company's number one Product Development Services position, gain comprehensive API development services, amplify our North American presence, and enhance the Patheon OneSource offering.
Patheon OneSource focuses on driving value through simplicity, speed, and expertise. Patheon's range of capabilities bridges the gap between product development and commercialization, giving us the ability to take customers through the entire life cycle of a product and every piece of the value chain. Patheon engages in partnerships and acquisitions that support business strategy through both organic and inorganic growth opportunities.
Q: How do you manage integrating two companies into the Patheon network at one time?
A: We have had a series of multiple mergers and acquisitions, bringing five companies into the Patheon network in the past 3 years. The first was in 2013 with the acquisition of Banner Pharmacaps, followed by our merger with DSM Pharmaceutical Products and the acquisition of Gallus Biopharmaceuticals in 2014, and most recently, the IRIX and Agere deals in March 2015.
Patheon has arrived at an integration formula that is robust, repeatable, and highly structured, allowing for seamless transitions for employees, customers, and suppliers. Experienced teams lead the integration process, with a strong focus on keeping employees informed and tuned in to the company's commitments to a unified culture. Our culture has five key aspects: 1) provide industry-leading customer experience; 2) be the highest quality, most efficient, and flexible provider; 3) deliver the best technical and scientific solutions to enhance product value; 4) create a culture of engagement, accountability, and a commitment to excellence in all that we do; and 5) operate our business in a compliant, safe, disciplined, responsible, and ethical fashion. This hands-on culture has been adopted by each acquired company and more than 8,000 global employees, and we are replicating this success with our IRIX and Agere colleagues.
Q: What role do/will biosimilars play in Patheon's future?
A: Biosimilars are part of the industry's future. We foresee a series of large market biosimilars being approved in the next few years. Cell culture manufacturing processes are more productive now than they were 15 to 20 years ago, and the scale and capacity required to manufacture these has decreased significantly. While biosimilars were historically manufactured in-house, outsourcing is now increasingly gaining favor. Patheon has accumulated expertise and experience working with innovator products for the past 10 years, as well as biosimilars in the past few years, so we are extremely well-positioned to take advantage of this opportunity with biosimilars.
Q: What trends do you see driving the pharmaceutical manufacturing industry in the next few years?
A: Outsourcing and consolidation will continue to influence the CDMO industry in the coming years. Customers seek reliable partners with broad capabilities, scalability, and excellent quality track records. As a result, the CDMO industry will likely see the same consolidation and outsourcing that contract research organizations experienced years ago. The market is moving more and more toward consolidation, and only the best performers will become long-term partners to the pharma industry.
Outsourcing was historically done for pricing reasons. However, now the decision to outsource, whether by big or small or emerging pharma companies, is considered a more strategic proposition to add value through seeking smart business solutions and partners to gain access to new technologies, faster cycle times, and enhanced performance.
To view this issue and all back issues online, please visit www.drug-dev.com.