EXECUTIVE INTERVIEW – NanOlogy: Submicron Particle Platform Transforms Systemic Chemotherapy Into Local Delivery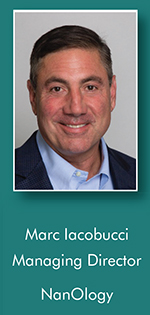 Demand for new cancer drugs is enormous with public and private investment skyrocketing for the latest technologies. Immuno-oncology therapies have captured much of the attention, and much of the investment, in recent years. The first generation of these drugs has offered some breakthroughs but not a panacea; and development of more effective, safer, and cost-effective therapies is still years away. Moreover, in patients for which immuno-oncology agents are indicated, oncologists frequently combine their use with traditional chemotherapeutics. Such combination use has been found to be synergistic but also, unfortunately, additive in systemic side effects. In the near term, increasing the safety and effectiveness of proven chemotherapies, such as paclitaxel and docetaxel, have the potential to improve the outlook for cancer patients much more quickly and cost-effectively. NanOlogy, a clinical stage pharmaceutical development company, is attempting to do just that by utilizing a breakthrough technology for producing unique, patented, naked submicron particles of paclitaxel and docetaxel. NanoPac®(submicron particle paclitaxel) and NanoDoce® (submicron particle docetaxel) are the first investigational drugs based on this technology and are aimed at transforming the safety and efficacy of these proven therapeutic agents for multiple indications in cancer and other serious illnesses. Drug Development & Delivery recently interviewed Marc Iacobucci, Managing Director of NanOlogy, to discuss his company's technology, clinical program, and efforts to transform cancer therapy.
Q: How are NanoPac and NanoDoce different from paclitaxel and docetaxel?
A: NanoPac and NanoDoce are stable submicron particles of pure drug that are suspended – not dissolved – in simple vehicles like saline and delivered as particles in concentrated form directly to the site of disease via injection, instillation, inhalation, or topical application. When delivered, the particles release drug locally over several weeks with gradual clearance that does not appear to cause systemic side effects. The particles are so unique in terms of surface area, geometry, dissolution, and other aspects that we were recently granted a composition of matter patent on the particles (US Patent No. 9,814,685) that is valid until June 2036.
The patented production technology that forms these particles uses sonic energy and super critical carbon dioxide to reduce the size of unprocessed paclitaxel and docetaxel crystals by up to 400 times into submicron particles. These particles of pure drug remain stable and free-flowing in their naked form because no static energy is imparted to them. Conventional methods of making small particles like milling create static charge so coating agents or carriers are required to stabilize or solubilize the particles
Q: What's the major significance of your submicron particle platform?
A:When paclitaxel was introduced in 1992, it was described by the National Cancer Institute as the most significant treatment of the decade, and since then, both paclitaxel and docetaxel have become among the world's most prescribed cancer chemotherapeutics. Despite their effectiveness, however, patients must also contend with debilitating side effects from systemic administration that are what immediately come to mind when one thinks of "chemo."
Physicians and scientists have known for years that paclitaxel and docetaxel are effective cancer-killing agents and have long searched for ways to retain high concentrations of drug at the disease site for a longer time. This is not possible with traditional chemotherapy due to the limitations of systemic delivery, associated side effects, and rapid clearance. NanoPac and NanoDoce are designed to solve this problem by delivering higher, sustained concentrations of drug delivered directly to the site of disease, and by eliminating the side effects caused by systemic administration.
In addition, there is growing evidence that paclitaxel or docetaxel used in combination with newer immune-oncology agents increase the effectiveness of these agents. The advantage of our products is that we may enhance this synergistic effect without adding to systemic side effects.
Q: What cancers are NanOlogy and Soria targeting?
A:We have an extensive clinical development program at NanOlogy for NanoPac sterile suspension with Phase 2 clinical trials launched in 2017 for ovarian cancer, which was granted orphan drug designation by FDA, prostate cancer, pancreatic cancer, and pancreatic mucinous cysts, which can progress to cancer if left untreated. We are very encouraged by early clinical results, which indicate disease regression without drug-related side effects. In mid-2018, we will also begin a clinical trial of NanoDoce sterile suspension for the treatment of bladder cancer.
In addition, NanOlogy affiliate, DFB Soria, has developed a topical product containing submicron particle paclitaxel suspended in an anhydrous base. Identified as SOR007, NanOlogy is conducting a Phase 1/2 clinical trial of SOR007 for treatment of cutaneous metastases and Soria is about to complete a Phase 2 trial for treatment of actinic keratosis (AK), a precancerous skin condition. Final results from the AK study are expected in April, but preliminary blinded data are showing lesion reduction with no local irritation or systemic side effects. NanOlogy also is developing a form of NanoPac that is delivered via nebulized inhalation for treatment of lung cancer. Preclinical pharmacokinetic studies showed drug retained in lung tissue for greater than 14 days with no gross or histological abnormalities to lung tissue. A follow-on preclinical pharmacology study has just been completed that showed significant tumor regression without drug-related adverse events. We hope to present these exciting findings at a major medical conference later this year.
Q: Do you have any Phase 1 clinical results for NanoPac?
A:NanoPac was initially studied in a Phase 1 trial for treatment of peritoneal malignancies, such as ovarian cancer. NanoPac was delivered directly into the peritoneal cavity of seriously ill patients whose cancer had no other treatment options. Data showed that compared with intravenous administration of the paclitaxel, NanoPac remained entrapped in the peritoneum for weeks providing higher and prolonged levels of paclitaxel at the disease site with minimal systemic exposure and minimal drug-related side effects. Additionally, of the 21 very ill patients who received NanoPac in the Phase 1 trial, five survived at least 400 days, which was much longer than expected. The results from this trial helped us gain approval from the FDA for the Phase 2 trials we are conducting across multiple indications.
Q: How soon could NanoPac and NanoDoce reach patients?
A: Because systemically administered paclitaxel and docetaxel are already on the market and have a long history of use around the world, the regulatory pathway for our products falls under the FDA's streamlined 505(b)(2) regulatory pathway. This pathway is applied to new embodiments of approved drugs and is intended to reduce the overall time for advancing successful product candidates through the development process to regulatory approval. Depending on the success of our Phase 2 trials, we may also be eligible for Fast Track designation by the FDA for certain indications like pancreatic cancer.
Given the 505(b) 2 regulatory pathway and possibility of Fast Track designation, one or more of our products have the potential to reach patients in as few as 2 or 3 years, which is obviously much faster than the 10 to 15 years a new molecular entity (NME) can take.
Q: How were NanOlogy and Soria formed?
A: NanOlogy was formed in 2015 by DFB Pharmaceuticals, LLC of Ft. Worth, TX, in collaboration with CritiTech, Inc. of Lawrence, KS, and US Biotest, Inc. of San Luis Obispo, CA. DFB is a private investment and development group focused on new products and businesses in healthcare, and the company has realized more than $1.5 billion in value since its founding in 1990. CritiTech developed the production technology and plays a key role in product development. US Biotest brings their expertise in preclinical and clinical regulatory strategy and management to the company. DFB Soria is an affiliate of NanOlogy and wholly owned and operated by DFB. Soria licensed the CritiTech technology for dermatology and certain other fields outside of oncology and developed SOR007.
Q: What are your long-term plans for NanOlogy and Soria?
A: We believe we offer a strong value proposition that includes a therapeutic platform in clinical development targeted at disease indications totaling more than $13 billion in annual treatment cost in the US alone. Importantly, our platform has a streamlined path to regulatory submission coupled with an extensive IP portfolio, including a composition patent. This gives us NME-like advantages without the associated risk and time of NME development. We are now generating exciting clinical data and will be exploring options over the next 12 months for further development. These options may include continuing to invest ourselves, which we have the wherewithal to do, or identifying a partner who sees the value in what we have created and wants to help us get our products to patients in need.
To view this issue and all back issues online, please visit www.drug-dev.com.