EXECUTIVE INTERVIEW – Lonza Pharma & Biotech: Taking on the Next Challenges in Small Molecules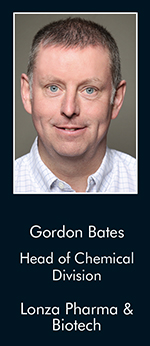 The small molecule medicine market which accounts for two-thirds of the therapeutics in today's pharmaceutical market has entered a transition phase.1 Drug candidates in the development pipeline are increasingly complex and specialized. Drug companies continue to evolve in terms of focus, capabilities, and outsourcing needs. Gordon Bates, Head of Chemical Division at Lonza Pharma & Biotech, shares his perspective with Drug Development & Delivery about industry needs and how strategic acquisitions are enhancing Lonza's position as a development and manufacturing partner of choice.
Q: We hear a lot about the need for integration in drug development – why is this important to the future of the industry especially as it relates to small molecules?
A: Increasingly, pharmaceutical companies are looking for a partner who not only manufactures the drug substance, but can optimize the formulation to meet the targeted product profile and client's objectives. Additionally, flexibility and scalability are sought after in order to satisfy the demands at each clinical phase through to commercial manufacturing. We believe an integrated approach can ensure a strong alignment and balance between our clients' short and long-term program goals, particularly where we recognize that speed to market is critical for new products. At Lonza, integration means offering clients the services – and appropriate business model – to fit their specific needs from product concept through commercial manufacturing. There are several factors driving our strategy to offer our clients a premier integrated product development model.
First, big pharma continues to downsize. The emergence of virtual, small, and specialty companies are increasingly driving early stage pipelines. These companies need the support of high-quality experienced contract development service partners.
Second, bioavailability is a continuing challenge and the increase in highly potent medicines under development is further driving a need for specialized formulation and processing requirements. These challenges are not trivial and require specialized expertise. Development partners must have an extensive chemistry and formulation toolkit as well as the know-how and expertise to apply these tools effectively to meet target product profiles and the commercial objectives of clients. Equally, development partners have to be equipped and staffed to support all aspects of a development program, inclusive of robust feasibility studies, process development, process characterization, CTM services, scale up, and technology transfer. We listened and are responding to the feedback from our existing clients, as well as potential clients, by investing to strengthen our comprehensive capabilities across all of our product options – drug substance intermediates, drug substance, drug product intermediates, and finished drug products.
Third, and I mentioned this earlier, speed to market for new products is critical. Accelerated timelines are becoming the norm. We have been a trusted partner in more than a third of all small molecule product approvals with breakthrough therapy designations. We see many more breakthrough designations in our pipeline, as well as an increasing number of clients pursuing the 505(b)2 regulatory pathway or equivalent in Europe or elsewhere in the world. Capacity and flexibility is critical in meeting these needs. We have, therefore, focused on tools and best practices for optimizing timelines at each stage of development. For example, we have utilized our core engineering strengths and science-of-scale studies to design and develop specialized, phase-appropriate processing equipment to support proof-of-concept studies that are readily scaled to clinical and commercial manufacture.
Finally, security of supply has never been more important for today's medicines. We manufacture for nearly 300 commercial products across our product options. We have a proven track record of providing security of supply with a clear commitment to quality.
Q: What are the most pressing challenges for the CDMO market as it relates to small molecule-based drug development and manufacturing, and how is Lonza fulfilling these future needs?
A: Designing a compound or formulation that is optimized for meeting the therapeutic window with future reproducibility and manufacturability is considered in the proof-of-concept stage. To accomplish this objective, a partner should have depth in addressing chemistry or formulation challenges. This includes multiple technology options, know-how, and expertise for specific problem statements, and specialized processing equipment with a history of tackling these challenges. We have advanced thousands of compounds across a myriad of parameters and challenges – and this experience has led to innovative approaches in product and process design, development, and manufacture.
Lonza's investments are in-sync with the key industry problem statements and responsive to challenges faced by our clients today. For example:
Highly Potent Active Ingredients – Driven by the oncology development pipeline, HPAPI demand continues to increase. Lonza specializes in custom HPAPI development. We have the largest commercial production capacity in the world at Visp (CH). Our formulation labs are all equipped to handle highly potent and other challenging compounds as are our manufacturing sites for drug product intermediates and finished dosage forms.
Bioavailability Enhancement – The majority of compounds have either dissolution rate or solubility issues. We have a full portfolio of enabling technologies combined with selection methodologies and formulation expertise to match the optimal approach to the specific challenge.
Modifying Pharmacokinetics – Tailoring drug delivery profiles to increasingly specialized target product profiles is often required. Our acquisition of Capsugel has given us a full range of technologies and expertise for meeting any delivery profile required.
Q: With the recent acquisitions of Capsugel and Micro-Macinazione, can you speak to the key synergies you see with Lonza's core drug substance business?
A: We are excited to integrate our custom drug substance capability with the particle engineering expertise we now have through these acquisitions. Capsugel and Micro-Macinazione have a combined 65 years of experience in micronization from developmental studies to commercial supply. We have capacity of more than 2000 MT and a geographic presence that spans North America and Europe. Capsugel has also brought premier depth in spray drying, pioneered by Bend Research, another key approach for engineering optimal particle size distributions.
This combination gives us the opportunity to further optimize and tailor drug substance and drug product intermediate to meet a client's specific compound and formulation requirements. These acquisitions of industry leaders in particle engineering give Lonza premier expertise, technology options, and flexibility through spray drying, jet milling, nano-milling, cryogenic milling or combination approaches. Specialized capabilities are in place for HPAPI, controlled substances, hormones, steroids, and other challenging compounds. Nano-milling is in place for submicron applications, as is cryogenic milling for optimizing particle size for elastic/semi-solid compounds. The choice of technology and approach is always dependent upon a client's specific problem statements, and we now have a full range of particle engineering approaches.
Given our global capability, capacity, and technology options – and the quality and security of supply that Lonza stands for – we offer clients a best-in-class partnership throughout the development and commercialization process.
Q: What is the approach Lonza is taking to integrate its new drug product intermediate and drug product offerings?
A: We are integrating our small molecule offering from concept to commercial scale manufacturing. We already have in place the capability to support the full range of products – from drug substance to finished forms – throughout the development cycle to commercialization.
Our site leaders and product development teams are interacting well. They are very keen and quick to share best practices and exhibit a strong desire to learn from each other to further advance our capabilities. The R&D teams have been integrated with many new ideas and applications leading to a number of priority actions to be pursued in the short- to mid-term.
Ensuring common technology selection methodologies is key to offering clients an unbiased approach to problem-solving and the most appropriate formulation development. This can be a challenge when integrating technology leaders in the industry – spray drying, micronization, lipid-based formulations, and liquid filled hard capsules to name a few. Nevertheless, I am encouraged by how a dedication to science and engineering principles is guiding our team's decision-making.
Q: What's ahead for Lonza in terms of the next innovation or technology development in small molecules?
A: We listen to our clients and invest in innovative capabilities to meet their needs. We always look to leverage our core strengths in engineering and science to facilitate continued advances.
As mentioned earlier, we have advanced thousands of compounds and continue to identify and model the barriers to effective drug absorption. Each year, we advance our predictive modeling capability, and will continue to do so with additional data and the experience brought by our acquired companies.
We will continue to improve our approaches for optimizing the efficiency and productivity of our drug substance and drug product intermediate manufacture, expand the application space of our technologies, and seek new applications for our specialized technologies.
Our team has been sharing ideas and brainstorming new areas to explore, and I don't expect we will be short of projects to keep our R&D experts occupied. We remain focused on investing for the future and partnering with clients to tackle the next challenge together.
REFERENCE
1. Miller J. Small-molecule API CMOs are thriving. BioPharm International. October 1, 2015. Website visited: http://www.biopharminternational.com/small-molecule-apicmos-are-thriving-0.
To view this issue and all back issues online, please visit www.drug-dev.com.