EXECUTIVE INTERVIEW – Insulet Corporation: Improving Adherence Through Wearable, Patient-Centric Drug Delivery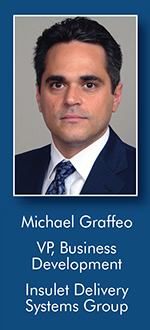 Patients have a choice. Insulet Corporation has an answer. With the increasing number of biologics and therapies available to patients today, pharmaceutical and biotechnology companies face a challenge in not only ensuring efficacious delivery of their drugs, but also that patients will select their drugs over the many other options available. This dynamic is creating a new future for subcutaneous delivery. Pharmaceutical and biotechnology companies are being driven to utilize patient-centric delivery devices that will fit volume requirements and ensure patient adherence. Insulet's Omnipod Insulin Management System has been improving the lives of patients with diabetes for over a decade, and this technology platform now is being used for improving drug delivery in other therapeutic areas. Drug Development & Delivery recently interviewed Michael Graffeo, Vice President of Business Development, Insulet Delivery Systems Group, to discuss the importance of optimizing patient adherence to ensure improved clinical outcomes.
Q: How does Insulet see the role of wearable devices in the future of the drug delivery market?
A:With an increasing number of injectable drugs and biologics coming to market, the route of administration is set to play an important role during drug development. More than 800 new highly viscous biologics are expected to come to market by 2025. These drugs require a device that allows for larger volume delivery over a prolonged injection period. That's where wearable devices offer a significant benefit over traditional needles or autoinjectors. Across the global healthcare system, there is also an increasing focus on patient centricity – enabling patients greater freedom to live their lives without being restricted by their drug delivery regimen. Insulet is working toward technologies that provide better adherence, simplified delivery, and greater clinical efficiencies. The least valuable drug is the one that's not taken — so any innovation needs to offer greater convenience, patient centricity, and therefore greater adherence. The Omnipod Delivery System platform is designed to help to address these issues.
Q: What benefits does Insulet bring to pharmaceutical and biotechnology companies seeking to improve patient adherence?
A: For more than a decade, Insulet has delivered intelligent, virtually pain-free subcutaneous administration for drugs with complex dosing regimens often restricted by conventional methods of injection. We have more than 85,000 patients worldwide who count on the Omnipod Insulin Management System – and we are the only wearable device manufacturer with that track record. For pharmaceutical and biotechnology companies, this means we hear and understand patient needs, and we have developed a proven device that is liked by those who wear it, and backed by those who recommend it. We continue to increase the number of patients using the Omnipod technology and enjoy positive feedback from long-term patients.
Initially, the Omnipod System was designed to allow people living with diabetes to live their lives and manage their diabetes with unprecedented freedom, comfort, convenience, and ease. As the world's first commercially available tubeless insulin delivery system, Omnipod allows users to live untethered by tubing and without the stress and anxiety of multiple daily injections. This same principle has now been applied to other therapeutic areas in which drug partners require innovative and patient-centric delivery options. For over 10 years, individuals with diabetes have been counting on Insulet to provide a safe and reliable drug delivery device. Pharmaceutical and biotechnology companies can have the same confidence in the design, delivery, and satisfaction of Omnipod delivery for a variety of therapies. In addition, the Omnipod platform is customizable depending on dosing profiles.
Q: What does the industry look for from companies like Insulet in regard to wearable technology?
A: The needs of the industry – from pharmaceutical companies to the patient – are multi-faceted. Safety and reliability are key components to any wearable technology – but offering a patient-centric device is also important to ensure optimal adherence. Practically speaking, delivery devices need to be flexible to allow for commercially available drugs. This could mean providing a device that is prefilled for time of use, activated at the time of filling, and/or developing a continuous monitoring system to improve patient adherence. Consistency of delivery is also a key safety factor to ensure the device does not over or under deliver. Smart, wearable devices like Omnipod can include advances in technologies like Bluetooth/remote patient monitoring to help track patient adherence. Additionally, there are various dosing profile options offering data management insights that can help both patient and healthcare professionals better understand delivery and adherence information.
Q: What makes the Omnipod System patient centric?
A: To Insulet, it is about making the lives of patients and users easier so they can live life on their own terms with the ease of use they deserve. This means we ensure the method of delivery is convenient, simple, trustworthy, and allows patients to live a life free from self-injection. Patient centricity brings the freedom to live life at home, without having to regularly go back to the hospital or clinician.
In terms of development, it's about putting the patient at the center of all we do. Ultimately, if a patient isn't going to wear it, creating a device that will fit as much volume as possible does not further adherence. We created our device with the patient in mind. When it comes to the Omnipod platform, we have created the only wearable, intelligent, subcutaneous delivery device commercially available.
The Omnipod platform has the ability to modify dosing and delivery times, as well as monitor patient adherence – making it a user-friendly and easy-to-use delivery system. Additionally, for non-insulin delivery, Omnipod has a remote-less option for preprogrammed dosing regimens. Its auto-cannula insertion means patients never have to handle the insertion needle. Omnipod is discreet, tubeless, and waterproof – reducing life interference and improving drug adherence.
Most importantly, we deliver the Omnipod Insulin Management System to more than 85,000 users worldwide. Their feedback enables us to make continuous improvements and deliver a device that strives to address those needs. These insights have been critical to the success of our business.
Q: Do you believe delivery time matters when a pain-free and patient- centric device is used?
A: For years, the industry has focused on devices that inject medication in 30 to 60 seconds. At Insulet, we believe that wearable technology changes the dynamic significantly. Current perceptions linking injection pain or difficulty and delivery time are based on older technology, such as autoinjectors or subcutaneous devices that require patients to hold them in place. Moreover, studies have shown that patients have discontinued self-injection for reasons, including: fear and frequency of the injections, and reactions around the injection site. These ultimately make the injection experience uncomfortable and patient adherence low.
When it comes to innovative wearable technology, a device such as the Omnipod System offers virtually pain-free delivery, with users wearing the device for up to 3 days. As an industry, we need to better understand pain associated with delivery of different drug types in order to develop these more patient-centric and efficacious devices. Many of our Omnipod System users have moved from multiple daily self-injection with a syringe or autoinjector to wearing the Omnipod for up to 3 days. This push for faster delivery is no longer relevant in the future of drug delivery.
Q: What experience does Insulet have working with top 20 pharmaceutical companies?
A: Insulet has two existing commercial agreements and additional development agreements with multiple other pharmaceutical companies. Each project requires different modifications to be made to the delivery device, which we have the flexibility to do.
Q: How does Insulet approach its partnerships with pharmaceutical companies?
A: Our primary goal is to reduce the burden of injectable medicines on patients and improve outcomes through an increase in medication adherence. In order for this to be achieved, Insulet approaches each relationship with potential partners as a combined effort in which both Insulet and the partner company work in tandem to develop solutions that address patient needs and reasons for non-adherence. We consider ourselves to be committed to developing unique delivery solutions that patients prefer. Using our 15 years of commercial success in delivery drugs/therapeutics using our Omnipod technology platform and combining that with our partners' knowledge of disease challenges and drug development, we work together to tailor customized solutions to suit volume, formulation, delivery requirements, delivery administration, and patient needs. Fostering partnerships and strong relationships with pharmaceutical companies allows us to create a patient-centric device that can help provide better outcomes for both patients and partners.