EXECUTIVE INTERVIEW – Gerresheimer in the US – Fully Focused on Core Business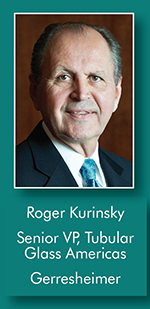 Headquartered in Düsseldorf, Germany, Gerresheimer is a leading supplier of specialty glass and plastic products for the pharmaceutical industry. The product portfolio includes packaging and products for the safe, simple administration of medicines: insulin pens, inhalers, prefillable syringes, injection vials, ampoules, bottles, and containers for liquid and solid medicines with closure and safety systems as well as packaging for the cosmetics industry. Gerresheimer produces worldwide in more than 40 plants and is currently investing heavily in local production in the US. Drug Development & Delivery caught up with Roger Kurinsky, Senior Vice President of Tubular Glass Americas, to discuss recent strategy shifts, the importance of the US pharma market, and how Gerresheimer's investments in the US can benefit pharma companies.
Q: How important is the US market for Gerresheimer?
A:The US market is one of our original markets, and it's one of the keys to the entire Gerresheimer Group's leadership positions. Almost one-third of our total revenue will come from North America in 2016. We're the market leader in many segments there, and we're a sought-after partner to the US pharmaceutical industry. Throughout the past 18 months, we made substantial investments in our US production facilities so that we can deliver locally manufactured, high-level quality products to our customers.
Q: In 2015, Gerresheimer sold its tubing operations to Corning. Why did it decide to do that?
A: Gerresheimer is the number one manufacturer of glass packaging for injectable pharmaceutical drugs in the US market. Following a critical assessment of our portfolio, we unanimously agreed that production of tubing glass is no longer one of our core business operations. We will focus on the finished product, ie, the converted glass packaging product like vials, cartridges, ampoules, and syringes. In our plastics business, we buy granules to produce pharmaceutical plastic packaging. In our converted glass business, we now source tubing from Corning and other vendors. It gives us more time and resources to concentrate on our core portfolio. So that's why we sold our tubing operations in Pisa, Italy, and Vineland, NJ, to Corning. Corning is a leading manufacturer of diverse types of glass and a company that makes substantial investments in research and development. We know we can depend on them for excellent quality glass tubing in the future, which is why our two companies have concluded a long-term tubing supply agreement. We've also established a joint venture with Corning to drive innovation in the pharmaceutical glass segment. Specifically, we're going to be concentrating on what we do best; manufacturing packaging for pharmaceuticals in the same high-quality all over the world.
Q: Why are global quality standards important?
A: Let me give you an example. An American pharmaceutical company manufactures its active drug ingredient in India. It also has its filling lines there and wants a local pharmaceutical packaging manufacturer to supply it packaging. The final packaged pharmaceutical drug is then sent to the US where it is retailed. Obviously, the customer needs the vials made in India to be the same quality as vials made elsewhere. The FDA is increasingly inspecting pharmaceutical companies in China, India, and other countries if they manufacture drugs for the US market. Actually, Chinese regulators as well as the regulators in other countries have almost as stringent patient safety requirements as the US FDA.
Q: How does Gerresheimer ensure those global quality standards at its plants?
A: As an example, we manufacture vials for vaccines or oncological drugs at nine of our plants around the world. We decided to install standardized, state-of-the-art machine parks at all of these plants, and our ambitious several multi-year project involved investments running into the double-digit millions since 2014. We want to supply our customers with significantly improved vials with the highest possible quality. The latest generation of machines, controls, and inspection systems guarantees the same high Gerresheimer quality standards at every single one of plants around the world, so it makes no difference which one of them the customer procures its vials from.
Q: How did you organize the project?
A: We started off at our US plant in Morganton in 2014 by supplying and installing the new generation of machines there. Our people in Morganton are the best-in-class when it comes to vials. Soon afterward, we started installing the new machines at Morganton's sister plant in Vineland. That was in 2015. We provide training on the new machines to all the people at our other plants around the world onsite here in the US. The Querétaro plant in Mexico was next in line, also commencing in 2015, and all the new machines will be in place later this year. The European plants are scheduled for the machine upgrades in 2016. We're currently in the process of building a brand new plant in Kosamba, India, and making preparations to install the new-generation machines at our Chinese plants.
Q: What type of machines does Gerresheimer use?
A: We're installing two types of vial manufacturing machines at our plants around the globe. The first was developed by our own engineers and built for our tubular glass plants by a partner. We sourced the second one from a European machine manufacturing company. These machine types are supplemented by the controls, inspections, and packaging systems, Gx G3, Gx RHOC, and Gx Thor, which were developed in-house and are part of a stringent TQM system that guarantees maximum precision and quality assurance in line with the latest standard.
Q: Last year, Gerresheimer's moulded glass plant in Chicago Heights underwent some major modernization work. Why is the Chicago Heights facility so important to Gerresheimer's operations?
A: We are the only company manufacturing Type I moulded glass vials in the US, and we do that at our Chicago Heights plant. Our customers want a local supplier that can meet their increasingly stringent quality requirements. One of the key objectives of the renovation project was to equip the plant for particulate-free glass packaging production. We have invested about $30 million in this project and are now in a position to offer our customers an ultra-modern production facility for high-quality, Type I moulded glass vials and bottles.
Q: What improvements did you make at Chicago Heights?
A: Quite a lot. The investment program was set up with the objective of meeting both present and future customer requirements as increasingly stringent standards are introduced. Investments in best-available production and inspection technology, and infrastructure optimization will give us higher levels of quality, the more efficient use of resources, and a better environmental footprint. Both the furnace and the steel base underneath it have been replaced. The new furnace capacity is 20% higher, and it consumes substantially less energy per ton of glass. Raw material supply and batch house automation, plus modern furnace control systems, have significantly improved efficiency at the hot end. Two of the three production lines are new, and the third line underwent a general overhaul. Modern camera systems perform dimensional and visual inspections for early detection of non-conformities and defective products. The higher production output after the conversions made a cold-end redesign and upgrade necessary. All inspections and packaging operations now take place in controlled environments, and all the in-line inspection systems have been modernized and standardized. The safe pack technology has been upgraded so that larger containers can also be shrink-wrapped. A new layout for the cold end has also reduced the number of actions involved in the packaging process, which reduces the potential for glass to glass contact.
Q: Why was particulate reduction an important mission of the modernization?
A: The FDA is strongly committed to eliminating particulates in injectable drugs to improve patient safety. Our customers in the pharmaceutical industry contribute to particulate reduction in their section of the supply chain, which involves washing, filling, and sealing, whereas our efforts are focused on manufacturing particulate-free glass packaging. So the Chicago Heights upgrade and conversion project aimed to reengineer the plant to satisfy even the strictest particulate requirements. The project also saw the introduction of innovative and patented technology at the Chicago Heights plant. Moreover, optimizing furnace, feeder, and mold cleaning processes and the use of different materials have significantly reduced particulate contamination. State-of-the-art inspection systems also check the glass products for contamination and reject the ones that aren't up to standard before they are delivered to the customer.
Q: Gerresheimer acquired Centor in the summer of 2015. What does this mean for Gerresheimer?
A: The Centor acquisition was an important strategic milestone for us. At the same time, it was our most expensive acquisition ever. We'd been planning a stronger positioning in the medical plastic packaging segment for a while, and the Centor acquisition allowed us to achieve it. But this wasn't just a strategic decision, it was a business decision because Centor is a very profitable company. Since the Centor take-over, we have significantly expanded our pharmaceutical primary packaging business. Centor is the market leader in the North American consumer market for plastic packaging and closures for prescription drugs. It supplies a nationwide network of wholesalers, pharmacy chains, and supermarkets.
Q: Gerresheimer has a medical plastic systems plant in Peachtree City, GA. What are your plans for that plant?
A: We've been manufacturing diverse medical plastic systems in Peachtree City for many years now, and we also have a development and engineering center there. This year, we'll be commencing production of a new asthma inhaler for the North American market in Peachtree City. We finished the preparations last year by building another new production building, installing state-of-the-art cleanroom technology, the first injection moulding machines, and precision moulds, commencing the validation process, as well as installing and testing the assembly lines. Commercial production of the new inhaler will start soon.
Q: Why is Gerresheimer so confident its customers will approve of all the investments?
A: We talk to our customers, and we listen to them! Our teams of experts visit customers or customers visit us on an almost daily basis. At the end of May, we're inviting all our customers to the Gerresheimer Pharma Days event in Chicago so that we can discuss new developments with them. On the second day of the event, we'll be taking them on a visit to our Chicago Heights plant. We're also in the process of implementing our large-scale global customer survey to obtain detailed information about how our customers believe we can make improvements. So we're committed to continuous improvement. Not just in the US, but at all of our 40 plants around the world.
To view this issue and all back issues online, please visit www.drug-dev.com.