EXECUTIVE INTERVIEW – EyePoint Pharmaceuticals, Inc.: Disrupting Treatment Paradigms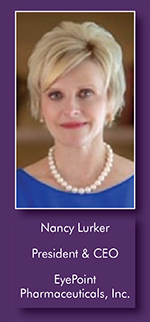 With a passion for science and armed with an undergraduate degree in biology, Nancy Lurker began a career in medicine. On a path to become a doctor, she quickly realized she preferred talking to them about how to best help patients, landing her in the 1980s in Big Pharma – when the industry was on the cusp of making some profound discoveries. After more than 20 years in Big Pharma, she decided to follow her entrepreneurial spirit and transition to a smaller company. In 2016, she became President and CEO of EyePoint Pharmaceuticals, Inc., her third CEO stint, where she says she has found reward in being able to address the challenges of ophthalmic drug delivery and the benefits better eye disease treatments can provide to patients with serious eye diseases.
This past December, EyePoint announced a royalty monetization agreement with SWK Holdings Corporation for royalties payable to EyePoint under its license agreement with Alimera Sciences, Inc. for ILUVIEN®. EyePoint received a one-time $16.5 million payment from SWK in exchange for the rights to future royalties payable to EyePoint; $1.5 million will be used to advance product pipeline programs. Also in December, Ocumension Therapeutics, a China-based ophthalmic pharmaceutical company made a $15.7 million equity investment in EyePoint. Then in February 2021, the company raised another $115 million through a follow-on equity raise.
 Drug Development & Delivery recently spoke with Lurker about how she is not only working to disrupt treatment paradigms in ophthalmic drug delivery, but also disrupting leadership paradigms as a female CEO of a company with 2020 total revenues of $34.4 million.

Q: What do you see as the most arduous pain point in ophthalmic drug delivery and how is EyePoint addressing that challenge?
A: People don't want to get eye injections every month or even every other month, which is the current treatment paradigm for a number of eye diseases including diabetic macular edema, wet age-related macular degeneration (wet AMD), diabetic retinopathy, and retinal vein inclusion.
All of these diseases usually are age related and are the result of dysfunction in blood flow to the eye. Our mission is to fix that. We have one drug that gets injected once every three years versus the current treatment maximum of every 3 months, and another treatment that is once per month. Other investigative treatments we're exploring would be administered once every 6 months. We believe we could go longer, but a lot of doctors want to see patients more frequently with these diseases.
Also, the eye is very small and very complex. Inserting a delivery system and making sure the drug gets to the right spot is tough. And keeping the delivery system in place is a challenge because the eye has a natural mechanism to get rid of foreign substances. Of course, there is also the challenge of ensuring that nothing going into the eye is toxic.
Q: Where have others failed in delivery development for ophthalmic drugs?
A: We believe in zero-order kinetics. This avoids the peaks and valleys of drug concentration in the eye that is common with other drug delivery platforms. One company has an implant that relies on microspheres dispersing and releasing the drug. But, that company ran into a problem when the spheres migrated to the front of the eye and patients experienced vision decline. So, the active pharmaceutical ingredient (API) worked, but the drug delivery device was breaking apart and clouding the vision. Another company using gene therapy had a patient lose their eyesight in the treated eye after 30 months. Many of the other technologies in development don't have zero-order release, meaning they release in a big burst and slowly taper down. The challenge with this method is that you get too much drug at first, and then it tapers, which may not be healthy for the eye, nor do you potentially get the best treatment outcomes. Needless to say, drug delivery to the eye is very difficult.
Q: Describe EyePoint's platform technologies.
A: Durasert® has a lot of promise. It is a miniaturized, injectable, sustained delivery system that enables local, stable, sustained delivery of a drug product in the eye over a period of weeks, months or years. We can tailor to whatever timeframe we want, depending on the drug. Some are more soluble and don't allow a sustained delivery over a period of years. We consult with physicians and patients to determine the timeframe based on their comfort levels. There are four FDA-approved products that are delivered via Durasert, and we have three more in development.
Approximately 70,000 patients have had Durasert inserted with the FD-approved products. When injected, the tiny 3mm long and 1mm wide device floats to the bottom of the vitreous and releases drug with zero-order kinetics, a consistent micro-dose delivered 24/7 over the lifespan of the implant.

Then we have the Verisome® platform technology, which offers customized, sustained, anterior delivery, from one week to several months. The platform is a biodegradable suspension liquid that forms an aqueous sphere after contact with water, such as in the eye. Verisome is suited for highly soluble compounds and shorter delivery times.
Q: What drugs are in the EyePoint pipeline that will be delivered with these platforms?
A: Already approved is YUTIQ® (fluocinolone acetonide intravitreal implant) for treating chronic non-infectious uveitis affecting the posterior segment of the eye. YUTIQ uses our Durasert technology. It is a 3mm long polymide tube into which the drug is extruded. The tube has a silicone flap on one end and is open on the other end so the API can be released at the rate we want over 3 years.
Another product in development using Durasert is EYP-1901. In December 2020, we filed the IND for EYP-1901, a potential twice-yearly sustained delivery, intravitreal anti-VEGF treatment for wet AMD. The first patient was dosed in January. EYP-1901 leverages a bioerodible formulation of the Durasert platform, which is coated with PVC and mixed with the API to get the right release rate that is controlled through diffusion. This is where zero-order kinetics is essential to achieving the optimal outcome.
Also FDA-approved is DEXYCU (dexamethasone intraocular suspension) for treating postoperative inflammation. We inject to the anterior of the eye after surgery using our Verisome technology. It will sit in place and slowly release steroid drug over 30 days. This bypasses patients having to use daily steroid eye drops and slowly taper the dosing over 30 days.
Q: Describe EyePoint's business model.
A: Our main focus is to develop drugs to bring to market, such as YUTIQ, which we developed, launched, and now manufacture ourselves. We also collaborate with Big Pharma and smaller companies that want to license our drug delivery technology. One reason people reach out to us is because it is so hard to deliver drugs to the eye. Not only does the active drug have to work, but then you layer on the delivery system, which also has to work and the risk of failure is doubled. Our partners like that four FDA-approved drugs use our Durasert delivery technology, it works, and it's safe. One of these drugs is YUTIQ, and the other three were out licensed. In these situations, we expect to get a royalty stream and milestone payments as we share in the revenues that are ultimately produced. As a matter of fact, prior to my arrival at EyePoint, everything was out licensed. The problem is you give away too much value when you do that. So, I stopped that and we now market these ourselves. We won't do 100% out licensing anymore.
Q: How are you disrupting the CEO Paradigm as a woman in STEM?
A: I am taking the lead on saying it's okay to show emotion and empathy for positive change. Women lead differently than men, and that's okay. I want to see more women and diversity on EyePoint's physician advisory boards, only when these physicians are tapped to be on advisory boards and participate in clinical trials will we get access to patients in those racial and gender groups. And, along those lines, I want to reach out to women to take the lead on clinical trial design. In pharma, and particularly in ophthalmology, the key opinion leaders are not typically very diverse. But things are getting better, and I am quite hopeful.
There is an effort in pharma to not blow this opportunity with how our reputation has improved with the pandemic. In an effort to maintain that reputation, I want to increase transparency at EyePoint. To that end, we will not significantly increase drug prices just for the sake of increasing them, we will make sure our CEO salary is not completely out of whack compared to that of the average company employee, and we will do everything we can to make sure patients get access to our drugs.
Q: Looking ahead, what is your ultimate goal for EyePoint?
A: Our goal is paradigm-changing drugs. We want to make sure what we do is changing the current paradigm on how eye diseases are treated. We do not want to be another "me too" or just add modest advancement. We want to go after serious eye diseases where patients and doctors continue to struggle to effectively treat these blinding diseases.