EXECUTIVE INTERVIEW – Enable Injections: Revolutionizing Treatment With a New Class of Devices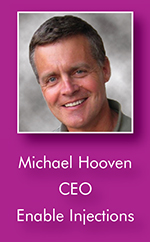 A large number of injectable biologic drugs – more than 900 – are currently in development with a market potential of $215 billion in the next 5 years, according to market analysts. Because many of these large molecule drugs are required in doses up to 20 times larger than today's injectables, they cannot easily be administered with legacy injection systems. Privately held Enable Injections is taking advantage of this rapidly growing development by introducing their line of a new class of devices to deliver these drugs subcutaneously, by patients, at home, with the potential to help revolutionize treatment of cancer, auto-immune deficiencies, blood disorders, and a range of other conditions. Drug Development & Delivery recently spoke with Michael Hooven, CEO of Enable Injections, to discuss his vision for the company and how Enable Injections intends to create market-leading biologics delivery devices that meet the most pressing needs of pharmaceutical companies while enabling easy patient self-administration for significant cost-savings.
 Q: To what extent has drug delivery become more of a challenge for the pharmaceutical and biotech industries?
A: By 2016, it is expected biologics will account for approximately 50% of the top 100 selling drugs. These biologics and biosimilars hold tremendous promise for advancing treatment of numerous cancers, immunologic disorders, cardiovascular and rare diseases, and other chronic disease categories – but only if new drug delivery devices are developed in conjunction with these large-dose, viscous drugs. The subcutaneous layer cannot absorb significantly more than 1 ml of drug using a conventional syringe injection. Yet, the majority of biologics are being formulated in volumes ranging up to 20 ml. Such large-volume dosage must be delivered over longer times and with greater force than patients can be expected to tolerate.
Consequently, finding the right balance between volume and viscosity is one of the biggest challenges facing the pharmaceutical and biotech companies developing biologic drugs.
To address these challenges, Enable Injections has developed a new class of drug delivery devices – the bolus injector, capable of delivering higher volumes and viscosities with minimal discomfort. Enable's Bolus Injector can deliver up to 20 ml subcutaneously at a customizable drug delivery rate and duration. It can deliver 1 ml of a drug as viscous as motor oil (100 cP) in just 1 minute. By comparison, water has a viscosity of 1 cP. Beyond the formulation issues and physics of taming injection forces, the pharmaceutical industry is challenged to reduce costs, and the new bolus injector may help in that regard. For example, the biologic drug Herceptin for the treatment of HER2-positive breast cancer currently must be infused intravenously by a healthcare professional, typically at a hospital. Healthcare costs could be significantly reduced, compliance increased, and patient convenience vastly improved if patients could safely and easily self-administer such drugs subcutaneously at home without the aid of a healthcare provider.
Q: Why did Enable Injections decide to change direction and create a bolus injector?
A: Enable Injections began as a painless injection company, licensing work, technology, and results of a number of clinical studies of a painless injection technology developed at Children's Hospital in Cincinnati. Enable gained a deep understanding of the sources and causes of injection pain and conducted extensive research to validate particular device features that would create the most comfortable injection experience for patients required to self-administer large-volume drugs. Although most of this work could be applied to any type of injection device, Enable saw a compelling need in both the healthcare system and the pharmaceutical industry for a better and more cost-effective way to deliver these large-volume/high-viscosity drugs. We also recognized that compliance is a major issue, and having done numerous Human Factor studies, we had a very good idea of what patients want and need in order to be more compliant. So Enable decided to focus this knowledge and technology on the development of a unique Bolus Injector system and the Enable Injector was born.
Q: How does the Enable Bolus Injector function and why is it unique?
A: The Enable Wearable Bolus Injector is a sophisticated autoinjector system that enables patients to subcutaneously self-administer, at home, the viscous or large-dose drugs already on the market or in development. It could also potentially be used as a patient home-injection for many of the drugs that are currently infused intravenously without the need for a healthcare provider. About the size of an Oreo cookie, the Enable device has been engineered to make self-injection as easy and comfortable for patients as possible. There are numerous features that make the Enable Bolus Injector unique and cost effective. First, the Enable Injector does not require any change to the primary container, ensuring drug stability. It utilizes a standard vial, cartridge or prefilled syringe, reducing development risk and time for pharmaceutical companies. For lyophilized drugs, we have a two-vial system that completely automates mixing, removing any patient variability from the mixing process. We use only standard intravenous-set materials in the drug delivery path, minimizing the time and risk of material compatibility testing. The Enable Injector has a proprietary S.E.T. (sequential elastomeric toroid) mechanical drive system that is optimized for wearable injectors – the force required to deliver the drug does not change with the volume, and the cannula size is the smallest available, typically 30 g to 33 g.
Further, the Enable system is unique in its ability to deliver volumes and viscosities significantly higher than cartridge/plunger-based systems. The S.E.T. system allows for volumes ranging from 1 ml to 20 ml in a very small-sized device with a low profile. Patients like the small size and the discrete profile. It eliminates the problems associated with adhering larger, heavier devices to the body that are the size of a deck of playing cards, which is the size currently under development by other device companies, or tethering the device to the body with the use of an infusion set and catheter.
For the most comfortable possible injection, the Enable Injector incorporates a 'Pause Feature' that allows the patient to pause the injection if they experience any pain or discomfort. They simply press the button and hold it until they are comfortable. When they release the button, the injection continues with reduced discomfort. Perhaps most unique is the elimination of the typical 30-minute or longer wait time to use the device. Once the refrigerated vial/cartridge is inserted into the Enable transfer package, warming takes place as the Enable injector is filled.
The Enable Injector is ready for use immediately after filling. The Enable Injector was also designed in parallel with multiple human factor studies to minimize patient errors and confusion and to be easy to operate. All a patient is required to do is to insert a standard drug vial into the transfer package, remove the filled injector from the package when prompted, adhere it to the skin, and push one button.
Finally, the Enable Injector was developed to be environmentally friendly. The system contains no electronics or batteries that must be removed for recycling, and the total volume of material and packing is less than what would be used in a standard IV system.
As an advance in injectable drug delivery devices, the Enable Injector may provide greater safety for patients and healthcare workers by eliminating the risk-fraught steps involved in using conventional syringes, including removing the syringe cap, drug preparation, inserting a needle, and covering and disposing of needles. The needle is never seen or exposed to the patient. The needle is inserted to start the injection by pushing the button. At the end of the injection, the needle is automatically retracted and locked out, allowing for safe and convenient disposal of the system.
Q: Why so much anticipation about bolus injectors?
A: The market for bolus injectors is expected to grow rapidly, to over $8 billion in the next 10 years. One of the greatest promises of bolus injectors and the reason they will likely be adopted by all the stakeholders in the industry is that they have the potential to lower healthcare costs substantially as patients will no longer need to visit a healthcare facility for drug administration. Increased patient compliance is also expected to generate cost savings while increasing patient satisfaction. By enabling convenient, safe, and easy at-home self-administration of large molecule or viscous drugs and many medications that today are delivered intravenously, bolus injectors may revolutionize treatment of chronic conditions.
Yet another reason for the excitement is that these devices offer a new lifecycle management tool for pharmaceutical companies, with potential for patent extension.
For patients, time-saving is another major benefit. For example, intravenous administration of Herceptin takes 30 to 90 minutes, compared to just 2 to 5 minutes for subcutaneous administration of the same dose with a bolus injector.
Q: Who should be considering investigational use of the Enable Bolus Injector now?
A: Pharmaceutical executives in business development, product management, and lifecycle management – formulation teams – Clinical Research Organizations – R&D teams – clinical researchers – biotechnology companies – pharmaceutical brand managers – payers.
Q: What are some of the top clinical indications for bolus injectors?
A: According to a Roots Analysis, cancer and related conditions are expected to be the most researched area for bolus injectors. Other prominent target diseases are likely to be autoimmune diseases, blood disorders, and genetic disorders. The list includes, but is not limited to: Rheumatoid Arthritis – Multiple Sclerosis – Hemophilia – Myasthenia gravis – Lupus – Vasculitis – Sickle cell anemia – Numerous cancers – Crohn's Disease, ulcerative colitis, and other digestive disorders – Duchenne muscular distrophy, Pompe disease, and other genetic diseases – Infectious diseases, such as HIV, ebola, and CMV diseases – Transplantation – Inflammatory diseases – Cardiovascular diseases – Respiratory diseases – Musculoskeletal disorders – Eye diseases – Skin diseases – Neurologic disorders.
Q: What is the status of bolus injectors today?
A: The Enable Injector, like every bolus injector in development, is currently only available for investigational use pending US FDA clearance and approval by worldwide regulatory bodies. The first Bolus Injector commercial launch (subsequent to FDA clearance) was expected in 2015, according to analyst reports.
Self-injectable devices are gradually replacing conventional needle delivery systems. These new devices offer convenience, improved quality of life for patients, ease of use, and a safer option for both patients and healthcare workers compared to legacy systems.