EXECUTIVE INTERVIEW – Avista Pharma Solutions: Experience, Responsiveness & Expanded Capacity Driving Growth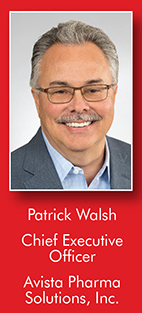 Avista Pharma Solutions, Inc. (Avista Pharma) is a new name, but it has a decade-long track record in the CDMO market via three strategic acquisitions and one of the most-experienced leadership teams in the industry. At the helm is CEO Patrick Walsh, whose pharma career spans 35 years, and who is a recognized entrepreneur in the pharmaceutical industry. His recent accomplishments include leading the resurgence of AAIPharma Services, which resulted in a strategic sale of the company in 2013, and he has served as a Board of Director and advisor to numerous leading healthcare and private equity organizations. In addition to his role at Avista Pharma, he is on the Board of Directors of Brammer Bio, a new cell and gene therapy CDMO that also has an aggressive growth strategy. Drug Development & Delivery recently spoke with Mr. Walsh about Avista Pharma's range of capabilities and what is driving growth for his company in this dynamic industry.
Q: Can you describe the current status of the contract services industry?
A: The industry is experiencing unprecedented growth and market expansion, but it is still highly fragmented in terms of the number of CDMOs in the industry with significant market share. In addition, pharma clients are seeking to consolidate vendors and concentrate their outsourcing spend on contract organizations with technical depth, responsiveness, significant expertise, and a breadth of service offerings. Avista Pharma was created with these specific attributes in mind, and our clients have stated that these are among the most important attributes for contract service providers in this dynamic and growing market.
Q: Where does Avista Pharma Solutions see its biggest impact being made in this dynamic environment?
A: Avista Pharma is a relatively new name to the industry, but it was formed by combining three businesses with strong technical and scientific leadership, as well as facilities offering significant expansion possibilities. Currently, there are few companies who have the technical depth, facility capabilities, and experienced leadership necessary to quickly advance early phase programs and respond to clients' concentrated timelines.
Q: Avista Pharma Solutions consists of several facilities across the United States. Can you describe your investments in these operations?
A: Avista Pharma is an organization with strong support from our private-equity partner, Ampersand Capital, which has allowed us to make significant investments in all of our locations across the United States. Avista Pharma encompasses over 200,000 sq ft of laboratory and manufacturing assets, with further expansion planned.
Our Massachusetts-based operation recently completed a major facility expansion and offers microbiology service offerings on par with any company in our competitive peer group. We also offer sample courier service around the North East biotech corridor and on-site expertise for environmental monitoring services.
The expansion of our North Carolina and Colorado operations reflects significant investments in expanding the scale and scope of our API manufacturing, formulation, analytical, and drug product manufacturing operations. We see the animal health market as another high growth area, with Avista Pharma already recognized as a preferred partner in this high growth sector. We currently do business with a majority of the global animal health companies in the industry.
Q: What do you believe are some of the biggest challenges in the contract services industry?
A: There are hundreds of contract service providers in our industry, yet few provide the consistent quality, technical depth, and responsiveness to deliver perfectly on every client project. In addition, many CDMOs do not possess the necessary level of technical depth beyond the senior leadership level, and project management is underserved and understaffed. There is a tremendous desire by pharmaceutical companies to consolidate external contract providers and to create meaningful alliances with a select number of CDMO partners who can cover the majority of their requirements. We view this industry trend as extremely favorable to Avista Pharma, and we have invested millions of dollars in IT, quality management systems, and the latest analytical equipment to meet these requirements.
Avista Pharma's scientific and technical expertise goes deep into the organization, allowing clients to feel comfortable with projects at any stage of development. This ensures a capable, trained project champion who oversees successful project outcomes.
Q: Are there particular services that distinguish Avista Pharma Solutions?
A: We like to take on difficult assignments, complex chemistry, and projects in which clients and clinical programs are counting on a successful outcome. Avista Pharma also distinguishes itself by providing chemistry, formulation development, API, and first-in-human clinical manufacturing from a single site at our Colorado facility. In addition, our Durham site is recognized around the globe for helping companies in the animal health market screen compounds and make informed product development decisions with our novel screening platforms.
Q: What are the next steps for Avista Pharma Solutions?
A: We see alignment of our service offerings with our clients' challenging projects, and our business will continue to be rewarded for delivering projects on time every time. Avista Pharma will continue to explore additional acquisitions that add new capabilities to our pharma or animal health core platform of services.
In 2017, we anticipate completion of a major facility expansion of our Longmont, CO, CMC Center of Excellence. We have invested in three new 50-gallon API reactors, four new drug product manufacturing suites (offering capsule, tablet, and formulated capsule manufacturing options), and material characterization as well as formulation, analytical, and stability capabilities.
Our 92,000-sq ft Durham facility recently expanded capabilities in extractables/leachables, impurity ID, fate and purge, drug product analytical testing, stability storage, and API manufacturing.
We expect the next few years to bring unprecedented growth in our industry and Avista Pharma to continue to be a key partner in the growth of our clients' clinical and commercial product portfolios.
To view this issue and all back issues online, please visit www.drug-dev.com.