CONTRACT MANUFACTURING – Delivering Market Success & ROI to Pharmaceutical Partners
INTRODUCTION
The emergence of biologic drugs and patient-friendly delivery methods, such as prefilled syringes and autoinjectors, are necessitating early, close collaboration between drug delivery system manufacturers and their pharmaceutical and biopharmaceutical partners. These new therapies require innovative packaging material to avoid adverse chemical interactions and to accommodate higher volumes. Biologics have also created an increased need for innovative systems that can deliver larger dosages over longer periods, and with increased self-dosage, these systems must be intuitive and easy to use.
The need for innovative delivery platforms will only expand, as the demand for biologic therapies is expected to grow throughout the next decade. According to research by Future Marketing Insights, biologics represent about "10% to 15% of revenue from overall revenue generated by leading pharmaceutical companies." The study also found that the biologics contract manufacturing market should double in 5 years.
In addition to the growth of biologics, the market will also see a marked uptick in the introduction of biosimilars. In 2015, the FDA approved Sandoz's Zarxio®, the first biosimilar approved in the US. Since that time, three other biosimilars have been given the FDA's blessing: Celltrion®, Pfizer's Inflectra®, Sandoz's Erelzi®, and Amgen's Amjevita®. At least 10 more biologics are expected to come off patent within the next 5 years, and according to IMS health, 28% of generics spending will be on biosimilars by 2020, further bolstering the assertion that biosimilars represent a new wave of generic market expansion. As biosimilars assume a more significant market share, the need for innovative delivery platforms will continue to grow. As such, the pharmaceutical companies are relying on drug delivery technology partners to provide containment, delivery, and contract manufacturing expertise so that they can focus on developing these important drugs.
To that end, more than ever, contract manufacturing must deliver continuous innovation and flexibility to accommodate the delivery of a wide range of drugs throughout each therapy's lifecycle. Such partners, either through the development of proprietary technology or adapting existing platforms and offerings, should deliver innovative products and institute processes that offer pharmaceutical companies the opportunity to deliver a safe, effective, and easy-to-administer therapy to market.
DEVELOPING COMPLEX, POPULAR DELIVERY SYSTEMS
Technology is a ubiquitous part of our culture, and delivery platforms are following this trend. This is especially true for self-administration devices that can incorporate electronics to deliver doses at specific intervals and connectivity that allows the patient to track adherence via smart phone apps. Far removed from a vial and syringe in a doctor's office, today's drug delivery platforms are complex pieces of technology that require contract manufacturers to develop innovative platforms used by the patients themselves.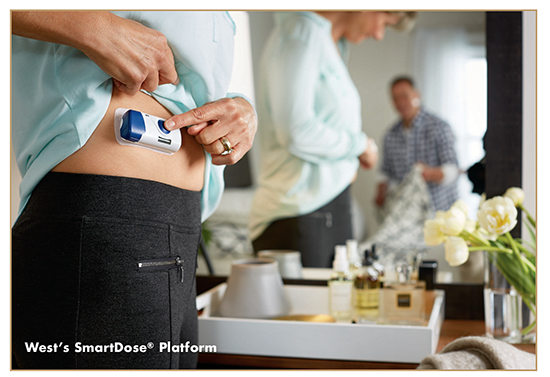 However, this shift has created an interesting challenge. While self-administration technology grows more complex, it must easily integrate into a patient's life. Irrespective of delivery features, contract manufacturers must ensure a number of qualities are present to bring value to their pharmaceutical partners. Key to this mission is creating technology that patients want to use by providing drug delivery platforms that are:
Discreet: Some patients do not want the undue attention related to self-administration. Wearable systems, for example, greatly minimize that concern.
Less Painful: Many drug delivery partners are developing self-administration platforms that minimize discomfort.
Easy to Use: Regardless of how innovative a delivery system is, it must be simple enough for anyone to use successfully. Arthritis patients, for example, patients with dexterity issues or vision impairment may find they have difficulty administering their treatment. Through rounds of patient testing, manufacturers can ensure the platform is user-friendly.
When devices are intuitive and efficient, they reduce the impact on patients' daily lives, increasing the potential for optimum adherence, which in turn, delivers the kind of platform pharmaceutical partners need to market their drug.
IMPROVING SCALE-UP PROCESSES
With the continued introduction of biologic therapies, forward-thinking contract manufacturing organizations are refining their process scale-up practices to serve pharmaceutical partners with diverse therapeutic portfolios. Whether developing a proprietary delivery platform for a new drug or customizing an existing technology, scale-up innovation is serving pharmaceutical partners in the following number of ways.
Verifying & Assessing Readiness
Thorough human factors analysis will uncover challenges that may not be obvious during the design verification stage. For example, patients with dexterity issues or vision impairment may find they have difficulty administering their treatments. It is also critical to take whatever learnings arise from human factors analysis and apply them to the delivery platform improvements.
Understanding Regulatory Requirements
For a combination product to go to market, it must meet a number of regulatory approvals, especially if launched globally. Many new delivery platforms include electronics, which requires meeting standards outside of the pharma industry. Additionally, new regulations are consistently being written for new products, often after development is well under way, so it is important for drug delivery manufacturers to have a working relationship with regulators to keep on top of changes and adjust process scale-up accordingly.
Identifying Scale-Up Capabilities
If a pharmaceutical company has what they believe to be a blockbuster drug, they will want to understand their delivery product partner's supply chain from top to bottom, to make sure that operations can keep up with capacity and avoid any security of supply risk. Their contract manufacturing partner should help identify any areas that may be of concern to the drug company and point out any areas that may impede accurate volume of production.
Auditing Install Capacity
It is critical to thoroughly assess every aspect of on-site assets to ensure scale-up demand can be met. Investments into inspection — and possibly making improvements to — tooling, equipment, facilities, and clean rooms is necessary. At the same time, costs should be scrutinized to avoid wasting capital on assets that are not necessary. And once the product is launched, another audit should be conducted to determine the readiness for lifecycle management changes to the combination product. By fine-tuning scale-up abilities, drug delivery technology providers position themselves to accommodate the wide-ranging needs of pharmaceutical companies in the short-term and create a long-lasting partnership in the long-term.
REFINING PRODUCTION MONITORING METHODS
Pharmaceutical companies expect their contract manufacturing providers to deliver the highest quality components and devices that not only meet global regulatory, market, and patient requirements, but go beyond that to make them true market differentiators. As a result, many contract manufacturing organizations are moving away from systems that only allow for the detection of gross anomalies in the manufacturing process. These outdated methods offer little insight into subtle changes that can affect product integrity.
Instead, there is an increased dedication to monitoring systems that collect vast amounts of data to guide output methodology and, ultimately, improve the quality of products. Essential to this initiative is continuous monitoring of machines to measure manufacturing successes and failures. Once data is collected, contract manufacturers can establish a roadmap for successful implementation. Additionally, this data is often used to guide training, infrastructure, project management, and capital needs.
Implementing and selecting a common system allows contract manufacturers to integrate the output into one common repository for data collection and viewing, and offer insight into a greater variety of process variables at a significantly higher resolution. The goals of these processes often include the following:
– Identifying defects immediately and segregating automatically in real time
– Reducing manufacturing scrap
– Reducing product variation
– Identifying sources of variation
– Standardizing the approach to process control across multiple plants
– Improving up time for post injection molding assembly activities
– Improving outgoing quality and on time delivery
– Increasing customer satisfaction
BUILDING IN QUALITY FROM THE START
Patient safety is at the forefront of consideration in the pharmaceutical industry, with the FDA requiring drug makers to develop and institute quality processes in manufacturing. As a result, expectations for quality from end-users is exceptionally high. Contract manufacturers share in this responsibility to make sure the drug delivery platforms they produce meet the highest possible standards.
Drug delivery technology partners continue to implement and refine Quality by Design (QbD) processes. QbD helps ensure a high-quality, data-driven product that has been developed to achieve highest patient safety and lowest risk for the pharmaceutical manufacturer. QbD principles require a significant up-front investment, which can understandably lead some in the industry to initially shy away. That said, the investment delivers an improved, data-driven output that provides manufacturers with superior product. QbD initiatives also lead to a process that allows stakeholders to better understand risk and strategies to minimize it.
The information generated to determine the Critical Quality Attributes (CQAs) and Critical Process Parameters will help to:
– Develop a meaningful control strategy
– Ensure product quality throughout the product lifecycle
– Increase product and process knowledge to support decisions
– Increase transparency and understanding for regulators and industry
– Enhance information needed for identifying and evaluating potential changes
– Monitor and track critical data for continuous improvement
By implementing QbD methodology into contract manufacturing, drug delivery partners better serve their pharmaceutical partners by reducing potential safety risks and facilitating a faster path to market.
DRIVING INNOVATION & ROI
As we have seen across all industries, new technology can become obsolete quickly. Pharmaceutical companies are relying on contract manufacturers to remain continuously innovative and design delivery platforms that address the swift adoption of new technology. This is achieved by working with pharmaceutical partners to create a new delivery platform or adapting existing platforms to address new technological advances.
Wearable drug delivery technology is a good example of how drug delivery technology providers continue to stay ahead of the curve. When originally introduced, this platform combined the drug with the delivery system to automatically deliver the therapy. It significantly reduced mistakes by ensuring patients received an accurate dosage at the time they needed it. But how could it be improved? By making wearable drug delivery platforms compatible with smart phone applications, the technology became even more powerful. Now, patients can easily track dosage history, which can be analyzed and shared with physicians, who can better understand where patients are in their journey to offer the most complete care.
To that end, contract manufacturing rosters now include scientists, software developers, and engineers to make sure the platforms are in sync with the latest technological advances. Many drug delivery platforms will be connected to the Internet of Things (IoT), and companies and their packaging partners are leading the way to bring meaningful features to the patients they serve.
It's critical that the innovative efforts result in ROI for pharmaceutical partners, as they have to show patients, insurance companies, and healthcare professionals that their drug is not only effective, but provides value. More and more, drug companies, which have less time and resources to take contract manufacturing in-house, are relying on delivery technology partners to be a market differentiator. By developing a system that promotes accurate dosage and potentially greater adherence, greater potential exists for reduction in long-term healthcare spending for everyone involved.
SUMMARY
As biologic and biosimilar drugs continue to grow in popularity — and as more come to market — collaborating with a contract manufacturing partner with a deep bench of expertise across containment, delivery, and manufacturing can provide multiple benefits to the pharmaceutical industry. While showing great promise for patients, advanced therapies are complex and nuanced, and the trend toward self-administration makes it all the more challenging. With a trusted partnership, pharmaceutical companies can focus on developing and introducing needed innovative therapies to market quickly and efficiently.
To view this issue and all back issues online, please visit www.drug-dev.com.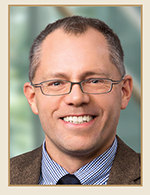 Mike Schaefers is Vice President, Global Product Management & Marketing Operations at West, where is responsible for building and executing the enterprise-wide, product portfolio strategy. He previously served as Vice President, Global Marketing for West's Pharmaceutical Packaging System Division. He joined West in 2000 as Director of the Technical Customer Service Group for the European and Asia Pacific markets, before becoming the Vice President, Marketing, Europe with responsibilities for Marketing and Technical Support of the region. Prior to joining West, he spent several years with the drug delivery company R.P. Scherer GmbH & Co. KG in Eberbach, Germany, in sales and marketing roles. Dr. Schaefers earned his PhD in Chemistry from Ruhr University in Bochum, Germany. He also earned a diploma in Business Management from IHK in Essen, Germany, and is a frequent speaker and organizer of conferences.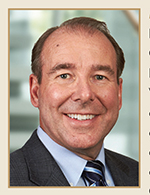 Mike Treadaway is Vice President & General Manager, Contract Manufacturing at West. He joined The Tech Group, a West company, in April 1997 and brings over 25 years of experience in injection molding and contract assembly to the company. He has led the Consumer Products Division, the Latin America Custom Molding operation, and has had responsibility for all of The Tech Group's manufacturing operations in North America and Mexico. During his 25 years in the plastics industry, he has held positions in sales, engineering, and operations. Prior to joining The Tech Group, he served as Vice President and General Manager of Puget Plastics Corporation in Portland. In 2010, Mr. Treadaway was appointed Vice President & General Manager, Healthcare Contract Manufacturing, North America, in the Pharmaceutical Delivery Systems organization. Mr. Treadaway has a Black Belt certification in Six Sigma, and earned his BS in Mechanical Engineering from Oregon State University.