ADVANCED DELIVERY DEVICES – Sophisticated Connected Wearables: Boosting Biologics' Compliance, Value & Patient Satisfaction
In 2015, sales of AbbVie's biologic treatment for rheumatoid arthritis and related autoimmune diseases, Humira, topped $14 billion. Another 39 biologics also reached blockbuster status, exceeding $1 billion in sales according to Morningstar. Nine of these biologics brought in $5 billion in global sales.
Given the potential — both therapeutic and financial — it comes as no surprise that some 900+ biologics are currently progressing through pharmaceutical companies' R&D pipelines. This year, these large molecule, protein-based therapeutics continue to be the main drivers of industry growth and are predicted to reach $445 billion in sales by 2019, up from $289 billion from 2014.1
However, biologic drugs consist of mega-molecules that are hundreds of times the size of conventional small molecule drugs. They are frequently composed of a heterogeneous mixture of more than 1,300 weighty amino acids. That creates three main challenges for pharmaceutical companies seeking to develop the next blockbuster biologic:
1. They are hard to make2
2. They are hard to take
3. They can be expensive
Despite these difficulties, targeted as they are to particular genes or proteins, biologics are compelling for treating diseases due to their higher specificity and fewer side effects.3,4
Biologics on the market and in development are also broad ranging, suitable for treating a large number of disparate diseases. Currently, cancers and related conditions are the most researched area for biologics, according to analysts. Other prominent target diseases are autoimmune diseases, blood disorders, and genetic disorders. The list includes, but is not limited to:
-Numerous cancers
-Rheumatoid arthritis
-Multiple sclerosis
-Hemophilia
-Myasthenia gravis
-Lupus
-Vasculitis
-Sickle cell anemia
-Crohn's disease, ulcerative colitis, and other digestive disorders
-Duchenne muscular dystrophy, Pompe disease and other genetic diseases
-Infectious diseases, such as HIV, Ebola, and CMV diseases
-Transplantation
-Inflammatory diseases
-Cardiovascular diseases
-Respiratory diseases
-Musculoskeletal disorders
-Eye diseases
-Skin diseases
-Neurologic disorders
Clearly, opportunity abounds. To take advantage of it, the most proactive biopharma companies are turning to new drug delivery technology that may help dissipate top challenges and at the same time, create demand for their products and improve compliance. Yes, new drug delivery technology can help tackle development, delivery, and cost challenges.
WHY PHARMAS ARE EXPLORING THE NEW DELIVERY OPTION
Why change the way pharmas create and administer drugs now? Because pressures have increased and because ultimately it's likely to pay off. Despite optimism that molecules in R&D could potentially turn to biologics gold, pharmaceutical executives are under tremendous pressure. They must reduce costs. They need to increase efficiency. Margins are eroding, and now they also have to prove the value of their expensive biologic drugs as the healthcare system moves inexorably toward value-based care.
These rapid changes are testing long-held industry beliefs. As a result, forward-thinking pharmaceutical companies are responding by employing entirely new operational models and adopting new tools that can better position them to succeed in the rapidly emerging outcomes-based environment.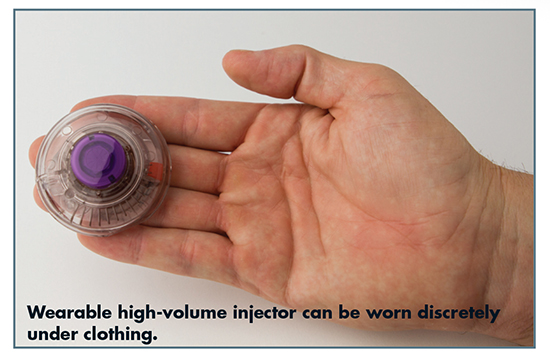 These changes in the way pharmas do business are imperative – but promising. Data show that the most innovative pharma companies prosper most. Top innovators saw 25% of revenues coming from new products or services versus 14% for less-innovative pharmas. And the majority of pharma executives surveyed said innovation is a competitive necessity.5
So in addition to various IT infrastructure and R&D informatics upgrades, pharmaceutical companies are turning to patient-focused technology. For example, they are exploring combining their biologic drugs with the newly available, more advanced wearable high-volume drug delivery devices. In conjunction with creating new treatments, they are simultaneously reaching out to similarly innovative drug delivery partners to assure that once the new drugs reach the market, their value proposition is realized and patients take them, a requisite for improved outcomes.
As a result, partnerships with companies developing new connected wearable large-volume injectors are rapidly proliferating, and more biologic-device combos are expected to gain regulatory approval soon.
Companies with biologics already on the market are also looking at new drug delivery technology as they plan their patent extension strategies. Eleven established biologic products – representing 48% of total biologic sales – are slated to lose patent protection by 2022.1
WEARABLE LARGE-VOLUME INJECTORS REDUCE FORMULATION TIME & EFFORT
Scientists developing biotherapeutics spend enormous time and effort on formulation – sometimes years. This amount of time and effort can be significantly reduced with use of the newest biologics delivery technology, the on-body delivery systems now available for clinical studies and commercial use.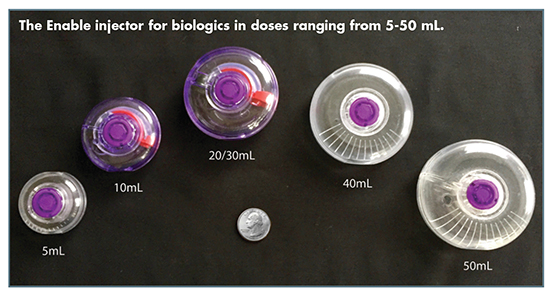 These wearable large-volume injectors bring to market a novel product development aid that reduces formulation time and effort by enabling a simpler method of product preparation. Formulation teams can take advantage of the innovative delivery technology to speed development of stable, bioavailable, clinically relevant formulations. Formulation teams can also facilitate patient self-injection of biologics by adopting drug delivery technology that aids in:
-Delivering more volume of product
-Delivering much higher viscosities caused by higher concentration of proteins
-Resolving biologics' greater propensity to precipitate out of solution
The time and effort savings are accomplished with automated lyophilization, which accelerates or eliminate tedious, time-consuming formulation functions for more rapid – and less costly – product development. In addition, the requirement for formulation teams to concentrate the product in the smallest possible dose for delivery by an auto-injector (typically < 1 ml) may no longer be relevant. The latest generation of injectors has the ability to provide a comfortable injection experience for higher volume product delivery. Patient acceptance of new higher volume on-body delivery systems should be high because the devices support mobility, are easy to use, and minimize any injection discomfort.
PATIENT-FOCUSED TECHNOLOGY: REMOVING COMPLEXITY
The medical literature leaves little doubt that taking medication as prescribed and for the recommended time period is problematic for many patients and can significantly impact healthcare outcomes and cost of care. A World Health Organization (WHO) report cites non-adherence as a leading cause of preventable morbidity, mortality, and cost.6 Yet, compliance among chronic disease patients averages just 50%. The WHO report cites complexity among the major causes of failure to comply with prescribed medication.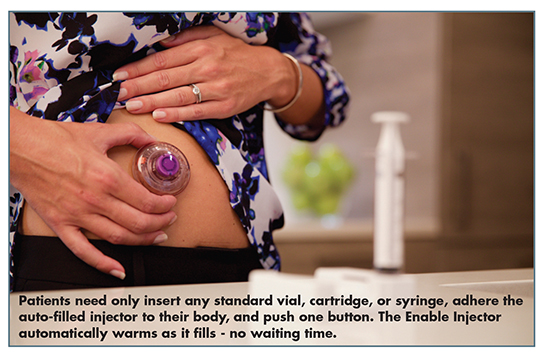 Reducing this complexity and its associated cost is another major challenge facing the pharmaceutical and biotech companies developing the biologics, monoclonal antibodies, and immunoglobulins that are revolutionizing treatment of cancers and chronic diseases.
The most advanced wearable large-volume injectors, such as the Enable Injector, are designed to eliminate complexity entirely so that the promise of new and existing products is realized, potentially helping create tomorrow's blockbusters. Patient confusion and errors are minimized by requiring only a few simple steps:
– INSERT a standard drug vial/syringe/cartridge into the transfer system, which automatically warms any refrigerated product in the 30-40 seconds it takes to fill the on-body delivery system
– PLACE the injector on skin
– PULL the safety tab
– PRESS one button
A large pharmaceutical company's patient panels testing a range of injectors strongly favored the Enable Injector, citing its small size, ease of use, convenience, and "cool" shape among the reasons for their choice. The findings are replicated in a small clinical trial with a different cohort.
FOR PATIENTS, BIOLOGICS ARE NOW EASY TO TAKE
On-body delivery systems will also change the way patients think about injections. Subcutaneous injection remains the preferred method of delivering injectable drugs, including biologics. Yet, historically injectable drug administration has been particularly problematic, in large part because most patients dislike injections, especially those that are self-administered. Injecting biologics would be even more difficult for patients due to the large biologics doses required and their viscosity. Legacy systems, such as syringes and earlier large-volume injectors, could not handle anywhere near the large doses of up to 50 mL or their viscous formulations.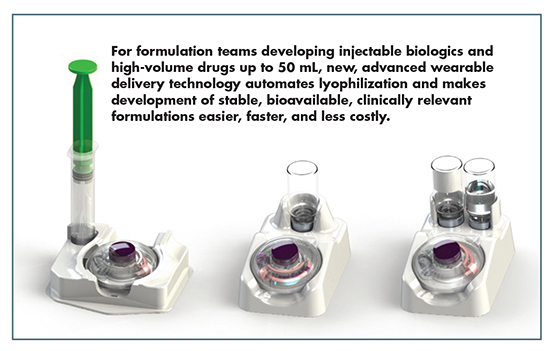 But now, such large doses are possible for patients to self-inject easily and comfortably. Today's wearable high-volume injectors offer safety, ease of use, and injection comfort – vital attributes if uncomplicated self-injection of biologics is to gain traction. And now the injector technology is connected and can monitor compliance, potentially a major step in improving treatment outcomes.
Fulfilling the vision of self-injection that is safe, easy, comfortable, and convenient for patients, yet cost effective for the pharmaceutical industry and payers, today's most sophisticated drug delivery devices are distinguished by the following:
– Use standard vials, syringes, or cartridges so no change to the primary container is required. This eliminates additional time-consuming and expensive stability studies.
– Automatically warm the drug as the injector fills, reducing the typical 30-minute or longer wait time to use a refrigerated drug to seconds.
– For lyophilized drugs, completely automate mixing and reconstitution, removing any patient variability from the mixing process.
– Use only standard intravenous-set materials in the drug delivery path, minimizing short-term material-drug compatibility issues.
– Use a small needle size to optimize injection comfort.
– Very small in size with a low profile that can discretely be worn on the body, eliminating the problems and inconvenience associated with carrying larger, heavier devices while ambulating.
– Environmentally friendly – no electronics or batteries to remove or recycle.
– Total volume of materials and packing less than that for a standard IV set.
– Enable subcutaneous injection up to 50 mL.
– Customizable drug delivery rate, duration, volume, and needle size for creation of a much improved patient injection experience
– Apps-based connectivity
Will these factors boost compliance? Overall drug regimen compliance has historically been low, and any improvement would benefit both patients and drug makers. It remains to be seen whether using new injectors, patients with chronic conditions prescribed injectable biologics are more likely to keep taking their medications for potentially improved outcomes and far less drug wastage. Connectivity can be helpful in that assessment.
It looks promising. Among the key attractions of the newest on-body delivery systems: with never a needle in sight, patients like using them, removing the many barriers to compliance that have vexed the industry for decades.
WEARABLE LARGE-VOLUME INJECTORS CAN REDUCE COSTS SIGNIFICANTLY
For payers, patients, and prescribers, one problem with biologics is their cost, especially as they are often used to treat chronic conditions, such as rheumatoid arthritis. Whereas a small molecule drug costs on average $1.00 per day, with a generic drug costing just cents, a biologic drug costs on average $22 per day.7
In addition to the cost of the drugs themselves, delivery location can add substantially to the price tag. Almost all biologics currently require delivery via infusion or injection, traditionally in a hospital setting, administered by a healthcare provider. The added costs of drug delivery in a health facility can be astronomical. A New York Times article, Even Small Medical Advances Can Mean Big Jumps in Bills, cited a $133,000 charge for a single infusion for psoriatic arthritis at a hospital outpatient clinic – of which the insurer paid $99,593.
The new technology offers a new, lower cost delivery option: uncomplicated, comfortable self-administration of biologics by patients in the comfort of their home, office, or in transit with the added bonus of giving patients the ability to move freely during treatment. It also could eliminate the inconvenience and costs incurred by patients. For example, a breast cancer patient prescribed Herceptin has to travel to a health facility for a 30- to 90-minute IV infusion. Using a wearable large-volume injector, the same dose can easily and comfortably be self-administered by the patient at home, work, or on the go in just a few minutes.
As a result, wearable high-volume injectors have the ability to move drug delivery from healthcare facilities into the home or workplace and from health provider-mediated injection to patient self-administration. This could significantly reduce overall health system costs and for patients or caregivers, the benefit of no longer needing to travel for treatment, even if only as an option for inclement weather or other inability to travel, is enormous in promoting compliance.
SUMMARY
The new, most advanced wearable large-volume injectors available now for clinical trials and commercial application are designed to address the challenges of formulating biologics, delivery complexity, patient compliance, and cost. For patients, they promise a more convenient, comfortable, and less stressful way of delivering large-volume medications that treat serious medical conditions and rare diseases.
It is widely anticipated that the most sophisticated new wearable injectors, those designed on the basis of multiple human factors studies and preferred by patient panels, will perform these functions:
– Ease injectable drug administration significantly
– Deliver high-volume and/or viscous drugs subcutaneously
– Lower cost of drug development by reducing development times
– Increase patient compliance
– Monitor compliance
– Enable patients to inject easily at home, at work, or on the go
– Replace some infusions (particularly those administered in a hospital setting), significantly reducing the high costs of provider-mediated drug delivery
– Reduce or eliminate needlestick injuries by removing needles from sigh
– As with fitness wearables, employ connectivity to provide data
One of the greatest promises of on-body delivery systems uptake, and the reason they will be rapidly and widely adopted, is that by creating value on several fronts, they have the potential to help lower healthcare costs substantially as patients no longer need to visit a healthcare facility for large-volume drug administration.
REFERENCES
1. 2016 Global Life Sciences Outlook. Deloitte.
2. Going Large. The Economist, January 3, 2015.
3. Espiritu MJ, Collier AC, Bingham, JP. A 21st-century approach to age-old problems: the ascension of biologics in clinical therapeutics. Drug Discovery Today. 2014;19(8):1109-1113.
4. Cai W, Wang Y, Xia R, Gao F. Closing the gap between preclinical biologic development and clinical application in rheumatoid arthritis. West Indian Med J. 2015;64(3):312-313.
5. Managing Innovation in Pharma. Price Waterhouse Cooper (PWC);2013.
6. The World Health Report – Shaping the Future;2003.
7. Generics and Biosimilars Initiative. Opportunities for biosimilar development: Pro Pharma Communications International; 2012.
To view this issue and all back issues online, please visit www.drug-dev.com.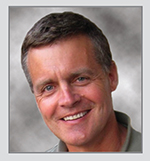 Michael D. Hooven is President and CEO, Enable Injections, LLC. He has over 30 years of experience in the medical device industry in a broad variety of business, technical, and clinical areas. He is the Founder of five medical device companies and holds over 100 issued and pending US patents. Mr. Hooven is the Founder and a Director of AtriCure, Inc. (NASDAQ:ATRC), where he previously held positions as the Chairman and CEO. He is also Founder and Chairman of Enable Medical, a surgical device manufacturer that was acquired by AtriCure in August of 2005. Prior to Enable Medical, he was Director of Product Development at Ethicon Endo-Surgery from 1988 to 1994, where he had responsibility for all in-house product development and supervised a staff of 200 engineers. He held Engineering positions in pacemaker and lead development at Siemens/Pacesetter from 1986 to 1988 and at Cordis Corporation in neurosurgical products from 1981 to 1986. In addition, he is Director and past Chairman of BioOhio, a state-funded organization to accelerate life-science startups in Ohio. He earned his BSc in Physics and a MSME in Mechanical Engineering from the University of Michigan.