WEARABLE PLATFORM – Next-Generation Wearable Drug Delivery: Prefilled Devices Provide a Truly Patient-Centric Solution
A SHIFTING HEALTH LANDSCAPE
Recent technological and biotech developments are chang­ing how we take medications, as well as the types of drugs we take. This has been particularly noticeable with the increasing in­troduction of new biologic and biosimilar medications, designed to better manage chronic and high-burden diseases. Composed of larger volumes and higher viscosities than small-molecule in­jectable drugs, these new medications require alternative meth­ods of delivery.
Concurrently, the continued move toward value-based care is placing increasing emphasis on the patient experience, while mounting healthcare costs are encouraging pharmaceutical com­panies to develop solutions that better address the needs of both patients and healthcare providers. Meanwhile, the general trend toward home care and self-administration as a more effective way for patients living with chronic dis­eases to manage their conditions has highlighted the need for patient-centric so­lutions to encourage adherence to treat­ment routines.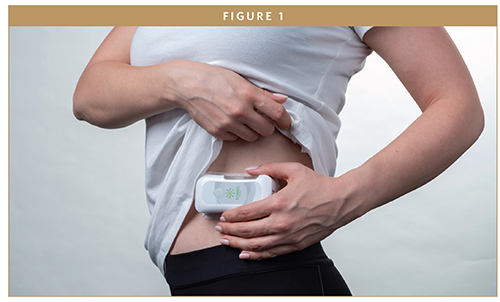 Finally, the ongoing COVID-19 pan­demic – which has led to many routine treatments being postponed, particularly for immunocompromised patients – has highlighted the need for patient-centric so­lutions that enable patients to self-admin­ister medication safely and efficiently at home. In many ways, COVID-19 has served as a catalyst for innovation in healthcare, accelerating the introduction of new technologies that will long outlive the pandemic.

THE MARKET AT A GLANCE
The wearable injectors market is ex­pected to increase at a compound annual growth rate of over 25% over the next decade, with a number of key factors driv­ing this growth, including the following:
An increase of chronic diseases – ap­proximately 50% of all adults in the US are currently living with long-term clinical conditions, placing higher burdens on health systems and providers.
The rising costs of healthcare – and growing recognition of how home care and patient self-administration can re­sult in significant savings by reducing the number of hospital admissions and improving patient recovery times.
The need to improve medication ad­herence – and how intuitive and easy to use home-based administration de­vices, with connectivity features that en­able real-time patient engagement, can improve therapy adherence and treatment outcomes.
The changes that these driving factors bring to the healthcare market set Sorrel on the path to develop a true solution for wearable drug delivery devices.

ADDRESSING THE MARKET'S NEEDS
Sorrel is a medical device product line owned by Eitan Medical. Based in Israel, the epicenter of healthcare innovation, Eitan Medical's track record includes the development and commercialization of the Sapphire infusion system, an infusion pump platform poised for both the hospi­tal and homecare markets, distributed in over 25 countries.
While researching the wearable drug delivery market, Eitan Medical – Sorrel found the broad experience and multidis­ciplinary expertise accumulated across its R&D, regulatory, quality, and manufactur­ing teams to be an excellent fit to address the particular needs and challenges of the wearable drug delivery market.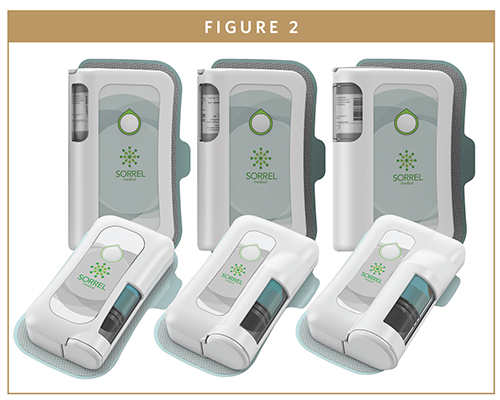 Reliable, Controlled & Accurate Delivery
Eitan Medical – Sorrel recognized that the first challenge to overcome would be the development of a reliable, controlled, and accurate delivery system. Due to the vast range of injectable medications al­ready available – some requiring a con­trolled, variable, and accurate dosing regimen, while others rely on a fast bolus injection – it was imperative for Eitan Med­ical – Sorrel to ensure its technology could accommodate the wide array of current and emerging medications.
To that end, an electromechanical pumping mechanism was designed that allows a wide range of flow rates and ±5% accuracy, giving the platform inher­ent accuracy and the crucial adaptability required for medications requiring lower rates and accurate deliveries, as well as those requiring bolus injections. By select­ing only established and trustworthy com­ponents for its pumping mechanism, Eitan Medical – Sorrel was able to secure the re­liability that it targeted.
Primary Container Agnostic for a True Platform Solution
A variety of parameters affect the choice of volume, material, and manufac­turer of a primary container for a specific medication, which is generally the choice of the pharmaceutical company. Formula­tion, chemical interactions, business part­nerships, and cost are all part of the equation when it comes to selecting a con­tainer closure system.
Eitan Medical – Sorrel's goal was to allow pharmaceutical partners the free­dom to utilize a variety of drug reservoirs, whether vials or cartridges, with a technol­ogy specifically designed with the flexibility to allow its partners to incorporate the pri­mary container of their choice. Being able to accommodate a wide range of volumes, ranging from 1 mL to 25 mL, the device platform can be easily customized to fit multiple products in a pharma company's pipeline.

This required decoupling the pump­ing mechanism from the primary container to provide the necessary flexibility. The platform can therefore be customized to suit the different dimensions of any pri­mary container, with only minor design changes.
HARNESSING TECHNOLOGY FOR PATIENT CENTRICITY
It is imperative to create the best pos­sible user experience for self-administering patients. A simple user interface allows for a positive experience that lowers the oc­currence of use errors and promotes greater adherence to treatment. Eitan Medical – Sorrel therefore designed a de­vice platform that is intuitive and easy to use, requiring as few steps as possible from the patient. As a combination prod­uct, patients can receive the drug-device system as a single unit, prefilled and pre-loaded with medication. The user only needs to remove the device from its pack­aging, peel the adhesive liner, adhere to the body, and initiate treatment.
UV-LED for Disinfection at Point-of-Care
A fundamental challenge in the devel­opment of prefilled and pre-loaded de­vices involves the process of integrating the primary container (filled via an aseptic drug filling process) and the drug delivery device (assembled and then sterilized) in a way that guarantees a disinfected fluid path from medication to patient. The re­quirements for addressing such a chal­lenge would be to ensure a cost-effective solution without the need for user interven­tion, all while causing minimal disruption to established pharma processes. Current standard practice of manually swabbing the primary container septum with ethanol prior to loading it into the device does not allow for the desired pre-loaded and easy-to-use wearable solution. Meanwhile, cre­ating a microorganism-free fluid path for a pre-loaded solution can require making significant changes to established pharma processes to accommodate proprietary primary containers that contain the entire fluid path, or the loading of a primary container into the device under aseptic conditions.
Seeking a solution that allows pre­filled primary containers to be assembled into devices either at the pharma com­pany, a contract manufacturer, or in Eitan Medical – Sorrel's own facilities, led to the development of a UV-C LED technology for disinfection at point-of-care, enabling a prefilled and pre-loaded device config­uration through the use of standard con­tainers without interference to existing drug filling lines. This method results in auto­matic, verified, and controlled local disin­fection at the point-of-care. As with all components within the system, the UV LED is widely available, time- and scale-tested, and cost-effective for a disposable device. This enables Eitan Medical – Sorrel to de­liver optimized product configurations for the end-user while also adapting to pharma practices.
Smart Sensing
As a result of the growing trend to­ward home care and self-administration, patients are increasingly dependent on their devices, while physical interaction with healthcare professionals is diminish­ing. It is therefore vital that devices en­hance the user experience – notifying, prompting, and providing the confidence necessary for successful self-administra­tion. To that end, all Eitan Medical – Sorrel devices incorporate a blend of integrated smart sensors – combined with visual, audio, and tactile indicators – to clearly communicate the device status to the user and guarantee a successful administra­tion.
Sensors detect air and occlusion, de­livering alerts according to pre-defined parameters. A dedicated sensor ensures that the delivery will not begin until the de­vice has been firmly adhered to the skin, while additional internal sensors detect needle positioning and device tempera­ture. A series of internal system checks en­sure the device is functioning correctly prior to initiating the treatment. This is achieved through integrating sensors with smart algorithms, when necessary using one sensor for multiple purposes.
Connectivity
Recent years have seen greater em­phasis being placed on digital health, and connectivity of medical devices has subse­quently become a key focus. The power of connectivity can be harnessed in a variety of ways, largely to promote patient en­gagement and adherence to therapy. The recent COVID-19 pandemic has high­lighted the need to keep individuals who do not require hospitalization out of hos­pitals, mitigating infection rates, and avoiding health systems being over­whelmed with patients. This dynamic has added greater urgency for effective solu­tions that enable patients to remain home while ensuring they still receive optimal care and attention.
The Eitan Medical – Sorrel devices are designed with full connectivity in mind, with both Bluetooth and near field com­munication (NFC) capabilities built-in, en­abling connectivity via two widely accepted and secure routes of communication. Pa­tients will thus be able to share their treat­ment data with caregivers, healthcare providers, and other stakeholders. Care teams can also monitor patients discreetly outside of hospital settings to ensure they are keeping to their therapy routines with­out disrupting their daily lives. For use in clinical trials, Eitan Medical – Sorrel devel­oped a dedicated smartphone application that enables easy sharing of treatment re­ports during investigational use.
MOVING FORWARD
With increasingly positive expecta­tions for the wearable device market to provide an intuitive and user-friendly drug delivery experience to patient populations, Eitan Medical – Sorrel continues to opti­mize its wearable platform solution, inves­tigating new technologies and processes to improve the offerings for both patients and providers. In July 2020, the company opened new manufacturing and clean­room facilities to increase efficiencies and manufacturing capacity. The state-of-the-art facility is enabling Eitan Medical – Sorrel's transition from initial design and development, with low-volume manufac­turing, to scalable high-quality production of wearable drug delivery devices to meet the needs of numerous global pharma­ceutical partner programs.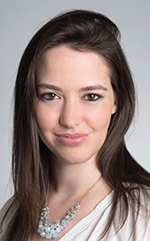 Mindy Katz is Vice President, Marketing and Alliance Management at Eitan Medical where she heads the company's alliance management, marketing, and product management activities for the Pharmaceutical Solutions business unit. Mindy's involvement in the company's early days influenced Eitan Medical's decision to pursue the wearable drug delivery market, resulting in the development of the Sorrel™ wearable drug delivery platform. To date Ms. Katz held a number of positions within the group, including serving as VP Marketing and Director of Product at Sorrel Medical, and prior to that as Program Manager at Q Core Medical, where she worked across multidisciplinary teams to build structured and collaborative partnerships between companies in the world of drug delivery. She holds a BSc in Biomedical Engineering from the Technion – Israel Institute of Technology.