TRANSLATIONAL PHARMACEUTICS – Accelerating Early-Stage Drug Development With Integrated CDMO & CRO Services
THE R&D CHALLENGE
 Throughout the past two decades, the pharmaceutical research and development (R&D) ecosystem has grown exponentially. Between 2001 and 2018, the number of therapeutic molecules under development has more than doubled (Figure 1), and the number of companies actively engaged in research has more than tripled.1 However, R&D failures remain high, and approximately 90% to 95% of drugs fail before reaching the marketplace, according to most industry estimates.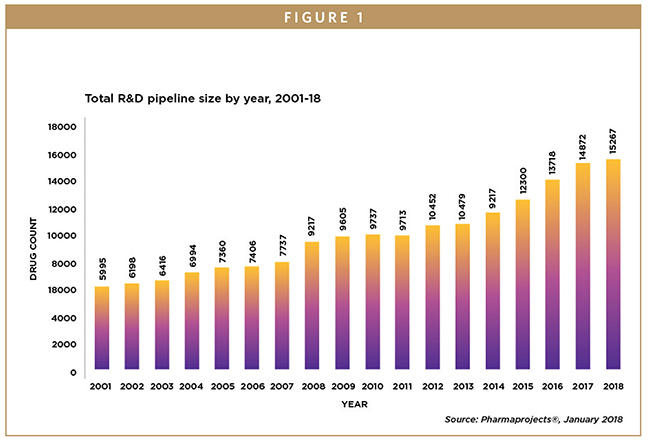 To conserve resources and get drugs to market faster, drug developers around the world are seeking new ways to make development more cost-effective and efficient. Across the industry, from virtual biotech to large pharma, drug companies are increasingly relying on outsourcing partners to access capacity and new technologies in an attempt to address these challenges and develop a competitive edge.

Those efforts have generated an explosion of outsourcing initiatives throughout the past 10 years that have driven a fundamental change in how the industry is structured. Components of the drug development process are being handed over to contract development and manufacturing organizations (CDMOs) and contract research organizations (CROs) — from project-based outsourcing, to full-time equivalent and contract labor models and, in some cases, to full development programs. The result, however, has arguably been the emergence of a plethora of disparate and non-integrated CDMOs and CROs, reflecting the structures and inefficiencies that previously existed within pharma organizations. Each provider handles its own discrete functional activities — from discovery chemistry, preclinical toxicology, clinical research, formulation development and manufacturing — and this has created separate and siloed CDMO ("make") and CRO ("test") supply chains (Figure 2). This multi-vendor environment hampers efforts to streamline the drug development process and has drug companies struggling to manage programs effectively and maintain productivity.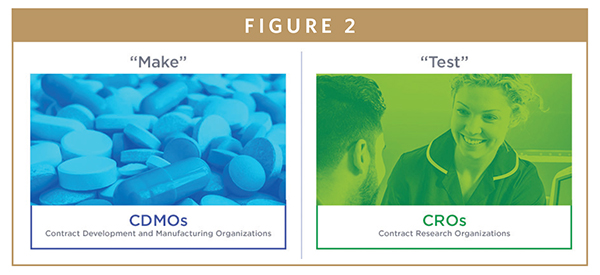 This article describes the current challenges and questions (see bullet points) faced by drug developers in accelerating molecules to proof-of-concept (POC) and developing optimized and scalable drug products for patient trials. It summarizes the benefits an integrated CDMO/CRO outsourcing model brings to managing resources and improving the drug development process. This approach, which has been proven to be successful in Europe, is now being operationalized in the United States.

IMPROVED R&D REQUIRES INTEGRATION
To keep pace, drug developers require new strategies to help them achieve milestones as quickly as possible. As a consequence, we are seeing innovation in the service sector, with a focus on smarter R&D in which multiple CDMO and CRO services and activities are becoming highly integrated within a single vendor, under a compressed timeline. This strategy, which has been used successfully in Europe for more than a decade, allows the outsourcing partner to coordinate and adapt the drug product manufacturing requirements ("make") with the specific needs of the clinical development plan ("test").
Quotient Sciences has pioneered an integrated approach that streamlines development processes and fosters a consistent exchange of information (Figure 3). The operational footprint and framework to run these integrated "make-test" programs under an investigational new drug (IND) application has recently been established in the United States. This opens up advantages to biotechnology and pharmaceutical companies in the world's largest R&D market, where the greatest number of molecules are in development.

REAL-TIME ADAPTIVE MANUFACTURING: INTEGRATED WITH CLINICAL TESTING
The early stages of clinical development are particularly amenable to implementing an integrated platform. The horizontal integration of CDMO and CRO capabilities enables a shortened make-test cycle where a trial sponsor can integrate drug product manufacturing within the clinical program.

Shortened Cycle Times
Using a fit-for-phase manufacturing strategy, make-test cycles can be as short as days rather than weeks or months. In a 14-day cycle time, for example, products are manufactured in real time at the precise dose or composition required, immediately before dosing the volunteers or patients in a clinical trial. The drug product can then be fine-tuned in response to the clinical safety, pharmacokinetic (PK) and pharmacodynamic (PD) data emerging from within the study. This process reduces chemistry, manufacturing and controls (CMC) investments, conserves drug substance and allows human data to drive key decisions (Figure 4).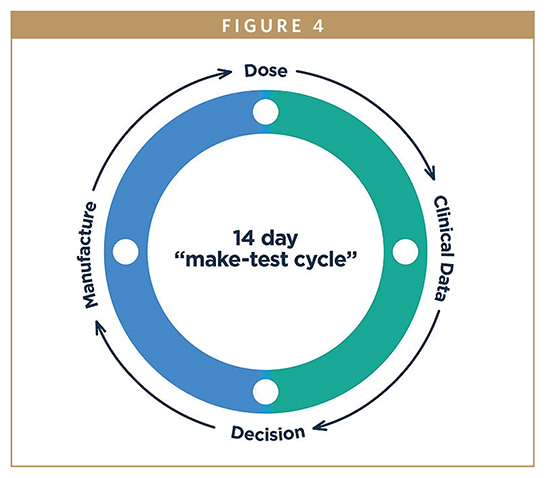 Formulation Design Space Flexibility
It is difficult to predict the quantitative levels of critical-to-performance components in a drug formulation that enables the program to achieve the desired clinical endpoints. Traditionally, development teams rely on surrogate, non-clinical, in vitro or in silico tools to determine that information before beginning a study, but that means accepting a certain level of risk. In an integrated approach, inclusion of a formulation design space enables realtime flexibility to adjust the quantitative composition of the formulation based on emerging clinical data (Figure 5).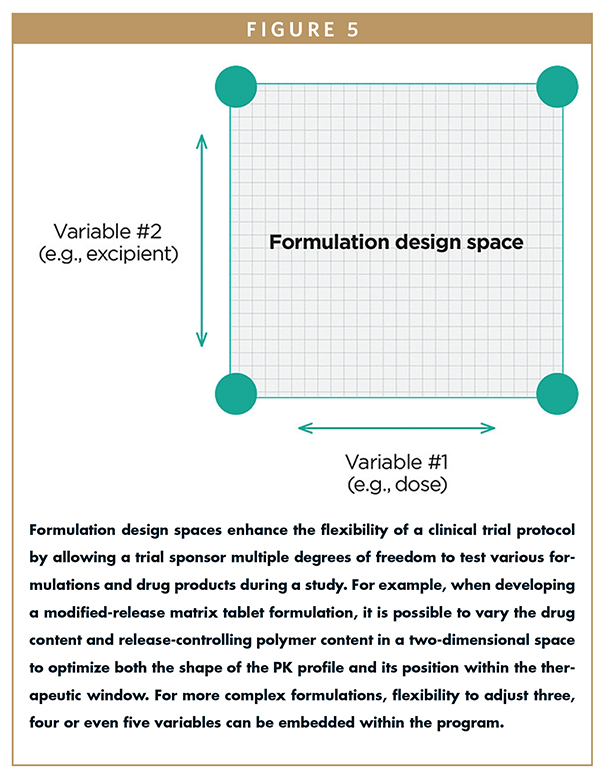 Coupled with real-time manufacturing, it is possible to assess multiple formulation technologies and drug products in a clinical trial without having to secure regulatory or institutional review board (IRB) approval every time the dose or formulation is adjusted. The drug company efficiently manufactures optimized drug products and moves through early development, adapting quickly to any emerging PK, PD or safety data (in FIH and dose escalation trials).

KEY APPLICATIONS OF AN INTEGRATED CDMO/CRO MODEL
Specifically, this type of integrated program allows drug companies to:
Accelerate Molecules From First-in-Human to Proof-of-Concept
For an FIH study, a simple fit-for-phase drug product strategy is typically used to provide dose flexibility with minimal upfront investments. However, this does not address the risks of poor oral bioavailability due to challenging drug chemistry, or the need to identify a solid oral dosage form for POC. Through the use of real-time adaptive manufacturing, it is possible to alter dose levels, formulations and drug product types within the clinical trial, without amending the protocol, and then maintain a seamless supply of the lead drug product as the drug candidate progresses into downstream patient trials.
Benefit From Real-Time Adaptive Manufacturing for Patient Trials
Real-time adaptive manufacturing offers a creative but simple solution in early patient trials. Biotech and pharma companies can balance the clinical requirements (e.g., patient recruitment) with the CMC requirements (e.g., shelf-life and drug product availability), ultimately manufacturing only the precise drug product required to meet the needs of the clinical trial.
This approach conserves valuable drug substance and reduces drug product manufacturing costs until such time that scale-up is required to support late-phase trials and commercialization. Real-time manufacturing can even occur on a per-patient basis, which is especially beneficial with orphan drugs, rare diseases and pediatric indications in which patients are often enrolled one at a time and the product may need to be "tuned" to specific subject needs.
Develop Optimized & Scalable Drug Products
Most new drugs emerging from the industry pipeline have sub-optimal properties and require formulation optimization to achieve their full potential, either after POC or as part of life-cycle management. Real-time adaptive manufacturing can be integrated into clinical bioavailability and PK studies to screen, optimize and select new formulations based on emerging clinical data. Using this approach, multiple formulation technologies can be evaluated head-to-head and design space flexibility exploited to optimize the quantitative composition and dosage strengths relative to clinical performance.
THE BENEFITS OF AN INTEGRATED APPROACH
Aligning the "make" and "test" cycles of the research process fosters a consistent exchange of information and allows the outsourcing partner to adapt and fine-tune both the formulation composition and manufacturing process to the specific needs of the clinical trial.
With compounded timeline savings of more than six months, investment savings of more than $500,000 and drug substance conservation of up to 85%, an integrated early development program not only improves trial efficiency, it significantly improves productivity and eases the drug company's management burden. An integrated approach improves development precision, maximizing a drug candidate's potential for success within a single study and ultimately delivering new medicines to the people who need them faster.
SUMMARY: IMPLEMENTING AN INTEGRATED APPROACH
Integrated approaches have been used successfully in Europe since 2007. The Medicines and Healthcare products Regulatory Agency (MHRA) recognized the advantages of combining real-time adaptive manufacturing and flexible clinical protocols in early development, and these principles are now widely accepted in the United Kingdom. Throughout the past decade, more than 350 integrated Translational Pharmaceutics® programs have been conducted for biotech and pharmaceutical companies from the United States and around the world.
Because the operational framework to run integrated programs under an IND application has recently been established, the same benefits can now be realized in the United States. By adapting an approach such as the aforementioned make-test cycle, drug developers can shorten the typical drug development timeline by six months or more, which — for a drug product forecasted to generate $500 million to $1 billion in annual revenue — can enable developers to conserve millions of dollars per day. And, when drugs get to market faster, we all benefit.
REFERENCE 
Lloyd, I. Pharma R&D Annual Review 2018. Pharma Intelligence. Informa UK Ltd., London.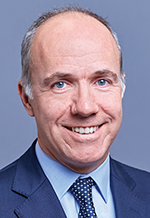 Peter Scholes, PhD, is the Chief Scientific Officer of Quotient Sciences. With over 20 years' experience in the pharmaceutical industry, he joined Quotient Clinical in 2007, where he has developed and built the pharmaceutical sciences group. He was instrumental in identifying and implementing the innovative and flexible benefits of integrating pharmaceutical development and clinical testing in early research. Since being named Quotient's CSO in 2013, he has been responsible for the scientific strategy and leadership for the organization. Earlier in his career, Dr. Scholes held various roles at 3M Pharmaceuticals and 3M Drug Delivery Systems. He has served as a committee member for the U.K. Controlled Release Society and APS Biopharmaceutics Focus Group, and, in 2013, he set up a GastroPlus user group with industry colleagues as a discussion forum for PBPK modeling and simulation science. Named in 2010 as one of PharmaVOICE's 100 most inspiring people in the life sciences industry, Dr. Scholes holds a doctorate degree in pharmaceutical sciences from the University of Nottingham and was appointed as an honorary professor at that university in 2015.