SPECIAL FEATURE – Prefilled Syringes & Parenteral Manufacturing: Flexibility for Faster Development
A new generation of patient-centric prefilled syringes and autoinjectors can deliver a range of parenteral drug volumes and support flexible dosing regimens. Designed with human factors in mind, today's devices present pharma companies a variety of delivery options: wearable, smart, needle-free, single-use, combination products, and packaging. Both the parenteral products and delivery technologies are being produced with flexible manufacturing lines, flexible filling, flexibility dosing, and flexible packaging options – all with the goal of getting product to market and in users' hands faster.
This annual Drug Development & Delivery special feature highlights contract manufacturers and device developers responsible for creating next-generation parenteral drug delivery.
Ajinomoto Bio-Pharma Services: Flexibility to Get Biosimilars to Market Quickly
A challenge with biosimilars is they require manufacturers who can produce the drugs quickly with little historical knowledge from which to draw. Most of these products need to be filled for Phase I trials then quickly move to Phase III and commercial manufacturing shortly thereafter. "Without this data, the manufacturer and client must work closely together to deliver a product that can be commercially available after only manufacturing a handful of batches," says Scott Goldstein, Associate Director, Drug Product Manufacturing, Ajinomoto Bio-Pharma Services. "The competitive market for these drugs means that every day matters in clinical trials to be first to market."
The relationship between contract manufacturer and client needs to be flexible in a variety of ways. For example, flexibility in scheduling is critical if stability issues are discovered or if emergency batches are needed to avoid delays in clinical trials. Flexible manufacturing lines are also important to fill the same drug that may be needed in different applications. "Many drugs may begin clinical trials in vials but transition to a syringe in Phase III," says Mr. Goldstein. "Clients want to know that, if needed, they can change the product presentation without having to change the manufacturer. A contract manufacturer with experience making these adjustments can allay a client's fears and assure them changes can be handled without compromising quality."
Baxter BioPharma Solutions: Prefilled Diluent Syringes Reduce Contamination
Baxter BioPharma Solutions offers prefilled syringes containing diluents in a range of fill volumes. The diluents include sterile water for injection and sterile 0.9% sodium chloride solution. According to Gregory A. Sacha, PhD, Senior Research Scientist, the prefilled diluent syringes are innovative to the PFS market for a couple of reasons. "First, a prefilled diluent syringe eliminates one step in the reconstitution process for lyophilized solids," he explains. "The clinician does not have to locate a vial of diluent, remove a specific volume of diluent from the vial and transfer it to the vial containing the dried solid. Reducing the steps involved in reconstitution reduces the potential for contamination of the product."
A diluent syringe can be packaged with the dried solid product to ensure the correct diluent at the correct volume is readily available for the product.
Sterilization became an issue for one of Baxter BioPharma's clients. Dr. Sacha says the client wanted to use a polymeric syringe for a terminally sterilized product. "Polymeric syringes become opaque after terminal sterilization using an autoclave. Studies were needed to identify the correct cooling conditions for terminally sterilized polymeric syringes to prevent them from becoming cloudy."
Polymeric syringes from three manufacturers were compared based on the stability of the product and the appearance of the syringes after sterilization. The main challenge was the change in appearance after sterilization. Investigation of the sterilization and cooling conditions identified a process that prevented problems with appearance. Dr. Sacha says: "The client could begin to use any of the syringes available and not worry about changes in appearance."
Catalent Biologics: Parenteral Manufacturing That Supports Personalized Therapies
Industry insiders can agree that prefilled syringes are flexible, convenient, and provide caregivers and patients with a safer parenteral delivery mechanism compared to administration from vials. Yet, clinical parenteral products are still often developed in a vial format. Alyson Norrick, Director, Manufacturing Technology, Catalent Biologics, believes this may be because vials typically have a lower unit cost or because of the dosing flexibility that vials allow during clinical phases, when the therapeutic dose is still being optimized.
"Once a clinical product advances to late-stage trials and is approaching commercialization, the cost and time associated with transitioning the product from vial to syringe may seem prohibitive," she says. "To mitigate potential vial to syringe issues, Catalent works with its customers to position products for long-term success, from the outset of a project and throughout the product's lifecycle. We offer pre-qualified, quick-to-clinic, PFS configurations that are compatible with many early-phase clinical products and are economically feasible."
Catalent also collaborates with clients and device vendors to develop formulations and container closure solutions that support simpler administration, helping to improve patient compliance and adherence, and reducing the burden on healthcare systems. "We have observed an increased number of license holders focusing on development of self-administered dosage forms," says Ms. Norrick. "For example, instead of requiring patients to make frequent visits to an infusion center or doctor's office for treatment, combination products are being developed that allow for administration of therapies at home either by simple injection, autoinjectors, or bolus injection devices."
Also being developed is flexible parenteral manufacturing to support personalized therapies. Personalized medicine often translates into smaller batch sizes, varied delivery volumes or presentations for a single product, diverse packaging configurations, more immediate need for product and, hence, more frequent shipments to a diverse number of global markets. "The challenge for CDMOs is to consistently offer the flexibility to develop patient-centric manufacturing solutions for any given product, whether working with commercialized products that require high-volume semi-automated or automated processing or personalized, low-volume products that require small-batch formulation, filling, and manual product assembly and packaging," says Ms. Norrick.
To that end, Quality by Design (QbD) has become a fundamental component of biopharma product design. "Astute biopharmaceutical teams are incorporating QbD elements from the infant stages of product development, and it is imperative that Catalent be equipped to support continuation of this design investment over the course of a product lifecycle," she says. "QbD leads to optimized process development and manufacturing timelines, and comprehension and command of a product's design space leads to implementation of robust, sustainable manufacturing processes that yield more product with fewer deviations."
CordenPharma International: Compounding-Filling Provides Compatability & Flexibility
The emergence of disposable/single-use-system injectable technologies provides alternatives to traditional compounding-filling in stainless steel devices. State-of-the-art compounding-filling suites handle compounds that are prone to oxidation or are not compatible with standard contact material, where traditional stainless steel mixing vessels and usual transfer lines cannot be adopted.
"Options in compounding-filling technology allow the customer to have the best "compatibility" set-up, as well as receive a good range of batch sizes to be driven into their targeted container," says Fabio Stevanon, Director, Global Injectables Platform, CordenPharma International.
CordenPharma also focuses on the importance of flexibility for clients to make the best choice in using either glass or plastic cyclo-olephins containers, and to cope with specific requirements connected to their formulation where non-ionic – no-metal release is needed, or non-polar contact surface is required. "The ability to utilize traditional or fully-disposable compounding systems, coupled with a range of containers with various material compatibility, expands the concept of flexibility for customers facing specific formulation requirements," Mr. Stevanon says.
CordenPharma's Injectables Platform offers customers a range of injectable services. Its injectable manufacturing capability covers both terminal sterilization and aseptic filling technologies for PFS, vials, ampoules, and lyophilized vials, with a range of filling volumes (aseptic from 0.5 to 10ml; terminally sterilized from 5 to 100ml). "With multiple process and filling lines, and an overall annual capacity of ~100 million units, the platform offers the flexibility to support multiple programs and customers in parallel, at any scale and stage of drug development and commercialization," says Mr. Stevanon.
The Italy-based injectable facility, CordenPharma Caponago, has two flexible injectable filling lines: One line that manages 1 to 10ml PFS and 3ml cartridges had successful FDA and EU inspections in 2018; and the second line – which focuses on both liquid and lyo vials in ranges from 1 to 10ml – will be validated this spring and approved by the end of the year.
Credence MedSystems: Multiple Injections to Multiple Sites Without Overdosing
There is a growing need for customized injection systems to support the increase of specific therapeutic applications, such as the global dermal filler market. This sector is forecasted to surpass $8.5 billion by 2024.1 Administering dermal fillers and botulinum toxin therapies involves multiple injections of finite low-volume boluses into multiple target sites. Certain segments of the market already use PFS, while other subsets will soon transition from the classic vial presentation to a PFS, says John A. Merhige, Chief Commercial Officer, Credence MedSystems, Inc.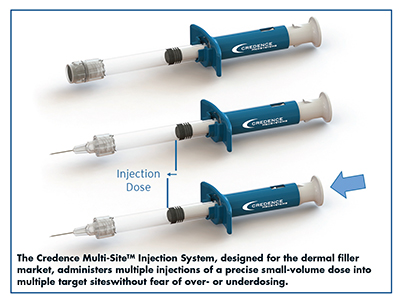 "Vials force the user to draw the solution into a hypodermic syringe and then attach a fine needle for administration," he explains. "The user must attempt to gauge the correct injection volume by reading and responding to the dose line markings on the syringe. This is challenging enough when the syringe diameter is small and there is reasonable distance between dose lines. But as these products transition to PFS, which have a larger diameter, it becomes untenable to meter the injection because the distance between the dose lines is too short. Therefore, the benefits of a prefilled syringe, which include reduced user steps and diminished potential for error or contamination, are offset by the difficulty in performing the injections accurately."
Credence has responded with the Credence Multi-SiteTM Injection System. The Multi-Site System allows the user to administer multiple injections of a precise small-volume dose into multiple target sites without fear of over- or underdosing. With Multi-Site, the user presses on the plunger rod until it advances and hits a hard stopping point, which corresponds to the desired injection dose. Mr. Merhige says this is especially important on the first injection, where the momentum from overcoming the break-loose force can cause the plunger rod to advance too far and result in overdosing. When the user releases the plunger rod, it resets by retracting back to its original position and is ready for the subsequent injection. The process is repeated until the syringe has been fully dosed.
The Multi-Site System has flexible options that are customizable to specific applications and manufacturer preferences. The injection dose volume and number of doses per syringe can be adjusted, and there is flexibility to include the Credence proprietary needle retraction system on the last dose if desired to comply with needlestick prevention laws. And, because the functionality of the system is entirely on the 'back end,' the system is compatible with a variety of closure components and PFS, including multiple sizes and materials.
Assembling the components occurs post-filling in secondary assembly and requires only minimal change to existing equipment, says Mr. Merhige. An additional option exists to implement Force-AssistTM, which provides a mechanical advantage to the user. "This is relevant because dermal filler administration is characterized by injection of highly viscous substances through very fine-gauge needles," he says.
Datwyler: Next-Generation Aluminum Reduces Particle Generation
A lot of attention is paid to particles in injectable drug products. The general expectation is that injectables are produced essentially free of extraneous matter. "As there is limited direct evidence of patient risk due to sterile, inert particles, it is reasonable to conclude zero tolerance should not be the requirement but instead considered as a goal in manufacturing of injectable drug products," says Carina Van Eester, Global Platform Leader, PFS and Cartridges, Datwyler. "While it is not technically feasible to produce particle-free injectable products, the objective should be to improve whatever is possible to meet this expectation."
When considering a filled cartridge, Ms. Van Eester says there are four main contributors to the particles in the drug solution: combiseal, plunger, cartridge barrel, and drug. As a rubber component manufacturer, Datwyler has delivered First Line plungers that provide the lowest particle levels in the industry, both visible and subvisible, she says.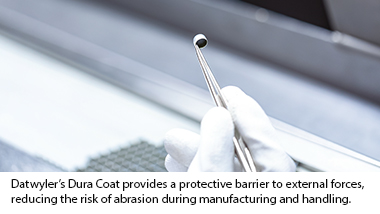 "The combiseal, however, has a rather bad reputation with regard to particle generation," she continues. Combiseals are traditionally produced out of lacquered aluminum, which is not very resistant to washing, leading to a weak adhesion of the lacquer on the aluminum. During production, transport, and crimping of the combiseal, the lacquer can detach, leading to shedding of particles that can end up in the cartridge and contaminate the drug.
To guarantee the durability of the combiseals, they have to be extremely robust throughout the manufacturing process. Datwyler is addressing this challenge with a new generation of aluminum: Dura Coat. This proprietary material consists of an epoxy lacquer and polypropylene laminate that is applied to standard aluminum seals to meet customer and authority requirements. "Once these two layers are applied to a standard aluminum seal, the result is a durable and robust packaging solution," says Ms. Van Eester. "This technology uses high-quality materials and, therefore, enables a clear reduction in particles during processing and handling."
DDL, Inc.: PFS Testing to Ensure ISO Compliance
The FDA is challenging pharmaceutical companies to develop and bring more generic drugs to market. Injectable therapies constitute a sizeable share of the generic drug product market. Additionally, there is a growing number of novel compounds slated for a parenteral format. This combination signals there will be a need for more testing services for prefilled syringes and other injection devices.
The bulk of the requirements surrounding the physical and mechanical performance of a prefilled syringe is covered by the ISO 11040 series of standards, says Joseph Wojcik, Program Manager, Combination Products, DDL, Inc. Most of the testing that DDL conducts pertains to Parts 4 and 6 of ISO 11040, which govern glass and plastic syringe subassemblies, respectively, and Part 8, which defines the method requirements for fully finished prefilled syringes.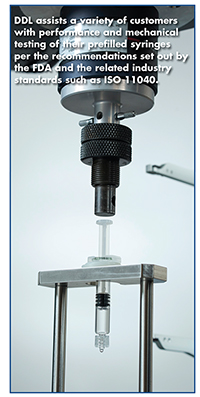 Mr. Wojcik explains that the ISO 11040 series of standards consists of a number of mechanical tests to measure attributes such as leakage, break loose, extrusion force, burst resistance, etc. on the syringe. For example, to test break-loose and extrusion force, each syringe is placed in a vertical syringe-holding fixture with a safety needle attached and expelled at 50mm/minute. The break-loose force and extrusion force data is then recorded and included in a report, which ultimately goes into an FDA submission.
Another of the key aspects of ISO 11040 for glass Luer syringes is the subject of connectivity. The manufacturing process produces a slippery and slightly irregular Luer taper, which may not form a secure connection with some components. The ISO standard addresses this issue by recommending that certain Luer tests from ISO 80369-7 are conducted to demonstrate adequate connectivity to the same components that will be attached to the syringe in the actual use situation. Note that ISO 80369-7 is the replacement for ISO 594 and the FDA will no longer accept submissions showing conformance to ISO 594 beginning in 2020.
"ISO 80369-7 tests are done to measure attributes such as leakage by pressure from liquid and air, stress cracking, resistance to separation from axial load, unscrewing, overriding, etc," he says. "There are a number of procedures that DDL does to assure that the syringe is meeting all the requirements outlined in the standard."
Both ISO 11040 and 80369-7 standards contain the information needed to conduct a technically valid test, Mr. Wojcik says. "When supplemented with information provided by a drug manufacturer, the data ensures that the manufacturer, when presented to the regulatory authority, understands all judgements and rationales for the testing data."
Gerresheimer: Small-Batch Production for Biologics
Biologics are competing to be first to market for narrower therapeutic classes, such as orphan indications, specialized medicines, and personalized treatments. These niche and targeted therapies call for smaller-scale, more diverse types of production.
"Gerresheimer's newly built production environment for small-batch scales combines state-of-the-art technologies for prefillable container production in a more flexible manner," says Maximilian Vogl, Global Head of Product Management, Gerresheimer. "The small-batch production enables us to react faster and better to the needs of the drug manufacturer, like potential variations in gliding behavior with specific coated surfaces like reduced silicone or baked-on silicone. Furthermore, we involve the innovative metal-free formed glass syringe to overcome the issue of tungsten for sensitive drugs. This offers several advantages in designing the most suitable prefillable container."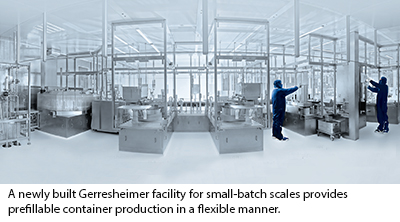 Flexibility in fill-and-finish means that the packaging used for that process has to fulfill the same level of flexibility. "As a supplier of pharma packaging, Gerresheimer focuses on a standardized, ready-to-fill packaging concept for aseptic fill/finish to reduce unnecessary efforts based on format changes or interchanges between different types of containers like vials, syringes or cartridges," he says.
Packaging and delivery systems should be designed to meet exact patient needs and performance requirements, ensuring product quality and optimal storage conditions. Mr. Vogl says Gerresheimer's risk-based approach for new devices and packaging optimizes product quality and eliminates risks from development to series production.
Nemera: New Autoinjector Delivers Viscous, High-Dose Drugs
With homecare treatment for chronic diseases on the rise, a new generation of autoinjector platforms is being developed to offer more comfort to the patient while bringing more flexibility to the pharmaceutical companies to administer a larger dose (2ml and above) of biologic formulations. Nemera has designed a new autoinjector specifically for biologic drugs. The two-step autoinjector, Safelia®, is an adjustable platform suited for either 1ml or 2.25ml-long PFS.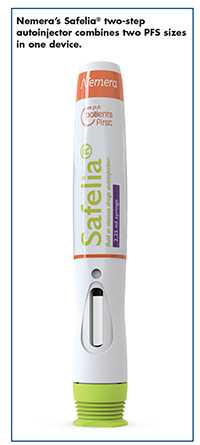 "Combining these two sizes of prefilled syringes with the same device platform enables flexibility in drug development, as choice of final fill volume and syringe size can be made at a later development stage," explains Séverine Duband, Global Category Manager – Parenteral, Nemera. And, she says there is a synergy in the manufacturing and the supply chain as the core device components are identical.
Using Safelia is a two-step injection process: The patient removes the cap then applies the autoinjector to the injection site. Features include: a cam-based mechanism to deliver more viscous formulations through thinner needles; a disconnected needle insertion and injection system to deliver the right dose at the right depth; reduced risk of glass breakage because force is transmitted onto the syringe shoulder instead of the flange; tailored needle insertion and injection speed; and a hidden needle for increased safety.
"With drugs becoming more viscous, the risk of glass breakage with self-injection devices becomes a critical consideration as a pressure is exercised on the syringe flange, during either insertion into the device or the release of the spring to deliver the drug," explains Ms. Duband. "Thanks to plastic's robustness, risk of breakage is prevented and high forces can be applied on the syringe. Plastic gives pharmaceutical companies the opportunity to use very thin needles (e.g. 29G) even with viscous drugs, which improve patient comfort."
While Nemera doesn't supply primary drug containers, it ensures full compatibility of its standard device delivery platforms with syringe components. As an illustration, its Safe'n'Sound add-on safety device platform is compatible with prefilled ISO standard glass syringes as well as Plajex COP plastic syringes. Additionally, Nemera holds a pharmaceutical drug manufacturing certification for primary packaged pharmaceutical drugs and medicinal products. This enables handling, assembling, sterilizing, and storing drug products for autoinjectors.
Noble: Helping Patients & Manufacturers Close the Training Gap
Ninety-two percent of patients prefer self-paced learning at home with training devices when onboarding to drug delivery systems, according to a longitudinal study conducted by Noble, a drug delivery device trainer focused on patient onboarding. This type of training was found to significantly increase patient engagement and performance by applying multiple blended and multimodal learning techniques, explains Joe Reynolds, Research Manager, Noble.
Several novel training technologies are available to create hyper-realistic training experiences for patients and other stakeholders to overcome needle anxiety and build confidence. Examples include Noble's proprietary training-needles and agitators that were designed to safely decrease needle anxiety and reduce wet injections. "These features can be applied to syringes, injection pens, and autoinjectors to help patients build skills, knowledge, and adherent behaviors," he says.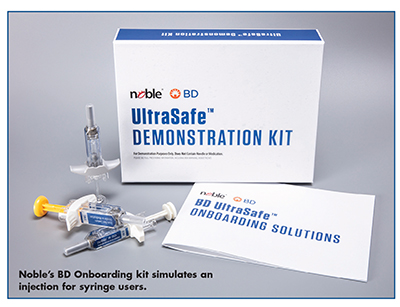 Noble recently launched a new line of training products in partnership with BD. The new products mirror two of BD's syringe systems and help health professionals, caregivers, and patients practice injection before using the actual drug delivery systems, which have needles. The training devices have faux needle tips that simulate the feel and forces of injection with a needle. The platform incorporates an extensively tested, proprietary lockout mechanism. Designed for repeated use, this resettable locking needle guard simulates the lockout forces of BD safety and shielding systems for prefillable syringes, with the capability for patients to reset the mechanism for multiple refresher sessions prior to actually injecting.
"We believe these results can assist pharmaceutical manufacturers in creating effective combination product onboarding programs that can help healthcare professionals and patients close the training gap, thereby reducing patient errors when using autoinjectors," says Mr. Reynolds.
Sonceboz: Connected Wearable Delivery Ensures Patient Compliance, Alleviates Fears
"Connectivity is a prominent topic toward providing adherence monitoring of medication use," says Tom Mayer, business Development Manager, Medtech, Sonceboz. "As a result, there is a clear demand for device platform technology that enables pharma to adapt and use wearable injection devices starting in clinical trial applications from early phases onward, as well as demand for devices to perform lifecycle management activities," he says. "To achieve this goal, one has to design a robust platform that offers flexibility and technological synergies to reduce complexity and cost." Mayer believes electromechanical systems are ideal because they can offer, for example, programmable delivery profiles and dosing. This, he says, allows for adaptation across different drug products.
Sonceboz offers the Medtech wearable injection device platform for pharma companies that can't address their challenges using traditional PFS technology. For example, if a drug is stored in a vial as primary container during clinical trials or early commercial phase, a PFS cannot be used as the injection device, explains Mr. Mayer. "In contrast, our technology works with vials as well as cartridges as the primary container. And, should a drug be in a lyophilized form, our device technology allows for automatic reconstitution at point of use."
Connected wearable devices also address needle fears. "Visible injection needles are one of the challenges for PFS," he says. "By using wearable devices with a hidden needle and an automated insertion and retraction system, one can circumvent objections by patients with needle phobia."
Mr. Mayer adds that wearable devices can deliver higher viscosity and higher delivery volumes. "PFS are typically limited to a payload of 2.25ml, but a wearable injector can inject those highly viscous formulations."
Vetter: Supporting Early Development to Commercial Manufacturing
"The mainstream approach toward simple-to-manufacture molecules is yesterday's thinking," says Claus Feussner, PhD, Senior Vice President Vetter Development Service. "This is because more drugs are targeted towards small, specific subgroups such as RNA and DNA therapeutics.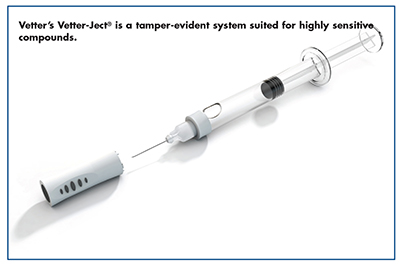 Vetter acts as a solution provider for large and small pharma as well as biotech companies in the field of injectables. Its patented dual-chamber syringe, Vetter Lyo-Ject®, allows different ingredients and solvents to be prefilled and stored separately, then mixed and administered right before use. "Dual-chamber systems can be used for lyophilized/solvent drugs and liquid/liquid drugs, and offer many advantages for sensitive compounds," says Dr. Feussner. "Benefits include enhanced product safety provided by an all-in-one closed system, precise dosing because the drug is premeasured, and simple administration users."
Vetter also offers a syringe closure system, Vetter-Ject®, which is a tamper-evident system for prefilled syringes. The device combines an integrated staked needle with a baked-in siliconization process for standard glass barrels that is suited for highly sensitive compounds.
As a CDMO, Vetter's services span early development support, including clinical manufacturing, through to commercial manufacturing and secondary packaging services. Vetter works with customers by asking a variety of questions to determine how to move forward. Is the product liquid or lyophilized? What are the therapy requirements? Is it a self-administered therapy? What does the product lifecycle and competition look like? What are the different drug concentration presentations to be brought to market? Other critical issues to be considered include the use of non-flurotec or flurotec stoppers, glide and release forces, and shelf-life issues.
West Pharmaceutical Services, Inc.: Systems to Deliver High Volumes & High Doses
Combination products, those that combine the drug, its primary packaging, and delivery system, are becoming more prevalent as biologic drugs present the challenges of higher viscosities and increased dose volumes. "As dose volumes go up and the frequency of dosing associated with new therapeutic regimens goes down, we've seen a trend toward the use of combination products," says Karen Flynn, SVP & Chief Commercial Officer, West Pharmaceutical Services, Inc. "Manufacturers of injection technologies are addressing this trend by developing systems that are capable of delivering up to 2.5ml using systems such as autoinjectors and volumes even greater than 10ml using on body wearable technologies." West is addressing this trend by extending the platform of its wearable injector technology, SmartDose®, to include doses of up to 10ml. "West developed the SmartDose platform of devices to meet a variety of delivery needs," says Ms. Flynn. "With three device options, the platform features pre-programmable user-loaded and preloaded variations."
Additionally, West is commercializing its patient-assisted injector, SelfDose®, in collaboration with several pharmaceutical customers. The SelfDose injector offers a self-controlled injection option to patients. "An off-the-shelf delivery system that is ergonomically designed for optimal patient administration, the SelfDose injector was developed using extensive human factors studies that helped to confirm the intuitive design, and support ease of use and patient acceptance," she says.
Primary containment systems are also trending towards specialized components that are engineered to enhance functional performance. West supplies elastomer components used with glass prefilled systems, and also supplies Daikyo Crystal Zenith® PFS systems. For complex molecules, West provides NovaPure® syringe plungers for PFS/autoinjector delivery systems across various injection volumes and higher viscosity ranges in glass systems. "NovaPure plungers are designed to maintain container closure integrity while minimizing the contact area between the plunger and syringe, reducing friction and break-loose force," explains Ms. Flynn. "When a non-glass system is preferred, West offers Crystal Zenith syringe systems to maintain purity, integrity, and efficacy of biopharmaceutical therapies. It minimizes potential contamination issues associated with glass systems and reduces breakage, protecting high-value drugs."
Aptar Pharma: Ready-to-Use Program Facilitates Development Time
Pharma customers serving the biologics market require smaller runs as these markets have a smaller subset of patients. As a result, contract partners must be able to provide Ready-To-Use (RTU) products that allow for faster and more flexible runs.
Aptar Pharma fulfills this request for customer by providing RTU stoppers. The stoppers, along with vials, and seals are available through Aptar's recently launched QuickStartTM for Injectables, a one-stop-shop, ready-to-use sterile solution, designed specifically to accelerate the development time for start-ups and early stage development, R&D, biotechs, and university research organizations.
Launched in October 2018, this injectable development package comes with gamma-sterilized stoppers and push-off caps from Aptar Pharma and EMA Pharmaceuticals respectively, and ETO sterilized vials from Schott.
"We facilitate customers who require speedy developments with an immediately available and easy-to-use online ordering platform," says Adam Shain, Director, Global Business Development – Injectables, Aptar Pharma.
Addtionally, as the developer and manufacturer of Rigid Needle Shields (RNS) for autoinjectors, Aptar fulfills customers' mandate for optimal performance. Mr. Shain says that customers are choosing the design of their RNS early in the process to ensure optimal removal in the device. "Previously, the device was designed around the RNS; today customers realize that they can remove gripping features in their autoinjectors by utilizing the right RNS," he says. "Our patented RNS allows for optimal gripping by any autoinjector and minimizes components within the device while providing a consistent pull-off force and a prevention method for fragmentation during removal."
ThermaProx, Inc.: Navigating the Cold Chain's Last Mile With a Prefilled Syringe
Much effort is being placed on the quality control of the containers in which a medication will reside. However, little has changed in the transport of finished, prefilled medications from manufacturer to patient. The same technology for vial shipments stands for prefilled syringes. They are packaged and shipped, with coolants, inside insulated containers and handled multiple times under all types of storage and weather conditions.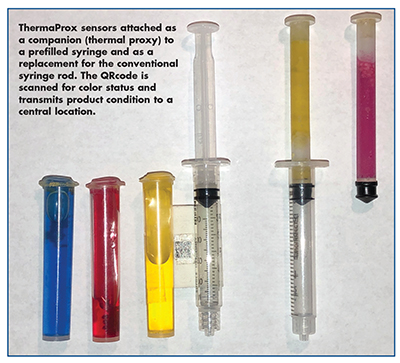 Nat Cooperman, CEO, ThermaProx Inc., explains that large quantities (pallets) of syringes are shipped with electronic recorders measuring the temperature and shock to which the syringes are exposed, but once the pallets are broken down to the carton level those recorders disappear and reliance is now on label or card indicators to record temperature and limit occurrences. "Shipments get broken down further to the box level and, often, no temperature or shock records are available. Even worse, when the box arrives at a pharmacy or patient's home ("the last mile"), there is little record of how the syringe is handled or stored."
The challenge becomes even greater with regard to highly temperature-sensitive biologics, gene therapies, vaccines, and cancer chemotherapeutics becoming more prevalent. The more of these products being sent directly to a patient's home, where receipt and storage conditions are often unknown, the greater the possibility for unknown temperature limit excursions to occur, says Mr. Cooperman.
ThermaProx, Inc. has developed a multi-patented temperature excursion sensor that mimics the temperature characteristics (thermal mass) of the monitored medications up to the point of the injection site. "Existing sensors (electronic, card or label) monitor the ambient temperature surrounding the medication, resulting in many false positives indicating temperature excursions that the product never experienced," says Mr. Cooperman. "The ThermaProx sensor is triggered only when the medication is definitely questionable."
Reference
Dermal Filler Market Worth Over $8.5 Billion by 2024, Global Market Insights, December 11, 2018, https://www.globenewswire.com/newsrelease/2018/12/11/1664912/0/en/Dermal-Filler-Market-worth-over-8-5-Billionby-2024-Global-Market-Insights-Inc.html.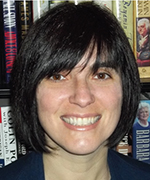 Cindy H. Dubin is an award-winning journalist who has been reporting on the pharmaceutical industry for more than 18 years about a variety of topics, including formulation development, drug delivery, and drug quality.