SPECIAL FEATURE – Prefilled Syringes & Parenteral Manufacturing: Drug & Packaging Ensure Safety, Compatibility & Stability
The global prefilled syringe market is expected to reach $6.36 Billion by 2021, up from $3.93 Billion in 2016.1 Growth drivers in the market are an increasing prevalence of chronic diseases, escalating adoption of self-injection devices, technological advancements in the drug delivery platforms, and effectiveness of the prefilled syringes.
Also gaining momentum in the market is a shift in parenteral packaging from glass to plastic prefilled syringes because of advanced polymer materials such as polypropylene and crystal-clear polymer, which are biocompatible with the other components of the syringe.
"Glass has long been the preferred choice, and developments in glass have lowered chances of breakage, which reduces the need for material changes of the primary package," says Adam Shain, Director, Global Business Development – Injectables, Aptar Pharma. "Plastic has made advances, but the jury is still out on whether glass or plastic is the material of choice in terms of construction and compatibility."
"With glass, there have been reports and incidents of issues arising as a result of process, formulation and container interaction, such as glass delamination, particles by glass leachables, and formulation components," says Prof. Dr. Hanns-Christian Mahler, Head, Drug Product Services, Lonza Pharma & Biotech. "Plastic, on the other hand, has various advantages, such as enabling tighter dimensional control of the container size(s), making it potentially easier to integrate with plastic device components of autoinjectors and pens. However, plastic also has many, not fully researched and understood liabilities, especially when developing biologic drug products, including extractables and leachables, oxygen and water permeability, and process residuals. All in all, glass containers would be currently considered still most suitable for biologic drug products in general, with plastics being appropriate for some certain, specific circumstances."
This annual Drug Development& Delivery report highlights some of the key players in the market and where they are focusing their efforts to ensure products are of the highest quality, safe, and easy to use.
Aptar Pharma: Focused on Reducing Particulate Levels
Pharmaceutical companies are increasingly looking for ways to eliminate the risks associated with contamination. Specifically, the focus has been around reducing the level of particulates found in drug product. This focus on particulates is raising the bar for all players associated with the development and manufacturing of injectable products, with attention targeted towards a zero-defect achievement. Aptar Pharma has addressed this trend with the development of its Premium portfolio of injectable components: Premium-Fill®, PremiumCoatTM, and PremiumVisionTM.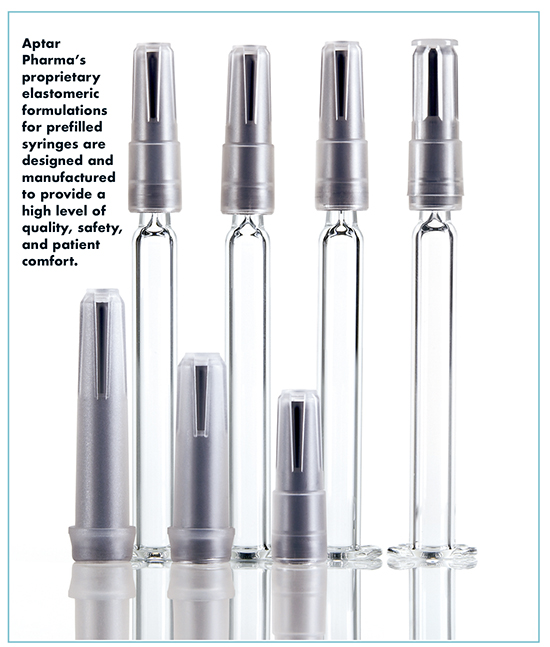 "PremiumFill is a guaranteed specification to Aptar Pharma's high quality of production, resulting in lower embedded particles, improved particulate cleanliness, and an overall reduction in defects," says Adam Shain, Director, Global Business Development – Injectables, Aptar Pharma.
Also produced with the PremiumFill guarantee is PremiumCoat, the new standard for film-coated stoppers. And, PremiumVision uses an in-line automated vision inspection system designed to further validate against critical defects and offers the ability to customize and further reduce the particulate level guarantee for PremiumFill.
"Aptar Pharma has always developed and manufactured pure elastomeric formulations," explains Mr. Shain. "Using the fewest materials possible, we create ultraclean formulations offering the lowest levels of extractables and leachables, which has contributed to the above advances."
Aptar Pharma's services and development capabilities have proven successful for Next Breath, a full-service cGMP analytical service company. Recently, Next Breath expanded its development services to injectable delivery systems with a core focus on extractables and leachables. Next Breath works with customers to define the characteristics of elastomeric components that are best suited for their drug product, assess functionality for the intended use, examine extractables and leachables, and determine physical and chemical compatibility. "This systematic approach makes Next Breath services ideal for any company looking to accelerate their development timelines for regulatory filing," says Mr. Shain.
Catalent: Using Next-Generation Technology for More Flexible Filling
There is a shift in the industry to extend the ready-to-use platform and capabilities for filling flexibility. Catalent has combined the activities of what would traditionally be three lines into one single line under barrier isolation located in one filling suite. The project was part of a complex manufacturing upgrade, within an existing operation, to complement its existing syringe and vial lines with first-of-its-kind flexible filling technology, explains Brian Galliher, Senior Process Engineer, Catalent Biologics. "The project is an exceptional example of Catalent helping to lead industry in the adoption of ready-to-use vials (and cartridges) and applying next-generation robotics technology uniquely to create unparalleled flexibility," he says. "Catalent's version of flexible filling not only adds capacity, but also enables better service to its customers through that flexibility to benefit patients."
On the device side, Mr. Galliher sees an increase in the number of off-the-shelf offerings for autoinjectors. "In the past, 1mL-long presentations were predominantly the only offerings for off-the-shelf autoinjector presentations. Today, there are 2.25-Ml presentations also available in an off-the shelf format. Catalent has the capability of processing both 1-mL and 2.25-mL configurations."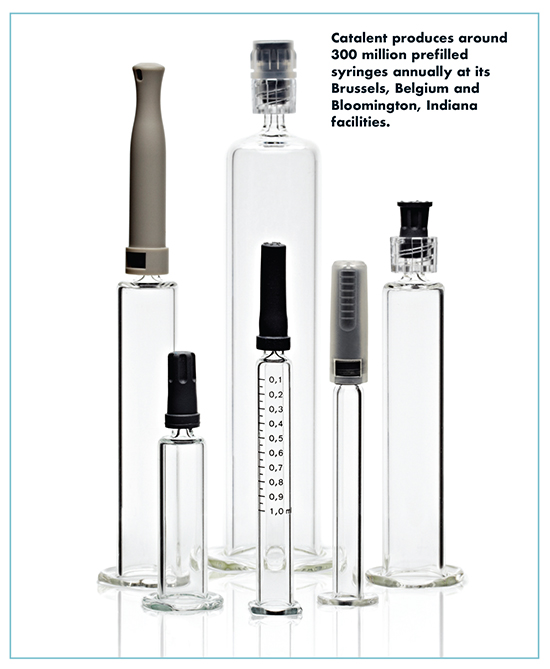 In the area of autoinjectors, Catalent supports combination device assembly. This begins with early clinical device assembly and progresses through builds needed to support human factors assessments and design verification all the way through qualification and commercial launch/production, says Mr. Galliher.
Credence MedSystems: Platform for a Range of Applications
There is the continued drive from pharma customers to differentiate their drug-device combination products in a crowded and competitive market place. Credence MedSystems is helping its customers differentiate their drug products through innovative delivery systems while preserving their trusted processes, thereby making differentiation through drug delivery safer, more achievable, and less disruptive, explains John Merhige, Chief Commercial Officer, Credence MedSystems.
"That marketable differentiation comes from the end-user experience when administering our customers' medications with Credence devices," he says. "Credence's innovative technology provides an enhanced, safer, and more intuitive experience for users across the platform of injection and reconstitution products. Whether it is the Companion staked syringe, luer syringe, or dual-chamber reconstitution device, safety activation clicks, end-of-dose feedback cues, and automatic needle retraction create a better, safer experience for patients and healthcare professionals."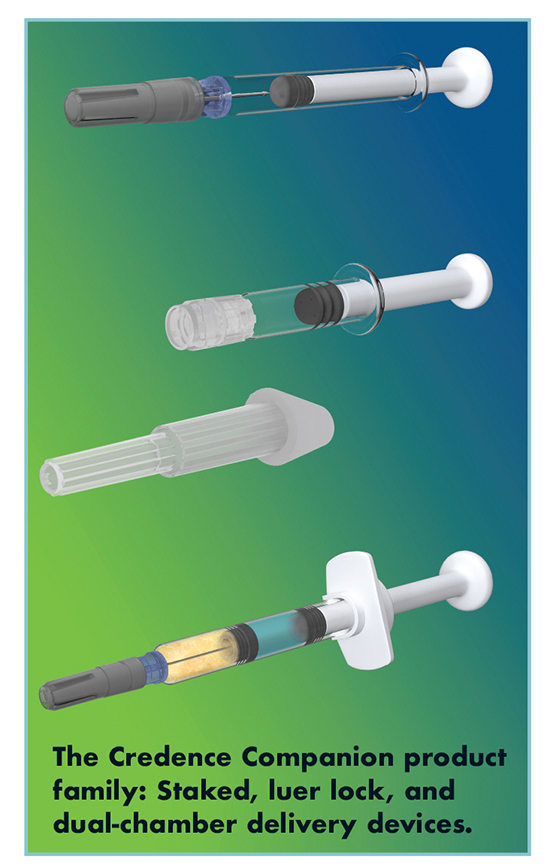 Simple, safe, and intuitive usability throughout the product lineup provides users a familiar and identifiable experience regardless of the drug product or route of administration. This makes Credence technology applicable to a range of applications, whether they include a drug that requires subcutaneous delivery in a staked syringe, the flexibility to change needles on a luer lock syringe for intramuscular delivery, or the need for point-of-care mixing, says Mr. Merhige. "The technological innovation with applicability across a wide breath of requirements has driven pharma customers to evaluate and value the Companion technology as a platform for applications ranging from vaccines to biologics."
Just as the Companion's features can improve the user experience and safety of drug administration, additional important benefits can come from eliminating risky materials and maintaining trusted and validated processes. Credence provides the user the convenience and safety of a pre-attached needle, but eliminates glue from the needle-attachment mechanism. "Removing glue from the fluid path protects the integrity of the drug by eliminating the risk of any unwanted interaction between glue and drug product, and allows silicone-controlling techniques that were previously incompatible with staked syringes," says Mr. Merhige. "This positions the Companion system as an enabling technology for sensitive biologic drugs."
Further, the Companion technology is compatible with existing prefilled syringes and primary package components, allowing pharma the freedom to choose its preferred sources for these components. "This approach empowers pharma with the ability to maintain its preferred sourcing strategy and manufacturing processes and avoids disruption to filling lines and simplifies secondary packaging operations," says Mr. Merhige. "As a continuation of this design strategy, not only is Credence open to glass barrels from any supplier, but the technology also allows the use of both glass and plastic polymer prefilled syringes, allowing the pharma customer to determine the best container for the application."
Gerresheimer: Packaging & Safety Remain the Focus
Primary packaging components are critical for pharma customers, and Gerresheimer believes that glass will prevail in the market, as pharma understands the benefits and drawbacks of glass syringes. "They understand the risks, and are aware of improvement in glass with regard to composition and the processing," says Bernd Zeiss, Manager Technical Support Medical Systems at Gerresheimer Bünde.
Aside from glass syringes, Gerresheimer offers the Gx® RTF Clearject® syringe, a high-end syringe made from break-resistant COP with advantages over glass, such as high tolerance and glue-free needle mounting. Polymers like COP have found their specific fields of applications in biotech and aesthetics.
In addition to packaging material, syringe safety and needlestick prevention continue to be critical areas of concern for pharma. To address that concern, Gerresheimer will soon offer the Innosafe® safety syringe, a fully passive, integrated prefillable safety syringe. "This lean system does not require assembly at the pharma company after filling as the safety needle is previously mounted at Gerresheimer in the ready-to-fill process," says Mr. Zeiss. "The system is not only convenient and safe for healthcare workers, but also easy to handle at the filling site with less process steps."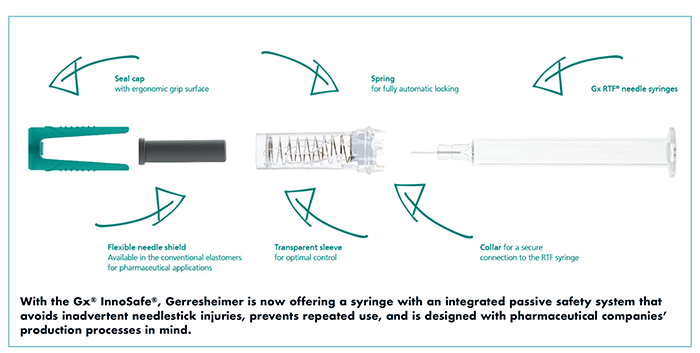 Gerresheimer is continuously upgrading its process capabilities with next-generation technologies like the Gx 3G camera system for reliable detection of dimensional and cosmetic defects. New features are a highly accurate dose marking for very small injection volumes and the use of a ceramic pin in metal-free cone forming to avoid tungsten. "We also put effort into reducing free silicone oil with improved baked-on siliconization processes," says Mr. Zeiss.
Lonza: Supporting Solutions for High-Concentration Products
Lonza Pharma & Biotech's Drug Product Services (DPS) organization helps to develop products and drug/device combination products for parenteral administration. In addition, they can specifically address issues related to formulation, excipients, active ingredient, process, container closure, and device interaction as they relate to product stability. Issues related to container and device can include delamination, fogging, injection force variability, particle assessment, surfactant-mediated, and comparability exercises.
Many biologic drugs, such as monoclonal antibodies or antibody fragments, require a sufficiently large dose when administered subcunatenously (s.c.) or intravireally (i.v.t.) (intraocularly). Products for i.v.t. administration have specific requirements, both considering maximum injection volume and usable needle sizes and configurations. This leads to high concentration formulations that have specific challenges in product design and manufacture, including increased aggregation and particle formation, and significant increase in viscosity, which can impact the ability of manufacture and administer. "We have supported various customers for the development of high- concentration products for s.c. and i.v.t. administration, overcoming these challenges and enabling them to enter clinical development quickly with the ability to manufacture and administer, and making these products also commercially viable," says Prof. Dr. Hanns-Christian Mahler, Head, Drug Product Services, Lonza Pharma & Biotech.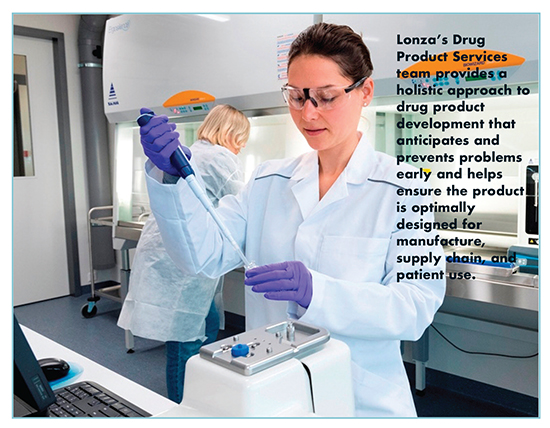 The DPS team provides a holistic approach to drug product development that anticipates and prevents problems early and helps ensure the product is optimally designed for manufacture, supply chain, and patient use in full compliance with global regulatory requirements and expectations. The DPS team provides a complete portfolio of services for parenteral dosage forms, including products for injection and infusion for intravenous, subcutaneous, intraocular, and other routes of parenteral administration. These offerings also include specialized services, such as: particulate identification; characterization and quantification; excipient and surfactant characterization; extractables and leachables assessment; and container closure integrity testing.
"Lonza enables its customers to commercialize their products by also supporting them in the choice, development, manufacture, and analysis of devices," says Dr. Mahler. "We are also advancing and improving test equipment related to the development of these systems."
SCHOTT: Keeping Drugs Stable During Shelf Life
The shift from large blockbuster drugs to more targeted treatments, including biologics, has elicited two consequences for pharma manufacturers. First, they must make their filling process more flexible to meet the growing market demands. Second, the biologics are highly sensitive and require special packaging to ensure drug stability, says Dr. Nicolas Eon, Global Product Manager, SCHOTT Pharmaceutical Systems.
SCHOTT has addressed this trend by introducing the iQ™ platform, which standardizes the tub format of syringes, vials, and cartridges to run on one filling line with reduced changeover times. The newest member of the iQ family is syriQ BioPure®, a prefillable glass syringe designed to keep highly sensitive and complex drugs stable during shelf life and ease administration. SCHOTT offers more than 48 pre-validated configurations with elastomer components for the new syriQ BioPure syringes. Moreover, accurate dimensions of the syringes allow for optimal device compatibility, which enable home treatments.

Choosing the right material for parenteral containers can be difficult. SCHOTT helps its customers take a holistic approach for each use case, which focuses on the product, patient, and process, Dr. Eon says. "The primary packaging materials can interact with its contents over time. The goal is to minimize this because, in the worst-case scenario, this interaction can impact the effectiveness of the medication or even lead to side effects. Newer biotech products are especially susceptible to this interaction due to their complex molecular structures, and require special packaging. In order to ensure that patients are well protected from potential problems with these products, pharmaceutical companies and their suppliers must change the nature of their cooperation and focus on innovative solutions right from the beginning."
SCHOTT has experience with many active ingredients and buffer systems, and, says Dr. Eon, SCHOTT knows which packaging will probably be a good choice for the client. "If you can limit the options and minimize stability risks, this can save time and resources. An efficient collaboration between both parties allows medications to be brought to market in a quicker and safer manner."
Vetter: A Strategic Partner in Determining All Facets of PFS Use
CDMOs today need to advance their aseptic processes and technologies to meet the competing demands for the highest levels of quality and flexibility. One means of accomplishing this goal is to combine the advantages of the two commonly used techniques for aseptic manufacturing within the industry today – isolators and restricted access barrier systems (RABS). Combined, they help in an enhanced way to improve quality, safety, and flexibility in the aseptic filling process while making processes more efficient at the same time.
Vetter has devised such a solution called Vetter CleanRoom Technology VCRT®, incorporating a number of innovations that result in improved operation in aseptic manufacturing, explains Bernd Stauss, Senior Vice President Pharmaceutical Production/Engineering, Vetter Pharma-Fertigung GmbH & Co. KG. "The system includes a fully automated H2O2 decontamination process of the entire cleanroom within a uniquely fast – approximately less than 3-hour cycle – to avoid microbial contamination and to achieve the highest safety level possible," he says. "Continuous online monitoring of several variables helps ensure the effectiveness of the decontamination process. The overall equipment effectiveness of RABS, combined with the sterility assurance level (SAL) of an isolator, achieves high operational efficiency." Vetter will implement this decontamination concept in all of its cleanrooms within the next few years.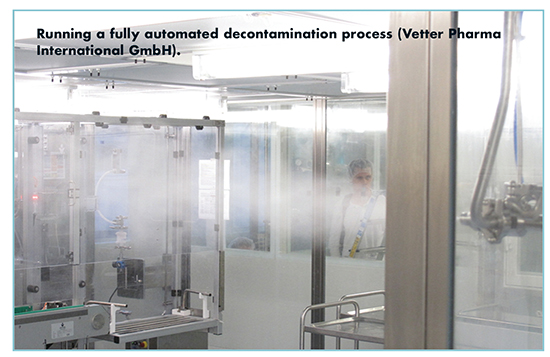 When it comes to the manufacturing of injectable drugs, a high level of expertise is required. "Quite often, smaller pharma and biotech companies lack some in-house knowledge necessary to cover all the processes independently prior to completion of the entire final product," says Mr. Stauss. "That is where Vetter, as an experienced CDMO, can bring them significant added-value with our end-to-end solution portfolio because we act as both a consulting and processing partner in our relevant fields."
To illustrate, consider the issue of dosing. Prior to the decision to use a prefilled syringe, a pharma or biotech company must consider the different drug concentration presentations it wants to bring to market. The answer to that question will result in different subsequent actions. Additional critical issues that must also be taken into consideration include silicon oil reactivity, the use of non-flurotech or flurotech stoppers, glide and release forces, and the length of time that the drug will be held in storage. Also, matters such as plunger rod and finger flange design, secondary packaging issues such as blistering, and other manufacturing issues must be carefully verified, discussed, and decided upon prior to making the final decision to use prefilled syringes. "As a strategic partner, we have the opportunity to be involved with a variety of customers and their individual production and marketing strategies."
West Pharmaceutical Services, Inc.: Improving Self-Administration of Biologics
There is growing interest in the use of polymer syringes for ocular injections, such as those used to treat wet age-related macular degeneration (AMD). Along with its partner, Daikyo Seiko, West has been developing and supplying Daikyo Crystal Zenith® systems for use with many marketed drugs. The Crystal Zenith syringe offers advantages for ocular injections, including the absence of silicone oil, high cleanliness, and the use of a fluropolymer-filmed plunger that reduces drug interaction. "The precision of the system may help to improve break-loose and gliding forces, and provide increased control and comfort to the clinician while injecting into the eye," says Graham Reynolds, Vice President and General Manager, Global Biologics, West Pharmaceutical Services, Inc.
At the heart of the system is a Daikyo Crystal Zenith container, combined with Flurotec® closures to enhance the security of the drug product and optimize performance. This is important, says Mr. Reynolds, as self-injection of biologic drugs can be challenging, especially as molecules become more complex, dose volumes increase, and dosing frequency is reduced to improve patient convenience. Taking an integrated approach to the development of drug delivery systems, West has developed systems such as the SmartDose® drug delivery platform, which offers fully integrated containment and delivery systems for the self-administration of biologic drugs.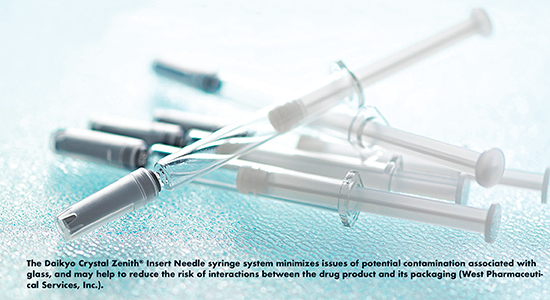 SmartDose allows patients to self-administer medication in accordance with their prescribed treatment. "West developed the SmartDose drug delivery platform with extensive human factors testing and analysis to understand the interaction between the patient and the delivery system," says Mr. Reynolds. The SmartDose drug delivery platform adheres to the patient's body, usually on the abdomen, so patients can be hands-free during administration.
"The market demand for biologics, coupled with the growth of self-administration, required the drug delivery sector to develop new innovations to administer these therapies, such as the West Smart-Dose technology platform," says Mr. Reynolds.
In 2016, Amgen announced that it had selected the SmartDose technology platform for a single, monthly 420-mg dose delivery option for Repatha® (evolocumab). "The combination of Amgen's treatment with West's patient-focused technology platform is an example of how West closely collaborates with its pharmaceutical and biotechnology partners to deliver advanced, integrated solutions for drug delivery and containment."
ZebraSci: Gain an Edge in Lifecycle Management With Characterization
ZebraSci is noticing increasing interest in adding Container Closure Integrity Testing to its primary container characterization programs. "In addition to assessing the variability in critical geometries for container components, such as syringe barrels and pistons, adding a sensitive leak testing method like helium leak detection upfront in the development phase allows you to gage the inherent integrity of the packaging system," says Eric Creveling, Director, Laboratory Services, ZebraSci.
He adds that helium leak detection can help determine the relationship between a specific syringe barrel/piston combination, as well as how silicone/lubrication levels impact seal quality. Variations in silicone quantity and distribution lot-to-lot can not only affect the amount of particles and protein aggregation in solution, but play a critical role in the injection performance when the PFS is intended for use in an autoinjector system. A thorough Design Verification Testing program is critical to demonstrate that the device doesn't introduce a safety issue or compromise the performance/delivery of the drug.
"By fully characterizing prefilled syringe performance characteristics upfront, our pharma clients gain an edge when it comes to device selection and lifecycle management," says Mr. Creveling. "A robust program that looks at the variability in critical geometries, lubrication, and injection forces, across multiple lots of syringes helps them assess how a container will interact and perform with a given device. Later in the life cycle, if a device injection failure or stall leads to a failure investigation, the baseline data captured in the characterization program can help steer the investigation to the suspected failure mode more quickly, saving time when a response to the agency is required."
Reference
Prefilled Syringes Market worth 6.36 Billion USD by 2021, MarketsandMarkets, https://www.marketsandmarkets.com/PressReleases/prefilled-syringes.asp.