SPECIAL FEATURE – PFS & Parenteral Drug Delivery: Self-Injection is Very Much the "New Normal"
Covid-19 fast tracked the healthcare industry's growing acceptance of patient self-injection, enabling patients to continue treatment outside of hospital environments and within outpatient facilities and home-care settings. And prefilled syringes (PFS) represent the fastest-growing self-injection segment. In 2021, the global prefilled syringes market was valued at $5.8 billion. Overall, the market is expected to grow to $12.7 billion by 2028.1
"Self-administration of injectable drug products via pen injector, autoinjector or prefilled syringe has been a growing market trend predating the occurrence of the COVID-19 pandemic," says Eric Lee, Business Development Director, Novocol. "Following COVID, it is anticipated that self-administered injectables will continue to rise as a result of the de­velopment of novel therapeutics, biosimilars, and differentiation of existing marketed injectable products. This trend will lead to improved patient convenience while reducing the burden on healthcare systems and practitioners."
Ziv Cahani, Vice President Business Development and Marketing at DALI Medical, agrees. The industry is well-po­sitioned to keep pace, as there is a growing variety of solutions already available for injectable drug delivery in home settings, and many more in development. These include safety needles and safety syringes, connected injectable delivery devices, and advanced platforms for managing and analyzing compliance. Additionally, device manufacturers are de­veloping unique solutions specifically designed for self-injection – which is very much the "new normal."
As COVID continues to impact the research and development focus across the globe and the desire to achieve a new normal, August Bioser­vices expects innovators to invest fur­ther in therapies that take advantage of the ready-to-use format. "We know from decades of experience that there has long been a preference for ready-to-use" products, as they are more user-friendly, can help to save time and can help to reduce the risk of medication errors," says Ryan Downey, Director of Customer Oper­ations, Commercial Development, Au­gust Bioservices.
As an example, BD Medical – Pharmaceutical Systems is investing $1.2 billion over a 4-year period to expand and upgrade manufacturing capacity and technology for PFS and advanced drug delivery systems across its six global manufacturing lo­cations, and will add a new manufac­turing facility in Spain. The investment is also funding capacity expansion, new product innovations, manufactur­ing technology enhancements, and business continuity improvements across the existing BD network. "These initiatives are all designed to maximize supply and reduce risk for pharma­ceutical companies that rely on ready-to-fill syringes for their injectable drugs – including complex biologics, vaccines, and small molecules," says Marie-Liesse Le Corfec, Head of Global Portfolio Marketing, BD Med­ical – Pharmaceutical Systems.
This exclusive Drug Development & Delivery annual report showcases how leading CDMOs and drug deliv­ery developers are responding to this and other market trends to create er­gonomic technologies that are patient friendly, easy to use, reduce needle anxiety, and feature improved pack­aging materials.
Ajinomoto Bio-Pharma Services: Multi-Purpose Filling is Flexible & Quick
With six automated aseptic filling lines, Ajinomoto Bio-Pharma fills clin­ical and commercial drug products into vials, syringes or cartridges. But before a client's drug product makes its way to the filling line, there is a tremendous amount of work, focus, and preparation for the aseptic fill. "The operations team cleans, vali­dates, prepares, and plans for the for­mulation, sterile filtration, and fill of life-saving products," says Roland Kim, Manager, Drug Product Manu­facturing, Ajinomoto Bio-Pharma Services. "In addition, the quality team inspects and tests the aseptic environ­ment in preparation for the fill."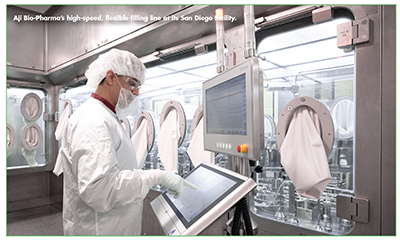 Aji Bio-Pharma has invested and expanded services with the addition of a multi-purpose filling line for clients needing a quick timeline for schedul­ing, as well as flexibility in the configuration with the option to fill into vials, syringes or cartridges, expains Mr. Kim. "In addition, we are continuing to offer virtual solutions to help our clients across the globe that may still have travel restrictions or difficulties. These include remote suite viewing, secure document sharing, and remote audits."
Another difficulty Aji Bio-Pharma has witnessed revolves around supply chain issues, especially with sourcing components. Mr. Kim describes how a large syringe client contacted Aji­nomoto Bio-Pharma Services regard­ing a project with components and fill volumes out of normal operating ranges. "Our drug product subject matter experts were presented with a challenge to order new change parts, create a new fill curve, and validate the process within a timeline that would meet the client's needs," he says. "A cross-functional approach was taken to produce a robust and re­peatable process for the client's cam­paign. Being able to fill syringes that are lighter material and have a wider OVS tip versus the barrel's outer di­ameter, and 50% less fill volume, was a success for Aji Bio-Pharma in help­ing our client achieve its goal."
ApiJect Systems, Corp.: Continues to Develop Flexible BFS-Based Injection Platform
ApiJect works with pharmaceutical and biotech companies to fill/finish their injectable drug products into single-dose, prefilled injectors in a highly efficient and scalable way. This is achieved by first designing a Blow-Fill-Seal (BFS) Container that is customized to the specific drug product. Then, a prototype BFS-based prefilled injector is manufactured, tested for performance, and rapidly iterated until the pharma company is satisfied with the results, explains Josh Myers, Senior Director, Supply Chain, ApiJect Systems, Corp. Finally, the ApiJect team helps the pharma company either set up the necessary BFS manufacturing line in their facility or connect them with a contract manufacturer that has the necessary BFS experience and equipment.
ApiJect primarily addresses three major challenges in the US and global injectables fill/finish market.
Scalability with Efficiency: "Prefilled syringes can be time-consuming to fill/finish and costly to manufacture compared to traditional vials and disposable syringes," says Mr. Myers. "A high-capacity BFS production line fill/finishes up to 25 prefilled single doses every 3-7 seconds."
Flexibility: Traditional parenterals packaging is often confined to existing container sizes and shapes, which can only be manufactured and filled/finished by dedicated plants and equipment that can take years to establish, explains Mr. Myers. "BFS machines leverage molds that can be custom designed and rapidly changed out to produce a variety of shapes and sizes to meet requirements of a broad range of sterile liquids."
Compact Supply Chain: BFS-based injectors made on the ApiJect Platform have two primary raw materials (stainless steel for needles, pharmaceutical-grade plastic resin for containers and attachable components). "And the entire fill/finish process, including the primary container manufacturing, can be done under one roof," explains Mr. Myers. "This short, resilient supply chain enables on-shoring and reliable production."
As of this time, any device made on the ApiJect Platform has not been cleared by the FDA or other regulatory body. However, the scale, compact supply chain, and flexibility of the ApiJect Platform were outlined in a coordinated project with the US Department of Defense and Department of Health and Human Services in 2020 as part of America's initial response to COVID-19, descrbes Mr. Myers. "ApiJect and related partners were able to upgrade three existing BFS lines at The Ritedose Corporation within 7 months to be capable of filling and finishing up to 45 million prefilled injectors a month with potential COVID-19 vaccine."
He adds that while this capacity has not been utilized to date thanks to the success of more traditional domestic fill/finish supply chains, it proved the scale and efficiency enabled by the ApiJect platform, which has led to increased coordination with pharmaceutical, biotech, and contract manufacturing companies. This includes a recently announced project with Fareva to establish three similar-capacity BFS lines at one of its facilities in France for vaccine fill/finish.
Aptar Pharma: Derisking the Development of Prefilled Syringe Delivery
Primary packaging plays a critical role in the development and delivery of every injectable drug and offers many opportunities to meet evolving market expectations. Thus, primary packaging manufacturers have been improving their processes and are working with material sciences to de­velop innovative solutions, such as rubber components laminated with fluorinated films (i.e. ETFE). "While Halobutyl formulations are specifically designed to limit their chemical inter­action with therapeutics, ETFE films form an additional barrier that further reduces the transfer of extractables and leachables into the drug prod­uct," says Claire Raynal-Olive, Vice President of Business Development for Aptar Pharma. "Coated components help drug developers meet the strin­gent requirements of regulatory agen­cies and reach the market faster."
Additionally, as the demand for self-injection increases, primary pack­aging manufacturers must also guar­antee that the functional performance of their components (such as the acti­vation and gliding forces) is congruent with patients' capabilities or autoinjec­tor integration. "Such functional re­quirements are further emphasized as drug developers work toward reduc­ing the frequency of injection for im­proving patient compliance and comfort," she says. "Functionality is­sues can be avoided by selecting pre­mium components designed to deliver consistent performance, whether for manual injection or autoinjector inte­gration."
Finally, accelerating time to mar­ket while optimizing and derisking op­erations is of key importance for pharma companies that may also rely on contract manufacturing organiza­tions for performing the final filling steps. Primary packaging's functional­ity can be a source of risk for compat­ibility with filling lines, and therefore a potential barrier to efficient industrial­ization. "Aptar Pharma's Premium­Coat® is compatible with both vent tube and vacuum technologies, en­abling operational flexibility while fa­cilitating the choice of primary packaging and CMO for pharma partners," Ms. Raynal-Olive says. "PremiumCoat 1mlL and 1-3mL plungers help derisk the primary packaging selection process so that our pharma partners can focus on their drug development."
August Bioservices: One-Stop-Shop Fill/Finish
August Bioservices develops and commercializes sterile injectable prod­ucts. An integrated scientific and man­ufacturing team are on site and under one roof, making the company a one-stop-shop for clients in early drug de­velopment through clinical trials and commercial launch, says Ryan Downey, Director of Customer Oper­ations, Commercial Development, Au­gust Bioservices.
Additionally, he says the company offers a flexible fill/finish platform that accommodates a range of prefilled syringe sizes, up to 60mL. "Our fill/finish capability, combined with an on-site analytical services platform that includes extractables and leach­ables, allows August to accelerate the understanding of compatibility for new drug products, evolving primary con­tainer designs, and materials of con­struction."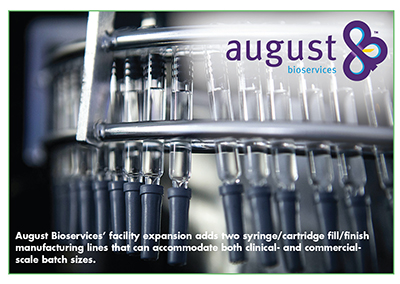 A recent expansion will enable August to offer drug development and manufacturing capacity later this year and into 2023, comments Mr. Downey. "Availability of capacity con­tinues to be challenging for innovators attempting to address unmet medical needs, including COVID-related ther­apies. This is particularly difficult for companies who are seeking small- to mid-size batch scale and/or have complex formulation and manufactur­ing requirements."
BD Medical – Pharmaceutical Systems: Collaborations Lead to Improved Product Development
Since 2010, BD Medical – Phar­maceutical Systems has conducted more than 80 human factors studies to ensure usability of its drug delivery solutions. Its portfolio features prefilled syringes for administration of in­jectable or nasal vaccines, as well as integrated devices and systems that can deliver biologics across a range of volume and viscosity levels for treating chronic conditions. The company is also focused on finding solutions for sequentially injecting two liquids with a single plunger push. In fact, BD filed a patent for a system made of a reg­ular robust prefilled syringe that en­ables such sequential injection thanks to a redesign of a plunger stopper – involving no costly or fragile by-pass system, says Marie-Liesse Le Corfec, Head of Global Portfolio Marketing, BD Medical – Pharmaceutical Systems.
BD also believes connectivity is the future of drug delivery devices and is developing a connected product ca­pable of capturing and transmitting injection-related data. The device will be an optional upgrade of the BD Ul­trasafe Plus™ Passive Needle Guard and is intended to support decentral­ized and hybrid clinical trials. "The product will address patient needs, CROs, and study sponsors for a safe, easy-to-use self-injection device that automatically captures reliable, high-quality, and time-stamped data about the injection event from the patient (who may be self-injecting remotely) to the trial's selected electronic plat­forms," says Ms. Le Corfec.
BD recently teamed up with indus­try-leading partners in tagging and traceability technologies to develop sy­ringe-specific traceability solutions in­tegrating in broader Pharma 4.0. systems. "By supporting anti-mixup­controls, reconciliation or root-cause analysis, monitoring of time out of the cold chain, and manufacturing data integration into machine learning sys­tems, this solution is meant to assist in­creasingly stringent manufacturing lines quality controls and audits while enhancing productivity," she says.
The company has also partnered with pharmaceutical and biotech com­panies to develop and produce inno­vations that enable new drug delivery needs. One biotech company devel­oped a case study on how early col­laboration, including needs and information sharing, can give the in­novation timeline an earlier start and lead to initial launch readiness in the desired device configuration, working with BD specifically on co-develop­ment of the BD Neopak™ XtraFlow™ Glass Prefillable Syringe.
Ms. Le Corfec says: "This early-stage collaboration helped BD de­velop the right product to meet the drug's needs (higher viscosity, larger volumes, reduced needle anxiety, a single dose that's easy to inject, and well tolerated by patients). This avoided the need to add an additional loop in the design process to adjust to unmet needs. This process also gave the biotech confidence in the technol­ogy early on, as they were involved in the design process."
Credence MedSystems, Inc.: Solving Unmet Needs in Injectable Delivery
As Credence MedSystems scales its manufacturing capacity for its Companion® and Dual Chamber product lines, John A. Merhige, Chief Commercial Officer, Credence MedSystems, Inc., says pharma com­panies are provided improvements in usability, safety, waste-reduction, sus­tainability, and operational efficiency – without having to reengineer processes or introduce undue risk.
Credence recently announced a successful $39.9 million funding round that included strategic invest­ments from Novartis and Molex Ven­tures, as well as a strategic collaboration with Phillips-Medisize, a Molex company. Those collaborations have contributed to Credence's imple­mentation of a flexible clinical manu­facturing line that will produce up to 500,000 units per year of various con­figurations of the Companion and Dual Chamber product lines. Ex­pected to be up and running later this year, this manufacturing capability will enable Credence to supply sufficient volumes to support development ef­forts, including stability studies and machine evaluations, as well as for human-use production for clinical study supply and eventually smaller volume commercial applications, ex­plains Mr. Merhige.

The Credence Companion pro­vides pharma manufacturers and their end users end-of-dose cues and auto­matic needle retraction. "User studies performed by Credence and its pharma customers document high user preference for the Companion while the integrated approach im­proves operational efficiency for pharma manufacturers by eliminating secondary assembly processes and the associated waste and cost," he ex­plains. "In addition, Companion's streamlined design prevents prema­ture activation of the safety mecha­nism, again eliminating waste and addressing regulatory concerns, and achieves a less impactful environmen­tal footprint. Compared to conven­tional safety approaches, Companion uses 38% of the plastic, reduces the weight of added components by 58%, and occupies 33% of the volume post-use, helping pharma achieve corpo­rate sustainability goals."
The Credence Dual Chamber Re­constitution Syringe simplifies the de­livery of complex drug products, enabling less experienced users to safely and correctly administer med­ication. "As delivery of injectables moves from formal healthcare settings to the home, pharma developers face the challenges of achieving liquid-sta­ble formulations."
The Dual Chamber system main­tains separation of components dur­ing storage, offering a safe and friendly experience, he adds. "Simpli­fied mixing and injection, combined with passive needlestick protection, minimizes time, complexity, and risk of dosing errors and contamination, while improving safety and usability."
Additionally, the platform employs the use of conventional commercially available syringe barrels and stop­pers, allowing use of syringes ranging from 1mL to 20mL, glass or plastic barrels, and pre-attached needles or luer lock needleless front ends.
DALI Medical: Needle Safety Promotes Self Injection
DALI Medical offers a range of advanced injectable drug delivery devices and service development solutions from concept to commercial­ization. Its safety-engineered, patient-centric approach provides enhanced safety and ease of use for commercial trials and commercial drugs, explains Ziv Cahani, Vice President Business Development and Marketing at DALI.
DALI Medical's SAN (Safe Auto Needle) drug delivery devices increase safety, ease-of-use, and convenience, with features such as automatic needle insertion, passive automatic sharps protection, a fully hidden needle along the whole injection process, and manual control of injection speed, Mr. Cahani explains. Additionally, the SAN-L is a passive safety and auto­matic needle-insertion device compat­ible with luer lock syringes, while the SAN-P is an automatic needle-inser­tion safety syringe for staked needle prefilled syringes.
Dual-chamber syringes can be in­tegrated with DALI's SAN passive safety needles. Mr. Cahani says that one European pharmaceutical com­pany has selected a DALI dual-cham­ber syringe for a new drug, and the product is expected to be launched in 2023.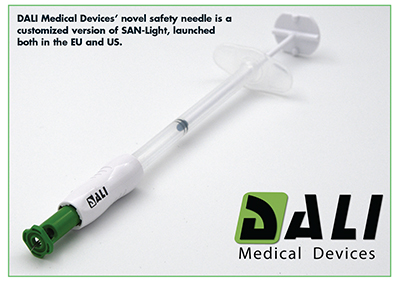 "Our dual-chamber syringes, pri­marily targeted to healthcare profes­sionals, and dual-chamber pens, offer highly intuitive usability that are ideal for self-injection," he says. Both solutions are available in a choice of configurations, enabling drug manu­facturers to fit the syringe or pen to their specific drug and patients' pref­erences. For example, one of DALI's dual-chamber syringes is specially de­signed to ensure correct mixing of the two components.
DALI's SAN-Light single-use pas­sive safety needle is being used by UK-based ADVANZ PHARMA for its Mytolac®/Myrelez®, a generic Lan­reotide drug product launched in 2021. SAN-Light is connected to a prefilled syringe.
DALI also offers injection connec­tivity. The DALI SYNNECT connected injection solution incorporates sensing and connectivity technologies to accu­rately measure the administered drug's data and transmit it, enabling remote healthcare monitoring.
Eitan Medical: A New Era of Patient-Centric & Pharma-Minded Self-Injection
Even prior to Covid-19, a con­stant challenge associated with mov­ing care to the home has been in maintaining patient compliance and adherence to treatment regimens and ensuring quality healthcare outcomes. As a result of the growing need for homecare solutions, the need for pa­tient-centric self-administration de­vices has become a priority.
Additionally, new biologic-based drugs will be brought to market in the next decade, believes Dr. Andrei Yosef, General Manager of Pharmaceutical Solutions at Eitan Medical. "While in­troducing significant therapeutic ben­efits, their associated drug delivery challenges need to be addressed," he says. "With higher viscosities and larger volumes than chemically syn­thesized drugs, many of these biologic medications are expected to require an alternative delivery system to tradi­tional hand-held injectors, limited to 1-2mL of liquid."
In parallel, some of these biolog­ics are expected to launch in lyophilized form, requiring drug re­constitution prior to administration. This adds another level of complexity to the administration process and poses an additional barrier to self-ad­ministration.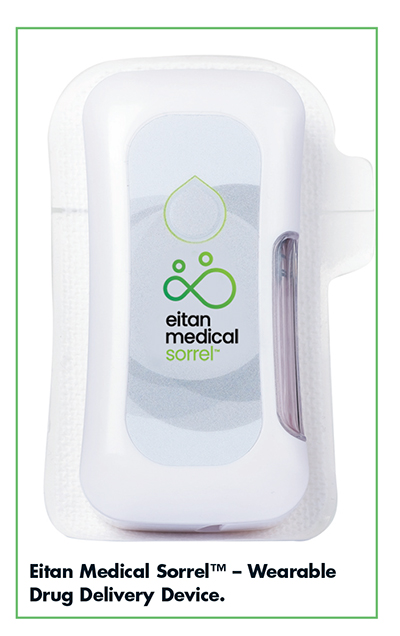 Device solutions addressing both the shift to homecare, together with the challenges described above, in­clude infusion pumps, reconstitution systems, dual-chamber syringes, wearable injectors, and more. How­ever, for lyophilized biologics requir­ing dosages of above 2mL, a wearable drug delivery device that al­lows for reconstitution prior to admin­istration would be ideal, says Dr. Yosef.
Eitan Medical's Sorrel™ wearable drug delivery platform features a va­riety of configurations based on a patented pumping mechanism and UV technology. The device is designed for easy and efficient subcutaneous, self-administration of large-volume and high-viscosity medications for use in homecare environments, he ex­plains. "Eitan Medical is working to further expand the Sorrel offering to lyophilized medications, allowing the drug reconstitution process to occur inside the Sorrel device. By simplifying the reconstitution process, which cur­rently is very cumbersome and gener­ally involves multiple accessories, patient compliance and adherence to medication regimen may be better positioned for success."
He continues: "Furthermore, as pharmaceutical companies usually re­quire long lead times to transition their drug product from one primary con­tainer to another, the Sorrel device's primary container agnostic feature of­fers quick turnaround times for development of one primary con­tainer-based device to the next, skip­ping the lengthy transition process, and conforming to the primary con­tainer of Eitan Medical's pharma partner's choice. This allows pharma­ceutical companies to go to clinic faster with the primary container they generally have available. By providing a wearable solution adaptable to mul­tiple dosage forms, in a ready-to-use, prefilled and pre-loaded device, the Sorrel platform offers both a patient-centric and pharma partner-focused solution to the drug delivery market needs."
Emergent CDMO: Flexible Capabilities from Clinic to Commercial
Emergent CDMO offers a com­prehensive range of drug product for­mulation and aseptic filling in vials and prefilled syringes, in various con­figurations, to address both viral and non-viral manufacturing needs – from early-stage clinical to late-stage com­mercial products. Emergent also offers cGMP lyophilization in conjunction with its fill/finish capabilities. "We can support biopharma innovators' needs for a range of platforms and technolo­gies, including mammalian, viral, plasma protein-based biotherapeu­tics, and vaccines," says Nithin Stephen, Director, Commercial Devel­opment – Drug Product, Emergent. "We have experience working with viruses – recombinant, live, and live-attenuated – for the development and manufacture of vaccines and thera­peutics."
Emergent has been enhancing its drug product aseptic fill/finish capacity and capabilities at several sites. New flexible fill lines offer aseptic fill/finish processing, which allows for more product batches in smaller quantities, while addressing regulatory uncertain­ties, Mr. Stephen explains. This year, the Camden facility (drug product manufacturing site in Baltimore, MD) began manufacturing operations with a groninger® FlexPro 50, which pro­vides sterility with minimal line inter­ventions and interruptions through the utilization of isolator-based technol­ogy for aseptic processing of ready-to-use (RTU) pre-sterilized syringes, cartridges, and vials. The line can sup­port liquid or lyophilized products.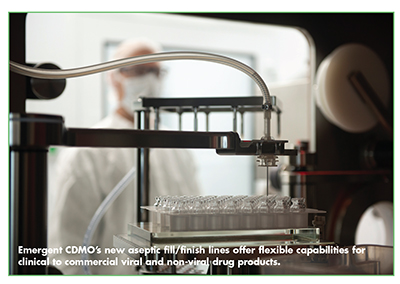 A viral drug product facility in Rockville, MD, is currently undergoing a 58,000-sq. ft. expansion, which in­cludes a state-of-the-art high-speed fill/finish line, the groninger INTEGRA, with fully integrated isolator technol­ogy, Biosafety Level 2 (BSL2) capabili­ties, and an automated inspection, la­beling, and packaging line. Mr. Stephen says this will enhance Emer­gent's capabilities in large-scale fill/finish manufacturing of viral bio­therapeutics and vaccines.
Finally, a development and man­ufacturing site in Winnipeg, Manitoba, Canada, houses a Vanrx® SA25 Asep­tic Filling Workcell, providing sterility assurance through a fully automated vial handling, filling, and stoppering process, designed to minimize line losses. "The Vanrx utilizes closed, ro­botic technology to support the pro­duction of non-viral next-generation therapies," he says. "Its flexible design base makes the Vanrx ideal for sup­porting high-value, small-batch size medicines."
Emergent recently supported a pharma client in achieving a success­ful prefilled syringe/parenteral pro­gram by expediting and solving challenges during the tech transfer process for a small-scale mRNA drug with minimal unfrozen hold time. The client asked for two fills to be completed within two months from the project kick-off, requiring Emergent to complete filling and packaging activi­ties on the Vanrx Aseptic Filling ma­chine within one month of project initiation. The client stressed the im­portance of freezing their product within 48 hours of starting formula­tion, which was key to the success of their therapy, Mr. Stephen explains. "Our Manufacturing Science & Tech­nology, fill, and packaging teams worked together to successful com­plete the engineering and GMP fills on time. Of note, the formulation, filling, inspection, packaging, and freezing process were completed within seven hours during the engineering fill. Sim­ilarly, the GMP fill was completed within 29 hours, which allowed the product to be released on time to sup­port toxicological and clinical studies, helping the client achieve their tight turnaround time."
Gerresheimer: Drug Packaging & Injectable Delivery
Gerresheimer is a solution provider for drug packaging and drug delivery systems for the injecta­bles/parenteral market. Its portfolio includes glass and plastic vials and sy­ringes, as well as drug delivery devices and autoinjectors. Its core competency is in fully automatic large-series pro­duction and in the manual and semi-automatic small series production of complex and technically sophisticated drug delivery systems.
"This broad portfolio enables us to offer customers a solution that re­ally fits their active ingredient," says Stefan Verheyden, Global VP Gx Bio­logical Solutions at Gerresheimer.
Gerresheimer recently introduced a digital tool that guides users intu­itively through six targeted questions about specific characteristics of their pharmaceutical product that needs to be packaged, before offering a selec­tion of appropriate solutions from the company portfolio. Mr. Verheyden ex­plains that the guide uses a propri­etary algorithm to filter through more than 1,500 pharmaceutical products based on the information provided by the user.
Some of Gerresheimer's products are:
Gx InnoSafe syringe with an inte­grated passive safety system to pre­vent unintentional needlestick, as the needle is fixed in a sleeve after use. A special feature of the Gx In­noSafe syringe is that it can be processed on all existing filling lines without any additional preparation or assembly steps.
Gx RTF ClearJect – prefillable poly­mer syringes are made of high per­formance Cyclic Olefin Polymer, making it suitable for use as pri­mary packaging for sophisticated medications, especially for sensitive biologicals, biosimilars, and bio­betters, but also e.g. hyaluronic acid applications. The dead volume in the polymer syringe is also mini­mized, reducing overall waste of costly drugs.
SensAIR is an on-body drug deliv­ery system that can deliver drugs of higher viscosity, such as mono­clonal antibodies (mAb).
Gx RTF injection vials are made from Type I borosilicate glass and meet all current requirements of the applicable ISO standards and pharmacopeias (USP and Ph. Eur.). They are manufactured in accor­dance with cGMP, washed in a cleanroom, packed in trays or in nests and tub, and sterilized.
Type II glass is a form of soda-lime glass, also called soda-lime-silica glass. Type II glass is subject to a special internal surface treatment process that makes its surface less prone to leaching caused by alka­line solutions and is a possible op­tion for most parenteral drugs.
Haselmeier: Self-Injection Pens Reduce Risk & Shorten Time-to-Market
Haselmeier™, the drug delivery device business division of medmix, designs, develops, and manufactures advanced drug delivery systems, such as pen injectors and autoinjectors, that are convenient and can be dosed with precision. Haselmeier has developed a range of ready-to-use platform de­vices for use with both cartridge and prefilled syringe primary packages. Its D-Flex™, D-Vario™, Re-Vario™ and new autoinjector systems are all meant for self-administration.
Haselmeier has also expanded its services to include pharmaceutical packaging to provide an integrated system for the delivery of finished combination products. Additional ca­pability and capacity have been added in a new regional facility in the United States to reduce transport requirements for drug products manu­factured in America. "These fully de­veloped platforms, such as D-Flex, allow for a more rapid development program for devices. This can then be used across multiple indications, sim­plifying both the development sched­ule and supply chain," says Terry O'Hagan, General Manager at Haselmeier.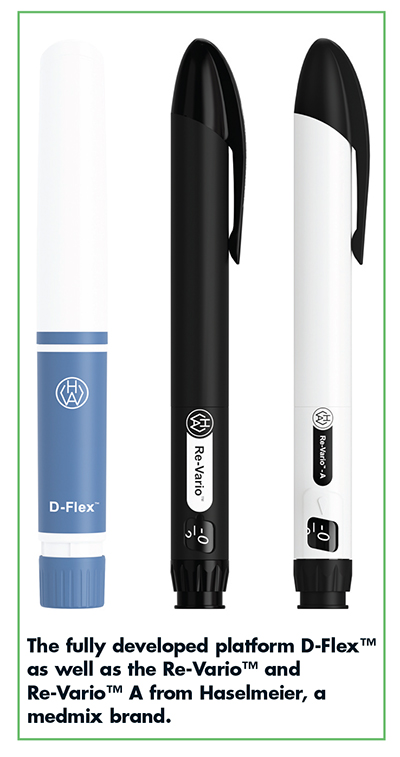 In addition to improving self-ad­ministration, Haselmeier is focused on reconstitution. Mr. O'Hagan explains that new biologics drugs tend to be less stable in a liquid formulation, driving an increased need for dual-chamber systems where the drug needs to be reconstituted prior to in­jection by the patient. These systems tend to be more complex to use for a patient, requiring more steps to get the treatment ready for administra­tion. "While Haselmeier has a range of reusable devices compatible with dual-chamber cartridges, one specific customer needed a disposable pen solution, which included an integrated reconstitution system with multiple dose volumes available to the pa­tient," he says. "Each device would then only deliver a single dose."
Haselmeier leveraged its D-Flex disposable pen technology, integrat­ing an in-pen reconstitution system to create the needed device. Each pen has four distinct doses available for patient selection based on the volume requirements. "We will leverage our expanded assembly capability and deliver the finished device to the cus­tomer's packaging facility," Mr. O'Ha­gan says. "This solution provided the needed device functionality while con­solidating the supply chain for global distribution."
Medical Engineering Technologies Ltd: Testing for Confidence
Medical Engineering Technologies delivers combination device batch re­lease and design validation testing. "There is a lot of physical, chemical, and stability testing to be done, whether for a clinical trial or direct regulatory submissions," says Mark Turner, Managing Director and Presi­dent of Medical Engineering Technolo­gies Ltd. "Developers of new formulations and devices need confi­dence when they make these submis­sions. You don't want delays and repeats at the end of your project. So, the test programs and protocols need to be well designed and executed while working against the clock."
As a testing company, Medical En­gineering Technologies has seen a va­riety of multi-chamber devices. But Mr. Turner says they do pose some valida­tion challenges. In particular, it is hard to measure leaks between chambers and the efficiency of mixing when the dose is activated. Interactions between the drug and container can also be complicated by the migration of ma­terials. "We are developing tests to de­tect any stopper movement in storage or transport (particularly air transport), any premature mixing, and to assess the mixing efficiency as part of the dose accuracy testing," Mr. Turner says.
One particularly thorny issue is the Reference Listed Drug (RLD) com­parison. This is meant to show that a biosimilar is equivalent to an RLD in all ways, including the physical char­acteristics of the delivery device. He says: "Any test program will always re­quire deep thought about how to min­imize the number of RLD samples required for testing."
Meridian Medical Technologies: Seamless Parenteral Manufacturing
Meridian Medical Technologies is an integrated CDMO that takes com­plex sterile products from concept through industrialization to commer­cialization, offering both parenteral sterile filling and autoinjector manu­facturing. "Every aspect of parenteral manufacturing is complex," says John Wilmot, Senior Director, Biomedical Technology Lead, Meridian Medical Technologies. "They include essential performance requirements for combi­nation products, reliable and consistent assembly, aseptic sterile filling of proprietary drug containers, manufac­turing, and managing the vertically in­tegrated supply chain."
Meridian has developed a tech­nology platform that offers a drug de­livery system that separates the drug API in a dry format from the solvent/diluent, and fully and auto­matically combines them during injec­tion for optimal delivery, he explains. "We're looking into further developing this platform for freeze-dried prod­ucts, which would add value for com­panies to apply this simplicity to biologicals, biosimilars or similar sta­bility-sensitive molecules."
Meridian applies Human Perform­ance through Human Factors to de­velop and enhance its manufacturing processes and make them as seam­less and efficient as possible, Mr. Wilmot says.
Mitsubishi Gas Chemical: Plans to Supply Staked-Needle Syringes
Mitsubishi Gas Chemical (MGC) provides a multilayer plastic vial and syringe called OXYCAPT™. The prod­uct features an oxygen and ultraviolet barrier, high-break resistance, wide pH range tolerance, very low extracta­bles, cryogenic-temperative resist­ance, and more.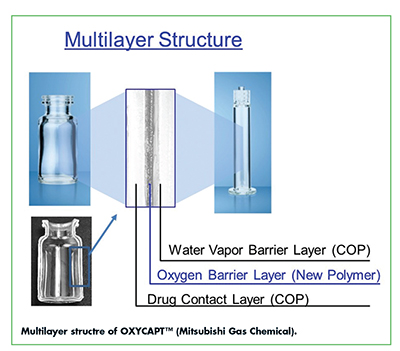 MGC has also been developing staked-needle syringes. Equipment in­stalled last year has been undergoing validation studies and will start supply­ing samples by the end of this year, says Tomohiro Suzuki, Associate Gen­eral Manager of MGC.
MGC is also developing cus­tomized syringes. "As customizability is one of the plastic's features, MGC can help pharmaceutical or medical de­vice companies achieve their suc­cesses," says Mr. Suzuki.
Nemera: Keeping Up With Subcutaneous Delivery
"With the rise of biologic and biosimilar formulations, and the in­creasing trend in self-administration due to the switch from intravenous to subcutaneous, a drug delivery device must be simultaneously robust and easy-to-use, as well as economically viable," says Cecile Gross – Global Category Manager, Parenteral, Ne­mera. "Nemera's offerings address the challenge of designing complex devices aimed at simple care. To ac­commodate a range of applications, a platform approach is a must."
The new Symbioze platform, for example, is designed to adjust to any pathology, targeted patient popula­tion, and drug posology according to therapy indications, she explains. Symbioze comprises a reusable main unit and a disposable prefilled drug container module. "It offers an ideal balance between the need to deliver advanced and complex formulations at high volumes," says Ms. Gross. "It is the perfect combination between design robustness, ease of use, con­nectivity, and sustainability for a seam­less and enhanced injection experience."
Nemera's other product lines are all offered through a platform ap­proach. For example, Safe'n'Sound® is a highly customizable passive safety device available in 1mL and 2.25mL formats, suitable for both skilled and lay users, to enhance the injection ex­perience. It can integrate color, mate­rial or even overcap customization, as well as a Rigid Needle Shield (RNS) puller to help with device handling, particularly for patient populations with dexterity issues.
Nemera also offers four platforms of reusable and disposable pen de­vices that are adaptable to treat vari­ous pathologies and are also customizable. Audrey Chandra – Cat­egory Project Manager at Nemera, ex­plains how the reusable pen platform, Pendura AD, has been commercial­ized with several market references to treat different pathologies, including diabetes. Pendura AD offers automatic delivery with spring-driven movement, and an easily triggered side button ac­tuator to allow the user's hand to be stabilized during injection time. In ad­dition, the dial-back possibility pre­vents loss of insulin, and changing the cartridge is easy to perform, she de­scribes.
Novocol Pharma: Growing Demand for Cartridge-Based Products
Novocol Pharma is a CDMO spe­cializing in turnkey sterile cartridge de­velopment, manufacturing, testing, and combination product assembly services. With more than 40 years of experience filling sterile injectable car­tridges, Novocol is positioned to sup­port cartridge-based programs. "The cartridge format is commonly inte­grated in a combination drug device product with a history of applications, including chronic diseases such as di­abetes and emergency lifesaving ap­plications such as anaphylaxis," says Eric Lee, Business Development Direc­tor, Novocol.
In response to growing customer and market demands, Novocol has invested in additional aseptic fill/finish and pen injector device assembly ca­pacity. In fact, more than 50% of Novocol's programs are paired with a pen injector device. To support clinical and registration phase customers with a cartridge-based pen injector device, Novocol now offers device assembly services using an automated pilot-scale device assembly machine. The device assembly machine was in­stalled and qualified in 2021 with ca­pabilities to meet the specifications for market-leading press-fit style pen in­jectors.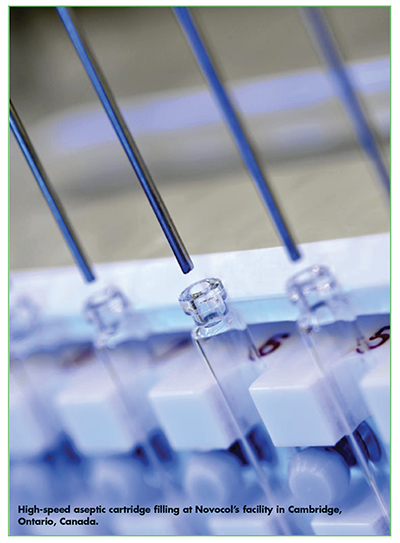 In addition, Novocol has invested in 100% increased capacity in aseptic cartridge filling, which will be fully op­erational in the second half of 2023. This new line will offer similarities to the existing aseptic cartridge filling lines in terms of custom siliconization, precise plunger insertion depth con­trols, filling capability, and highly-po­tent API handling capabilities, allowing for ease of line transfer and risk mitigation for new and existing customers alike. "With these invest­ments in place, Novocol is well-posi­tioned to support the growing demand for cartridge-based combination products," says Mr. Lee.
Oval Medical: Proprietary Technologies Improve Patient Experience
Intravenous novel targeted thera­pies, cancer treatment, and biologic drugs that were traditionally adminis­tered in hospitals are now benefiting from advances in formulation technol­ogy, enabling simpler and easier sub­cutaneous administration. There is also a well-documented trend towards reducing dosing frequency with longer acting injectables. These advances mean many targeted therapies and precision medicines can be potentially self-administered by subcutaneous in­jection at home. However, there are still viscosity and volume challenges that cannot be met with standard glass-based autoinjector systems.
Oval Medical is addressing this with the ArQ-Bios autoinjector plat­form, which features a modular capa­bility to enable customization that works for both the patient and the for­mulation, ensuring patients can self-administer medicines outside of a healthcare setting," explains Barbara Lead, CEO of Oval Medical. ArQ-Bios is a high power, single-use modular autoinjector platform with the ability to deliver challenging high viscosity or large-volume dose options for subcu­taneous delivery. This allows flexibility for formulation development, early engagement with the device, and re­ducing risk and time to the market."
Low- to medium-viscosity formu­lations under 100 cp can be delivered up to 10mL and high/ultra-high vis­cosities up to 10,000 cp can be deliv­ered between 0.5-3mL. At a viscosity of 1000 cP formulation, ArQ-Bios can deliver 1mL through a 25G needle in less than 5 seconds. She says: "Own­ing and manufacturing the primary drug container allows integrated de­vices to be designed for patient needs."
ArQ Bios incorporates a propri­etary hydraulic valve release mecha­nism that enables quiet and gentle activation of the device, even when the drug is pressurized at 300 bar. These features make ArQ-Bios an enabling technology for high-viscosity or large-volume applications.
Also proprietary is Oval's patented "cup seal and foil" technol­ogy, which is built around a high-pres­sure cyclic olefin co-polymer primary drug container. "The container can safely tolerate significantly higher pressure than glass, allows stronger springs, and enables the device to generate higher pressures than other market offerings," Ms. Lead says. "The design aims for a superior patient ex­perience and reduced 'wet' injections due to highly consistent drug delivery times, independent of product age or manufacturing tolerances."
Owen Mumford Pharma Services: Disposable Autoinjector Platform
Owen Mumford Pharmaceutical Services introduced what it claims was the first autoinjector, Autoject 1, back in the mid-1980s. Since then, the company has produced autoinjectors in a variety of designs for multiple pharma companies. In the last year, Owen Mumford launched the dispos­able autoinjector platform, Aidaptus®, a two-step, easy-to-use small and dis­creet option for the patient to integrate into their regular routine. The needle is automatically deployed following depression of Aidaptus onto the se­lected injection site. The drug is then delivered in a separate phase con­trolled by a second delivery spring in the device. "This design helps to pro­vide a consistent injection experience and also minimizes syringe breakage that may occur with high force springs," says Michael Earl, Director of Pharmaceutical Services.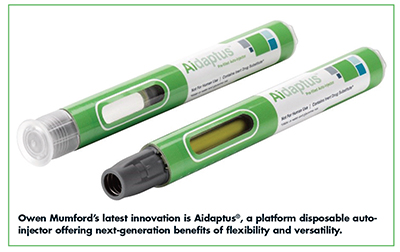 Aidaptus is available in two base design options: a transparent body with an overwrap that can be printed and branded as required, or an opaque body with color customization choices. There also are options for window size in both designs either as a cut-out in the overwrap or different size molded windows in the opaque version. Both allow the window to be tailored to the required drug fill vol­ume.
During development phases, through clinical trials and commercial­ization, parenteral drug formulations can go through a variety of iterative changes. This can pose problems when the drug requires a device, such as an autoinjector for delivery, as they are typically designed to deliver a set volume. Therefore, changes in fill vol­ume or syringe size normally require design changes in the actual device and the associated validation processes and regulatory approvals. This can create complexity and risk in the development process. "At Owen Mumford Pharmaceutical Services, we looked to address this problem by cre­ating a self-adjusting plunger in our Aidaptus disposable autoinjector," he explains. The plunger automatically adjusts to differing fill volumes and stopper positions, but also creates a critical gap between plunger and stopper to allow only a restricted level of rearward movement by the stopper. This ensures that container closure in­tegrity is maintained during pressure changes that may occur during the supply chain and during patient use.
Aidaptus can accommodate both 1mL and 2.25mL prefilled syringes in the same base device, requiring min­imal change parts. This means that the small size of the autoinjector, 165mm high and 18mm wide, is maintained irrespective of the syringe size, Mr. Earl explains.
As there can be changes in vol­ume during drug development there can also be challenges with viscosity, particularly with higher viscosity for­mulations typically found with biolog­ics. Aidaptus offers a choice of high and low power springs to adapt to varying viscosity drugs while helping to keep drug delivery time within an acceptable range for the patient. Aidaptus has been designed with the two sub-assemblies that fit together after the syringe insertion; the self-ad­justing plunger then automatically moves into place to ensure an easier final assembly.
Recipharm: Addressing Common Drug Delivery Challenges
Recipharm designs, develops, and manufactures injectable drug de­livery devices to the global parenteral market, offering a range of autoinjec­tors, assisted syringes, mixing systems, and other injectable technologies. One challenge these technologies ad­dress is delivery of high-viscosity for­mulations. For example, the Viscala® technology platform features the pro­prietary VapourSoft® delivery system for delivering highly viscous formula­tions from standard primary packag­ing by amplifying the force/pressure applied. "Using this technology, for­mulations with viscosities of up to sev­eral thousand centipoise (cps) can be delivered using fine needle gauges, increasing possibilities for our pharma company partners and putting patient comfort at the forefront," says Gemma Wood, Innovation Manager at Recipharm.
She describes how a customer ap­proached Recipharm with a highly vis­cous formulation for delivery by autoinjector. The formulation reduced the dosing frequency required for the drug product, improving quality of life for patients and reducing overall healthcare costs, she says.
"The high viscosity of the formu­lation meant that it could not be deliv­ered using standard autoinjector technologies and the customer did not want to use large gauge needles be­cause of the impact on patient comfort and compliance. To address this issue, we developed an innovative, new au­toinjector with force amplification that enables the highly viscous formulation to be delivered simply, easily, and with patient comfort in mind by using the finest needle possible."
Ms. Wood adds that Recipharm platforms also solve challenges such as the delivery of large volumes, and re-suspension prior to delivery. She specifically points to the Lila® technol­ogy platform, a combination valve and primary pack stopper. Lila Duo enables two liquid drug products to be filled into a single primary pack, keep­ing the two products completely sepa­rate until the point of administration and allowing them to be delivered se­quentially from a single syringe. Lila Mix enables the products to be mixed or re-suspended immediately before delivery takes place.
Societal CDMO: A Range of Parenteral Services & Offerings
Societal CDMO provides prefor­mulation, formulation development, and fill/finish services across a range of parenteral product types, technolo­gies, and phases of drug develop­ment. Societal's experience includes small molecules, and biologics (pro­teins, peptides, monoclonal antibod­ies, RNA, and pegylated molecules).
According to Robert Giannini, Vice President, Innovation, Societal CDMO, the company's formulation development and manufacturing team has been able to:
Create a completely non-aqueous formula of an insoluble compound, which upon dilution with saline, provides sufficient time for the product to be administered without precipitation;
Stabilize and subsequently manu­facture clinical trial supplies of lyophilized product for highly labile pegylated molecules and mRNA/siRNA therapeutics; and
Create a nanoparticulate form for an extended-release (up to 3 months) intramuscular injection.
Some of Societal's offerings include:
Aseptic fill and lyophilization of true solutions: True solutions in vials prepared by sterile filtration (from small batches of 1 Liter or less to up to 500L for clinical materials, up to ~10,000 vials per shift, 2mL to 50mL vials, Phase I/II) with 100% weight check and with or without Nitrogen overlay; and Sterile lyophilization (from small batches of 100 to 1000 vials for clinical materials, up to ~9,000 vials per load at the 10mL vial size, the num­ber of vials per load varies with vial size from 2mL to 50mL, Phase I/II). Controlled nucleation technology is available.
Microspheres/nanoparticles for in­jection for terminally sterilized product: Prepared by solvent emul­sification followed by solvent re­moval, size segregation, and lyophilization (small batches of about 50g to 500g of finished mi­crospheres corresponding to about 100 to 1000 vials, Phase I/II); pre­pared by ball milling with surfac­tants followed by lyophilization or aseptic filling into vials (small batches of about 50g to 500g of finished microspheres correspon­ding to about 100 to 1000 vials, Phase I/II).
Stevanato Group: PFS for Biologics Delivery
Stevanato Group provides a full range of products and services for in­jectables, supporting several thera­peutic areas, with a variety of prefillable syringe systems to cater to different drug formulations and appli­cations. A good example is biologics, explains Silvia Gallina, Product Man­agement Specialist, Syringe Platform, Stevanato Group. "Because most bio­logics' primary administration route remains parenteral, with a significant increase of the subcutaneous type, PFSs have gained strong acceptance as the preferred delivery system."
Stevanato Group's Nexa® product lines, for example, have been de­signed specifically to meet the require­ments of high-viscous formulations and drugs sensitive to specific ele­ments, such as tungsten. In addition, SG Nexa can be easily integrated into manual active and passive needle safety systems and automatic drug de­livery devices, such as spring-based autoinjectors.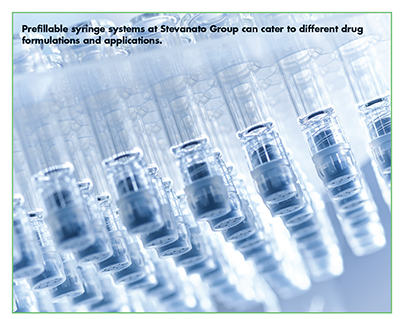 With a growing trend towards bi­ologic drug products, Stevanato Group's focus is on mitigating drug container stability risk for such drugs, which have higher chemical sensitivity, lower stability, and strong fluid dy­namic characteristics (i.e., high viscos­ity). "Most parenteral packaging components require surface treatment or lubrication to improve their processability and functionality," she says. "Silicone oil is often used, but it can result in some unwelcome inter­actions with highly sensitive drug for­mulations. Specifically, silicone migration can lead to the accumula­tion of sub-visible particles, which may cause non-compliance with pharma­copeias and potentially registration failure as product safety and efficacy are compromised. In addition, a pro­tein can adsorb at the silicone oil in­terface and lead, over time, to protein denaturation."
Furthermore, she says excipients used in formulations can negatively affect different container materials and lubricants. The performance of autoinjectors could be compromised as it could lead to variations in glide force and an incomplete dose being delivered. In addition, silicone droplet accumulation or migration may result in a higher reject rate during the final product release, which will have an impact on productivity and the total cost of ownership.
Stevanato Group developed its Alba® platform with new coating tech­nology. "A cross-linked silicone chain leads to improved layer structure using covalent bonds, increasing the con­nection force between the silicone and glass while retaining lubrication per­formance," Ms. Gallina says. "A thin, permanent silicone coating is created, reducing sub-visible particles release."
Terumo Pharmaceutical Solutions: Meeting Ophthalmic Drug Delivery Challenges
Terumo Pharmaceutical Solutions (TPS) designs, develops, manufac­tures, supplies, and manages projects associated with polymer-prefillable sy­ringes and injection devices. TPS prod­ucts and services are focused on injectable drugs that include syringes, hypodermic needles, infusion sets, and CDMO fill/finish services.
"Compared to a vial, a prefilled syringe can reduce the number of steps to administer injectable drug and help avoid dosage errors," says Katsuyuki Takeuchi, Associate Product Manager of Terumo Pharmaceutical Solutions. "PFS are specifically de­signed to meet the stringent require­ments of certain applications such as ophthalmic, biologics, and dermal fillers.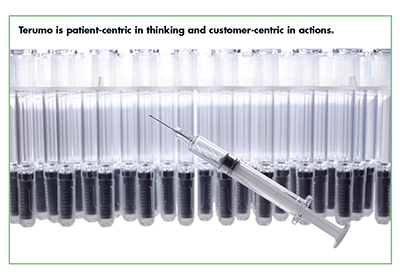 Terumo also has an industry-wide network to integrate PFS into drug de­livery devices like autoinjectors and safety devices. Terumo has capabilities and expertise to offer customized so­lutions to meet challenges of a partic­ular drug or therapeutic area.
Terumo has been working on ophthalmic drug PFS development programs with customers. "There is an increasing number of patients that re­quire ophthalmic drugs administered by intravitreal injection, triggered by the rapidly aging global population," says Mr. Takeuchi. "These ophthalmic drugs are administered by intravitreal injection, however, there are still sev­eral unmet challenges to design a pre­filled syringe for safe administration of ophthalmic drugs."
For example, he says, it is known that silicone oil could be deposited in the eye's vitreous body after repeated injections and cannot be evacuated. It is also a challenge to precisely deliver a dose as low as 50μl, which is the typical administration volume for cur­rently available ophthalmic drugs.
"We are helping our customers to solve these challenges with solutions such as our proprietary silicone oil-free technology as well as precisely molded polymer prefillable syringes," Mr. Takeuchi says.
Vetter Pharma Intl. GmbH: Dual-Chamber System for Sensitive Compounds
Vetter is a family-owned, globally operating CDMO with services that range from early-stage development support, including clinical manufactur­ing, to commercial supply and numer­ous packaging solutions for vials, syringes, and cartridges. Vetter sup­ports pharmaceutical and biotech companies in the development phases, in the filling of small- to large-scale batches, and in the packaging of their complex compounds. Approx­imately 80% of the compounds it han­dles are biologics. In the field of clinical manufacturing, Vetter offers process development, clinical trial manufacturing, technology transfer, regulatory support, and analytical services. For commercial manufactur­ing, services include fill/finish, regula­tory support, analytical services, and life cycle management. Both primary and secondary packaging, as well as device assembly, are realized.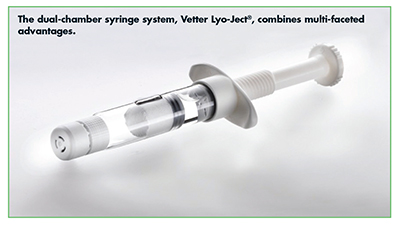 Vetter offers dual-chamber sys­tems in its service portfolio: Vetter Lyo-Ject® dual-chamber syringe as well as V-LK® dual-chamber cartridge. Both systems are suitable for sensitive com­pounds. "Our patented syringe and cartridge technologies allow a freeze-dried API and a diluent to be prefilled and stored separately for easy recon­stitution prior to administration," ex­plains Carsten Press, Senior Vice President Key Account Management, Supply Chain Management and Mar­keting, Vetter Pharma International GmbH.
Mr. Press adds that the dual-chamber systems combine multi-faceted advantages. For the biopharma company, they offer low residual volume and reduced API loss with a faster time-to-market. The dual-chamber cartridge is also compatible with multiple pen systems. Both systems offer high product security and extend storage periods for sensi­tive drugs.
"Through their design, dual-chamber systems afford improved shelf life and options for life cycle management," he says. "For patients, dual-chamber systems offer a safe, comfortable, and user-friendly design that allows for precise dosing every time with a reduced potential risk of needle injury as well as a lower risk of contamination compared to the use of vials. Our closure systems also make them tamper-evident. And, because they have prefilled substances in both chambers, reconstitution errors are significantly reduced."
Reference
Packaging self-administered injectables and in­fusibles for better patient outcomes, Packaging Europe, April 7, 2022, https://packagingeurope.com/comment/packag­ing-self-administered-injectables-and-infusibles-for-better-patient-outcomes/8088.article.