SPECIAL FEATURE – Parenteral Drug Delivery: Could a Dose of AI Improve Development?
By: Contributor Cindy H. Dubin
Elon Musk just warned the world that Artificial Intelligence (AI) is dangerous and has the potential to destroy civi­lization. Yet, AI will likely be used in nearly every industry, and the biopharma industry is no exception. A new report from VisionGain1 shows that 75% of pharmaceutical organizations want to use automated solutions more frequently, driven by injectable drug delivery. The report found that pharmaceutical production lines are challenged by customized dosages and products such as prefilled syringes (PFS). Therefore, manufacturers are searching for equipment that can handle the greater range of formats generated in smaller batch sizes, while still reducing downtime. Additionally, the popularity of injectables has increased the focus on sterility and product safety, an area where experts see AI having an impact.
While the industry is just at the precipice of discovering what AI can do for injectable delivery, this exclusive Drug Development & Delivery annual report highlights the strides that companies are currently making toward improving dose accuracy, integrating design safety, and accelerating time to market.
Aenova: Filling Line With ±1% Dosage Accuracy
Over the past two years, more than $22 million have been invested in Aen­ova's Latina site to offer customers mod­ern, Annex 1-compliant, aseptic filling technology for sterile dosage forms, espe­cially vials and PFS. This new manufactur­ing area has been approved by the Italian authority (AIFA). Follow-on investments of approximately $16 million are currently underway to further expand the offering.
"The prefilled syringes segment is in­deed increasing for the usage of controlled drug delivery devices on targeted therapies, such as monoclonal antibodies and cell and gene therapies," says Paolo Abbate, Managing Director, Aenova Latina Site. "Moreover, the request is always combined with a need for high dosage accuracy. Aen­ova, a CDMO, can offer a high perform­ance line with ±1% dosage accuracy."
The Latina site also features a visual inspection system to assure that the prod­uct delivered to the patient is of the highest quality and that defects are minimized. "Fully automated filling lines under Re­stricted Access Barrier Systems (RABS), or Isolation, significantly reduce the risk of both breakages and contamination," he says. "Aenova is currently performing ex­tensive assessment of the packaging equipment on the market to ensure that we remain at the forefront of technology to further reduce secondary and tertiary packaging defects."
The Aenova Site Latina offers manu­facturing services to a global market for both clinical trials material manufacturing and commercial supply.
A new filling line can support batches from 10L to 1,500L, working with both disposable and stainless steel equipment trains. "Technology trans­fer activities and the PPQ strategy are es­tablished in agreement with customers and are fully compliant with cGMP guide­lines," says Mr. Abbate. And quality control supports in-process control, product re­lease, and stability testing, while also pro­viding a comprehensive service for microbiological and chemical testing.
Ajinomoto Bio-Pharma Services: Flexible Services From Early Clinical to Commercial
Ajinomoto Bio-Pharma Services is a CDMO with six automated aseptic fill lines that have the capability to fill early-clinical through commercial products in vials, sy­ringes, and cartridges. With the increase in demand for biologics in the market, Aji Bio-Pharma has technical experts with the experience to meet the unique needs of these products. "We also pride ourselves on being one of the few CDMOs with complex formulation expertise that in­cludes a strong formulation team with ex­tensive knowledge to help guide clients when manufacturing lipid nanoparticle (LNP) products," says Jennifer Etchison, Sr. Director of Business Development, Aji Bio-Pharma US.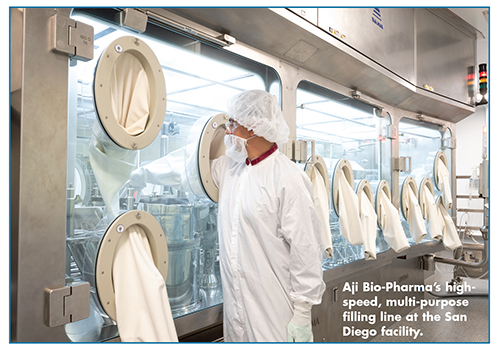 As a mid-sized CDMO, Aji Bio-Pharma is flexible to cater to all product life-cycle phases. "For early-phase proj­ects, we have capabilities to fill small batch sizes and manufacturing slots for quick turnaround times," she explains. "For late-phase/commercial projects, we have high-speed lines to accommodate larger batch sizes, scale-up, Process Performance Qualification protocol, and commercial experience."
In response to customer requests to increase batch size capabilities and ac­commodate larger commercial batches, Aji Bio-Pharma's San Diego site expanded aseptic filling capacity with a new high- speed multi-purpose filling line. This line is fully contained within an isolator and offers a range of configurations, including pre­filled syringes, cartridges, and vials, and utilizes ready-to-use components to pro­vide component and scheduling flexibility. And, to accelerate batch release and get client products to market sooner, the com­pany has invested in automated and semi-automated visual inspection equipment.
ApiJect Systems: BFS Platform Addresses Safety & Supply Chain
ApiJect helps pharma companies im­prove delivery of liquid pharmaceuticals in customized, efficient, and scalable prefilled drug delivery systems. The ApiJect platform is a device design and manufacturing process that brings together the scale and economics of Blow-Fill-Seal (BFS) aseptic filling with the simplicity of attachable plas­tic component design, such as needle hubs, to create simple, prefilled injectors. Additionally, ApiJect devices can be de­signed with safety features, such as needle shields and auto-disable mechanisms, as well as single-dose packaging.
"Whether it is a high-value injectable treatment for a small number of patients or an essential vaccine for the world, ApiJect helps pharma companies deliver more of their injectables to the patients who need them," says Tony Wasilewski, MPD2, PMP, Vice President, Pharmaceutical Develop­ment Services, ApiJect Systems.
He explains BFS is more compact and requires fewer raw materials than tradi­tional glass filling lines or traditional pre­filled syringes. This, he says, has become a key factor as companies consider supply chain shortages. "Rather than glass, we embrace pharmaceutical-grade resin to create almost our entire device, with the ex­ception of the hypodermic needle," says Mr. Wasilewski. "Better control over the materials, a less complex supply chain, and the use of resin instead of glass allow devices packaged in BFS to reduce or elim­inate many of the hazards that can lead to product recalls from packaging."
While ApiJect drug delivery systems are still in development and have not been cleared by the FDA or other regulators, ApiJect is working with several pharma partners to develop ApiJect prefilled injec­tors for their injectables. He says: "The po­tential of our platform is what led to our development agreement with global con­tract manufacturer, Fareva. With the sup­port of the French Government, Fareva is building three new BFS lines in France with ApiJect technology to fill-finish vaccines in ApiJect prefilled injectors."
Aptar Pharma: ETFE Film-Coated Syringe Plungers Protect Sensitive Injectables
Sensitive drugs and biologics require additional protection from filling to the point of administration. Choosing the right primary packaging for these drugs is criti­cal, and manufacturers must ensure that their syringe and components protect the drugs without compromising on key func­tional performance such as gliding force, break-loose force, container closure in­tegrity, and machinability.
Ethylene Tetrafluoroethylene (ETFE) film-coated closure components are now commonly used for packaging sensitive vaccines and biologics. "ETFE film-coating possesses excellent chemical resistance and has been proven to act as a barrier that protects the drug from extractables and leachables and the potential threat they present to the integrity of the drug for­mulation," says Audrey Chardonnet, Di­rector of Business Development for Prefilled Syringe Components, Aptar Pharma.
While ETFE film-coated components are an effective solution for packaging sensitive drugs, they are not without their challenges. To date, compatibility with vent tube filling methods and achieving consis­tent functional performances remain key unmet needs when using ETFE-coated sy­ringe plungers, she says. As a result, Aptar Pharma has developed new designs of coated syringe plunger to promote machinability, container closure integrity, and functional performances.
Aptar Pharma uses a proprietary 3-rib design for its ETFE-coated solution, PremiumCoat®, with the trim rib specifically po­sitioned to avoid interference with functionality. Because the three ribs come in contact with the glass, compared to the market standards, PremiumCoat has demonstrated its capacity to preserve con­tainer closure integrity, even in deep-cold storage conditions. This design was also shown to enable low and consistent glid­ing and break-loose forces, which facili­tates the development of autoinjectors. Aptar Pharma also performed a series of machinability testing to demonstrate that PremiumCoat is compatible with vacuum and high-speed vent tube filling lines.
"With Aptar Pharma's 3-rib Premium­Coat design, manufacturers can reconcile ETFE coating with machinability, container closure integrity, and functional perform­ance, providing superior protection for sensitive drugs, optimizing operations on their filling lines, and ensuring safety for their patients," says Ms. Chardonnet.
Catalent Biologics: Simplifying Tech Transfer to Accelerate Programs
Pharma companies developing new injectable medicines are aiming to meet more patient needs. This is evident with the development of new off-the-shelf autoin­jectors that can administer larger volumes of drug product (eg, 5mL). To meet this demand, CDMOs such as Catalent are adding more high-speed, state-of-the-art assembly solutions, which are able to ac­commodate these innovative devices.
Catalent Biologics' drug product fa­cilities in North America and Europe pro­vide integrated solutions for customers developing new biological entities, biosim­ilars, and sterile injectables. These include early-phase development and manufac­turing to late-phase commercial fill-finish and packaging.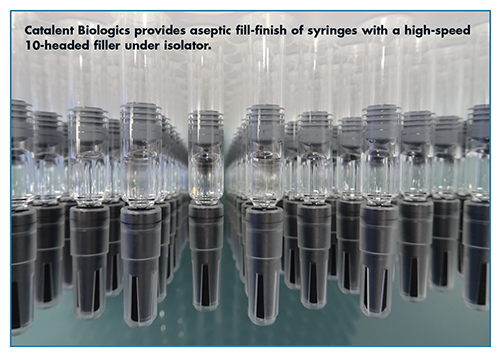 "We work to simplify the tech transfer of products between the company's early phase facilities and late-phase/commer­cial facilities, which reduces risk, and accelerates programs through the clinic and to market," says Brian Galliher, Prin­cipal, Process Engineer, Catalent Biologics.
"Robust tech transfer processes also help to ensure that risks are minimized, and equipment selection is critical (e.g., single use system compatibility, filling and packaging/assembly equipment) along with thorough qualification programs such as line handling studies, engineering runs, container closure studies with container closure integrity testing (CCIT)."
Catalent continues to see growth in the prefilled syringe market. COVID-19 vaccines, for example, are moving away from the multi-dose vials and into single-dose syringes (and single-dose vials), and new treatments to reduce obesity are fo­cused on at-home patient administration. These are following the trend to include prefilled syringes and autoinjectors for both the ease of use and patient adher­ence reasons, says Mr. Galliher.
A customer of Catalent initially launched its product in a 1mL-long sy­ringe, which required the patient to ad­minister two doses for one treatment, and was not the ideal situation. In parallel, Catalent qualified a 2.25mL format in pri­mary and secondary packaging, including an autoinjector assembly. For the patient, this new format has the potential to reduce the number of injections per treatment, and the use of an autoinjector provides benefits of ease of use and safety.
Congruence: Autoinjector Could Mitigate Premature Removal
Several trends are driving the need to inject high-dose biologics into the subcu­taneous (SC) tissue. But high viscosity (25-150+cP) and higher injection volumes associated with high-dose drugs challenge the limits of what is feasible with legacy spring-powered autoinjectors due to high injection forces required.
"Tradeoffs are imminent when accept­ing spring-powered autoinjector size for high-dose biologics either by needing to use a large device and/or long injection times, both of which impact patient expe­rience and comfort," says Gautam Shetty, PhD, Congruence. "Designing an autoin­jector for high-dose drugs is not simply a scaling problem (ie., making existing au­toinjectors bigger). Hence, alternate – compact yet powerful – energy sources in an autoinjector or new technology plat­forms, such as wearable injectors, are being pursued."
He adds that administering high-dose drugs with conventional spring-based autoinjectors is limited by low flow rate and long injection times because of insufficient force for faster delivery. There is a risk that cold temperature, when the drug viscosity is even higher, could render the autoinjec­tor incapable of injecting, which would re­sult in a missed or lost dose. Therefore, an autoinjector should provide sufficient force to operate even when an injection is at­tempted immediately after removal from a refrigerator.
Even though autoinjectors have been widely used, usability shortcomings have always existed. One such example is pre­mature removal of the autoinjector prior to dose completion.
"Congruence user studies and pub­lished literature indicate that pushing the autoinjector against the injection site and holding it for an extended time is not ob­vious," says Dr. Shetty. "This problem is amplified with high-dose biologics, which would need longer injection times. User fatigue, exacerbated by longer injection times, could also cause premature re­moval of an autoinjector from the injection site."
Current autoinjector designs do not provide a safety net against premature re­moval. Once injection is initiated, current autoinjectors continue to dispense the drug even if the autoinjector is prematurely re­moved from the injection site, claims Dr. Shetty. And the safety shield locks, prevent­ing the patient from resuming the injection. This results in an incomplete dose and po­tential non-compliance with therapy.
Another important consideration is that the pipeline of high-dose biologics in­cludes patient populations with no history of self-administration using an autoinjec­tor, such as patients with non-chronic conditions. Therefore, traditional risk mit­igation strategies could potentially be irrel­evant, says Dr. Shetty.
"The Congruence High Dose Autoin­jector addresses high injection force need by incorporating a compressed gas source and addresses the usability issue of pre­mature removal from the injection site by offering an Injection Pause™ feature," says Dr. Shetty. "This feature ensures that the in­jection is paused, should the autoinjector be inadvertently (or deliberately) removed from the injection site."
Credence MedSystems, Inc.: Dual-Chamber Syringes Suited for Varied Applications
Growth in the demand for dual-chamber prefilled syringes is being driven by multiple factors in the injectable phar­maceutical market. The delivery of med­ications is rapidly moving outside of the formal healthcare system and injections are being performed by more naïve users. The complexity of injectable drug products is growing, requiring separation of drug components during storage, despite efforts to achieve liquid-stable formulation. Phar­maceutical manufacturers are looking to drive cost and time efficiencies in their de­velopment pathways. Regulatory authori­ties desire clinical trials to be performed in the delivery system that will be used com­mercially. Emerging biotechs seek greater value by developing their novel therapies in enabling delivery systems.
"These factors have created pent-up demand for a user-friendly, effective, and safe delivery system for those drug products that require separation during storage," says John Merhige, Chief Com­mercial Officer, Credence MedSystems, Inc.
To satisfy this need, advances in tech­nology are emerging both in the develop­ment of dual-chamber delivery systems as well as in the fill-finish processing of those devices. "It is not surprising that collabo­ration between device manufacturers and drug manufacturers is required to unlock the full potential of dual-chamber systems, the quintessential example of a drug-de­vice combination product," he adds.
Credence MedSystems is developing its family of Dual Chamber Syringe prod­ucts to meet the varied needs of these ap­plications. The platform's flexibility is highlighted by the ability to turn any con­ventional barrel into a dual-chamber sys­tem that can allow either reconstitution or sequential delivery. In the area of reconsti­tution, the liquid can be mixed with a pow­der, lyophilized cake or another liquid before the reconstituted solution is in­jected. In sequential delivery, the two liq­uids are not mixed, but rather injected in sequence with one push of the plunger rod. Both configurations are available ei­ther with a needleless luer lock front end or with Credence's proprietary integrated needle-retraction technology.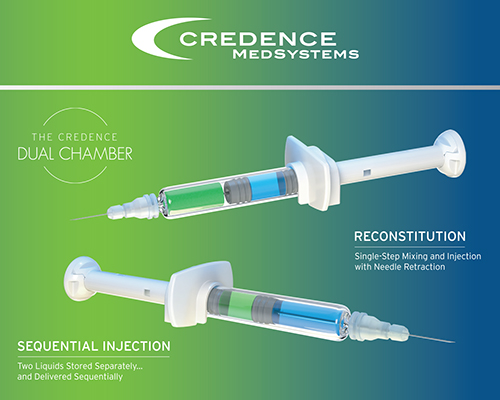 "The passive needle retraction re­duces the likelihood of needlestick injury, while integrating the needle-safety mech­anism into the prefilled syringe eliminates capital and operating expense associated with conventional add-on safety devices," says Mr. Merhige. "Credence's Dual Chamber Syringes have fared extremely favorably in human factors evaluations as 'stand-alone' syringes, but can also be employed in conjunction with disposable or reusable autoinjectors."
One of Credence's collaboration partners advancing dual-chamber filling is Bryllan, LLC, a contract manufacturer of complex and novel drug products. Bryl­lan's existing filling capabilities, along with its plans for expansion, provide pharma innovative solutions in the manufacturing of ready-to-use systems, including dual-chamber syringes and bags. "With the ability to handle potent, toxic, and sensitive products, experience in both liquid and powder filling, and the expertise to build and operate highly flexible filling suites, Bryllan's advances are facilitating adop­tion for this field of drug delivery," Mr. Mer­hige says.
He adds that when paired with en­abling fill-finish capabilities, Credence's Dual Chamber Syringes simplify adminis­tration of challenging drugs; reduce risks in the areas of accidental needlestick, dos­ing errors, contamination, and exposure to potent substances; and address eco­nomic factors by decreasing drug overfill and time of administration. He concludes: "These technological advances are ad­dressing the trends in the market and pro­viding value to patients, healthcare providers, and pharmaceutical manufac­turers."
DALI Medical: Bringing Down the Cost of Integrated Safety Features
DALI Medical Devices offers a range of patient-centric injectable drug delivery devices that meet the need for enhanced safety and ease-of-use, both for clinical tri­als and commercial drugs. The company also provides complete injectable drug de­livery device development solutions that are customized for specific requirements relating to drug properties and user pref­erences, handling everything from concept to commercialization. DALI's portfolio of­fers solutions for liquid injectable drugs, drugs that need to be reconstituted, vials, prefilled syringes, etc.
Injectable drug delivery devices with integrated safety features do present vari­ous development and manufacturing chal­lenges, often leading to higher costs compared to basic needles and syringes, explains Ziv Cahani, Vice President, Busi­ness Development, DALI. However, there are various strategies that can be imple­mented to simplify the manufacturing processes and supply chain, and bring down costs.
For example, DALI Medical offers safety needles and safety syringes that provide passive protection against needle stick injuries. With these devices, the safety features are activated automatically, with­out the user having to do anything.
"Although it's logical that the more advanced devices would be more costly to produce, strategies such as design-to-cost and design-to-manufacturability can make a huge difference in manufacturing costs," says Mr. Cahani. "By working closely with experts in injection molding, assembly au­tomation, and raw materials selection, it is possible to offer highly advanced solutions with affordable pricing."
He recalls that one of DALI's cus­tomers was looking for a safety-enhanced delivery device for a super-high-viscosity drug. "We developed a version of our SAN®-Light passive safety needle, cus­tomizing it to meet the viscosity challenges and other requirements, including regula­tory requirements and user preferences. The customized safety needle is tuned to the viscosity properties of the drug, pro­vides a high level of safety, and incorpo­rates features aimed at minimizing needle phobia anxiety as well as real and/or per­ceived pain."
Datwyler: Proprietary Coating Reduces Particulates
Datwyler's experience in rubber com­ponents has led to the development of NeoFlex™ plungers, a coated solution for prefilled syringes and cartridge-based de­livery systems. Datwyler's proprietary spray coating technology provides a protective barrier to external contaminants, prohibit­ing leachables from entering the product and ensuring a contact-safe surface that is compatible with the drug, explains Paolo Ferrigno, Product Manager, Prefilled Sy­ringes and Cartridges, Datwyler. "With our proprietary fluoropolymer coating technol­ogy and lack of need for silicone lubrica­tion (under specific conditions), Datwyler contributes to a reduction in overall visible and subvisible particles."
The NeoFlex plunger production process is flexible to support the develop­ment of new products to optimize design according to customers' requirements and future life cycle management. "NeoFlex plungers have proven functionality in many plastic barrels, which are becoming more frequently requested for large con­tainers to mitigate increased glass break­age risk," Mr. Ferrigno says.
Large-volume NeoFlex plungers are designed for self-injection devices. The in­creasing interest around self-injection de­vices has led to the development of solutions aimed at improving patient well­ness and safety, the self-administration ex­perience, and total cost reduction for au­thorities. The availability of new technologies and smart connection features allows for remote monitoring and re­duces the risk of improper administration, incorrect dosage, and poor compliance.
In a PFS, a rubber closure is required to maintain sterility and needle integrity. For autoinjectors, a Rigid Needle Shield (RNS) seals the system, preventing con­tamination and preserving the sterility. The external plastic (polypropylene) shield is used to improve the mechanical interface with the autoinjector, allowing for a safer removal and eliminating the risk of tears or fails.
"For use in delivery systems, the func­tionality of the RNS needs to be proven both with the primary container (the sy­ringe) and with the autoinjector," he says.
Datwyler provides RNS solutions in two sizes (1/2" and 5/8"), suitable for use in subcutaneous and intramuscular par­enteral administration. "There is a clear trend to move from IV to subcutaneous/in­tramuscular administration, resulting in the development of large-volume delivery de­vices," says Mr. Ferrigno.
Datwyler's FM30 rubber compound is designed to allow ETO gas to penetrate, sterilize, and evacuate, while maintaining a low oxygen and water vapor transmis­sion rate, Mr. Ferrigno explains. Different levels of siliconization are available to ac­commodate the pull-off force for a variety of syringe types.
INCOG Biopharma Services: Delivered Higher Yield & In-Line Weight Checks to Client
Leveraging 20-plus years of CDMO experience, and having supported manufacturing activities for more than 200 mol­ecules, INCOG was designed and built as a new 90,000-sq-ft facility to support drug product fill-finish manufacturing for biopharma companies. The facility is cGMP production ready, and is actively manufacturing commercial PPQ batches. There are currently 40 million units of in­stalled annual capacity to fill vials, syringes or cartridges with an expansion in 2024 that will take capacity to over 140 million units per year. INCOG also offers services and support in development, QC, inspec­tion/labeling/packaging, device assembly, stability studies, and storage.
INCOG was introduced to a bio­pharma company that was previously using a Tier 1 CDMO in the US to manu­facture a commercially approved prefilled syringe. Cory Lewis, CEO, President, & Founder of INCOG, explains that this company shared its frustration with the customer experience it had been receiving from its existing CDMO.
"They experienced poor communica­tion, delayed responses, and a lack of proactive updates related to the manufac­turing of their commercial program that resulted in manufacturing challenges, low yield results, and excessive rejection rates from batches," he says. "The improve­ments that we offered to our customer in­cluded an unparalleled customer experience from contracting to technical transfer to batch manufacturing, as well as manufacturing benefits resulting in im­proved yield via line setup, and the 100% in-process weight checks integrated throughout the filling process."
Mr. Lewis adds that the customer was invited to INCOG to utilize the person-in-plant offices, demonstrating a commit­ment to the partnership. INCOG has begun manufacturing the PPQ batches and expects to host the FDA for the pre-approval inspection by early 2024.
"Our commitment to being customer-driven is what sets us apart from other CDMOs and gave our biopharma cus­tomer the confidence they needed to trust our company with their commercial pre­filled syringe project," he says.
With a focus on PFS, Mr. Lewis says that while he sees a limited market pres­ence of devices with integrated safety fea­tures, he believes that the industry will continue to respond to this challenge by leveraging emerging technologies and process innovations to streamline and op­timize the manufacturing process. "Addi­tionally, I expect that regulatory agencies will continue to drive demand for these products, placing increasing pressure on manufacturers to deliver safer and more reliable drug delivery solutions," he says.
He also sees industry taking action to address issues of breakages, leachability, defects in packaging, and contamination. "There will be a greater emphasis on de­sign and engineering to ensure that pre­filled syringes are robust, durable, and resistant to breakages and defects," he says. "There also will be a continued focus on materials science to identify and mitigate leachability and contamination risks. Fi­nally, quality control and supply chain man­agement will be improved to ensure that packaging defects are identified and ad­dressed before products reach the market."
Lifecore Biomedical: Unique Challenges for Ophthalmic Customers
Lifecore Biomedical is a fully inte­grated CDMO offering expertise in com­plex aseptic formulation, aseptic filling into syringes and vials, and final packaging of injectable drugs and medical devices. Lifecore also manufactures pharmaceuti­cal-grade, non-animal-sourced hyaluronic acid (HA) through a proprietary fermenta­tion-based process.
Some of Lifecore's clients require high-gauge cannulas and needles for pre­cision use in ophthalmic surgeries. "Due to high-viscosity formulations, injection pres­sure can increase the risk for needle de­tachment at the luer," says Kipling Thacker, PhD, Vice President & Chief Scientist at Lifecore. "In these cases, we have worked with our clients to implement needle-reten­tion devices designed to prevent needle separation."
Ophthalmic drug and device manu­facturers also need to comply with USP <789>, which defines testing parameters for particulates in solution. Dr. Thacker says the key to meeting the USP require­ments is to avoid issues with particulates in all phases of production. "To address this issue, we have partnered with ready-to-use vendors on measures, such as the use of alternative syringe and vial materials, sy­ringe cleaning, and improved component packaging. While the value of testing re­mains, asking the right questions up front and using a Quality-by-Design approach during development helps ensure a safe, consistent drug supply for patients."
Lubrizol Life Science – Health: Taking On Projects That Others Turn Away
Lubrizol Life Science – Health (LLS Health), CDMO Division, meets client de­mand for clinical trial material packaged in prefilled syringes by utilizing its Colanar Model FSM 1033. In this tub-based sys­tem, Lubrizol can fill PFS, cartridges, and essentially any primary packaging that fits in a tub, says Brett Braker, Engineering Su­pervisor, Technical Operations, LLS Health.
"This equipment offers us a lot of flexibility to help our clients," he says. "Presently, we can fill 1-10mL syringes, but custom requests are feasible, and the sys­tem is particularly useful to fill smaller batch sizes that our clients seek. Larger, less flexible CDMOs, aren't willing to break into their productions to accommo­date these requests. We, however, do not have a minimum batch size while having the capability to manufacture both asepti­cally processed and terminally sterilized material."
The consistency of filling accuracy and the bubble size in the cartridge helps reduce waste, which is important when working with high-value biologics and complex suspensions and emulsions. The filler operates using servo drives and a built-in peristaltic pump and bubble sizes are controlled using vacuum stoppering.
Most of the work LLS Health performs is for pharmaceutical clients seeking to in­crease the solubility and bioavailability of insoluble APIs or to improve long-acting drug products via the 505(b)(2) route. Re­cently, a large wearable device manufac­turer asked the CDMO to perform some pre-clinical and clinical device validation work.
"When many larger, less flexible or­ganizations had actually turned this client away, we leveraged the Colanar Model FSM 1033," explains Mr. Braker. "Working closely with the company, we provided both filled cartridges and fully assembled wearable devices. We made a range of material from 1 to 100 cP, helping them to define the limitations of their device for validation. Ultimately, we made both R&D and aseptically filled cartridges for clinical use."
Mr. Braker says this partnership was a win-win for both companies. "Through helping the device manufacturer with their work, we learned more about our equip­ment, honing our ability to control the bubble size in the primary packaging, for example."
He adds that wearable devices, such as the one this client was developing, help patients maintain a more consistent level of the API in the blood. He says: "Wear­able devices help with patient compliance and comfort as the devices often come prefilled, allowing them to dose them­selves at home."
Mitsubishi Gas Chemical Co.: Multilayer Plastic Vials Are Ideal for Advanced Drugs
Mitsubishi Gas Company provides multilayer plastic vials, OXYCAPT, for the pharmaceutical industry. These products are often suited for biologics and cell and gene therapies stored at low or ultralow temperature. Plastic primary containers are expected to grow in popularity as com­panies consider storage for advanced drugs.
"As the compositions of advanced parenteral drugs have become more com­plex than existing drugs, we believe special and appropriate primary containers are required," says Tomohiro Suzuki, Associate General Manager, Mitsubishi Gas Chem­ical Company. "Special features, such as high pH resistance, low extractables, low protein adsorption, high break resistance at ultralow temperature, high oxygen bar­rier, high ultraviolet barrier, etc., are nec­essary for primary containers used for advanced drugs." He adds that multilayer plastic vials and syringes overcome break­age and leachability common with glass containers.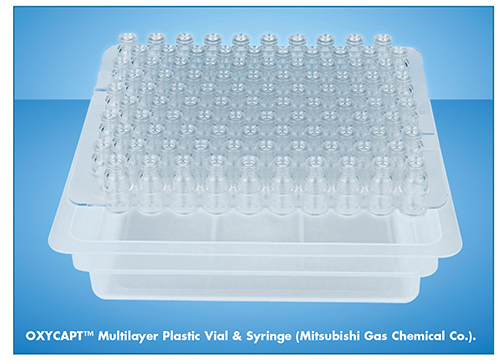 Mitsubishi Gas Chemical Company signed a Letter of Intent with Becton Dick­inson (BD) in May 2022 and has started earnest discussions to apply its multilayer technology to next-generation PFS for bio­logics. "We believe this collaboration will be helpful for the pharmaceutical com­pany to safely develop novel and sensitive future drugs," he says.
Nemera: Facilitating Combination Products' Sprint to Market
Nemera offers a range of parenteral devices to support pharma companies' combination products sprint to market. For example, the on-body injector platform, Symbioze®, administers complex, large-volume drugs, such as monoclonal anti­bodies, with an adjustable flowrate. The sustainable device features a reusable electronic part and disposable module. "Technically, Symbioze is a complex de­vice, yet it offers simplicity without over­complicating user steps nor compromising patients' experience," says Cecile Gross, Global Category Manager Parenteral, Ne­mera. The main innovation lies in keeping the sterility between the two modules, en­suring patient's safety.
To avoid breakages, alternatives to glass prefilled syringes are on the market today, such as plastic-based syringe (COP). PFS manufacturers are also work­ing on reducing silicon tungsten residues to prevent undesirable reactions between drug formulation and devices. "Our pre­mium passive safety device add-on for prefilled syringes, Safe'n'Sound®, a pas­sive safety device, highly customizable, available in 1mL and 2.25mL, is compat­ible with ISO glass syringes and 1mL COP PLAJEX™ syringe," says Ms. Gross.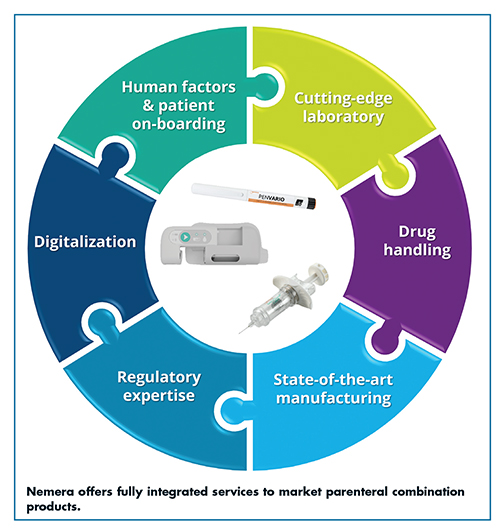 She continues: "We offer continuous holistic support, including assembly equip­ment implementations to avoid breakage and other defects during manufacturing processes, optimizing the line's adaptation for our device to avoid recalls."
A Safe'n'Sound and Terumo PLAJEX 1mL-long prefillable syringe combination product has been launched in several markets for biosimilar administration to treat chronic inflammatory diseases. Ms. Gross says: "Thanks to our regulatory ex­pertise, we helped our customer navigate the complex regulatory landscape to file specific combination product dossier reg­istration in USA, Europe, and Japan."
Nemera also offers reusable and dis­posable pen injector platforms, including PenDura, PenOne, PenVario, and PenHV to treat diabetes, obesity, hormone imbal­ance, and osteoporosis among others, and are all ergonomic user friendly.
Novocol Pharma: Simplifying Lyo With a Cartridge-Based Reconstitution Solution
Novocol Pharma is a CDMO special­izing in sterile cartridge fill-finish, support­ing clinical-phase and commercial customers with turnkey services from prod­uct development to final device assembly. Through its device division, Duoject Med­ical Systems, Novocol offers drug delivery design services and solutions, including a portfolio of reconstitution, injection, and safety systems.
According to Eric Lee, Business Devel­opment Director, Novocol Pharma, the company is well-positioned in fill-finish of cartridge-based injectable products, a key format in autoinjector, pen injector, and wearables-based delivery platforms, and offers device assembly capabilities for car­tridge-based pen injectors with equipment compatible with pen injector devices from leading global suppliers.
In addition, solutions from Duoject align with the growing trend of patient-centric drug delivery systems. "As the de­mand for self-administration continues to grow, there is an emphasis on safety fea­tures to reduce needlestick injuries," he says. Such solutions include the Falcon safety device, a prefilled syringe safety sys­tem, and PenPrep EVO, a cartridge-based reconstitution system, which both prevent needle exposure during patient use.
Novocol offers a complete solution to the challenges presented by drug reconstitution, particularly the multi-step process with the PenPrep EVO device and in-house sterile cartridge filling services. This allows users to reconstitute a lyophilized drug product vial with a diluent cartridge. Once reconstituted, the mixture is drawn back into the cartridge for self-administration use with cartridge-based pen injectors.
Mr. Lee explains that a notable exam­ple of this turnkey offering includes a re­cent product lifecycle management project for a commercially marketed drug product in vial format that was only stable in lyophilized form. The application required patient self-administration several times a week using multiple vials, syringes, and needles. "By introducing the PenPrep EVO reconstitution device, a diluent cartridge that was developed and produced at Novocol, and a commercially available pen injector, the patient experience for the drug product was greatly enhanced, re­sulting in several improvements," he says. This includes replacing and simplifying multiple components and processing steps using one reconstitution device (containing both the drug vial and diluent cartridge), and pen injector device for self-adminis­tration. Another benefit is improved patient safety and eliminated risk of needlestick injury during the drug reconstitution process though PenPrep's needle safety feature.
Noxilizer: NO2 Sterlization Maintains Drug Integrity
Noxilizer offers pharmaceutical, biotech, and medical device companies an ultra-low temperature sterilization process. Nitrogen dioxide (NO2) sterilization is an alternative to ethylene oxide (EO) and hy­drogen peroxide (VHP). NO2 sterilization can operate between 10°C-30°C, offers minimum vacuum pressure, and performs surface sterilization with little to no residu­als while maintaining drug integrity.
Maura O. Kahn, Senior Vice Presi­dent, Commercial, Noxilizer, recounts how one global biotech company product team was evaluating multiple syringe types and sterilization methods, including EO and NO2. Noxilizer staff became part of the product development team, conducting feasibility studies to assess the syringe brands and designs, vacuum budget, lethality cycles to confirm the most chal­lenging location and initial cycle parame­ters, and ingress and external residuals. The biotech company identified a syringe design candidate that reduced risk to the product during the manufacturing process. Testing determined that only NO2 steriliza­tion worked with this syringe design. Since 2019, the company has executed a num­ber of sterilization studies with their prod­uct and packaging. They have completed sterilization validation at two locations. This product will be submitted for regula­tory approval in 2023 and commercial product is expected in 2024.
Ms. Kahn explains that, for pharma­ceutical and biotech companies with large product portfolios in one therapeutic area, developing a standard delivery device and sterilization method will accelerate product development and time to market. As an example, she says that Noxilizer has worked with a global biotech company for more than four years as the company evaluated a number of syringe designs and sterilization methods, including EO, VHP, Peracetic Acid, and NO2. She recalls that initial testing showed that only EO and NO2 could achieve lethality in the most challenging location in the various syringe designs. Therefore, further testing was done to assess the pros and cons of both EO and NO2. Extensive testing in­cludes evaluating product and water-filled syringes that have been exposed to worst-case NO2 cycle conditions – accelerated and real-time testing over 24 months. In both cases, product and water-filled sy­ringes showed minimal to no NO₂ (or ni­trates) ingress into the syringe contents. Drug integrity was maintained.
She says: "This, along with the other benefits of ultra-low sterilization, minimal vacuum, and short total process time when compared to EO, has led the company to select NO2 sterilization for all products in development within this therapeutic area."
One World DMG: Injection Training Tools – The Key to Successful Onboarding
One World DMG designs and manu­factures injection trainers and patient on­boarding materials for the pharmaceutical and biopharmaceutical industries to en­sure patient adherence and better health outcomes.
"The importance of helping patients as they begin their self-injection treatment is widely understood by the healthcare community," says Paul Randall, Vice Pres­ident, One World DMG. "Successful train­ing programs support the patient by educating, building confidence, and part­nering with them throughout their health journey."
One World DMG works with patient educators and healthcare providers to gather insight into the needs of patients and their real-world experiences. Heidi Holden, Registered Dietician and Certified Diabetes Educator, shares her thoughts on the discrepancies in training experiences for patients: "I have different feelings about patient training in the office. There are several factors involved. For example, how well was a nurse trained on that device? When was the last time they themselves trained on that device? How much time do they have to train the patient? Often, they really don't have the time to explain to the patient why they're taking the medication, what it does, so that's a problem."
"The transition from training in the HCP office exclusively to distributing train­ers to patients has been adapted by One World DMG's long-term clients who see the benefits re-usable injection trainers provide in the home setting," says Jonathan Coe, Regional Director, One World DMG. The benefits to the manufacturer are also evident in the example of a client who felt they had a design concern with their autoinjector that needed to be addressed. Using the One World's trainer for their au­toinjector in human factors testing re­vealed a much less complicated issue that could be addressed thereby avoiding hefty and unnecessary expenses.
In addition to injection trainers, One World DMG's onboarding offerings in­clude: patient starter kits, HCP injection demonstration kits, injection trainer pack­aging, instructions for use, quick reference guides, training videos and animations, as well as injection demonstration models – all designed to enrich the patient experi­ence and overall safety.
"Manufacturers are putting more em­phasis on safety in onboarding patients and training HCPs," says Diane Ranshous, Regional Director, One World DMG. "In­jection trainers play a key role in improv­ing patient safety. The ability to repeatedly practice the injection process with a safe "replication needle" familiarizes the pa­tient with the product and the steps neces­sary to better ensure their protection. And while the technology will continue to de­velop, the need for strong training tools and educational support remains a critical component for both patients and HCPs."
Owen Mumford Pharmaceutical Services: PFS Delivers Doses >1mL
UniSafe® from Owen Mumford Phar­maceutical Services offers pharmaceutical companies the benefit of a spring-free safety device with a choice of 1mL and 2.25mL prefilled syringes. The absence of a spring provides ease of use and offers the patient an unobscured view of the sy­ringe contents to check dose and clarity. In addition, there is no risk of pre-activation during transport and before use. UniSafe's design also features a secure integrated plunger that helps prevent removal and accidental drug spillage, and provides tamper evidence. The design also creates a device that has a simple final assembly.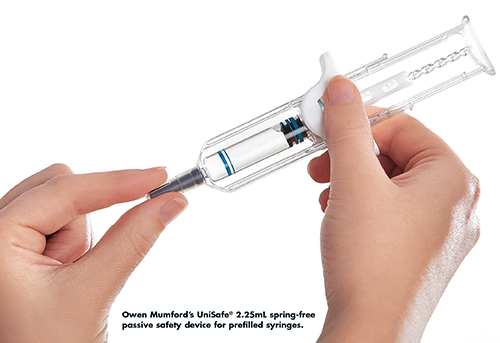 "With the growing market in biologics and doses increasingly more than 1mL, UniSafe 2.25 provides a device for formu­lations with larger fill volumes," says Michael Earl, Director of Pharmaceutical Services at Owen Mumford. "UniSafe's design means that the operator can use the same technique as a typical syringe when administering medication."
In the US and Europe, regulations re­quire needle-shielding devices to protect from needlestick injuries. Ideally, the nee­dle protection should be integral to the de­vice and require no additional user steps before and after use. UniSafe syringes fea­ture a spring-free safety design with pas­sive needle shielding that is employed as the user fully depresses the syringe plunger using the usual technique.
Mr. Earl shares that a key market driver influencing device design for par­enteral administration is the need for more sustainable products. This includes raw materials (often plastic) as well as the manufacturing processes and transporta­tion across the supply chain. Product pack­aging will also need to meet environmental standards, as changes in EU packaging regulations require all packaging to reach targets for recycling by specified dates.
"Designs that enable reduction, reuse or recycling are key methods to help achieve reduction in harmful emissions," he says.
Another trend is the addition of con­nectivity and data exchange to delivery de­vices, which help patients self-administer medication in their home setting and be less dependent on healthcare profession­als (HCP). Data transferred from con­nected devices can confirm medication delivery, date, and time as well as help HCPs monitor patient compliance to their therapy and provide the necessary inter­ventions to improve patient outcomes.
PCI Pharma Services: Needle Safety Will Be Commonplace In 5 Years
PCI is a global CDMO that provides integrated end-to-end drug development, manufacturing, and packaging solutions to increase product speed to market. "Our clients aim to accelerate their sterile drug development lifecycle and seek readily available capacity, reducing time to clinic and ultimately commercial launch," says Shawn Cain, Senior Vice President Devel­opment and Manufacturing, PCI. "PCI plays a key role in navigating development com­plexities and overcoming manufacturing and packaging challenges posed by both drug products and drug delivery devices."
PCI offers a full suite of sterile in­jectable drug development and manufac­turing services, including formulation development, aseptic fill-finish of vials, bottles and prefilled syringes, and lyophilization, complete with dedicated in-house QC analytical and microbiological support. Complementing its core sterile manufacturing and filling solutions, PCI offers assembly, packaging, and labeling of advanced injectables such as prefilled syringes, syringes with needle safety de­vices, autoinjectors, and pens.
"Combining our expertise in sterile fill-finish manufacturing with specialist bi­ologic packaging, labeling, and cold chain distribution provides a valuable end-to-end solution, simplifying the supply chain while delivering time and cost efficiencies," says Mr. Cain.
Just as fast-tracking product to market is important so too is the fact that the pan­demic fast tracked acceptance of self-in­jection, opening opportunities for new medicines and further improvements of drug delivery devices. "The growth in med­ical devices, be it needle safety devices for prefilled syringes or autoinjectors, pens and wearables platforms, has allowed the industry to take a significant step forward for standardization and for improving the patient experience," says Justin Schroeder, Global Vice President Technical Sales, PCI. "Likewise, these new pathways allow for administration of the growing number of biologic medicines that can be truly life-changing for patients."
Safety is at the core of self-administra­tion. Both the economics and the manu­facturing technologies have progressed to make needle safety a standard. "We con­tinue to see that where sponsor companies develop advanced delivery forms such as an autoinjector, there is absolutely a con­sideration for a PFS-NSD (needle safety device) as an interim lifecycle solution or as a complementary option to the autoin­jector platform to serve all markets and pathways for administration," explains Mr. Schroeder. "In addition, where clinical tri­als had traditionally been executed in vial format, and PFS platforms were more of a commercial stage drug delivery solution, we are now seeing more sponsor compa­nies integrating PFS-NSD (and AI) into their clinical trials. This can provide multiple benefits, including more patient-friendly drug delivery, improved patient retention in trials, shortening duration of the trials, and more impactful study data. These fac­tors are of significant benefit for filing and regulatory approval acceleration. I believe in less than 5 years it will be uncommon to find a PFS that does not offer some type of needle safety mechanism."
It is also quite common to select pack­aging materials during the drug develop­ment process to ensure product compatibility and to identify potential for product contamination that could affect product stability or efficacy. In parallel, physical testing of the PFS and assembled pen or autoinjector is critical.
PCI's European sterile fill-finish facility in Leon, Spain, entered into an agreement with a mid-sized biopharmaceutical com­pany that was looking for a technology transfer of their oncology prefilled syringe product. Mr. Cain explains that the project began with the program in early develop­ment; it was a complex subcutaneous in­jection in suspension product with a challenging step of sieving during suspen­sion compounding. The challenge was that this sieving step was to be performed under aseptic conditions, as the product suspension could not be terminally sterile filtered. At the point of project initiation, the client had only performed this process under non-aseptic conditions. PCI process engineers worked to scale up the batch and optimize the process of sieving by re­designing the formulation process. This was accomplished by modifying the equip­ment and processing components to exe­cute the sieving process in both a GMP and aseptic manner. Initially, the sieving process did not work at the commercial scale, so PCI initiated a Design of Experi­ments (DoE) program to explore other al­ternatives to the sieving step without impacting the CQAs or CPPs of the drug product. "After multiple DoEs and stability studies, we successfully developed a more robust scalable process with positive stabil­ity results and sterility assurance," says Mr. Cain. "This project has now progressed to registration batches pending FDA regula­tory review for US market supply."
Recipharm: Autoinjector Relies on Gas, Not Spring, for Gentle Delivery
Recipharm delivers design, develop­ment, manufacture, and sterile fill-finish of injectable drug products. This includes au­toinjectors, blow-fill-seal, prefilled syringes and cartridges, vials, and ampoules. The company handles various formulations, in­cluding liquids, lyophilized, and dry powders.
Recipharm has a partnership with Sensyo Pharmatech for injectable manu­facturing in Morocco and has a develop­ment center in Solna, Sweden, which develops formulations for multiple routes of administration. In addition, a device center in King's Lynn, UK, offers full flexi­bility to parenteral drug developers with the proprietary VapourSoft®-powered in­jection devices, capable of delivering high-viscosity formulations. VapourSoft is a compact energy source using liquefied gas, rather than a spring. Through gentle release of a pressurized vapor, the device powers viscous drug delivery through a fine needle with minimal user effort. "This technology can enable the self-administra­tion of formulations with viscosities of up to thousands of cP using relatively fine needles to improve patient comfort," says Louise Righton, Head of Strategic Market­ing – Advanced Delivery Systems, Recipharm.
VapourSoft-powered devices can be tailored to the formulation viscosity, fill vol­ume, size of needle, and drug delivery time, and are compatible with standard prefilled syringes. They also include an in­tegrated needle safety system.
While self-administered devices tradi­tionally take a long time to develop, Ms. Righton says the development of Vapour­Soft is a significant advancement. "These platforms provide ready-made device de­signs that require only minimal customiza­tion to meet the needs of the drug formulation and the Target Product Profile (TPP)," she says. "Thanks to this develop­ment, we can expect the cost and time re­quired to develop new combination drug products, and to provide sterile fill-finish, to significantly reduce over the next few years, enabling more injectables to benefit from self-administration."
Considering quality when drafting the TPP for the product is also crucial to mak­ing the right choices in formulation and device development to minimize the risk of problems occurring at commercialization, she says. Including factors such as the final device and packaging can ensure that proper materials and design are selected to minimize the risk of breakage and to prevent leaching or ingress of oxygen, which can degrade the product and re­duce shelf life. "By developing a product with the final storage conditions and pack­aging configuration in mind, it is possible to prevent breakage, leaching, and con­tamination from occurring in the first place," says Vincenza Pironti, PhD, Strate­gic Marketing Director, Recipharm. "Adopting a Quality-by-Design mindset can help achieve this goal, as it ensures a commitment to quality, and to addresses all potential quality risks embedded in the entire development process from the be­ginning of the project."
In 2020, Arcturus engaged Reci­pharm to support the manufacture of clin­ical trial supplies of Arcturus' COVID-19 vaccine candidate in an ongoing Phase I/II clinical trial. Further, the company needed to manufacture and release more than 100,000 units of ARCT-154 mRNA vaccine finished drug product in support of clinical Phase III trial study.
When Arcturus presented its mRNA vaccine candidate to Recipharm, it was at the stage of a frozen product, a ready-to-administer sterile injectable for Phase I and II clinical trials. The inherent cryogenic lo­gistics and storage costs associated with mRNA vaccines, as well as their intended markets (under-served populations with less access to developed healthcare infrastruc­tures), created an additional burden for Phase III clinical trial and commercialization.
"To mitigate these challenges, Reci­pharm collaborated with Arcturus on the technology transfer, qualification, and cGMP manufacturing of the lyophilized product to ease the complexities of distri­bution and extension of vaccine shelf life," explains Dr. Pironti. "Timelines were suc­cessfully accelerated to meet the demands of the global COVID-19 pandemic re­sponse."
Sanner Group: Functionality & Design Are Equally Important
Innovation and growth in biologics have created innovation and growth in PFS, including RTU/RTF formats and poly­mer PFS. Sanner GMbH produces polymer prefilled syringes and accessories, as well as custom device solutions. "Polymer PFS are becoming a more viable alternative to glass syringes," says Viola Wedl, Product Management Medtech, Sanner Group. "COC material, for example, offers a so­lution to breakage, and advancements in coatings are closing the performance gap compared to glass."
Sanner carefully considers patients' needs with regards to design and user-friendliness at the earliest stage of devel­opment. Patient and user safety is equally important. A common safety feature con­sists of a mechanism that withdraws the needle after injection and locks it in a safety cap. But, there are other PFS fea­tures that contribute to overall device safety, such as enlarged finger grip acces­sories produced in two-component injec­tion molding. There are also special plunger rods that enable the user to rotate the rod within the syringe chamber to allow a smooth injection of all substances, regardless of viscosity.
"We developed a new concept of sy­ringe accessories for a customer in aes­thetic medicine," she explains. "This included ergonomic and modern plunger rods, and finger rest extensions to form the prefilled syringe to a complete system. As functionality and design are equally im­portant, we shaped finger rest enlarge­ments with a non-slip grip leads to ensure greater safety and ease of use of the PFS. We also manufactured piston rods and fin­ger rest enlargements using two-compo­nent injection molding in the smallest shot weights for improved grip and safety during injection. The ability to rotate the sy­ringe barrel in the finger rest enlargement allows the syringe needle to be optimally aligned, so the syringe does not have to be applied several times."
Societal CDMO: Laying a Foundation for More Efficient Manufacturing
Societal provides preformulation, formulation development, and fill-finish services across a range of parenteral product types, technologies, and phases of drug development. According to Robert Giannini, Vice President, Innovation, Societal CMDO, the company's formulation development and manufacturing team has produced a naltrexone implant that provides therapeutic blood levels  over the period of months for the treatment of opioid dependence; produced polymeric microparticles for extended release of a  chemotherapeutic agent after intraperitoneal injection; created a non-aqueous formula of an insoluble compound, which upon dilution with saline, provides sufficient time for the product to be administered without precipitation; stabilized and manufactured clinical trial supplies of a lyophilized product for highly labile pegylated molecules and mRNA/siRNA therapeutics; and created a nanoparticulate form for an extended-release (three-month) subcutaneous injection.
He says that new manufacturing processes are being developed that are more efficient and less labor intensive. "For example, there are fundamental industry trends gaining steam that may reduce the cost of manufacturing prefilled syringes with integrated safety features," he explains. "New materials that are stronger, lighter and more durable than traditional materials. A good example are advancements in injection molding techniques. Furthermore, the manufacturing industry is also making a concerted effort to educate healthcare professionals on the use of prefilled syringes with integrated safety features, with a particular emphasis on the benefits that these devicesprovide. Combined, we expect that these factors will play a direct role in increasing demand for the devices, and in turn help reduce needlestick injuries."
Additionally, new manufacturing processes are being developed and implemented that allow for more efficient and less labor-intensive manufacturing and a reduced risk of product defects. "We are also seeing a focus on developing new packaging technologies that are less likely to contaminate the drug, while offering better protections against potential tampering.," says Mr. Giannini. "This is complemented by quality control groups implementing more rigorous testing procedures and technologies to monitor the manufacturing process."
Stevanato Group: Coating Technology Reduces Product/Packaging Interactions
Stevanato Group combines products, technologies, and services to create tai­lored solutions for pharma clients. The lat­est addition to the company's syringe portfolio is the Nexa Flex™ pre-sterilized polymer syringe, available in both cyclic olefin polymer (COP) and cyclic olefin copolymer (COC) materials – comple­menting the Nexa® platform's existing glass container solutions.
"Nexa Flex has an optimized silicone-oil distribution along the barrel that improves gliding performance while mini­mizing particles – while its 100% camera inspection guarantees consistent cosmetic quality," says Silvia Gallina, Product Man­ager for the syringe platform at Stevanato Group. "Moreover, it uses a tungsten-free polymer molding process to guarantee compatibly with even the most sensitive drugs."
To address the complex needs of new biologic drugs, Stevanato Group's portfo­lio includes the Alba® prefillable syringe platform. "This solution features a cross-linked coating technology, based on stan­dard silicone, that significantly reduces the interaction between the drug product and the container surface – a crucial develop­ment for ophthalmic drugs and highly concentrated formulations prone to sili­cone aggression," says Ms. Gallina.
Another development is the growth in at-home treatment driving a renewed focus on usability and a switch from intravenous to subcutaneous drug delivery to improve the patient experience. "User-friendly and automatic delivery systems, such as autoin­jectors, are becoming increasingly impor­tant to increase treatment adherence and improve the patient experience, enabling a successful transition from hospital to at-home treatment," says Enrico Barichello, Product Manager for the syringe platform at Stevanato Group. "The rapid growth of autoinjector use requires drug products to be stable in liquid form, a staked-in needle syringe for example, can accommodate a maximum dosage volume of 2mL-2.2mL, and it is becoming more important that drug containers are well fitting and do not react with the medication to avoid function­ality and delivery challenges." For this rea­son, Stevanato Group introduced ready-to-use vials, cartridges, and syringes that respond to the life cycle management strategies of the industry.
Technology is key to ensuring large volumes of prefilled syringes can be dis­tributed with consistently high-quality stan­dards. To that end, Stevanato Group implemented technology solutions into its glass processes to ensure reliable inspec­tion and detection of dimensional and cos­metic defects, as well as particle contamination, with 100% in-line control or in-process controls.
"Combining technology innovations on both process and product enables de­livery of a high value-added system that provides superior performances in terms of mechanical resistance, functionality (smooth break loose and gliding forces, ie, inferior to 5 N), and container geome­tries suitable for device integration in all the critical contact parts," says Mr. Barichello. "Additionally, a robust manu­facturing process and improved controls help reduce the risk of rejection of contain­ers, thus decreasing costly re-inspection of products."
To further enhance the quality of its products, Stevanato Group is currently un­dergoing an evaluation to implement Arti­ficial Intelligence in the glass primary packaging manufacturing processes.
Beyond the manufacturing facility, pri­mary container traceability is critical for improving production efficiency and qual­ity. "Glass container traceability marks each primary container with a unique identity," explains Mr. Barichello. "This ma­chine-readable 2D barcode code allows each container to be tracked at every manufacturing process, from forming through to filing and automated inspec­tion. This delivers significant process and quality benefits for both the glass container producer and pharma companies."
Terumo Medical Care Solutions: PFS Offers Silicone Oil-Free Container
As part of Terumo Medical Care So­lutions, the Pharmaceutical Solutions Divi­sion manufactures, supplies, and supports projects associated with its polymer-based prefillable syringes, as well as injection needles, infusion sets, and novel drug de­livery devices.
One example would be an oph­thalmic drug being developed in a pre­filled syringe application with a customer. "There are increasing numbers of patients who require ophthalmic drug administra­tion by intravitreal injection, triggered by the rapidly aging global population," ex­plains Philippe Lauwers, Technology Devel­opment Director, Terumo. "And there are still unmet challenges to designing a pre­filled syringe that can safely administer ophthalmic drugs via intravitreal injection."
For example, he says that silicone oil is deposited in the eye's vitreous body after repeated injections and cannot be evacu­ated. It is also a challenge to precisely de­liver a dose as low as 50 microliters, which is a typical administration volume for cur­rently available ophthalmic drugs.
In addition to understanding the chal­lenges of ophthalmic drug delivery so too is the importance of understanding and evaluating the potential adverse impact of primary container components on the sta­bility of drug products. In particular, complexly-engineered biotech drug products have shown to be more prone to stability concerns when exposed to silicone oil, tungsten oxides, glue residues or high en­ergy sterilization processes.
To address these issues, Terumo's polymer prefillable syringes offer a full sil­icone oil-free container closure and elimi­nate the use of tungsten pins and adhesives during the production process. And, by applying steam sterilization, Terumo avoids the generation of free rad­icals typically associated with high energy sterilization processes which may poten­tially impact the stability of the sensitive drug product inside the prefilled syringe.
"We are helping our customers solve these challenges with solutions such as our proprietary silicone oil-free technology, as well as precision molded polymer prefill­able syringes," says Mr. Lauwers.
Ypsomed AG: Family of Injectors for Longer Durations, Larger Volumes
Ypsomed AG has developed a new autoinjector platform for liquid medica­tions with volumes ranging from 1.5mL to 5.5mL, the latter of which is the latest ad­dition to the company's YpsoMate family of devices, and is based on established YpsoMate 2.25 Pro technology. YpsoMate 5.5 enables the self-administration of larger volume medications for treating cancer, as well as rare and autoimmune diseases.
YpsoMate 5.5 features two-step han­dling already proven in other YpsoMate models: Remove the cap and push on the skin. The injection process is triggered au­tomatically. YpsoMate 5.5 is equipped with a handgrip for comfortable handling and stability during injection. A continuous vi­sual and audible signal gives the user good control over the entire injection process.
"During product design, special focus was placed on providing optimal support for larger volumes and a longer injection duration," explains Ian Thompson, Vice President, Account & Business Develop­ment, Ypsomed AG.
YpsoMate 5.5 also features an inte­grated, prefilled syringe developed in col­laboration with SCHOTT. "It leverages existing standards and components to op­timize processes for pharmaceutical cus­tomers and shorten time-to-market, reduce development risks, ensure suitabil­ity for sensitive drugs, and facilitate com­patibility with existing filling equipment," he says. "The result of the joint develop­ment with SCHOTT is the syriQ BioPure 5.5mL, a large-volume, prefillable syringe with integrated needle."
Ypsomed and SCHOTT have collab­orated to provide new standards for both large-volume 5.5mL staked needle sy­ringes and 1mL ready-to-use (RTU) car­tridges for the YpsoMate 5.5mL autoinjector and YpsoDose 10mL patch injector, respectively. "The 10mL YpsoDose has undergone thorough internal testing and comparative studies with pharma cus­tomers," says Mr. Thompson. "Ypsomed is committed to the successful industrializa­tion and commercialization of YpsoDose as a new state-of-the-art patch injector."
YpsoDose will be supplied to initial customers for clinical trials later this year. "For pharma companies to consider and invest in patch injectors, they need to ac­cess reliable device technology and imple­ment standard filling and final assembly processes that provide a solution that fulfils the needs of patients and healthcare providers," he says. "Fulfilling these re­quirements with well-thought-out device technology will allow the patch injector market to grow significantly and become established as the third self-injection de­vice class, complementing the maturing and expanding markets for pen injectors and autoinjectors."
Reference
Automation in Biopharma Industry Market Report 2023-2033, Vision­Gain, March 20, 2023, https://www.visiongain.com/report/automation-biopharma-industry-market-2023/.