SPECIAL FEATURE – Outsourcing Formulation Development & Manufacturing: Understanding Critical Attributes Earlier in Development Leads to a More Robust Drug Product
Formulation development and manufacturing outsourcing compresses timelines and mitigates risk, enticing many pharmaceutical and biotech companies worldwide to partner with outsourcing service providers in the early phases of the drug development process. This has resulted in an economic impact on the global formulation development out­sourcing market, which is expected to reach a value of $31.8 billion by 2027, up from $21.1 billion in 2021.1
A contract development and manufacturing organization (CDMO) able to provide services from early-stage clinical development through to clinical and commercial manufacturing and packaging, with full analytical support, launch ca­pabilities and final distribution, is an attractive proposition," says Jeff Clement, Executive Director, CDMO Business De­velopment North America at PCI.
"It is our experience that pharma­ceutical and biotechnology companies worldwide are partnering with out­sourcing services in early phases of drug product development," agrees Dr. Tom Tice, Senior Director Global Technical Marketing, Evonik Health Care. "For example, small startup companies prefer to do very early-stage research themselves by working from seed money and grant funding. This gives them better innovation con­trol. Then, at a critical point, with data and background intellectual property in hand, and only laboratory-scale processing, they outsource to take their development to the next level. This level is used to improve product characteristics and performance and to bring in a manufacturing process that can be scaled up for GMP manu­facturing – a key milestone for product success."
In addition to relying on CDMOs earlier in drug development, pharma is looking to outsource providers to manage timelines and navigate sup­ply chains fraught with material short­ages. "The COVID-19 pandemic has undoubtedly led to some reflection after observing how long-established development timelines were success­fully challenged in accelerating thera­pies though development, registration, and in some cases, successful commercialization," says James Hurst, Vice President Operations & Charnwood Site Head, Almac Pharma Services. "Managing development ac­tivities to compressed timelines, iden­tification, and timely resolution of development challenges, as well as alignment of the various elements in the supply chain, has never been more important. This is leading to more competition amongst sponsor companies for access to external ca­pacity and capabilities at CDMOs as they look to manage these pressures and access resources to progress their pipelines."
"Clients need to ensure they part­ner with a CDMO that has a good awareness of both material supplier lead times, availability of alternate merchants, and who have the expert­ise to offer up viable alternatives that would not impact the performance of the end product," says Helen Baker, Director, Pharmaceutical Sciences, Quotient Sciences. "A CDMO capable of both preempting and adapting to supply chain issues, while maintaining the integrity of a comprehensive and thorough development plan will be most attractive to pharmaceutical clients."
The pandemic also forced the in­dustry to pivot toward new therapeu­tics, particularly mRNA-based drugs. As a result, many CDMOs have in­vested in new facilities and state-of-the art equipment focused on biologics manufacturing.
This annual, exclusive Drug Devel­opment & Delivery report describes how drug sponsors and CDMOs are collaborating earlier, highlights how third-party contractors are navigating material shortages, and discusses how the industry is shifting to address dif­ferent therapeutic targets and mole­cules, such as mRNA.
Adare: Addressing Unexpected Challenges
Outsourcing is a good way for pharma and biotech companies developing their pipelines to accelerate time to market because the CDMO has already invested in the facilities and approvals needed to begin work. CDMOs provide their customers with regulatory-approved facilities and highly experienced scientific staff, which can help accelerate times and address challenges that arise.
Adare's expertise proved successful for one client that faced the challenge of an out-of-specification fill weight variation during an encapsulation process, explains Anthony Qu, Chief Technology Officer at Adare. "Early in the project, our client decided to use a small-scale encapsulator to reduce product lost, with a minimum submission batch size," he says. "When manufacturing confirmation batches, we started encapsulating using a Zanasi 40E (not equipped with a vacuum chamber), and we observed large weight variations when encapsulating all the strengths."
The Adare team recognized that because the product is sensitive to the manufacturing process, an encapsulator equipped with a vacuum chamber would significantly reduce the weight variation. "The client agreed with our team's suggestion to switch to a production-scale encapsulator equipped with a vacuum chamber, and thereafter the confirmation batches and submission batches at every strength were successfully encapsulated with an insignificant capsule weight variation," says Mr. Qu.
Almac: Making Investments and Re-engineering to Support Small & Big Pharma
Outsourcing early development activities is something Almac is experiencing more of as companies look to accelerate from candidate selection to clinical trial entry and ultimately get to proof-of-concept as quickly and efficiently as possible. "Smaller, virtual companies have outsourced these activities for many years, but we increasingly see larger pharma companies outsourcing more of their early development portfolios," says James Hurst, Vice President Operations & Charnwood Site Head, Almac Pharma Services. "Some of these larger companies are pursuing 'reserved capacity models' to guarantee access to formulation, analytical, and manufacturing capabilities and capacity so that they can move multiple assets in their portfolios forward quickly when the need arises."
The Almac Group made investments in cold-chain storage, packaging, and distribution capabilities to support the clinical supply chain for numerous mRNA vaccines during the COVID pandemic. "We also support elements of the clinical and commercial supply chain for a considerable number of cell and gene therapies aimed at niche indications, small patient populations, and small production volumes," he says. "We have re-engineered internal processes from order receipt to production, release and dispatch, to enable incredibly fast turnaround times for products that are often life-altering or lifesaving."
For example, one client was approaching the successful launch an adult dosage treatment, but had a late change in direction regarding the product format for the pediatric form of the drug. Mr. Hurst explains that Almac worked collaboratively with the client to form a deep understanding of both the product and the patient/care-giver needs and identified mini-tablets filled into stick packs as the preferred solution. "The adult formulation was optimized to enable successful production of this multi-particulate format, and in conjunction with a number of third-party vendors, we identified, installed, and qualified bespoke equipment solutions for their specific product needs. The pediatric form of the product is now on stability with regulatory filing planned for later this year."
Ascendia Pharmaceuticals: Nanoparticles Stabilize & Boost Bioavailability
Clients expect CDMOs to contribute more knowledge in early development, and generate quality data in pre-formulation and formula­tion of compounds/biologics with challenging properties that enable successful testing of new compounds in animals for pharmacology, DMPK, and toxicity studies. With regard to the latter, Ascendia Pharmaceuticals Inc. was recently presented with a preclin­ical compound that was ready for an animal tox study. The compound was not soluble and in a metastable amor­phous form. Ascendia Founder Jim Huang, PhD, explains that it was de­sired to formulate the compound into amorphous nanoparticles to boost bioavailability while stabilizing the amorphous nanoparticles in aqueous phase. "Ascendia was able to use nanomilling using conditions that re­duced the amorphous API to a nano­size level using a scalable wet bead milling process that enables long-term tox studies," he says.
Ascendia's technologies have been used in different routes of ad­ministration, new drug development, and life cycle management to boost bioavailability of BCS II/IV com­pounds, to enable long action injecta­bles, and to produce lipid nanoparticles for encapsulation of bi­ologicals such as protein and RNA.
"Bringing new therapeutic agents to the clinic with speed, quality, and in a cost-effective manor is a main focus for the industry and Ascendia," says Dr. Huang. "With supply chain issues, increased labor and material costs, and uncertainty in the IPO market, it becomes more important for biotech companies to successfully bring more limited molecules into human testing with quality, speed, and within a budget."
August Bioservices: Building Stronger Relationships With Innovators
As pharma and biotech companies look to partner in the earlier phases of the drug development process, August Bioservices's has structured its operations to be a full-service, end-to-end provider, assisting and guiding clients all along the drug development pathway from preclinical to clinical to commercial. "Early engagement with a qualified CDMO partner mitigates risk, saves time and money for several reasons," says Ryan Downey, Director of Customer Operations, August Bioservices. "When clients find that we have the specific subject matter expertise and deep experience with similar molecules, it affords a running start and minimizes the learning curve. Also, the experience of working together through preclinical and clinical phases strengthens the understanding and characterization of the molecule and fosters strong relationships between the scientific and operational teams of both innovator and CDMO. Finally, when working with a CDMO like August that offers both formulation development and cGMP manufacturing on the same site, there is no need to spend precious resources (time, money, talent) looking for a commercialization partner."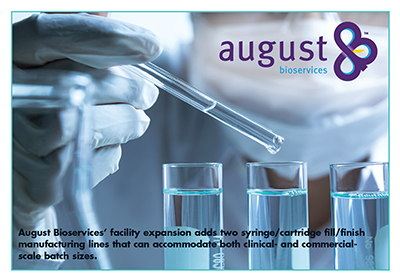 August has also recently renovated and expanded to double its capacity. This, says Mr. Downey, puts the company in a position to service more drug sponsors during a time when finding a CDMO to take on new projects can prove difficult.
Catalent: A Multi-Layered Approach to Minimizing Supply Risks
An increasing number of smaller and virtual innovators in the develop­ment pipeline are seeking to retain project ownership for longer, and sometimes beyond commercialization. This means that support from out­sourcing partners is critical to meet funding and regulatory milestones, while accelerating towards scale-up manufacturing for launch, asserts El­liott Berger, Chief Marketing Officer, Catalent. Development pipelines are healthy, but treatments are diverse, more frequently challenging, and often targeted to smaller patient pop­ulations.
"New modalities make up an ex­panding part of the pipeline, and these have complex development, process, and manufacturing require­ments," he says. "This leads to higher investment and capability require­ments, and companies will need to strategically develop or partner with organizations that have the capabili­ties required to bring these treatments to scale, as well as hiring, training and retaining the appropriate talent, and partnering across suppliers, regulators and other experts in order to be successful."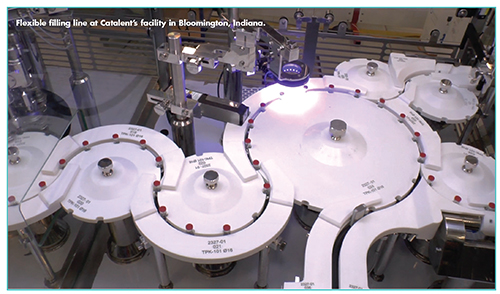 Innovators are increasingly look­ing to partners to gain expertise and guidance throughout development, selection of delivery technologies, and process and analytical development, with an eye toward scalable manufac­turing and supply considerations that will save time and money up to, and beyond, commercialization. The choice of partner is important as the earlier a development partner gets in­volved in a program, the more it can help guide the technology choice and develop the correct scalable manufac­turing methods.
Sponsors should select a partner with a demonstrated track record of success based upon the needs of the drug program, says Mr. Berger. They should also look for evidence that a CDMO closely monitors and reports supplier delivery schedules, and if it communicates effectively with key sup­pliers and with suppliers' suppliers, too. Assurance should be given that its supplier compliance and integrity is assessed to relevant standards.
For example, Catalent uses several supplier monitoring tools that range from supplier performance management, third-party risk moni­toring, supplier audits and critical ma­terial risk assessments, and tracking," says Mr. Berger. "These create a multi-layered approach so that Catalent can demonstrate macro and micro level risks to supply."
He shares an example of how Catalent help to minimize risk for one of its customers. "This client's drug molecule was demonstrating no expo­sure in humans. A day of analysis showed that while the formulation was suitable, the compound was being completely degraded after absorption in the liver. A modeling exercise could have been performed months or even years earlier saving a lot of time and money by highlighting its unsuitability as a drug. Terminating a drug candi­date program can be daunting, but early outside assistance can enable sponsor companies to minimize many risks."
CMC Pharmaceuticals: Conducts Rigorous Studies in Early Drug Development
Developing a robust formulation, analytical methodology, and process can take significant time, resources, and funding, but leads to a reliable, reproducible process. And, under­standing critical quality attributes and critical process parameters by execut­ing scientifically rigorous studies in the early stages of drug development is necessary for a robust formulation, method, and process.
"Not only is this information re­quired for FDA approval, but will re­sult in fewer failed batches, deviations, and out-of-specification results when manufacturing pharmaceutical prod­ucts, says Mike Radomsky, President & Co-founder of CMC Pharmaceuticals. "Those seeking shortcuts by skipping or eliminating these development studies may pay the price later. Dedi­cating scientific bandwidth, expertise, and budget to these tasks will over­come the significant formulation, manufacturing, analytical, and quality risks and will save time and money by addressing the development activities early in a product's life cycle."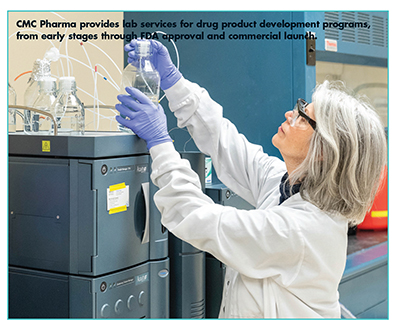 One client presented a formula­tion issue to CMC. The drug product had a stability profile that had a very short shelf life insufficient to support even early clinical studies. "We utilized the scientific literature, pre-formula­tion studies, regulatory precedent, and a deep understanding of the degrada­tion mechanism to identify stabilizing strategies," Mr. Radomsky explains. "We identified promising prototype formulations and executed studies that showed more than an order of mag­nitude increase in shelf life that now supports their late-stage clinical stud­ies and commercial use."
Cyclolab: Utilizing the Solubilization Property of Cyclodextrins
Aqueous solubilization of small-molecule APIs, including oligopep­tides, in order to enhance oral bioavailability and enable preparation of injectable formulations and patient-friendly ophthalmic and nasal prod­ucts, is the goal of Cyclolab. It achieves this by utilizing the solubiliza­tion property of cyclodextrins.
Dr. István Puskás, Formulation Sci­entist at Cyclolab, explains how the company was challenged to prepare an aqueous solution of a surfactant type of API. The API had a strong ten­dency to form micelles and aggre­gates, however, the client wanted to avoid self-assembly to enable sterile filtration of the substance and subse­quent processing into the final dosage form.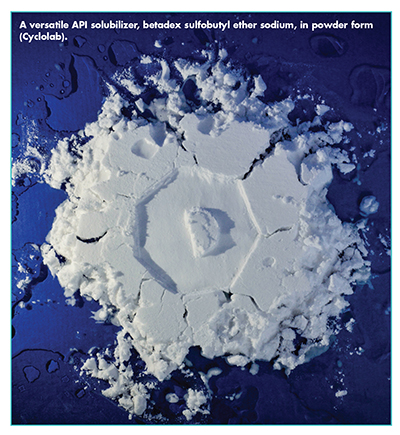 "We screened suitable, pharma­ceutically acceptable cyclodextrins based on their solubilization property," he describes. "After selection of the best performing cyclodextrin, the ideal pH, processing parameters, and API/cyclodextrin ratio were sought. Be­cause the API was a weak base type compound, we found betadex sul­fobutyl ether sodium (Dexolve®) as the ideal cyclodextrin for the preparation of the pre-formulation. The final result was a transparent, stabile solution of acceptable osmolality characterized in a composition well below the safety threshold of cyclodextrin exposure to patients. The resulting pre-formulation exactly matched the requirements of the customer. The elaborated process was found novel and non-obvious, therefore the customer successfully obtained a granted patent for the process based on our proposed cy­clodextrin technology."
Emergent CDMO: Small-Scale Lyo & Nanoparticle Formulation
As product pipelines for novel bi­ologics-based therapeutics and vac­cines continue to grow and biopharma looks to outsource formu­lation development and manufactur­ing, supply chain and capacity have been a challenge industry wide. Bio­pharma innovators who partner with CDMOs for their novel biologic plat­forms are looking for the right fit for their product – the relevant expertise, experience, capabilities, and capacity in place to support the formulation de­velopment, technology transfer, and manufacturing needs of diverse mol­ecules.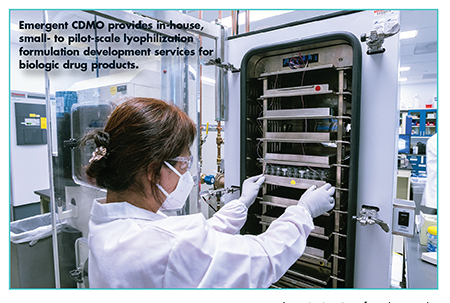 Emergent CDMO recently com­pleted several expansions and invest­ments to provide additional capacity and capabilities for both biologics de­velopment and drug product manu­facturing to address novel therapeutic needs. For example, in development services, Tara Lorenz, Director, Com­mercial Development, Emergent CDMO, explains that the company has added several new high-through­put instruments for robust develop­ment and optimization for drug sub­stance and drug product development scale-up. "A strong focus for us has been on maximizing automated sys­tems for bioreactor optimization, as well as resin and membrane screen­ing, which can accelerate the overall development timeline for our clients. Our investments in small- and pilot-scale lyophilizers and nanoparticle formulation and process development equipment have allowed us to meet industry-wide demand for lyophilized and nanoparticle products, such as lipid nanoparticle (LNP) formulations for mRNA products."
Recently, Emergent solved a client's formulation development and manufacturing issue related to a lyophilized product that did not form a cake and, therefore, powder escape was occurring during lyophilization. This suboptimal formulation was not viable for commercial production as it introduced facility and product risks, including lyophilizer cleaning, content uniformity, and container closure in­tegrity testing.
"As a solution, our development team added one of the excipients from the reconstitution solution to the pre-lyophilization formulation blend to support cake formation," she says. "After successfully demonstrating com­parability of this modified lyophiliza­tion formulation, the team developed a formulation and lyophilization process and completed tech transfer for GMP production."
Enteris BioPharma: Filling a Gap in Manufacturing HPAPI Solid Oral Drugs
Highly potent active pharmaceu­tical ingredients (HPAPI) are one of the most rapidly growing segments of the drug development industry and make up a sizeable portion of the pharma­ceutical product pipeline due to their effectiveness. Many smaller and emerging pharma companies are now interested in developing HPAPI drug products. Highly potent API drug product handling requires specialized skill and knowledge. With the pan­demic disrupting the pharmaceutical supply chain and causing material shortages, drug makers must re-think both the technical and soft skills that an outsourcing partner brings to the table during times of unpredictability.
"For companies that might need limited-sized batches and rapid turn-around, a larger CMO might not be able to meet their needs," says Angelo P. Consalvo Director of Manufacturing at Enteris BioPharma. "A niche CDMO that has the knowledge, flexibility, ex­perience, and expertise to handle projects that may not fit with the tradi­tional manufacturing structure would be the preferred partner of choice."
In terms of the technical skills, the ability to achieve content uniformity and bioavailability for low-dose prod­ucts are of paramount importance when working with limited quantity APIs.
Additionally, quality control, qual­ity assurance, and containment strate­gies are all major factors that need to be considered when it comes to han­dling highly potent APIs as there is not official guidance that governs HPAPI manufacturing. Enteris BioPharma has completed the renovation of a state-of-the-art facility in northern New Jer­sey comprised of a team of subject matter experts with robust institutional experience, project management, and rapid problem-solving expertise, says Mr. Consalvo. "This facility utilizes a comprehensive containment strategy that consists of personal protective equipment, manufacturing contain­ment equipment, engineering con­trols, facilities design, and decontamination, which prioritize worker and environmental safety."
Enteris now has the capacity and flexibility to the ensure the develop­ment, manufacture, testing, and re­lease of Phase I to Phase III solid oral dosage clinical trial supplies, as well as small-scale commercial produc­tion. "Enteris is filling a niche that is underserved by allowing contract manufacturing for small-batch, HPAPI products."
The ability of a manufacturing partner to develop phase-appropriate manufacturing scales that will reflect both current needs and future growth is crucial to prevent additional costs. Scaling issues can lead to manufactur­ing re-validation and related regula­tory changes, thereby delaying the programs into clinic and market, while also adding costs. Choosing a CDMO that can provide development services throughout the entire life cycle of your drug, without the need for tech trans­fers, can save significant time and re­sources. "Some companies cannot afford to wait several months or longer, whether that is for their own customers' needs or for getting a product through clinical trials," says Mr. Consalvo.
Eurofins BioPharma: Helping to Target the Undruggable Targets
Eurofins BioPharma Product Testing works with many clients in pre-clinical development, due in part to its understanding of the testing requirements for biologic and mRNA drug products. "The evolution of the biotechnology industry has led to the targeting of once undruggable targets," says Joe Page, PhD, President of Eurofins Advantar Laboratories, one of Eurofins BioPharma Product Testing's Laboratories in San Diego. "Simply put, we have the expertise to support clients through this complex phase of development whereas some bio/pharma companies, especially smaller ones, do not have the in- house expertise to fully support this stage of development. For example, we perform cell-based potency assays."
Many early-phase drugs in devel­opment seek to edit, silence or shut down production of proteins at the DNA or mRNA level, says Dr. Page. For example, many companies are pursuing Duchenne Muscular Dystro­phy treatments using gene therapy, RNA editing or gene silencing to ad­dress issues with the dystrophin pro­tein that is needed for normal muscle function. Protein downregulation with antisense, siRNA or microRNA often employs 20 to 30 bases of DNA or RNA with a phosphorothioate back­bone. These synthetic oligonucleotides are expensive to make, so conserving the amount used during clinical devel­opment is an important consideration. The use of AAV and lentivirus delivery systems, complex synthetic drugs, and high-value antibody conjugates all re­quire the conservation of these high-value materials.
To meet this market demand, Eu­rofins BioPharma Product Testing has installed and qualified a gloveless, ro­botic, isolator filling station, the Cytiva (formerly Vanrx) Microcell. This filler is intended for filling sterile GMP sup­plies for clinical trials. "This system of­fers the lowest material line loss and the lowest amount of human interac­tion," Dr. Page says. "The isolator sys­tem is the industry standard for the lowest levels of extraneous particulate matter, and, with its peroxide decont­amination cycle, offers the highest as­surance for a sterile fill."
Other advantages of this system, he adds, include the use of nested vial-and-cap sets that significantly re­duce the rejection of vials due to scratches and other defects. The nested caps eliminate operator error from the capping process. The system also uses a 100% disposable fill line and fill needle, so changeover be­tween lots of different products can occur within a day.
In addition to offering material-saving clinical fills, Eurofins Bio­Pharma Product Testing supports clients with pre-formulation and formulation services for high-value prod­ucts. For example, in a recent pre-for­mulation study for a client, Eurofins identified a pH drift in the initial for­mulation prior to any lots being filled, potentially saving the client from a failed lot had this formulation gone into clinical production, explains Dr. Page. Another client was having solu­bility issues with an oral small-mole­cule formulation. "We were able to work with this client and add PEG and Tween to keep the drug in solution and potentially avert a particulate matter failure during their clinical trial. Our formulation and manufacturing activ­ities are supported by experienced an­alytical scientists using state-of-the-art instruments and methods for these biotechnology products."
Evonik Health Care: Parenteral Formulation Using Polymeric Nanoparticles
A new era of medicine – that of mRNA technology – has been ushered in as a result of the COVID-19 pandemic. Evonik recognized the potential of gene-based therapeutic approaches early on and has made a targeted investment with the acquisition of Vancouver-based Transferra Nanosciences in 2016. This opened doors to working on parenteral drug formulation development using lipid nanoparticles (LNPs) and liposomes. Evonik is currently collaborating with Stanford University on a polymer-based drug delivery platform for mRNA and other nucleic acids that complement its existing LNP portfolio.
In addition, Dr. Tom Tice, Senior Director Global Technical Marketing, Evonik Health Care, explains that Evonik's microencapsulation technol­ogy for bioresorbable lactide/glycol­ide polymers has been translated into bioabsorbable nanoparticle technol­ogy in response to the need for cancer immunotherapy. In addition to formu­lation optimization, this translation also involves development of continu­ous particle manufacturing technolo­gies for polymeric nanoparticles. A client came to Evonik after performing initial drug delivery formulation work for a long-acting, injectable micropar­ticle product based on lactide/glycol­ide polymers.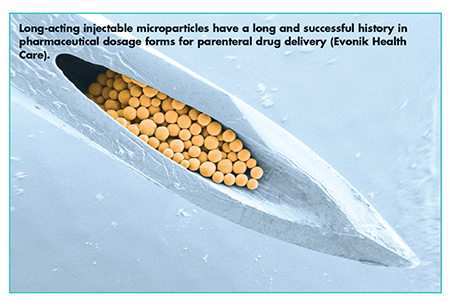 "Using our drug delivery tech­nologies and product development know-how, we improved formulation performance by fine tuning the poly­mer excipient properties and convert­ing the solvent-evaporation batch process to an emulsion-based, contin­uous microencapsulation process," explains Dr. Tice. "In doing so, we provided better drug release charac­teristics with controlled Cmax. Also, we improved the encapsulation effi­ciency, achieved better injectability with smaller needles, and reduced the residual solvent. After these efforts, the formulation was ready for scale up and production of microparticle prod­uct for toxicology and stability studies and clinical trial material."
Ligand Pharmaceuticals: Prepared for the Future of Remdesivir
On May 1, 2020, Gilead Sciences and the US Government announced an Emergency Use Authorization (EUA) for remdesivir, the first antiviral therapeutic for treating COVID-19. A week later, the Japanese Regulatory Authority approved VEKLURY® (remdesivir). Soon, remdesivir was authorized for treatment of COVID-19 around the globe. Producing remdesivir requires scarce raw materials, with their own lengthy production time, and specialized manufacturing capabilities. Any disruption to the supply chain of these raw materials could reduce the amount of the product. Captisol is an essential piece of that supply chain.
Since 2015, Captisol has been used in the formulations of remdesivir (GS-5734) for treating Ebola to enhance both solubility and stability of remdesivir. Large amounts, up to 6 g of Captisol, are now used in the two presentations of intravenously infused Veklury (remdesivir) to treat COVID-19.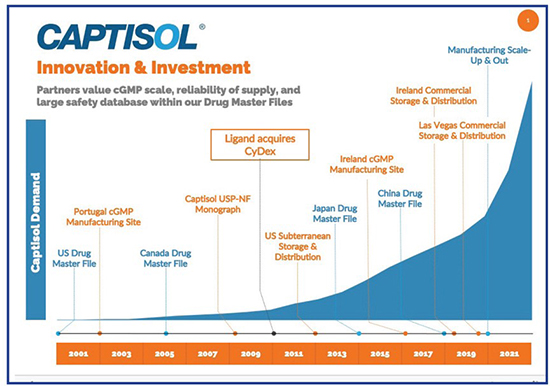 Captisol is a patent-protected, chemically modified cyclodextrin with a structure designed to optimize the solubility and stability of drugs. Captisol was invented and initially developed by scientists in the laboratories of Dr. Valentino Stella, University Distinguished Professor at the University of Kansas' Higuchi Biosciences Center, for specific use in drug development and formulation. This unique technology has enabled over a dozen FDA-approved products, including Gilead's Veklury, Amgen's Kyprolis, Baxter International's Nexterone, Acrotech Biopharma L.L.C.'s and CASI Pharmaceuticals' Evomela, Melinta Therapeutics' Baxdela, Pfizer's VFEND IV and Sage Therapeutics' Zulresso. There are many Captisol-enabled products currently in various stages of development.
"In addition to solid Captisol powder, we offer our partners access to cGMP manufactured aqueous Captisol concentrate," says James Pipkin, PhD, Vice President, New Product Development, Ligand. "This product offering was established in 2017 to reduce cycle time and increase Captisol production capacity for large-volume drug products. We maintain both Type IV and Type V DMFs with the FDA. These DMFs contain manufacturing and safety information relating to Captisol that our licensees can reference when developing Captisol-enabled drugs. We also have active DMFs in Canada, Japan, and China."
Anticipating substantial continued demand for Captisol for COVID, Ligand announced in June 2020 that up to $60 million would be invested to significantly expand annual manufacturing capacity for Captisol. The improved capacity was achieved through three main approaches in Captisol production: raw material supply, production scale-up and product scale-out of solid isolation, explains Vince Antle, PhD, Senior Vice President, Technical Operations, Ligand. "Through the purchase of additional purification equipment, processing optimization and redundant equipment trains, batch size increased by more than 50% while significantly reducing the cycle time between Captisol batches."  The final stage of the capacity expansion was qualifying sites for the critical isolation step. Two additional GMP locations were successfully validated and included sites in the US and the UK. More than a dozen successful validation campaigns were completed for the process changes, new sources of key raw materials and isolation step in less than 18 months.
Metrics Contract Services: Flexible Early-Phase Development
Certain segments of the supply chain, both raw material/component and process equipment/parts continue to be challenging in terms of lead times. Metrics Contract Services has reacted to these challenges by forging strong relationships with its suppliers and stocking critical spares, change parts, and raw materials for its equip­ment and clients, respectively. For cer­tain dosage forms, the need to plan ahead and provide flexibility in terms of clinical dosing strategy will be im­portant. "For example, if a clinic wants to dose in a colored opaque capsule, consider a white opaque capsule, as many CDMOs will stock that color in a variety of sizes," advises Brad Gold, PhD, Vice President of Pharmaceutical Development, Metrics Contract Services. "Also make sure that you really need an HPMC cap­sule. HMPC capsules provide a good option for encapsulating APIs that have reactive moieties such as aldehy­des, which may be susceptible to con­densation with the gelatin peptide's reactive sites. However, consider the fact that lead times for gelatin cap­sules are less than half of what HPMC capsules are. So, maintaining flexibil­ity in early-phase development with respect to compendial requirements is important."
Metrics offers early-phase formu­lation development, late-stage clinical trial material manufacturing, and commercial manufacturing on a sin­gle campus. During formulation de­velopment and process optimization, some of Metrics' raw materials and process equipment suppliers offer ap­plication lab services that provide data around excipient use ranges and any effect upon processing, within a spe­cific unit operation. In the case of equipment suppliers, some are able to work with placebo blends to test out process equipment capability. "These opportunities enhance our flexibility and speed during the development and scale-up process," says Dr. Gold.
Additionally, containment option testing, verification, and qualification are important aspects in drug product manufacture, and conducting design and testing on the sponsor's site helps shorten timelines. As an example, one client came to Metrics needing to con­vert a drug-in-capsule to a formulated capsule for a Phase IIa clinical study. The drug was highly potent and mois­ture sensitive, requiring %RH of less than 30% at all times during handling and manufacture. Given the high po­tent banding, development and man­ufacture had to occur behind hard-wall isolation. Use of HEPA-fil­tered inlet and outlet air would be re­quired. The idea of combining clean/dry compressed air, with ultra-low moisture contribution as 'make-up' for some inlet air, was presented and engineered as a solution. Metrics demonstrated through several dry runs that this approach was a good solution to controlling humidity levels inside a containment isolator. Formu­lation prototypes and clinical trial ma­terial were manufactured successfully, with state-of-the-art control for oper­ator exposure, explains Dr. Gold. Moreover, the critical quality attribute of humidity level during manufactur­ing was addressed, as Metrics was able to effectively operate its high-po­tent containment isolators with accept­able differential pressure, while at the same time, controlling %RH to under 30%.
Micropore Technologies: Holistic Approach to LNP Manufacturing
At the LNP Formulation & Process Development summit this past April, a delegate observed that LNPs are probably the most complicated drug product that humans have ever tried to manufacture. A holistic approach is essential in LNP manufacturing, says Denis Smit, Commercial Director, Mi­cropore Technologies.
Micropore Technologies first com­mercialized its continuous manufac­turing-scale crossflow mixing technology in 2019. Born out of more than a decade of experience in aseptic processing of microspheres, in late 2021, Micropore introduced a single device specifically engineered for early-stage discovery through to clini­cal trials – the AXF-mini. This device enabled the production of LNP prod­ucts within a targeted particle size dis­tribution and from which a manufacturing scale skid can be de­signed and built. Micropore's second-generation robust scale-up approach enables the same conditions (low pressure and low shear), the same physical mechanisms (driven by a constant and low Reynolds number), and the same geometry to be kept all the way through the process drug of development to manufacturing, ex­plains Mr. Smit.
"The development of LNP technol­ogy to the point where it is a recog­nized method of delivering many different oligonucleotide payloads has further spurred Micropore Technolo­gies to develop further products that speed up the LNP formulation process and a new AXF-DoE device is expected to be released in the second half of 2022," he says, adding that this will meet the brief of being able to gener­ate 300-500 microliter samples while being scalable to 20L/hr. and beyond.
PCI Pharma Services: Fast-Tracking Drug Processing From Development to Commercialization
As an end-to-end solution provider, PCI Pharma Services contin­ues to invest in state-of-the-art tech­nologies to meet the needs of clients and the global marketplace. The areas in which PCI is currently invest­ing include:
Lyophilization and Sterile Manufac­turing — At the end of 2021, PCI acquired Lyophilization Services of New England, Inc., expanding its breadth of services and building on its knowledge in specialty manufac­turing and packaging at both clini­cal and commercial scale. To further develop PCI's sterile fill-fin­ish capabilities, significant invest­ments are taking place including the addition of automated sterile fill-finish technologies at its San Diego and Melbourne facilities. These robotic platforms are able to fill different sterile medications into multi-format dosage forms, includ­ing vials, cartridges, and prefilled syringes. PCI also recently an­nounced a major expansion of ca­pabilities and capacity in aseptic liquid fill-finish and sterile lyophilization technology, with a planned investment of $100 million at its Bedford, NH, campus, to ad­dress demand for integrated large- and small-molecule drug product solutions at clinical and commercial scales.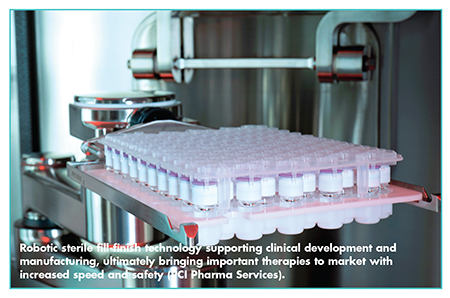 Contained Highly Potent Drug Product Processing – Approximately $25 million is being invested in PCI's high-potent manufacturing facility in Tredegar, UK. This will ex­tend the company's contained manufacturing facility and double its large-scale commercial manu­facturing capacity. And a new high-potent packaging facility adds extensive packaging capacity at both clinical and commercial scales. One customer presented with a breakthrough oncology ther­apy needed to rapidly progress de­velopment and bypass the traditional drug development hur­dles to get its innovative small-mol­ecule drug product to patients as quickly as possible. "Utilizing our Speed to Study™ solution to streamline and accelerate early-phase development, the client leveraged our expertise in high-po­tent drug product processing com­bined with direct drug-in-capsule microdosing technology, Xcelo­dose®, to fast-track the molecule to commercialization, including com­mercial supply," explains Jeff Clement, Executive Director, CDMO Business Development North America, PCI. "This saved between one and two years of tra­ditional CMC development while providing maximum flexibility and ultimately time and cost efficien­cies."
Greater Capacity and Biologic Packaging – Complementing its US Biotech Center of Excellence, PCI will invest $13.5 million in state-of-the-art packaging technologies at its European Commercial Packag­ing facility, enhancing its capacity to process the novel drug delivery sys­tems required for biologic products, providing an end-to-end packag­ing solution.
Quotient Sciences: Clinical Testing & Development Under One Roof
A recent formulation development challenge that Quotient faced in­volved a BCS class IV candidate des­tined for solid oral delivery. The molecule exhibited poor solubility and permeability, with erratic absorption as an inevitable consequence. Al­though numerous solubility enhance­ment techniques exist, a critical factor in development was to ensure that the dosage form selected must be consis­tent and scalable to a sufficient size to support a commercial campaign. Hot melt extrusion offered not only a vehi­cle for manipulating the absorption properties by allowing for the incorpo­ration of enhancement aids, but was easily controlled and scaled-up, with the additional benefit of optional con­tinuous manufacturing. A Design of Experiment approach was successfully used to select a polymer matrix that would provide the dissolution profile required by the customer. Despite some stability challenges that pre­sented themselves in early prototypes, a well-performing formulation was se­lected for Phase I studies, says Helen Baker, Director, Pharmaceutical Sci­ences, Quotient Sciences.
Quotient has its own Phase I clin­ical pharmacology units that are fully integrated with its drug substance and drug product facilities. "Offering both clinical testing and drug development capabilities under a single organiza­tion enables customers to experience a drastically reduced time investment for the development of products, rapid delivery and interpretation of clinical data, and subsequent reformulation that comes from each team being fully aligned," says Ms. Baker.
Quotient Sciences also offers HPAPI handling capabilities in both its US and UK drug substance and drug product facilities in response to a ris­ing demand in the high-potency phar­maceutical ingredient (HPAPI) space. "Clients are increasingly seeking out CDMOs capable of rising to the chal­lenges that processing those com­pounds presents," she says.
Thermo Fisher Scientific: New Sites Dedicated to Cell Therapy & Plasmid Manufacturing
Digitalization, big data, and arti­ficial intelligence will accelerate the transformation of the pharmaceutical industry and enable companies to im­prove drug development and patient care beyond the treatment of diseases. Digital solutions enable the shift from a disease focus to an integrated ap­proach from prevention, screening, di­agnostic, treatment, and aftercare. Novel associations between the human microbiome, health, and dis­ease are constantly emerging, leading to new diagnostics and therapeutics, enhancing personalized medicine.
"Precision medicine, cell and gene therapy, and immune-oncology are fueling new ways of prevention and detection with the potential to rev­olutionize the treatment of many dis­eases," says Anil Kane, PhD, Senior Director, Global Technical Scientific Affairs, Pharma Services, Thermo Fisher Scientific.
Thermo Fisher Scientific, for in­stance, has integrated its capabilities across the operational value chain to enable the development and commer­cialization of mRNA therapeutics. "We have over a decade of experience in cGMP manufacturing of raw materials and 20-plus years of experience in complex sterile manufacturing," Dr. Kane says. "Our global network of sites with mRNA capabilities includes cGMP manufacture, formulation with liquid nanoparticle (LNP), sterile fill and finish, and logistics and supply chain networks."
This year, Thermo Fisher will open a 300,000-sq. ft. viral vector manu­facturing facility in Plainville, MA, a new cell therapy development and cGMP manufacturing center at the University of California San Francisco, Mission Bay campus, and a new cGMP plasmid manufacturing facility in Carlsbad, CA.
Reference

Global Formulation Development Outsourcing Market (2022 to 2027) – Industry Trends, Share, Size, Growth, Opportunity and Forecasts, ResearchandMarkets, April 11, 2022, https://www.busi­nesswire.com/news/home/20220411005452/en/Global-Formula­tion-Development-Outsourcing-Market-2022-to-2027—Industry-Trends-Share-Size-Growth-Op­portunity-and-Forecasts—Re­searchAndMarkets.com.