SPECIAL FEATURE – Outsourcing Formulation Development & Manufacturing: Putting Customers First
By: Contributor Cindy H. Dubin
The rising need for novel drugs to battle infectious and chronic diseases is one of the main drivers of the global formulation de­velopment and manufacture outsourcing market. Valued at $22.5 billion in 2021, the market is expected to skyrocket to more than $51 billion by 2031.1 Higher R&D expenses, a desire to shorten time spent on these activities, and the fact that many companies lack the resources to perform these functions will only strengthen the contract sector.
Bio/pharma companies are being fairly warned by industry gurus that as drug substances continue to become more complex, the expertise and capabilities of contract development and manufacturing organizations (CDMOs) become more critical.
In this exclusive Drug Development & Delivery annual report, leading CDMOs from around the globe describe their unique de­velopment and manufacturing capabilities and technologies, and present real-world examples of how they have put these to use to produce innovative compounds, lower development costs, and shorten time to market.
Adare Pharma Solutions: Technology & Customer Focus Combined to Overcome Formulation Challenges
Adare Pharma Solutions is a technology-driven pharmaceutical CDMO that provides integrated end-to-end services to support the entire development of pharmaceutical products. Services include pre-formulation, phase-appropriate analytical and formulation development, QbD-based process development, clinical supplies, commercial manufacturing, and packaging.
According to Srinivasan Shanmugam, PhD, Adare Pharma Solutions' Senior Director of Pharmaceutical Sciences, Adare Pharma Solutions specializes in innovative oral solid dose technologies. "These technologies enable us to develop and manufacture unique dosage forms that serve the general patient populations as well as meet the unique needs of pediatric and geriatric patients," he says. "Our technologies can be combined and applied to a range of dosage forms, allowing us to develop more effective and efficient drug products and overcome complex drug delivery challenges that other CDMOs may not be equipped to handle."
Adare Pharma Solutions takes a cus­tomer-centric approach toward providing CDMO services throughout the lifespan of a product. "This allows our customers to work with a single partner for all of their development and manufacturing needs, which can help streamline the develop­ment process and accelerate timelines," Dr. Shanmugam says. "Many of the same Adare experts can work closely with cus­tomers from a project's beginning to end, which allows for a deep understanding of a customer's specific needs and goals, as well as the ability to provide customized solutions engineered specifically to meet them."
A technology platform that Adare Pharma Solutions developed is the MMTS™ Multi Mini Tablet System. This cus­tomized release technology combines a tablet formulation with the flexibility of multiparticulate dosage forms and high drug-loading capability.
An example of Adare's MMTS tech­nology and customer-centric culture com­bining to overcome a drug formulation challenge is the recent work with a med­ication for Exocrine Pancreatic Insufficiency (EPI). The customer wanted an alternate dosage option that would eliminate the need for patients to swallow several cap­sules a day, especially children and pa­tients with cystic fibrosis. The formulation would also need to offer a broad dosage range for optimal symptom control.
"Working closely with the customer every step of the way, our scientists paired their API with our MMTS Minitabs technol­ogy, which resulted in a dosage form that could be sprinkled onto soft foods like ap­plesauce and baby foods," Dr. Shan­mugam explains. Adare scientists also demonstrated a broad dosage range from 3,000 to 40,000 USP units. "Additionally, MMTS Minitabs has likewise been shown to be very effective in gastronomy tube de­livery, as potency remains unaffected while the Minitab beads deliver without sticking or clogging the tube."
Almac: Modifying to Meet Customer Needs
Almac Pharma Services is a CDMO with a focus on solid and liquid oral dose formulations. The company specializes in developing and manufacturing tablets, mini tablets, powders, capsules, solutions, and suspensions, from large-scale com­mercial production to smaller scale in sup­port of clinical supplies, or orphan and niche commercial drug products.
"By offering a full range of services, including pre-formulation studies, process development, scale-up, validation, and ongoing commercial supply, we are able to offer a fully flexible single-service plat­form," says Sander van den Ban, Head of Technical Operations for the Almac Pharma Services Charnwood Facility. "We place a strong emphasis on quality and consistency, with a commitment to being able to solve complex formulation and manufacturing challenges and provide clients with a diverse and skilled team of experts."
Mr. van den Ban says the company has witnessed a growing trend in client's requesting high potency and pediatric small-volume high-complexity orphan or niche indications. "This is reflected in our tailored approach to client needs as we fully assess and partner with them to man­ufacture targeted medications," he ex­plains. "We leverage equipment and product modelling approaches to guide our development as often timelines and API are heavily constrained. This provides an ability to reduce API and product waste, while also assessing scale-up needs, yield­ing a high reward for the client."
In recent years, he says there has been a shift in client needs as a growing desire has developed for more integrated services across the product lifecycle. As Almac provides a single-service offering, the company integrates from API develop­ment, formulation development, and manufacture, to clinical studies and on through to commercial supply. "A drug product can move through its lifecycle from one single source, continuously shar­ing knowledge between teams, resulting in complex development and manufacturing challenges being met with solutions based on learned product knowledge," he says. "Clients also benefit from reduced time and costs associated with coordinating multiple service providers."
Recently, a key client asked Almac to provide a solution that would enable the manufacture of a capsule containing oral granules (minitablets). Almac's current capsule filing machines were unable to meet that need as they were only equipped with powder and bead dosing units. Mr. van den Ban explains that Almac re­searched the best solution to fulfil the proj­ect requirements and ultimately chose to integrate the existing capsule filler with a universal tablet/micro-tablet feeding unit.
"This enabled us to satisfy the current production needs and fill minitablets into a capsule as per the selected recipe to achieve the required count," he says. "Not only were we able to provide a solution that met our client's needs, but we are able to provide this technology to our client base moving forward."
Ascendia: Taking the B.E.S.T. Approach to Liposome & Lipid Nanoparticle Formulation
Ascendia offers "one-stop-shop" CDMO services, leveraging its four core platform technologies to improve the solubility and bioavailability of a variety of modalities, with the notion "Making the Impossible Possible." Ascendia's proprietary nanotech­nologies like Lipidsol, Nanosol, Emulsol, and Amorsol, can be applied to different molecules, small and large, including bio­logics.
Ascendia utilizes continuous manufac­turing for lipid nanoparticle/liposome fab­rication, offering scales from milliliters to hundreds of liters that meet the need of early- to late-stage development. "Cou­pling with microfluidic chip mixer, TFF, ster­ile filtration, and filling of single-use vial or prefilled syringe under aseptic conditions, we offer rapid turnaround of lipid nanoparticle development and manufac­turing that bears the hallmarks of continu­ous manufacturing for sustained-release injectable (parenteral, intramuscular, and subcutaneous) drug formulations," says Shaukat Ali, PhD, Senior Director, Scientific Affairs & Technical Marketing, Ascendia Pharma, Inc. The company is also equipped with clean rooms, ISO 5, ISO 6, ISO 7, and ISO 8 for manufacturing of lipid nanoparticles and liposomes.
Utilizing its B.E.S.T. service philosophy, Ascendia functions as an integral CMC team member of its clients' drug develop­ment projects. This means that Ascendia proactively takes appropriate strategies to implement new technologies for innovative molecules, explains Dr Ali.
"More of the molecules being discov­ered are poorly soluble, making them challenging in development of suitable for­mulations due to their brick dust structures and high melting/logP," he says. "We over­come those challenges by first-hand screening of APIs in different excipients, solubilizer, and polymers listed in FDA's in­active ingredient database (IID) by utilizing our enabling technologies with aims to enhance the performance of these molecules."
Challenges also stem from drug insta­bility resulting from degradation of APIs or lack of compatible excipients in the oral and parenteral formulations. Ascendia fol­lows the decision trees based on the dosage forms and nature of the drugs, and select the most appropriate solubilizer and/or polymers in the formulations, he explains.
"We first identify prototype formula­tions that enhance bioavailability in animal models, and then further optimize the process and formulations leading to the next step of drug development in human clinical trials," Dr. Ali says. "Our expertise in lipid nanoparticles, liposomes, and sur­factant-based nanoemulsions and mi­croemulsions and polymeric nanoparticles derived from PLGA, are critical in design and assessment of innovative formulations in pre-clinical studies, leading to further early-phase evaluation to manufacturing of late clinical-phase drug products."
August Bioservices: Achieving Desired LNP Formulation Profiles
August Bio offers a full range of for­mulation development, analytical develop­ment, and cGMP manufacturing services, advancing clients' drug formulation needs from small-scale R&D through scale up to commercialization. The company is deeply rooted in sterile injectables, supporting for­mulations for injectable products in vials, bottles, prefilled syringes, cartridges, and IV bags that are liquid or lyophilized, aseptically processed or terminally steril­ized. The company also has experience and capability in semi-solids, creams, gels, and ointments.
Mayurkumar Tamakuwala, Senior Manager, Formulations at August Bio, says one clear differentiator is August Bio's Lipid Nanoparticle (LNP) and Liposomal expertise. The company can work with a range of LNP formulation and sizing tech­nologies to achieve the desired product profile. Capabilities for high-shear mixing, high-pressure homogenization, and mi­crofluidization can be configured to de­velop robust, reproducible manufacturing processes in R&D studies and then scaled to GMP for both clinical and commercial applications. With analytical services rang­ing from dynamic light scattering for par­ticle sizing, to LC/LC-MS/GC-FID/LC-CAD for lipid assays and residual solvent quan­tification, August Bio offers an end-to-end approach to product lifecycle development starting at LNP process development and product characterization, moving through clinical and eventually to commercial scale operations.
August Bio relies on proactive Design of Experiments (DoE) to predict and reme­diate challenges before a final formulation is selected. "If a customer comes to us with a formulation already in clinic, facing a set of CMC challenges, we use this same approach to optimize it and ensure continuity of clinical supply," explains Mr. Tamakuwala. "We differentiate ourselves from other providers of CDMO services on the basis of the expertise that our team brings to client projects to help resolve challenging obstacles and advance proj­ects to successful completion."
Bionex Pharmaceuticals LLC: Setting Clients Up for Success
Bionex specializes in the formulation and development of novel topical, trans­dermal/transmucosal, implant, and nasal/inhalation drug delivery systems. Its CRMO services include pre-formulation, dosage form design, product innovation, product life-cycle management, integra­tion with analytical chemistry, product sta­bility study, clinical supply manufacturing, process development and optimization, IND-CMC package readiness and sub­mission, and full support for quality sys­tem, technology transfer, regulatory and patent filings.
"Our mission is to realize the applica­tions of biopharmaceutical and life sci­ences into commercial products and services that benefit human health," says Hock Tan, PhD, President, Bionex.
Most of Bionex's clients are virtual companies focused on early-stage devel­opment. "Maintaining our flexibility, agility, transparency, and cordiality, in many as­pects such as dealing with changes in de­velopment timelines and budget, is our key factor in keeping our clients," he says.
"During the early stages of a pro­gram, you need a CMC partner that is re­sponsive enough to incorporate the inevitable changes that accompany early-stage development, yet carry the resident expertise to skillfully perform the formal scientific testing required to validate your approach," says one Bionex client. "Bionex kept our program on schedule and set us up for future success."
Catalent: Embracing Time- & Money-Saving Manufacturing Capabilities
Catalent offers formulation, process and analytical development services, as well as clinical and commercial manufac­turing capabilities across multiple modali­ties, including small molecules, biologics, and cell and gene therapies. The com­pany's global network of facilities offers flexible and scalable solutions.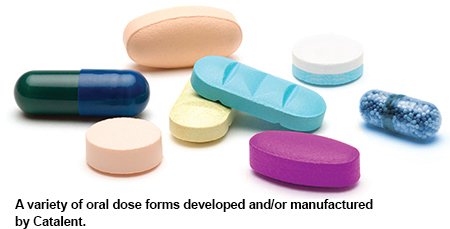 When it comes to manufacturing ca­pabilities, William Wei Lim Chin, PhD, Manager, Global Scientific Affairs at Catalent, says that continuous manufac­turing provides more efficiency because there is no downtime between batches. This leads to shorter production times and the potential to save money. In addition, the production process enables issues to be identified promptly, and steps taken to resolve these quickly, leading to a de­crease in defects and more predictable product quality.
Twin screw extruder (TSE) technology is one such example that Catalent em­ploys, and is used to produce amorphous solid dispersions that enhance the solubil­ity and bioavailability of molecules with poor solubility. "This highly efficient mixing technology operates continuously and can be easily scaled, making it suitable for both R&D and commercial-scale use," he says. When integrated with other semi-continuous operations, it can provide an end-to-end process for manufacturing solid oral dosage forms.
Catalent, like many in the field of bi­ologics manufacturing, is embracing the growing trend toward process intensifica­tion and continuous bioprocessing, as a means of improving production efficiency and productivity. One of the key elements within this is the use of single-use, dispos­able components, which play a critical role in enabling the seamless execution of con­tinuous manufacturing workflows. Dr. Chin says: "For clients, the use of such technolo­gies can reduce time to market, and mitigate against the risk of supply chain disruptions that may otherwise delay production."
CMC Pharmaceuticals: Holistic Approach to Development
CMC Pharma offers a range of for­mulation development services that in­clude pre-formulation and formulation studies in addition to the preparation of formulation prototypes for in vitro and in vivo evaluation. CMC develops formula­tions that include tablets, capsules, and in­jectable solutions, as well as complex injectable formulations that include drug products with more than one active ingre­dient, long-acting formulations, suspen­sions, and dispersions.
"We utilize proven formulation ap­proaches, scalable manufacturing processes, standard pharmaceutical con­tainer closures, and excipients that are found in FDA-approved products," ex­plains Mike Radomsky, President of CMC. "We typically develop non-proprietary for­mulations, unless the customer is inter­ested in developing intellectual property around their novel drug product. CMC has deep knowledge of pharmaceutical for­mulation science and can quickly execute studies to identify, prepare, and evaluate formulation prototypes. We can quickly and successfully develop a variety of for­mulations that have been tested in every­thing from rodents to non-human primates, and human clinical studies."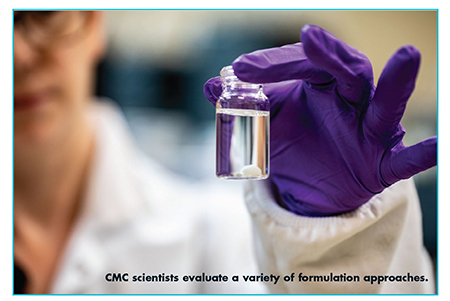 CMC Pharma takes a fully integrated approach to developing pharmaceutical drug products, holistically considering pre-formulation, formulation, analytical chem­istry, stability, and process development to ensure product development success. "De­veloping a product that cannot be pro­duced at a commercial scale to meet commercial demands, has an insufficient shelf-life, does not have appropriate ana­lytical methods available to ensure identi­fication, purity, or potency, or utilizes excipients and formulation technology that are not found in approved products, can result in significant wasted development time, effort, and money," he says.
CMC Pharma recently helped a client with a drug product that had less than a three-month shelf-life. CMC scientists began by evaluating and understanding the degradation mechanism (e.g., oxida­tion, hydrolysis, light-mediated photo in­stability, etc.) and employing formulation stabilization strategies to minimize drug degradation to maximize shelf-life, Mr. Radomsky explains. CMC then quickly prepared formulation prototypes using these strategies and evaluated the stability profile of each prototype at stressed, ac­celerated, and long-term storage condi­tions. The end result was the identification of lead and backup formulations with a multi-year shelf life.
CycloLab: Excipients That Enable Innovative Drug Formulation
CycloLab Cyclodextrin Research & Development Laboratory Ltd. offers devel­opment of novel, often non-conventional, cyclodextrin-based formulation technolo­gies. As a pioneer in the field, CycloLab relies on cutting-edge approaches of using cyclodextrins to solve various technical is­sues.
István Puskás, Formulation Scientist, CycloLab, describes how the company had been approached by a partner company to prepare an aqueous solution of an am­phiphilic API that had the extreme ten­dency to self-aggregate. The API formed micelles and aggregates at very low con­centration. "The goal was to formulate a clear, injectable solution to enable aseptic processing of the substance and subse­quent filling into the final dosage con­tainer," he says.
CycloLab screened all suitable, par­enterally acceptable cyclodextrins based on their solubilization property. "After se­lection of the best performing cyclodextrin, the ideal pH, and some non-conventional processing parameters, the right API/cy­clodextrin ratio was optimized," says Dr. Puskás.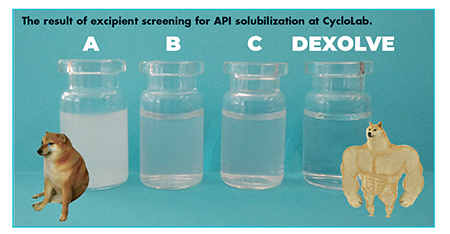 Due to the weak base type of the compound, betadex sulfobutyl ether sodium (Dexolve®) proved to be the most promising cyclodextrin for the preparation of the preformulation. The result of the de­velopment was a transparent, kinetically stabile solution of acceptable osmolality, characterized in a composition well below the safety threshold of human Dexolve ex­posure.
"The resulting liquid exactly matched the expectations of the customer," he says. The elaborated process was found novel, non-obvious, and easy to scale up to in­dustrial use. Therefore the customer suc­cessfully obtained a granted patent for the process based on the cyclodextrin technol­ogy as a result of CycloLab's research."
Eurofins BioPharma Product Testing: One-Site Development Is Shortest Path to Commercialization
The Eurofins BioPharma Product Test­ing site in San Diego, CA, provides formu­lation and manufacturing services for the development of early phase and orphan drug products. Formulation services in­clude pre-formulation, formulation design, and stress testing of sterile and non-sterile drug products. In the cleanrooms, com­pounding and sterile filtration are per­formed. A Cytiva Microcell for sterile filling and capping of vials needed to conduct clinical trials is used. Eurofins BioPharma Product Testing also manufactures GMP non-sterile products, excluding oral solids, in the cleanrooms.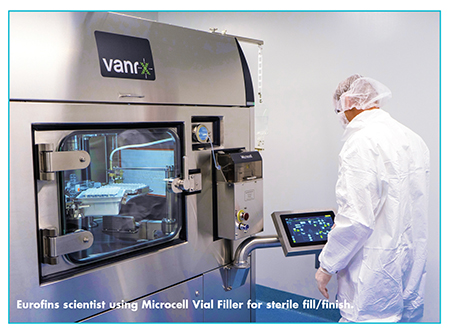 "The manufacturing operator repre­sents the greatest challenge to the sterility and particulate matter counts of an in­jectable drug product, yet the current norm in clinical manufacturing places the oper­ator in the red zone, hovering over the fill­ing and stoppering process," says Joe Page, President of Eurofins BioPharma Product Testing's San Diego, CA, site.
Eurofins BioPharma Product Testing utilizes a robotic, gloveless, isolator, thereby eliminating the operator from the red zone. This disruptive manufacturing approach efficiently fills, caps, and stop­pers the sterile vials in an ISO-5 isolator, resulting in a product with a higher level of sterility assurance, lower particulate matter, and reduced line loss. The Cytiva Microcell utilizes standard Type I vials and industry standard stoppers that are pre-sterile and ready to fill.
"With a high level of digitization, the Microcell provides real-time data, such as isolator temperature, isolator humidity, isolator pressure, and hydrogen peroxide levels during decontamination and aera­tion," he explains. "The system performs many tests to ensure the integrity of the fill such as pressure leak tests and particle counting."
During filling, an on-board balance performs non-destructive weight checks to ensure the vials are filled with accurate amounts of drug product. Lastly, the viable environment is monitored with a TSB media that is controlled by the robot in the filling process.
The product testing robotic facility provides clients with a single site for sterile fill-finish, enabling all CMC requirements to be accomplished at one location. "It all starts with the analytical methods needed to measure a drug's potency and stability," Mr. Page explains. "From there, our scien­tists can design and optimize formulations leading to the production of clinical supplies. Additionally, we offer labeling, randomization, kitting, and distribution to clinical sites. While a drug product is in the clinic, Eurofins BioPharma Product Testing can monitor its stability in its labs. This one-site development translates into the shortest path for advancing your drug to­ward commercialization."
A recent formulation project involved developing a small-molecule immunosup­pressant in an oral liquid dosage form. The project was challenged by the low sol­ubility of the molecule in aqueous media. Using cyclodextrin to create inclusion com­plexes with the drug, Eurofins BioPharma Product Testing scientists screened different cyclodextrins, α, β, and γ to find the best form. Ultimately, the composition of β-cy­clodextrin and the drug were optimized to achieve a 30-fold increase in concentra­tion in a clinically presentable formulation.
Experic: Informed Ways to Work With Drug Sponsors
In discussions with potential clients, Experic gets asked: "How will we work to­gether?" Justin Lacombe, PhD, Chief Sci­entific Officer at Experic, remarks that R&D organizations outside of the CDMO world tend to be very collaborative. Justin La­combe, PhD, Chief Scientific Officer at Ex­peric, remarks that R&D organizations outside of the CDMO world tend to be very collaborative. Data are constantly generated and discussed. Plans continu­ously shift to accommodate new insights drawn from new data sets and new analy­sis of data sets. Timelines are revised often. By contrast, when a CDMO contract is written, a specific piece of work is de­fined and contracted for, putting hard boundaries around what can be done. "So, how do we align R&D organization needs with CDMO business require­ments?" he asks.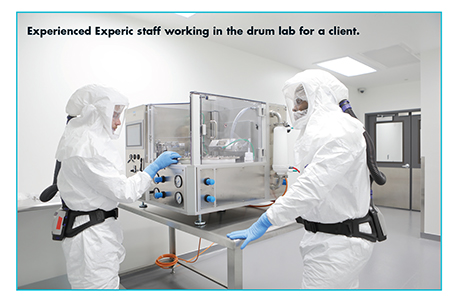 One key to this interaction is flexibility. From a process perspective, the CDMO should expect project requirements to change often. In most business processes, the changes identified by project manage­ment will trigger a change order. If the project is volatile, there can be many changes that happen day to day or week to week. "The business process should not overwhelm the client with individual changes, but seek to capture the changes without stopping the work," he says.
Flexibility does not end there. Infor­mation gained during experimentation can change the experiment's direction. He says: "Experimental plans rarely survive contact with reality. While there are good reasons to stay the course, the purpose of many R&D experiments is to obtain the most insight and information, not simply get a complete data set. This sometimes means diverging from the original plan."
Collaboration is also important. Ex­peric staff has expertise in quality systems, regulatory filing, and analytical and for­mulation sciences. Dr. Lacombe says: "If we simply do the experiments we are told to, the project is not taking advantage of all we offer. Conversely, if our experts take the statement of work and simply come back with "answers," they are not taking advantage of the client's expertise and perspective. This is a team effort that can benefit the project from multiple perspec­tives."
Collaboration may also involve consultants, other laboratories, device manufacturers, and other manufacturers. Working as a single team offers a greater likelihood of resolving issues.
Transparency and openness with clients and other team members are also important. Much like collaboration, trans­parency can lead to faster solutions. It does require a certain amount of trust be­tween client and CDMO, he notes. "Be­cause we are all human, mistakes will happen. If the focus is on liability (i.e., who pays for it), the likelihood of admitting fault decreases. That said, we will not charge a client to rectify a mistake we made. While there are some limits and give and take needed on this point, the important idea here is that we need to build trust."
A final important point is around the science and scientific process itself: While there is an art to some R&D, there is a lot of process. He concludes: "The more your thinking and project management is in­formed by methodical problem-solving methods, such as Quality by Design, Six Sigma, and Design Controls, the more ef­ficiently you can reach a conclusion."
Hovione: Combining Experience With Technological Capabilities
Hovione is a CDMO helping to bring new and off-patent drugs to market via oral, inhalation, and nasal delivery. In oral drugs, where most new chemical entities suffer from poor bioavailability, Hovione has a comprehensive and accurate screening methodology for amorphous solid dispersions, ASD-HIPROS™.
"Amorphous solid dispersions are the leading formulation platform to address solubility limitations," says Filipe Gaspar, Vice President Technology Intensification at Hovione. "We complement this formula­tion expertise with extensive technological capabilities, including spray drying and hot melt extrusion. Spray drying is the fastest growing platform to overcome the solubility issues related to oral drugs. With the largest spray drying capacity world­wide, state-of-art scale-up science, and a very experienced team, we can help our customers bring new products to market in the most expedited manner."
The need to accelerate time to market is one of the reasons Hovione is investing in continuous manufacturing. Mr. Gaspar says continuous manufacturing is suited for all types of drug products for oral de­livery, including the production of precision medicines and breakthrough therapies. "Its benefits over the traditional batch process are well known and include higher quality standards through continuous monitoring of product quality, faster devel­opment times, and flexible supply chains," he says.
Adopting continuous manufacturing is challenging for all CDMOs, he adds, not only due to the additional technical com­plexity, but also because it requires quality systems that are aligned with a new para­digm.
"Obviously, we are not doing it alone," he says. "Crucial to this endeavor are important partnerships with leading technology providers, research institutions, and pharma companies that share our vi­sion."
For instance, Hovione and Laxxon Medical recently entered a strategic col­laboration to advance the use of 3D screen printing technologies for the phar­maceutical industry. The 3D technology displays numerous advantages, including the potential to produce unique or cus­tomized dosage forms with characteristics that cannot be achieved with conventional dosage forms and the ability to create tablets of any shape and size. It also al­lows for the option to easily adjust the number of active substances and individ­ual components in the composition of the tablet and even to set the dosage individ­ually for each patient for personalized medicines.
In the development and manufacture of pulmonary and nasal delivery products, Hovione has an end-to-end offering that includes formulation development, particle engineering technologies (spray drying, wet polishing and jet milling), precision capsule filling, and a range of dry powder inhalers.
Lifecore Biomedical: Beating the Timeline of a Complex Formulation
Lifecore Biomedical is a fully inte­grated CDMO with expertise in aseptic for­mulation, aseptic filling into syringes and vials, and final packaging of injectables. The company also produces premium, pharmaceutical-grade, non-animal-sourced sodium hyaluronate that is incorporated into most of the 25-plus commercial drug and medical device products the firm manufactures.
"Lifecore's extensive experience with complex projects enables us to help cus­tomers complete CMC activities quickly while offering the flexibility to be as hands-on as they need," says Ryan Swanson, PhD, Director of Process Development, Lifecore Biomedical. "For example, we re­cently collaborated with a three-person, virtual pharma team that required signifi­cant support to scale up their benchtop process to a Phase I GMP process within an aggressive timeline."
Within 10 months of receiving a signed SOW, Lifecore began manufactur­ing the first GMP batches for clinical stud­ies – a significant achievement considering the investigative work and improvements needed to scale their processes, he ex­plains. Beyond formulation process devel­opment, the project included numerous parallel activities, such as raw material sourcing, analytical test method develop­ment, supply chain management, regula­tory support, and packaging.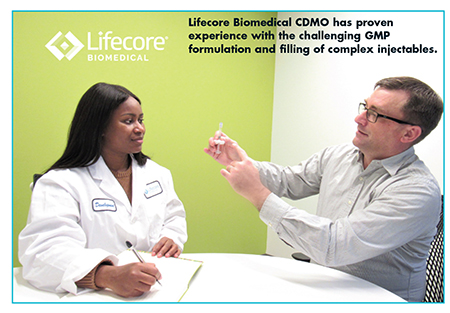 The customer's formulation involves a polymer cross-linking reaction with various stages of filtration prior to final sterile fil­tration/filling. The reaction is time sensitive and concentration dependent, so the Lifecore engineering team performed a Design of Experiments (DoE) to gain in­sights on the reaction kinetics at scale and to understand the design space for pro­ducing acceptable product using the scaled-up process. In addition to the work around reaction kinetics, studies were per­formed to make improvements to mixing dynamics, hazardous gas containment, cleaning, and buffer preparation. "We sourced appropriate filtration components to produce quality product at scale and ensure sterility assurance," Dr. Swanson says. "We also had to qualify vendors who could provide chemicals appropriate for a Phase I GMP process."
Due to compressed timelines, the customer was not able to work within an 18-month lead time that was quoted for some equipment required to scale their process. With an extensive in-house inventory, Lifecore was able to utilize and adapt on-hand equipment to eliminate this problem.
During the 10-month, accelerated timeline, Lifecore produced a total of 10 (partial as well as full) batches to prepare for the first GMP batch. Dr. Swanson con­cludes: "We were able to align with our cus­tomer's timing requirements to get them to the clinic in their desired timeframe."
Ligand Pharmaceuticals: Cyclodextrin Technology Proves Itself for Formulations From Ophthalmic to Nutraceutic
Ligand Pharmaceuticals offers formu­lation development services that focus on the use of a specifically modified cyclodex­trin to enhance solubility, stability, and other formulation challenges. The scien­tists at Ligand have experience in develop­ing many dosage forms, including parenteral, oral solid, oral solution, in­halation, ophthalmic, and nasal. Exam­ples of formulation and analytical studies that Ligand offers include, but are not lim­ited to, initial phase solubility studies, use of additives, application of various pro­cessing techniques, forced degradation, stability, and transfer to GMP CDMO fa­cilities. Formulation development ranges from early development to clinical Phase III to commercial production and launch.
"Our capability to teach as well as practice our Captisol® (Sulfobutyl Ether Beta-Cyclodextrins) formulation technol­ogy is critical to the success of our clients' product development," says J.D. Pipkin, PhD, Vice President, New Product Devel­opment, Ligand.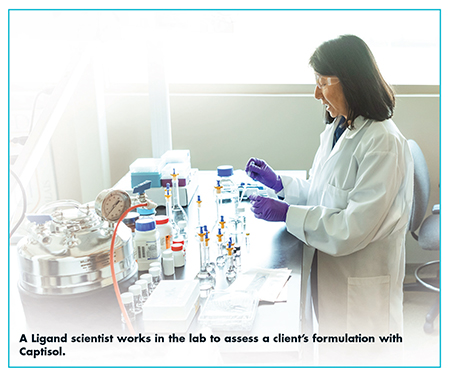 Fifteen drug products have been FDA approved using Captisol for primarily par­enterally administered products, and re­cently for the first oral product. And another six product approvals are ex­pected over the next 18 months, including new routes of administration: topical oph­thalmic eyedrop and subcutaneous patch infusion.
"This is a remarkable upswing in the adoption of the Captisol technology," says Dr. Pipkin. "Most have been collaborative development efforts, including initial tech­nical feasibility assessment, formulation development, and preclinical proof-of-concept studies. This has evolved to stage-appropriate regulatory support and participation in pIND and pNDA meetings and providing submission sections and re­sponding to review questions."
Ligand recently helped a partner to overcome stability issues of an API so that it could be spray-dried for an inhaled dosage form preclinical efficacy assess­ment. "This was a very challenging project because degradation of the API affected both the analytical method and the formu­lation," explains Lian Rajewski, PhD, Sen­ior Research Investigator at Ligand.
Captisol was also incorporated into the analytical method to obtain repro­ducible results. Processing techniques were key to formulating the drug solution to allow spray drying to occur. The client was able to obtain the desired solid particle size for the final spray dried formulation and use multiple formulations in non-clin­ical studies.
In another example, phase solubility studies were performed with an API to be used in a concentrated subcutaneous dosage form. The formulation challenge was to overcome the limited solubility of the API. pH jump processing techniques were used to prepare a formulation in a biocompatible-acceptable pH range with the desired stability. Buffer choice and ionic interactions were an integral aspect of the final formulation.
Additionally, several nutraceutical or natural product projects have been tackled recently by Ligand. In one project, the mul­tiple active constituents were enriched using thermal processing of the raw ma­terial with Captisol, resulting in improved bioavailability. In the other project, the challenge was to use Captisol to solubilize and stabilize a natural product to prepare a palatable oral solution. Again, thermal jump and dispersion/levigation processing techniques were the key to attaining the highest concentration of the actives in final solution, says Dr. Rajewski.
Lubrizol Life Science Health: Develops Implants, Injectables & Topicals
Lubrizol Life Science (LLS) Health sup­ports clients from concept through com­mercial manufacturing with a focus on high-value, low-volume, more complex formulations – as well as a project some­where within and between those two phases of a product development cycle. The company's core offerings include: de­velopment of long-acting drug products for various routes of administration (i.e., implants, injectable depots, and vaginal rings); solubility and bioavailability en­hancement (i.e., nanomilling and solubil­ity-enhancing excipients); and aseptic processing for both clinical and commer­cial drug products.
"We are an ideal partner for clients focused on ophthalmic drug delivery be­cause we have the resources to develop implants, injectables, and topicals, and can provide aseptic manufacturing for some of these dosage forms," says Jite Okoh, Director, Drug Eluting Device De­velopment, LLS Health. "For certain drug-eluting devices, we have the capability to not only manage development and clinical material, but we can also bring these into commercial manufacturing."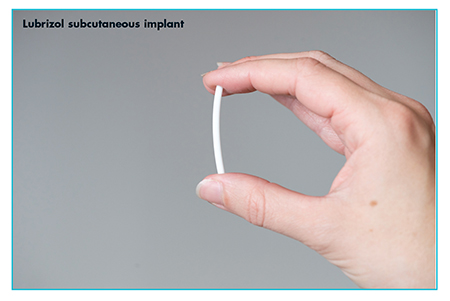 As an example, LLS Health served a client that produces a commercially avail­able biodurable drug-eluting device for long-acting topical delivery. Due to its de­sign and material of construct, this device requires significant manual assembling, resulting in high manufacturing costs. After evaluating risks, costs, and optimization options, LLS Health recommended and identified an appropriate change in the materials of construct.
"Utilizing our knowledge of thermo­plastic polyurethane (TPU) chemistries and their impact on drug delivery, we re­designed the drug device product using our Pathway™ TPUs," says Mr. Okoh. "We maintained the properties of the existing commercial product while streamlining the manufacturing process, hence significantly reducing manufacturing costs."
He adds that LLS Health differentiates itself with onsite technical expertise. We can handle and formulate numerous pharmaceutical actives (APIs), covering various therapeutic indications, including highly potent compounds. "We hold two DEA licenses – one for manufacturing and one for analytical," he says. "We are able to work on all schedules for preclinical and clinical development, depending on the drug products. These abilities and licens­ing empower us to work with a significant range of APIs, allowing us to successfully develop products and take our clients to GMP production."
LLS Health has developed continuous manufacturing processes for several of its formulating techniques, including hot-melt extrusion and its continuous cryomilling process. He says: "We've implemented phase-appropriate technologies and methodologies to help reduce our clients' costs and timelines to progress them through the various development phases as quickly as possible. Our organization has also introduced feasibility programs to quickly help clients confirm proof-of-con­cept at a reduced cost and timeline for many techniques, including nanomilling, formulating microspheres, and drug- eluting products for long-acting drug delivery."
In addition to onsite expertise and manufacturing processes, LLS Health of­fers customers a one-stop-shop for prod­uct development, which leverages Lubrizol's polymer chemistry expertise that has been shown to significantly accelerate the development and timelines of drug-de­vice products, says Mr. Okoh. "Our organization-wide cooperation and col­laboration provide value to clients throughout their projects' lifecycles. In some cases, clients approach us with the desire to develop strategic partnerships. We can execute multiple programs with our partners and take projects from con­cept to commercialization for several dosage forms. Our holistic in-house ap­proach reduces risk while producing a product that matches our clients' desired target product profile."
Phosphorex: Tailored Technological Approaches
As a CDMO, Phosphorex is a leader in the formulation, process development, and manufacturing of particle-based for­mulations, including polymeric micros­pheres (PMS), lipid nanoparticles (LNP), and polymeric nanoparticles (PNP). For the past 17 years, the company has devel­oped therapeutics in the application areas of long-acting injectable, tissue-targeting, and delivery of nucleic acids for more than 100 pharma and biotech companies. Phosphorex has established a variety of particle-forming modalities that can be tailored to the need of specific projects or applications, including rotor-stator homogenization, high-pressure homoge­nization, in-line homogenization, nano­precipitation, micro fluidization, and T-junction mixing. Phosphorex has also partnered with leading technology providers to offer state-of-the-art microflu­idic equipment and systems in its facility.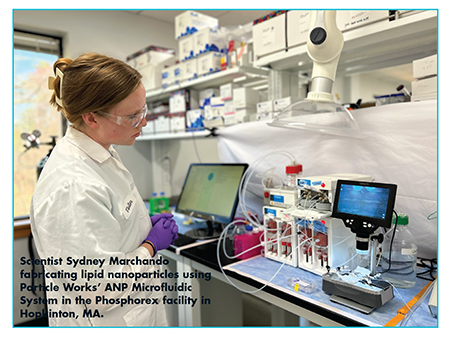 Bin Wu, PhD, Founder, President, and Chief Scientific Officer of Phosphorex, re­lates that the COVID pandemic triggered new trends in pharmaceutical develop­ment, opening the gate to new nanotech­nology-based programs across various therapeutic indication, such as immunol­ogy, immune-oncology, RNAI, cell therapy, and vaccines. Phorphorex has adapted ro­bust batch and semi-continuous processes dedicated to LNP development with the goal of reducing the batch size and mak­ing the most efficient use of the RNA pay­loads, explains Dr. Wu.
Working to benefit clients, Dr. Wu de­scribes the situation of a client with a daily injectable peptide seeking to develop an extended-release formulation that would enhance efficacy, improve patient compli­ance, and extend patient life. "Up until then, no other CDMO had been able to help," Dr. Wu says. "Within three months, Phosphorex was able to develop a micros­phere formulation that increased peptide loading by 35%, encapsulation efficiency by 87%, with a burst release of less than 5%. The formulation demonstrated sus­tained release in rodents and NHPs. Phos­phorex further optimized and up-scaled prototype formulation and process, pro­duced tox, preclinical batches for IND-en­abling studies, and successfully transferred a developed process to a partner GMP site for the manufacturing of the clinical batch."
Scorpius BioManufacturing: Outsourcing Clinical Manufacturing Requires a True Partnership
Scorpius BioManufacturing is bou­tique CDMO with integrated solutions for large-molecule cGMP manufacturing, process and analytical method develop­ment, product characterization, and re­lease testing needs. Scorpius' San Antonio, TX, facility currently has capacity for both mammalian and microbial clinical manu­facturing projects, which is well-suited for collaboration with emerging biotechs, ac­ademic labs, and research facilities, and large pharmaceutical companies, says Steve Lavezoli, Vice President of Business Development, Scorpius BioManufacturing.
"Flexibility is the name of the game in accelerating biomanufacturing develop­ment timelines," he says. "However, the current capacity crunch often results in frustration among sponsors when they feel CDMOs are not flexible or attentive enough. There isn't an incentive for CDMOs to be flexible when demand for manufacturing continues to outpace sup­ply. Large CDMOs have the luxury of choosing only the highest volume pro­grams with the best ROI. This means frus­tration is especially high among small biotechs and programs coming from academic labs – time and time again these in­novators pour their life's work into R&D only to find out CDMOs put them at the back of the line. If they are fortunate enough to get a spot in line, they'll often feel like the CDMO dictates the terms and tone, creating an inflexible partnership."
His advice is for drug sponsors to look for basic facility design and business best practices when selecting a CDMO to en­sure flexibility is part of the partnership from the outset. CDMOs with single-use systems, modular clean rooms, and on-site process development and analytical services are examples of how flexibility can accelerate development timelines.
Additionally, being an entirely single-use facility allows faster cleanroom changeover while minimizing risk. "Single-use systems can save weeks of cleaning and release time, and this speed ultimately benefits client programs," he says.
Having single-use technology in mod­ular cleanrooms is another plus. While ballroom designs might seem appealing in terms of maximizing space, the flexibility offered by a modular facility ultimately means increased speed along with a de­creased risk of contamination, he adds. Fi­nally, having on-site process development and analytical services can save time and help clients quickly pivot when needed.
Flexibility goes hand-in-hand with re­sponsiveness. Clients should expect a high level of responsiveness from the RFP stage all the way through product release, he advises. "Responsiveness isn't just required from a CDMO's program management and business development team – clients should expect to have open lines of com­munication with subject matter experts in quality, operations, and leadership levels as well," he continues. "Building relation­ships with cross-functional teams at CDMOs means clients can have discus­sions about things like strategic financing models, process optimization, and time­line transparency."
Tergus: De-Risking Development of Topical Drugs
Tergus is a full-service CDMO special­izing in dermatology product development and commercial manufacturing. End-to-end formulation development and manu­facturing services starts with molecule screening for topicalability, formulation de­velopment, and analytical testing/stability and ends with in vitro testing, including in vitro release test (IVRT) and in vitro perme­ation testing (IVPT).
"Our front-end capabilities enable us to de-risk the development of topical drug products by verifying that the molecules have target engagement, while our IVRT and IVPT services on the back end ensure that the formulation developed is effective at releasing the molecule into the skin tis­sue," says Dr. Vijendra Nalamothu, Execu­tive Chairman & CSO of Tergus.
During the manufacturing stage, Ter­gus adheres to Quality by Design (QbD) principles to de-risk early scale-up and commercialization issues. In addition, all of Tergus' manufacturing equipment is produced by the same manufacturer to reduce surprises and scale-up quickly and efficiently.
To quickly scale biopharma customers' manufacturing batches from small to large scale, Tergus has implemented a 'bracket­ing' strategy for both manufacturing and fill stages. The bracketing strategy, in combi­nation with its equipment that uses the same rotor/stator homogenization princi­ples across the entire equipment line, en­ables Tergus to scale rapidly and efficiently from 10 to 1,500 liters.
A biopharma customer recently asked Tergus to develop a unique topical formu­lation that could withstand the suspendabil­ity of a drug substance embedded in a synthetic polymer matrix. "The weight of this drug-polymer combo was difficult to main­tain in a conventional suspended gel vehi­cle, so Tergus' team of topical experts developed a formulation comprised of novel, approved excipients and structure-forming waxes," explains Dr. Nalamothu. "Our new, innovative formulation stabilized the suspension and enabled it to permeate into the skin."
During manufacturing process devel­opment, Tergus identifies all the critical process parameters (CPPs) and addresses them using critical quality attributes (CQAs). Once the process is fully robust and repro­duceable, the ability to move from one batch size to another is much faster and re­quires less regulatory scrutiny. Similarly, Ter­gus' packaging process follows the bracketing strategy for the lowest and high­est fill weights. This approach allows cus­tomers to choose any packaging size between the lowest and highest fill weights without requiring additional stability studies.
Dr. Nalamothu says that Tergus is con­tinually evaluating new, innovative technologies to optimize formulation devel­opment and manufacturing services. The company is currently evaluating 3D printing of the skin for its in vitro permeation studies, as well as statistical design of experiments (DoE) tools and QbD software programs for its manufacturing division. And, Tergus recently implemented a state-of-the-art track-and-trace serialization solution in its manufacturing division.
Reference
Global Formulation Development Outsourcing Market to 2031: Rising Need for Novel Medications Drives Growth, Research and Markets, May 4, 2023, https://www.globenewswire.com/en/news-release/2023/05/04/2661778/28124/en/Global-Formulation-Devel­opment-Outsourcing-Market-to-2031-Rising-Need-for-Novel-Medications-Drives-Growth.html.