SPECIAL FEATURE – Outsourcing Formulation Development & Manufacturing: Meeting Demand for Biologics & Specialty Drugs
Increasing patent expirations of major drugs, the growing burden of chronic diseases, and elevated global aware­ness of vaccines are leading to a surge in outsourcing formulation development services. Industry experts say these trends put a value on the global pharmaceutical CDMO Market at $160.12 billion in 2020, and could reach $236.61 billion by 2026,1 while the North American CDMO market is expected to reach $101.1 billion by 2030.2 As more pharma/biopharma companies opt to partner with CDMOs, much of this activity is occurring in the early phase of de­velopment with the goal of overcoming risk, along with saving time and money as a drug passes through the develop­ment pipeline.
This annual Drug Development & Delivery report highlights the formulation development and manufacturing offer­ings from some of the leading CDMOs to address a myriad of challenges – from complex compounds to poor solubility to dual-release profiles.
Adare Pharma Solutions: Formulating Child-Friendly, Broad-Range Dosing

A European-based pharmaceuti­cal company wanted to improve its pancreatic enzyme product (PEP) de­livery to patients who have difficulty swallowing several capsules a day, es­pecially children with cystic fibrosis (CF) and other conditions. Providing a broad dosage range for optimal symptom control and precise dosing was also a requirement.
Adare Pharma Solutions scientists paired the API with Adare's MMTSTM
Minitabs technology as it can be sprin­kled onto soft foods (<5pH). Adare was also able to expand the dosage range to 40,000 USP units.
"This method has been proven ef­fective, safe, and well-tolerated in treating pediatric CF patients (ages 1-6 years old) in a Phase 3 pediatric study, and a broad dosage range from 3,000 to 25,000 USP units was also proven," says Luigi Boltri, Senior Director Pharmaceutical Sciences, Business Support & New Technologies, Adare.
In another situation, a particularly bitter pediatric macrolide in powder form was brought to Adare for needs beyond just taste masking. The API also needed fast release due to a nar­row absorption window, a smooth syrup mouthfeel acceptable to chil­dren and infants, more than 7 days of taste masking after suspension, and drug loading suitable for its high dose.
Adare scientists paired the API with its Microcaps® taste-masking technology platform and coated with a pH-dependent polymer.
"Rapid release was demonstrated in vitro and in vivo, achieving the tar­geted bioequivalence," says Mr. Boltri. "The API's particle size distribution (in the range of 100-200μ) remained vir­tually the same minimizing any possi­bility of a gritty mouthfeel while also achieving over 10 days of taste mask­ing in extemporary suspension. A high drug load of up to 70% was also achieved."
Alcami: QbD Addresses API Supply in Orphan Drug Formulation
According to the Food and Drug Administration and the Orphan Drug Designation program, orphan status applies to drugs and biologics defined as "those intended for the safe and effective treatment, diagnosis or prevention of rare diseases/disorders that affect fewer than 200,000 people in the US, or that affect more than 200,000 people, but are not expected to recover the costs of developing and marketing a treatment drug." Due to the high costs and low demands of the drug product, it is important to efficiently use API supply during the formulation process.
Dr. Elsie Melsopp, Head of Solids Formulations for Alcami, says the company successfully helped a client overcome an API supply shortage using Quality by Design (QbD) studies to successfully formulate an orphan drug product. The client needed full development and product readiness with an extremely short supply of the API. In addition, the scale-up batch was small because of the low volume of product demands of their orphan drug.
Considering that small batches present a challenge in proving robustness of the processing equipment, the Alcami project team, in collaboration with client team members, prepared a failure mode, effects, and criticality analysis (FMECA) of the formulation and process. As a result, the team identified and prioritized studies that would provide the necessary product and process understanding needed to develop a control strategy, ensure the reproducibility of the product, and meet its intended safety, efficacy, stability, and performance profile regardless of the manufacturing scale.
The QbD studies were designed concisely to minimize the use of the API and evaluate the critical product parameters that could affect the product quality attributes of the drug product, per FDA's QbD guidance.
"Alcami supported this product with supply constraints and successfully developed a capsule formulation for two dosage strengths," she explains. "The formulations group performed studies at a micro-laboratory scale using a scientifically-based approach to identify a lead prototype. The results provided a formulation amenable to two dosage strengths by applying a proportional dosing weight method." The product is currently in late-stage development with the New Drug Application filing expected late 2021.
Ascendia Pharmaceuticals: Versatile Technologies Deliver Most Compounds
Increased complexity in dosage form design has led many to work with a specialty CDMO to resolve compound issues, accelerate the product development timeline, and re­duce cost in development and manu­facturing.
As a CDMO, Ascendia has in­vested heavily in drug delivery tech­nologies, such as EmulSol, NanoSol, and AmorSol, which are versatile for use in delivery of small molecules, bi­ologicals, and large molecules. "Our technologies can cover almost all new compounds with different challenging properties (BCS II, III, IV and biologi­cals); we have generated 6 patents using our technologies in house or for our clients," says Jim Huang, PhD, CEO, Ascendia Pharmaceuticals.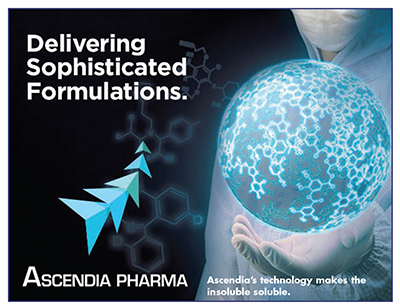 He explains how one client was in search of a specialty CDMO for com­plex sterile injectable nanosuspension for an unstable compound. "Using NanoSol technology, we were able to develop a stable sterile suspension by controlling the impurity generation during manufacturing process, result­ing in a transition to a proof-of-con­cept study in a timely matter."
Ascendia is also expanding its GMP capacity for discovery to later stage development of sterile and non-sterile dosage forms.
August Bioservices: Late-Stage Trial Services
According to Marty Henehan, Vice President of Commercial Develop­ment for August Bioservices, a US-based CDMO with formulation and manufacturing expertise, the benefits for pharma companies partnering with CDMOs for clinical and commer­cial-stage manufacturing are several-fold. "First and foremost, it is important to remember that late-stage clinical trial products are being used to treat real people – to confirm the drug is safe and effective, to assess any potential side effects, and to com­pare the drug being evaluated to cur­rent treatments. Therefore, the stakes can't be any higher from a human care perspective." Mr. Henehan adds that pharma companies who have reached the later phases of the clinical trial process have painstakingly man­aged their development processes over several years and want to avoid making a preventable mistake so late in the game.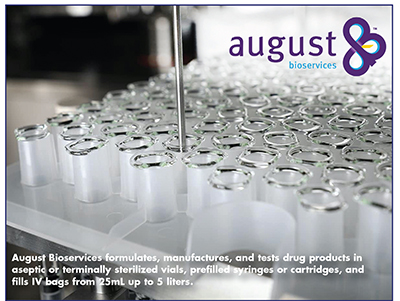 As product pipelines are expand­ing industry-wide to include generics, biosimilars and biologics, new tech­nologies and capabilities are being required of CDMOs to support the unique formulation and manufactur­ing specifications of these molecules. "August has experience formulating, manufacturing, and launching prod­ucts in the finished dose pharmaceu­tical industry – both branded and generic – with a strong focus on in­jectables across a multitude of presen­tations (prefilled syringes, vials, IV bags)," he says.
He adds that August has state-of-the-art instrumentation and more will be added in a 2021 expansion project and a 2023 new facility build. "We currently have a high-speed vial line and we are adding a prefilled syringe line, an IV bag line, lyophilization, and terminal sterilization capabilities this year. On the analytical side, we also have an Extractables and Leachables testing program, in addition to formu­lation and analytical services."
Baxter BioPharma Solutions: Solving Vial Fogging Issue in Lyo Formulation
As an experienced provider of fill-finish services, Baxter BioPharma So­lutions' laboratory is well-equipped to evaluate formulations containing a bi­ologic, evaluate the physical behavior of lyophilized formulations, and to iso­late and identify particles. One of the instruments utilized for studying lyophilization is the tunable diode laser absorption spectroscopy (TDLAS) for analyzing the flow of water vapor from the product chamber to the con­denser. The data from TDLAS is used to develop a primary drying design space. The instrument is also available for use at full-scale. Three of the lyophilizers are capable of controlling ice nucleation for studying the effect of freezing conditions on drying time and product quality.
Wendy Saffell-Clemmer, Lead Sci­entist/Research and Development, Senior Director at Baxter BioPharma Solutions shares an example of a suc­cessful resolution of a problem that occurred during manufacturing a lyophilized product that exhibited se­vere vial fogging. "Lyophilized formu­lations can exhibit dried solution above the surface of the dried cake and the dried solution can appear in the area of the vial where the stopper seals in the neck," she says. "This not only affects appearance, but can be a risk to quality assurance."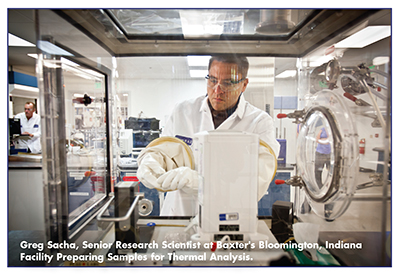 The reason for vial fogging is not entirely clear and can be random, she adds. Some risk factors are the pres­ence of a surfactant and the variability in vial surfaces. A product manufac­tured for one client often appeared with low levels of vial fogging. How­ever, one batch exhibited more than 90% of vials with severe fogging that reached into the neck of a vial. The Baxter Research and Development laboratory studied the effect of differ­ent vial types on the extent of fogging and helped the client identify a vial that worked well with their product. The product returned to full-scale manufacturing using the new vial that has a hydrophobic surface and no fogging occurred on any of the vials.

CycloLab: Cyclodextrin-Based Formulations
CycloLab Cyclodextrin Research & Development Laboratory Ltd. devel­ops improved formulations of low water solubility and poor bioavailabil­ity by applying various cyclodextrins. As a result of cyclodextrin complexa­tion, the pharmacokinetic parameters of these "guest" compounds may be­come significantly more favorable, says Dr. Istvan Puskas, Research Chemist at CycloLab. "Compared to traditional drug formulations, wherein a surfactant and/or a co-solvent is ap­plied for the same purpose, using cy­clodextrins is still regarded as an inventive approach."
When an innovator applies to get approval for a new cyclodextrin-based composition of a known drug com­pound, the question of bioequivalence is raised by the pharmaceutical authorities even for injectables, he explains. The innovator must demon­strate bioequivalence of a classically solubilized composition to a complex, cyclodextrin-based formulation. Tradi­tional animal studies to justify bioe­quivalence are demanding in terms of cost, duration of test, and documen­tation, including sensitive ethical is­sues. To bypass this difficulty, biowaiver data such as in vitro perme­ation studies are often found just as convincing as in vivo results in the ap­proval process, says Dr. Puskas.
CycloLab conducts comparative simple and reliable in vitro tests using a reference marketed product and an innovative cyclodextrin-based formu­lation regardless if the new composi­tion is developed by CycloLab or previously elaborated by the study sponsor. By conducting in vitro perme­ation studies, the customer may get in­sight into the physical state of the dissolved drug in simulated biological fluids or in human plasma. By analyz­ing the permeation rates of the drug from the reference marketed product and from the cyclodextrin-based com­plex through different semi permeable membranes, the justification of bioe­quivalence might be established. The method is based on the discrimination of free and cyclodextrin or protein bound portion of the drug substance.
To further illustrate the nature of drug-cyclodextrin interactions, com­puter modeling on the noncovalent association, aggregation studies in different dilution states may be per­formed. In addition, competitive cy­clodextrin binding studies are provided in human serum albumin as well as in whole plasma. CycloLab's study report on the experimental data is issued ready for submission to rele­vant authorities to support the ap­proval process.
Emergent BioSolutions: Developing & Manufacturing Viral Vector-Based Therapies
In 2020, Emergent announced a $75 million investment into its Can­ton, Massachusetts drug substance fa­cility to increase the campus footprint and expand its manufacturing capa­bilities into viral vector-based gene therapy. The investment includes a state-of-the-art, multi-suite operation up to 1000L in scale. The expansion will bolster Emergent's integrated CDMO service offering for develop­ment and manufacturing of viral vec­tor-based gene therapies.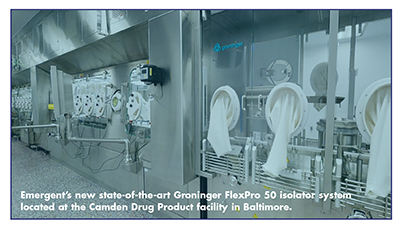 "Emergent's extensive experience in viral vectors and vaccine develop­ment provides a solid background in the capabilities and know-how needed for the scale-up and produc­tion, in addition to the processing and purification of cells and viruses for ad­vanced therapies," says Catherine Hanley, Vice President & Interim CDMO Business Unit Head, Emergent BioSolutions.
A new Groninger® FlexPro 50 fill­ing suite located at the Emergent Camden Drug Product facility in Balti­more enhances capabilities for aseptic fill/finish processing. The FlexPro 50 utilizes isolator-based technology for aseptic processing of pre-sterilized sy­ringes, cartridges, and vials, and can support liquid or lyophilized products, says Ms. Hanley.
Additionally, a viral drug product facility in Rockville, Maryland is cur­rently undergoing a 58,000 sq. ft. ex­pansion that will include a state-of-the-art high speed fill/finish line with fully integrated isolator tech­nology and an automated inspection, labeling and packaging line, enhanc­ing capabilities in large-scale fill/finish manufacturing of viral biotherapeutics and vaccines.
Finally, the Winnipeg, Manitoba, Canada development and manufac­turing site houses a state-of-the-art Vanrx® SA25 Aseptic Filling Workcell. "This provides our clients with a high level of sterility assurance through an automated handling, filling, and clos­ing process, designed to minimize line losses."
Lubrizol Life Science Health: Development & Manufacturing Solutions for Poorly Water-Soluble APIs
Lubrizol Life Science Health (LLS Health) recognizes a growing need for aseptic manufacturing capacity that can bridge the gap from clinical to commercial scale and accommodate complex processing steps. To this end, the company has continued to invest in its proprietary SteriMillTM technol­ogy, which enables aseptic nanomilling for nanoparticulate sus­pensions suitable for parenteral ad­ministration (such as intravenous injection), long-acting injectables, and ophthalmic formulations. The SteriMill platform is one of several solubility and bioavailability enhancement tech­niques that Lubrizol deploys.
LLS Health has also invested over $10 million in its commercial manu­facturing facility, building upon its decades as a clinical GMP manufac­turer and allowing Lubrizol to partner with clients as they go to market. The commercial facility opened in 2019 and features 6,000 sq. ft. of purpose-built processing space to scale-up products that employ nanomilling or other formulation steps prior to filling. LLS Health's ISO 5 filling line is equipped for 2-30mL fills in vials, and the company is also bringing its clini­cal experience with ophthalmic bottles to the commercial space. The first pre-approval inspection of the site will take place in the second half of this year, positioning LLS Health to support ex­isting clients and new projects in need of commercial production, says Robert Lee, PhD, President, CDMO Division of LLS Health.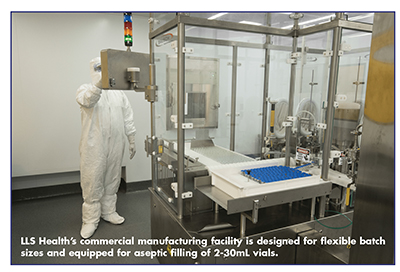 A client reached out to LLS Health looking for technology to improve oral delivery of a poorly water-soluble API and provide intellectual property pro­tection of their asset. After brainstorm­ing with the client, Dr. Lee says LLS Health applied its patented LyoCell® technology to develop a formulation with high drug loading, taste masking, and a manufacturing process that could be scaled for use in an oral liq­uid formulation.
"LyoCells are lipid-based particles that possess powerful drug-solubiliz­ing properties and are compatible with a variety of APIs, whether small molecule or biopharmaceutical," he says.
LLS Health is currently scaling the LyoCell manufacturing process to thousands of liters of concentrate that will be incorporated into the client's final product. The scaled manufactur­ing process will be transferred back to the client for future production.

Metrics Contract Services: Mitigating Time, Cost, & Risk
To enhance services at Metrics, the company has continued to invest in the single campus model where a dosage form can go from initial con­cept to global commercial supply under a single FDA registration. Tech­nology transfer will always add cost and take more time. "To mitigate cost, time and risk, we believe in offering scale-up solutions in like-equipment and the benefit of team continuity under a common quality system as a sponsor's product navigates the clini­cal pathway to commercialization," says John Ross, President, Metrics Contract Services.
A client came to Metrics needing to convert a drug-in-capsule to a for­mulated capsule for a Phase 2a clini­cal study. The drug was highly potent and moisture sensitive, requiring %RH of less than 30% at all times during handling and manufacture, explains Brad Gold, PhD, Vice President, Phar­maceutical Development, Metrics Contract Services.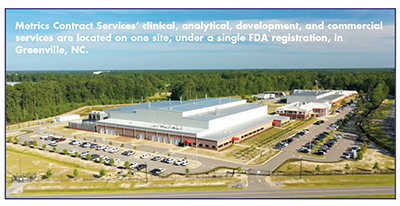 Given the high potent banding, development and manufacture had to occur behind hard-wall isolation. Use of HEPA-filtered inlet and outlet air would be required. The idea of com­bining clean/dry compressed air, with ultra-low moisture contribution as 'make-up' for some inlet air, was pre­sented and engineered, as a solution.
Dr. Gold says Metrics demon­strated, through several dry runs, that this approach was a good solution to controlling humidity levels inside a containment isolator. "Formulation prototypes and clinical trial material were manufactured successfully, with state-of-the-art control for operator exposure. Moreover, the critical quality attribute of humidity level during man­ufacturing was addressed, as Metrics was able to effectively operate its high potent containment isolators with ac­ceptable differential pressure, while si­multaneously controlling %RH to under 30%."
Quotient Sciences: Combining Development Activities Saves Time
For the past decade, Quotient Sci­ences has created a delivery platform that integrates drug product and clin­ical testing activities to achieve pro­gram acceleration. To support this further, Quotient recently acquired Ar­cinova, the UK-based CDMO, be­cause of its expertise and capability in early-stage drug substance and bio­analysis work.
"We see a great opportunity for investing in and integrating drug sub­stance services into our existing drug product and clinical testing platform," says Sarah Stevens, Vice President Drug Development Sciences, Quotient Sciences.
Drug substance manufacturing often sits on the critical path in early development with drug product man­ufacturing and clinical trial initiation routinely suffering from late API sup­ply, she says. As one of the major causes of project delays, it is important for biotech companies to work closely with API manufacturers early in the de­velopment process to ensure the drug substance is not only supplied on time, but that potential formulation or downstream challenges have also been identified or flagged up front.
"The investment in this capability will enable the integration of drug substance, drug product, and clinical testing capabilities – all under one or­ganization with a single Project Man­agement function," she says.
In this environment, chemists work hand-in-hand with formulators and biopharmaceutics experts, sharing in­formation about the properties of the molecule and troubleshooting formu­lation strategies. Drug product manu­facturing scientists work alongside clinical teams, ensuring that the needs of the clinical trial and patient groups are met.
She says: "This will cut through more industry silos by combining a range of drug development capabili­ties, creating additional timeline sav­ings for our clients and ultimately helping to get new drug molecules to patients, faster."
Recipharm: Changing Delivery Method for Repurposed Drug
Recipharm is continuously looking to improve its aseptic fill-finish capa­bilities for sterile liquids, and lyophilized products, says Torkel Gren, Science & Technology Officer. "This will be important for a lot of biologics and biosimilars because the two im­portant characteristics of most biomol­ecules are that they have none or very low bioavailability and their stability is limited. This means that they have to be administered by injection and, in many cases, lyophilization is needed to get a product with acceptable shelf life."
Recipharm is also working to in­ crease its dedicated manufacturing capability for small batches of GMP drug substances in addition to large batches for commercial.
"We are committed to providing the infrastructure and capacity to sup­port customers through the drug sub­stance and drug product development process to bring these innovative small-molecule treatments to clinical trial," he says. "With our investment, we will continue to support customers in both areas as a single, integrated supplier, minimizing delays from tech transfers between partners."
One customer recently ap­proached Recipharm for help repur­posing some registered drug substances as fixed-dose combination for a new indication. To achieve the right effect, one of the ingredients had to be delivered through modified re­lease. "We proposed delivering one of the API in minitablets and the other in coated pellets; the minitablets and pellet were then filled into capsules," Mr. Gren explains. "This approach avoided incompatibilities between the substances and provided both imme­diate and modified release. Moreover, the proposed technology allowed the drug-containing components to be adjusted independently of each other, minimizing development timeframes."
Recro: Investing in Oral Solid Dose Development
Recro continues to strategically in­vest in new capabilities to serve the needs of the oral solid dose pharma industry. Supply chain disruption risks and the re-onshoring movement have prompted many companies to look for US-based CDMOs and CMOs for ei­ther primary or second source devel­opment and manufacturing. To serve this growing need, in the past year Recro added various capabilities and service offerings.
"One of our clients came to us with a risk mitigation and supply chain security plan for one of its commercial products," explains Richard Sidwell, Vice President and Chief Scientific Of­ficer. "They preferred a US manufac­turer mainly to have a secondary source, but it was also crucial to have improved distribution in their critical market. We saw this as an opportunity to install larger-scale equipment and expand our high shear granulation and fluid bed capabilities."
In 2020, Recro completed the construction of two new processing rooms and installed a Freund-Vector VFC-120MX Flo-Coater fluid bed as well as a Freund-Vector GMXB-400 high shear granulator. Both of these installations are now fully qualified and in use for client projects.
Another client had a need for a multiparticulate capsule with a high drug load. The challenge was that the API appeared to exhibit unusual phys­ical behavior in the drug layering sus­pension formulation, explains Dr. Sidwell. "We suggested performing a series of small-scale suspension preparations and film casting to iden­tify a formulation that would enable a path forward for the drug-layering process. After several quick experi­ments, we confirmed the behavior we were seeing was related to a physical drug-excipient interaction that hap­pened in the presence of water. By careful selection of excipients and process solvents for the spray suspen­sion, we were able to resolve the issue and successfully produced the desired drug-loaded pellets."
Abzena: Expediting Timelines in Formulation & Manufacturing
When one of its partners required a formulation to support long-term storage for early-phase clinical studies and had no manufacturing capabili­ties or formulation experience, they turned to Abzena. An additional chal­lenge was very low drug substance available. "To overcome the chal­lenges, we suggested a large formu­lation screen and a pre-formulation study to accelerate and refine the can­didate selection," describes Campbell Bunce, PhD, Chief Scientific Officer of Abzena. "A 50% improvement in sta­bility was seen in the lead and backup formulations when compared to our partner's control."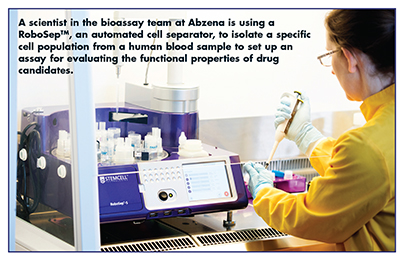 These results led to the partner discontinuing their preferred excipient and adopting the new formulations. As both lead and backup were similar, the client decided to combine the tech­nologies used in both formulations and utilized this in development of their product. The formulation was also patented, helping to secure the IP and commercial rights of this lead candidate.
In addition to formulation studies, Abzena has invested in optimizing an­alytical workflows that support selec­tion of the best, de-risked lead drug candidate to progress to development and manufacture, says Dr. Bunce. This extends into development of a new cell line expression platform that al­lows material to be produced very early to truncate development time­lines. The expedited timelines are achieved using the material for ana­lytical method, formulation, and downstream development.
"It is important to invest in breadth and depth of skill sets around a diverse range of mammalian ex­pression systems that align with the older cell lines used for out-of-patent­biologics, as well as modern systems with improved productivity," he says. "This allows versatility around sup­porting biosimilar and novel biologics manufacture and it is critical to re­spond to the global demand, across a range of therapeutic areas. This not only extends manufacturing capacity, but ensures flexibility around scale of manufacture and constant innovation around processes to shorten time­lines."
Aurigene Pharmaceutical Services: Pellet-Filled Capsule for Dual-Release Formulations
Early clinical phase formulations are often simple powders, granules, drug-filled capsules, or injectables. It can become challenging when a modified-release product needs to be developed for preclinical and first-in-human studies. Limited availability of the drug substance, the requirement of flexibility in dosing, and tight time­lines are major challenges for such projects. Aurigene Pharmaceutical Services (formerly Dr. Reddy's CPS) has had quite a few of these experi­ences. One is a highly water-soluble, high-dose drug that needed a modi­fied-release profile with two compo­nents: immediate release and slow release.
"The small biotech that ap­proached us had worked with another CDMO for early development and de­veloped polymer-coated tablets," ex­plains Rashmi Nair, Director, ROW Business at Aurigene Pharmaceutical Services. "However, for dose-ranging studies, they were planning to evalu­ate six doses in clinical Phase 1 trials. Making six tablet strengths and opti­mizing each of them was a herculean task and neither cost nor time-effi­cient. When we took up the project, we decided to work backward from the therapeutic rationale of the prod­uct, the competitive landscape of mar­keted or other clinical programs, and a formulation that could be closer to a commercial formulation."
Aurigene designed a pellet-filled capsule formulation. Immediate-re­lease pellets and slow-release pellets were manufactured separately through the Wurster coating process, which is easily scalable, says Ms. Nair. A rotary filling machine filled these pellets into capsules. "By varying pellet fill, we created different doses from 20mg to 200mg. The beauty of this formulation was that we could use the same formulation for the clinical Phase 1 and 3 studies."
For commercial manufacturing, the formulation was the same, the process was modified with high-speed guns for Wurster coating, and to pre­vent static charge and agglomeration, a pure steam generation step was in­troduced during polymer coating.
Today, this is a commercial prod­uct. A life cycle extension product was created by utilizing the same slow-re­lease formulation and adding another drug as immediate-release granules.
Genezen: Single-Campus Approach De-Risks Development
Genezen is a CDMO entirely fo­cused on cell and gene therapies, with specific expertise in lentiviral vectors. The company has recently received a growth equity investment from Amper­sand Capital Partners. The funding is being used to build an initial 25,000-sq. ft. cGMP-compliant lentiviral vector production facility as part of a multi­phase master plan for the develop­ment of a 75,000-sq. ft. site. The site will offer multiple cGMP production suites, including capabilities for host cell expansion, host cell banking, and viral vector production via transient transfection and producer cell lines.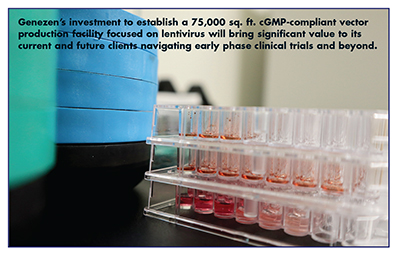 Genezen will also deliver a full suite of process development capabil­ities to support cGMP and commercial readiness, upstream and downstream process improvements, research grade and preclinical vector produc­tion, and analytical assay develop­ment and validation from the site. "Capabilities to develop producer cell lines will help reduce dependence on GMP-grade plasmids, an investment in state-of-the-art closed systems will ensure safety of the product and re­duce risks of human error, and in-house QC assays will speed release testing," says Pratima Cherukuri, Chief Scientific Officer at Genezen. "This single-campus approach is increas­ingly appealing for pharma compa­nies as it de-risks development and scale up."
She adds that the new site offers fixed-bed bioreactor technology, en­abling Genezen to offer a closed lentiviral vector production platform culminating in aseptic fill-finish of vec­tor products into sterile bags for use in cell therapy. The site will also build on existing adherent platforms (cell stacks and fixed-bed bioreactors) and refine existing suspension platforms to offer improved scaling for larger produc­tion volumes. Analytical testing serv­ices, including unique Recombinant Competent Lentivirus assays (extended culture and PCR methods) for end-of-production release and patient sam­ple testing are also available.

Idifarma: A Focus on Complex & High-Value Drugs
Idifarma has implemented several technologies to provide a comprehen­sive service for the development and manufacture of Dried Powder Inhalers (DPIs), including spray drying and en­capsulation, and has agreements with various relevant entities for the use of the latest technologies for the charac­terization of DPIs, says Alfredo Gomez, Head of Site at Idifarma.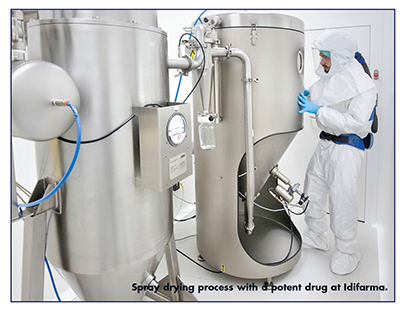 "We continue to invest in spray drying technology for highly potent drugs," he says. "Our focus on com­plex and high-value drugs has re­cently led us to invest in a software tool for a continuous control system of the process to analyze as many parameters as possible, for a complete guarantee of compliance with specifi­cations as well as for rapid process optimizations."
Samsung Biologics: Expanding Capacity for End-to-End Support
Samsung Biologics assist clients with developing and manufacturing product pipelines in an expedited timeline. The CDMO has been maxi­mizing operational efficiency and ex­panding capabilities for end-to-end outsourcing support, and its latest ef­forts include the construction of a fourth plant, which, upon completion, will give Samsung Biologics a 620KL of total capacity.
Samsung Biologics also continues to upgrade its capabilities to accom­modate clients by investing in single-use technology and additional aseptic filling capacity. In addition, the open­ing of a new R&D Center in San Fran­cisco expands the company's global presence, says James Choi, Senior Vice President and Chief Information and Marketing Officer, and Head of Investor and Global Public Relations, at Samsung.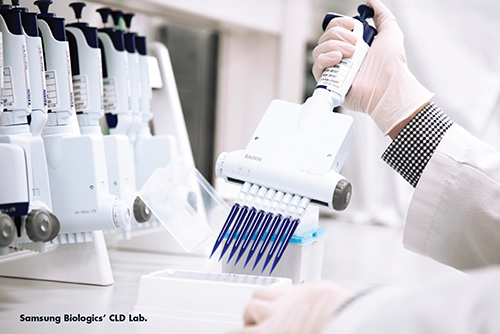 To enhance its development serv­ices, the company has launched a proprietary cell-line, S-CHOice, which facilitates high performance to enable rapid advancement to IND approval. Samsung Biologics continues to sup­port traditional fed-batch manufactur­ing by implementing N-1 perfusion technology at the cell culture stage to accommodate rising demand in the latest technology that enhances cell density.
Stelis Biosource: New Manufacturing Technology for Lyophilization & Viral Vectors
Stelis Biosource has expertise in biosimilars as well as vaccines and other biotherapeutics. The company is focused on growing its capacity, capa­bilities, and knowledge to scale up in the cell and gene therapy space. Ac­cording to Dr. Anand Khedkar, Sr. Vice President, R&D, Stelis Biosource, the company is investing in various man­ufacturing platforms for both drug substances and drug products.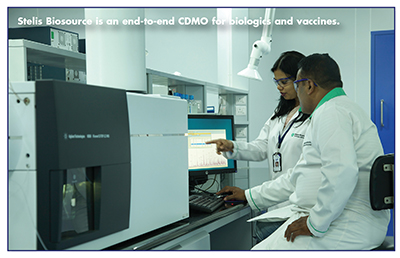 "We already have microbial and mammalian platforms and are about to commission a viral vector manufac­turing platform," he says. "We are also in the process of researching and integrating other platforms to help bring new kinds of therapeutic prod­ucts to the market. On the drug prod­uct side, we have invested in high-speed vial lines, a high viscosity prefilled syringe filling line as well as a cartridge filling line. We have cre­ated dedicated facilities for viral vac­cines, high viscosity products, monoclonal antibodies and other products. We also have the capability to manufacture lyophilized vials."
Vibalogics: Manufacturing Viral Vector Vaccines & Gene Therapy
Global demand for CDMO serv­ices is at an all-time high, fueled by broadening biologics pipelines. Viba­logics is investing in global infrastruc­ture expansions in both the existing clinical cGMP facility in Germany and the establishment of a new US facility in Massachusetts. Driven by a $150 million investment and a 110,000 sq. ft. facility, Vibalogics will enable the market with further contribution to the overall global supply of manufactur­ing services for oncolytic viruses, viral vector vaccines, and viral vector gene therapy products, says Joe Sinclair, VP of Business Development & Corporate Strategy for Vibalogics. "We are preparing for the future expansion of this space with a complete suite of vi­rotherapy services and end-to-end service solutions," he says.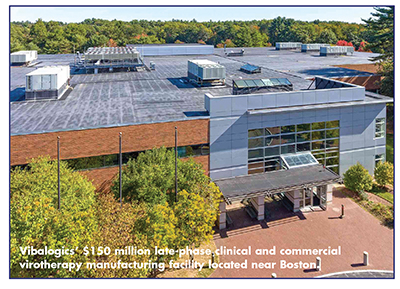 Investment in both novel and widely-utilized production and analyt­ical platforms has enabled Vibalogics fit-for-service across a broad class of products and range of customers' needs in viral production, he contin­ues. Modular design and multi-prod­uct considerations within the facilities enable a variety of products and processes. Emerging trends in uti­lizing suspension cultured cell substrates and a need for larger capacity has driven Vibalogics to invest in state-of-the-art technol­ogy, such as 2,000L scale biore­actors, with ongoing evaluation of platforms at 4,000L and higher.
Vibalogics is also heavily fo­cused on plant design considera­tions and process capabilities to allow for aseptic production rou­tinely required for viruses of larger size that cannot be sterile filtered. S

References

Pharmaceutical Contract De­velopment and Manufactur­ing Organization (CDMO) Market – Growth, Trends, COVID-19 Impact, and Fore­casts (2021-2026), Re­searchandMarkets, March 2021, https://www.re­searchandmarkets.com/re­ports/4775063/pharmaceutical-contract-development-and.
North America Pharmaceuti­cal Contract Development and Manufacturing Organi­zation (CDMO) Market Dy­namics, Future Trends, Leading Players Update, CAGR Status, Business Devel­opment Opportunity and Forecast to 2025, Kenneth Research, May 19, 2021, https://www.marketwatch.com/press-release/north-amer­ica-pharmaceutical-contract-development-and-manufacturing-organization-cdmo-mar­ket-dynamics-future-trends-leading-players-update-cagr-status-business-development-opportunity-and-forecast-to-2025-says-kenneth-research-2021-05-19?tesla=y.