SPECIAL FEATURE – Outsourcing Formulation Development & Manufacturing: CDMOs Are Innovating for 21st-Century Medicine
Industry insiders say the peak of the patent cliff has passed, and development productivity is increasing, particularly in the areas of personalized medicine, drug delivery platforms, and genome sequencing. "Historically the pharmaceutical industry worked to meet the needs of individuals who suffer from diseases that impact many millions of people, but development interest is shifting toward more underserved populations of patients who have been diagnosed with rare diseases," says General Manager & Vice President John Rigg at Exelead. "Recent advancements in drug delivery and gene sequencing are major drivers of this trend toward developing such medicines, many of which are good candidates for Orphan Drug status."
But these innovative new therapies require close collaboration and creativity throughout the formulation development process on the part of contract development and manufacturing organizations (CDMOs). "Improving productivity in pharmaceutical development is important but shouldn't come at the expense of creativity," says Dr. Detlev Haack, Head of Research & Development, HERMES PHARMA. "To develop truly innovative products, R&D relies on pharmaceutical developers thinking outside the box. Only with creative people willing to take responsibility for new ideas will we be able to meet the evolving needs of 21st-Century patients and consumers."
In this annual Drug Development & Delivery magazine report, some of the industry's leading CDMOs talk about the innovations they are developing for next-generation patient care, and how many are making investments that are enabling them to offer more services under one roof.

Almac: A Single-Partner Approach Proves Beneficial for a Pediatric Formulation
Almac is a full-service contract development and manufacturing organization that utilizes highly technical core teams capable of developing formulations and analytical methods in-house, then carrying them through to clinical trial material manufacturing, scale-up, commercial manufacturing, packaging, and stability testing.
"Providing both development and commercial operations allows for optimal communication and knowledge transfer on projects," says Cara Young, Director Business Development – Pharmaceutical Development, Almac. "Our clients leverage this integrated service offering, exploiting the advantage of a single-partner strategic approach. Smoothing transition through the drug development process – and ultimately commercialization – saves time, transfers, and other uncertainties inherent in a multisupplier, multi-site process."
Last year, Almac expanded its GMP manufacturing capacity for solid oral dosage forms and is currently operating from two UK sites, which offer dedicated high-potency processing suites, Gerteis roller compactors, mini-tablets, and stick packs. Almac also established a non-GMP facility to accelerate the formulation development process and facilitate seamless transfer to its GMP facilities.
Within solid oral dose development, Ms. Young says Almac has seen an increased interest in pediatric formulations, highly potent compounds, and small batch sizes. "The increased interest in pediatric formulations is driving a demand for powder-in-bottle, mini-tablets, and stick packs."
She describes one client with a commercialized adult dosage form that needed a corresponding pediatric dosage form with an easy-to-use packaging format. Mini-tablets filled into stick packs were identified as the best presentation. She says Almac successfully optimized several equipment features: Punch tip concavity; ejection scraper design; ejection cam position; and punch and turret keyways. Also designed were 37-tip punches that allowed compression rates up to 550,000 minitablets per hour. "And, in conjunction with a third-party specialty vendor, the team successfully identified, installed, and qualified stick pack filling equipment that could operate at up to 80 cycles per minute," says Ms. Young.
AMRI: Core Competencies Span Pre-formulation to cGMP Manufacturing
As the market for complex products and biologics continues to grow, biopharmaceutical companies are working with CMO providers who take a more sophisticated approach to sterile dosage form development and manufacturing. AMRI offers formulation development, scale-up, and cGMP supply for liquid and lyophilized products, providing solutions for both simple and complex formulations.
AMRI's expertise in challenging formulations, processes, and approaches includes Tangential Flow Filtration (TFF), extrusion, microfluidization, as well as expertise with viscous products. "TFF requires advanced process knowledge with specific consideration of scale-up to ensure clean execution with complex formulations," explains David Stevens, Senior Vice President, Head of Drug Product, AMRI. "In collaboration with a customer and TFF technology vendor, AMRI supported the successful transfer and scale-up of a peptide formulation, translating data derived from milliliter scale studies to final drug product. Through careful consideration of product and process critical parameters attributes, a bespoke, high-pressure, semi-automated skid was jointly designed enabling a single-step scale-up process with concomitant time and cost benefits." Additionally, there is growing interest in assessing more complex liposomal or nanoparticulate products at early-stage development to address inherent formulation challenges. Mr. Stevens says the goal is not only to screen potential formulation options, but also for parallel assessment of manufacturing methods viable for scale-up and GMP batch manufacture. AMRI is working in collaboration with a customer, a vendor, and a local university to establish a robust development approach to manufacture liposomal formulations.
"Generally, traditional small-scale manufacturing methods used at the screening stage are impractical for GMP and often present some form of scale-up issue, insufficient process control, or prohibitive cost," says Mr. Stevens. "Our approach focuses on the use of microfluidic technology that permits high throughput, reproducible screening activities, and could be readily scaled up without the loss of product characteristics or introduction of additional process parameters. The academic partnership combines expertise/competencies in liposomal formulation development techniques and parenteral drug product manufacturing to provide an efficient, data-driven route through development to clinical batch manufacture."
Alongside increases in development productivity and customer interest toward biologics, controlled substances, and complex compounds, AMRI has expanded and enhanced operations to support the growing demand for sterile capabilities, such as the launch of a new, state-of-the-art, aseptic API line in Valladolid, Spain. "Sterile API is a requirement for many parenteral product types, including suspensions and ophthalmics," says Mr. Stevens. "The manufacture of these product types can be provided by AMRI's Drug Product business, which has capabilities in sterile suspensions."
Ascendia Pharmaceuticals: Keeping Pace With Evolving Industry
As a speciality contract development and manufacturing (CDMO) company, Ascendia Pharmaceuticals has witnessed a growing diversity in the types of projects being requested. "In the past, it was common for the majority of projects to be orally administered small-molecule products, often controlled release in some fashion," explains Jingjun "Jim" Huang, PhD, CEO, Ascendia Pharmaceuticals. "Lately, however, we have worked on projects that include peptide delivery (oral and injectable), animal health formulations, long-acting injectable depots, ophthalmic dosage forms (both drops, and vitreal injections), and several device/drug combination products."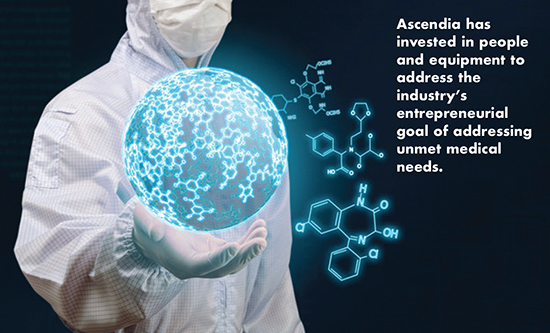 Ascendia has positioned itself accordingly by hiring graduate-level scientists with broad backgrounds in new technology and investing significantly in new equipment to handle the broad needs of these programs. "There is tremendous creativity in our field, with numerous entrepreneurial companies looking to develop pharmaceutical products to address very specific unmet medical needs," he says.
When Ascendia was first established in 2012, the company's primary mission was to offer a complete suite of formulation capabilities for early-stage projects to improve a drug's bioavailability. As these early-stage projects are often intended for proof-of-concept, the work needs to be done rapidly and within a set budget. In such cases, Ascendia offer a fixed-fee program with a defined set of deliverables. "Our clients can go from pre-formulation to in vivo proof-of-concept relatively quickly and with a known expense, which is beneficial for making efficient decisions on the viability of an early-stage drug program," says Dr. Huang.
Ascendia's mission has evolved to offer cGMP manufacturing services for Phase I and Phase II clinical studies. The company moved into a new facility last year with state-of-the-art manufacturing suites for both oral and injectable products. "This capability expands the cost savings a partner can achieve by working with Ascendia," he says. "A one-stop-shop approach saves time and money as pre-clinical projects can seamlessly transition to clinical go/no-go decision points."
For example, Ascendia developed an injectable nanoemulsion formulation for one client's re-purposed drug. The compound was known to be poorly water soluble, and the current formulation was not suitable for the new indication. "We investigated several formulation approaches before selecting and optimizing a formulation based on stability and solubility data," Dr. Huang explains. "Next, we were quickly able to manufacture small-scale Phase I cGMP CTM for a proof-of-concept bioavailability study. Thus, the client went from a product concept to clinical proof-of-concept in about one year. This is a very efficient way to develop portfolio assets to determine which merit greater expenditure of development resources."
Aztech Sciences Inc.: Focused Protocols for More Efficient Formulation Development
There is great interest in specialized formulation platforms in support of both new drug applications and lifecycle management opportunities, including the 505 B2 pathways, whether it involves small molecules in simple solution vehicle preparations or complex macromolecules in nanoparticle carrier systems.
"Many of our customers are interested in pursuing specialized formulations such as nanoparticle/sub-micron platforms and solution-based vehicles for IV and intranasal applications, among others," says Alphonso Higuera, PhD, Vice President/Cofounder, Aztech Sciences Inc. "For example, our high-shear mixing homogenization capabilities have provided high dosing formulation vehicles suitable for early-stage/proof-of-concept or IND enabling studies. These platforms, along with traditional suspensions and solid dosage forms, have been of great interest and demand across many of our clients' projects."
As an outsourcing formulation development organization, Aztech implements risk management concepts and Quality-by-Design approaches in its protocols to provide a more focused and efficient pathway in formulation development. This, says Dr. Higuera, leads to more quality and robust formulation platforms, increases productivity, and establishes a template for future project opportunities.
Dr. Higuera adds that Aztech works closely with its clients to ensure that contract development services and deliverables are in full synergy with customers' expectations and objectives. As an example, Aztech developed an intranasal formulation for an upcoming start-up pharma organization with an aggressive timeline to meet an IND-enabling in vivo dosing program. To meet the client's expectations and milestones, Aztech implemented a parallel approach during the analytical and formulation development in an effort to provide full transparency and project updates. "The outcome of this approach led to a successful and robust formulation dosing platform in support of the required preclinical studies," he says. "This enabled our client to build a practical perspective and properly align in vivo dosing requirements with a third-party animal testing CRO in a timely and efficient manner."
BASF Corp.: Excipients for Challenging Formulations
With continued interest to expedite drug development, the industry is taking more holistic approaches to evaluate novel excipients, such as new polymers and solubilizers, to meet unmet customer needs. Aiming to bring drugs to market faster, the pharma industry is finding more value in high functionality excipients either co-processed, or standalone as a new polymer/copolymer.
"BASF offers technical know-how in the areas of solubilization, instant- and modified-release, soft gel, and skin delivery," says Shaukat Ali, PhD, Technical Support Manager, Pharma Solutions, BASF Corporation. "BASF's partnerships with CROs and CMOs and equipment manufacturers provide insights that allow us to stay ahead of emerging formulation challenges and share knowledge about excipients and their cross-functional uses in oral, parenteral or topical formulations. For example, with our expertise and technical resources in instant- and modified-release, we collaborate with industry to develop coatings, ODT, multi-particulate systems, and taste-masking ingredients for solid oral dosage forms. In the area of polymer chemistry, we are creating new excipients to overcome the challenges with poorly soluble molecules and improve solubility and bioavailability," says Dr. Ali. BASF's alliances with CROs and CMOs have fostered projects with small and large companies focused on traditional oral and topical formulations, as well as on biologics manufacturers and parenteral formulators.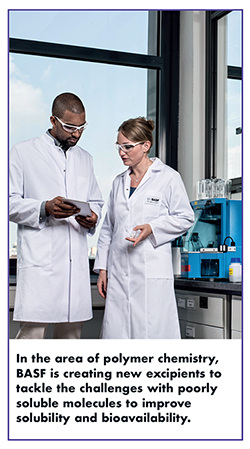 In addition to improving solubility, Dr. Ali says that excipients play an important role in the development of controlled-release dosages. "Life cycle management has been a subject of continued focus in the industry. For example, developing a once-a-day controlled-release dosage to improve patient compliance is a strategy to extend the life cycle of a drug," says Dr. Ali.
BASF is working with drug manufacturers by supporting their innovation with controlled-and modified-release polymers, peroxide-free binders, and taste-masking ingredients, among others. As a result, excipients like Kollidon SR and Kollicoat SR30D and enteric polymers, Kollicoat MAE 30 DP, 100P and 100-55 have been used in many approved drugs with modified-release characteristics. Others such as Kollicoat Smartseal 30DP have been used successfully for taste-masking of bitter APIs, and Kollicoat IR has become a standard for controlling the degradation of peroxide-sensitive APIs.
Baxter BioPharma Solutions: Analytical Development Geared to Large Molecules
In Baxter's Bloomington, IN facility, approximately 80% of Baxter BioPharma Solutions' projects involve biologics and the remaining are typically small molecules that require a solubility enhancer such as an organic co-solvent. Baxter's R&D team works with clients to help collaborate on their development needs. "We prefer early involvement from our colleagues in technical transfer and manufacturing, which helps ensure the formulation and process are developed with consideration of the performance at full-scale, and it also ensures that there is sufficient time to purchase new equipment that may be needed to support the project," says Gregory A. Sacha, PhD, Senior Research Scientist at Baxter.
Many new, large molecules are for products that are no longer under patent protection. Baxter BioPharma Solutions' R&D facility in Bloomington is fully equipped with analytical instruments specific to large molecules. These include size exclusion chromatography, imaged capillary electrophoresis, and mass spectrometry. "We have continued to develop our analytical capabilities through the addition of hydrogen deuterium exchange combined with mass spectrometry, the measurement of the unfolding temperature (Tm) using nano differential scanning calorimetry, and analysis of secondary structure using second derivative FTIR," explains Dr. Sacha. "Expansion of the analytical capabilities improves our ability to detect changes in the molecule that may have resulted from formulation excipients or processing techniques, and identifying changes early helps to reduce development time to meet or exceed market demand."
One of the biggest problems in the manufacturing of large-molecule therapeutic agents is the instability of these molecules in aqueous solution, and the need to freeze-dry the drug product to ensure an adequate shelf life. "Freeze-drying is time consuming and inefficient, and this problem has been exacerbated by the traditional trial-and-error approach to the establishment of suitable processing conditions," says Steven L. Nail, PhD, Principal Scientist, Baxter. In this empirical approach, a set of process conditions that provide a pharmaceutically acceptable product is identified, followed by the establishment of "proven acceptable ranges" for process variables, such as shelf temperature and chamber pressure during primary drying. The problem with this approach, says Dr. Nail, is that it provides no information as to whether these process conditions are optimal (meaning that they allow the process to be carried out in the shortest time while still providing a pharmaceutically acceptable product). These edges of failure can be either associated with the product, which would carry a high risk of providing an unacceptable product, or with the equipment, as there is always a limit as to the maximum sublimation rate that a given freeze dryer can support.
"We developed a graphical design space approach, which is basically a map of all the process conditions that result in an acceptable product and this map includes the edges of failure," he says. "The highest sublimation rate within this acceptable range is then, by definition, an optimized cycle. We have applied this approach to numerous client projects."
Catalent: Investing & Acquiring Expertise to Support Customers
Poorly soluble small molecules remain prevalent in pipelines, and the need for bioavailability-enhancing formulations continues to rise. Properly addressing issues at an early stage of development can help prevent failures due to a lack of efficacy caused by poor bioavailability, when the dose is subsequently scaled. In recognition of the growing need to overcome solubility and bioavailability issues, Catalent acquired micronization and spray drying capabilities, and also developed its own facilities and expertise in hot melt extrusion (HME), and has continued to invest in lipid-based delivery.
In April 2018, Catalent announced it will invest $5 million at its Somerset, NJ facility to focus the site on preclinical to clinical Phase 2b formulation, analytical, and manufacturing solutions for orally delivered small molecules. "The additional investment will enable greater speed, flexibility, formulation expertise, and capacity for early-phase development, and focused capabilities to meet the increased needs of virtual and small pharma companies," says Ronak Savla, Scientific Affairs Manager, Catalent Pharma Solutions.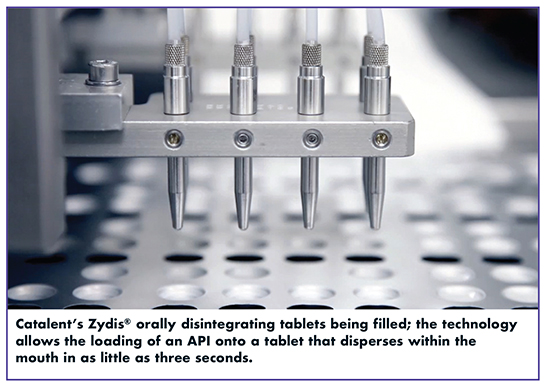 This is especially critical to serve the needs of biologics companies. To that end, Catalent has acquired the experience and expertise of Cook Pharmica LLC's Bloomington, IN-based business, and has also invested in Catalent's Madison, WI, facility to accommodate two, 2,000 liter single-use bioreactor systems. This allows the site to support late-phase clinical and commercial production of up to 4,000-liter batches, and there has also been investment to expand its analytical and process development laboratories at the site. "These investments will strengthen Catalent's position as a leader in biologics development and analytical services, as well as manufacturing and fill-finish," says Dr. Savla. For example, Neftali Tosado, Director of Continuous Improvement and Technology, Catalent Pharma Solutions, describes how Catalent received a request to fill a unique softgel capsule with 40mg ± 0.9mg API in addition to keeping the existing range of 460-5,000mg with no adverse impact to current overall equipment effectiveness, changeover, throughput, cycle time, etc., and minimal or no regulatory impact. "At the time, it was virtually impossible to fill a softgel with a specific gravity of the paste-like material specified," he says.
Some limits and boundaries for a filling application included: fluid dynamics (e.g., cavitation); injection-timing (e.g., synchronization); product-specific challenges (e.g., suspensions, and non-Newtonian fluids) and; process-specific challenges (e.g., aseptic, high-speed filling). Catalent developed a modular/flexible GMP-compliant API pump technology that covered the full range. In its first attempts with the pilot pump system, the team determined that a small target drift was causing some challenges with the softgels. Catalent eventually stabilized the process so that no drift occurred with the new manufacturing technology. The firm achieved its goal at capabilities of 6-sigma or better across the full range and product viscosities, including many paste-liked materials. "Catalent maintained equal or better efficiencies, reduced changeover cycle times, and improved yields," says Mr. Tosado. "The deployment plan for the new medicine pump filling technology will eventually reach our other sites across the globe."
Although the preliminary development was for softgels, the Catalent team determined that the pump technology was also suited for blow/fill/seal applications.
CPL: Early Development & Commercial Scale-Up Under One Roof
CPL focuses on non-sterile liquid and topical semi-solid pharmaceutical products. With these dosage forms, CPL is seeing a trend towards smaller commercial batch sizes with an increasing number of formulations intended for orphan indications. Additionally, companies are incorporating poorly water-soluble APIs into formulations that require high solvent content. This creates a formulation challenge of providing sufficient solubility while ensuring good sensory characteristics for a high level of patient acceptability.
Conrad Winters, PhD, Director, Product Development, says that CPL provides both early product formulation development and commercial manufacturing under one roof. "This has two main benefits for our customers," Dr. Winters says. "The development team designs practical formulations using process conditions that will work at commercial scale and there is no technology transfer between development and commercial – just a seamless integrated process that ensures Right First Time. By having a view toward scale-up and commercial parameters for a product, we can often avoid issues during formulation that may create obstacles or challenges at commercial scale."
To address both new development projects and commercial capacity, CPL recently installed innovative manufacturing and packaging equipment that provides flexibility for customers and new formulations. For product scale-up and commercial bulk manufacturing, twin XP Symex vessels with 1000L and 2000L working capacity support clinical and commercial batches 200kg through 2000kg in scalable matched vessels. And for the product packaging operation, CPL invested in two new serialization-ready filling/packaging lines: an XP-rated high-speed aluminum/laminate tube line and a high-speed XP bottle/capping line. "Each line has higher filling speeds to allow for more efficient product packaging while ensuring compliance with regulatory requirements" says Dr. Winters. "These lines will add additional capacity and flexibility to meet future demand, as well as support unique tube and bottle packaging formats.
Evonik Health Care: Demand for Specialized Parenteral Dosage Forms Sparks Facility Expansion
As a CDMO with backward integration in the design and production of functional excipients like EUDRAGIT® and RESOMER®, Evonik Health Care has been helping customers transform their APIs into high-performance medicines for many decades. In addition, the CDMO provides comprehensive support throughout the design, development, production, and scale-up of the finished dosage form. "This combination of products, drug delivery technologies, and value-added services helps customers reduce project complexity, accelerate speed to market, improve drug effectiveness, and strengthen global security of supply," says Dr. Thomas Riermeier, Vice President, Head of Pharma Polymers & Services, Evonik Health Care.
Over the last year, Evonik has seen strong demand for specialized parenteral dosage forms, such as injectable microparticles and lipid nanoparticles. Microsphere formulations can be precisely tuned to control drug release over several weeks or months, based upon the design and choice of polymer, the morphology of the particle, and the process parameters for manufacturing. Lipid nanoparticles have experienced a significant resurgence as well, and they are becoming the de-facto standard for the delivery of genetic-based drugs.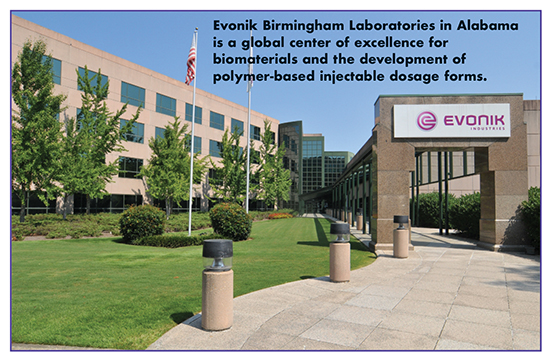 Innovations in such formulations, as well as drug delivery platforms, information technology, and personalized medicine require close collaborations throughout the formulation development process. To support customer projects, Evonik operates a global network of formulation and application labs across the world, including Germany, the US, Japan and India. "These facilities give customers close proximity to our teams of pharmacists, scientists, and engineers who have deep technical expertise in the design and production of polymers, formulations, and finished dosage forms," he says. Evonik also added new platforms and processing capabilities, such as 3D printing, which are helping to change the way drugs are produced. "Such advanced technologies will help clear the path for the development and commercialization of a new generation of personalized medicines."
Evonik is also expanding its CDMO and excipient production capabilities in North America to meet growing demand for advanced formulations. This includes a new production facility for its RESOMER polymers, a custom-designed filling line for complex injectable products, and the doubling of its footprint in Vancouver to develop lipid nanoparticle products. In parallel, Evonik is expanding its CMO capabilities for API and advanced intermediates, with a focus on advanced technologies such as continuous processes, fermentation, mPEGs, and HPAPI.
Exelead: Specializing in LNP Delivery
Exelead's General Manager & Vice President John Rigg says there is a resurgence in the development and application of Lipid Nanoparticles (LNPs). As a drug delivery system, LNPs are being used more readily to deliver medicines in which the payload could be a protein, small molecule, large molecule, oligonucleotide (DNA/RNA), or some combination of the aforementioned. "Exciting developments are surfacing around the conjugation of lipids and the integration of different forms of oligonucleotides into LNPs," says Mr. Rigg. "These components are providing the potential to treat and cure the previously untreatable and incurable. Patient-specific (personalized) drugs are rapidly changing the landscape of development pipelines across the entire industry."
Exelead manufactures products in a completely sterile (aseptic) envelope as well as in non-aseptic environments because engineering controls have been built into the system downstream to remove any microorganisms that may contaminate the product. This is all done prior to filling into a vial by passing the finished bulk formulation through a sterilizing grade filter. However, if this form of filtration is used, the particle size is of extreme importance and must be controlled. If the LNPs are too large, they will not pass through the filter, and the product cannot be filled. "As experts in LNP formulation, we have experience in optimizing processes to control particle size to modify established formulation processes to produce aseptic, injectable drug products," says Mr. Rigg.
As a CDMO, Exelead places an emphasis on complex liposomal and PEGylated formulations, developing and manufacturing batch formulations for the treatment of rare diseases and small patient populations. Exelead recently expanded its formulation and analytical development capabilities to support clients as they develop drugs for unique subsets of the population. This brings new challenges that require manufacturing flexibility, strong intercompany communication, and management of the supply chain. "For instance, personalized medicine doesn't leave a lot of time from once the oligonucleotide is sequenced (or about to be sequenced) to the time that the product needs to be formulated into an LNP at our site," says Mr. Rigg. "These real-time forecasts that only leave weeks to manufacture and release the next clinical batch present challenges that we have been able to overcome with refinement of our existing systems along with the implementation of the new."
Personalized medicine means smaller batches. Thus, Exelead is investing in a multi-million capital expansion project to increase development, formulation, and aseptic fill capacity. The new areas are expected to be ready for use late next year. "We currently support small-to-medium-size batches, and have positioned ourselves to manufacture a parenteral drug product that can range from batch sizes as low as 200 vials to tens of thousands," says Mr. Rigg. "This correlates with formulation batch volumes from well less than 1 liter to as high as 1,200 liters. As this niche market of orphan drugs and personalized medicine continues to grow, Exelead will also continue to grow and partner with new and existing clients to meet this demand."
Halo Pharma: A CDMO for Complex Dosage Forms
Halo Pharma has seen an increase in the number of pharmaceutical companies looking for ways to repurpose APIs through the development of fixed-dose combination products, says CEO Lee Karras. Halo is also experiencing more requests for pediatric dosage form development for branded product label expansions, as well as topical products in both the branded and generic spaces.
In fact, the Generic Drug User Fee Act (GDUFA) is resulting in generics being approved in shorter periods of time, resulting in an increase in generic drug development. "Halo Pharma's product development expertise, coupled with its proven international regulatory track record, has helped the company develop ongoing business relationships with the top-five global generic companies," says Mr. Karras.
Comfortable tackling complex formulation development and manufacturing challenges, Mr. Karras says that Halo Pharma has adopted a synergistic approach with its sponsor customers. "We have a partnering business model that in certain situations goes beyond a typical customer/supplier relationship, whereby Halo shares some risk in the development but also some upside when products are ultimately commercialized."
Halo Pharma's comprehensive and collaborative approach to outsourcing has generated success for clients with complex challenges. A recent example involved a tablet product that a sponsor had placed at another CDMO. The product was not able to meet its filed hardness specification, so the sponsor asked Halo to intervene. "There was a heightened sense of urgency around the product because there was no alternative available and patients needed the product," he says.
Halo Pharma's formulation team, along with pilot plant operators, conducted a series of experiments to determine the cause of the drift in hardness. The issue was ultimately tied back to powder flow, which was modified by changing the way the powder was fed to the press, yet still staying within the filed regulatory requirements of the product.
To support its capabilities around complex dosage forms, Halo Pharma uses complex manufacturing technologies, such as wurster fluid bed coating of beads, extrusion/spheronization, ion-exchange resin formulations, mini-tablet filled capsules, and granule and mini-tablet-filled sachets. Halo's sterile semi-solid suite in Whippany, NJ, uses a Krieger 600 MMD batch processor and IWKA TF 20 Robotic Tube Filler, and can manufacture bulk batches from 200 to 450kg, for up to 200,000kg, annually. Halo's non-sterile semi-solid suites utilize a development and pilot-scale Ekato Unimix SRC-150 that can handle batch sizes ranging from 25kg-150kg. Using this equipment, Halo develops dermatology products such as creams, ointments, and gels. In addition, the production-scale equipment can handle commercial batch sizes up to 1,000kg.
HERMES PHARMA: Focused on User-Centric Products for Modern Patients
HERMES PHARMA has structured its organization to meet the needs of customers, wherever they are in the development pipeline – from idea, through formulation development, to market. The key to developing successful, marketable products is understanding market trends and patient needs. For example, a HERMES business unit manages its own over-the-counter brands primarily for German-speaking markets. "This means we can leverage our understanding of modern patients and markets when working with our customers," says Dr. Detlev Haack, Head of Research & Development, HERMES PHARMA. "It's this wide-ranging expertise that allows us to partner with our customers in different ways, whether that's by co-developing completely new products or via out-licensing one of our pre-existing products."
Recently, one of HERMES PHARMA's customers – a large pharma company – faced the challenge of closing one of its factories. HERMES PHARMA supported them in transferring the manufacture of almost 200 million effervescent tablets, comprising four different formulations (two complete production lines). "Within one year, all of the products were successfully transferred, on time and without any out-of-stock issues," says Dr. Haack. "Moreover, we solved some stability issues, as the products contained moisture-sensitive acetylsalicylic acid as an API. With our specialist TOPO technology and the know-how we've gained over decades of developing and manufacturing water-sensitive effervescent formulations, we were able to improve product quality without changing taste, dissolution properties, or appearance, so that consumers did not observe any changes."
Dr. Haack says that while HERMES PHARMA has placed a particular focus on developing user-centric products, its focus also extends to its packaging. He says: "We continue to develop more user-friendly and environmentally sustainable options. With the new requirements around the Falsified Medicines Directive, we've put considerable investment into product safety to supply serialized and tamper-evident products. We also continue to expand our plants and invest heavily in the latest high-throughput technologies to ensure we're always able to deliver high-quality products as efficiently as possible for our customers."
Metrics Contract Services: Offering a Concept-to-Commercialization Solution
The Metrics Contract Services business model allows the company to accelerate timelines and deliver clinical trial materials quickly. In fact, Metrics Contract Services has structured itself to facilitate fast-track development by having scientists work in dedicated fast-track suites, conducting product development and manufacturing on a pilot scale outside GMP manufacturing, but with equipment scalable to GMP suites. Additionally, the company offers fast-track analytical testing – delivering same-day testing of prototypes to provide data to its scientists.
In addition to speed, Metrics Contract Services is interested in delivering convenience. The parent company of Metrics Contract Services, Mayne Pharma, recently opened an $80 million, 126,000-sq-ft oral solid-dose commercial manufacturing facility in Greenville, NC. "The new facility positions Metrics Contract Services to offer development clients a comprehensive concept-to-commercialization solution in one contiguous location under one FDA site registration – delivering larger scale and increased capabilities for seamless scale-up, and reducing or eliminating the need for site transfers," says Yogesh Sadhale, PhD, Associate Director of Pharmaceutical Development, Metrics Contract Services. And with commercial manufacturing housed in the new facility, Mayne Pharma's former manufacturing facility is being repurposed to expand Metrics Contract Services and its pre-commercial product development capacity – creating 10-plus new processing rooms and laboratories.
Scientists at Metrics Contract Services recently were tasked with reformulating a tablet manufactured using a roller-compaction process in a Phase II clinical trial. The original formulation showed high levels of a particular impurity. "After ruling out various possible reasons for the high levels of the impurity, we went back to the beginning, which included revisiting an excipient compatibility study performed by a third party," Dr. Sadhale explains. "One of the excipients in the original formulation, Crospovidone XL, was reported to physically bind to the API, which indicated a potential incompatibility."
Scientists at Metrics initiated tablet reformulation studies, and evaluated a capsule formulation used in a previous Phase I clinical trial. Further reformulation trials revealed that there was likely some interaction between lactose and Crospovidone in the formulation, in addition to a possible effect of pressure, either compaction and/or compression.
"We reformulated the tablet using microcrystalline cellulose and croscarmellose sodium, which resulted in a significant decrease in the impurity level," he says. Additional work is ongoing to evaluate the effect of compaction/compression pressure and to optimize the dry granulation process to improve granule flow.
Quotient Sciences: Optimizing Formulation & Performance Throughout Development
Quotient Sciences' business model integrates CDMO and CRO activities within one organization. This approach simplifies outsourcing supply chains, accelerates timelines, and makes drug development more cost-efficient, says Dr. Peter Scholes, Chief Operating Officer, Quotient Sciences.
"The pinnacle of such integration is Translational Pharmaceutics®, our unique platform that integrates formulation development, real-time adaptive GMP manufacturing with clinical testing." Dr. Scholes explains that through 14-day "make-test" cycles, drug products are manufactured and dosed before emerging clinical data is used to tailor the drug product to be manufactured for the next cohort or dosing period. Flexibility can be maximized by describing a bracketed formulation "design space" in the regulatory submission, within which dose or functional excipient content can be freely adjusted during study conduct. "This approach is ideally suited to optimize formulation compositions and product performance at all stages of the development lifecycle."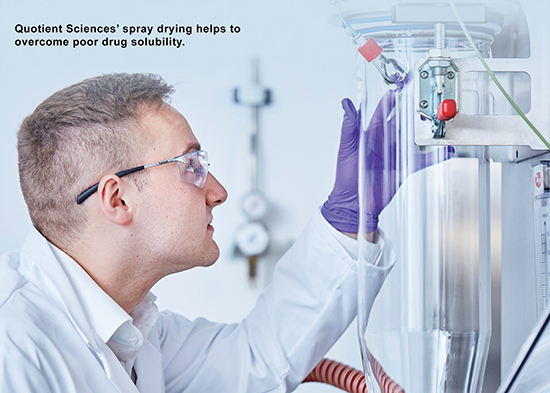 Once a new drug product is identified and developed, Quotient offers flexible and scalable clinical manufacturing for global patient trials. Clinical trial manufacturing can be highly personalized and tailored to meet the needs of the trial, based on patient criteria or recruitment rates. Dr. Scholes says this can be significant with oncology, orphan, or pediatric diseases.
Quotient has invested in both capacity and capability, especially to support poor drug solubility and high potency. "We have full internal capabilities for working with all DCS compounds and we also work with technologies suited to improving the bioavailability of compounds with dissolution, as well as solubility-limited exposure." For high potency, Quotient has purpose-built suites suitable for handling all molecule types.
As far as organic expansion, Quotient recently completed the acquisition of two CDMOs: UK-based Pharmaterials and US-based QS Pharma, which Dr. Scholes says will strengthen Quotient's service portfolio from preclinical formulation development through to commercial manufacturing. As an example of an early development program, Dr. Scholes describes a first-in-class antifungal treatment. The drug had low water solubility and utilization of an enabled formulation technology was essential to ensure sufficient oral bioavailability in early clinical studies. In this case study, an early development program was designed to rapidly initiate first-in-human (FIH) evaluation using a spray dispersion-in-bottle formulation before transitioning to a solid oral dosage, confirming tablet performance in healthy volunteers and scaling up the manufacturing process to support a Phase II clinical study in patients.
"By integrated early development activities and applying a real-time drug product manufacturing approach, the FIH study was initiated within 12 weeks of initiating SDD process transfer," he says.
An immediate-release tablet was developed and evaluated in a bridging PK study demonstrating 101% relative bioavailability within 26 weeks of commencement of formulation development. The scale-up of the SDD tablet process and generation of data for inclusion in the regulatory filing to support the Phase II clinical program was completed within a further nine weeks. Overall, the entire early development program, including FIH trial, solid oral dosage form development, and provision of data to initiate a Phase II clinical program was completed in less than 13 months.
UPM Pharmaceuticals: Small CDMO Offers Big CDMO Capabilities
Tablets and capsules remain UPM's primary focus for meeting client needs in these areas, including specialty forms such as ODTs (oral disintegrating tablets), minitabs, immediate- and modified-release solutions, and neat API encapsulation. UPM also has extensive expertise in oral peptide development. Changes in 2016, including the implementation of the manufacturing quality assurance (MQA) initiative as well as the realignment of laboratories and specific capabilities, have ensured more efficient production and more consistent operations to achieve faster time to market, even for challenging APIs, explains Hulya Sahin, PhD, Senior Director Product Development, R&D, UPM.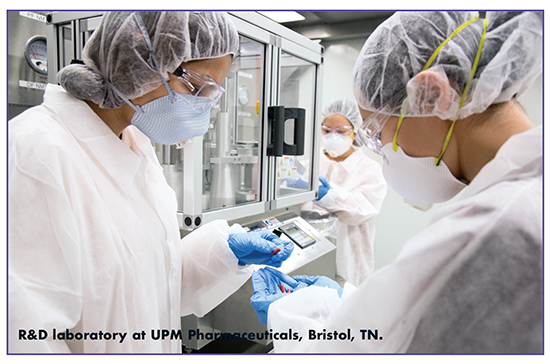 "As a client-focused CDMO, UPM is vested in providing more than just capacity for the production of drug products on a fee-for-service basis," says Dr. Sahin. "We don't own our own products or any proprietary technology, but we are open to working with a client's technology, dedicating space and capital investments for a solid partnership."
In addition, UPM's R&D group works with a deliverables-driven system for scheduling, development, and production. "Although a smaller CDMO, UPM offers proof-of-concept services through clinical and commercial manufacturing support – but with the personalized, responsive service of a well-funded, family-owned organization that emphasizes customer service and satisfaction," says Dr. Sahin.
In the last five years, UPM has expanded its facilities from 40,000 sq ft to over 750,000 sq ft, and has grown its employee base from 65 to 265 while modernizing operations. Says Dr. Sahin: "We have greatly invested in capital improvements, including the construction of a state-of-the-art R&D feasibility lab with five processing rooms and scalable equipment that supports our clients from development to commercialization. We have also added a low humidity suite and serialization capabilities." In addition to the capital expenditures, UPM has hired development scientists with backgrounds in formulation development, including modified-release technologies for tablets and capsules, and process development, clinical supplies manufacture, and scale-up and technology transfer.