SPECIAL FEATURE – Outsourcing Analytical Testing – Timelines, Regulations & Biologics Drive the Sector
By: Contributor Cindy H. Dubin
During the COVID-19 pandemic, many pharmaceutical development projects were delayed or postponed due to lack of available resources within analytical labs, as well as an inability to execute clinical studies. This has had a lasting impact on the industry as the desire to catch up to delayed timelines has driven the demand for more rapid and efficient analytical testing, says Michael Markham, Associate Director of Analytical Sciences at Adare. As a result, many organizations have turned to outsourcing some or all their an­alytical testing requirements to contract analytical testing laboratories.
This is why experts predict the global pharmaceutical analytical testing outsourcing market size to reach $14.6 billion by 2030.1 Other drivers include increasing biological candidate pipelines, rising demand for additional analytical details on drugs, and process development by regulatory agencies.
Demand for bioanalytical testing services is expected to advance the fastest over this decade, as the legislation for in vivo and in vitro tests is changing and their complexities are increasing. The biopharmaceutical category will likely witness the fastest pharmaceutical analytical testing outsourcing mar­ket growth attributable to the high level of testing required for the validation of the ef­ficacy and safety of bio-based drugs. Ad­ditionally, analytical testing majorly seeks to validate the bioavailability, pharmaco­kinetics, bioequivalence, and pharmaco­dynamics of the medication, all of which are mandatory before the drug can re­ceive the marketing approval.2
In this exclusive Drug Development & Delivery annual report, leading contract development and manufacturing organiza­tions (CDMOs) discuss not just their ana­lytical service offerings, but their strategies for meeting regulatory challenges and en­suring faster project timelines.
Adare: Analytical Labs Require Experience & Knowledge
A successful pharmaceutical develop­ment project requires teamwork, constant communication, understanding of analyt­ical results, and shared goals between the CDMO Formulation and Analytical de­partments. This important interaction and project understanding can be lost when the analytical testing is outsourced, caus­ing delays or unusual results. Additionally, many contract analytical labs have staff re­tention issues. There are many reasons for this, including long hours and low pay for analysts at these sites, resulting in high turnover rates. The turnover can impact the experience and knowledge level avail­able at a contract analytical lab, and is often below the experience and knowledge level at the CDMO. This can lead to mis­takes and contribute to the overall lack of understanding of the data generated.
Adare has experienced this lack of understanding and experience at contract analytical labs. One specific example is when a project sponsor provided dissolu­tion methods previously developed by a contract analytical lab. The method showed highly variable results with most batches exhibiting Stage 2, Stage 3, and even failing dissolution results with the method, leading to delays and inefficient testing, describes Michael Markham, As­sociate Director of Analytical Sciences at Adare.
At Adare, the dissolution was visually monitored by both the analytical scientist and the lead formulator. It was determined that the specified capsule sinker was too intrusive and, coupled with a low paddle stir rate, was causing incomplete rupture or dissolution of the gelatin capsules dur­ing the 30-minute run time. This caused some of the powder in the capsule to be shielded from the dissolution media by the partially dissolved capsule shell. Adare quickly solved these issues for the project sponsor.
Alcami: A CDMO for Pharma & Biotech
Alcami provides stand-alone lab services as an option for projects where formulation development or manufacturing activities are not conducted at Alcami. This flexibility allows scientists to address specific tasks without taking on the entire development project. In other cases, Alcami functions as a fully independent testing lab to confirm full COA results, support batch release, or manage multi-year stability studies.
While Alcami does not offer bioanalytical DMPK testing services at this time, the company supports the characterization and development of small molecule and biologics for API, bulk drug substances and drug products. "These products require an in-depth understanding of the active molecule via structure and functional confirmation assays," says Dr. Elliott Franco, PhD, with Alcami. "In addition, the formulation process must be well characterized to ensure consistency of the formulated product. These controls along with in-use studies performed here at Alcami assure drug product efficacy and safety is maintained through patient administration."
Alcami also offers various options to expedite testing through streamlined workflows, expanding lab capacity, and flexible resources across the entire lab network. These approaches are discussed within the project teams and applied appropriately to achieve the desired timelines. "This is especially important with regard to the specific testing needs related to COVID vaccines," says Dr. Franco. "These allow for the establishment of platform assays, which is seen in many biologic control strategies. While each specific product is unique, many of the product quality attributes are assessed by common testing platforms which can accelerate the development process."
A key mistake outsourcing partners make is a lack of clarity regarding analytical development and testing needs against corresponding timelines. This, he says, can be overcome through clear communication between the testing lab and client regarding specifications, expected turn-around-times (TATs), method attributes and onboarding approach, GMP vs. non-GMP requirements, and many other considerations.
One example that requires particular urgency are environmental monitoring (EM) service projects. These projects require the rapid establishment of sampling plans, testing matrices, data trending, and 24-hour support to ensure cleanrooms meet their environmental quality attributes. "Working together with our clients, we are able to establish an entire EM program within days of our initial meetings and continue to support the ongoing EM requirements."
Ascendia Pharmaceuticals: Developing Chemistry For – And With – Clients
Ascendia foresaw the increase in clin­ical trials coming and proactively started expanding its clinical trial material manu­facturing and testing capability. During the year, Ascendia has more than doubled its physical footprint and has added both an­alytical testing and clinical manufacturing space, explains Muhammad Asif, PhD, Ex­ecutive Director, Analytical R&D and Qual­ity Control, Ascendia Pharmaceuticals.
Ascendia's specialization injectable suspensions prompted the addition of more advanced analytical instrumentation, such as Nanocam, that not only measures particle size distribution but also provides information about particle shape and morphology by taking pictures/videos. In addition to particle size, the particle shape, morphology, and degree of agglomera­tion also have direct impact drug bioavail­ability. Monitoring and controlling these parameters may help make a drug effec­tive which otherwise passes through the body without absorption.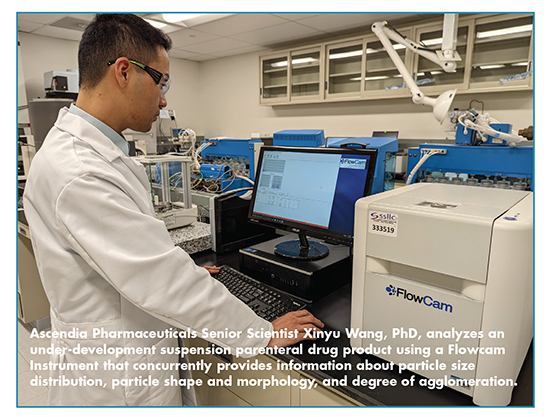 Being a developer and manufacturer of suspension and emulsion products, As­cendia has expertise in in vitro/in vivo comparison and equivalence, says Dr. Asif. "Ascendia designs in vitro studies to pro­vide a view into what is expected from in vivo studies, resulting in significant time and cost savings," he says.
For example, an extended-release product in which a single dose or injection is efficacious for up to 3 months not only translates into cost savings but also ensures better patient compliance. Dr. Asif says that, for such products, in vitro studies are performed for days or even a week so that they can predict and mimic the in vivo bioavailability profile. After the product development is complete, Ascen­dia designs faster quality control methods that ensure the product properties stay the same from batch to batch. "This approach not only reduces product development time and cost, but makes the product more affordable when it is marketed," he says.
Faster development timelines require smart Design of Experiments (DoE) and state-of-the-art instrumentations and methodologies. "Instrumentation like Nanocam that provides information about multiple parameters in one experiment goes a long way in reducing time and re­sources, resulting in cost savings," he says. "Ascendia passes on such savings to our clients, which in turn, pass onto patients."
In fact, Ascendia's goal is to develop products that can be affordable by the maximum number of patients, says Dr. Asif. "When a potential client visits Ascen­dia, the first thing we communicate to them is that we are their product develop­ment team. Our clients will testify that they feel like Ascendia is just like their internal R&D group because there is frequent, open, and honest communication between the two operating teams. Ascendia's size and cooperative culture help to develop chemistry with our clients."
Catalent: Service That Goes Beyond Standard Testing
Over the past year, Catalent has been expanding its analytical laboratory capac­ity and capabilities at both its global man­ufacturing and standalone analytical facilities. These expansions include invest­ing in equipment to meet the additional analytical needs of advanced therapies, such as viral vectors, cell therapies, mRNA, and protein therapeutics, while hiring and developing the talent necessary to address the scientific challenges of biologics, ex­plains Emily Magner-Fink, Director, Com­mercial Operations, Catalent Bioanalytical Services.
Additionally, to meet partners' accel­erated timelines, Catalent is implementing automated analysis, high throughput, and rapid methods wherever possible, and is continually evaluating new, multi-purpose instruments that can provide more data from a reduced sample size. Controlling the post-pandemic material supply chain also remains key to providing timely re­sults. "The company strives to ensure 'right-first-time' results, streamlined work­flows, and flexible resourcing to meet evolving client demands," she says.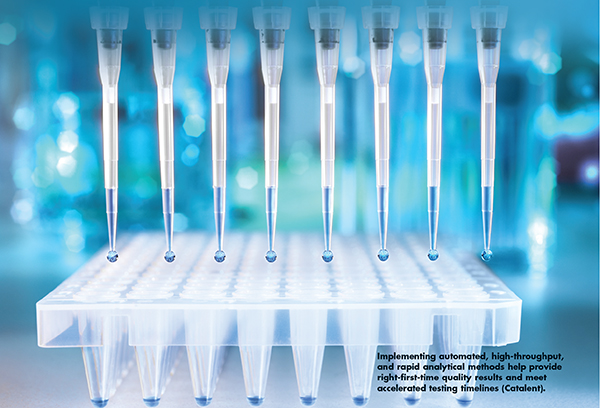 Catalent also employs a global net­work of analytical laboratories to support increasing customer demands, adds Jeff Schwartzenhauer, ARD Group Leader, Catalent Windsor, Ontario. "By connecting scientists across this network, the best ex­pertise, capabilities, and capacity can be made available to support customers' pro­grams."
Ms. Magner-Fink and Mr. Schwartzen­hauer say that Catalent's clients often face two major issues when outsourcing: an in­ability to find a single provider that can support their entire panel of analytical test­ing; and the provider not having the re­sources or expertise to develop and vali­date cell-based potency assays. Bioassays can be challenging to develop, particularly when needed for GMP release and stabil­ity testing. They say that Catalent can per­form a range of analytical assays and has the scientific expertise to provide support for bioassays from clinical through to com­mercial phases. "We develop assays utiliz­ing the latest technologies, such as automated sample preparation and sin­gle-use thaw-and-go-cells to ensure con­sistent performance," says Ms. Magner-Fink. "This has allowed many cus­tomers to reduce the number of suppliers to manage, streamline workflows, and en­sure the clinical and commercial success of products through phases of develop­ment."
Mr. Schwartzenhauer adds that Catal­ent has expertise and knowledge to design studies that can assist in choosing the ap­propriate testing for long-term evaluation of products. "Our willingness and ability to think beyond standard approaches has re­sulted in long-term reductions in costs and timelines for our customers by ensuring that the correct testing programs are cho­sen for an individual project rather than just a standard range of tests."
PCI Pharma Services: Meeting Timelines for Sponsors & Patients
As a global CDMO, PCI Pharma Serv­ices provides integrated end-to-end solu­tion to support the drug product lifecycle from development to commercialization of both sterile and non-sterile dosage forms. Mindy Gagnon, Senior Director Quality, says that PCI's dedicated in-house analyt­ical testing capabilities ensure incoming drug substance and raw materials are tested upon receipt and are readily avail­able for processing, methods can be de­veloped and validated quickly, and finished drug product is released to clinic or market supply in a timely manner.
"Meeting the increasing needs of our clients for speed to patient, we continue to invest in our global analytical laboratories, increasing our expert analytical scientist headcount together with investing in new technologies and LIMS (Laboratory Infor­mation Management Systems)," she says. "Reducing timelines and complexity, our advice is to validate analytical methods following a phase-appropriate approach. If regulators request additional data, then this can be supplemented at a later date. This means the focus can be centered on critical analytical activities to increase the speed of drug to patient."
Ms. Gagnon says that PCI continually evaluates and expands its testing capabil­ities in line with the growing needs of its clients. "If testing internally does not align with our customers' analytical needs or timelines, we can utilize our strong net­work of third-party approved laboratories. These partnerships are robust and allow us to provide flexible services to meet the most aggressive and challenging analyti­cal asks."
PCI's analytical testing services are built to be flexible and support a variety of different analytical needs. She says: "Hav­ing internal GMP Analytical Services labo­ratories housing both Analytical Development and Quality Control means formal method transfers from one depart­ment to another is not required. This is a major benefit for our client partners as it removes the need for additional analytical transfer work, reducing the risk of loss of knowledge between laboratories reducing cost and timelines."
Pii: Faster Analytical Testing Requires Better Communication
Pii's analytical laboratory is USFDA-approved, providing customers with ana­lytical testing support for CMC and commercial activities, as well as early- to late-stage development. Pii is also working towards establishing capabilities to sup­port chemical testing for biosimilars/bio­logics.
Pii has also reinvented and aligned its business plans to address the demand and importance of analytical testing needs in the COVID-19 era for efficient and faster drug research and development processes. This has resulted in a re­designed business model that now encom­passes standalone analytical testing services.
"Pii has focused on accurate, faster, and quality results and built a team ac­cordingly that can deliver such fast-paced needs of pharma companies," says Rahul Mehta, Associate Director, Pii.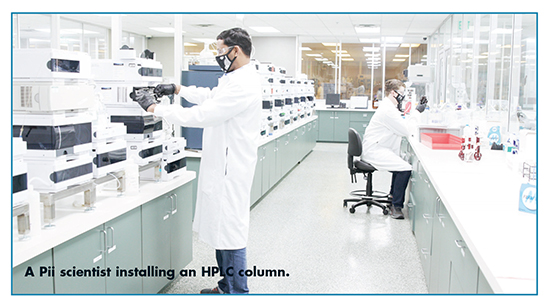 Pii has established a tool where its customers can discuss their technical needs directly with the Pii technical team, which gives additional benefit and oppor­tunity to explain their need with clarity. This, he says, will help to produce error-free results and hasten the process.
Mr. Mehta advises that when out­sourcing analytical testing, a lack of infor­mation is a common root cause for delay and failure. "If you need faster support for any analytical testing, it is important to provide substantial information and back­ground for the testing," he says. "And, if additional information can be shared with the outsourced laboratory, this will result in better understanding and clarity to per­form the testing (such as the stage of the product, purpose of testing, use of testing, urgency of testing, history behind any test­ing, etc.). This can help the outsourced lab to eliminate any avoidable issues and pro­duce faster and accurate results."
SGS: Helping Clients Reach Global Markets Quickly & Safely
Now more than ever, technological advancements, regulatory requirements, and turnaround times are some of the biggest drivers for outsourced analytical testing. Companies rely on SGS to help them navigate the changes in technology and the complex global regulatory land­scape throughout their accelerated journey to market, says Niveen Mulholland, PhD, Vice President SGS Drug Development North America.
This is particularly true for biosimilars, as well as specialized biologics products, such as cell and gene therapies. SGS has witnessed manufacturing advances, in­cluding enhancements in yield and purity, innovative cellular production systems, and novel delivery systems that in turn, drive the testing needs. These advance­ments require strong technical support and expertise as well as analytical method de­velopment and routine QC testing, says Dr. Mulholland.
Within its network of GMP laborato­ries, SGS has established a number of platform methodologies that can be ap­plied directly, or with minor modifications, which supports the next generation of biosimilars.
Dr. Mulholland says that the pan­demic transformed speed-to-market de­mands, forcing SGS to develop agile ways of working to optimize for speed and im­proved decision making. "SGS has fo­cused on digital technology and workforce agility to address our clients' needs for faster turnaround times," she says. "We have made investments in automation of highly repetitive processes and digital en­ablement of faster access to data."
The success stories that tend to be the most exciting for SGS are the ones where its teams have played a pivotal role in sup­porting a successful IND submission for a new drug or therapy – a critical step in gaining FDA approval for allowing a drug to be tested in humans. "Biopharmaceuti­cal companies in the cell and gene therapy space have been relying on us to develop technically complicated methods and per­form testing under strict timelines, which is particularly critical for this highly competi­tive market."
One recent example is the analytical support SGS provided to a gene editing company. "We were able to qualify the necessary assays for their flagship product in a timely manner to meet the filing dead­lines for their first IND," says Dr. Mulhol­land. "The client acknowledged that the achievement of this important milestone would not have been possible without the services and expertise provided by SGS."
Triclinic Labs: Choosing a Provider is About More Than Price
Triclinic Labs offer scGMP and non-cGMP testing for a variety of identification, quantification, and CMC testing needs. This allows clients the flexibility to deter­mine what is necessary (and required) at any given point in development, says Aeri Park, PhD, Chief Scientific Officer at Tri­clinic Labs. She says non-cGMP testing usually affords up to 30% faster and less expensive testing than cGMP. "We also offer different service levels with turn­around as fast as 24 hours for many tests – for cGMP testing we can accommodate 48-hour turnaround, including release testing." Triclinic Labs has broadened its testing at the request of clients and has added ICP-MS, LC-MS-MS, and both solids and liquids NMR with an auto-sam­pler to accommodate batch testing.
All of Triclinic Labs' instruments are latest generation and have redundancy for nearly every system, Dr. Park continues. The CDMO has a DEA schedule I-V regis­tration, allowing Triclinic Labs to accept any asset in development and to handle potent compounds. "Our facility is regis­tered and inspected by the FDA (histori­cally no findings, no 483s)."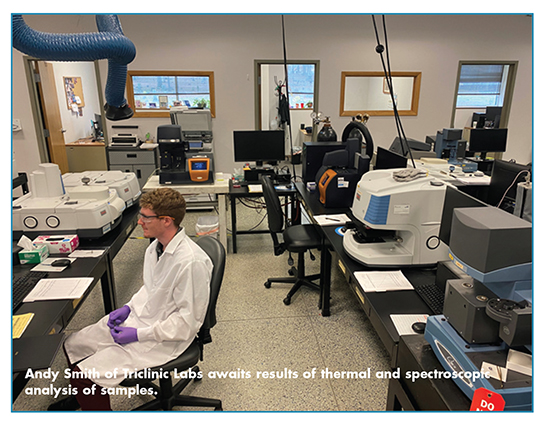 Dr. Park says one area where Triclinic Labs has seen a significant increase in is requests for development and validation of testing methods. As more manufactur­ing has been domesticated to provide bet­ter supply chain continuity, more release tests are necessary to ensure consistency and quality in manufacturing – not only drug substance, but drug product, she says. "Thus, we have added staff and new instrumentation to accommodate these re­quests and to ensure faster development and the ability to accurately and safely re­lease pharmaceuticals for human con­sumption," she indicates.
Dr. Park says that many labs can offer fast analytical testing, but few offer orthog­onal testing as well as interpretation of data for actionable results. "Most clients come to Triclinic because they are experi­encing an issue in development or manu­facturing and need to solve a problem," she says. "Having a lab that looks at the problem holistically and offers a path to solve the issue supersedes the desire for a cheap test and a piece of data."
West Analytical Services: Modeling System Makes Evaluations Early in Development
While there is an emphasis on R&D to move quickly and efficiently especially with biologics, there are still the regulatory guidelines and industry expectations such as the Food and Drug Administration (FDA) in the United States, the European Medicines Agency (EMA) in the European Union, and the Pharmaceuticals and Med­ical Devices Agency (PMDA) in Japan that need to be considered when developing your drug product. Customers must bal­ance developing quickly while still capture data that supports their decisions for pri­mary packaging. Part of that process is se­lecting the primary packaging for the drug product that provides adequate protection against deterioration or contamination of the drug product and maintain sterility through its shelf life.
For biologics, many are continuing to use vial, stopper and seal systems. In order to make an educated system selection early in the drug development process, West has developed the DeltaCube™ Modeling Platform. The DeltaCube™ Modeling Platform allows customers to rapidly evaluate the fit of multiple vial con­tainment systems using actual component data rather than only the drawing specifi­cations. "This means that rather than using two points of theoretical data, you use data from the life of the West or Daikyo product," explains Anthony Bucci, Principal Engineer, Scientific Affairs, West. "The DeltaCube™ Modeling Platform also al­lows you to upload your own data. You can model different stopper compression ranges and seal skirt length to see how theses variable impact your system fit and help optimize your operating range."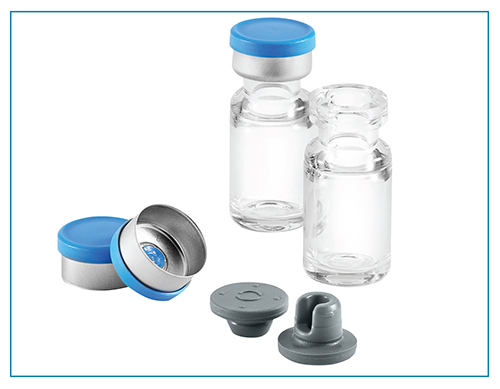 Based on the outcome of the model created, users can select the vial system with the best fit for their drug product, which reduces time for vial system evalua­tion, and decreases the time to use a fill/finish line for testing samples, which saves money in the long run, he says.
As the next step in this process, West Analytical Services provides container clo­sure integrity testing following USP <1207> deterministic methods to provide the data to support your vial system selec­tion giving you a complete picture of your vial system fit-for-use.
References
Pharmaceutical Analytical Testing Outsourcing Market Size, Share & Trends Analysis Report By Service, By End-use, By Region And Segment Forecasts, 2022 – 2030, ReportLinker, Aug. 22, 2022, https://www.globe­newswire.com/news-release/2022/08/22/2502321/0/en/Pharmaceutical-Analytical-Testing-Outsourcing-Market-Size-Share-Trends-Analysis-Report-By-Service-By-End-use-By-Region-And-Segment-Forecasts-2022-2030.html.
Pharmaceutical Analytical Testing Outsourcing Market to Surpass $15,815 Million Revenue by 2030, P&S Intelligence, Sept. 21, 2022, https://www.yahoo.com/now/phar­maceutical-analytical-testing-out­sourcing-market-133000661.html.