SPECIAL FEATURE – Outsourcing Analytical Testing: The Gateway to Drug Manufacturing
Pharma's reliance on Contract Development and Manufacturing Organizations (CDMOs) to provide method development, process validation, and stability storage testing has experts predicting that the global analytical testing outsourcing market will reach $9.6 billion by 2025.1 But they also expect that CDMOs will be challenged by more rigorous requirements put forth by pharma customers.
"In the future, a major challenge for CDMOs from an analytical testing perspective is the increasing cross-section of drugs designated as highly potent active pharmaceutical ingredients (HPAPIs) – to which both small and large molecules are susceptible," says Cheryl Johnson, Commercial Development Manager of Biotechnology at Alcami. "HPAPIs require special containment procedures, engineering controls, and a culture of diligence with respect to individual safety. Each part of the testing process must be handled with careful consideration to minimize potential for exposure."
Another challenge, says David Exline, President of Gateway Analytical, is that analytical labs will need to ensure that their systems and processes meet data integrity standards required by clients. "Significant opportunity exists to provide a fully GMP-compliant analytical testing solution that encompasses analytical analysis, as well as leverages technology such as new instrumentation and databases for more accurate data mining and trending. This also creates the greatest challenge in that outsourced analytical labs must ensure that their systems and processes meet the data integrity standards that are required by our customers."
Ananda Seneviratne, PhD, Director, Analytical Technologies, Ajinomoto Bio-Pharma, agrees: "Analytical assays are the gatekeepers to the entire drug product manufacturing process. Thus, analytical data are heavily subjected to regulatory scrutiny from pre-clinical to commercial."
The pros agree that contract labs must continue exploring new and different strategies, technologies, and testing to provide competitive and cost-effective services. This annual report in Drug Development & Delivery magazine helps illustrate some of those technologies, services, and strategies offered by leading analytical labs and CDMOs.
Ajinomoto Bio-Pharma: Customized Analytical Programs to Unique Molecules
Ajinomoto Bio-Pharma, a CDMO, offers a range of analytical services for method development, method transfer, and phase-appropriate method qualification or validation combined with or without fill-finish operation services for the biopharmaceutical industry. The CDMO also offers a variety of analytical technologies for ADC characterization, particle and high molecular weight species analysis, and characterization.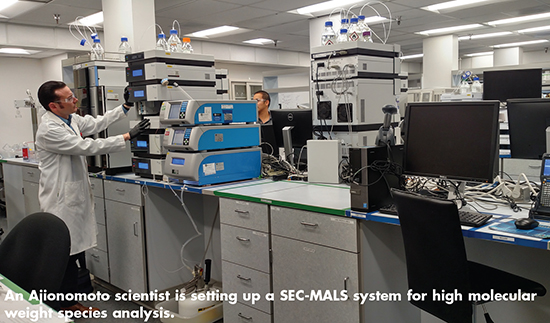 "Our analytical programs satisfy regulatory requirements and dedicated analytical scientists customize phase-appropriate analytical programs to the specific needs of unique molecules, delivering a comprehensive understanding and characterization of the molecule for each stage of development and commercialization," says Ananda Seneviratne, PhD, Director, Analytical Technologies, Ajinomoto Bio-Pharma.
Reference lots or standards are incorporated throughout the analytical program and are utilized as controls for assays used during the development and characterization of a product. Every time a product is manufactured, Dr. Seneviratne says that scientists compare it against the standard to ensure it has comparable quality and purity.
Ajinomoto analytical scientists develop and optimize methods, and solve analytical method transfer issues. As an example, Dr. Seneviratne says an RP-HPLC method that was transferred to Ajinomoto contained an hexylammonium acetate (HAA) and 1,2-diaminiocyclohexan tetraacetic acid monohydrate in the mobile phase with a tight mobile phase pH. This method was successfully transferred from the client to the analytical technology lab, but failed during the method transfer to the QC lab for routine testing. Analysts eliminated the possible root causes and identified that the Ph adjustment step using ammonium hydroxide was the root cause. Another example is an RP-UPLC method transferred to Ajinomoto showed low sensitivity for 2 analytes. To minimize the assay's variability, the assay was run using the same model and type of RP-UPLC instrument used in development of the original method at the client's site. "Our analysts utilized another model and type of UPLC and used the same mobile phase column to identify that the root cause was the hardware and not the chromatographic conditions or the sample matrix," he says. "Once the root cause was identified, our analysts were able to fix the hardware and transfer the method to the QC lab."
Catalent Pharma Solutions: Adapting Analytical Services to Meet Regulatory Requirements
Catalent offers a variety of analytical testing to support preformulation, formulation, and drug product characterization – all complying with multiple compendial requirements. Capabilities span from full method development to GMP validations for both raw materials and finished products, both small and large molecule analysis, including highly potent compounds. Analytical services are adapted to meet the regulatory requirements at each phase of development to save time and costs associated with development. The company's focus is on early characterization of the molecule and prototype formulations to allow for data-driven selection of the optimal formulation to progress to clinic.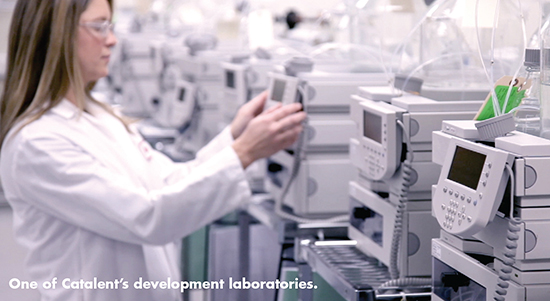 As a full-service hot melt extrusion solution provider, Catalent developed and optimized formulations for one customer's product, says Ketki Patel, Senior Manager, Quality Control & Analytical Product De-velopment, Catalent. Catalent developed and validated methods, supported product selection activities, and completed full ICH stability assessment, resulting in successful submission and commercial launch – the product has since been approved in different parts of the world.
From its own global network of analytical centers, Catalent's capabilities include liquid chromatography, gas chromatography, mass spectroscopy, NMR, laser diffraction, DSC, and XRPD. Quality control tests are also offered, and Catalent supports impurity characterization and identification, including elemental impurities (ICP-MS) and extractables and leachables testing, full microbiological evaluation, and wet chemistry testing. Catalent is experienced in performing in vitro bioequivalence studies and executing comparative dissolution studies to understand product release profiles, says Steven Winling, Technical Specialist, Softgel Product Development, Catalent.
Gateway Analytical: Undertaking Stringent Particulate Characterization
Gateway Analytical was established to address the growing need of GMP-compliant foreign particulate characterization testing in pharmaceutical product development and manufacturing. Over the past two decades, non-conformance issues related to foreign particulate investigations has been met with more stringent regulatory oversight and importance. In today's regulatory environment, it has become critical to not only understand the identification of these types of foreign particulate but also to understand the source and impact on product.
A pharma company may opt to outsource analytical testing as it relates specifically to particulate investigations because non-conformance investigations can be time consuming, says David Exline, President of Gateway Analytical. "The ability to provide identification and source determination for foreign particulate matter (FPM) during a non-conformance investigation has been critical to customers. It is typical for a lot/batch of product to be put on hold until an investigation has been completed into the source of FPM and the impact of foreign particulate in the drug manufacturing process. This can be an expensive undertaking and have significant cost implications to the manufacturer if not done correctly or if the cGMP analysis has not been completed correctly."
SGS: A Range of Methods for Product Failure Investigations
In the evolving area of biopharmaceuticals, expertise with earlier phases of the development pipeline and a clear understanding of the regulatory expectations are critical. SGS maintains a diverse portfolio of analytical testing services with laboratories in North America, Europe, and Asia. Services include extractables and leachables, biologics characterization, biosafety, bioanalysis, analytical chemistry, and microbiology. On-time delivery is significant for these testing services and can be tied to short-term capacity constraints. SGS mitigates this issue by maintaining an integrated network of laboratories with the ability to react quickly to unforeseen capacity demands.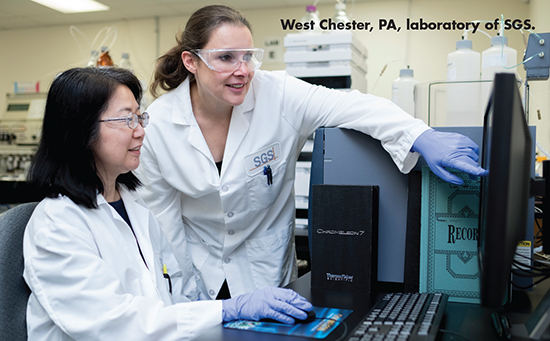 SGS also performs product failure investigations. Such programs can be challenging and complex, requiring instrumentation and expertise from a diverse selection of disciplines. One such investigation was initiated after particulates appeared in a biologic final drug product. "In such instances, there can be many potential explanations ranging from those related to the API, the excipients, the container system or a combination of these," says Mark Rogers, PhD, SGS Global Technical Director. In this study, the analytical strategy was particularly demanding, he says, as the particulates appeared insoluble in all but the most extreme solvent conditions. Initial analysis by FTIR indicated the particle's non-proteinaceous nature, which was confirmed by SEM-EDX, MFI, and ICP-OES. Complementary data obtained from a range of SGS methodologies, provided clear evidence that the particulates were created by unexpected delamination of the product container. "This information allowed the client to re-evaluate the container system, and assign accountability," he says.
Alcami: Customizing Programs to Meet Accelerated Product Timelines
Alcami is a CDMO that offers fully integrated, comprehensive analytical testing to support technologies for every stage of development. Its laboratory services platform is comprised of analytical testing and development services for small molecule and biologics drug products, as well as specialized offerings such as elemental impurities, abuse deterrence, and extractables and leachables. In addition, formulations development scientists address challenges related to new chemical entities.
Because Alcami's portfolio touches on all phases of development, advancements in technology and regulatory requirements are closely monitored. "The industry has changed drastically over the years and analytical testing has evolved with it," says Cheryl Johnson, Commercial Development Manager of Biotechnology, Alcami. "Control of impurities, excipient selection, and packaging safety are a few examples where increased awareness has led to higher expectations of analytical testing capabilities to satisfy regulatory requirements."
Given that the manufacturing of biologics requires characterization of the drug substance beyond the typical impurity profile of a small molecule drug product, biologics are particularly susceptible to changes in requirements. "Thus, the demand for higher resolution, sensitivity, and accuracy of classic techniques such as chromatography, mass spectrometry, and electrophoresis is an analytical imperative," says Ms. Johnson.
The evolution of analytical testing is not limited to specific techniques or instrumentation. It also applies to regulatory guidelines such as data integrity, infrastructure like electronic notebooks, and automated sample tracking systems for chain of custody. Regulatory agencies expect continuous recording of the materials so that their handling can be recreated during an audit or investigation. Tolerance to this high level of scrutiny is a key indicator of a robust analytical testing portfolio.
Ms. Johnson illustrates how Alcami's regulatory expertise was an advantage for a client that needed additional support to meet rigorous FDA requirements during an NDA review to get the product to market. Alcami's Extended Workbench solution helped the client address accelerated clinical trial and commercial launch timelines by providing a full-time equivalent (FTE), comprehensive, and customized service program. The program was designed for release and stability testing of batches for specific analytical testing requirements.
"With dedicated Alcami staff to the project, it granted the client additional flexibility, freedom, and consistent control over their outsourced laboratory needs, and the product has been launched nationwide," says Ms. Johnson.
Aztech Services Inc.: Risk-Based Management Approach to Analytical Development
Aztech Sciences Inc. offers development and testing solutions for pharmaceutical analytics, preformulation, and formulation, analyzing pharmaceutical raw materials, formulation prototypes, drug delivery systems, and finished products.
Alvin Persad, President of Aztech Services Inc., explains that the current climate for outsourcing organizations has become more challenging in the past few years as a result of increasing demands in quality initiatives and cost-effective operations. To address these challenges, Aztech Sciences Inc. works closely with customers to identify key objectives and goals to provide more efficient services and strategies. "Our risk management-based approach for analytical development is in resonance with the contemporary regulatory guidelines to ensure our analytical services exceed high standards while aligning with product milestones and timelines," he says.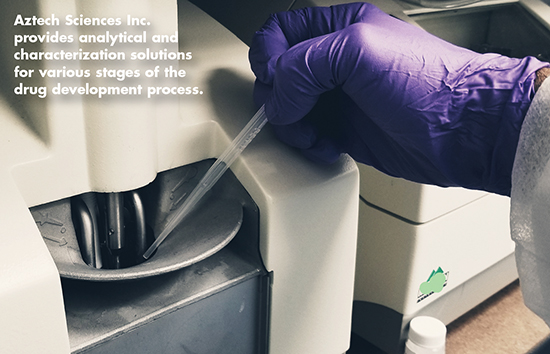 As an example, Aztech Services Inc. is currently working with an early-stage drug discovery organization that is continuously exploring and evaluating various formulation drug delivery systems to achieve the desired in vivo exposure suitable for preclinical toxicology and preliminary efficacy. "By providing continuous analytical development and formulation vehicle characterization, the client's analytical requirements are met while allowing the pursuit and evaluation of other aspects of preclinical challenges, leading to a prospective first-in-human (FIH) program," says Mr. Persad.
Cambrex: Navigating R&D & Regulatory Pathways
Cambrex's facility in High Point, NC, specializes in clinical phase active pharmaceutical ingredients (APIs), mainly in the pre-investigational new drug application (IND) through Phase 2. The company provides analytical R&D support, QC release, and stability capabilities to small virtual companies and large pharmaceutical multinationals.
The High Point site follows ICH Q7 guidelines, as well as other regulatory guidances, and is fully cGMP compliant. "Changes to the analytical landscape over the past 10 years have included the replacement of USP<231> Heavy Metals with the new USP<233> Elemental Impurities testing, and the growing interest in the determination of potential genotoxic impurities (PGI)," says Mark Shapiro, Director, Analytical Research & Development Cambrex. "In the PGI field, we have successfully developed methods capable of quantitation at very low level (sub-parts per million)."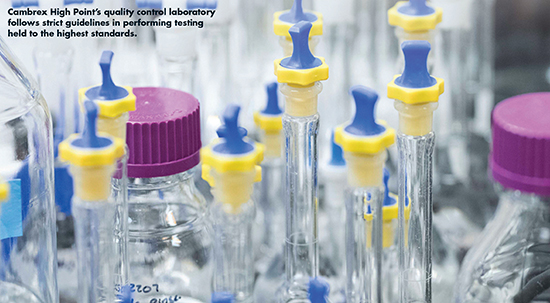 Cambrex has addressed these industry changes through straightforward approaches, including the installation and qualification of triple quad mass spectrometers, as well as ICP-MS instrumentation. Additionally, Cambrex expanded capabilities in identifying unknowns, installing electrospray ionization (ESI) and atmospheric pressure chemical ionization (APCI) sources to triple quad LC-MS instruments, as well as GC-MS instruments with both electrospray ionization (EI) and chemical ionization (CI) capabilities.
Relying on its technical knowledge and testing capabilities, Cambrex High Point recently manufactured drug material for a customer for which an HPLC assay and impurity testing method had been developed and qualified at another CMO lab, and for which QC release and stability were performed. "Our studies and work showed the HPLC method to be insufficient to determine a positional isomer of the drug compound that very closely co-eluted with the main compound," explains Mr. Shapiro.
A new, more specific test method had to be developed and qualified. This process was fairly straightforward, but, as the material underwent stability storage, the assay values for the main compound were observed to be rising over time. Mr. Shapiro says this was because of the previously unrecognized hygroscopic nature of the material (both standard and sample), which was not accounted for in the assay calculations. Upon discovery of this, appropriate changes to the method, including determination of water content of the standard at time of use, as well as modifications to the assay calculations, provided sufficient course correction to the stability, and allowed the material to successfully continue on an extended stability regimen.
From a regulatory standpoint, Cambrex mentors clients by helping them navigate the complex waters of regulations, while meeting the phase-appropriate needs of the drug compound. Cambrex has recently announced an expansion program for the High Point site, and, Mr. Shapiro says, the challenge will be to ensure this growth aligns with the continuing changes to the regulatory landscape for the analytical demands of the earlier phases of the pharmaceutical life cycle as well as more broadly across the API field.
Charles River Laboratories: A One-Stop-Shop for All Things Analytical
Charles River Laboratories evolved from a supplier of laboratory animal models to a global, fully-integrated, early-stage contract research organization (CRO), providing products and services that support drug development. As outsourcing has become more common across the pharmaceutical and biopharmaceutical industry, there has been a greater demand for the "one-stop shop." In line with this, Charles River has expanded capabilities and capacity through strategic acquisitions and expansion of its global portfolio.
From the analytical side, Charles River has worked with several companies in addressing drug development challenges. "Our analytical and formulation teams have resolved insolubility problems and stabilized molecules for long-term storage, or successfully identified product- and process-related impurities that would have caused potential safety issues and also worked with clients to modify the up-stream manufacturing process," says Mario DiPaola, Senior Scientific Director, Biologics, Charles River.
He says that looking toward the future, there are several opportunities within the analytical space of drug development. Molecules in clinical development are becoming more complex, for example antibody-drug conjugates (ADCs) or bispecific/trispecific antibodies, and their analysis requires more sophisticated analytics. For ADCs, these analytics include the mapping of the drug conjugation sites and determination of occupancy at each site, and the analysis of impurities that include free drug, free linker, and free druglinker complex. Similarly, bispecific and trispecific antibodies require unique biological/binding assays to confirm bispecific and trispecific functionalities.
There are also new therapeutic modalities including gene therapy and cell therapy that require novel analytics for characterization, product release, and determination of stability.
"As more products and more therapeutic modalities enter the clinical evaluation phase, there will be the need for more creative analytical methods that will address the needs of these new product types, while at the same time decreasing the testing cycle time, so that products can be tested and released for use within days rather than weeks or months," says Mr. DiPaola.
Next Breath, an Aptar Pharma Business: Evolving Expectations for Drug Delivery Systems
As pharmaceutical drug products increasingly utilize delivery systems for targeted administration to the patient, regulatory bodies are asking sponsors to demonstrate reliability, safety, and to address the patient's ability to utilize the device. "FDA's Combination Drug Product Guidance seems to be driving the demand for scientific evidence of performance," says Julie Suman, President of Next Breath. "However, this is happening earlier in the development cycle, as early as an investigational submission."
As an analytical service provider, she says that Next Breath, an Aptar Pharma business, can counsel sponsors on these changing regulatory expectations and help develop a proactive plan of action. "In some cases, regulatory questions are unexpected and require a rapid response," she says. "This is where expertise in these specialized areas, such as extractable and leachable or spray characterization and deposition, can expedite delivery of results."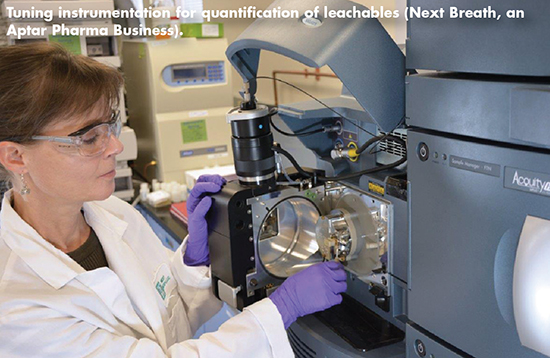 A case study that illustrates this rapidly changing environment is a study that Next Breath performed for a sponsor to quantify leachables from an ophthalmic product. The regulatory query occurred at the investigational submission phase. As the sponsor's clinical study was slated to begin, the ability to rapidly develop extractable methods and provide results to satisfy regulators was critical, says Dr. Suman. Next Breath worked with the sponsor to meet the timelines to satisfy the FDA's request. In late 2018, the sponsor received approval to initiate clinical trials.
In addition to a changing regulatory environment, another challenge is the development of new methodology, such as structural equivalence or in vitro models, to understand the link between the formulation, device, and the patient, says Dr. facilitate process development, but also to benchmark performance. For example, in a Next Breath study performed in partnership with a large pharma company, it was shown that nasal spray deposition using nasal cast models can facilitate product development to tackle unmet needs in upper respiratory inflammation and congestion."
Recro Gainesville: Addressing Needs for Greater Efficiency in Analytical Testing
Recro Gainesville provides method development and validation services (assay, related substances, residual solvents), develops cleaning methods, conducts full ICH stability studies, and performs analytical preformulation characterization studies, such as structural elucidation, impurity profiling, solubility, pKa, particle size, and zeta potential, among others. Dissolution systems for immediate- and modified-release dissolution profile studies and physical property tests, such as hardness, disintegration, and friability, round out the offerings.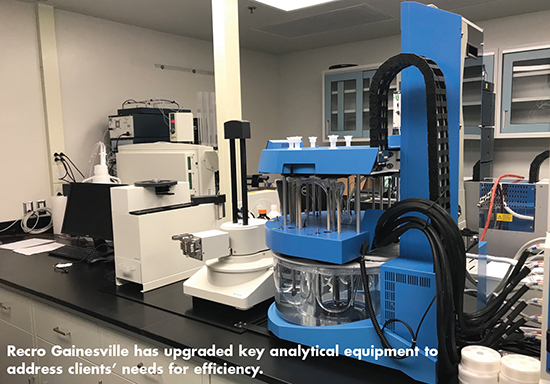 Prabhakar Reddy, Associate Director, Analytical Development, Recro Gainesville, says that speed and agility are client priorities to progress from early animal studies for dose determination to safety and efficacy studies in humans to FDA submission in ever-constricting timelines. To address clients' needs for greater efficiency, Recro Gainesville has upgraded key analytical equipment and added experienced scientific staff. State-of-the-art UPLC systems, dissolution systems with autosamplers, and SOTAX lab automation systems all contribute to faster turnaround. In addition, the FDA has been recommending the use of QbD approaches for process and product development, so Recro Gainesville recently purchased a QbD method development system to speed up method development.
Speed was particularly demonstrated in a recent project where Recro Gainesville successfully developed a single-gradient UPLC method to separate and quantitate 12 different small-molecule analytes (with widely different concentrations, polarities, and solubility characteristics) — in less than 11 minutes. During product development, to make the method more QC- and user-friendly, scientists re-developed and validated another single UPLC gradient method focused on just the two most different components, reducing the run time from 11 minutes to 5.5 minutes. In addition, they successfully validated and transferred the assay, related substances, content uniformity, and dissolution methods using automation equipment (SOTAX TPW and SOTAX AT MD), further decreasing the analysis time and cost of operations while achieving consistent data generation and reliability in the QC environment. "Investments in staff, training, and technology allow companies to provide clients with accurate and consistent analytical data so that they can get to the clinical and commercial stages much faster," says Myke Scoggins, Director, Product Development, Recro Gainesville.
Reference
Pharmaceuticals Analytical Testing Outsourcing Market Worth $9.6 Billion By 2025, Grand View Research, January 2017,https://www.grandviewresearch.com/press-release/global-pharmaceutical-analytical-testing-outsourcing-market.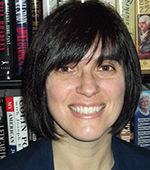 Cindy H. Dubin is an award-winning journalist who has been reporting on the pharmaceutical industry for more than 17 years about a variety of topics, including formulation development, drug delivery, and drug quality.