SPECIAL FEATURE – Outsourcing Analytical Testing: Innovative Drugs Spike Demand for Advanced Analysis
The global pharmaceutical analytical testing outsourcing market was estimated at $6.1 billion in 2019 and is anticipated to register a CAGR of 8.3% through 2027, according to Grand View Research, Inc.1 Increasing demand for analytical drugs, biosimilars, and biopharmaceuticals are contributing to market growth. Other factors such as increasing investments in R&D for pharmaceuticals, rising demand for product safety and quality, and changing regulations for in vivo and in vitro tests are also expected to drive the demand for pharmaceutical analytical testing outsourcing services. Additionally, the development of combination products, biosimilars, and other innovative medicines has led to an increase in demand for specific types of pharmaceutical analytical tests, such as bioana­lytical testing, method development and validation, active pharmaceutical ingredient testing, and stability testing.
The annual Drug Development & Delivery report asked some of the key analytical testing providers to describe their offerings in these areas and what advanced analytical testing techniques they can offer to pharma clients.
Ajinomoto Bio-Pharma Services: Customizing Phase-Appropriate Analytical Programs
Advanced analytical testing tech­niques are rapidly gaining significant interest from pharma and the CDMOs that support them. The more data an innovator company has on their mol­ecule of interest, the better prepared they and their partners are for characterization, process development, man­ufacturing, and quality control. Additionally, they are then well-equipped to present comprehensive data packages for submission to the FDA, which better positions pharma companies to pass regulatory scrutiny.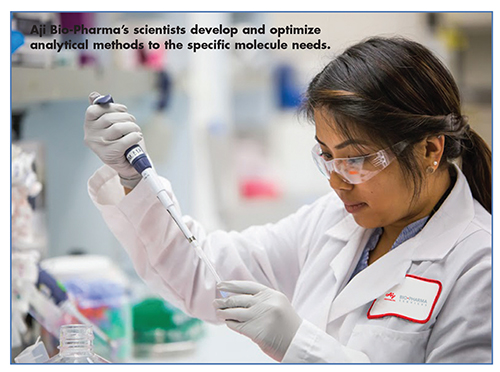 Ajinomoto Bio-Pharma Services offers a variety of biophysical charac­terization and support capabilities, ranging from compendial methods such as pH and osmolality to more in-depth analyses that probe deeper into a protein's makeup. Some of these assays include peptide mapping for a molecular fingerprint, circular dichro­ism for secondary structure, and size exclusion chromatography with multi-angle light scattering for first principle molecular weight and radius meas­urements.
In addition to compendial method testing, Aji Bio-Pharma has a wide suite of analytical instrumentation to meet the needs of large-molecule clients. Separation and quantification of impurities is of high importance. Aji Bio-Pharma is equipped with HPLC and field flow fractionation capabili­ties, along with downstream UV, CAD, mass spectrometry, light scattering, and refractive index detection for fur­ther characterization after separation. Alternative separation is also available via capillary electrophoresis, capillary isoelectric focusing, and traditional SDS-PAGE gels with Western blotting as desired.
Characterization of particles is also of critical importance, as the number and size of particles in a given formulation needs to minimized, says William Wittbold, Director of Analyti­cal Technologies, Ajinomoto Bio-Pharma Services. The company offers particle size measurements in the sub-micron range via dynamic light scat­tering, with laser diffraction and micro-flow imaging options for parti­cles larger than one micron.
"Recently, we worked with a client who needed to use our full suite of an­alytical tools, from initial characteriza­tion to full development of in-process and release assays," Mr. Wittbold ex­plains. "We worked closely with our Process Science team, which was scaling up production of the client's mol­ecule, providing immediate feedback on protein concentration and impuri­ties using several HPLC techniques. Using this information, the team was able to adjust subsequent runs to help increase yield and purity. Concurrently, we were able to refine the ana­lytical methods for this molecule, allowing us to promptly validate the methods and transfer them to the QC department."
Alcami Corp.: Demonstrate Control Over Biologics Manufacturing
Analytical testing of biologics presents unique challenges relative to small-molecule APIs and drug prod­ucts. Manufacturing biologics using cellular systems results in a mixture of molecules from the expression of the biologic within the cells. This mixture makes it critical to demonstrate control over the manufacturing process. As a result of the size and complexity of bi­ologics, multiple methods are re­quired to detect the different types of potential in-process and degradation products. Control over the process can be demonstrated using both chro­matographic and electrophoretic techniques as well as assays demonstrat­ing that the desired activity of the bio­logic is maintained.
William Boomershine, PhD, Sen­ior Manager, Biologics, Alcami, ex­plains Alcami's chromatographic/ electrophoretic techniques, such as in the case of charge state variants, which can arise during the fermenta­tion process in the form of various gly­cans containing differing sialic acids. Charge state variants can also arise as degradation products on stability. Deamidation of aspartic acid or glu­tamic acid residues to yield asparagine or glutamine residues change the overall charge of the pro­tein. Charge state variants can be sep­arated chromatographically using ion-exchange chromatography (IEX). The decision to use cation-exchange or anion-exchange chromatography will depend on the isoelectric point of the protein and the overall charge of the protein in the formulation buffer. Charge state variants can also be separated using electrophoresis. Tra­ditional iso-electric focusing and cap­illary iso-electric focusing can provide an orthogonal method to IEX for sep­aration of charge state variants.
Dr. Boomershine goes on to ex­plain how molecular weight variants can be in-process impurities formed during the purification or refolding steps of drug substance manufactur­ing, and can be degradation prod­ucts, forming in the drug product on stability. Size exclusion chromatogra­phy can monitor both dimers and higher order aggregates, as well as smaller impurities in buffers that can closely mimic physiological buffers. Electrophoresis – both traditional SDS-PAGE and capillary – can separate impurities based on molecular weight. Non-reduced SDS is utilized to moni­tor molecular weight variants that use disulfide bonds to form dimers and other higher order aggregates while reduced SDS can detect molecular weight variants of the light and heavy chains from monoclonal antibodies.
"While the above chromato­graphic and electrophoretic tech­niques can be used to look at charge state and molecular weight variants of the biologic as a whole, these techniques may not easily see specific, in­dividual changes that can impact activity," he says.
Detecting and quantitating local changes require techniques with higher resolution, such as a peptide map. The individual peptides from a peptide map can be more easily separated from each other using re­versed-phase HPLC. "Chromatogra­phy for a peptide map can be optimized to target the separation and quantitation of a specific process impurity or degradation product, such as methionine oxidation, N-terminal vari­ants, or deamidation of a specific residue," he says.
ARL Bio Pharma: Test Services for Therapeutics
ARL Bio Pharma is a contract lab­oratory that provides analytical and microbiological testing to pharmaceu­tical companies and research scien­tists. Its laboratory provides test services for all phases of the product lifecycle following USP, FDA, and ICH guidelines. ARL's approach to industry quality requirements, analytical sys­tems, and data integrity provides the scientific results needed to launch small molecules, biologics, protein therapeutics, and cell and gene ther­apies to market.
"ARL validates analytical methods based on ICH, USP, cGMP guidelines, and high-quality industry practices," says Thomas C. Kupiec, PhD, Presi­dent and CEO, ARL Bio Pharma."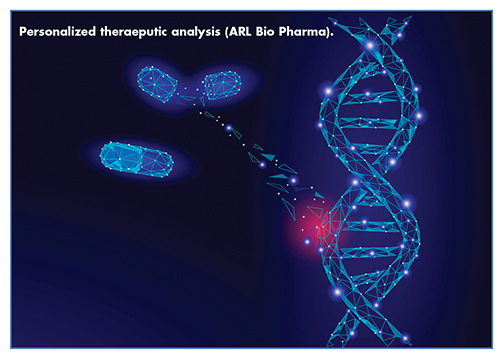 ARL also works with pharmaceuti­cal companies to test for the presence of residual host cell proteins (HCPs) left in a drug or therapeutic protein following purification. Residual HCPs have the potential to affect product quality, safety, and efficacy. "It is im­portant that product purification processes are optimized to consistently remove HCPs to make the product as pure as possible," says Dr. Kupiec. ARL provides product testing to ensure drugs maintain the same prod­uct characteristics throughout all phases of the product lifecycle. Ana­lytical and microbiological testing services include: E. Coli and CHO residual DNA quantification, human residual DNA quantification, protein aggregation, protein-size and charge variant, stability studies, method development/validation, USP mono­graph testing, and more.
Ascendia Pharmaceuticals: Analytical Services Support Formulation Development
Ascendia Pharmaceuticals strives to be on the forefront of acquiring new technologies and at this point offers LC-MS, HPLC-CAD (Corona Aerosol Detection), and HPLC-ECD (Electro­chemical Detection) testing services in-house. The new highly sensitive CAD detector has universal application and has advantage over traditional detec­tion techniques for compounds that lack chromophores, says Muhammad Asif, PhD, Executive Director, Analytical R&D and Quality Control, Ascendia Pharmaceuticals.
Ascendia also offers the ICP-MS analysis service through one of its partners. Due to heightened concern about metal ions safety, the highly sensitive ICP analysis makes tighter controls possible. "ICP-MS stretched the lower limits for innocuous metal ions about two decades ago and ad­vances in technology have made it feasible to gain a better understand­ing of metabolic pathways for drug candidates," says Dr. Asif.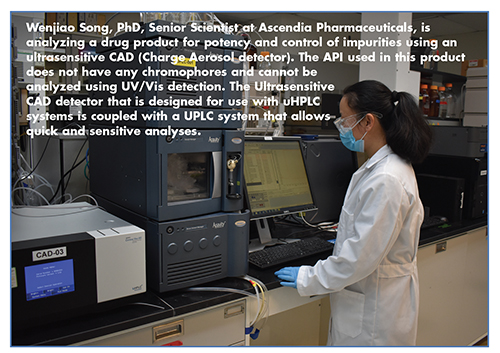 The next step, he says, is to de­velop methodologies and design ex­periments that in vitro testing can align with, and predict, in vivo behavior of a drug moiety and its metabolites. "The new FDA guidelines provide a list of recommended studies that make it easier for large and small pharma­ceutical companies to help design their experiments," he says.
Ascendia also has a strong ana­lytical support mechanism in place for API manufacturers, providing impurity identification service and method de­velopment and validation for final drug substances, intermediates, and in-process controls. "The in-process controls ensure that a mistake is caught before a lot of time and funds are invested to finish the manufactur­ing cycle," he says. "These controls also help establish Quality by Design parameters to build quality into the manufacturing process, resulting in a better and consistently high purity drug substance."
Aztech Sciences Inc.: Addressing Complexity in Drug Development
Complex development has been gaining interest in the pharmaceutical industry, therefore specialized analyti­cal techniques are often needed to address this complexity. These special­ized analytical techniques include pre- and post-column derivatization for drug materials that cannot be de­tected by ultraviolet-visible (UV-Vis) light or photodiode array chromatog­raphy, says Alvin Persad, PhD, Presi­dent, Aztech Sciences Inc. "Performing these derivatization methods allows drug materials to bond with a chromophore molecule that will be de­tected by UV-Vis chromatography."
Additional chromatography ap­proaches used for non-chromophore drug materials are U/HPLC combined with refractive index (RI) that does not depend on light-absorbing molecules. Another analytical technique includes gas chromatography with flame ionization detector for low-level residual solvents in the parts per million.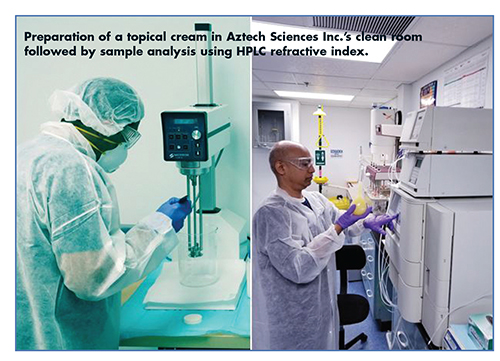 Dr. Persad says there have been increased requests for size exclusion and gel permeation chromatography (SEC, GPC). "These analytical meth­ods are more complex and higher cost due to standards, sample preparation, instrumentation set up, and longer elution time," he says. "SEC/GPC in combination with RI and multi-angle light scattering detectors are used to analyze water soluble or non-water soluble polymers and peptides char­acterization, size distribution, and molar mass."
In addition to analytical develop­ment and testing solutions, Aztech Sci­ences offers API development services for form identification and selection. This includes salt screening, co-crystal polymorphic/amorphous solid forms, high-energy co-precipitates, and API-polymeric drug solid solutions. "Whether preclinical or life cycle man­agement, our goal is to identify leads and candidates suitable for the appro­priate phase of drug development," says Dr. Persad.
Pion Inc.: Biorelevant Drug Testing Services
Currently, there is a growing de­mand for in vitro tests on drug com­pound and formulation behavior that can be linked to in vivo behavior. This has necessitated the use of biorelevant conditions and media that more closely represent the environment that a drug experiences in the human body, for example, through the use of biorelevant dissolution media, e.g., Fasted State Simulated Intestinal Fluid (FaSSIF) or subcutaneous extracellular matrix components.
Due to the complex interplay be­tween solubility and permeability, there are many cases where dissolu­tion experiments alone cannot cor­rectly predict the in vivo response to drug products, says Karl Box, CSO Eu­rope, Pion Inc. Simultaneously, meas­uring concentration on both sides of a bio-mimetic membrane improves the assessment of the absorption potential and provides more realistic IVIVC modeling.
Pion has introduced the addition of a stirred absorption chamber to the USP I/II apparatus that functions as a 'receiver' chamber with the MacroFLUXTM and BioFLUXTM systems. The USP vessel serves as a "donor" compartment and provides the media volume needed to test finished dosage forms under sink conditions. The donor media is selected to mimic the absorption site along the gastrointesti­nal tract, and the Acceptor Sink Buffer (pH of 7.4) used in the receiver vessel mimics blood chemistry. FLUX systems are also available for the microDISS ProfilerTM using media volumes of just 15mL for the donor and receiver chambers and for the miniDISS sys­tem, which has a biorelevant 250mL volume vessel. "This offers a great ad­vantage when outsourcing testing services when customers have small sample quantities available," he says.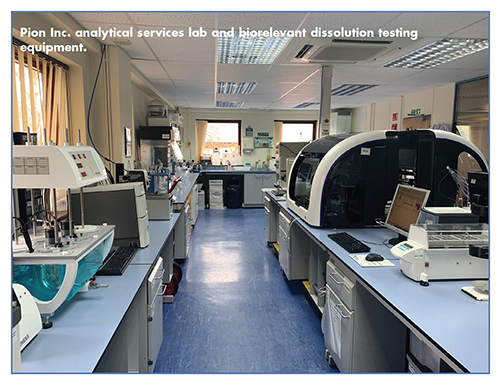 A subcutaneous injection site sim­ulator (Scissor) is an instrument devel­oped by Pion that mimics the chemical, physical, and physiological properties of the subcutaneous tissue. It supports analytical techniques for monitoring post-injection stability and diffusional properties of subcuta­neously administered biopharmaceu­ticals. "Using Scissor, scientists can evaluate formulation performance of subcutaneously administered biophar­maceuticals without performing in vivo tests using animals," says Mr. Box. "The instrument has shown good ap­plicability for the development of monoclonal antibody and insulin for­mulations."
Pion works with pharma compa­nies and CROs to facilitate drug dis­covery and development through its Analytical Services Team for assays, data analysis, and interpretation. Ac­cording to Mr. Box: "Once your out­sourcing needs are completed and you are ready to move to the next stage of development in your lab, you have the option of utilizing the same instruments your studies were per­formed with and our scientists will continue to partner with you long after your samples have left our lab."
Recipharm: Identifying Impurities Using Advanced Analytics
Market demand for the fixed dose combinations (FDCs) used in treat­ment of fever and common cold rose significantly during the course of the COVID-19 outbreak. In response, a number of Recipharm's customers needed to update their analytical methodologies to ensure they are workable throughout the lifecycle of the drug product.
One customer approached Reci­pharm to support it in developing a single chromatographic release method to determine product quality and purity – a challenge, because FDCs may not have similar molecular weight or polarity. Ramesh Ja­gadeesan, Assistant Vice President at Recipharm, explains that the customer had five different methods to deter­mine purity and impurity profiles. Re­cipharm worked to simplify this by developing two different methods ca­pable of delivering a high resolution between the impurities and the active components. These were found to be accurate, precise, and robust, and were validated as per current ICH guidelines in significantly less time. As a result, the contract provider was able to fill the drug product in the tight timeframe required to get approval and bring to market.
Increased demand for advanced analytical techniques, such as LC-MS, LC-MS-MS, GC-MS, FT-IR-TGA, are proving powerful in identifying impu­rities. Mr. Jagadeesan explains that chromatographic methods, coupled with mass spectroscopy, is becoming more widely used for investigating the co-elution of peaks and peak purity. For example, LC-MS-MS techniques are powerful in the identification and characterization of impurities, as well as monitoring impurity profiles during the development stage.
"The recent recall of pharmaceu­tical drug products, including Valsar­tan, Losartan, and Irbesartan put the regulatory spotlight on nitrosamine impurities in drug products," he says. "LC-MS-MS based methods provided by agencies can help to ensure that drug products are sufficiently tested to ensure that absence of nitrosamine impurities."
Finally, there is always a risk that impurities will be present in drug sub­stances and drug products, and, in ac­cordance with guidelines, these must be identified to remove contaminated batches from the supply chain. In ad­dition to the suggestion of molecular structures impurity based on the HRMS/MS and 13C and 2D NMR analyses results, Recipharm offers confirmation of the proposed structure by comparative UPLC-HRMS/MS analysis, employing the synthesized reference material and subsequent in silico toxicology.
Recipharm also offers method de­velopment and qualification for small molecules. The company is embarking on a growing number of projects to develop bioanalytical methods for large molecules, such as oligonu­cleotides, ADCs, and proteins. The company offers bioanalysis of blood, plasma, cell, and tissue samples from individual compound testing to high throughput screening for multiple compounds. Blood/plasma stability testing plays an important role in drug discovery and development.
"Recipharm's protein binding as­says help customers to determine which compounds bind to blood proteins," says Mr. Jagadeesan. "The de­gree of binding might affect a drug's efficacy, making it vital to understand this behavior as early in the project as possible."
SGS: Assuring APIs Meet Quality Standards
To cut cost of API production, many small- and medium-sized phar­maceutical companies choose to out­source API manufacturing overseas. To confirm that APIs comply with USA quality standards, those APIs should be tested independently. SGS labs comply with cGMP practices and pro­vide a variety of analytical services to test APIs, excipients, finished products, and medical devices.
"Our labs have successfully veri­fied dozens of monographs for known APIs per USP and Eur.Pharm. pharma­copoeias," says Natalia Belikova, PhD, Analytical Services Director, SGS. "We also have experience in compendial testing per Japanese Pharmacopoeia and Chinese Phar­macopoeia. In addition to the com­pendial testing, we offer development and validation methods to support re­lease testing."
SGS analytical techniques include simple wet chemistry like loss on dry­ing, residual on ignition, bulk density, and titrations to more complicated wet chemistry testing like identification tests by fourier transformation in­frared, X-Ray Powder Diffraction, melt­ing point by differential scanning calorimetry, instrumentational color testing, particle size distribution by laser diffraction, and heavy metal test­ing by inductively coupled plasma technology. SGS also offers chro­matography techniques with ultravio­let/visible light, refractive index, fluorescence, charged aerosol detec­tor, evaporative light scattering detec­tor, and conductivity detectors.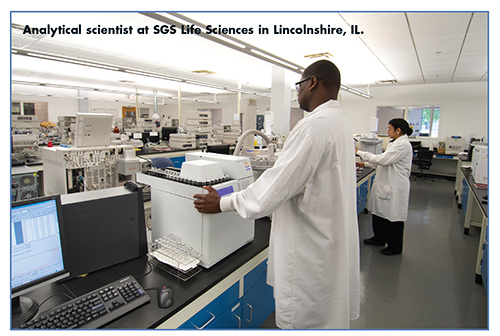 "More and more drugs on the market, such as those for combina­tional therapies, have multiple APIs to treat different symptoms or act in dif­ferent ways," says Dr. Belikova. "In that case, we can develop and vali­date chromatography methods that will separate both actives in the same run and potentially known impurities for both actives will be evaluated on case-by-case basis."
For newly discovered/developed APIs not yet listed in the available compendia, SGS performs forced degradation studies. She says: "By de­veloping stability-indicating assay methods, we have assurance that any possible degradants are chromato­graphically separated from the main API peak and do not contribute to the overall label claim for the assay."
SGS has successfully worked to assist in bringing known and new APIs to market and provide assurance that APIs are of acceptable quality and can be used in further manufacturing processes to create final drug prod­ucts, claims Dr. Belikova.
Triclinic Labs, Inc.: Solid-State Testing of Small Molecules
Triclinic Labs offer advanced solid-state analytical testing tech­niques, which include hyphenated techniques such as thermogravimetry-infrared spectroscopy, IR-microscopy, Raman-microscopy, and turbidity-low frequency Raman spectroscopy. "The real advantage lies in the fact that we offer a multi-disciplinary testing ap­proach by utilizing our full suite of solid-state analytical techniques be­cause a single technique or a single hyphenated technique alone often does not provide a complete answer to various problems that arise during drug development," says Triclinic's Chief Scientific Officer Aeri Park, PhD. "Our analytical techniques allow us to probe the physical and chemical properties, identity, quantity, stability, and purity of pharmaceutical drug substances and drug products, and other materials."
According to Dr. Park, one of the fastest growing areas of in vitro testing is cGMP solid state analytical testing. More com­panies are developing formulations containing amorphous drugs or amorphous solid dispersions to improve bioavailability of the drugs. In response, Triclinic has developed a propriety technology to predict the physical stability of amorphous for­mulations to help clients select the best formulations quickly without time-consuming full stability studies. In addition, Tri­clinic develops and validates highly sensitive solid-state analyt­ical methods to detect crystalline forms in amorphous formulations in order to meet the regulatory requirements for amorphous drug formulations.
In one situation, Time-Temperature-Transformation (TTT) studies performed in Triclinic's labs showed that the physical stability of a client's amorphous formulation was predicted to be greater than hundreds of years at ambient storage condi­tions. Simon Bates, PhD, Head of the Materials Modeling Group at Triclinic, explains that when the product crystallized during ambient storage, it was postulated that there was noth­ing wrong with the formulation but that there was heteroge­neous nucleation in the system.
"Because the amorphous formulation was manufactured by hot melt extrusion, Triclinic recommended that the client in­crease the hot melt extrusion temperature slightly (based on the melting point of the API and interconversion studies) to remove any nucleation seeds," Dr. Bates says. "The client increased the hot melt temperature by 5°C, which was allowed within their processing guidelines. This resulted in a stable formulation. The resulting product was predicted to be stable over millennia."
Upon further investigation, the failed product was found to be from a scale-up process at smaller scale compared to the commercial hot melt extrusion process. At the same tempera­ture, the larger process was not as effective in removing all crystalline seeds as seen in the smaller scale. Says Dr. Bates: "Without the TTT information, the client would not have been able to resolve the issue easily."
REFERENCE
Pharmaceutical Analytical Testing Outsourcing Market Size, Share & Trends Analysis Report By Service (Bioanalytical, Stability, Method Development & Validation), By Region, And Segment Forecasts, 2020 – 2027), February 2020, https://www.grandviewresearch.com/industry-analysis/pharmaceutical-analytical-testing-outsourcing-market.
To view this issue and all back issues online, please visit www.drug-dev.com.