SPECIAL FEATURE – Injection Devices: Manufacturers Focus on 21st Century Technology While Still Tackling Traditional Challenges
The global injectable drug delivery technologies market was valued at $22.5 billion in 2012 and is expected to reach $43.3 billion by 2017.1 The market is broadly categorized into two major segments: device technologies and formulation technologies. Hormonal disorders commanded the largest share – 50% – of the global injectable drug delivery technologies market in 2012 and are expected to reach $21.6 billion by 2017. However, auto-immune diseases are the fastest growing segment of this market due to the advent of biologics, tumor necrosis factor (TNF) and Interleukin 1 (IL-1), and improving patient compliance by the development of self-injection devices.
Drug injection device designs are increasingly being based on the results of Human Factors Engineering (HFE).2 HFE is about more than just scheduling a study to make sure that a device can be safely and reliably used by the target patient population. "It requires constant engagement with the target patient population and other applicable stakeholders throughout the design and commercialization process," says Stephen Allan, Senior Vice President, Strategic Planning, Unilife.
The goal, he says, should be to maximize the safe, simple, and convenient use of the device by the target patient population. Key factors can include minimizing the number of steps for use and having a fully integrated device that is portable to carry and ergonomic to hold. "Intuitive devices with fully integrated features and minimal steps of use can make a big difference in maximizing rates of acceptability and preference for a therapy amongst your target patient population."
This annual Drug Development & Delivery report highlights some of the key players in the injectable delivery market. They will describe their focus on advanced technology, such as wearable smart devices and design issues related to HFE, as well as more traditional challenges related to breakage, leaching, and needlestick prevention.
Aptar Stelmi—Maximizing the Integrity of the Container Closure
Maximizing the integrity of the container closure system while minimizing interaction between the closure system and the drug formulation is a vital concern for all pharmaceutical and biopharmaceutical companies. "Elastomeric closures remain the gold-standard solution to preserve the integrity of a container closure system composed of a primary container made either of glass or polymer," says Joel Cotten, Business Development Director for Aptar Stelmi.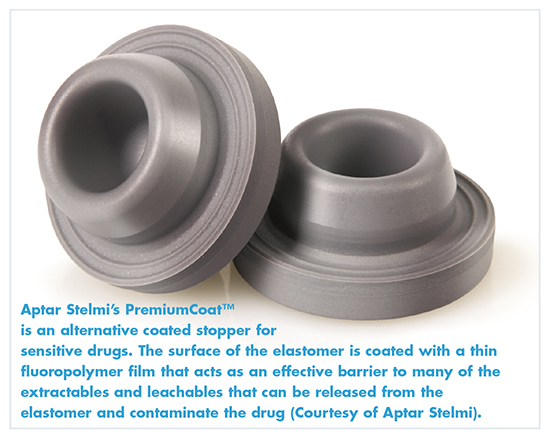 Among several families of elastomers used to manufacture these closures, the synthetic halobutyls (Chloro- or Bromo-butyls) present the four main functions that are described by the standards, essential to pharmaceutical and biopharmaceutical industries, and required by the regulatory authorities:
 –Compatibility with the drug formulation to prevent its modification and/or degradation over time;
–Physical functionality, i.e., self-sealing after multiple punctures (for a vial stopper) or gliding capability (for a syringe plunger);
–Leakproofness to minimize any exchange with the external environment; and
–Safety of use for the patient and end user.
"Over the past decades, we have witnessed a trend in reducing the number of ingredients in the elastomeric formulations to make them cleaner," says Mr. Cotten.
More recently, the development of coated technologies have proven to be successful for sensitive drug formulations. These coatings are usually applied onto the surface of the elastomeric components to reduce leaching from the elastomeric closure into the drug formulation. Several coatings exist on the market: ETFE, PTFE films, and spray coatings.
Silicone is traditionally used to lubricate elastomeric closures, but may also interact with the drug formulations. Therefore, reducing and controlling its use remains an objective. Coating technologies and the reduction of silicone oil levels are sometimes combined to address both drug product protection and the fill/finish process.
"In addition to these solutions, which contribute to the reduction of potential leaching between the elastomeric closures and the drug formulation, Aptar has observed growth in fill-and-finish facilities equipped with isolators and Rapid Access Barrier Systems (RABS) to optimize the filling conditions," he says.
Isolators provide a highly controlled area for drug filling into primary containers. This technology ensures a lower level of contamination. As a result, elastomeric closures are supplied sterile and ready-to-use in packages that connect to isolators and RABS. In addition, the latest automated optical control machines used on the manufacturing line contribute to lowering the overall level of particulate contamination of the elastomeric components.
"Pharmaceutical and biopharmaceutical companies continue to develop novel, ready-to-use injectable drug delivery devices," says Mr. Cotten. "With these devices, there is a shift from traditional primary drug containers such as ampoules and vials to safer and more convenient integrated devices such as prefilled syringes and cartridge or bag systems. As a result, the functionality of the elastomeric closures is a key factor.
Bespak—Overcoming the Challenge of Delivering High-Viscous/High-Volume Injectables
Biopharma companies face fierce competition in most key therapeutic areas. One way to differentiate is with a device. Autoinjectors and bolus pump-based systems are being looked at to determine which device is best suited to patient needs, can safely and effectively deliver the drug, and has the highest likelihood of contributing to compliance. However, at the same time, some of the devices currently offered or already on the market, are not well positioned to address the needs of the next wave of biologics and injectables, which tend to be high-viscous/high-volume injectables.
In response, Bespak offers a technology called VapourSoftTM and its related SyrinaTM autoinjector platform. The key to VapourSoft is its power source, which helps overcome issues related to spring-based autoinjectors. A small novel container of liquefied gas was developed as the basis for a next-generation powerpack. The propellant, when released, provides sufficient energy in the form of a pressurized vapor to power drug delivery and other functions.
The dampened nature of the delivery mechanism prevents unnecessary impact on the primary container, which is ideal for either glass PFS or cartridge, helping to further minimize any chance of glass breakage. This system is also flexible in that it can offer a complete spectrum of variation to adapt to the needs of the drug, therapeutic area, or the patient. For example, by simply altering the propellant within a single container format, injection time could be customized for even the most viscous injectables.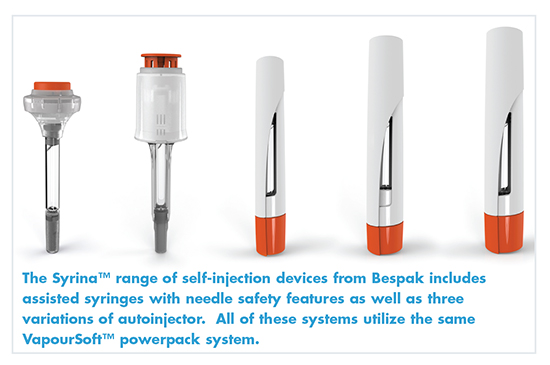 "For the first time, changes in delivery volume and viscosity are able to be accepted with minimal physical changes to the device without having a significant impact on device development program timelines," explains Steven R. Kaufman, Global Business Development Lead, Bespak. "High viscosities and high delivery volumes can be handled with relative ease. For example, 2ml of a 200 cPs formulation can be delivered within about 10 seconds."
A variety of primary containers can be used with the VapourSoft powerpack. Containers with a wider diameter offer no additional challenges, and as such, 1ml standard, 1ml long, and 2.25ml syringes can be used without any significant impact on performance, says Mr. Kaufman. Furthermore, the nature of the drive mechanism ensures that the primary container is completely emptied once the device has been activated.
"Being able to offer consistent delivery performance across the Syrina range gives researchers and biopharmaceutical companies the ability to use Syrina with VapourSoft at a very early stage of development," says Mr. Kaufman. Several variations of the devices are available for clinical trials and a range of industrial designs are being considered for the body of the autoinjectors to best suit patient needs.
Credence MedSystems—Innovation Without Change Thrives With the Companion Safety Syringe System
As the Credence Companion Safety Syringe System product family has evolved and expanded, the innovation in the delivery systems has accelerated while the change required for drug manufacturers to implement this innovation has diminished even further. The Companion family has grown to include staked needle, luer lock needle, and dual-chamber reconstitution safety devices, all providing passive needlestick safety. Upon completion of the injection, audible, visual, and tactile cues signal that the injection is complete as the needle automatically retracts into the barrel of the syringe, rendering the syringe needle-free and permanently disabled.
Drug manufacturers can select from existing syringe, stopper, and tip cap/needle shield primary package components from the vendors they choose. They then simply incorporate the Companion needle (either kitted with the luer version or pre-attached with the staked version) and plunger rod. "The Companion's ability to utilize existing drug container components simplifies the development and regulatory path, since changing a drug's primary package can require several million dollars and years of development," explains John A. Merhige, Chief Commercial Officer, Credence MedSystems, Inc.
Supply chain risk is also vastly reduced, as drug companies can execute a dual sourcing strategy on critical primary package components. Additionally, the Companion is completely glue-free, eliminating any risk of interaction between glue and the drug product. The glue-free closure also allows alternate lubrication techniques such as baked-in siliconization, thereby enabling compatibility with drug products that are highly sensitive to silicone oil.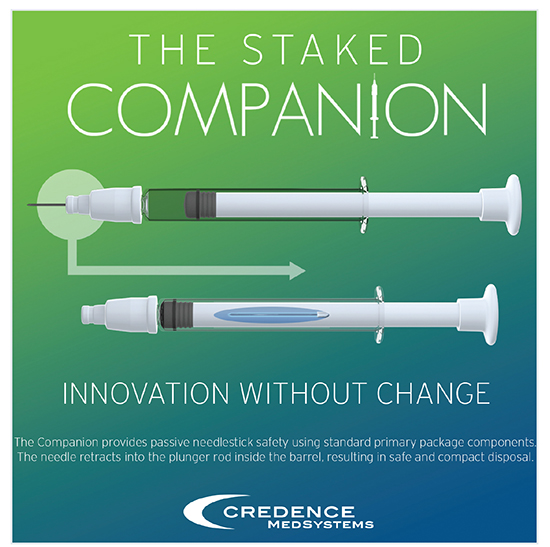 Equally important is the requirement to avoid disruption to the fill/finish and secondary manufacturing processes. Syringe filling is unchanged when using the Companion; the syringe barrels are supplied in standard tubs and filled in the conventional manner. Additionally, the Companion's design has simplified secondary packaging requirements. Because the finger flange is entirely optional, the only secondary process that is required for the Companion is the addition of the plunger rod, which is performed in the conventional manner.
For the end user, the Companion offers critical safety technology, with its passive needle retraction and automatic syringe disabling features. The Companion's usability features have been guided by multiple HFE studies. Mr. Merhige says that HFE is critical, and has resulted in the following features: The ability to clearly view the syringe barrel and its contents; the passive/automatic needle retraction; the end-of-dose cues; the capability to perform standard syringe operations like air bubble removal and aspiration; the feel in the user's hands; and the compact footprint for storage and environmentally sound disposal. "Innovation Without Change combines these end-user benefits with a novel design approach that allows drug manufacturers a simplified path to best-in-class drug delivery," says Mr. Merhige.
Enable Injections—The Wearable Injector: Enabling the Biologic Drug Market
Analysts predict the market for biologic drugs will reach $215 billion in the next five years. More than 900 injectable biologic drugs are currently in development or on the market. However, injectable biologics will only fulfill their promise if the formulations that are developed can use drug delivery devices that are patient friendly, allowing patients greater mobility and convenience.
Larger dose, often viscous biologics are delivered intravenously in the hospital setting. Moving treatment from hospital to the home can reduce healthcare costs and improve patient quality of life. The wearable injector has the potential to meet these trending needs.
When a major pharmaceutical company sought to improve the comfort, convenience, and treatment compliance for patients, it carefully examined the drug delivery alternatives. Based on strong preference from its patient panels, it turned to Enable Injections to design a wearable injector that could deliver a highly viscous biological product subcutaneously in high volume (2-20ml) as an alternative to the current infusion pumps. The device is expected to increase patient independence, mobility, convenience, and compliance, explains Michael D. Hooven, President and CEO of Enable Injections.
Enable Injections has developed wearable injectors capable of consistently delivering higher volume (1-10ml and 1-20ml) drug products designed to maximize tolerability and reduce pain. The injectors are customized to the specific drug product characteristics. Also, there are different transfer platforms, each compatible with a different, established primary container (syringe and vial), providing advantages to the product manufacturer, which include cost savings and shorter time to market.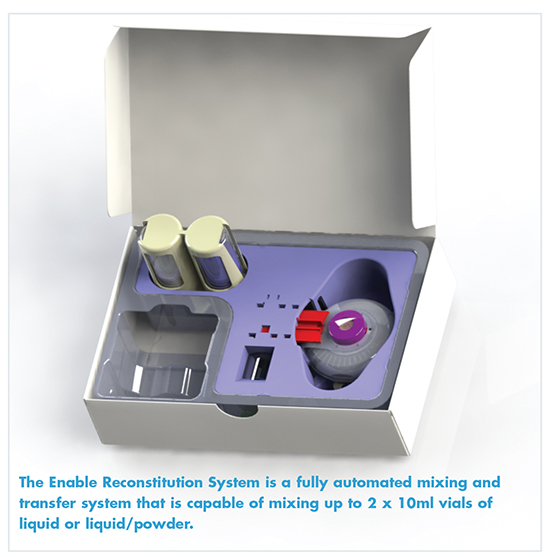 "The evolution to smart injectors is of great interest to Enable Injections. Providing the means for users and healthcare professionals to track and record compliance to therapy can potentially provide information to help ensure better health outcomes. For product manufacturers, improving compliance and keeping a patient on therapy can be more profitable than recruiting new patients," says Mr. Hooven.
Enable Injections has focused on human factors to play a key role in the design and development of devices to make self-injection safe, easy, comfortable, and convenient for patients, yet cost-effective for the pharmaceutical industry and payers.
More sophisticated drug delivery devices are being differentiated from legacy injection systems by:
 –Utilizing standard vials or syringes to eliminate new container closure development.
–Automatically warming the drug as the injector fills, thereby removing the typical wait time to use the device for a refrigerated medication.
–Automating mixing for lyophilized drugs.
–Using the smallest needle size possible to improve patient comfort.
–Designing small systems with a low profile that can be discreetly worn on the body, allowing greater freedom and mobility.
–Making the entire system environmentally friendly so that there are no electronics or batteries to remove or recycle.
Haselmeier—Technologies That Meet Patient-Centered Systems
Haselmeier has been providing customized devices for its pharmaceutical partners for more than 40 years. Many of these devices are created using current platform technologies and IP, then customized for specific drug and patient usability requirements. "We conduct ongoing research to understand both current and nascent device requirements and develop new systems to meet these needs," says Terry O'Hagan, Director Business Developement, Haselmeier. "New features such as dynamic speed control, variable dose prefilled syringes, distinct dosing, active safety systems, and electronics integration for improved patient compliance are all examples of current features and technologies we have developed to meet the growing need for patient-centered systems."
Use of unique forms and materials for improved styling and physical interaction all contribute to devices with improved patient acceptance and effective drug delivery. For example, Haselmeir integrated a new dose setting system in its Axis D disposable pen injector, which allows for a larger ringed dose window that better draws a patient's eye to the number while eliminating all other printing typical with standard pen designs, explains Mr. O'Hagan. "Research has shown this improves the patient experience with the device and removes dosing errors."
Mr. O'Hagan adds that the injection device market has seen a significant shift from pharmaceutical companies looking to use standardized devices to looking for more customized patient-centered systems. "This dynamic can be attributed to the particular requirements of a new range of biologics as well an interest to develop devices for specific patient populations," he says. "Current FDA guidance has led many companies to either design new devices or modify existing devices to meet increased regulatory requirements to create devices that are easier to use, safer, and more accurate. In addition, new technologies are providing a wider range of delivery methods to address new drug and patient needs."
As more drugs are approved for self-administration, the FDA has issued additional usability guidelines and more in-depth Human Factors Engineering requirements to ensure that devices are more intuitive and easy to use, safer, and more accurate to ensure that patients are getting an effective treatment. "Pharmaceutical companies must demonstrate, through extensive Human Factors Studies, that devices can be used safely and effectively by the specific patient population for that targeted indication."
As could be expected, the targeted patient population for a device can have a significant impact on the overall design and feature set of self-injection systems. Devices need to meet age-related needs such as pediatrics (often administered by a parent or care giver), young adults, adults, and seniors. In addition, some patients may have physical limitations with vision, dexterity, and strength that can have a large impact on the overall device design and feature set.
"New technology development is creating additional modes of delivery and supporting efforts to improve patient compliance with new drug regimens," says Mr. O'Hagan.
Insulet Corp.—The OmniPod Drug Delivery Management System
With an increase in complex drugs and biologics coming to market, drug developers continue to look for innovative technology that can simplify their delivery needs. Conventional methods of injection, such as syringes and pens, address simple injectable delivery routines. Advances in smart, wearable delivery, like the OmniPod Drug Delivery Management System from Insulet, address the problems of complex dosing regimens, without restrictions to patient lifestyle while emphasizing competitive differentiation, says Michael Graffeo, Vice President of Business Development for Insulet.
Since the launch of OmniPod 10 years ago, Insulet has expanded its wearable pump technology to include multiple drug delivery applications. OmniPod's intelligent, easy-to use design delivers the exact dose of medication at the precise time, repeatedly and reliably. Its automatic and virtually pain-free insertion helps to eliminate the difficulties of self-administration and provides valuable information to clinicians and biopharmaceutical companies. "Unlike other methods, OmniPod's platform can be customized to achieve drug delivery that was once impossible to imagine," he says.
OmniPod is being used with a treatment to help women ovulate, which requires an injected dose every 90 minutes throughout the treatment's timeframe. Additionally, the clinician may need to modify the dosage amount during the time of treatment. Prior to OmniPod, patients wore an inconvenient syringe pump, explains Mr. Graffeo. With OmniPod's smart, wearable technology, the clinician manages the dosing adjustments through the Drug Delivery Manager (DDM) while the patient receives regular dosing without needle fatigue.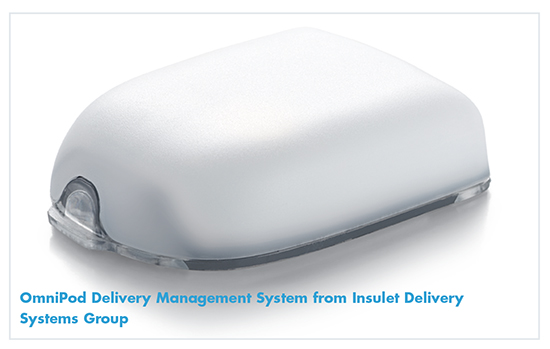 "With OmniPod's intelligent delivery technology, patients no longer face the inconveniences previously found in complicated therapeutic dosing. OmniPod provides opportunities to create competitive differentiation and address problems pharmaceutical companies face in complex dosing regimens, efficiency, and efficacy."
Nemera—Passive Platform Addresses Human Factors & Needlestick Safety
In the parenteral industry, needlestick injuries are a global concern with more than three million exposures to blood occurring every year, according to the World Health Organization (WHO). In an environment where home care and self-administration of parenteral drugs are becoming more common, focusing on the safety profile of the drug and its outcomes are not enough, says Adrien Tisserand, Junior Category Manager-Parenteral, Nemera. Consideration of the hazards linked to the drug, its usage, and the user are critical to ensure the product is safe to use. As a result, the FDA has mandated the consideration of HFE and ergonomics in the design of medical devices.
Medical devices should ensure four aspects: safety, effectiveness, usability, and satisfaction. Therefore, a medical device must be designed first to be safe, then functional and usable, before being designed to generate pleasure. To achieve those four aspects, it is mandatory to consider the device failure hazards and use-related hazards. Investigating those hazards requires a complete understanding of the device, its environment, and its users. This includes analyzing the marketed devices and unmet needs to determine room for improvement, to perform user studies, to identify hazards and problems, usability, and simulated clinical studies for verification and validation.
In response to needs for improved user safety and injection conditions, Nemera has developed Safe'n'Sound®, a platform of passive safety devices for prefilled syringes to aid in the protection from accidental needlesticks. Safe'n'Sound is a single-use device and is an adaptable platform to give flexibility to pharmaceuticals and users. Safe'n'Sound is compatible with syringes of different filling volume (1ml& 2.25ml) and flange types from different suppliers.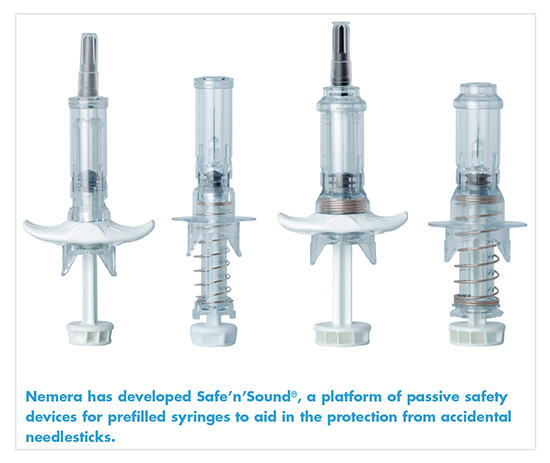 The safety feature activates automatically at the end of the injection, easing the use. User interface features have been integrated: a large thumb pad surface to smooth the injection; large built-in finger flange to facilitate handling; a round shape for easy and comfortable handling; and a spring located at the syringe flange position to provide good visibility of the tip of syringe and inspection of the drug.
Sensile Medical—Wearable Injector is Reusable & Cost Reducing
As time-to-market is essential, Sensile Medical offers a platform device usable as a large-volume injector, yet flexible enough to meet the customized needs of drugs and patients. The SenseCore wearable injector pumps drug into the body over an extended period of time.
"SenseCore administration does not require special skills and is less invasive from a patient perspective than IV administration," says Sandra de Haan, Head of Business Development, Sensile Medical. "Instead of requiring patients to visit the hospital the day after chemotherapy for an injection, for example, patients can now use a wearable device that automates delivery and alerts the patient when the injector is active and once the delivery is completed. This approach is much more convenient for the patient and can dramatically reduce the costs for administration compared to a hospital infusion center or treatment at a doctor's office."
The device comes with a randomly fillable internal reservoir for a volume up to 20ml, offering the possibility to use standard vials as the primary package. The option of using a standard primary container, combined with the auto-fill feature, eliminates the need for development and testing of a new or novel primary container and a separate fill facility for the container, explains Ms. de Haan. This can reduce time to clinical use or market by several years, as new primary packaging alone may take 4-5 years, she adds.
SenseCore is a reciprocating-type positive displacement pump. Specifically, it is a piston pump with a ring-shaped piston area. The rotating piston, together with an injection-molded valve structure, mechanically drives intake and outlet valves and additionally generates the correct pumping stroke derived from the primary rotation.
The nominal delivery volume can be designed to the required optimum delivery volume per stroke, typically ranging from less than 1μl to 25μl per cycle.
SenseCore handles highly viscous liquids as well as gases and liquid/gas mixtures. It can also be used to reconstitute lyophilized products with diluents, mixing both products in a defined reconstitution process, transferring the reconstituted liquid into a primary container or administering it directly. Dose accuracy from the first until the last partial dose is highly accurate, around +/- 5%.
With Sensile's Disposable/Reusable concept, there is no need to discard the entire device after use, as the mechanism that provides the force and energy is part of the reusable unit that can be reused over a defined period.
SiO2 Medical Products, Inc.—A Company Built Around Plastic
While glass has been used as a container for decades, it has a number of issues (pits, cracks, breakage, delamination, particles, incompatibility with some methods of sterilization, variable optical quality, workplace safety risks, difficulty of disposal at hospitals, and leachables depending on the drug product). These issues are eliminated entirely through the use of SiO2's plastic/glass lined primary containers. SiO2 Medical Products, Inc.'s SiOPlasTM line of containers address all of the issues of glass containers and are tungsten free, resist breakage, and are comparable to glass as a gas barrier.
Autoinjectors and pens are precision-molded products that can put incredible stress on a primary container. Having tight control over lubrication (non-silicone) and tolerances can ensure a better designed, functioning product overall. During the design process for some autoinjectors and pens, more than 50% of the stack-up tolerances can be due to dimensional variability just in the glass container. Reducing the variability through a plastic container allows the injector to function more precisely, with less variability and a reduced chance of failure.
SiO2 Medical Products, Inc. is a company that has been built around plastic. Designed specifically for the parenteral market, SiO2 offers a line of primary containers that provide improved performance and consistency over existing glass containers. "Our syringes, vials, cartridges, and custom containers have a thin, transparent, silicon-oxide barrier coating deposited on the interior surfaces," says Christopher Weikart, PhD, Director of R&D. "Our barrier system effectively addresses current issues being experienced by the parenteral drug industry and our containers are ideally suited for sensitive biologics."
The company's proprietary barrier coating system eliminates the need for silicone. In addition, Peter Sagona, Senior Vice President, says that SiO2 has much greater dimensional control than glass, allowing tighter tolerances in the design of autoinjectors and pens. "Similar to other products, we use state-of-the-art injection molding. In addition, when your containers leave our factory ready to be filled (clean, sterile, and packaged), we have conducted 100% inspection, not just a sampling, to ensure quality. We also offer individual serialization of every unit that comes off our line, providing complete track and trace of every container used."
Unilife Corp.—Customizable Devices that Address a Range of Injectables
The integration of Bluetooth LE within injectable drug delivery systems such as insulin pumps, wearable injectors, and autoinjectors represents a paradigm shift in medication delivery. For the first time, biopharma companies will be able to work with payers and prescribers to leverage the power of data informatics to improve rates of patient compliance and demonstrate the clear value-based healthcare outcomes associated with their brand of therapy. For patients, it means timely reminders and injection status updates via their smart phones to help improve health and overall quality of life. For prescribers and payers, it means access to real-time or historic data on how patients are complying with their therapy regimes within a particular disease area. Unilife is working with customers seeking access to devices with Bluetooth capabilities across several segments including wearable injectors, insulin patch pumps, and smart reusable autoinjectors.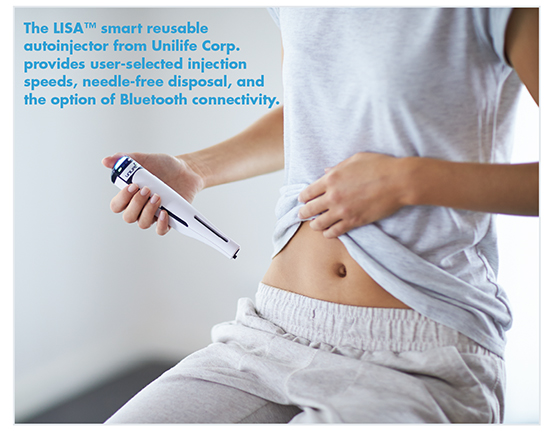 To minimize risk and maximize flexibility, biopharma companies are increasingly seeking to select one preferred platform-based technology that can be used across a family of biologics. Platform-based devices allow pharmaceutical companies to efficiently customize each product to the specific drug, patient, and commercial requirements of each target indication. "Unilife provides customers with a range of customization options that can be easily leveraged to optimize the containment, delivery, and commercial success of their drug-device combination products," says Stephen Allan, Senior Vice President, Strategic Planning, Unilife.
Unilife has created a broad portfolio of highly differentiated, fully customizable devices that can accommodate the needs of virtually any injectable biologic, drug or vaccine, adds Mr. Allan. Its portfolio includes wearable injectors, instant insulin patch pumps, smart reusable autoinjectors, single- and dual-chamber prefilled syringes, ocular delivery systems, and novel delivery systems. This portfolio can be leveraged by customers with liquid, lyophilized or combination therapies for drugs measured in microliters to large dose volume therapies of 10ml or more.
West Pharmaceutical Services, Inc.—Focused on Next-Generation Care
West provides a variety of self-injection technologies focused on improved patient experience and compliance. Offerings include the SmartDose® electronic wearable injector, an integrated drug delivery solution designed to ease self-injection and mitigate the risk of accidental needlestick injuries through an integrated safety system. This single-use injector adheres to the patient's body, usually on the abdomen, and is pre-programmed to deliver high volumes of viscous or sensitive drug products. Intuitive and easy-to-use, the SmartDose injector incorporates a polymer-based drug container (made from DaikyCrystal Zenith® resin) with a drug delivery system that controls the delivery of large doses over time, making it easier for patients to self-administer medication outside of the clinical setting. Additionally, the ConfiDose® autoinjector provides an easy-to-use solution for a wide range of pharmaceutical therapies and is an ideal option for self-injection of a fixed-needle prefilled syringe.
"West offers a full range of custom development and manufacturing capabilities to help bring our customers' devices and delivery systems to market," says Graham Reynolds, Vice President, Marketing and Communications, Delivery Systems, West Pharmaceutical Services, Inc.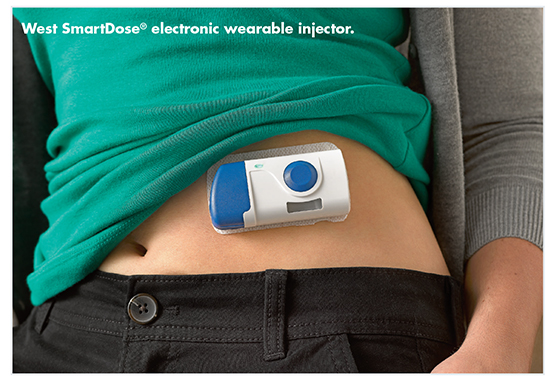 "Increasingly there is not a "one-size-fits-all" option, and West's ability to offer a range of developed solutions, as well as customizable or customer-specific delivery systems, enables us to meet the needs of our customers."
Each element of these drug delivery models – the Daikyo Crystal Zenith polymers, the SmartDose electronic wearable injector system, and the connected health applications from West's partnership with HealthPrize – are next-generation tools. "Together, they help pharmaceutical companies create cutting-edge systems that not only benefit patients by helping them to avoid the consequences of non-adherence to medications but help the drug manufacturer ensure that a product delivered to market is used to its full potential. The combination of these three drug delivery components also can yield data points previously unavailable to drug companies for analysis. By performing data analytics on usage patterns, more can be learned about these medications and the way they are used by patients in their homes, which can ultimately lead to the development of improved therapies and better quality of life for patients living with chronic diseases," he says.
The shift to self-care in the home setting and increased use of biologics in the management of chronic diseases has driven demand for novel approaches to drug delivery. Many injectable drugs currently on the market, and many in development, require repeated dosing and are intended for self-administration. To help patients who must self-dose, West is designing systems such as the SmartDose injector that are easy to use and that encourage patients to comply with a dosing regimen by making it simple for patients to self-administer medication outside of the clinical setting.
As a company invested in next-generation care, with the help of HealthPrize Technologies, West is exploring opportunities to connect injectable drug delivery systems with connected health tools that can improve the user experience and drive adherence. "Specifically, we are working to realize the potential of using consumer technology and electronic devices to further engage patients in their care and address the issue of non-compliance," says Mr. Graham. "In our first offering with HealthPrize, patients will manually scan barcodes or otherwise enter data about their medication compliance into the smartphone/tablet app or on an Internet browser from a computer if they don't have a wireless device. In the near future, we would like to make app use even more automated, streamlined, and interactive. This is our way of getting involved with the connected health movement to encourage patient engagement and offer our pharma partners a range of choices."
Ypsomed—Comprehensive Range of Platforms for Customized Self-Injection Devices
Biopharmaceutical companies increasingly focus on self-injection devices as a mechanism for differentiating the drug product. As a result, manufacturers of innovative drug delivery systems have become key partners in the successful development and commercialization of the final combination product. Increased pressure on healthcare product prices, increased complexity in drug formulation, and stringent regulatory scrutiny require manufacturers of injection systems to flexibly supply biopharmaceutical companies with novel injection pens and autoinjectors customized to their individual needs.
Responding to these emerging requirements, Ypsomed has built up comprehensive platform products that each meet key customer needs, yet are specifically designed to be modified into customer-specific products. Platform products enable flexible customization while minimizing project risks and shortening time to market. "Ypsomed decouples the development of new platform products from the customer project and thereby moves risk in-house to cover platform development and installation of manufacturing infrastructure," says Ian Thompson, Vice President Business Development, Ypsomed. "Each customer project stems from an existing platform based on an established patent position and proven technology."
Driven by patient needs, market intelligence, and new technology, the development of novel platform products also requires significant investments in manufacturing capacity. Ypsomed supports its partners by customizing the injection systems to market demands, dosing needs, and to the primary container, but also by incrementally expanding its installed manufacturing infrastructure to match customer capacity requirements, says Mr. Thompson.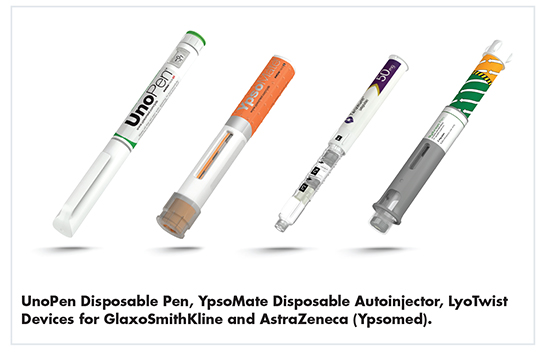 Consider the UnoPen, Ypsomed's variable and multi-dose disposable pen platform that offers key features such as intuitive dial-and-dose handling, audible feedback during dosing and delivery, or the last-dose stop functionality to ensure that the dialed dose cannot exceed the remaining volume in the cartridge. Customization to individual design, dosing, and cartridge requirements makes the UnoPen platform suited to a range of hormone-based therapies, including insulin, glucagon-like peptide-1 (GLP-1), human growth hormone (hGH), follicle stimulating hormone (FSH), or parathyroid hormone (PTH).
Ypsomed's platform products also include the autoinjector segment for pefilled syringes. The YpsoMate disposable autoinjector provides patients with an easy and convenient two-step automatic injection. The patient triggers the injection by pushing the autoinjector onto the skin. The device then signals completion of the injection through a clearly audible end-of-injection click and visual feedback in the large viewing window. The needle remains hidden during injection and is shielded after use.
Ypsomed's LyoTwist dual-chamber devices are for single-dose injections. The LyoTwist "monodose" device family is based on Ypsomed's twisting method for reconstitution and priming. The devices provide visualization of reconstitution, priming, and injection. LyoTwist devices can be used with standard Ypsomed Clickfine pen needles or in combination with Clickfine AutoProtect safety pen needles that provide built-in needle safety. Ypsomed can customize LyoTwist according to an individual drug and therapy needs.
The simplest member of the LyoTwist family known as LyoTwist Trio was successfully launched in 2014 for two versions of long-acting glucagon-like peptide-1 (GLP-1), a drug that is becoming increasingly important in the treatment of Type 2 diabetes. GlaxoSmithKline markets its Eperzan®/TanzeumTM and AstraZeneca, its Bydureon® GLP-1, both for subcutaneous administration, based on LyoTwist devices.
"User-friendliness and a simple, robust design were key requirements for both injection systems, which were convincingly implemented by Ypsomed," says Mr. Thompson.
To view this issue and all back issues online, please visit www.drug-dev.com.
 REFERENCES
The Injectables Drug Delivery Market by Formulations [Liposomes, Microspheres, & Nanoparticles], Devices [Disposables & Reusable, Fillable & Prefilled, Pen, Needle Free & Auto Injectors] & Therapeutics [Diabetes & Oncology] – Global Forecasts to 2017. http://www.marketsandmarkets.com/PressReleases/injectable-drug-delivery.as.
2. Accessed on 8/12/15. Drug Injection Devices to 2022, Greystone Associates, May 2015. http://www.researchandmarkets.com/research/tmbcj3/drug_injection. Accessed on 8/12/15.