SPECIAL FEATURE – Injection Devices: As Self-Injection Grows, Drug Delivery Gets Smarter
The global injectable drug delivery market is growing around 11.8% CAGR and will soon eclipse oral delivery as the most valuable route of administration of pharmaceuticals. The market was valued at $328 million in 2015 and is expected to reach $640 million by 2021.1 This growth is being fueled by biologics, which are expected to grow at a clip of 26.5% to over $250 billion by 2020.2
The growth of chronic diseases and the requirement for repeat dosing to treat these diseases are driving the market for self-injections to grow at over 22% per year towards nearly $80 billion by 2022.2 "This move towards injection of biologics at home is a clear trend in our society and our industry, and it presents a clear challenge for device developers," says John A. Merhige, Chief Commercial Officer, Credence MedSystems, Inc.
This annual Drug Development & Delivery report highlights some of the innovative and novel technologies developers are deploying to make self-injection easier and improve patient adherence.
Aptar Pharma: Developing, Manufacturing, Outlicensing Injectable Platforms
Quality improvement is continuing to drive innovation in the injectables market. The pharmaceutical companies are increasingly looking at ways to eliminate the risks associated with contamination. Specifically, the focus has been around reducing the level of particulates found in drug product. This focus on particulates is raising the bar for all players associated with the development and manufacturing of injectable products, with attention focused towards achieving a zero-defect product. Aptar Pharma has addressed this trend with the development of its Premium portfolio of injectable components: PremiumFill®, PremiumCoatTM and PremiumVisionTM.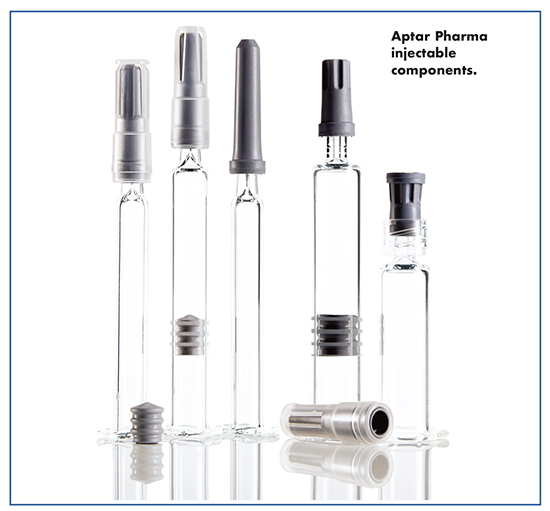 "PremiumFill is a guaranteed specification to Aptar Pharma's highest quality of production, resulting in lower embedded particles, improved particulate cleanliness, and an overall reduction in defects," says Adam Shain, Global Director Business Development Injectables, Aptar Pharma. "Also produced with the PremiumFill guarantee is PremiumCoat, the new standard for film-coated stoppers. And, PremiumVision uses an in-line automated vision inspection system designed to further validate against critical defects and offers the ability to customize and further reduce the particulate level guarantee for PremiumFill."
Aptar Pharma is developing drug delivery devices. In its injectable business, it is developing and manufacturing Rigid Needle Shields (RNS). For Injectable drug delivery devices, Aptar Pharma is leveraging its expertise and outlicensing to pharma partners, such as BD. The BD InteviaTM is based on Aptar Pharma's two-step, push-on-skin autoinjector.

Through its licensing and internal development programs, Aptar Pharma is working on developing connectivity solutions for injectable devices. The company currently has connected devices for other drug delivery routes such inhalation, ophthalmic, and nasal. "We plan to leverage those technologies to develop our connected injectable device portfolio," says Sai Shankar, Business Development Director for Connected Devices, Aptar Pharma. "Our focus in the connected Injectable device space is agnostic of device. We are able to leverage our partnership with Propeller Health and bring anyone's device technology into platform."
Mr. Shain adds that Aptar Pharma is always focused on the most ideal way a syringe should interact with an Autoinjector. The RNS for Autoinjector has a proprietary design that allows for multiple gripping points on the RNS. The proprietary mushroom tip design allows for the autoinjector cap design to grip the RNS from the front, potentially eliminating current metal gripping components. This feature allows for removal by the autoinjector cap without rotating the rubber shield, a simple method to prevent coring or fragmentation. The back ledge of the RNS also provides a solution for those autoinjector designs requiring removal of the RNS from the collar.
"This patented solution provides an ideal solution to help minimize components within the autoinjector, while providing a consistent pull off force for patients," says Mr. Shain.

 BD – Medical Pharmaceutical Systems
Historically, delivering small-molecule drugs used to treat chronic diseases was of little concern, as most of these medicines could be administered orally. Recent developments in biotechnology have produced a plethora of protein-based molecules that must be injected to achieve their therapeutic effects. To accommodate the volume limitations of current intramuscular and subcutaneous delivery methods, manufacturers must concentrate these formulations, thereby creating the challenge of high viscosity.
"This poses a fundamental problem with two possible solutions: increase the injection volume or increase the injection duration," says Armando Rios Jr., Senior Global Marketing Manager, BD Medical – Pharmaceutical Systems. "While these options may be feasible for IV administration, they pose significant impediments to subcutaneous delivery. Practically speaking, humans have a finite ability to self-inject over long periods with traditional delivery devices, as factors such as fatigue, concentration, and the urge to move eventually cause their ability to hold the injection device steadily in place. Physiologically, the subcutaneous tissue has a limited physical and absorptive capacity for a rapid influx of large volumes (e.g. >10mL), and associated injection pressure may lead to drug leakage and injection pain."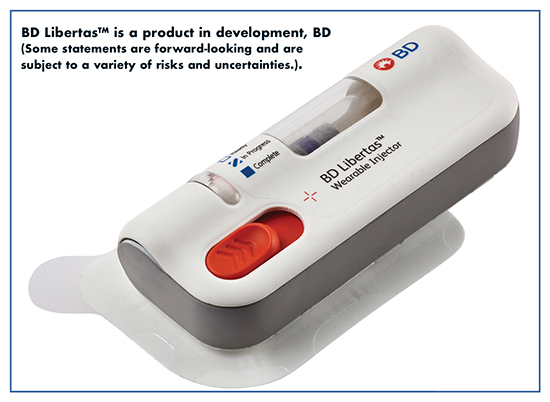 He says that prefilled syringes and autoinjectors are designed to administer small drug volumes (≤2 mL) in under 15 seconds. But wearable injectors, such as the BD LibertasTM large-volume wearable injector, can administer larger volumes (more than 2mL) of drug subcutaneously over an extended period.
"Wearable injectors effectively address the volume and viscosity challenges of prefilled syringes and autoinjectors, allowing highly concentrated drugs to be diluted into larger volumes and administered over longer periods without saturating the subcutaneous space," says Mr. Rios. "Although the potential benefits of these delivery systems are numerous, perhaps the most notable is the ability to self-administer high-volume, high-viscosity drugs in a nonclinical setting."
As care delivery transitions from clinic to home, BD is working on digital solutions in parenteral drug delivery. "Recognizing that truly meeting patient needs requires transitioning from a drug delivery provider to providing interconnected disease management systems, BD has invested in consolidating its digital expertise to develop fully-integrated, drug delivery solutions," says Mr. Rios.
"Through their ability to collect a variety of information, smart devices have the potential to impact stakeholders positively across the healthcare continuum – patients, healthcare providers, and payers."
Credence MedSystems, Inc.: One Reconstitution Device, Multiple Features
Biologics can be difficult or impossible to formulate in a stable ready-for-injection solution and, therefore, often require storage as a lyophilized freeze-dried product that is reconstituted with a diluent at the time of injection. Yet, the conventional process of reconstitution is challenging, especially for the non-professional tasked with injecting themselves or a loved one.
"Conventional "vial-to-vial" transfer procedures provide substantial risk of dosing error, are arduous and time consuming, and expose the users to unnecessary risk of accidental needlestick," says John A. Merhige, Chief Commercial Officer, Credence MedSystems, Inc. "These factors can impact patient adherence and lead to a detrimental effect on outcomes. It is the responsibility of our industry's innovators to respond to this challenge by developing products that can be easily and successfully used to deliver lyophilized drug products in a safe and effective manner by a non-professional user in the home."
Credence MedSystems is answering this call with its Companion Dual Chamber Reconstitution System. The Companion Dual Chamber Syringe stores the freeze-dried drug in a separate chamber from the liquid diluent while the product is stored on the shelf. At the time of injection, the user pushes on the plunger rod to transfer the diluent from the rear chamber into the front chamber so that it mixes with the lyophilized cake. Once reconstitution occurs, the user continues the injection until a tactile and audible end-of-dose click confirms that the full reconstituted dose has been delivered. At this point, the pre-attached needle retracts seamlessly into the plunger rod, protecting the user and disabling the syringe from reuse.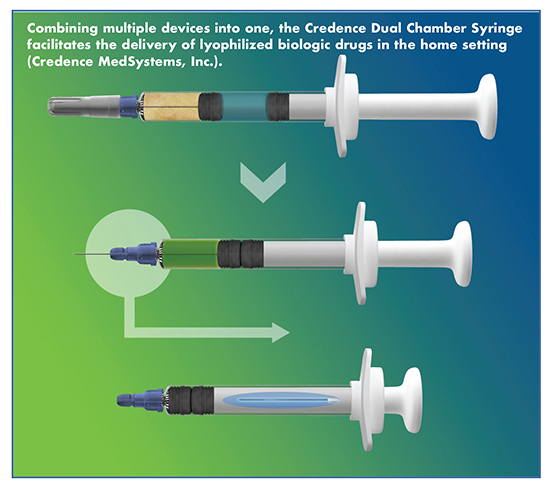 "The Companion Dual Chamber allows pharma to impress its end users by consolidating multiple devices into one: It is a reconstitution device; a user-feedback device; a passive needlestick safety device; a reuse prevention device; and, a familiar staked-needle syringe that allows conventional syringe operations," explains Mr. Merhige.
He stresses the importance of the Dual Chamber making use of a standard syringe barrel and a standard plunger stopper. This design, he says, allows pharma to preserve the use of its preferred primary package components while also eliminating the presence of the glue that is conventionally used to affix a staked needle into a syringe. That, combined with the separation of the lyophilized drug from the diluent, serves to protect the integrity of the drug. Finally, the Credence Dual Chamber Syringe is compatible with multiple syringe sizes, reducing the package size and improving ergonomics.
Mr. Merhige concludes: "The Credence Dual Chamber Reconstitution System presents a safe and effective way to allow non-professional users to deliver lyophilized drug products in the home."
DALI Medical DevicesTM: Connectivity Keeps All Interested Parties in the Loop
One of the major challenges affecting the injection device market is applying connectivity features that can enhance patients' compliance and adherence to treatment, provide reminders and training to the user, and adherence/non-adherence data to payers, healthcare providers, regulatory authorities, and the pharmaceutical manufacturer. Benefits of connected injection devices for the pharma include clinical trial data (pre and post-market), reimbursement evidence, market understanding, adverse events, product and training improvements, and increased sales by increased adherence.
"DALI Medical Devices is developing novel connectivity features and systems that can be integrated to its existing Safe Auto-NeedlesTM (SANs) product line, but also to other injection devices such as pens and autoinjectors," explains David Daily, DALI's CEO & Cofounder. Target therapeutic applications we collaborate on include endocrine disorders, autoimmune diseases, emergency drugs, CNS diseases, cancer-related treatments, back-of-the-eye diseases, and others.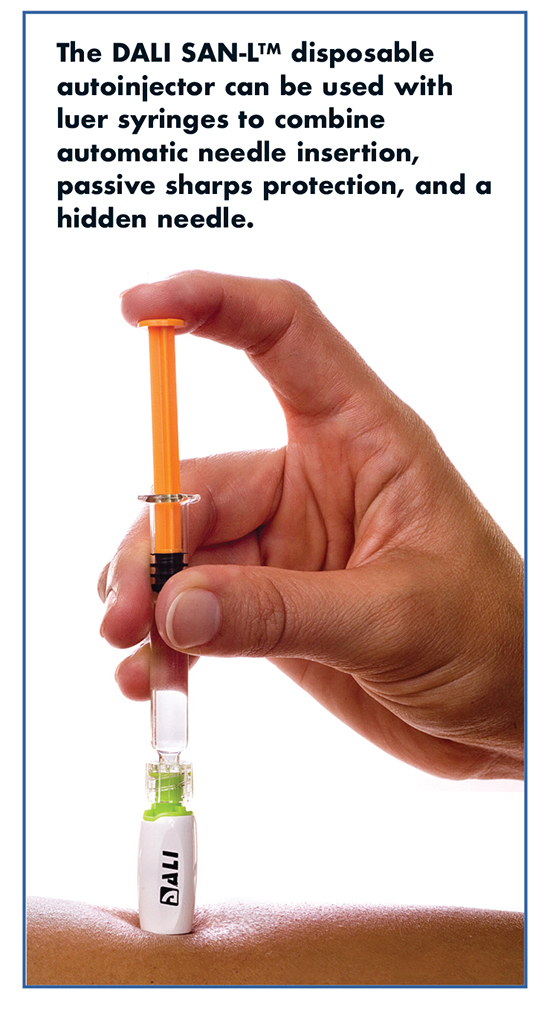 DALI's Safe Auto-Needle products offer a combination of features from both autoinjectors and prefilled/safety syringes, such as automatic needle insertion, hidden needle, and passive sharps protection, all in an effort to reduce anxiety and perceived pain associated with needles. Mr. Daily says that, unlike conventional autoinjectors, while using the SANs, patients have manual control of injection speed, reducing pain associated with fast injections.
SANs are customizable for use with all types of syringes and primary drug containers, including conventional plastic hypodermics, single- or dual-chamber prefilled syringes made of glass or plastic, or vials. Depending on the configuration and pharma clients' preferences, the SANs are packed either in a blister pack or an injection-molded cap sealed with a Tyvek® lid. These designs allow either separate unit package or kit-packaging together with the drug, depending on the pharma client's preference.
Datwyler: Coatings & Closures Cater to a Range of Device Designs
As a component supplier, Datwyler caters to prefilled syringe, cartridge, and vial drug delivery systems. The company develops novel coatings that enable elastomeric compounds to make these systems more efficacious, and also focuses on the custom design of elastomeric closures to suit unique devices.
Products are available in a variety of elastomeric compounds designed for sterilization stability and drug compatibility. These chemically clean and functionally reliable compounds and designs are especially critical for biologics. According to Megan Williamson, Head of Sales, Americas, Datwyler: "Delivery of biologics presents a challenge for high viscosity drug products and our custom design capabilities and finite element analysis can provide component design and geometry optimization to meet these needs. With biologics being sensitive drugs with less resilience to extractables, leachables, and silicone, our compounds and coatings provide the cleanest E&L profiles with consistent, reliable functionality." For example, Datwyler's fluoropolymer inert and lubricious barrier coating, Omni Flex, is highly adaptive to a variety of geometries and compounds.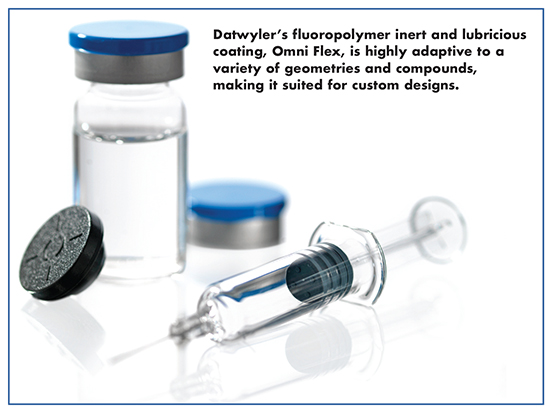 In addition, she says Datwyler's First Line automated manufacturing reduces human intervention and significantly reduces particulates and bioburden for industry-leading specifications. "This entails strict gowning protocols as well as personnel and material flow, which result in the lowest endotoxin, bioburden, particulate, and defect levels available in the industry," she says. "When a pharmaceutical company develops sensitive biologics that cannot withstand the presence of silicone lubricant in the system because visible and subvisible particles are a major concern, the Omni Flex coating, paired with First Line manufacturing, provides best-in-class particle specifications and the lowest risk for their drug product. With the rising cost of healthcare and expensive unit price of certain biologic drug products, Datwyler products can help to reduce the overall cost of ownership to our clients."
As an elastomeric component supplier, Datwyler is involved in the design and development of many custom products for novel drug delivery devices and systems, including pens, autoinjectors, pumps, and needle-free injection devices. All components are available in a variety of packaging options, including: Ready-for-sterilization, ready-to-use, and bulk packaging.
Enable Injections: Large-Volume Drug Delivery Made Simpler With Wearable Connected Device
 The delivery device is the most influential factor in defining the treatment experience. Consequently, pharma companies are evaluating delivery device options for their large-volume drugs at the earliest stages of drug development. "It is now well accepted that conversion to subcutaneous delivery of high-volume (3-50mL) doses can improve patients' quality of life significantly, and even more so, if patients can easily, painlessly, and reliably treat themselves at home or work," says Jeannie Joughin, PhD, Executive VP & Chief Commercial Officer, Enable Injections.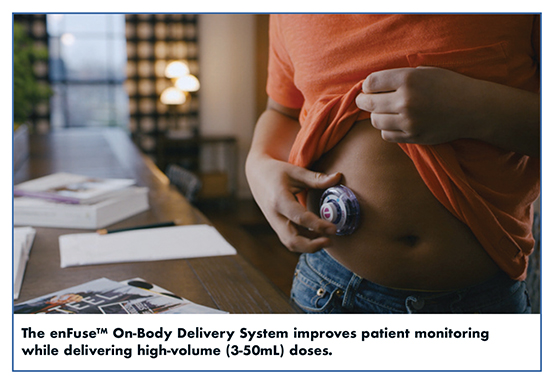 Biologic drugs vary in dose requirements, viscosity, and desired rate of infusion, among other variables. In response to the needs of its pharmaceutical partners, Enable Injections has created variations, which have entered clinical trials, to suit specific pharma needs. The focus on improved patient experience for improved adherence is the top priority. At the core of its platform technology is the enFuseTM On-Body Delivery System (OBDS), a small device that patients can easily fill with any syringe or vial and wear unobtrusively under clothing during treatment, while carrying on with their activities. The enFuse platform is useful across the range of diagnostic categories for any drug required in volumes between 3 to 50mL. To address the increasing demand for improved patient monitoring, HIPAA-compliant connectivity has been added as an option. The enFuse Smart Device platform includes Bluetooth Low Power connectivity that transmits information to a smartphone app via a secure connection:
-When the device is powered on;
-When the device has begun dose delivery; and
-When delivery has been completed.
One of Enable's clients is developing a therapeutic for an orphan indication. Dr. Joughin explains that the client is conducting clinical dose-ranging studies and needs to deliver high volumes – in excess of 20mL. "Delivering varying volumes at different delivery rates resulted in observations of leakage, back flow, and skin irritation using a conventional delivery pump," she says. "Utilizing the clinic-ready syringe-transfer enFuse OBDS – which supports filling of variable doses – the company will be able to efficiently determine the optimal delivery rate, dose, and user experience prior to committing to the final fixed-dose product configuration for commercial launch."
Dr. Joughin adds that "Companies partnering with Enable to utilize the developed syringe-transfer 10mL or 20mL OBDS are able to enter the clinic earlier and cost efficiently, reducing some of the financial risk associated with drug development."
To add connectivity to the all-mechanical enFuse LVWI, a small, simple power source well known for its long operation and shelf life, is added and a microprocessor embedded.
Additionally, the Enable Smart Device is pre-integrated into the Flex Digital Health Platform, medical-regulated, HIPAA-compliant, open architecture platform of connected medical devices. This provides Enable's pharma partners and healthcare providers with the ability to:
-Easily integrate with the platform;
-Gain immediate access to patient data across multiple devices;
-Gain more direct engagement with patients;
-Drive adherence; and
-Avoid high upfront development and ongoing maintenance costs.
The Enable Smart Device is designed to be simple to use. The user opens the Enable app on their smartphone and the delivery device does the rest to ensure delivery of the therapeutic. That includes automatic warming in seconds and push-button simplicity in a device developed to enable painless subcutaneous drug delivery.
Gerresheimer: New Integrated Safety System Eliminates Assembly Steps
The continued focus on safety and user friendliness led Gerresheimer to introduce its new integrated safety system, Gx Innosafe®, for prefilled syringes. "Integrating safety into our staked-in needle syringes, with an intuitive design, improves the ease of use," says Maximilian Vogl, Global Head of Product Management, Gx Solutions, Gerreshimer. "Gx InnoSafe eliminates the necessity of additional assembly of safety devices after filling the drug. Based on that, our customers will experience benefits regarding total cost of ownership, reliability, and reduction of errors."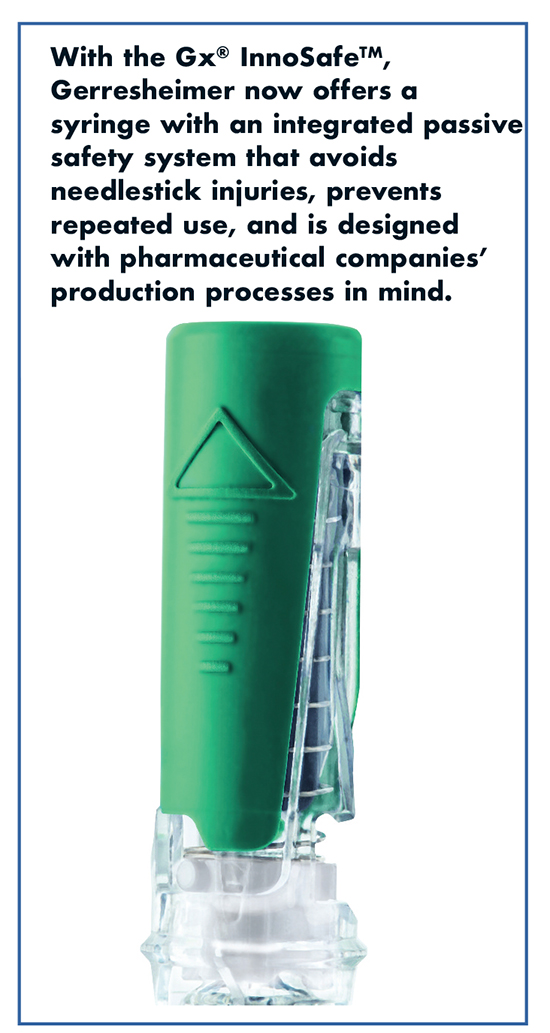 Gerresheimer also offers a broad portfolio of injection systems with several targeted to biologic drugs, self-administration, and needlestick prevention. These include wearable injectors with electronically controlled drug delivery, as well as fully passive and integrated safety syringes.
With regards to packaging, Gerresheimer uses glass and plastics for sensitive biologic drugs to address challenges like free silicone and tungsten deposition. Most of the primary packaging is ready-to-fill. "Our new Gx® RTF Vials are washed and sterilized and offered in a nested configuration for direct filling," says Mr. Vogl.
Kahle: Custom Syringe Assembly for Complex Designs
Kahle designs and builds custom assembly, inspection, and process equipment for medical devices and drug delivery products with complete equipment validation services. Kahle works with customers' device/requirements regardless of the design, the processes, or the production rate required. As a manufacturing equipment supplier, Julie Logothetis, President of Kahle, says the company faces challenges posed by the complexity of new injection/drug delivery devices. "Some of the "traditional" packaging and processing equipment companies work off of standard platforms and designs and do not have the flexibility to meet the requirements of the new, more complex devices," says Ms. Logothetis. "Gone are the days of a simple syringe and needle. A new safety injection device can have 12 or more components that need to be assembled, compared to a three-piece syringe and basic needle."
In the past year, Kahle built equipment to assemble standard and basic safety syringes, a new safety needle that is going to be on the market soon, as well as components for wearable pump devices. Kahle Needle Assembly Systems are available in various machine configurations, depending on product design and assembly requirements.
Mitsubishi Gas Chemical: Multilayer Material Address Pitfalls of Glass & Plastic
Traditional glass and plastic materials for syringes and vials are filled with problems. Glass suffers from a range of issues — such as high-breakability and poor PH stability — while plastic has an insufficient oxygen barrier and UV barrier. The US FDA and pharmaceutical companies have searched for solutions, and many companies have launched advanced material products, but oxygen barriers and stability have been met with criticism, explains Tomohiro Suzuki, Associate General Manager, Mitsubishi Gas Chemical (MGC).
This led to the creation of OXYCAPTTM — MGC's new, lightweight, multilayer material, which Mr. Suzuki says has all the benefits of glass and plastic. "OXYCAPT unites the best qualities of glass and plastic in a three-tiered, multilayer, advanced material that features an excellent water vapor layer made from COP (Cyclo Olefin Polymer) and a glass-like oxygen barrier layer with an oxygen absorbing polymer," he says. "With low extractables, low protein absorption, and low breakability, all components come together to produce the best high oxygen barrier material on the market."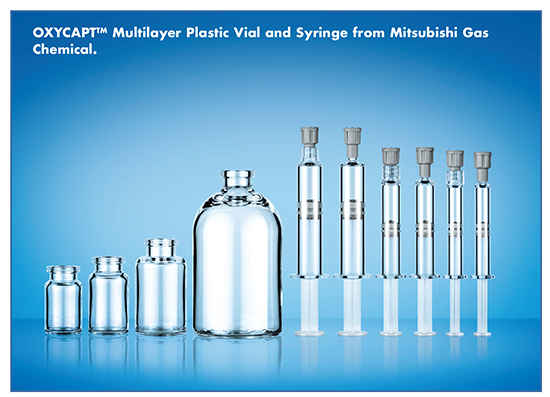 One of MGC's targeted therapeutic application is biologics. Mr. Suzuki points out that the ICH guideline for Stability Testing of Biotechnological/Biological Products Q5C mentions oxidation as one of the causes for protein instability. Thus, he says, MGC has tried to improve the oxygen barrier of the polymer containers. "If the drug is sensitive to oxygen, the multilayer container will be the best candidate."
The OXYCAPT plastic syringe features reduced leachable impurities and low extractables. This is made possible by the PTFE stopper coated with slight silicone-oil, a Polypropylene (PP) plunger rod, and the silicone-oil free OXYCAPT syringe barrel. Each component works together to produce a high break resistance syringe with glass-like transparency. "The catalyst for OXYCAPT were pharma clients looking for specially designed containers with a high gas barrier for autoinjector," says Mr. Suzuki. "As the glass was not customizable and existing polymer syringes had no oxygen barrier, we offered customized containers made by the multilayer technology."
Nemera: Autoinjector & Safety Devices Ensure Easy Delivery of Biotherapeutics
The challenge for manufacturers is to offer a device with high technicity without compromising patients' comfort and experience. With this in mind, Nemera developed the Safelia® two-step autoinjector platform to optimize the self-injection experience while offering the ability to tailor the injection to deliver even the most challenging (high volume/high viscous) drugs.
Séverine Duband, Global Category Manager, Parenteral, Nemera, says the Safelia autoinjector is robust enough to handle fluid or viscous formulations (biologics), in 1mL or 2.25mL injection volumes, and enables injection parameters to be tailored, such as needle insertion and injection speed, to fit the drug's constraints. "Biotherapeutics tend to be more viscous, concentrated, and administered in larger volumes," explains Ms. Duband. "In order to deliver the right dose of these types of formulations, at the right depth, in 15 seconds or less, a robust delivery engine is required. Safelia meets these challenges as it injects large-volume, and high viscosity drugs, in a convenient way for the patient."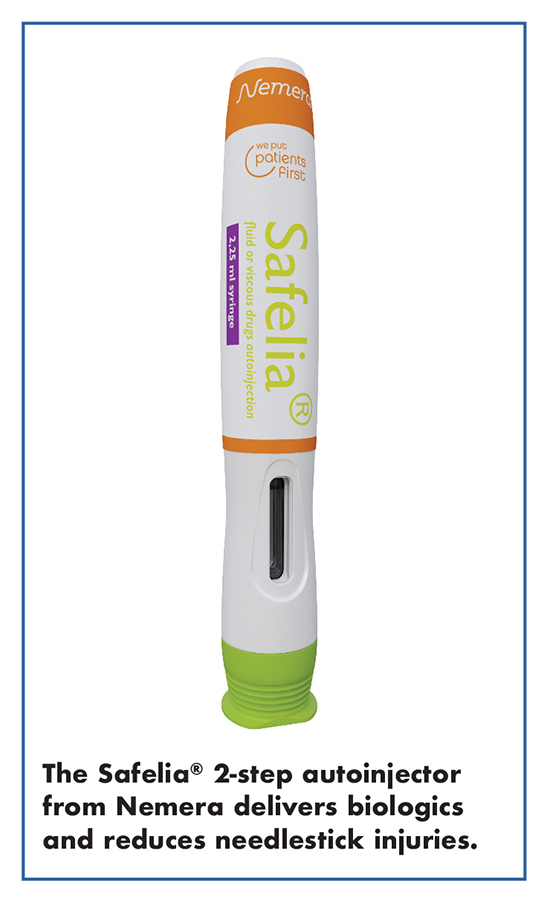 The patient removes the cap and then applies the device to the injection site. Throughout the injection process, the needle is hidden, reducing the risk of needlestick injuries as well as anxiety. "Overall, it can improve the patient's experience thanks to reduced needle diameters, reduced injection times, and design-controlled delivery for viscous injections."
Also designed to improve the patient experience is Safe'n Sound®, a range of safety devices for prefilled syringes. This customizable platform of passive, one-handed add-ons, significantly reduces the risk of needlestick injury during injection while being robust and ergonomically designed for both novice and experienced users, Ms. Duband says. Safe'n Sound is for low fill volumes and higher viscosity formulations. It features a large thumb-pad for ease of use, clear visibility of the tip for easy inspection of the drug, and a rounded shape for increased labeling surface.
Noble International Inc.: Trainers Improve the Patient Experience, Support Compliance
Several studies have suggested that without proper training during the onboarding process — defined as the first 30 to 90 days of treatment — patients who have been instructed to use self-injecting drug delivery devices (including autoinjectors, prefilled syringes and onbody devices) are more likely to drop off from therapy or incorrectly use their devices. To address this challenge, Noble is collaborating with pharmaceutical companies to develop trainers that replicate the form and function of a variety of self-injection devices and provide the patient the opportunity to train at home, gain familiarity with proper device use, and help reduce needle anxiety. Noble has already developed trainers for the autoinjector, prefilled syringe, onbody, and respiratory markets.
Within the past year, Noble announced plans to launch its prefilled syringe demonstrator platform, based on safety and shielding system technologies. "This platform offers brands a speed-to-market, onboarding solution aimed at improving the patient experience and confidence," says Paul Sullivan, Associate Director, Business Development at Noble International Inc.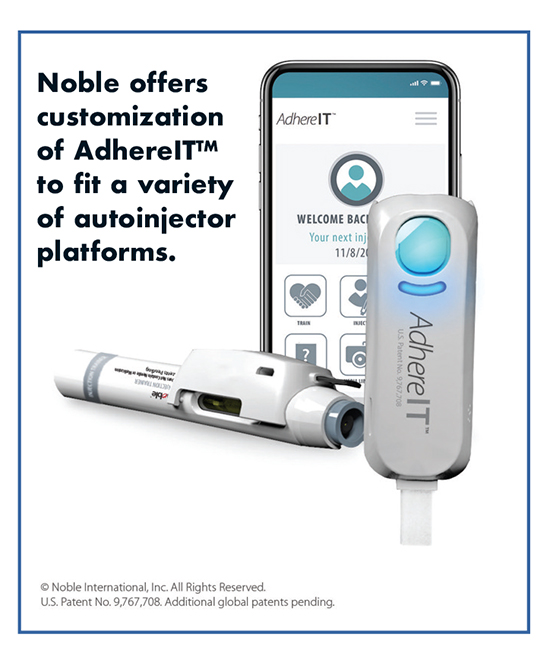 Separately, Noble launched its own connected device platform, AdhereITTM, designed to help improve patient experiences and outcomes by providing real-time feedback for autoinjector training and injection sessions. AdhereIT incorporates proprietary technologies and fits onto an autoinjector device or trainer with capabilities including the detection of contact with the injection site and the beginning and end of training or injection sessions. It can also send scheduling reminders to patients and wirelessly transmit collected data — including usage errors — to smartphones or tablets.
"The trainers replicate the design, tactile feedback, and actuation force of a self-injection device while also simulating injection speed," says Mr. Sullivan. Additional mechanical features vary by trainer type. For example, Noble's onbody injection devices replicate the volume and viscosity of the drug as it is delivered. Some of Noble's trainers incorporatesmart features such as wireless connectivity, sensors, audio cues, and error detection/ simulation. "These are designed to work in tandem with smartphone apps and can provide real-time feedback to the patient. In this fashion, the patient is kept informed of any errors associated with their use of the device as they occur."
Oval Medical Technologies Limited: Overcoming the Challenges Viscous Formulations Pose to Autoinjectors
An increasing number of long-acting injectables (LAIs) developed by pharma increase the time between injections to improve patient acceptability. These products consist of formulations that are highly viscous (between 100cP and 1,000cP) with high drug loadings of biologics, supporting once per month, once every two months, and in some cases, once every three months dosing. Many of these products are being designed for self-administration and require autoinjectors that can be used easily and safely by patients and caregivers.
However, highly viscous formulations can be non-Newtonian (their viscosity varies when subjected to shear forces), resulting in inconsistent injection times and variability in dose dispensed. Also, the drug may be suspended in the formulation, which can result in clogging, inconsistent injection times, and inconsistent bolus shapes, which in turn result in variable pharmacokinetic profiles.
"To achieve reliable and consistent delivery by an autoinjector, it is critical to understand and characterize the fluidic behavior of the formulation early in the specification process," says Barbara Lead, Chief Executive Officer, Oval Medical Technologies Limited. "Failure to do this early enough can increase development costs and time scales, and reduce the reliability and likely commercial success of the final product."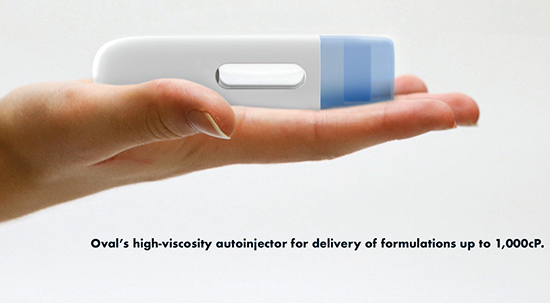 Oval has developed methodologies to characterize formulations to understand the relationships between delivery force and viscosity, factors effecting clogging, and the shape and consistency of the delivered bolus. These data are used to generate a specification for an autoinjector. "If final formulations are not available early in the development process, characterization of placebo formulations over a range of viscosities can provide very useful data for input to the autoinjector specification," she says.
Oval has a specific delivery technology using a 'damped' delivery mechanism that provides consistent delivery speed for formulations that have non-Newtonian viscosities, non-homogenous consistency, or viscosity with high susceptibility to temperature variations. Oval can provide "works like" injection rigs that can be used to investigate bolus shapes in animal cadaver tissue in conjunction with MRI scans. These injection rigs have been used in pharmacokinetic studies in dogs, resulting in consistent pharmacokinetic profiles.
"Manual injection of highly viscous formulations can be very difficult for scientists and inconsistent bolus shapes will give rise to inconsistent pharmacokinetics," says Ms. Lead. "In situations where the pharmacokinetics are required to choose between formulation options, consistency is very important."
Sensile Medical: Acquisition Extends Business to Further Support Pharma & Biopharma Customers
With the acquisition of Sensile Medical back in July, Gerresheimer is extending its business model in the direction of an Original Equipment Manufacturer (OEM) for drug delivery platforms with digital and electronic capabilities for pharmaceutical and biopharmaceutical customers. As a result, Gerresheimer has become the main supplier to a large heparin producer and will supply this customer with prefillable syringes.
One of the main technologies to come out of the acquisition is the SenseCore rotary pump for drugs that need precise dosing, "SenseCore allows tightly delivered dose tolerances combined with small volume increments as low as 1μl," says Sandra de Haan, Chief Business Officer, Sensile Medical. "Exact dosing is possible even for very viscous aqueous solutions."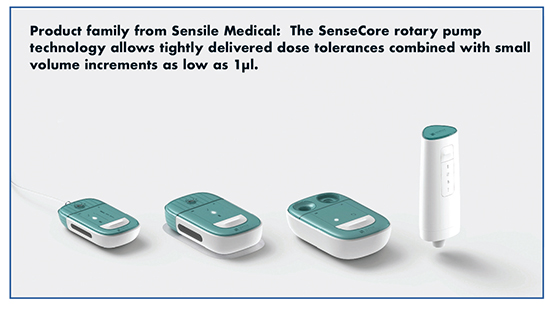 She adds that the technology is an integral part of Sensile's pump family, open to a variety of drugs, regardless of volume or therapy. Furthermore, these electronically controlled devices offer a variety of options for dosing that can be pre-set or adjusted by healthcare providers or patients.
Additionally, connectivity and sensor technologies are part of the modular device concepts that Sensile provides. For example, Sensile's onbody devices have a mechanism that enables automated needle insertion and retraction before and after drug administration. "This reduces the risk of needle injuries and contamination before or after administration," says Ms. De Haan. "The aim is to provide the greatest possible safety and comfort for patients thanks to a reliable drug delivery device that is easy to use." She adds that Sensile Medical is exploring data exchange options such as apps, RFID, and cloud technology for all of its platform solutions.
SHL: Preconfigured Autoinjector Maximizes Speed to Market
With the number of biological treatments going off patent, challenges have shifted from overcoming regulatory hurdles, such as safety and efficacy, to challenges related to intellectual property and patent expirations. SHL Global Director of Marketing Magnus Fastmarken points out that this can be a tremendous opportunity for both the drug manufacturer and the delivery device developer. "We see an increased request for preconfigured devices for biosimilars that can be easily developed and quickly launched for commercial use."
Molly® is SHL's first preconfigured autoinjector program designed to help pharmaceutical companies minimize initial investments and maximize speed to market. Molly has already been commercialized in a range of shapes, colors, and labeling textures. These low-level customizations, says Mr. Fastmarken, enable pharma companies to create differentiation for branding and product identity. He adds, "Because it comes in both 1mL and 2.25mL volumes, Molly can also support therapies with less frequent injections in higher volumes."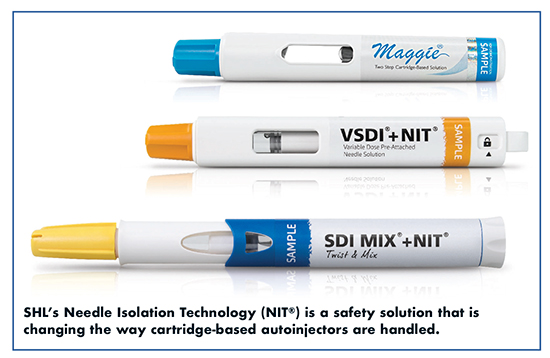 The development of innovative treatments also calls for technologies that look beyond current autoinjector standards in terms of volume and viscosity. Cartridges, which have primarily been used for pen injectors, expand fill volume choices and offer dual-chamber options for formulations that need to be separated before use, says Mr. Fastmarken. "Until now, the most significant limitation with cartridge-based systems was the need for the patient to manually attach the needle, a risky step regarding drug safety and needlestick injuries. SHL's Needle Isolation Technology (NIT®) eliminates this risk in that the needle is pre-installed in the device and automatically attached with just a simple twist of the needle cap."
Earlier this year, a pharmaceutical company successfully relaunched its cartridge-based drug product equipped with SHL's NIT. "The NIT is a true problem solver," says Fastmarken. "Cartridges open up a world of opportunities for pharma companies, and offer patients a safe and intuitive experience without sacrificing usability."
Fastmarken believes that the industryhas only scratched the surface of the autoinjector's true potential. "In the future, a new generation of connected autoinjectors will prove to be the perfect sensor for collecting dose-level data based on real-world patient experiences. Data collected from these devices will deliver insights that support adherence and outcomes for patients and stakeholders."
SiO2Medical Products, Inc.: Parenteral Containers Optimize Development & Delivery Through Advanced Material Science
A common device for self-administration of injectable biologics is the autoinjector, which contains, at its heart, a prefilled syringe. These syringes must meet very stringent requirements for fit, performance, and drug compatibility, and must protect the drug formulation and maintain its potency over an extended period of time. The predominant choice for drug storage is a silicone-lubricated glass, 1mL-long prefilled syringe. However, such a syringe is known to require numerous design and performance compromises for the overall injector design. Specifically:
-Poor dimensional control of the syringe leads to autoinjector design concessions;
-Fragility of the syringe has led to catastrophic injection failures;
-The mobile lubricant has created formulation stability challenges; and
-The mobile lubricant can lead to variable injection performance.
Parenteral containers supplied by SiO2 Medical Products, Inc. (SMP) overcome these and other observed shortcomings of existing prefilled syringes, says Holger Krenz, Director Corporate Account Management, SiO2. The SMP syringe is constructed of high purity engineered polymers (such as COP) with an insert molded needle for improved dimensional control over traditional glass alternatives. Additionally, engineered polymers provide improvements over glass for break-resistance, including critical design elements such as the syringe neck and flange – mitigating common failures of glass syringes, Dr. Krenz adds.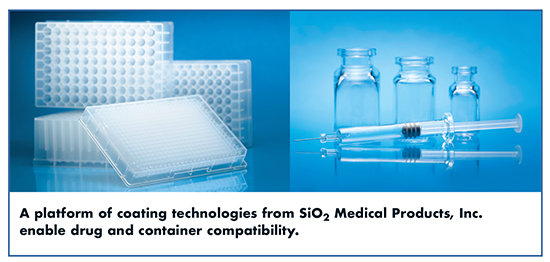 The inner surface of the SMP Primary Container is plasma coated via a proprietary process to ensure oxygen impermeability, superior drug compatibility, and extremely low levels of particulate. The SMP syringe is also offered as a silicone-free system. "These configurations provide a reliable and consistent product that truly meets design requirements for the storage and delivery of the emerging portfolio of biologic products." SMP syringes are packaged in a ready-to-use (RTU) format to enable consistent filling processes and implementation into existing fill/finish lines.
Additionally, the SMP Primary Containers provide the benefit of a truly common drug contact surface. Michael Chiappetta, Advisor for SiO2 Medical Products, says: "Because the contact surface of the SMP microplate, vial, and prefilled syringe are the same, the need to account for drug compatibility when transitioning the biologics through the drug development cycle from a microplate to a vial and subsequent syringe is eliminated. This is generally not possible for glass syringes because commonly used manufacturing processes for glass syringes and glass vials differ greatly – resulting in uncommon or varied contact surfaces."
Further, SMP's proprietary platform of plasma coating technologies enable advances in drug and container compatibility, Mr. Chiappetta says. "The coating process enables the drug contact surface to be modified when required. In brief, the coating can be adjusted to better match with the stored biologic. SMP molded syringe combined with a controlled interior coating provide improved autoinjector fit and reliability for numerous biologics, including highly viscous formulations."
As methods of self-administration and disruptive improvements in autoinjectors continue to grow in the drug delivery industry, Mr. Chiappetta stresses that the prefilled syringe must similarly undergo significant material and design improvements."
Sonceboz: Device Platform Handles a Variety of Applications
 The increasing number of biologic drugs designed in the space of Immuno-Oncology require more tailored and capable injection systems to allow for complex therapies such as drug combinations or automatic reconstitution. "We are providing a technology platform, Your Platform, that enables a variety of therapeutic applications – covering large-volume, high-viscosity, reconstitution, and dual-container," says Tom Mayer, Sales and Application Manager, Sonceboz. "The platform is ideally suited for treating Rheumatoid Arthritis."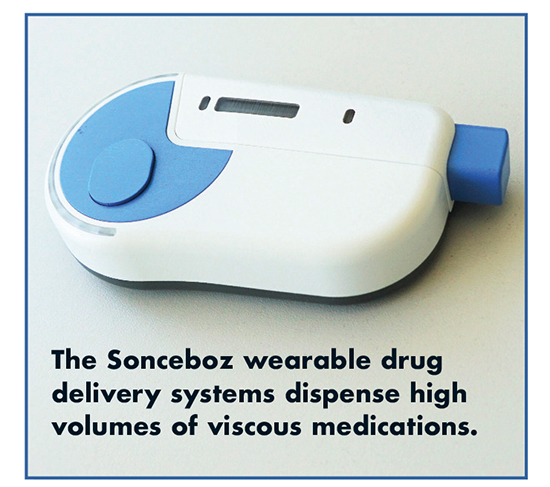 The large-volume injector is designed to deliver up to 6mL or more of highly viscous drug formulations subcutaneously in bolus or programmed delivery. Dual-cartridge injection is designed to carry two standard containers, enabling complex drug combination therapies through sequential or simultaneous injection into the subcutaneous spaces. Additionally, automatic reconstitution injection enables the in-device reconstitution of lyophilized drug formulations, carrying both the drug and the diluent in separate preloaded/prefilled primary containers. There is no need to connect external drug containers.
We believe that patient-centric design with intuitive usability are key to allow patients to safely administer injections in their known environment," says Mr. Mayer. He says that Sonceboz' goal is to design an integrated, automatic reconstitution system that will help pharma simplify the administration of lyophilized drugs at home.
West Pharmaceutical Services, Inc.: Developing Products With Simplicity & Functionality in Mind
One challenge that is becoming more complex for pharmaceutical companies is navigating the regulatory landscape, especially for therapies that will be offered as a combination product. While quality and risk mitigation expectations continue to be a focus for regulatory bodies globally, agencies are now increasing attention on ensuring that drug delivery technologies are developed with not only functionality, but usability in mind to promote both safety and adherence among end-users.
For a successful path to approval, essential performance requirements for a therapy's delivery technology must be established early in the development process so that the testing regimen maps to those requirements and all necessary data is included when filing with a regulatory body.
"West recognized this direction several years ago, working collaboratively with pharmaceutical partners and regulatory agencies to understand expectations for a delivery system in a combination product filing, and ensuring products in a self-injection portfolio are tested and validated accordingly to have readily available data and challenge studies demonstrating safety, functionality, and usability," says Eric Resnick, Vice President & Chief Technology Officer, West Pharmaceutical Services, Inc.
A successful self-injection system combines engineering and design to ensure that the therapy is not just delivered, but is delivered in a system that addresses both the potential physical and emotional barriers to patient adherence, says Mr. Resnick. As therapies evolve requiring new delivery and dosing options, demand has increased for flexibility in delivery technologies to meet the needs of the drug and the patient.
To that end, West has built upon the success of the first generation of its wearable self-injection technology — the Smart-DoseTM drug delivery platform — to address market needs for higher-dose volumes and enhanced functionality and usability. All versions of the SmartDose platform incorporate extensive human factors testing and analysis, and offer a variety of integrated solutions for delivery and containment featuring a silicone oil-free Daikyo Crystal Zenith® cartridge and a FluroTec-coated piston containment system. A second-generation (Gen. II) device includes enhanced usability and adherence features, and can accommodate injection volumes of up to 10mL , as well as both glass and Daikyo Crystal Zenith containers. Additionally, the Gen. III device integrates a preloaded cartridge to reduce user steps and simplify the supply chain for West's pharmaceutical partners, Mr. Resnick says.
In its effort to continually simplify drug delivery, and make it less intimidating, West offers the ergonomically designed SelfDoseTM patient-controlled injector, which incorporates a simple, two-step operation to deliver a subcutaneous injection, as well as audible and visual end-of-dose indicators to confirm administration of a prescribed dose. Additionally, a passive safety system covers the needle before and after injection to help prevent needlestick injuries. Extensive human factors studies have been performed with the SelfDose injector, confirming the intuitive design and supporting its ease of use and patient acceptance.
West partnered with Accord Healthcare Limited to develop a delivery device for a weekly single-dose injection of its drug MethofillTM (methotrexate) SELF INJECT. "They selected SelfDose because not only could it support that dosing level, but the device's ergonomic design improves the patient experience for those suffering from Rheumatoid Arthritis by allowing those with dexterity issues to self-inject outside of a healthcare setting," says Mr. Resnick. "Even SelfDose was designed to be used as a platform system for pharmaceutical partners like Accord. As a result, even viscous drug dosages up to 1mL can be used without modifying the product."
The patient experience can also be improved via connected health, which drives greater patient adherence by integrating the self-administration process with technologies patients use in their everyday lives, such as smart devices. "West's collaboration with HealthPrize Technologies is an example, as it allows patients to use electronically connected drug delivery systems to track in real-time when they take their medication, and uses gamification to reward patients for compliance," explains Mr. Resnick. The platform is designed to be accessed through a mobile app or Web portal and can gather information such as dosage and device history use for trends and analytics.
"The future of connected health, though, will be incorporating universal technology in drug delivery systems to allow pharmaceutical partners to customize data collection to address the needs of a therapy and its corresponding patient population," he continues. "This could include transmission of data in real time through low-energy Bluetooth technology."
Ypsomed AG: Embedding Connectivity to Transform Autoinjectors Now & In the Future
Ypsomed has been focused on the new area of prefilled patch injectors. The YpsoDose patch injector attaches to the skin during injection to deliver large-volumes (3-10mL). Targeted therapeutic indications are biologic drugs that require the injection of higher volumes with potentially reduced injection frequency compared to a treatment with autoinjectors, says Ian Thompson, Vice President Business Development at Ypsomed.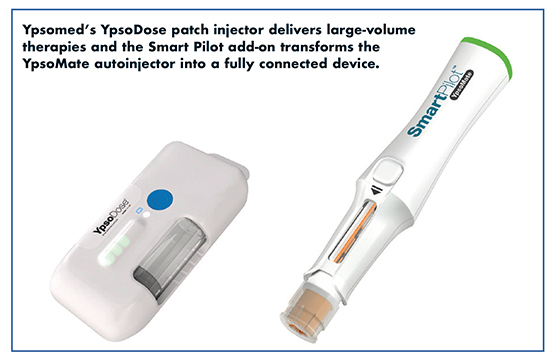 YpsoDose is a prefilled and preassembled, electromechanical, cartridge-based connected device, based on a versatile platform that can be customized into product–specific variants. A key feature of YpsoDose is the motor-controlled needle insertion and retraction mechanism that ensures that the injection needle is not exposed except during the injection process.
Additionally, Ypsomed has developed smart, reusable add-ons such as SmartPilot for the YpsoMate autoinjector. "SmartPilot transforms the standard YpsoMate autoinjector into a fully connected device, detecting and communicating different use states of the autoinjector to the smartphone, providing real-time, step-by-step instructions in written, animated, and audible formats, all the while improving patient adherence and therapy outcome," explains Andreas Schneider, Business Development and Innovation Manager, Ypsomed. "In a commercial setting, SmartPilot connects the patient with different stakeholders (doctors, pharma industry, payers) that may take advantage of the collected data."
Both YpsoMate and YpsoDose are designed for the existing and new wave of monoclonal antibody-based biologics used in treating autoimmune diseases and immuno-oncology therapies.
Furthermore, Ypsomed is addressing a set of key device-oriented challenges to effectively embed connected devices into the broader digital ecosystem. For example, Ypsomed is developing a turnkey digital solution to simplify adherence monitoring and provide secure smart device integration. These interrelated managed services ensure simple access to device and therapy-relevant data via standardized web-based interfaces, fully secured device-to-cloud communication, and complete connected device life cycle management that provides control of, and insights into, marketed devices.
References 
Global Injectable Drug Delivery Market Size Will Reach USD 640.50 Million by 2021: By Device Type, End-user, Application and Region, Zion Research, October 10, 2016, https://globenewswire.com/news-release/2016/10/10/878105/0/en/Global-Injectable-Drug-Delivery-Market-Size-will-reach-USD-640-50-Million-by-2021-By-Device-Type-End-user-Application-and-Region.html.
Self-Injections Market By Route of Administration Analysis; By Distribution channel Analysis; By Therapeutic Analysis; By Dosage Form Analysis; and By Regional Analysis – Global Forecast by 2016 – 2022, Market Research Engine, June 2017, https://www.marketresearchengine.com/self-Injections-market.
To view this issue and all back issues online, please visit www.drug-dev.com.